World Art Dubai has welcomed a high number of visitors keen to decorate their personal and corporate spaces since opening on 16th March, with the four-day show also offering a number of interactive features across the event.
The region's largest affordable art fair has an array of features ensuring visitors are kept entertained during their visit to the show, which sees more than 300 artists from more than 50 countries display 4,000-plus gather under one roof.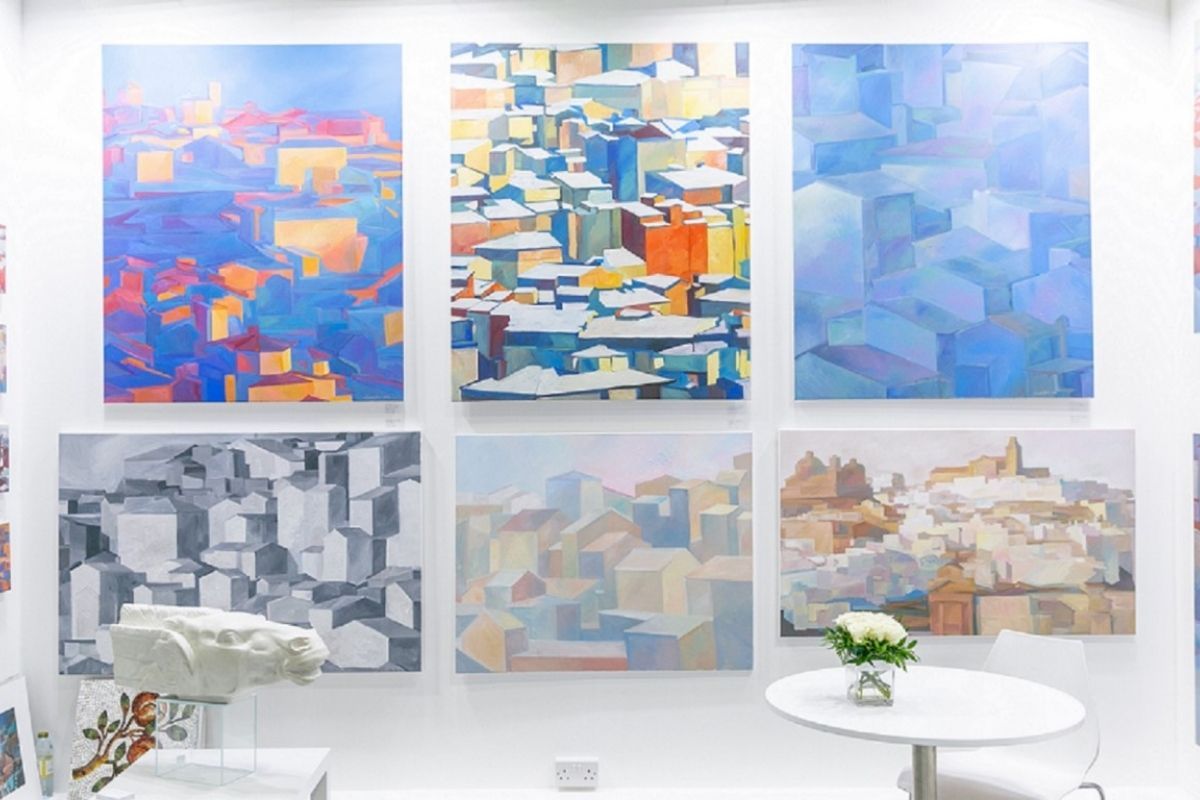 From interactive workshops to artistic displays, here are 10 amazing things to see and do at World Art Dubai during its last two days (Friday & Saturday):

1.  Whether it's home or office design, World Art Dubai is giving the perfect advice on making personal space pop with talks on interior design led by Louise Duggan, the British abstract artist, Aydan Imanova, editor at Identity Magazine, and Amanda Barrett, the portrait and landscape painter. Other topics at the talks corner include how to build a career as an artist, unique portraits painted underwater, as well as how to make an impact on society with your work.
2. Artists that have been drawing crowds with their work include Vera Ming who hails from China and has sold 11 pieces, Russian artist Julia Smolenkova who has sold 11 pieces Egyptian artist and Marwa Elsaadany who has sold six pieces by the end of day two.
Julia Smolenkova said:
"This is my fifth time exhibiting at World Art Dubai and every year I'm pleased to experience high sales. By the end of the second day of the show, I had already sold 11 pieces and saw really strong interest from other buyers - it really makes it worthwhile coming to the show and getting to introduce my work to the Middle East market. I appreciate the hospitality of the visitors to the fair, Dubai is such a happy place."
3. For those who dream of making a masterpiece, German gallery owner Birgit Berger is inviting visitors to help in curating her masterpiece carpet art. Made from carpet combined with digital paintings, rhinestones and pom poms, visitors can take a crash course in the creation alongside Birgit, as well as purchase the incredible collector's pieces.
4. Visitors can enjoy daily live shows at 4pm and 7.30pm from Sergey Markofken, the only representative of the Spin Art movement in Russia. Creating pictures by spraying paints on canvas utilising a number of special devices – the artist has been captivating audiences with his unique style and creative flair .
5. The annual Instagrammable Corner has taken a monogram theme this year, inviting visitors to become part of the art. Designed by curators Batool Jafri and Samar Kamel, the area makes for the perfect Instagram upload and sees visitors snap photos with their personality being the only colour in the shot.
6. Creating art for a cause, Doodle Rockstar, AKA Sijin Gopinthan, the Dubai based Indian artist, is well known for spreading positivity through his artwork and this year is creating his 'Save the Nature' piece aiming to raise awareness of environmental issues threatening the planet.
7. 3D art has taken the show by storm with multiple exhibitors incorporating the effect into their work, including NIO Art with their large resin piece, as well as work that pays tribute to Dubai's leadership created from thousands of buttons by DaVinchi Suresh, and incredible intricate pieces by the Saudi based artists, 3D Artworks Gallery.
8. For visitors feeling inspired to create their own art while on site, the best art supplies on the market can be purchased at Skribl Box, including paint brushes, canvasses, paints and more.
9. A series of workshops have been underway so far at World Art Dubai, with Saturday's roster set to take a kid-friendly turn with an 'everyday photography' class hosted by Nikon, aimed at teaching the next wave of photographers how to snap the ideal shot. Other kid-friendly sessions include 'developing creative thinking with art' by Aygul Kuptsova, owner of PlayArt Studio.
10. Although hard to miss, be sure to keep your eyes peeled for the large-scale art creations dotted throughout show, including an immersive installation by Sister Octopi which represents their long-distance relationship, the Guinness World Record Holder for the world's largest screwdriver which is for sale at USD 20,000, and the longest Quran calligraphy both created by artist M Dileef.
Responding to the high footfall, the show has now announced an extension in timings on both Friday and Saturday until 10pm, as well as free parking for visitors in all Dubai World Trade Centre owned parking facilities. To avail the free parking, visitors will need to hand over their wristband to the cashier once they leave the car park.
News Source: Emirates News Agency