Dubai Electricity and Water Authority (DEWA) has started receiving applications from exhibitors and companies from around the world to participate in the 25th Water, Energy, Technology, and Environment Exhibition (WETEX) and Dubai Solar Show (DSS).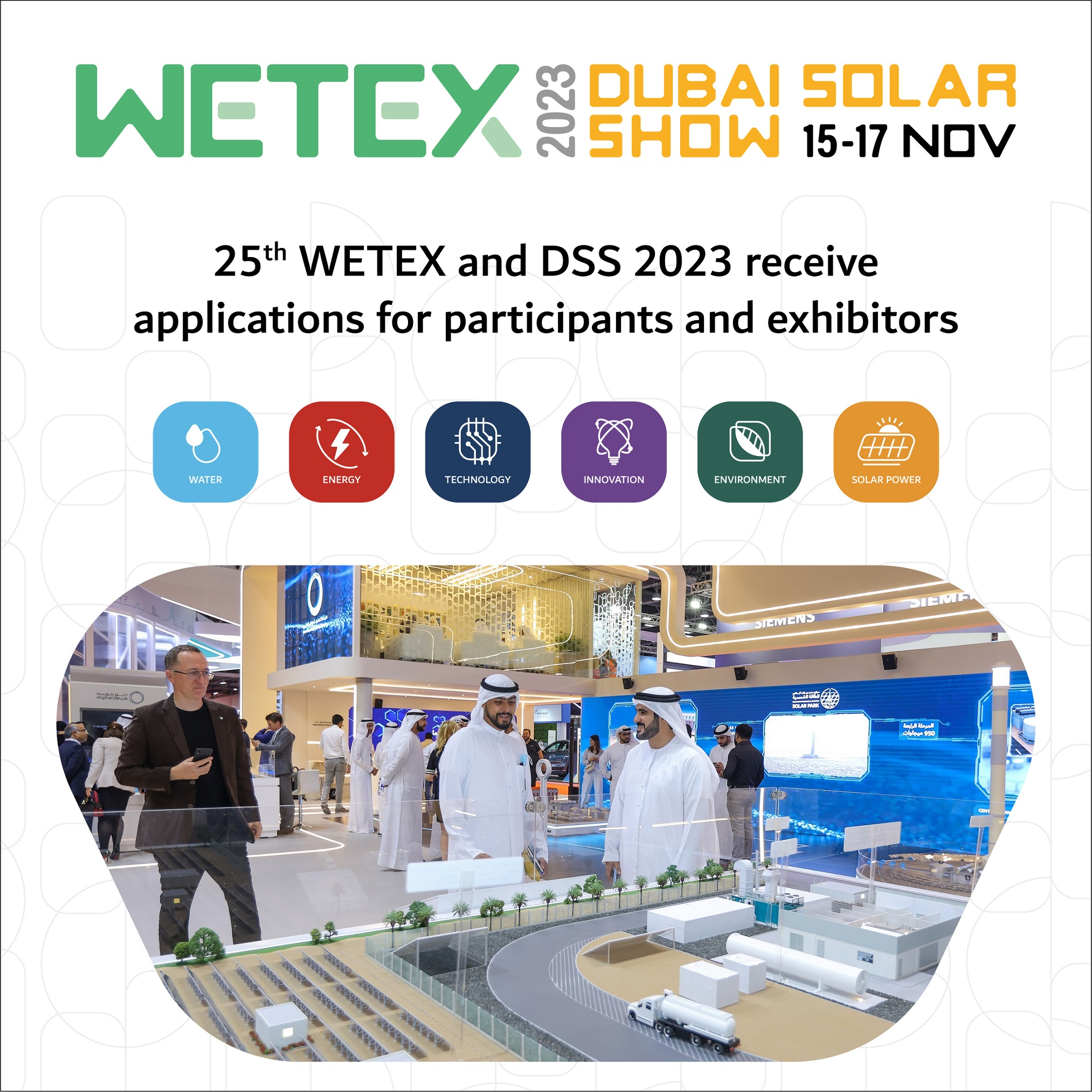 The exhibition is organised by DEWA under the directives of HH Sheikh Mohammed bin Rashid Al Maktoum, Vice President and Prime Minister of the UAE and Ruler of Dubai; and the patronage of HH Sheikh Ahmed bin Saeed Al Maktoum, Chairman of the Dubai Supreme Council of Energy, from 15 to 17 November 2023 at the Dubai World Trade Centre.
HE Saeed Mohammed Al Tayer, MD & CEO of DEWA, Founder and Chairman of WETEX and DSS, highlighted that this is the largest exhibition in the region in the sectors of energy, water, green development, sustainability, electric vehicles, and smart cities, and one of the largest specialised exhibitions in the world. This makes it an ideal platform for companies, investors, and visitors to learn about innovations and solutions in these sectors, exchange experiences, conclude deals and build partnerships, and explore investment opportunities in local and regional markets.
"WETEX and DSS supports the pioneering efforts of the UAE and Dubai in the field of climate action and the UAE's leadership of the region's efforts to achieve net-zero. It also consolidates the foundations for a sustainable future. The exhibition provides an important opportunity for companies, and government and private organisations to reach thousands of exhibitors, participants, officials, decision-makers and experts in various vital sectors. The exhibition sheds light on the sustainable development process in the UAE, and the most prominent milestones and achievements on the road to achieving the Dubai Net Zero Carbon Emissions Strategy 2050 to provide 100% of Dubai's total power production capacity from clean energy sources by 2050,"
added Al Tayer.
The 24th WETEX and DSS attracted 1,750 companies from 55 countries and 64 local and international sponsors. It spread over 62,513 square metres and hosted 20 international pavilions. The exhibition also hosted many meetings between companies, government and private institutions, and investors through the Business-to-Business (B2B) and Business-to-Government (B2G) platforms.
WETEX and DSS 2022 witnessed the launch of advanced innovative technologies in clean and renewable energy, water sustainability and water infrastructure, water treatment, desalination and purification, water flow control, sewage treatment, water waste disposal, and water extraction from air and others. It also attracted a number of the world's leading companies in the field of digital transformation, smart and sustainable cities. It witnessed a large turnout of major contracting companies, as well as Engineering, Procurement and Construction (EPC) companies, and infrastructure for utilities.
Moreover, it hosted several leading local and international companies specialising in electric vehicles (EVs), including M-Glory, the first EV manufacturing facility in the UAE, highlighted the UAE-made 'Al Damani' models built on European specifications, and keeping pace with the latest technologies of the Fourth Industrial Revolution. International car manufacturer, Stellantis showcased four types of electric vehicles. In addition, EVS, which specialises in EV maintenance services, showcased a range of its leading services in the region. In addition, CITA demonstrated different types of EV chargers. Yablochkov also showcased some of the charging systems for electric vehicles that the company has developed. DEWA allocated a special area at its stand for the Green Charger initiative launched in 2015 to provide the first public infrastructure for charging EVs in the region.
During the exhibition, DEWA organised 110 seminars and panel discussions by prominent experts and specialists from around the world on sustainability; clean and renewable energy; green hydrogen; water desalination using clean energy; reducing emissions in the energy sector; circular economy; renewable energy generation and storage; technologies for turning waste into energy; artificial intelligence; emerging technologies in utilities; smart meters and grids among other vital topics.
News Source: Dubai Media Office