The signature Sand Sherpa Special Reserve is the only camping experience in the UAE that allows you to enter the Dubai Desert Conservation Reserve (DDCR) in your own car, under the expert guidance of Sand Sherpa's off-road experts. Bookings are limited to a maximum of five vehicles per trip.

Your experience begins at the DDCR Margham Gate, where Sand Sherpa's lead guides will brief you on reserve driving etiquette as you venture into the 225-square-kilometre protected area. Camels are excluded from the area and native flora and fauna are abundant. The lush vegetation attracts birds and various desert animals including Arabian oryx, two species of gazelle, foxes, lizards and birds. The area is also a haven for migrating birds from November through to April.

During a scenic drive on a specially prepared track to camp, participants are encouraged to spot and identify desert life. Forget glamping; this is authentic desert camping, but complete with showers and bathroom facilities.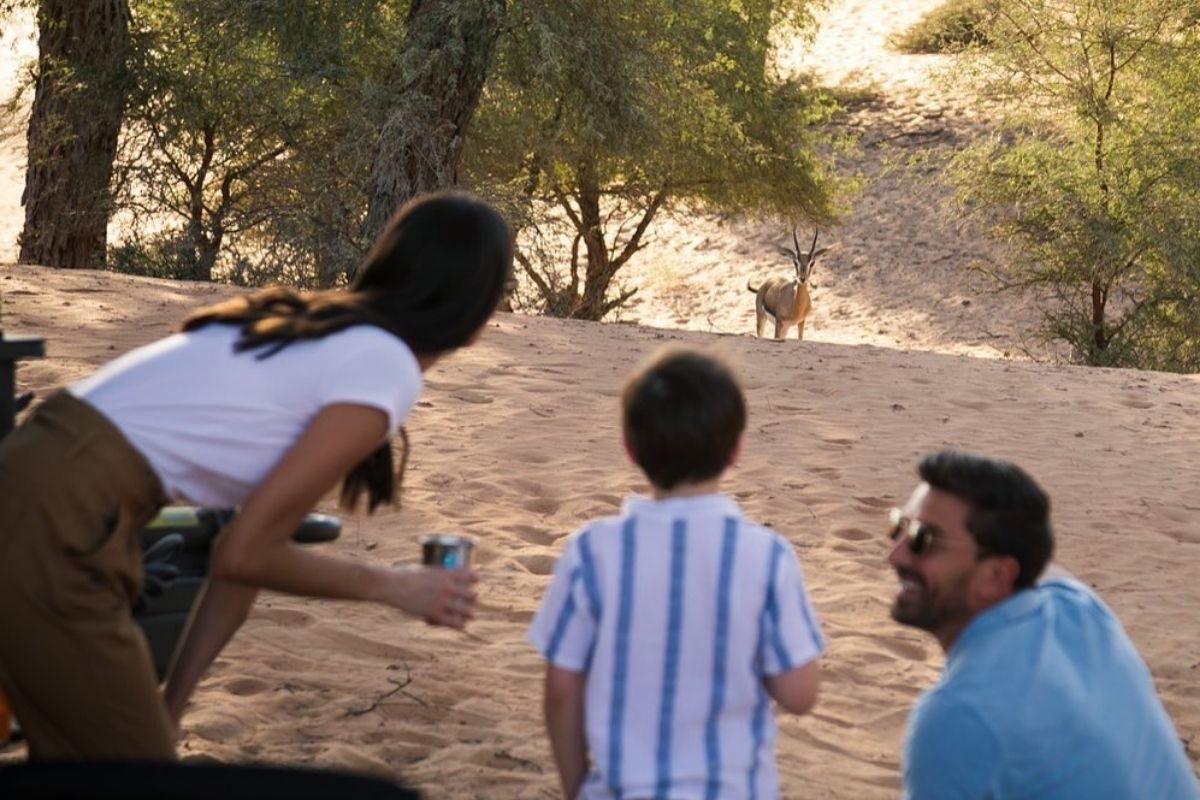 Each vehicle is assigned its own camping trailer equipped with Sand Sherpa Roof Top Tent (Gazelle - L or Oryx - XL), utensils and camping accessories for all members of each individual party. Stay with your trailer or mingle with other campers around the main campfire as the evening progresses.

In the morning, your camp leader will take participants on an optional hawk walk through an ancient ghaf tree forest, where we identify tracks that have appeared overnight around the camp and everyone has a turn walking with – and flying – our trained bird of prey. This is followed by a unique aerial raptor display. Arrangements may be made for guests to be collected and transferred to the site in our own vehicles. 4x4 rental options are also available and you can contact us for details.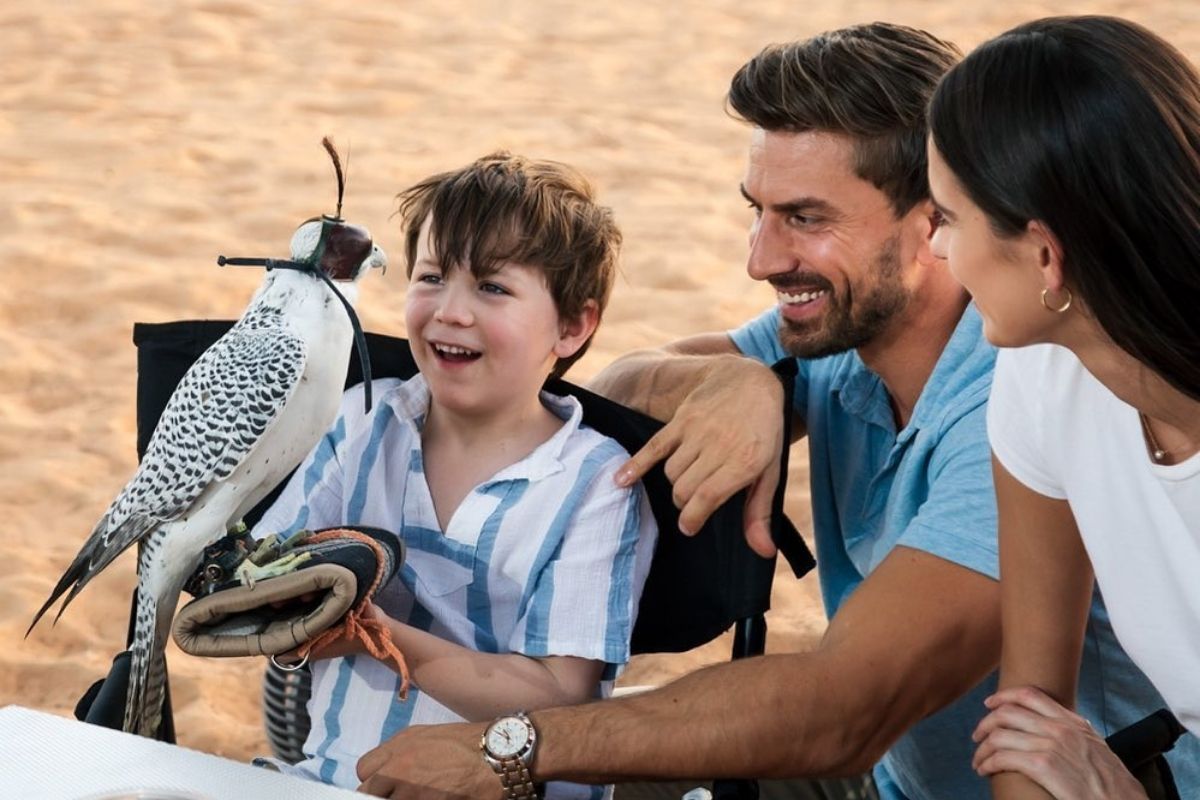 What's included:
• Professional briefing at the entry to the desert
• Guided beginner-level desert driving with instruction
• Assignment of camping trailer with Roof Top Tent and/or additional sleeping accommodation in the trailer for children - as booked
• Lotus BBQ Grill
• Own camping fridge/freezer with your trailer
• Water
• Table/chairs
• Main campfire
• Hawk walk
• Bathroom facilities on site
• Showers (integrated in the trailer with an additional unit on-site)
• Full camping accessories (utensils, torches and everything in between)
• Surprise treats
What's not included:
• Sleeping bags
• Pillows
• Bedding
• Food
• Soft drinks
Required:
• 4x4 vehicle (with high and low ratio gearbox)
• Closed-toe shoes to be worn at all times by all participants after sunset
• Bring sleeping bags or full duvet and pillows. It can get cold, so carry warm clothes and extra blankets
Prices:
Package 1 - DDCR camping experience with fully-equipped trailer and rooftop tent (L) for two adults - AED1,950
Package 2 - DDCR camping experience with fully-equipped trailer and rooftop tent (L) for two adults and one child - AED2,000
Package 3 - DDCR camping experience with fully-equipped trailer and rooftop tent (XL) for two adults and two children - AED2,200
Package 4 - DDCR camping experience with fully-equipped trailer, rooftop tent (XL) and ground tent for two adults and three children - AED2,450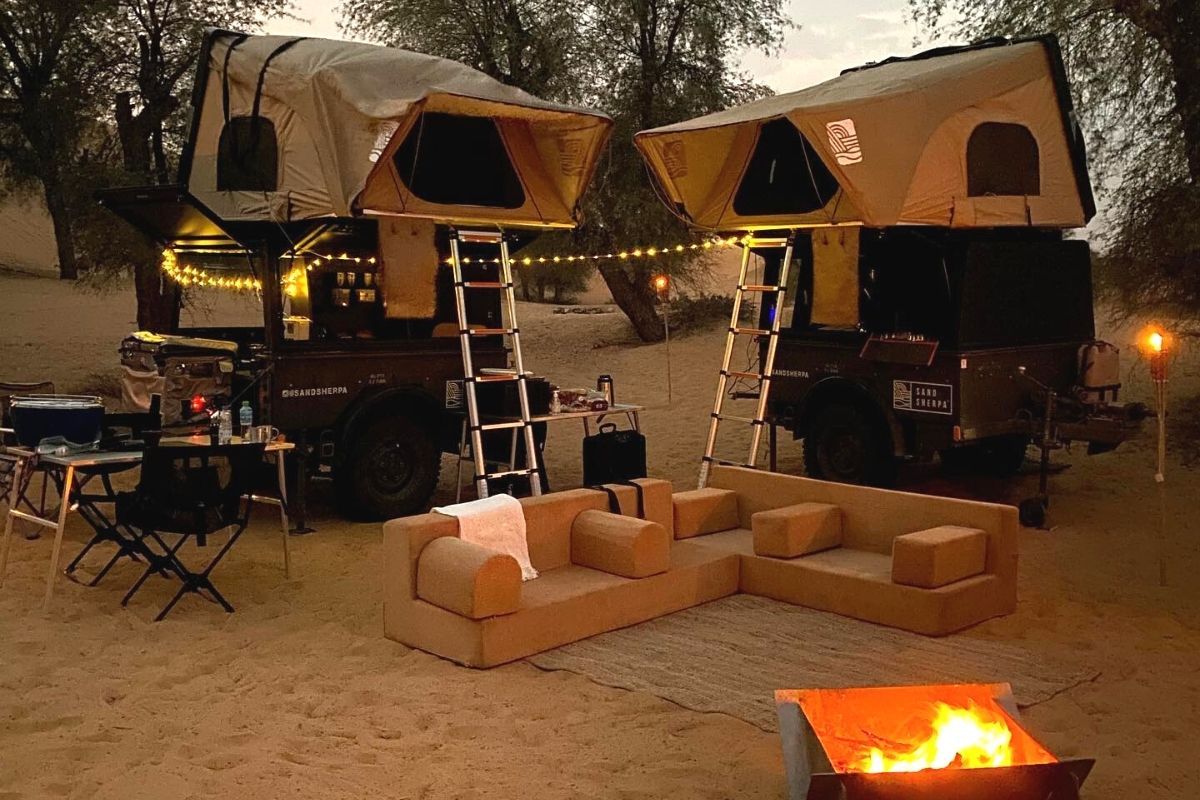 News Source: https://www.sandsherpa.com/desert-camping