- Al Ansari Financial Services Reports a 7.2% Net Profit Increase in Q1 2023 to AED 133 million on Strong Demand Across All Products
Al Ansari Financial Services PJSC (DFM: ALANSARI), (the "Group"), one of the leading integrated financial services groups in the UAE and the parent of Al Ansari Exchange, today announced its financial results for the first quarter ("Q1") of 2023, ended 31 March 2023. This marks the first financial results since the Group listed 10% of its issued share capital through an initial public offering on the Dubai Financial Market ("DFM") on 6 April 2023.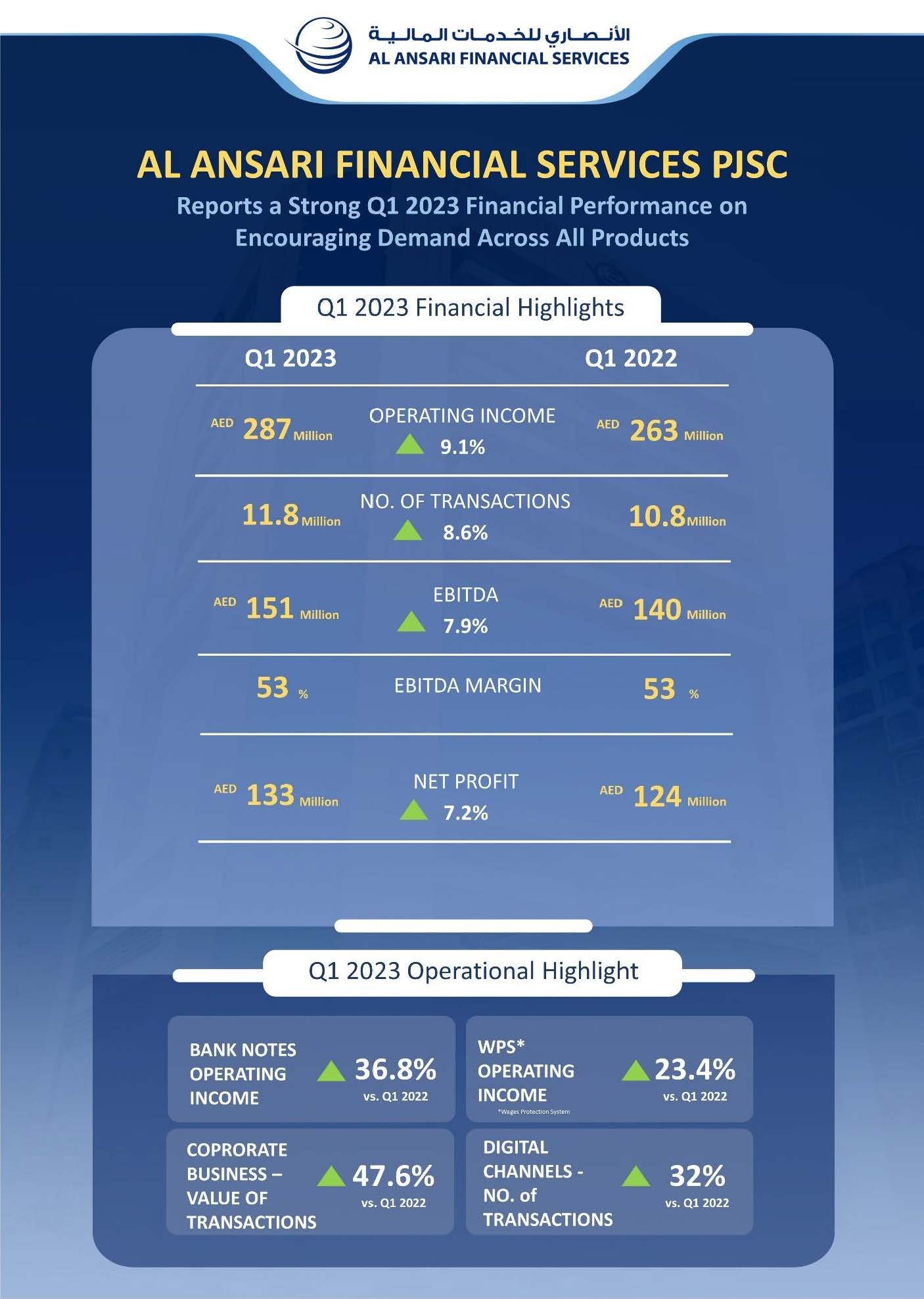 Q1 2023 Financial and Operational Performance Commentary
- Operating Income increased 9.1% YoY to AED 287 million driven by an 8.6% YoY increase in the total number of transactions.
- The increase in the number of transactions was driven by exceptional demand from the Corporate business segment underpinned by buoyant economic conditions. It is also owed to a strong increase in the Bank Notes business on the back of the UAE's tourism boom and increase in outbound tourism.
-  EBITDA increased by 7.9% YoY to AED 151 million with a steady EBITDA Margin near 53% on the back of strong top line growth, high margin contribution from increased digital transactions and Group's CAPEX-light model.
-  Net Profit came in at AED 133 million, increasing 7.2% YoY on the back of healthy top-line growth, strong increase in exchange income from the Bank Notes and Pre-Paid Cards products as well as the Group's significant operating leverage and increase in transactions conducted through digital channels.
- Despite an increasing operating cost environment, the Group managed to maintain a relatively strong control over major costs, such as rent, thanks to its market dominance.
- Free cash flow (FCF) increased by 3% YoY to AED 141 million, demonstrating the Group's healthy cash flow position. The Group's ability to increase its cash generation is driven by EBITDA growth with c.93% cash conversion rate.
Performance of other products

- The WPS business saw a strong increase in Operating Income, up 23.4% in Q1 2023 versus Q1 2022. This is predominantly driven by growth in the number of newly acquired corporate customers.
- While still in its early stages, the end-to-end cash management business, through CashTrans, is gaining remarkable momentum, with the number of customers growing from only 3 in Q1 2022 to 25 in Q1 2023. The Group expects this number to continue growing as it ramps up operating and sales efforts within this product line.
Dividend
-  As announced during the IPO, and outlined in the Prospectus, the Group intends to distribute a minimum of AED 600 million for FY 2023 to be paid out semi-annually with the first half expected to be distributed in October 2023 and the second payment to be disbursed in April 2024. The dividend is subject Board of Director's recommendation and shareholder approval.
Commenting on the results Rashed Ali Al Ansari, Group CEO of Al Ansari Financial Services, said:  
"2023 is off to a fantastic start, building on the previous year's strong financial and business performance.  Our integrated offering, multi-channel approach, diverse and growing customer base and capex-light business model have supported our profitable growth over the last three months. The Group's growth is underpinned by a robust UAE economy, specifically the increase in number of inbound tourists, positive consumer confidence and increase in business activities.

Our latest financial performance demonstrates why we are a compelling investment opportunity, supports our promise to distribute dividends and validates investors' strong demand in our IPO.

Looking ahead, we will continue to execute the well-funded and executable growth strategy to unlock shareholder value over the mid to long term. We expect to further strengthen our market leadership position in our home market within the remittance and banknotes market by increasing our physical branches. We also believe that the digital channels will continue to perform exceptionally, as more and more customers choose the convenience and ease of that channel, which will support margin expansion. Staying in our home market, we believe the outstanding growth in demand we saw in our corporate business from new and existing clients will continue to gather pace thanks to our know-how, offerings, market reputation and our talent. We also expect to expand our footprint in other high-potential GCC markets, supporting our revenue diversification."
Mohammad Bitar, Deputy Group CEO of Al Ansari Financial Service, said:
"We are encouraged by the strong growth across the business during the first three months of 2023, with the star performer for the period being the Bank Notes and Wage Protection System business.

The Bank Notes business is buoyed by the significant increase in number of tourists coming to the UAE, with Dubai alone receiving 4.67 million international visitors in the first quarter of 2023, according to official data. It was also supported by the strong increase in the wholesale bank notes business. The pre-paid cards product also had an outstanding period, with the number of transactions jumping by 40% compared to Q1 2022. The WPS business growth was driven predominately by increase in both the number of corporate customers and the total number of salary disbursals.

More generally, we are very pleased with the remarkable growth in the B2B business. This is owed to our strategic initiatives to expand our market share in this very attractive customer segment. We anticipate acquiring more corporate customers and increasing cross-selling to existing ones, in line with our growth strategy. Additionally, our investment in digital channels is paying off, and we are continuing to see a significant uptick in the number of transactions executed through those channels across all our offerings. We anticipate more and more of our customers to opt for a hybrid approach, using both our physical and digital channels for their money transfer and bill payment needs."
News Source: Emirates News Agency