Get ready for a fun and entertaining month of August!
Keep an eye on these spectacular events taking place in Dubai this August so, that you don't miss out on the fun and can book your tickets in advance.
1. Funny Side Up Season 4: Harsh Gujral in Dubai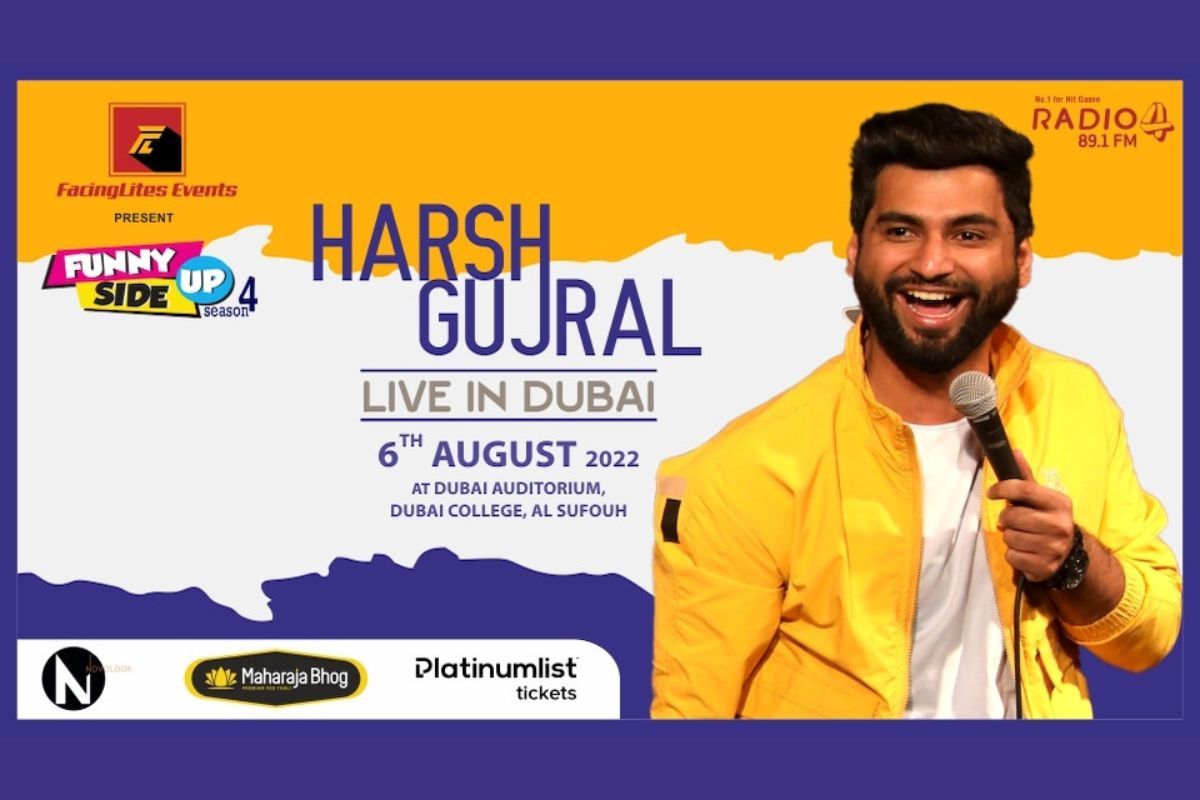 Get ready to laugh like never before with Harsh Gujral who will tickle your ribs with his fresh and contemporary observational humour. His super relatable style of narration connects him with the audience instantly.  If you're feeling brave, sit in the first few rows as Gujral loves to involve the audience and doesn't hold back roasting anyone in his sight. His witty take on everyday life situations will surely leave you in stitches though, no matter where you're seated.
Venue: Dubai College Auditorium, Al Sufouh Road, Dubai
Date: 6th August
Timing: 19:30 pm
Ticket Price: from AED 135 | Get your tickets here
2. Guru Randhawa Live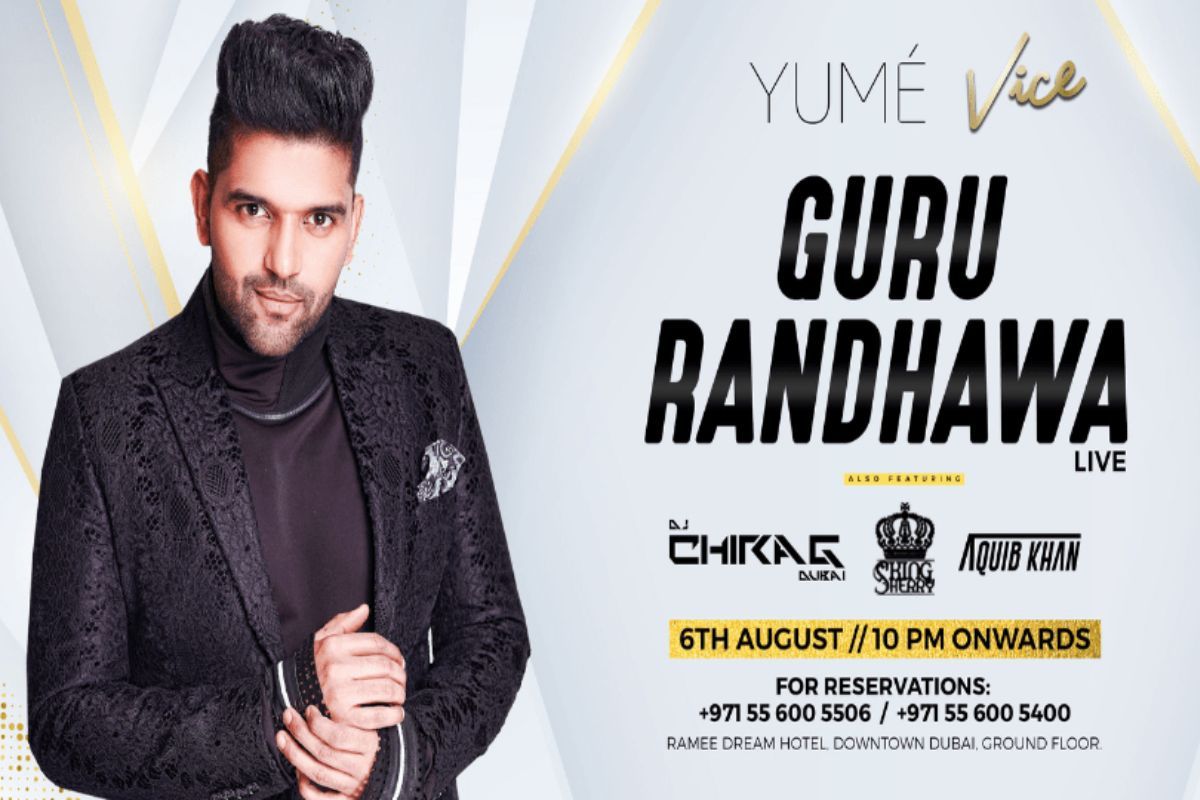 Calling all the Bhangra and Indi-Pop of Dubai lovers to experience this one-of-a-kind performance by Guru Randhawa who is known for delivering great music. His most-viewed songs, "Dance Meri Rani" "High Rated Gabru" and "Lahore", have over 1 billion views on YouTube. He won Track of the Year at the Brit Asia TV Music Awards for "Lahore" in 2018, and Best Male Act. So, don't miss out on your chance to experience this unforgettable event in Dubai. You'll start dancing as soon as he steps in on stage so keep your dance moves ready.
Venue: YUMÉ – Ramee Dream Hotel, Downtown-Dubai
Date: 6th August
Timings: 10 pm
Ticket Price: AED 150 | Get your tickets here
3. 'Excuse me! Brother!': Aakash Gupta Live in Dubai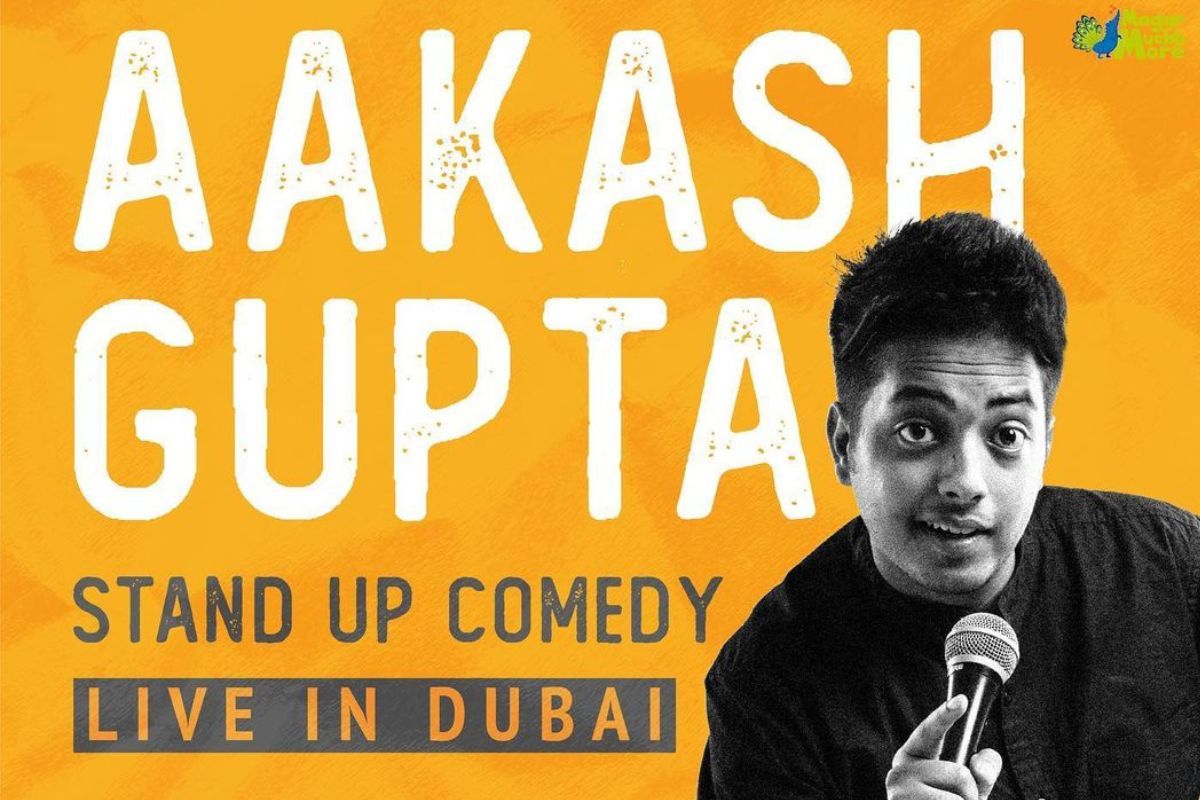 Laugh out loud with one of India's funniest comedian. Aakash Gupta is the co- winner of Amazon Prime Comicstaan Season 2 and will set the stage on fire with his witty humour. His most popular stand-up videos on YouTube have gone viral with fan favourite lines like "Excuse Me, Brother!" and "Shampoooo". He can spin any simple day-to-day situation into a rib-tickling tale, there is no doubt you will have the time of your life laughing. Aakash may look quite young but don't let his boyish appearance deceive you he will have you in stitches with his unique storytelling and humour style.
Venue: Level 2, The Theatre - Mall of the Emirates, Dubai
Date: 13th August
Timings: Show 1: doors open: 5pm Show starts: 6:30 pm
Show 2:doors open: 8pm Show starts: 08:30 pm
Ticket Price: from AED 90 | Buy your tickets here
4. Sunidhi Chauhan Live in Dubai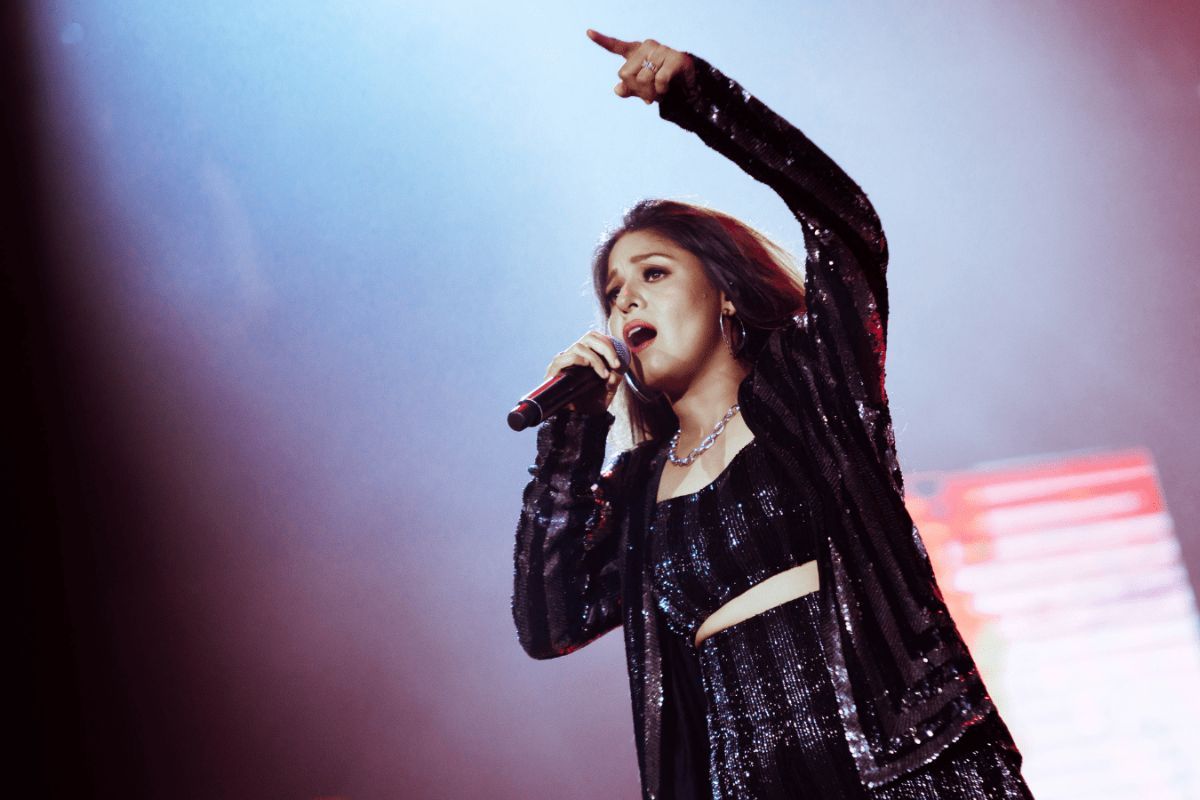 Enjoy a night of musical melody with Sunidhi Chauhan. She's an Indian Singer who is known all over the world for her melodious voice. Don't miss your chance to see her live as she returns to Dubai during DSS. Listen to her unparalleled vocal range, get mesmerised and feel nostalgic while reliving memories in some of her most popular tunes including 'Mehboob Mere' 'Deedar De', 'Desi Girl', 'Sheila Ki Jawaani', 'Crazy Kiya Re', 'Girls Like to Swing' and many more. Don't miss out on this golden chance to see Sunidhi live and have the best night hearing her sing some of her most popular songs.
Venue: Coca Cola Arena
Date:13th August
Timings: Doors open at 7pm show starts- 08:30 pm
Ticket Price: from AED 99 | Get your tickets here
5. The Self-Drive Laughter Factory's 'Come ride with us!' tour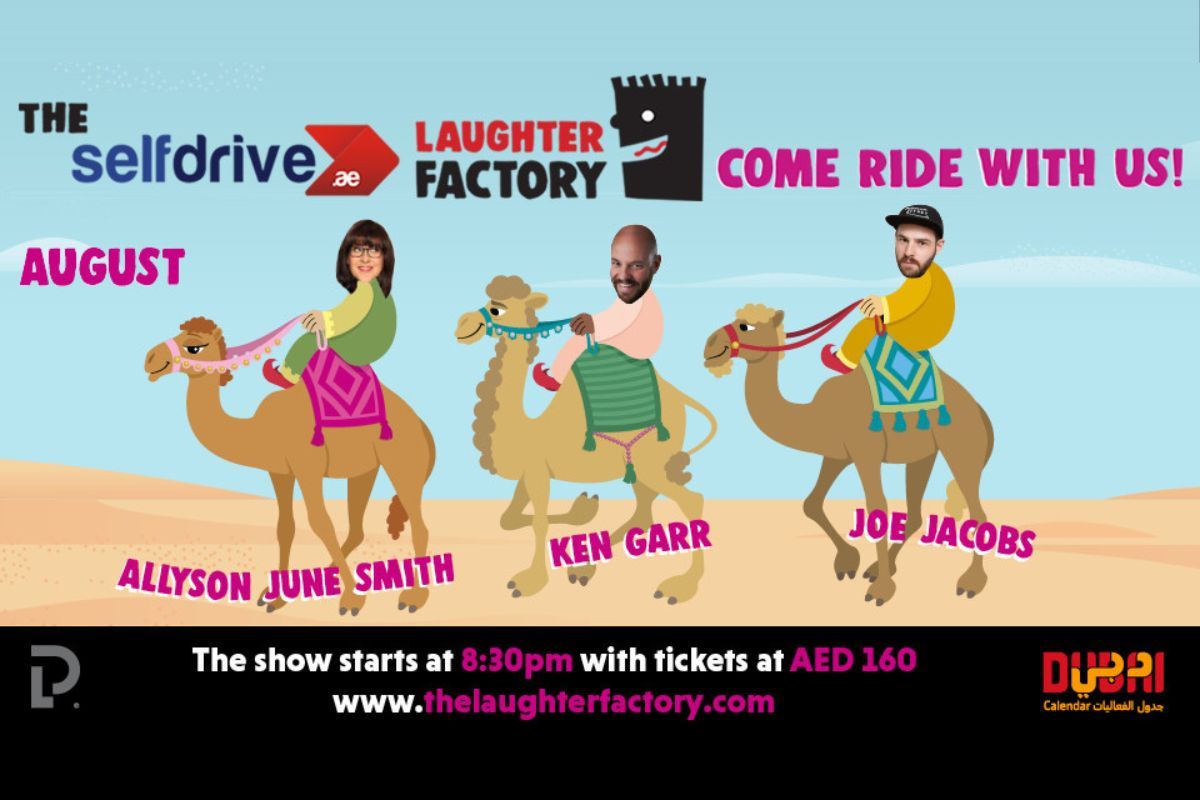 Come and see a comedy show of a lifetime. The Self-drive Laughter Factory is bringing you three 5 star rated comics as the ultimate distraction from the of summer heat. Ken Garr is always a highlight of World-Famous Hollywood Improv and the "Laugh Your Asheville Off" festival. He is also a regular feature on Comedy Central. Next, Joe Jacobs a comedy rapper and writer is making his debut in the gulf. His live shows effortlessly mix between hip-hop and comedy a style that is unique and catches the audience's attention. Finally, there's Allyson June Smith a favourite of people in the Middle East. Her comedic gift is that she makes every room feel like an intimate group therapy session, such is the bond she has with her audience. So, set on this delightful comedy journey that will make you laugh-out- loud from beginning to end. Comedy fans, these acts are not to be missed.
Venue & Dates:
19th& 20th August – Movenpick JBR Dubai
24thAugust – Zabeel House by Jumeirah, The Greens Dubai
26thAugust – Grand Millennium Barsha Heights, Dubai
27thAugust – Dukes Dubai the Palm, A Royal Hide Away Hotel
Timings: 8:30 pm
Ticket Price: AED 160 | Buy your tickets here
6. Laughter Night with Amit Tandon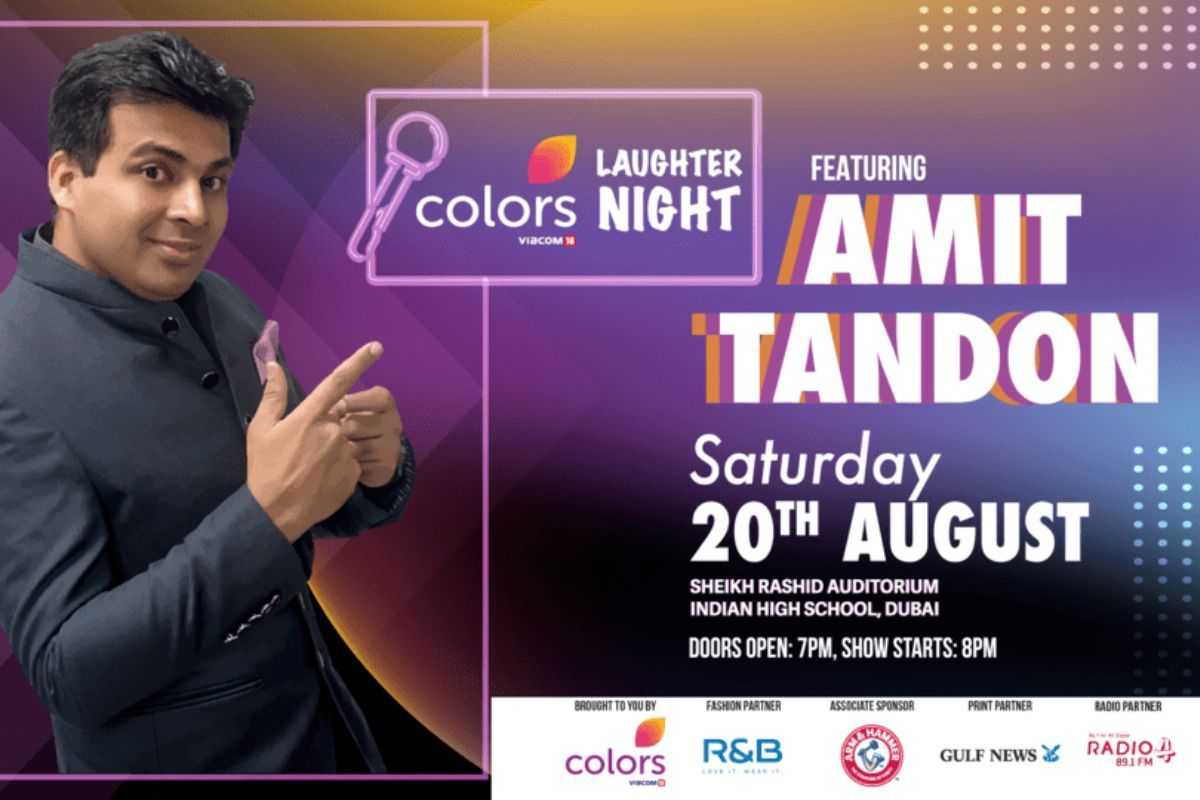 Amit Tandon is the first stand-up comedian to have a Hindi solo special on Netflix called 'Family Tandoncies' which was among the Top 10 shows on Netflix India. He will be back in Dubai to make you laugh out loud with his witty humour. His comedy style involves unveiling the secrets of a happy marriage, complicated joys of parenting and so much more. He is one of the best-known observational comedians of India. His humour is contemporary and refreshing and has struck a chord with audiences wherever he goes.it is going to be Laughter nights show you won't want to miss!
Venue: Sheikh Rashid Auditorium, Indian High School, Dubai
Date: 20th August
Timings: doors open- 7pm show starts: 8pm
Ticket Price: from AED 90 | Get your tickets here
7. Faouzia live in Dubai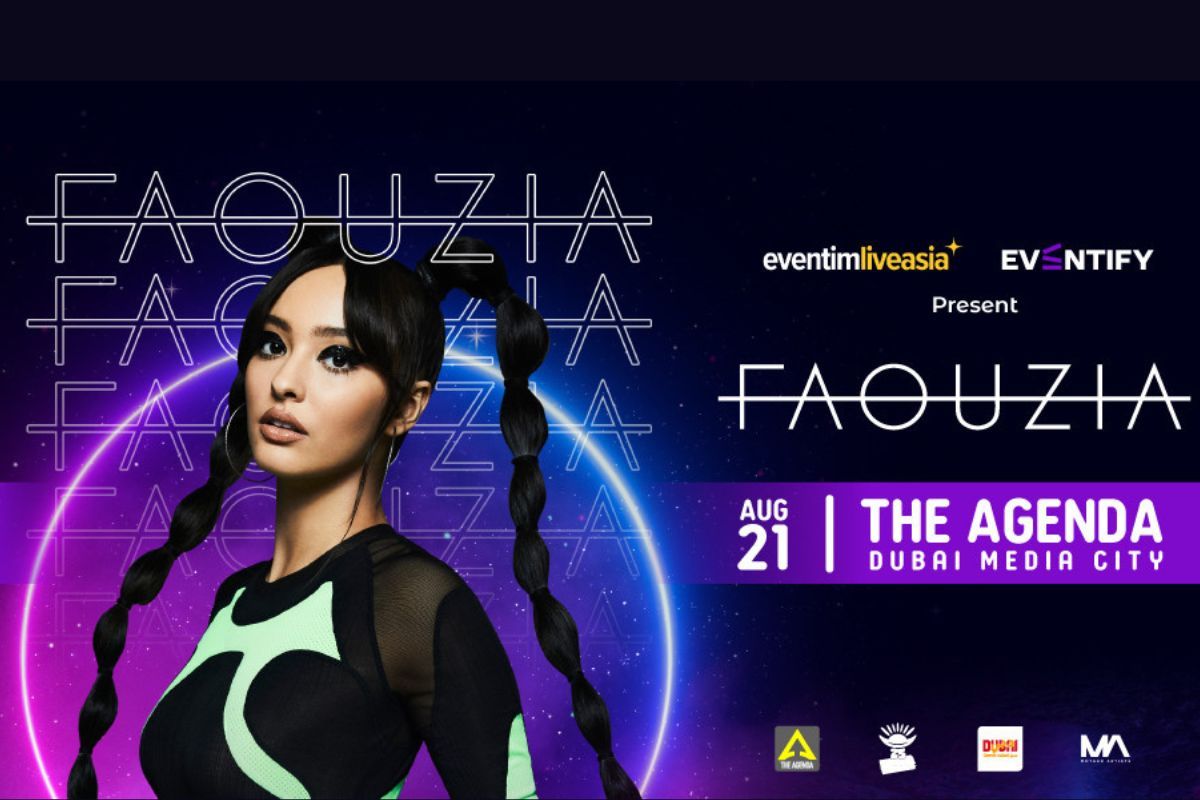 Get your musical fix with Moroccan-Canadian singer Faouzia as she gets ready to perform for a memorable night. The night will also see award-winning DJ Dany Neville spin back-to-back hits that will keep you on your toes. Fauzia gained popularity with her track 'Tears of Gold', she has collaborated with internationally acclaimed musicians like John Legend, Kelly Clarkson, and David Guetta. Expect to hear some of her famous hits including – 'Born without a heart', 'All works out', 'Bad Dreams' and 'You Don't Even Know Who You Are. Book your tickets now for a night of awesome acoustic pop and R&B tunes that will make you dance to your heart's content.
Venue: The Agenda, Dubai Media City
Date: 21st August
Timings: 6pm Show Ends 23:00 pm
Ticket Price: from AED 195 | Buy your tickets here
8. Jordindian live in Dubai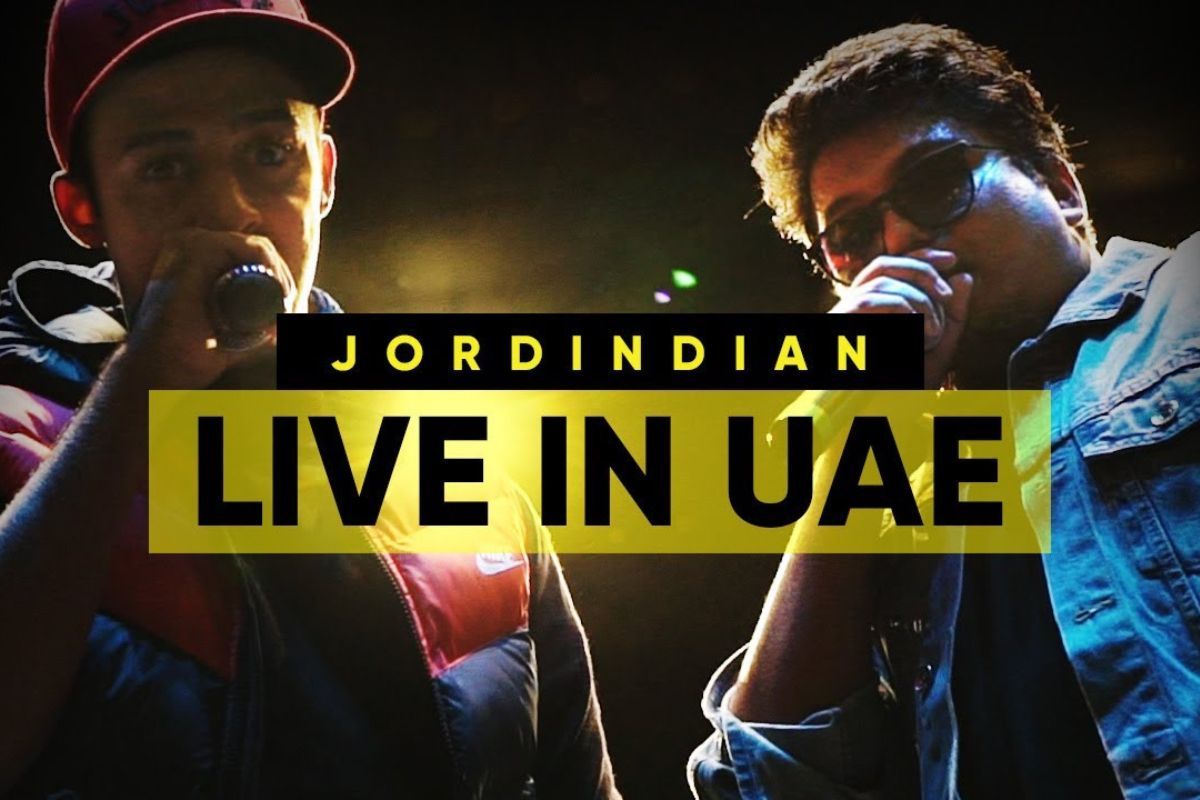 Jordindian is a comedy duo of Naser Al Azeeh and Vineet Kumar who have roots from Jordan & India respectively. This August, they're giving you a never seen before 60-min performance event with funny sketches and parodies, beatboxing, b-boying, conversations and a performance of their breakout songs- 'Fasting and Furious', 'Exam Time' and 'Locked Up in The Lock Down'. You can be assured that you'll get a night full of chuckles, laughter, and enjoyment. The boys became an internet sensation when their hit track 'Smoke Shisha Play Fifa' went viral with over 17 million views. Today, they are one of the fastest growing content creators in Asia with over 2M subscribers on YouTube. Their quirky lyrics and relatable content ensure they gain popularity across the globe. Book your tickets today for a chance to hear their unreleased material.
Venue: Theatre by QE2, Dubai
Date: 21st August
Timings: 17:30 pm
Ticket Price: from AED 95 | Get your tickets here
9. 'Mai Samay Hoon': Samay Raina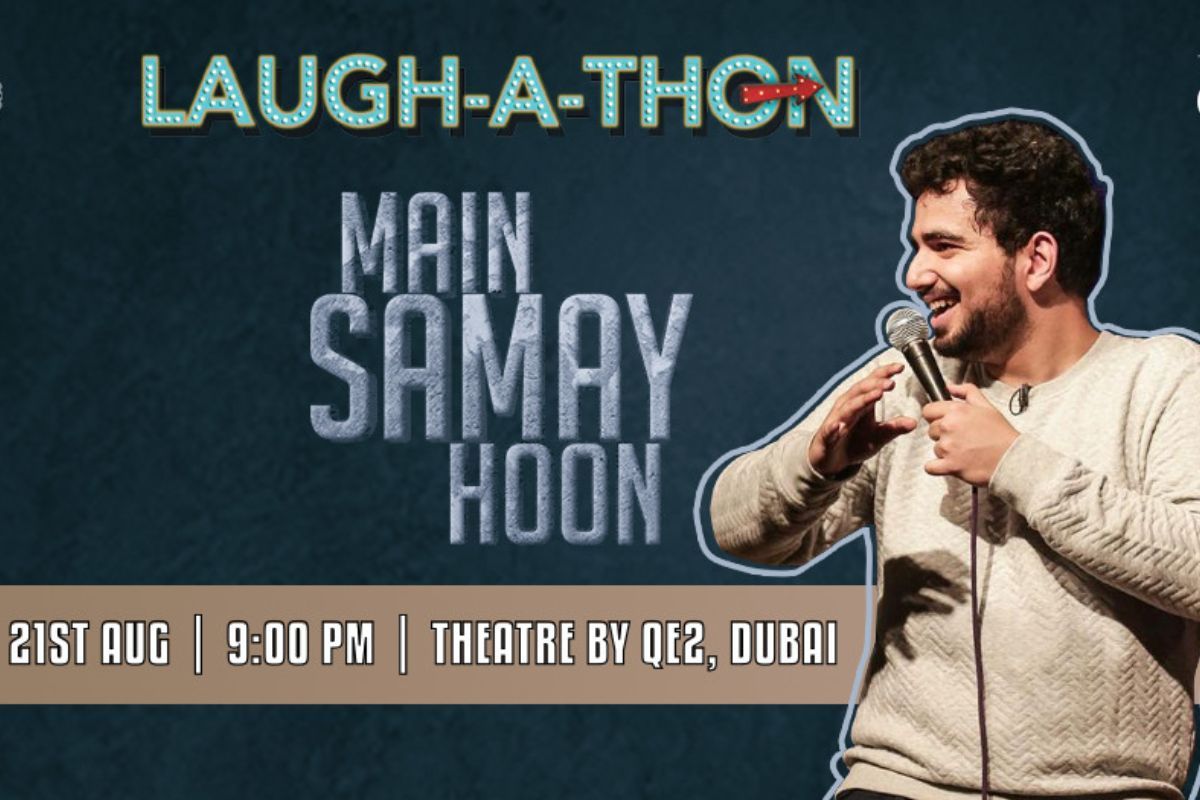 'Mai Samay Hoon' is a show where you get to see who the real Samay Raina is. Watch Raina slowly and hilariously take you to a very dark place. This controversial star shot to fame when he landed joint first place on Amazon Prime's Comicstaan in 2019 and has since left audiences around the world in stitches. Today, he is a popular stand-up comedian, youtuber and chess enthusiast. Expect to find yourself on the edge of your seat when Raina brings down the house at Theatre by QE2 with his humour and witty personality. Book your tickets now to experience this comic star live.
Venue: Theatre by QE2, Dubai
Date: 21st August
Timings:  8:30 pm
Ticket Price: from AED 95 | Buy your tickets here
10. Alan Walker & KSMR live in Dubai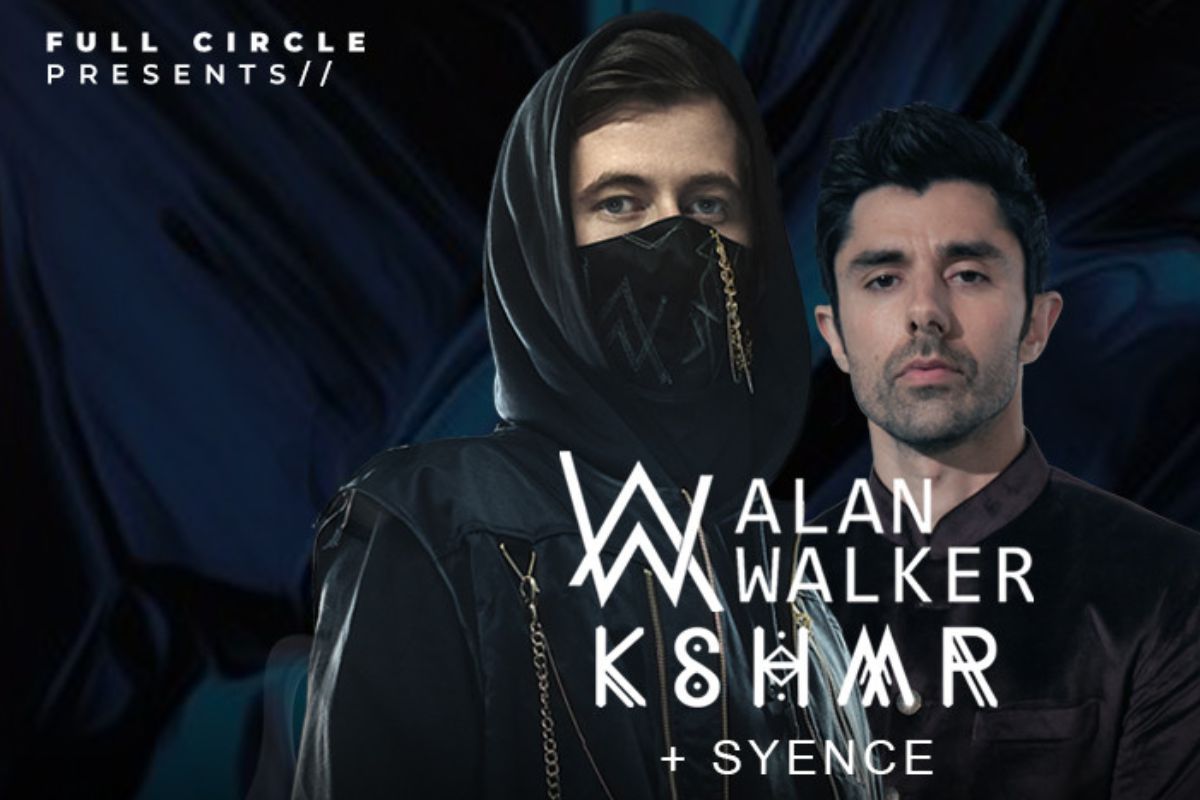 Alan Walker will be back in Dubai along with KSHMR for another exhilarating and entertaining night this August. The EDM star is widely known for his trademark mask and hoodie, yet behind the mysterious character is the certified platinum recording producer and DJ, behind the critically acclaimed single "Faded" (2015). Alongside, Alan Walker is another EDM genius KSHMR. An innovative and pioneering producer, behind smash hits like TSUNAMI and STAMPEDE. You're guaranteed the best night with this combo. Together, they'll perform hits like 'One More Round', 'Invisible Children', 'Sing Me to Sleep', 'Faded', 'Darkside' and many more.
Venue: Coca Cola Arena
Date: 26th August
Timings: 8:30 pm
Ticket Price: from AED 199 | You can get the tickets here
11.  Bollywood Melodies- A musical night by Kumar Sanu and Alka Yagnik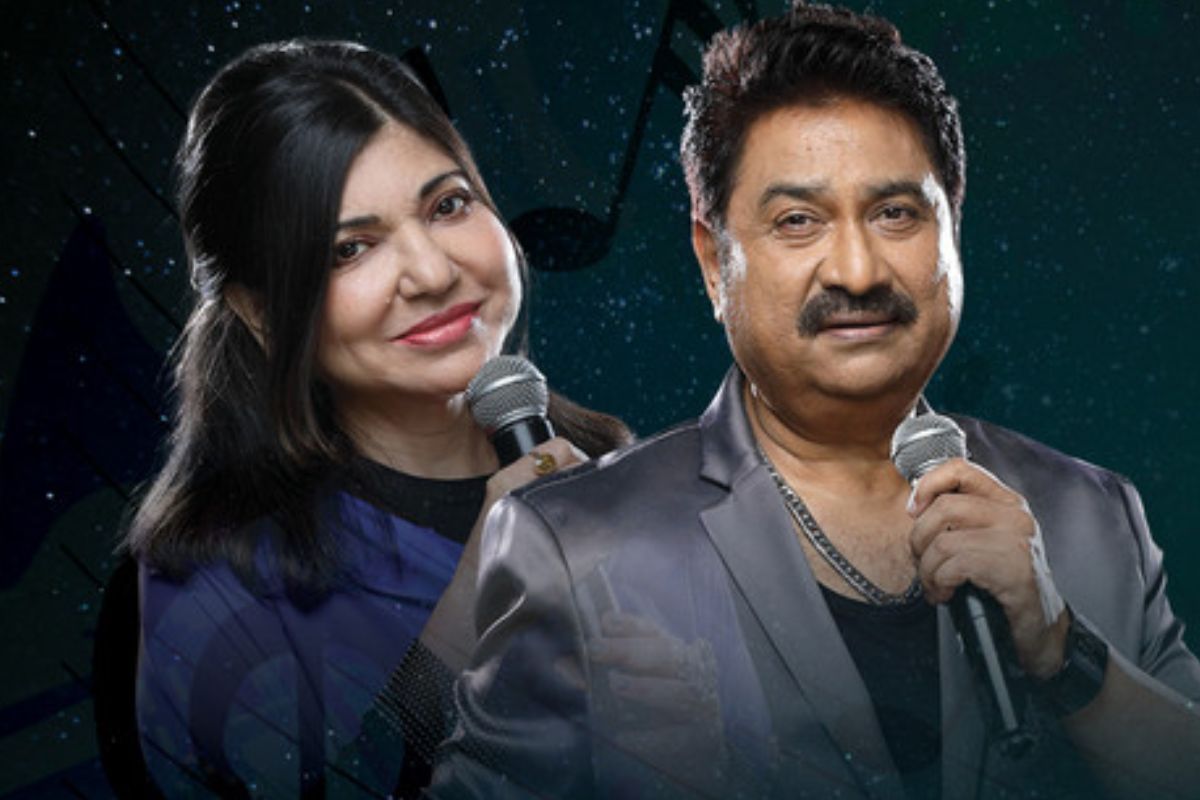 The musical legends Kumar Sanu and Alka Yagnik don't need any introduction. They were the voices behind most oof our favourite Hindi songs from the 90s. Get ready for a musical bonanza from this classic legendary duo this August, who's vocals are the epitome of love and romance and have entertained us for the past four decades with their mellifluous voices. Take a walk down memory lane in this premiere concert with some heart throbbing Bollywood love songs. This popular duo has had more than 100 songs together, some of their famous hits include- 'Chura Ke Dil Mera', Raja Ko Rani Se', 'Kaho Na Pyaar Hai', 'Mera Dil Bhi Kitna Paagal Hai', Baazigar O Baazigar' and many more. Get ready for a night full of melodious voices, nostalgia, and some evergreen songs.
Venue: Sheikh Rashid Hall, World Trade Centre
Date: 28th August
Timings: 19:00 pm
Ticket Price: from AED 99 | Get your tickets here