Samsung Electronics today announced the global launch of the Bespoke French Door Refrigerator, beginning in the United States and expanding to regions across the world by the end of the year.
Initially unveiled at CES 2022, the new model is available in a choice of 3-door and 4-door configurations, and with options that include Family Hub™. With the launch, the Bespoke lineup now includes a model fit for every family's needs.
Combining unique and customizable designs with Samsung's latest storage and cooling innovations, the new line offers consumers the refrigerator they've always wanted with the convenience they truly need. A choice of 12 stylish glass and steel finishes allows families to pick the perfect look to complement their kitchen, while SpaceMax™ technology ensures they can comfortably store all their groceries for all types of cooking.
"The launch of our Bespoke French Door Refrigerator expands the consumers' choice for types of refrigerators by bringing the customization and convenience Bespoke users know and love,"

"Combining spacious capacity with a customizable design that maximizes flexibility in the kitchen, this expansion of the lineup will empower more consumers to experience new ways of living."
said Hyesoon Yang, Head of Customer Experience of the Digital Appliances at Samsung Electronics.
Your Fridge Your Way
Available in a variety of stylish colors and finishes, the Bespoke French Door Refrigerator empowers families to transform their kitchen to personalize to their lifestyle. The refrigerator's neat and modern styling includes interchangeable panels, flat doors and recessed handles for a seamless built-in look.
The elegance of the design ensures that it will not look out of place when installed alongside existing appliances and cabinets. Integrating the water and ice dispensers into the appliance's interior emphasizes the design's stylish simplicity.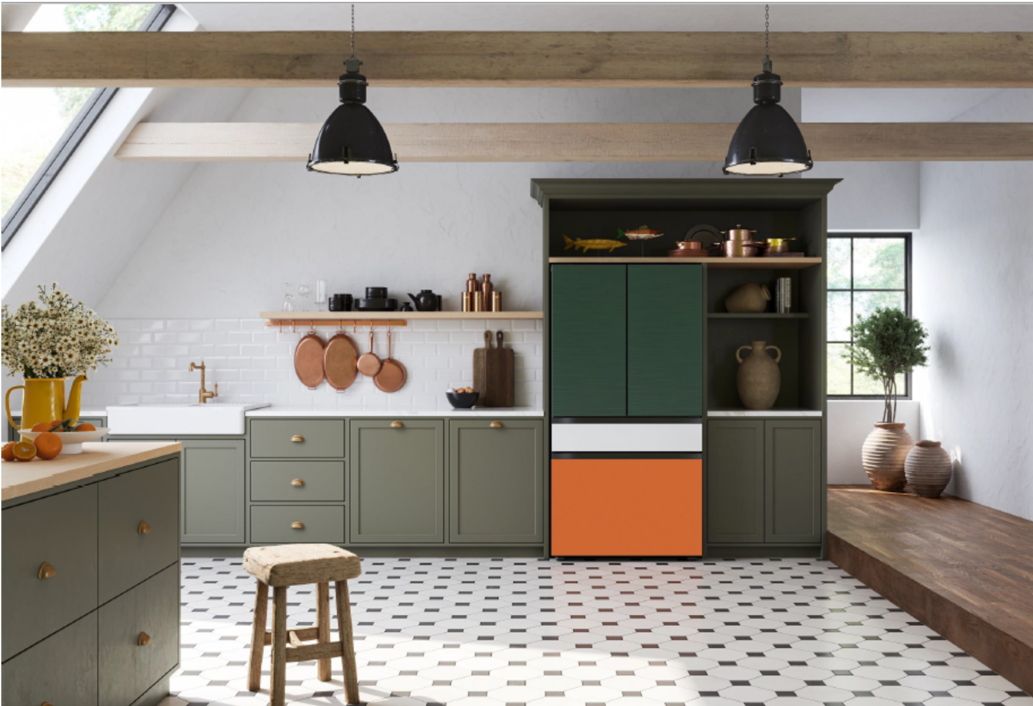 A choice of 12 glass and steel finishes invites families to be creative when selecting the perfect refrigerator design for their kitchen. Glass finishes include Charcoal, Grey, Pink, White, as well as new Clean Sunrise Yellow, Clementine and Morning Blue. Steel finishes include Matte Black, Navy, Stainless, Tuscan and new Emerald Green.
Convenient Features Maximize Performance
The Bespoke French Door Refrigerator comes packed with Samsung's latest cooling and storage innovations. These convenient features provide families with freshly filtered water and offer them the freedom to customize cooling settings.
Built into the refrigerator's interior to reduce the risk of contamination, the Beverage Center™ offers fast and easy access to refreshingly cold and naturally flavored water. As soon as it is placed inside the fridge, the dishwasher safe and BPA free Autofill Pitcher automatically fills with purified water, which can be infused with fruits and herbs to create deliciously flavored beverages.
The Dual Auto Ice Maker produces both Cubed Ice and Ice BitesTM, which are smaller than ice cubes and can chill drinks much faster. It is capable of producing 5.3lbs (2.4kg) of ice per day and stores up to 9.9lbs (4.5kg) — twice the amount of other ice makers. Its sliding cover makes it easy to use an ice scoop and helps protect ice from exposure to air when the freezer door is open.
The refrigerator's FlexZone™ helps keep foods fresher for longer by storing them under optimal conditions. With five pre-set temperature modes, including Soft Freeze, Meat/Fish, Beverage, Deli and Wine, this independently controlled compartment offers families the flexibility to store a wide range of items depending on their needs.
Bigger Is Better
Modern families require fridges that cater to their cooking style with maximized storage space and preservation of freshness. With enhancements that create more room for families' must-have items, the Bespoke French Door Refrigerator makes it easier for households to store more food more efficiently.
The 4-door model features 29 cubic feet of internal capacity, while the 3-door model features 30 cubic feet. The models' spacious designs were made possible in part thanks to Samsung's SpaceMax™ Technology. High-efficiency insulation enabled the refrigerator's interior walls to be made thinner, creating more room for groceries.
With more households consuming fresh produce these days, the large-capacity Big Veggie Box offers a convenient space to keep all kinds of fruits and vegetables fresh. The compartment sends away messy fridges and wilted vegetables to the past by storing foods longer at optimal temperature. Creating more room for fresh produce saves space on the fridge's shelves while also helping families save time and trips to the store.
The New Big Pantry, meanwhile, is a dedicated drawer that allows families to store much more meat, poultry and other delicate ingredients like fish. Pre-prepared foods and meal kits fit perfectly inside so the fridge's interior shelves can be kept neat and organized. There's even a dedicated space for canned drinks to be stored upright.
More Fun With Family Hub™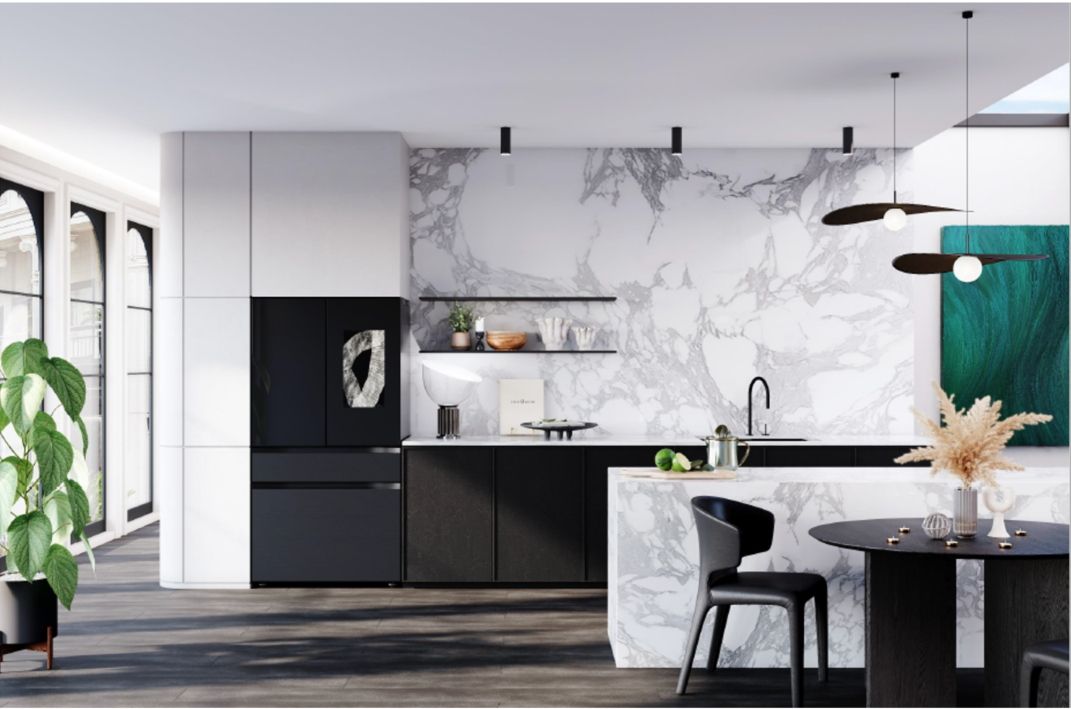 The availability of Family Hub™ adds new layers of fun and efficiency to managing the whole kitchen and household. The platform's features have been expanded for 2022 to make it even easier for families to stay connected, organized and entertained.
Now, in addition to sharing photos and messages, families can use Family Hub™ to watch Samsung TV Plus, listen to music and enjoy continuous viewing experiences by mirroring content from their Samsung Smart TV or Samsung Galaxy smartphone. View Inside lets families remotely peek inside their fridge, tag food types and create shopping lists and reminders, and has been upgraded to identify items more accurately.
With new built-in Alexa support, Family Hub™ also allows consumers to access key Amazon services right from their refrigerator. Families can talk to Alexa, listen to Amazon Music and Audible, read Kindle books and even replace their fridge's water filter with Smart Reorders.
For more information about the Bespoke French Door Refrigerator, please visit Samsung.com.
News Source: Samsung Newsroom