Dubai is known for being an international hub of culture and talent. It is a city that is diverse in its people, cultures, food, glamour, and lifestyle. It has a vast range of unique gastronomical delights and diverse culinary options. Which is why it is a favorite of many celebrities around the world and many celebrity chefs find Dubai to be the perfect spot to open their restaurants. There are many celebrity chef restaurants in Dubai that are popular not only for their chefs but also for its cozy ambience, pleasing interiors and their extremely scrumptious food.
If you are a food lover or just someone who enjoys gourmet food, here are the best celebrity chef restaurants in Dubai you must visit.
1. Hell's Kitchen by Gordon Ramsay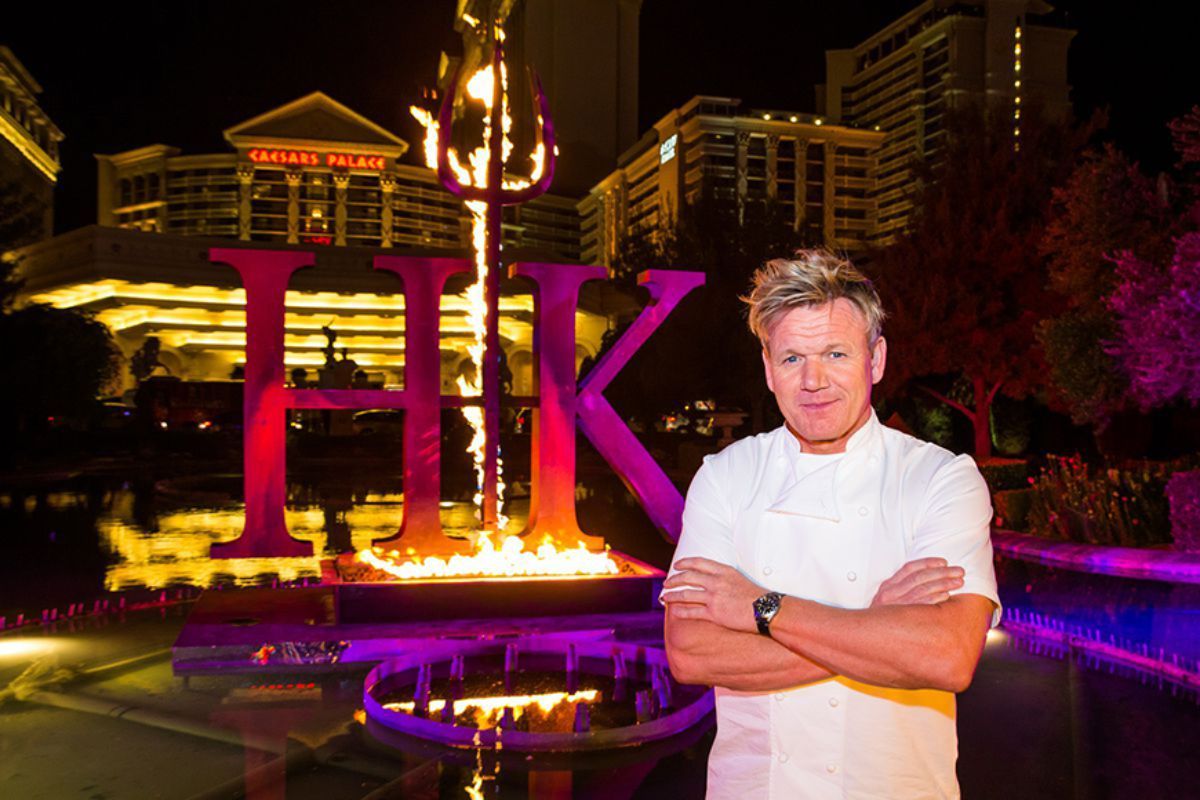 Gordon Ramsay is most popularly known for being the fiery headed judge on the popular TV show MasterChef US. Him yelling out profanities at the contestants and calling them an 'idiot sandwich' is what made him stand out and a favourite of many around the world. His restaurant 'Hell's Kitchen' is based on the reality show of the same name where the red and blue kitchens battle it out to win. Being situated at Bluewaters, it is set against mesmerizing scenic views of Dubai.  Diners at Hell's Kitchen get to enjoy many of Ramsay's signature dishes like the Beef Wellington and Sticky Toffee Pudding. Other dishes that are a must try are 'Citrus & Beetroot Cured Salmon', 'Hell's Kitchen Lobster Bouillabaisse', 'Jidori Chicken', 'Hell's Kitchen Burger', 'Beer Battered Onion Rings' and 'Coconut White Chocolate Panna Cotta'.
Location: Caesars Palace, Bluewaters, Dubai
Timings: 07:00 am –12:00 am
Cost for 2: AED 660 (approx.)
2. Burak Özdemir's CZN Burack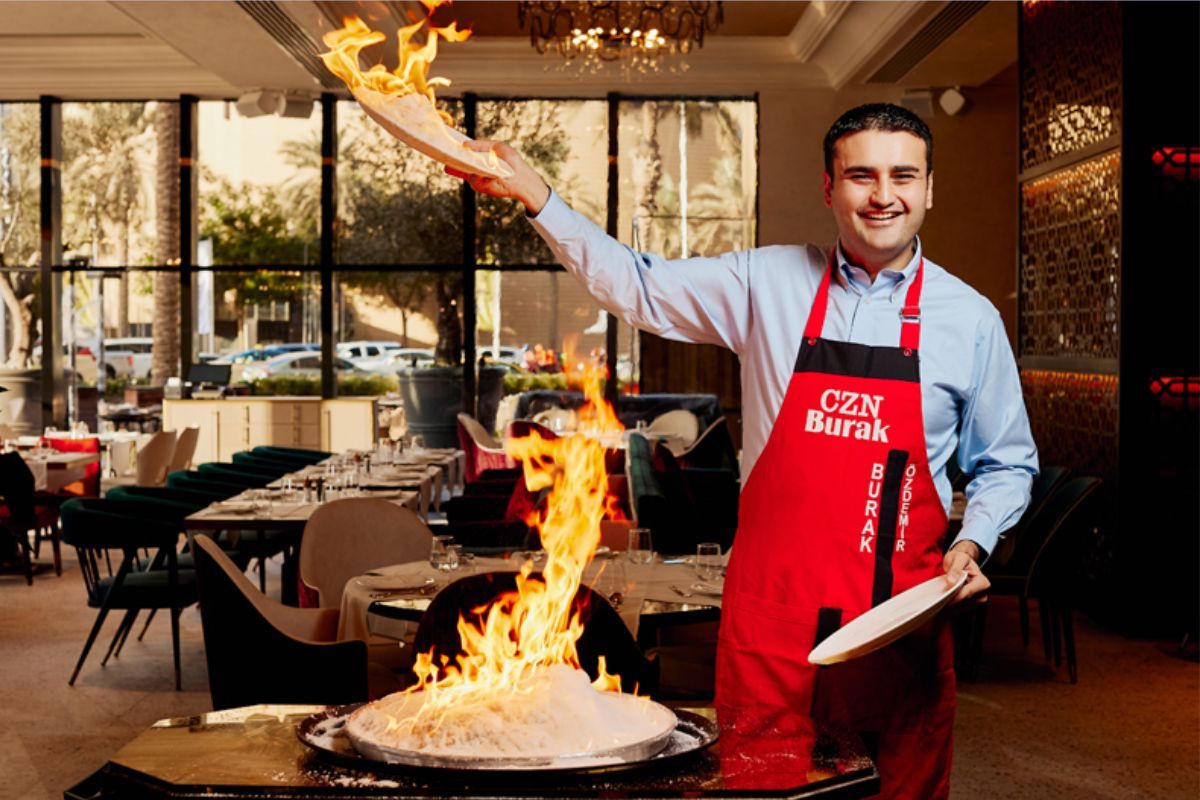 Chef CZN Burak is an Insta-famous chef who created quite a buzz with his outlandish culinary videos and tricking people into thinking he'll drop the dish on them while serving. Each of his dish is gigantic and extremely delicious. He's also got the stamp of approval by Cristiano Ronaldo and His Highness Sheikh Hamdan bin Mohammed bin Rashid, Crown Prince of Dubai. Both visited the restaurant when it first opened its doors in 2020. Since then, it has seen a steam of celebrities and fans come through its doors often. Some of CZN's most try worthy dishes are 'Kagit Kebabi', 'Perde Pilav with Chicken', 'Whole Roasted Lamb', 'Belen Style Lamb in a casserole', 'Meter Kebab', 'Trilice', 'Carrot slice Bakhlawa' and 'Sutlac'.
Location: Boulevard Point, Downtown Dubai
Timings: 12:00 pm – 02:00 am
Cost for 2: AED 400 (approx.)
3.  Kinara by Vikas Khanna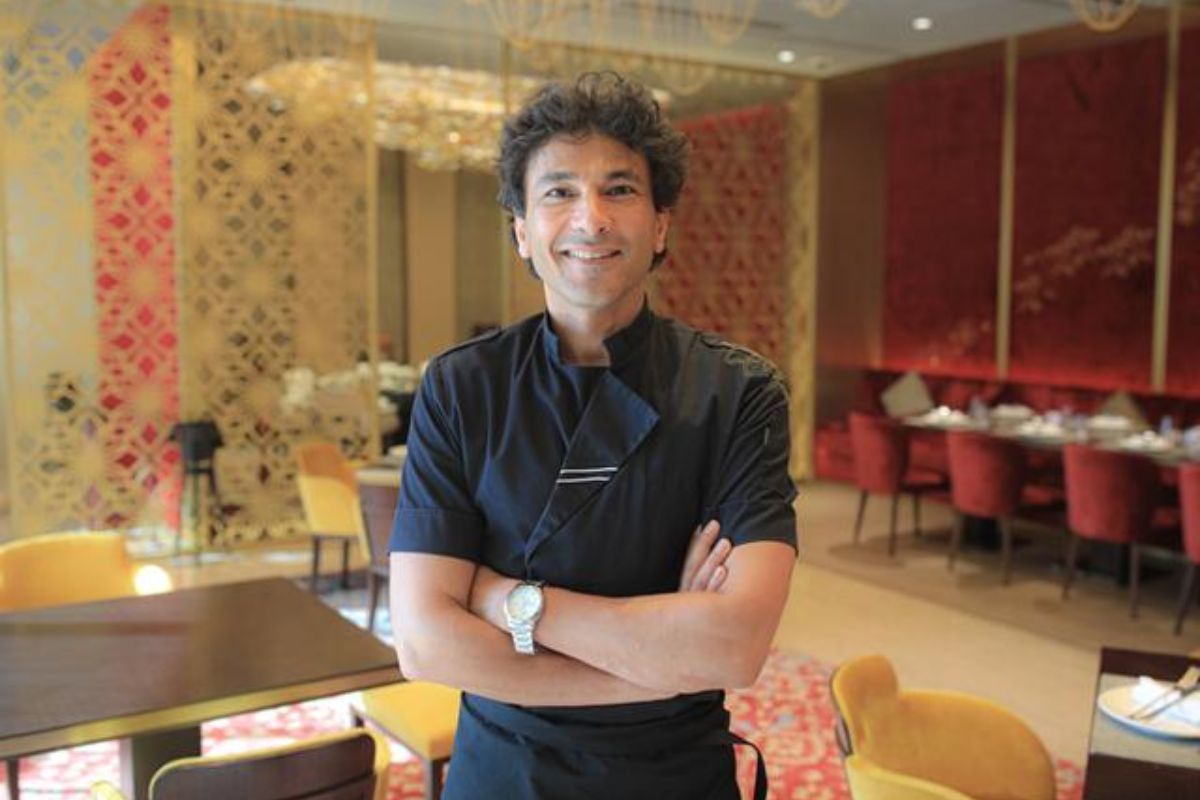 Vikas Khanna is one of the first Indian chefs in the US to receive a Michelin star. He gained popularity after hosting MasterChef India along with Sanjeev Kapoor. His restaurant 'Junoon' in New York was his to receive a Michelin star. Kinara by Vikas Khanna in Dubai takes you on a sensory and gastronomical trip filled with flavours and spices. The entrance is adorned with elegant spice displays that emit soothing fragrances. The restaurant features authentic regional Indian dishes with a modern twist. The menu includes Indian classics, such as 'Dahi ke Kebab'and 'Chicken Makhani' that will remind you of the flavours and spices Indian is famous for. Some of his other must try dishes are 'Tandoori Lemon Salmon', 'Elaichi Chicken Tikka', 'Badami Khumb', 'Imli wale Prawns', 'Tarkari dum Biryani', 'Chicken Berry Biryani', 'Chaapein', 'Almond lemon cake', 'Coconut rice Kheer' and 'Saffron rose pudding'.
Location: JA Lake View Hotel, Mina Jebel Ali, Dubai
Timings: 6:00 pm – 11:00 pm
Cost for 2: AED 280 (approx.)
4.  Nusur-Et by Nusret Gökçe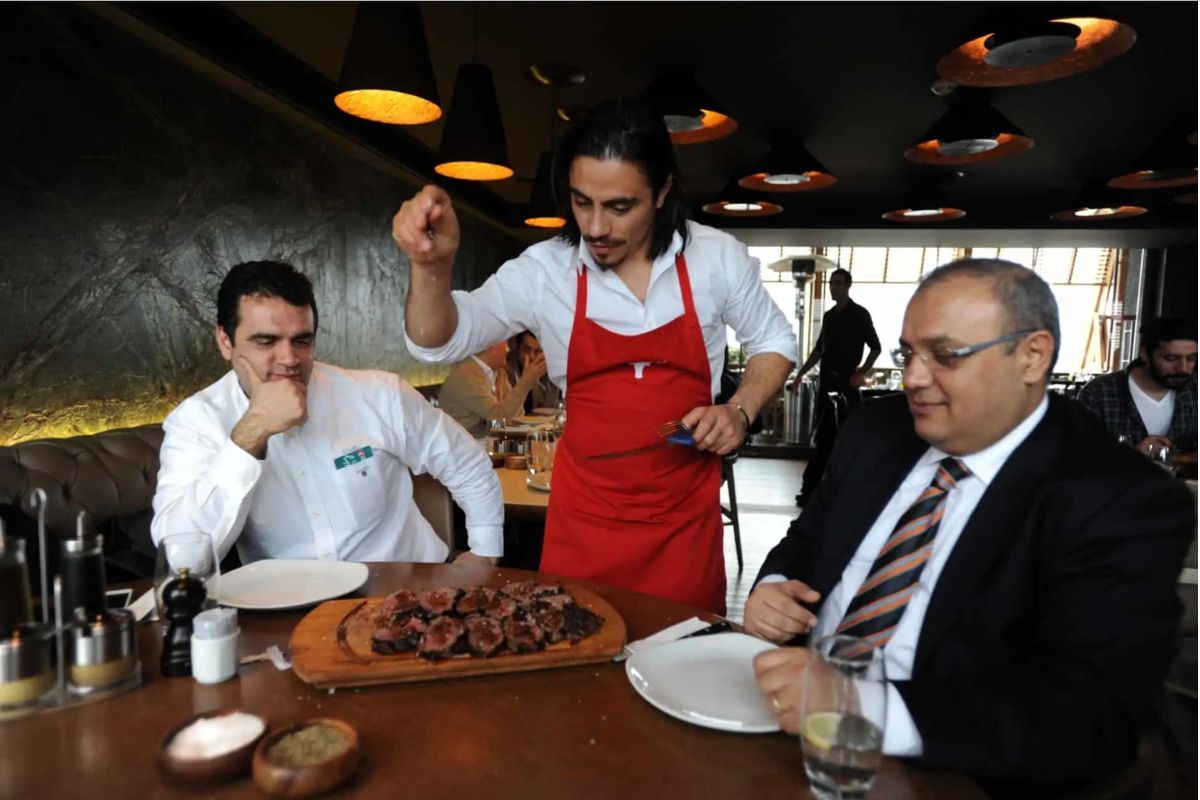 Nusret Gökçe gained popularity in 2017 after a video of him cutting meat and theatrically sprinkling salt on it went viral. This video was viewed more than 10 million times and earned him the popular title of 'Salt Bae'. Nusr-et, is a steakhouse in Dubai that is known for serving high-grade cuts of meat with its exceptional and unique service. It is one of Dubai's most in-demand celebrity chef restaurants. His restaurant has even attracted several celebrities from Hollywood and Bollywood. Some of the dishes you must try from the menu are 'Nusret special salad', 'Meat Sushi', 'Salmon Avocado Maki', 'Nusret Golden Steak', 'Sirt', 'Ottoman Steak', 'Nusret spaghetti', 'Nusret Burger', 'Roasted Organic Baby Chicken', 'Baklava with ice cream', and 'Golden Baklava'.
Location: Four Seasons Resort Dubai, Jumeirah Beach
Timings: 12:00 pm – 12:00 am
Cost for 2: AED 900 (approx.)
5. Nobu by Nobu Matsuhisa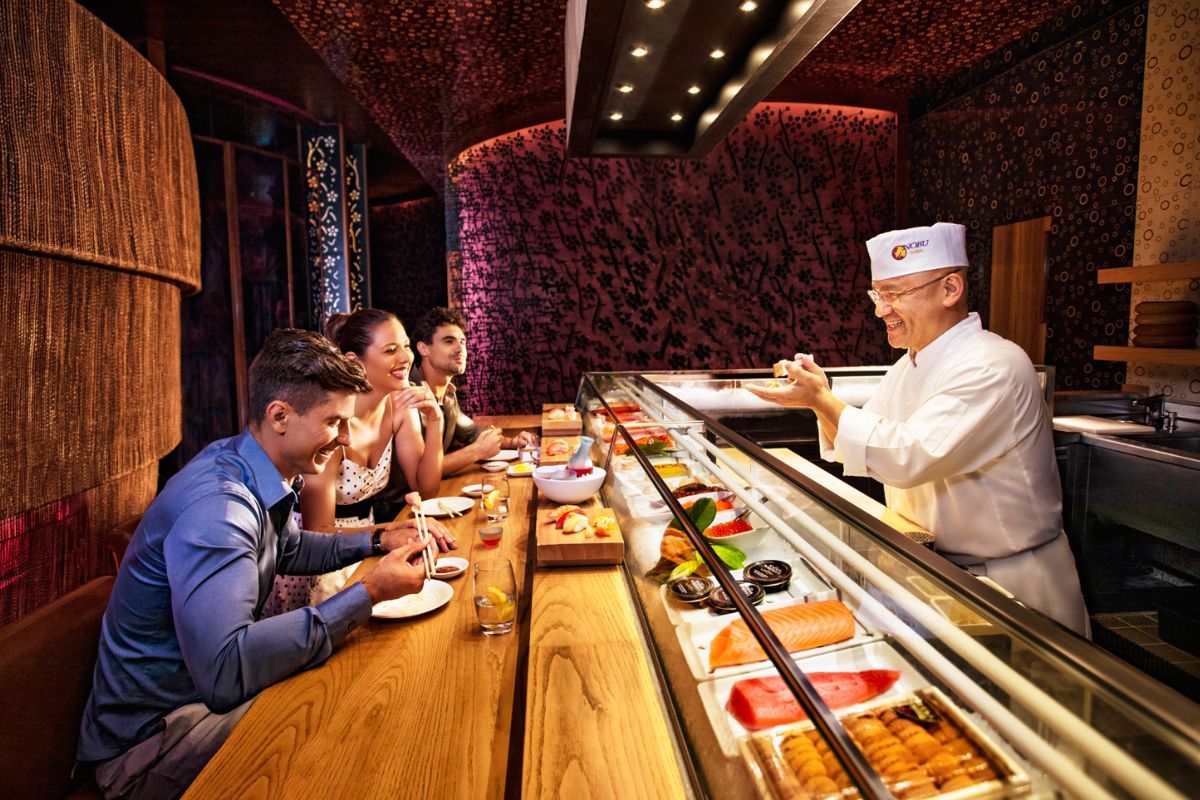 Nobu is another great celebrity chef restaurant that is owned by Chef Nobu Matsuhisa. It is considered one of the best Japanese restaurants in Dubai and has been selected as one of the best restaurants in Dubai by the Michelin Guide. Matsuhisa is the world's most prolific Japanese-Peruvian cuisine chef with over 57 restaurants around the world.  In his Dubai spot, he takes part in meet and greets, cook alongside some of the top chefs and host celebrity fans like Jennifer Lopez. Diners are served a fusion of traditional Japanese dishes with Peruvian influences. A highly recommended dish at Nobu is their signature 'Miso-marinated Black Cod'. Other dishes include 'Lobster with honey truffle sauce', 'Roasted baby chicken with cabbage spicy lemon sauce', 'Lobster with wasabi pepper', 'Wagyu beef tacos' and more.
Location: Ground Level, The Avenues, Atlantis
Timings: Saturday to Thursday: 06:00 pm – 11:00 pm | Friday 12:00 pm – 03:30 pm and 07:00 pm –12:00 am
Cost for 2: AED 460 (approx.)
6.  Alvin Leung's Demon Duck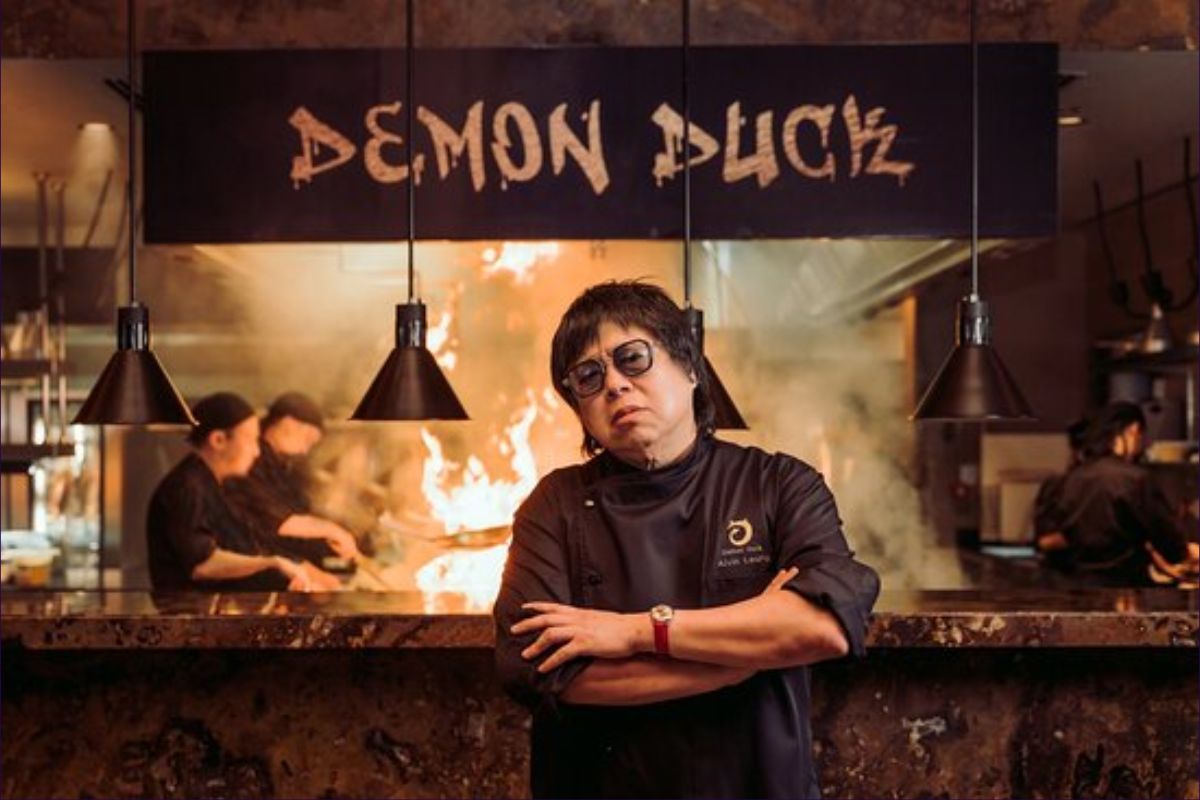 Hong Kong-based Alvin Leung known as the 'Demon Chef' gained popularity with being a judge on MasterChef Australia with a fiery temper. He has many Michelin-starred restaurants to his name. His Demon Duck restaurant in Dubai is a modern Chinese restaurant that is located on the serene views of Bluewaters. The restaurant takes diner on a journey though the Far East with a fresh take on classic Cantonese, Malaysian and Korean dishes. The Duck Journey with whole slow-roasted Peking duck served with citrus calamansi baos is the highlight of the menu.  Other dishes you must try are 'Wasabi shrimp on toast', 'Soft shell crab spring roll', 'Chop chop suey', 'Signature duck soup with crispy rice', 'Sweet & sour chicken', 'Wagyu beef fried rice', 'Toffee banana' and 'Bubble bath'.
Location: Demon Duck, Caesars Palace Dubai, Bluewaters
Timings: 6:00 pm- 12:00 am
Cost for 2: AED 565 (approx.)
7. Torno Subito by Massimo Bottura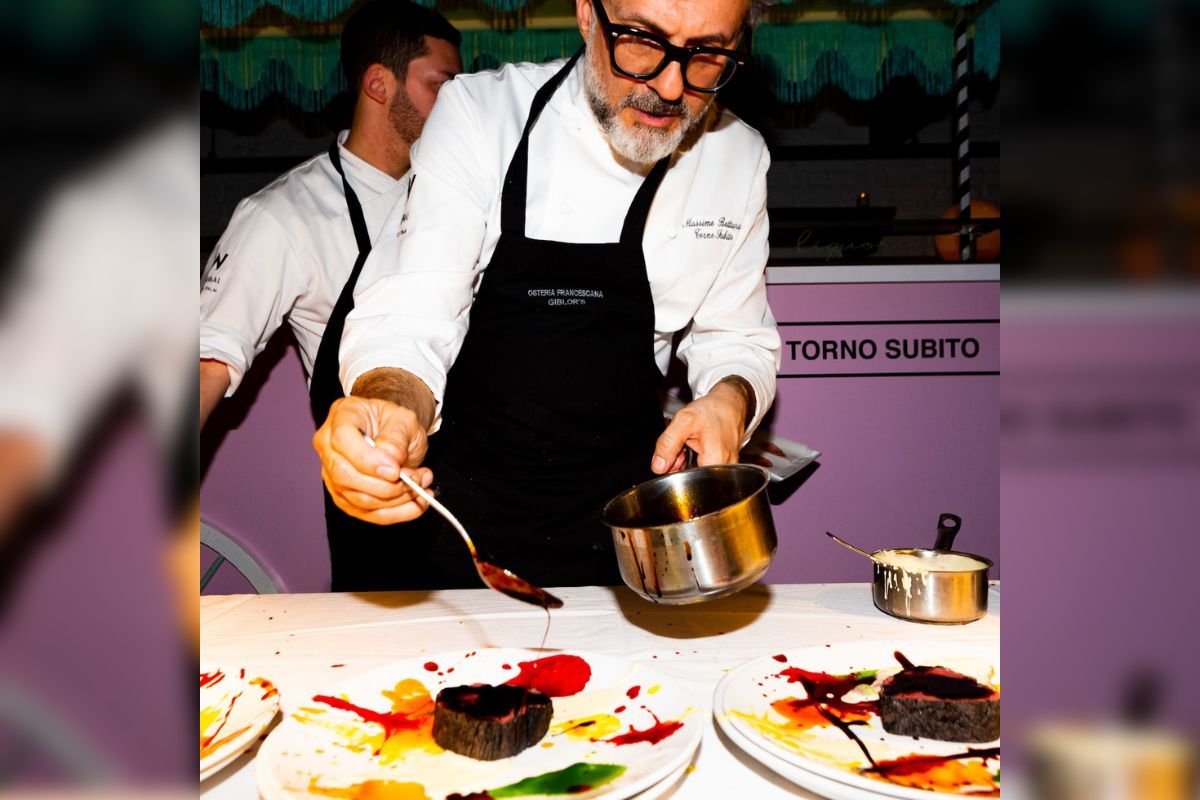 Torno Subito by Massimo Bottura is one of the top Italian Michelin chef restaurants in Dubai. The food and ambience of the restaurant takes diners on a journey back to the 1960's Italian Riviera. This unique and impressive restaurant provides you with a gastronomical experience like no other. Torno Subito is no less than being the best restaurant in the world that excites gourmet food lovers in Dubai and around the world. Some dishes to try from the menu are 'Claamari Fritti', 'Rock Lobster Roll', 'Cacio E Pepe', 'Agnello', 'Astice', 'Merluzzo' and 'Ravioli Ricotta'.
Location: W Dubai, Palm Jumeirah
Timings: Mon- Fri 12:00 pm – 3:00 pm, 06:30 pm – 11:00 pm
Sat - 01:00 pm- 04:00 pm, 6:30pm - 11:30 pm
Sun - 01:00 pm – 04:30 pm, 06:30 pm- 11:30 pm
Cost for 2: AED 455 (approx.)