Whether you like them sweet or savory waffles are the best addition to your meal. Yummy waffles paired with generous amounts of maple syrup and whipped cream that make you go mhmm and make your mouth water! You'll find a variety of waffles in Dubai, but it's the Belgian waffles that are the most popular. Being thicker than American waffles, Belgian waffles come with extra-deep pockets that can be enjoyed with jam, butter, whipped cream, and maple syrup. You can also find a variety of flavors like caramel, chocolate, strawberry, and vanilla waffles.
If you're craving a perfectly made serving of delicious waffles, here are the top place to find waffles in Dubai.
1. Waffle & Crepe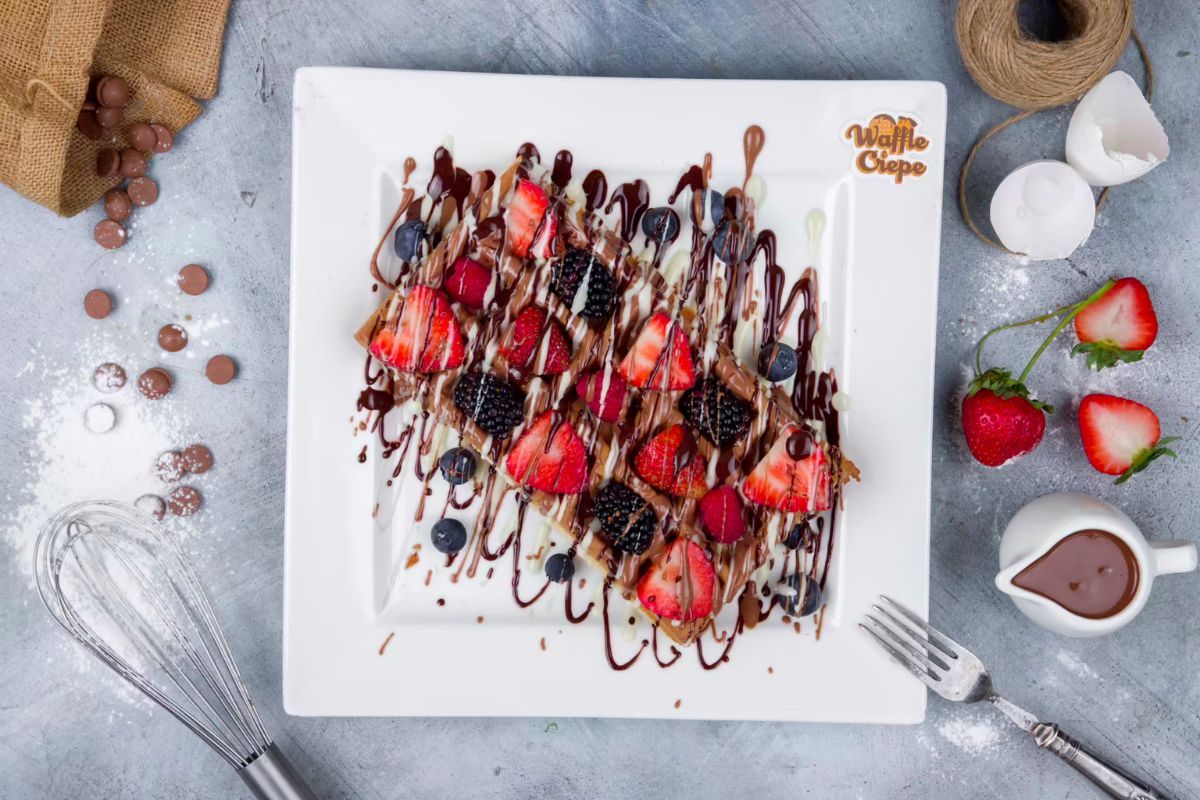 Want to take a break from work and satisfy your sweet tooth? Then, Waffle & Crepe is the best place to go! You can find many types of crepes from classic, lotus, pistachio, kinder and many more. They also have a wide range of milkshakes, waffles, and pancakes. So, you'll leave feeling content and satisfied. The waffle items are a bit costly but it's worth the price. Try their Apple Pie Waffle served with nuts and a drizzle of caramel syrup for a unique and memorable experience. Other must try items from the menu are Golden Pancake, Fruity Crepe, Fettucine Crepe, Trio Waffle, Mix Berries Waffle and Four-Season Waffle.
Location: Millennium Tower, Dubai Silicon Oasis      
Cost: AED 30
2. Freez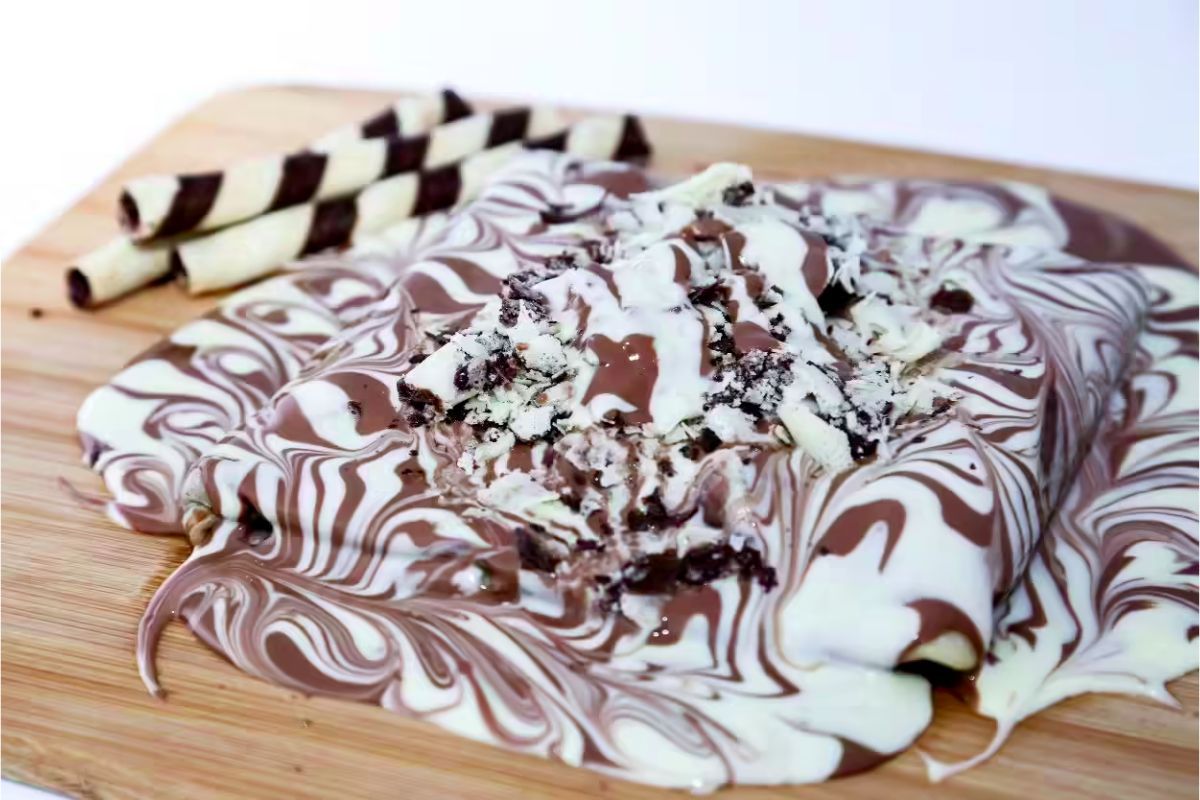 Freez is a classic dessert place and an absolute favorite of chocolate lovers in Dubai. There is no end to the level of sweetness on their menu from crepes, waffles, pancakes, chocolate-dripping kunafa that will satisfy all your sweet cravings. Their Shish Pancake, Molten  Cake, Astor Crispy Crepe, Cheese and Chips Pancake, Rainbow Waffle Mix Chocolate and Sushi Crepe are all worth trying. If you are  a fan of desserts and you're craving some delicious Waffles, Pancakes, and Crepes visit Freez for an experience of lifetime.
Location: Al Jaddaf and Mamzar  
Cost: AED 50
3. Yummy Belgium Waffles and Crepes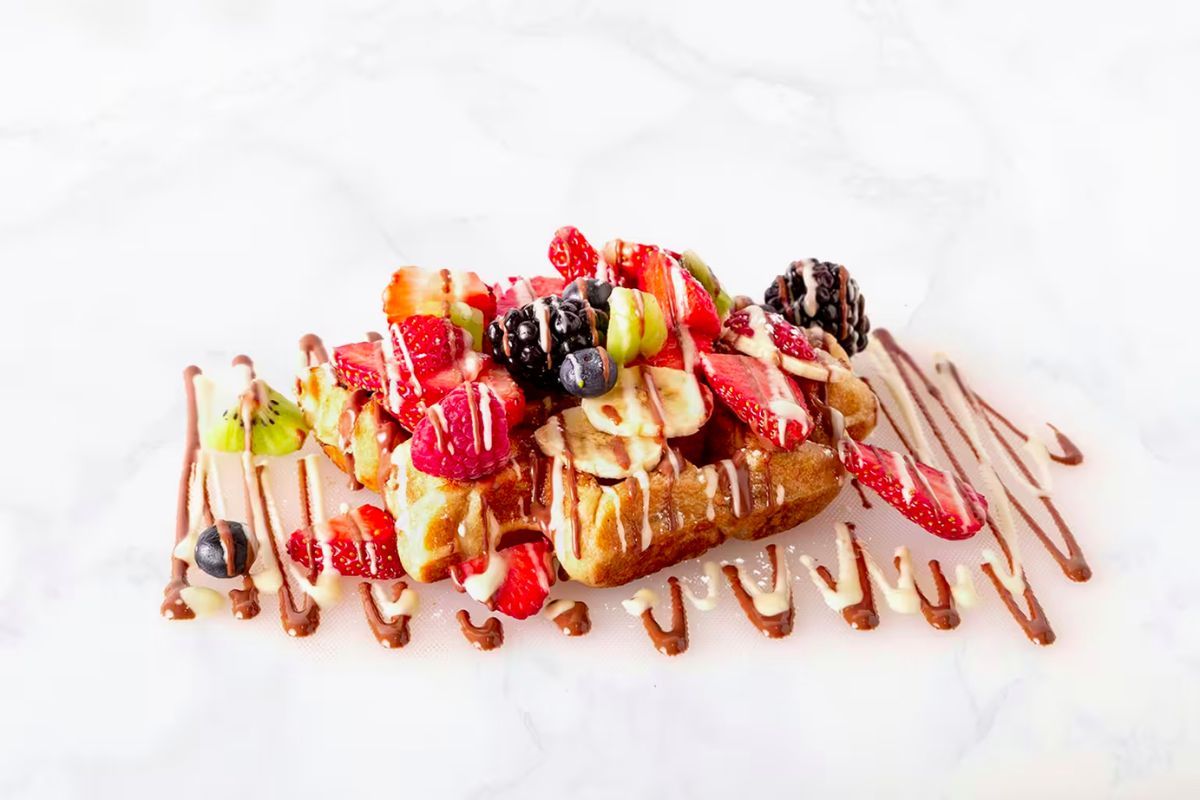 Are you craving the taste of authentic Belgian waffles in Dubai? Then treat yourself to some delicious and authentic Belgium flavor at the Yummy Belgian Waffles in Dubai. You'll get various versions of Belgian treats including Belgian Treat Waffle that is served with mixed fruits and Belgian milk white chocolate), Volcano Waffle served with banana and strawberry slices with caramel ice cream and yummy signature chocolate and Oreo Kinder Waffle that is stuffed with crushed Oreo and vanilla ice cream. You can share the joy with a friend or two and together indulge in the yummy goodness. You can also order their different yummy pancakes and crepes that are among their popular options.
Location: Dubai Mall, Downtown
Cost: AED 39
4. Din N Dip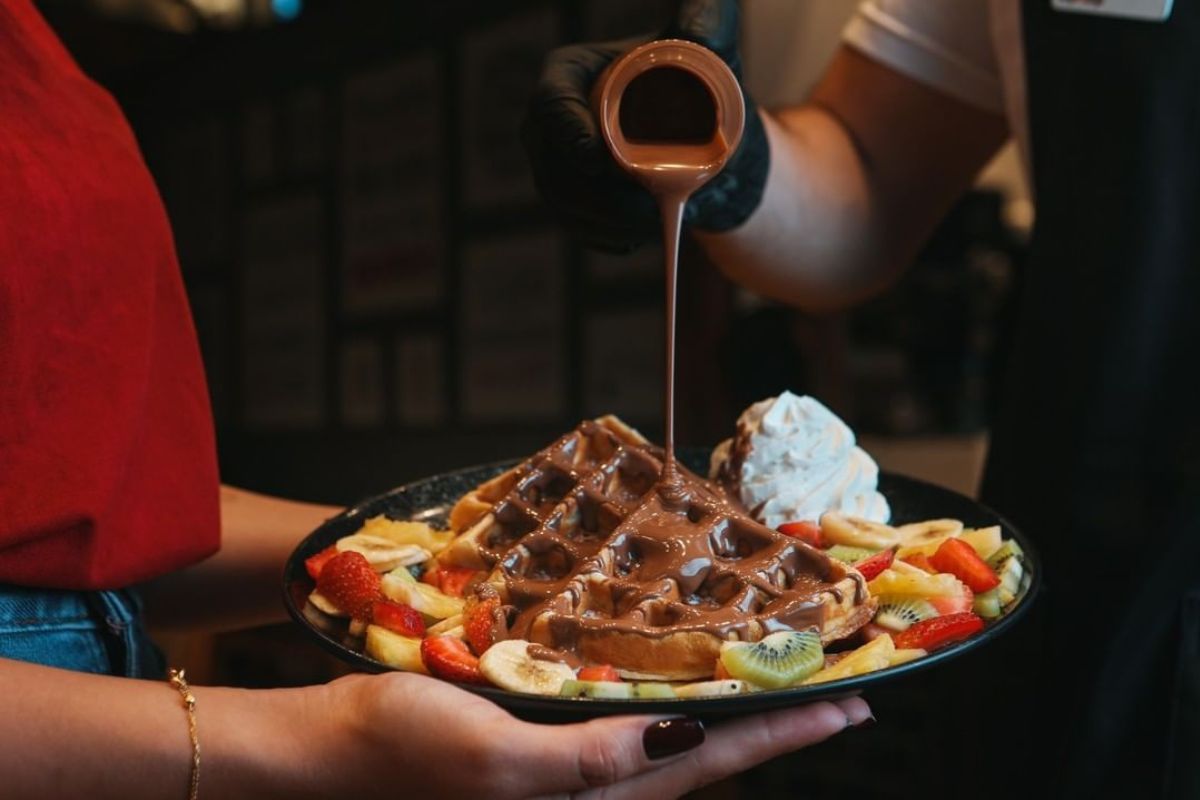 Indulge in some yummy sweetness paired with toppings of fresh seasonal fruits or cream cheese at Dip N Dip. It is an ideal spot for Insta-worthy waffles in Dubai and is most popular for its delicious and yummy waffles. Try their Triple Chocolate Waffle that is served with their three signature chocolate flavors for a unique experience. Their Lollipop-esque Waffle which is a waffle on a stick dipped in chocolate tastes as amazing as it looks. Their Banana Wrap Crepe, Digestive Crepe, Chocolate Banana Waffle, and their dip n dip crepes, pancakes and waffles are all worth trying.
Location: Multiple branches Barsha, Reem Mall, Dragon Mart 2 Cost: AED 16
5. WOFL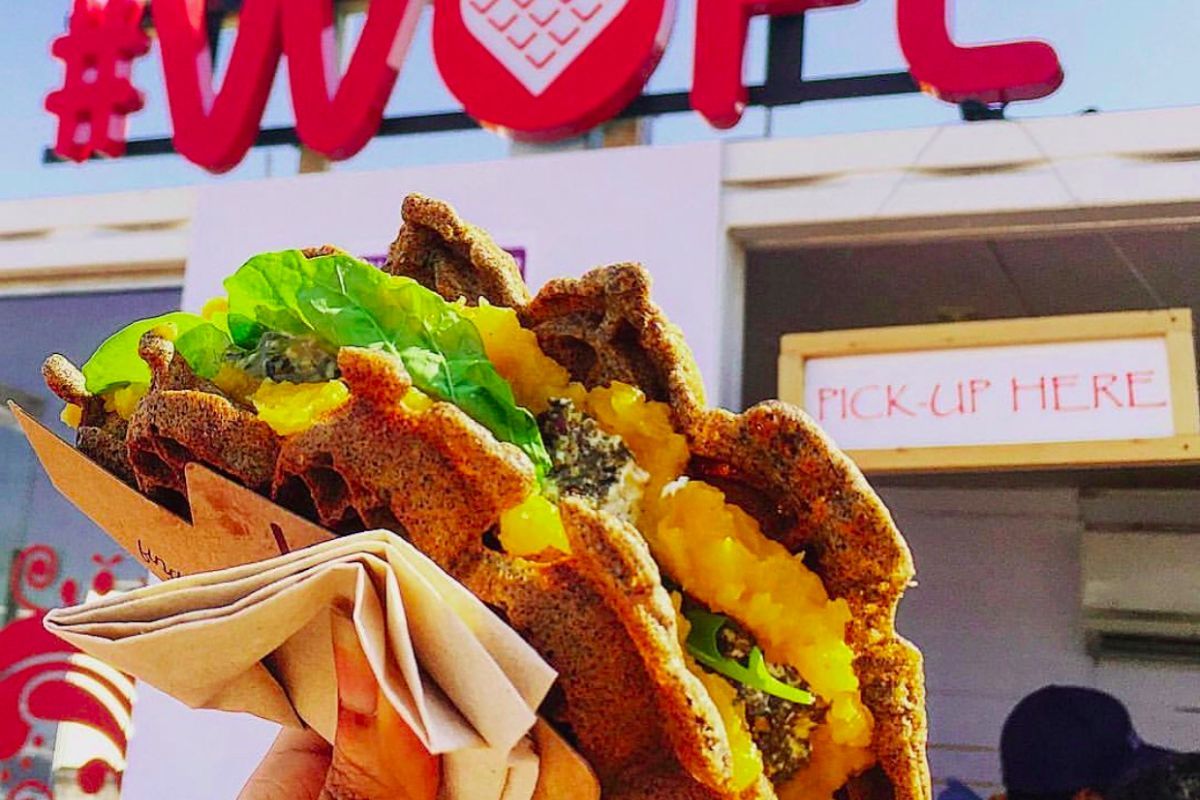 WOFL is a homegrown eatery that has its own unique take on how waffles should be served either as a meal or a wholesome snack. Every waffle sandwich is made from fresh batter and a variety of selected produce and ingredients. Their must try flavors include The Mini Job, Enchanted Forest, Banana Frie-day, Sweetheart, La Tatin, Banana Bee, Smored and Old Faithful. Aside from desserts, WOFL is also known for its delicious breakfast. They also have some very yummy savory options like New York Deli, Mediterranean Tuna and The Mexican which are all served in the same waffle base as their sweet options.
Location: JBR, The Walk     Cost: AED 32

6. Godiva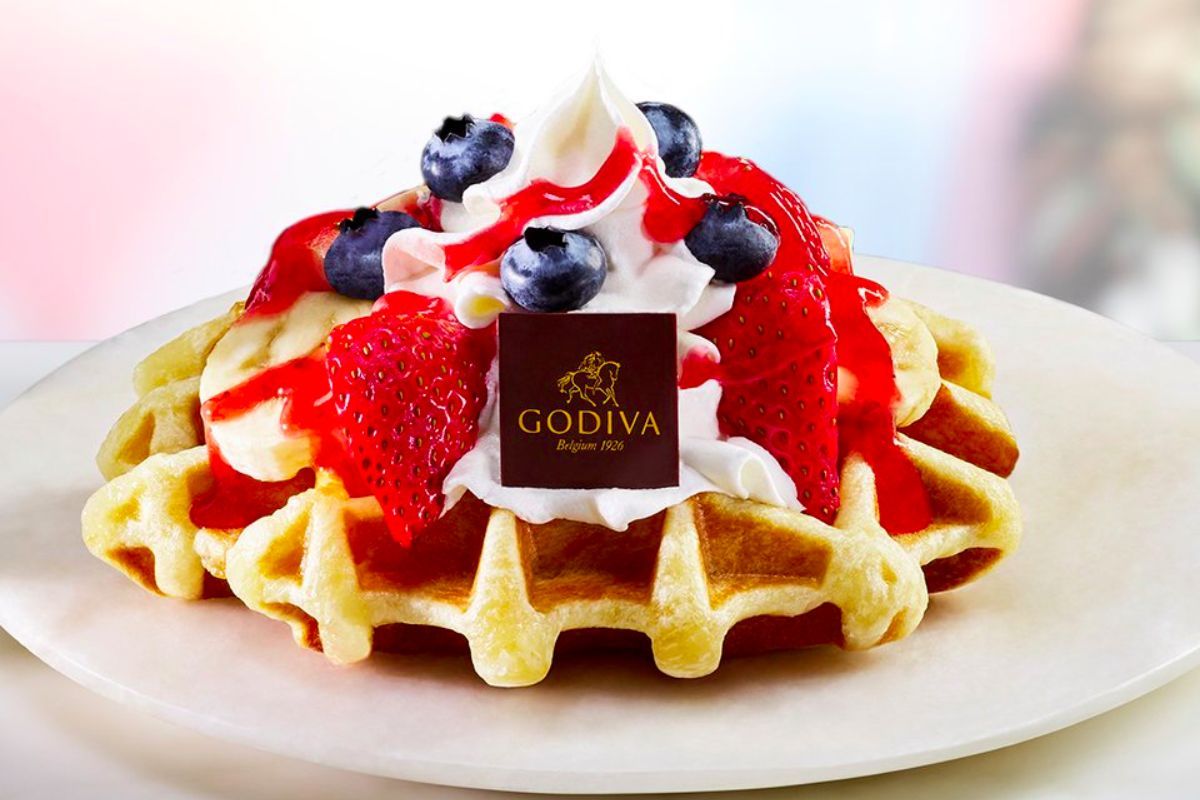 Godiva is known for its variety of chocolate-inspired drinks and desserts with their waffles being a popular choice with patrons in Dubai. The Traditional Waffle with Godiva's signature chocolate is highly recommended. The Speculoos Waffle with vanilla ice cream is also a good choice. Other flavors include strawberry and banana waffles served with/without ice cream and mixed berries waffle. Their Godiva Pancake, Banana spilt crepe, Belgian Speculoos Waffle, and Fresh berries Waffles are all worth trying.
Location: Multiple locations including Festival City Mall  
Cost: AED 140 (approx.)