Celebrate 2022 coming to an end with the exciting month of December!
Keep an eye on these spectacular events taking place in Dubai this December so, that you don't miss out on the fun and book your tickets in advance. Get ready for a month full of melodious month filled with music and tunes that will make you dance out of joy.
1. Abida Parveen Live in Dubai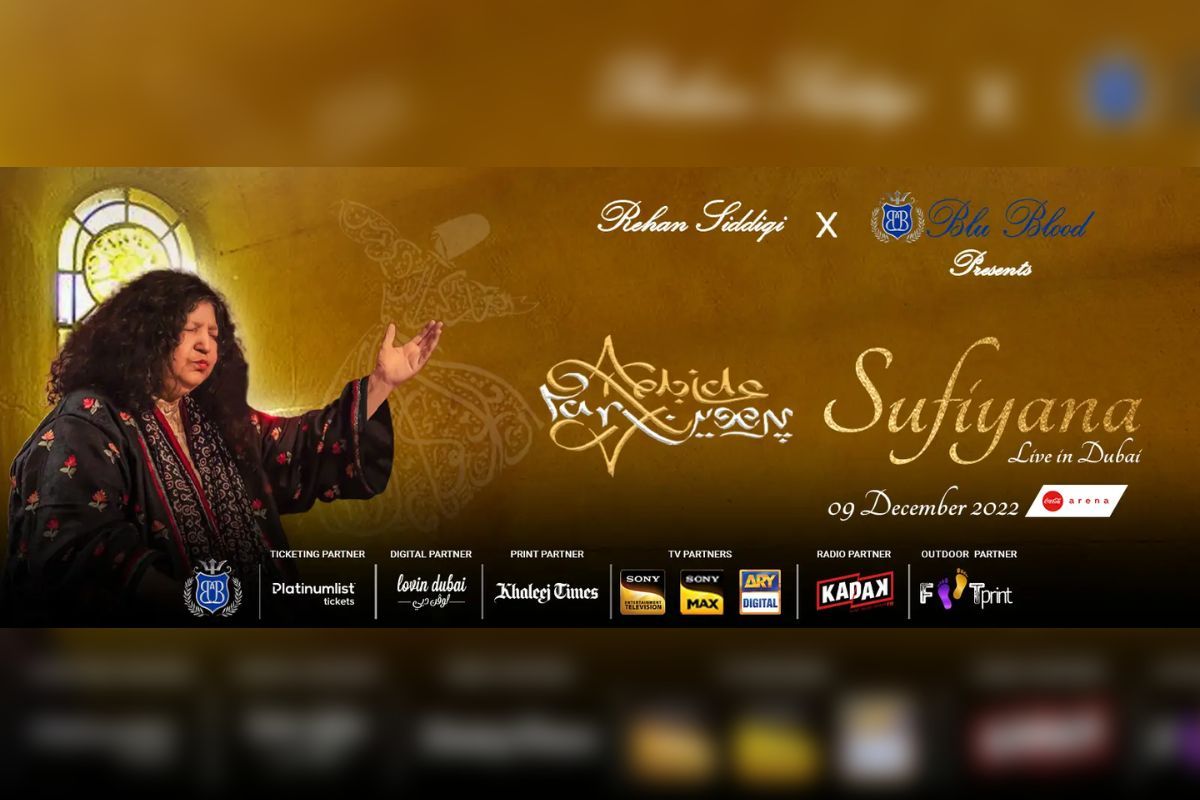 Abida Parveen, the Queen of Qawwali, Ghazals, and Kafis, is set to perform in Dubai this December for a remarkable and enthralling performance of Sufiyana. She is a legendary performer and one of the world's most celebrated Sufi singers. From classics such as 'Kya Khawab Tha Who' and 'Tere Ishq Nachaya' to Coke Studio favorites such as 'Chaap Tilak' and 'Tu Jhoom,' this multi-award-winning Pakistani singer will perform non-stop hits from her 50-year career. So, if you don't want to miss out on this exciting musical evening, book your tickets  soon.
Location: Coca Cola Arena
Date: Dec 9
Timings: 07:30 pm
Ticket Price: AED 150
2. LOL Comedy Season 2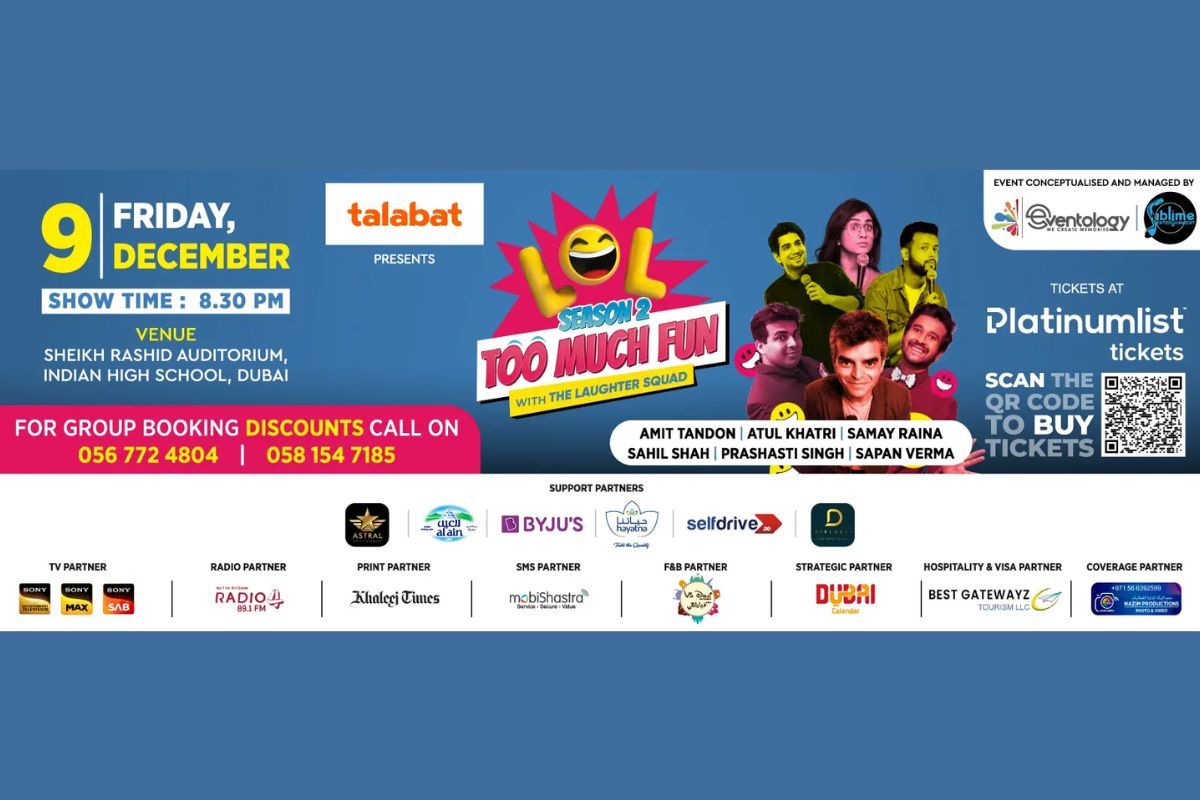 Prepare to burst out laughing! This December, some of India's best standup comedians will be gathered under one roof to provide you with a night of laughter and giggles. The LOL Comedy Season 2- The Laughter Squad will perform two shows in December, on the 9th and 16th. The first show will feature eminent comedians such as Amit Tandon, Atul Khatri, Sapan Verma, Sahil Shah, Prashashti Singh, and Samay Raina, ensuring a side-splitting experience. Tandon's observational jokes about parenting and marriage, Khatri's amusing 40+ perspective on things, Raina's winning material on growing up in his hometown, Singh's signature brand of self-deprecating humor, Verma's charismatic stage presence, and Shah's unstoppable puns will leave you in stitches. This is a comedic gig you don't want to miss so book your tickets soon.
Location: Sheikh Rashid Auditorium, Indian High School
Date: Dec 9
Timings: 07:00 pm
Ticket Price: AED 99
3. The Selfdrive Laughter Factory's 'Best Christmas Party in the World, Ever!' tour in Dubai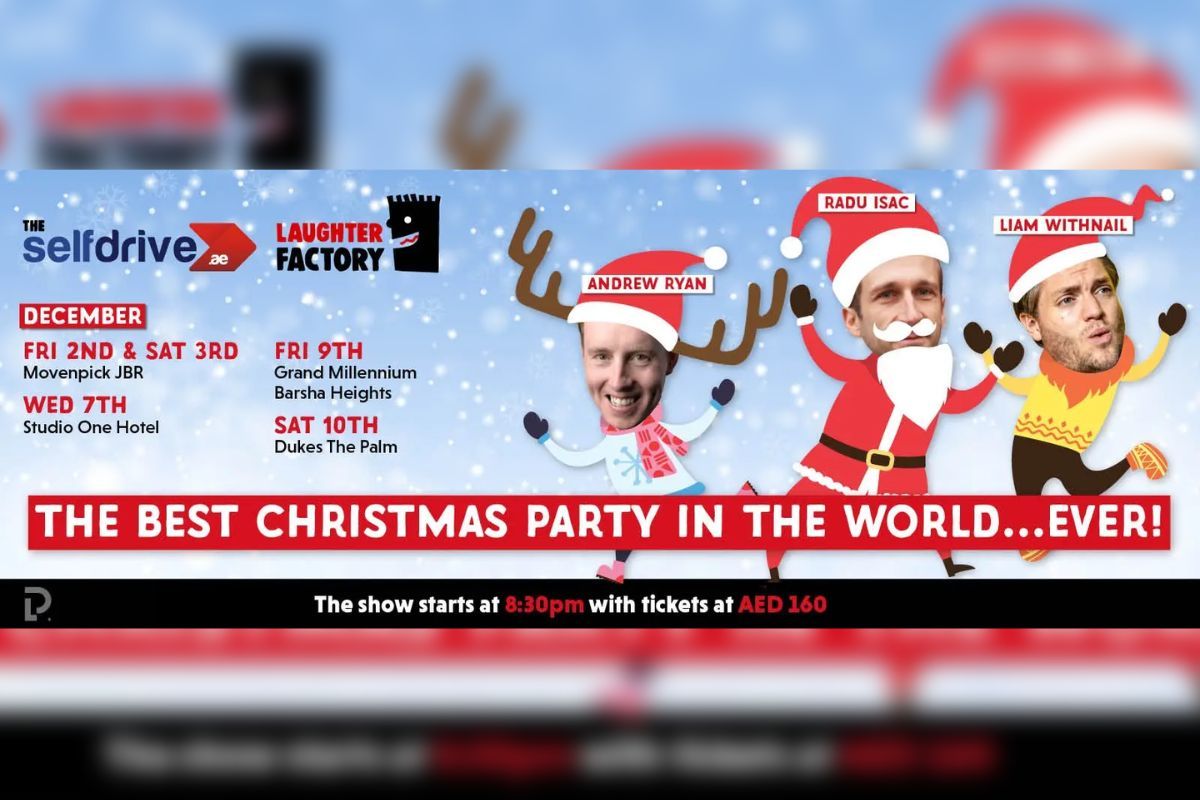 Laugh, drink, eat, and dance this December at the ultimate after party 'Disco Inferno' by DJ Gail, brought to you by The Selfdrive Laughter Factory, which will ensure that adults have the best Christmas party ever! This exciting night promises you and your crew will have more fun than a kid on Christmas morning. It is ideal for groups of friends as well as office parties. Andrew Ryan, Liam Withnail, and Radu Issac are three of the funniest people flying in from the UK and Europe for the night. Ryan's uniquely Irish storytelling abilities, as well as his cheeky, friendly demeanor, make him a natural stand-up comedian. He is one of the most exciting comedy talents in recent years. Withnail is a multi-award-winning Scottish comedian making his Middle East debut. Radu Issac is the night's most outrageous performer. He makes it impossible not to laugh! Bring your friends to the best Christmas party in town and end the year with a good laugh and a lot of memories.
Location: Grand Millennium Barsha Heights (Dec 9) Dukes the Palm (Dec 10)
Date: Dec 9 & 10
Timings: 08:30 pm
Ticket Price: AED 160
4. Bi-2 Concert in Dubai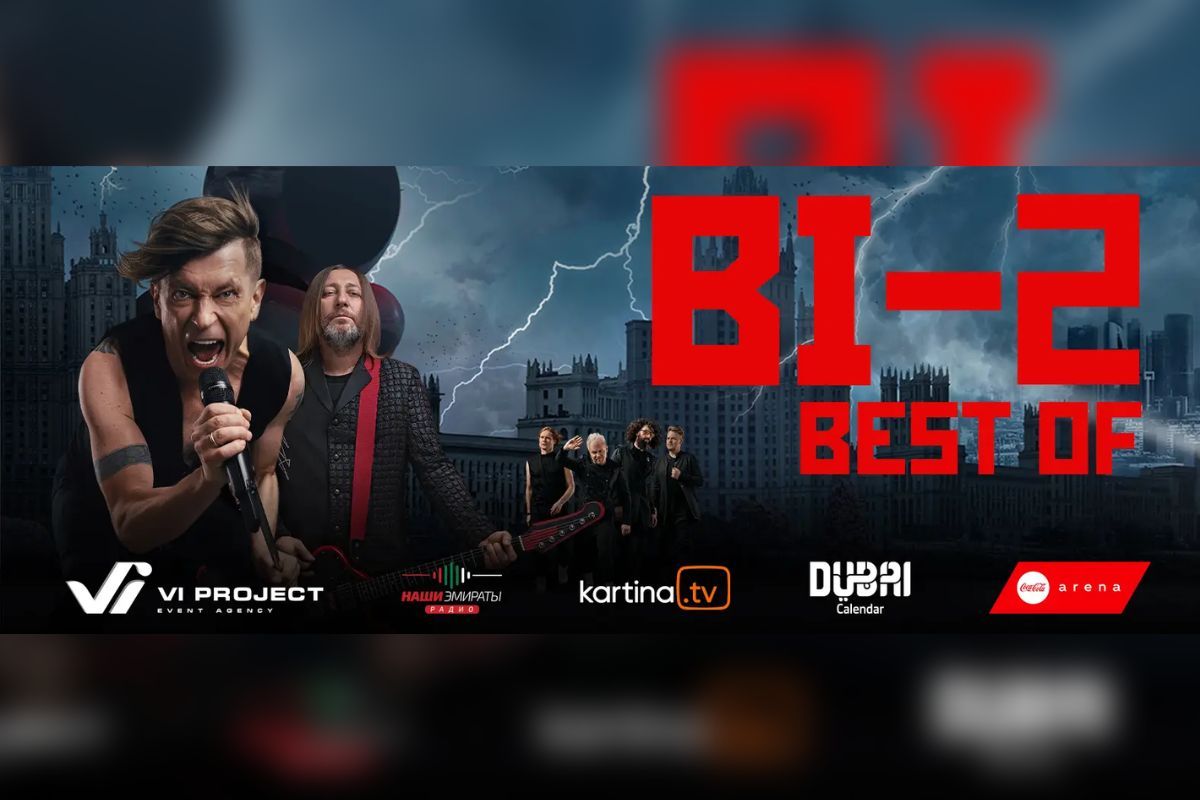 Rock music fans are in for a treat this December, as the successful and popular independent rock band Bi-2 is set to perform fan-favorite hits. The rockers will perform an electrifying 'Best of' concert for fans aged 6 and up. Every year, Bi-2 performs concerts all over the world in venues ranging from clubs to stadiums to open-air arenas with thousands of people in attendance. The band's signature style includes unique scenography, light shows, and visual effects, as well as top-tier live sound. Bi-2 has ten studio albums, as well as singles and duets with influential International. You can listen to all their hit songs from various albums and singles. Prepare to dance like no one is watching at this rock tuned night.
Location: Coca Cola Arena
Date: Dec 10
Timings: 06:30 pm
Ticket Price: AED 225
5. Hooverphonic in Dubai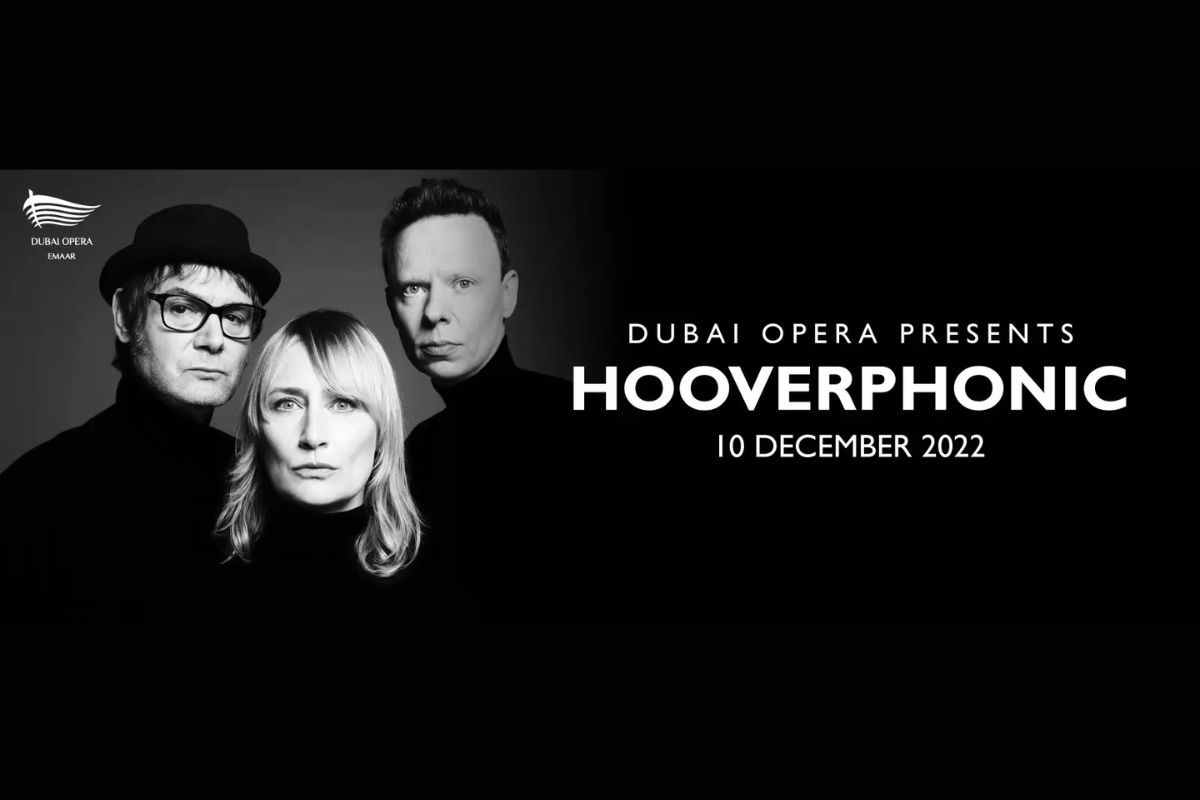 When the ambient Belgian pop group Hooverphonic performs in Dubai this December, expect an evening of iconic hits and vibrant tunes. Hooverphonic has spent over 25 years perfecting its own distinct, instantly recognizable sound. Alex Callier (songwriter/producer) and Raymond Geerts (guitarist) have been the band's backbone since its inception. They've progressed from the dark, subdued trip hop of their debut in 1996 to a warmer, more orchestral sound that's part psychedelic, part catchy, and part poppy, but always the soundtrack to a non-existent film. Hooverphonic continues to tour the world and has a solid live reputation, performing hits such as "2Wicky," "Eden," "Mad About You," "Anger Never Dies," "Amalfi," "Badaboum," and "Romantic." Many of their songs have appeared on the soundtracks of films and television shows such as 'Stealing Beauty,' 'I Know What You Did Last Summer,' 'Permanent Midnight,' 'CSI,' 'Entourage,' 'La Femme Nikita,' 'Cold Case,' and 'The Umbrella Academy.' If you are a true music fan, you cant miss out on this spectacular event!
Location: Dubai Opera
Date: Dec 10
Timings: 07:30 pm
Ticket Price: AED 225
6. Magic Phil's Starlight Safari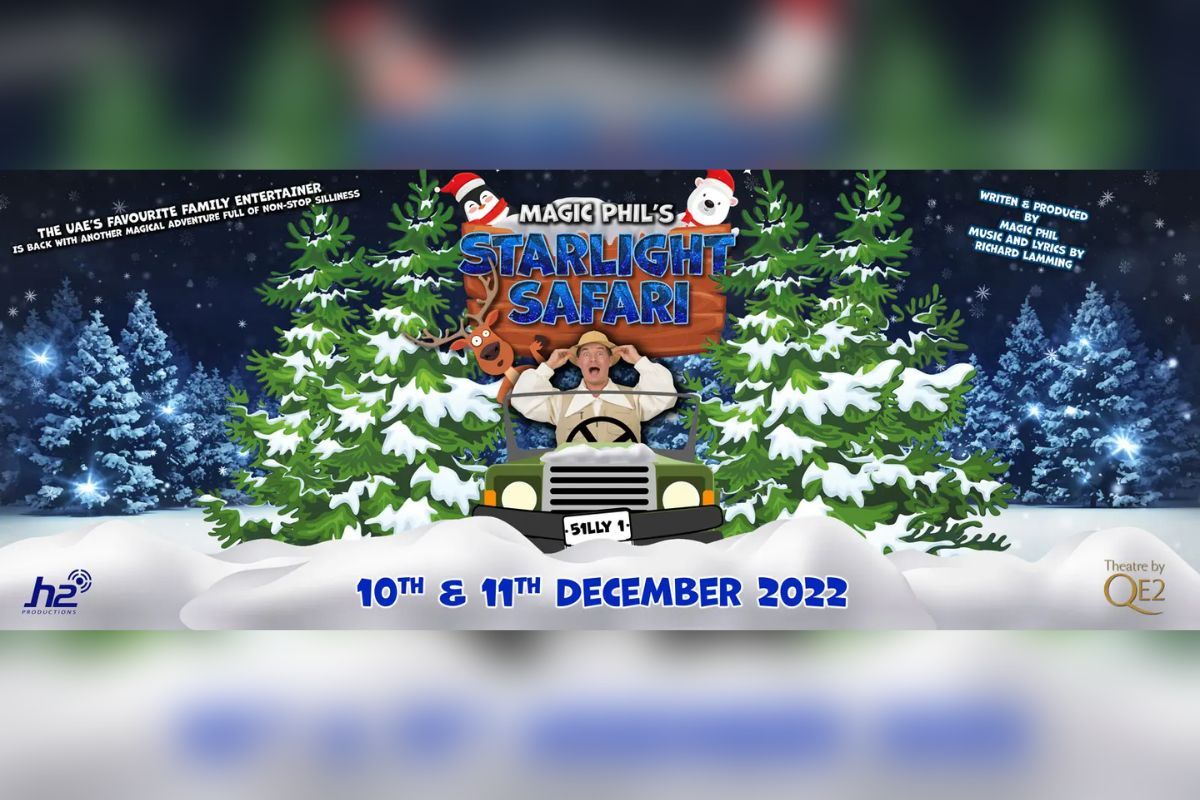 It's time to STAY SILLY, and what better way to start the holiday season than with Magic Phil? This December, Magic Phil will perform in Dubai with his brand-new festive family show, which is sure to make everyone laugh until they're in stitches. Join him as he takes on the challenge to prevent the Starlight Safari from permanently closing! He is the UAE's Favorite Family Entertainer and Children's TV Star. Magic Phil: Can he save the animals? Can Magic Phil assist Ruby the Robin in recovering her magic? Will Pete the Grumpy Polar Bear postpone Christmas? You can expect lots of silliness, a chance to meet some very outrageous characters, a good mix of Festive songs that will have you singing along, and lots of humor, magic tricks, silly songs, and non-stop audience interaction from start to finish. A show full of surprises and a lovely Christmas message!
Location: Theatre QE2
Date: Dec 10- 11
Timings: 10:30 & 02:30 (Dec 10) 10:30 (Dec 11)
Ticket Price: AED 75
7. LOL Comedy Season 2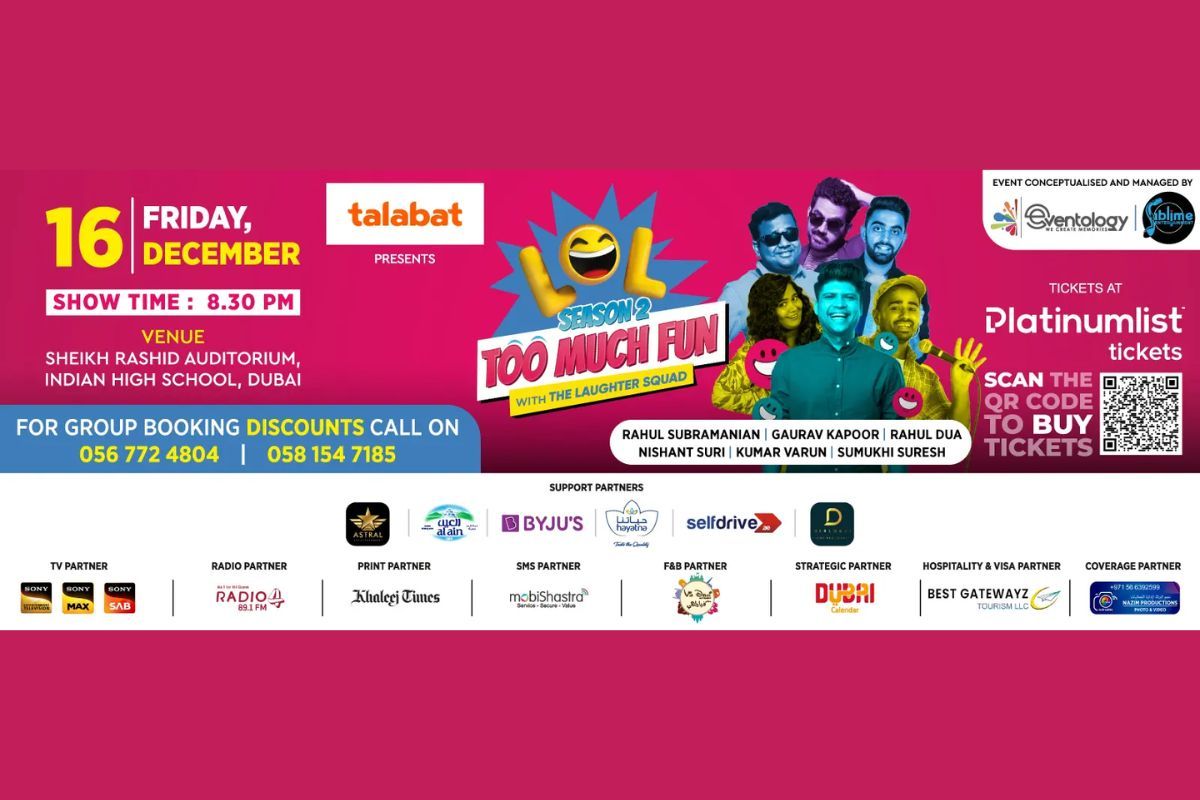 This December, some of India's best standup comedians will be gathered under one roof to provide you with a night of laughter and giggles. Rahul Subramanian, Gaurav Kapoor, Rahul Dua, Sumukhi Suresh, Nishant Suri, and Kumar Varun star in the second season of The LOL Comedy. So, you can count on it raining jokes and eliciting non-stop laughter. Those who dare to sit in the front row should brace themselves for the unexpected, as Subramanian is known to poke fun at the audience. Don't miss out on Kapoor's brilliant anecdotal routines, Dua's amusing observational material, Suresh and Varun's sketch comedy acts, and Suri's witty puns.
Location: Sheikh Rashid Auditorium, Indian High School
Date: Dec 16
Timings: 07:00 pm
Ticket Price: AED 89
8. Standup comedy by Karthik Kumar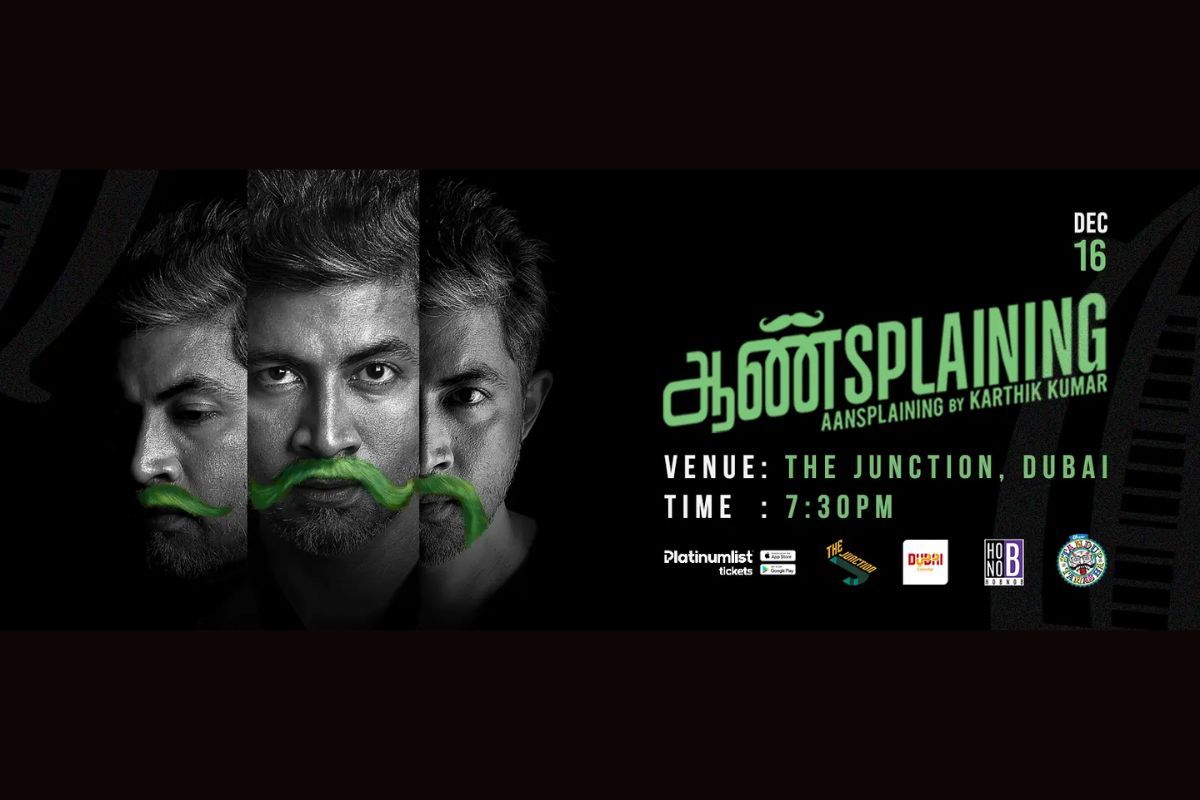 Karthik Kumar, also known as KK, is a well-known actor, stage performer, stand-up comedian, and, most recently, a debutant film director in Kollywood. With his previous specials, he has performed over 500 shows in India, the United States, the United Kingdom, Australia, New Zealand, Hong Kong, and Singapore. Aansplaining (Aan means "Man" in English) is his fourth stand-up special in which he discusses Masculinity and gender stereotypes in the hopes of creating an allyship among the various gender identities. Blood Chutney and Trollerance, two of his previous specials, are available on Amazon Prime. KK is a frequent and in-demand performer for the Indian diaspora at top venues in India and abroad. Don't miss out on this epic night of fun.
Location: The Junction, Al Serkal Avenue
Date: Dec 16
Timings: 07:30 pm
Ticket Price: AED85
9. Winter Music Fest - Kanika Kapoor & Jaheen Royal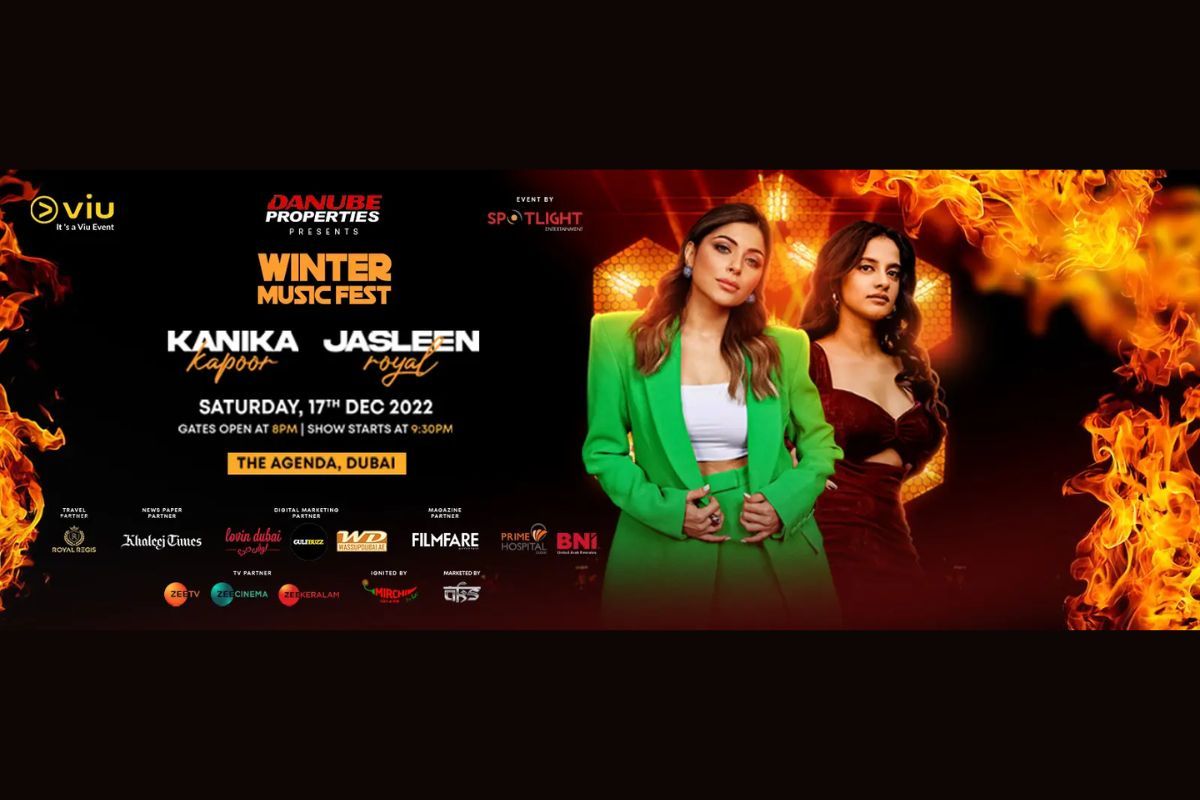 Prepare yourself for an enthralling night of Indie pop and Bollywood music. Kanika Kapoor and Jaheen Royal will perform in Dubai this December as part of the Winter Music Fest, so expect nothing short of magic. Kanika Kapoor, whose beauty is as captivating as her voice. She has given us many blockbuster hit songs, including 'Chittiyaan Kalaiyaan,' from the movie Roy,  'Lovely' from Happy New Year, 'Baby Doll' from Ragini MMS 2, 'Tukur Tukur' from Dilwale, and so many more. She has also performed the Hindi rendition of the famous 'Oo Antava Mawa...Oo Oo Antava' from the blockbuster Telugu film Pushpa. So, hurry up and book your tickets now before it's too late. Jasleen has given us songs that are still fresh on our tongue and in our hearts. Songs like Shershaah's 'Ranjha,' Baar Baar Dekho's 'Nachde Ne Saare,' Phillauri's 'Din Shagna Da,' Dear Zindagi's 'Love You Zindagi,' and many more. This is a night you will not want to miss!
Location: Agenda, Media City
Date: Dec 17
Timings: 08:00 pm
Ticket Price: AED 69
10. The Sound of Christmas in Dubai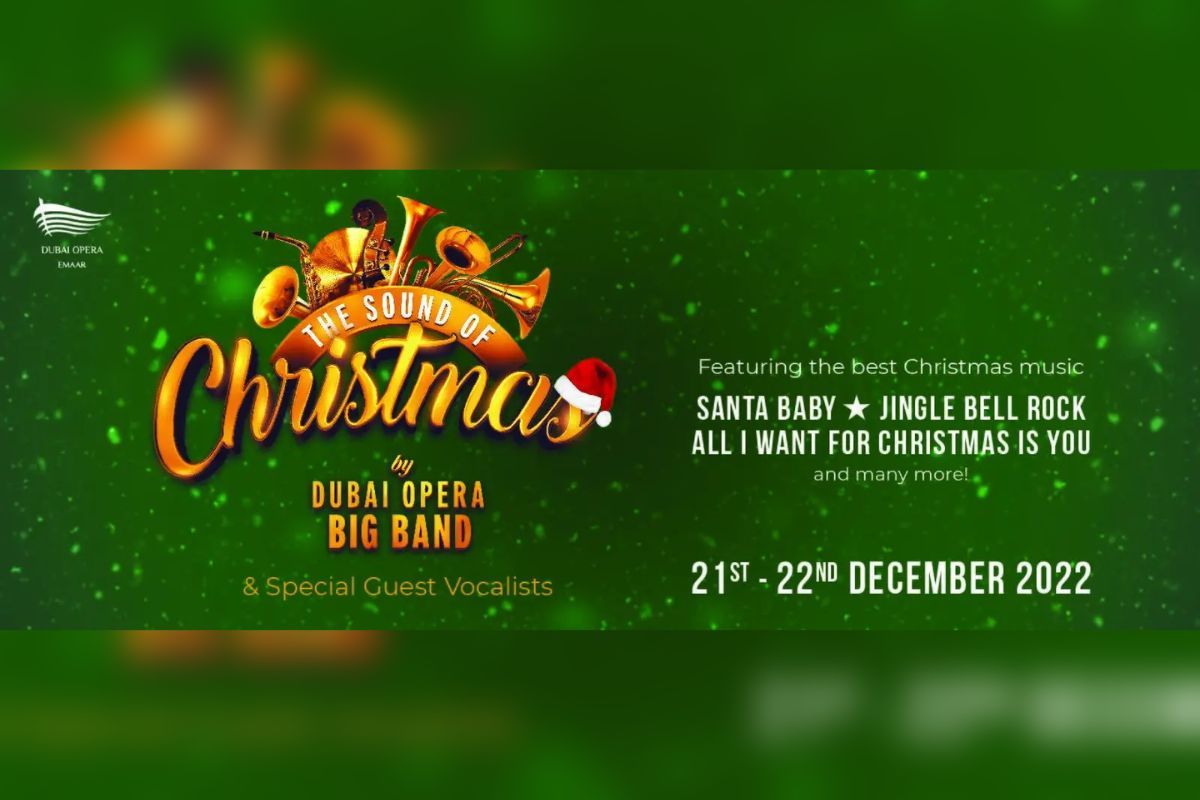 Enjoy a Christmas celebration like no other! The Dubai Opera Big Band includes twenty-five of the best jazz musicians in the UAE and the GCC, who will give us with a night filled with festive spirit and nostalgic songs. Adam Long, the band's leader, and some very special guest singers will make the night even more memorable. They will perform popular Christmas songs such as Santa Baby, Jingle Bell Rock, Winter Wonderland, Feliz Navidad, All I Want for Christmas Is You, Rockin' Around the Christmas Tree, and others. So get ready to sing along to all of your holiday favorites in this festive extravaganza.
Location: Dubai Opera
Date: Dec 21- 22
Timings: 08:00 pm
Ticket Price: AED 215
11. Sanam Live in Dubai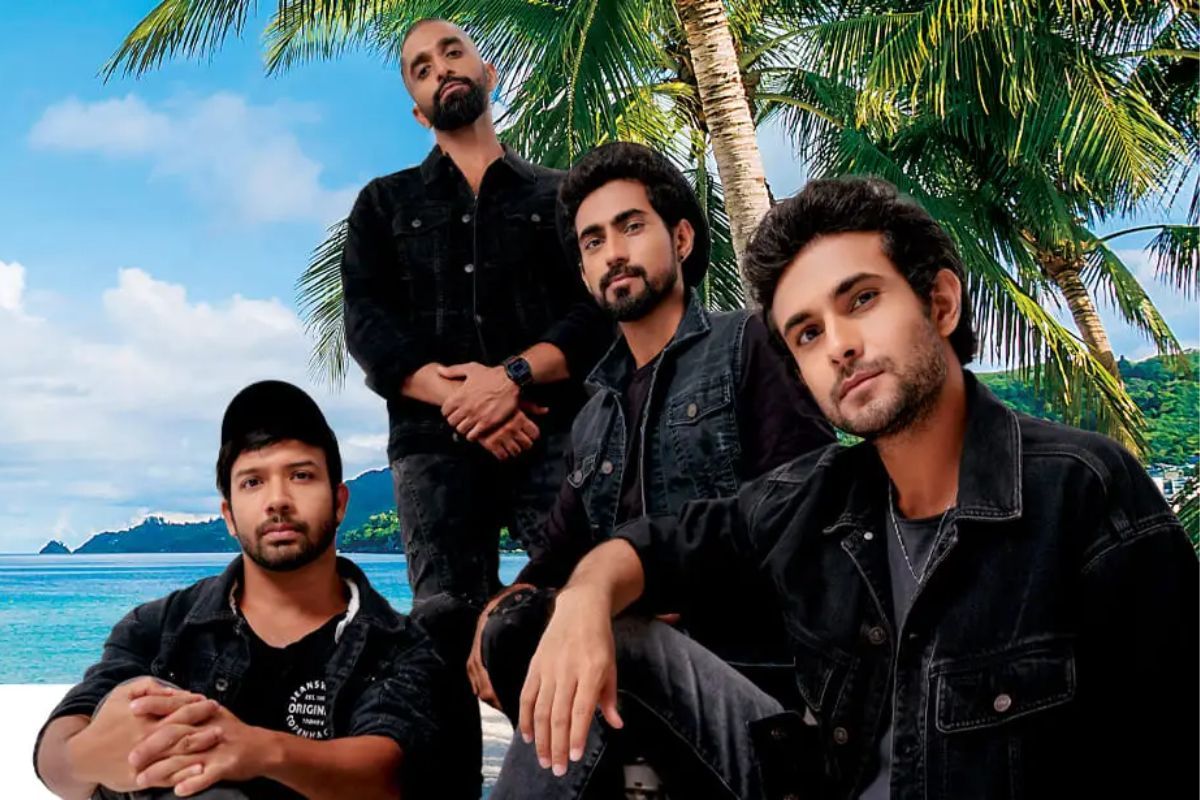 SANAM is India's most popular pop-rock band, with over 10 million YouTube subscribers. Sanam Puri on lead vocals, Samar Puri on guitars, Keshav Dhanraj on drums, and Venky S. on bass make up the band. They promise you a night to remember as they take you down memory lane, accompanied by the best session musicians and technical crew. You'll sing along and sway, but don't forget to put on your dancing shoes when it's time to board the party train.
Location: Sheikh Rashid Hall, World Trade Centre
Date: Dec 23
Timings: 07:30 pm
Ticket Price: AED149
12. Rahat Fateh Ali Khan live in Dubai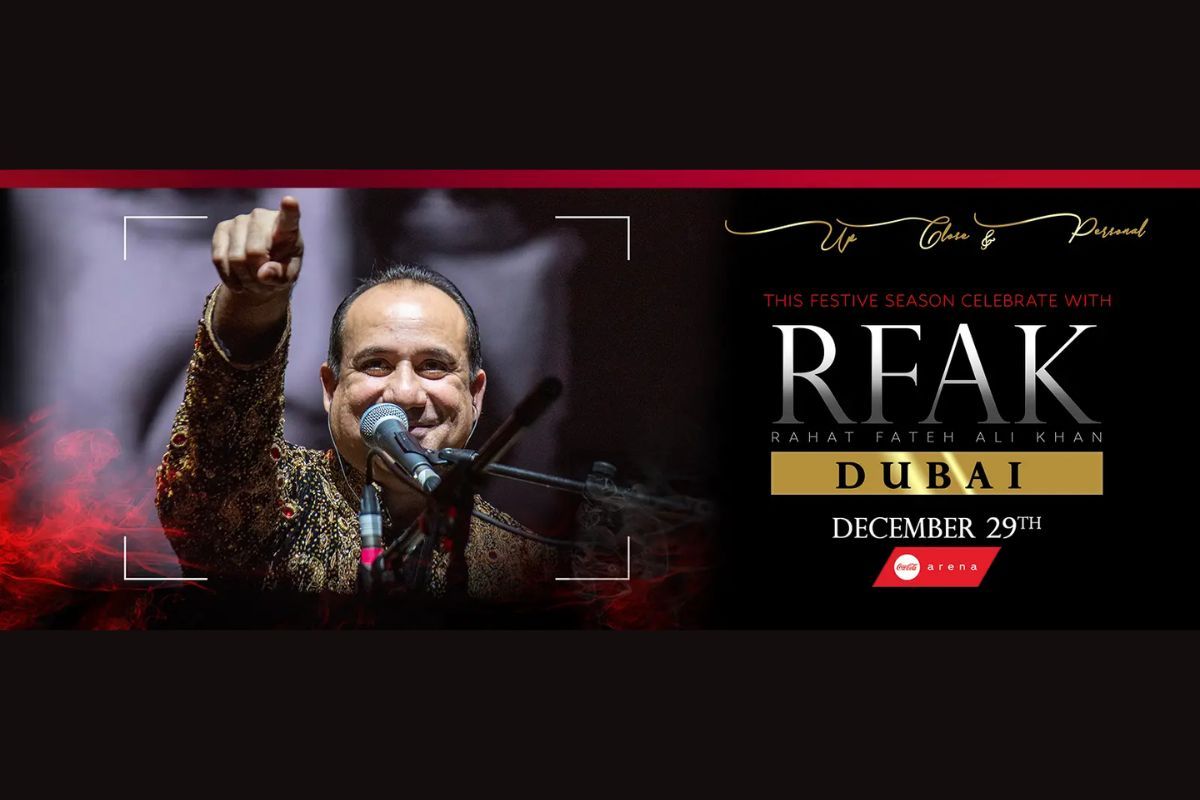 The stage is set for Sufi sensation Ustad Rahat Fateh Ali Khan to return to Dubai this December for an Up Close & Personal show. The singer, who comes from a musical family, is known for his impressive discography of heartfelt hits, which includes classic qawwalis, soulful ghazals, and Bollywood tracks. Enjoy Khan's live performance of chart-topping songs like Mann Ki Lagan, Sayonee, Garaj Baras, and Afreen Afreen, accompanied by the Perfect Amalgamation orchestra, which will make its Dubai debut. A captivating musical evening you won't want to miss! Tickets are selling quickly, so get yours now.
Location: Coca Cola Arena
Date: Dec 29
Timings: 09:00 pm
Ticket Price: AED149
13. Martin Garrix Live in Dubai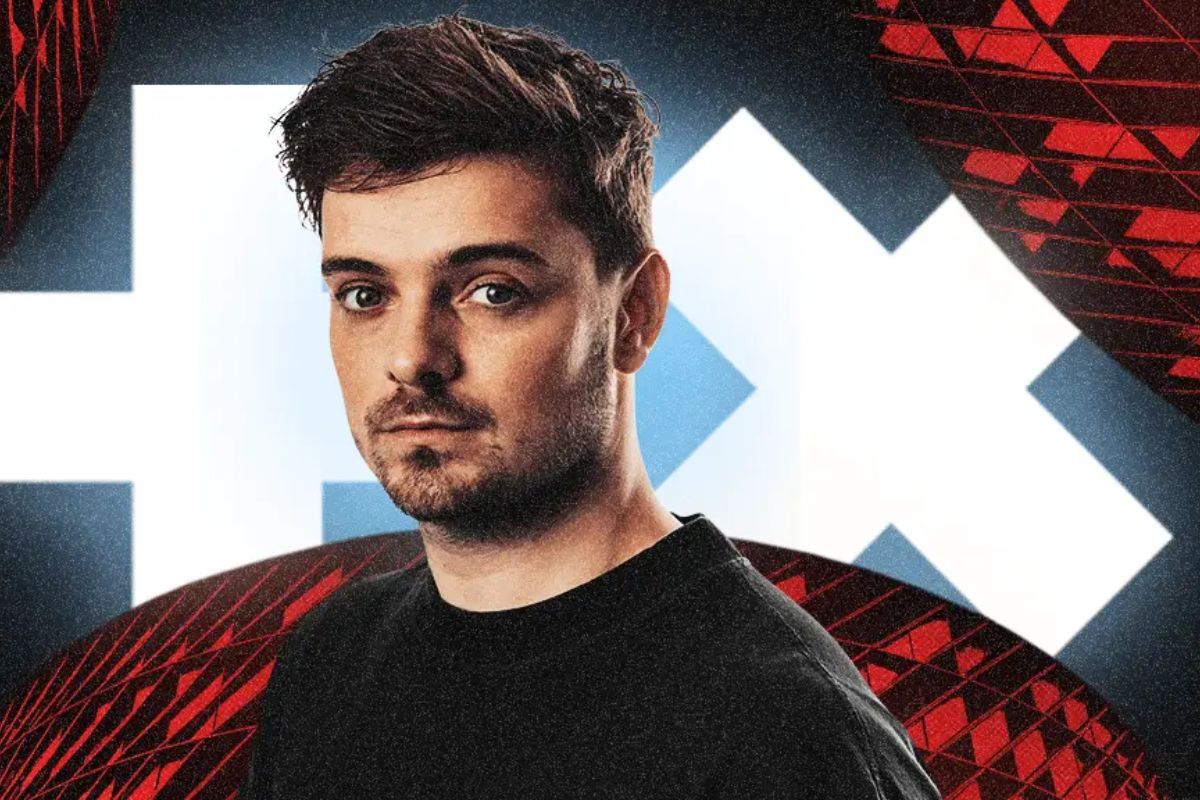 Martin Garrix, one of the world's biggest dance music sensations, is set to return to Dubai for a spectacular performance in front of an expected audience of over 10,000 fans. This award-winning DJ was ranked first on DJ Mag's Top 100 DJs list for three years in a row and has performed at world-famous music festivals such as Coachella, Electric Daisy Carnival, Ultra Music Festival, Tomorrowland, and Creamfields. Animals, In the Name of Love, Wizard, and Scared to Be Lonely are just a few of the chart-topping songs that the hitmaker has spun. Get your tickets now for this concert that will have you jumping and dancing until you're out of breath.
Location: Coca Cola Arena
Date: Dec 30
Timings: 06:00 pm
Ticket Price: AED 175
14. NYE Celebrations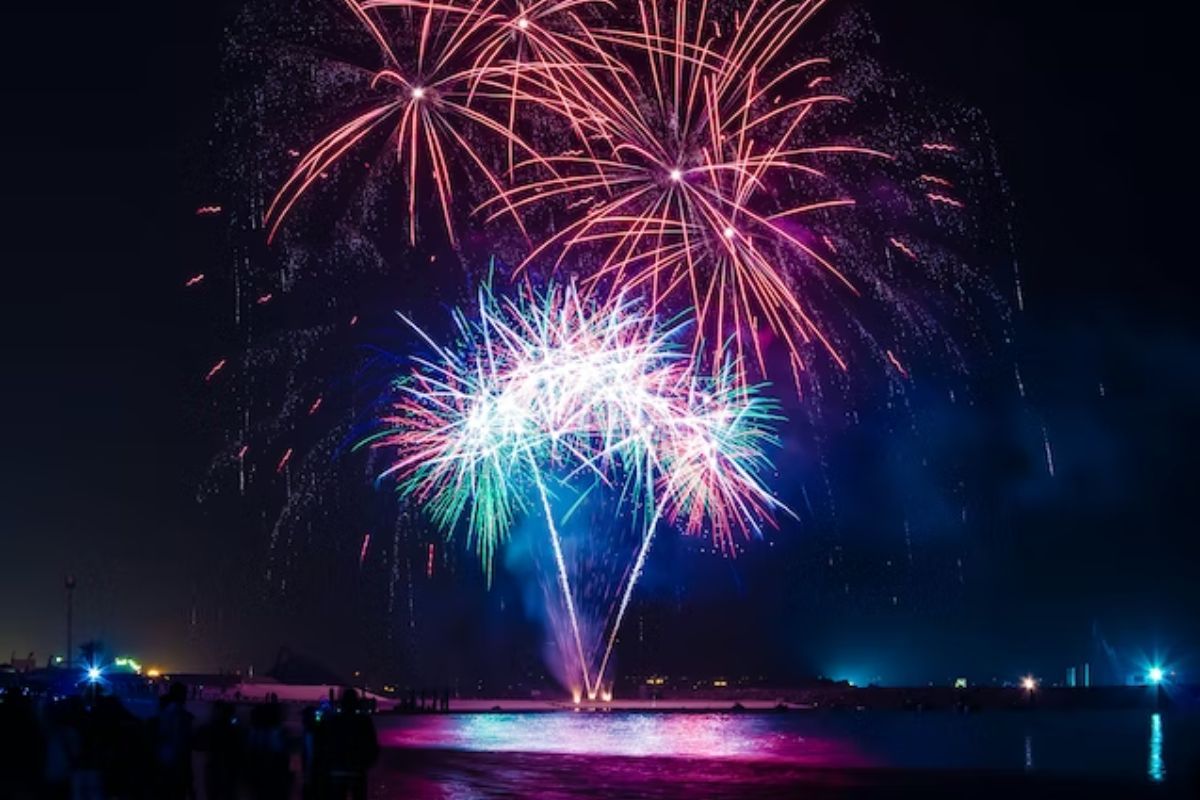 Besides all the other exciting events taking place during the month of December, one grand and memorable event is the New Year Eve. A key NYE Celebratory event that will be taking place on the 31st is the Zero Gravity NYE Festival where Jonas Blue and Sigala will entertain you with their upbeat music along Zero Gravity's talented team of dancers, acrobatic entertainers, and resident DJs. NYE celebrations will be taking place across Dubai including Atlantis the Palm, Burj Al Arab, BM Beach Resort, Dubai Opera and many more. The mesmerizing display of fireworks and light show on the Burj Khalifa can be viewed and enjoyed from various places like Love boats, The Lotus Mega Yatch, The Desert Rose Mega Yacht, Sky Views Observatory, the Ocean Empress Yacht, NYE Dubai Marina Dinner, NYE Creek Dinner you can also dance and eat and welcome the new year in a grand way on all these places. The New Year's Eve is already exciting enough, and Dubai makes it even more happening with the various events, festivals, celebrations, and fireworks its offers.
Also Read: