Dubai is one of the fastest growing cities in the world. With booming tourism and business, the city needs to be well connected via roadways. Dubai's roadways are renowned for their modern infrastructure, efficient traffic management, and extensive network. Dubai has invested heavily in its transportation system to accommodate the increasing population and ensure smooth mobility throughout the emirate.
If you have travelled on land in Dubai, you might have noticed many symbols and signages on both sides of the road. These are installed by Roads and Transport Authority (RTA) of Dubai to ensure smooth flow of traffic. In Dubai, the Roads and Transport Authority (RTA) is responsible for the management and maintenance of road signs and signals. These signs guide motorists to their destinations, highlight traffic regulations, and ensure a safe and organized flow of vehicles.
Confused by these sign boards on road? Here is how to read the traffic sign boards on Dubai roads.
Language of Shapes
The shapes of the RTA sign boards are not arbitrary. They hold significant meanings and convey a particular message. Some of the popular shapes that you can find on the roads in Dubai are: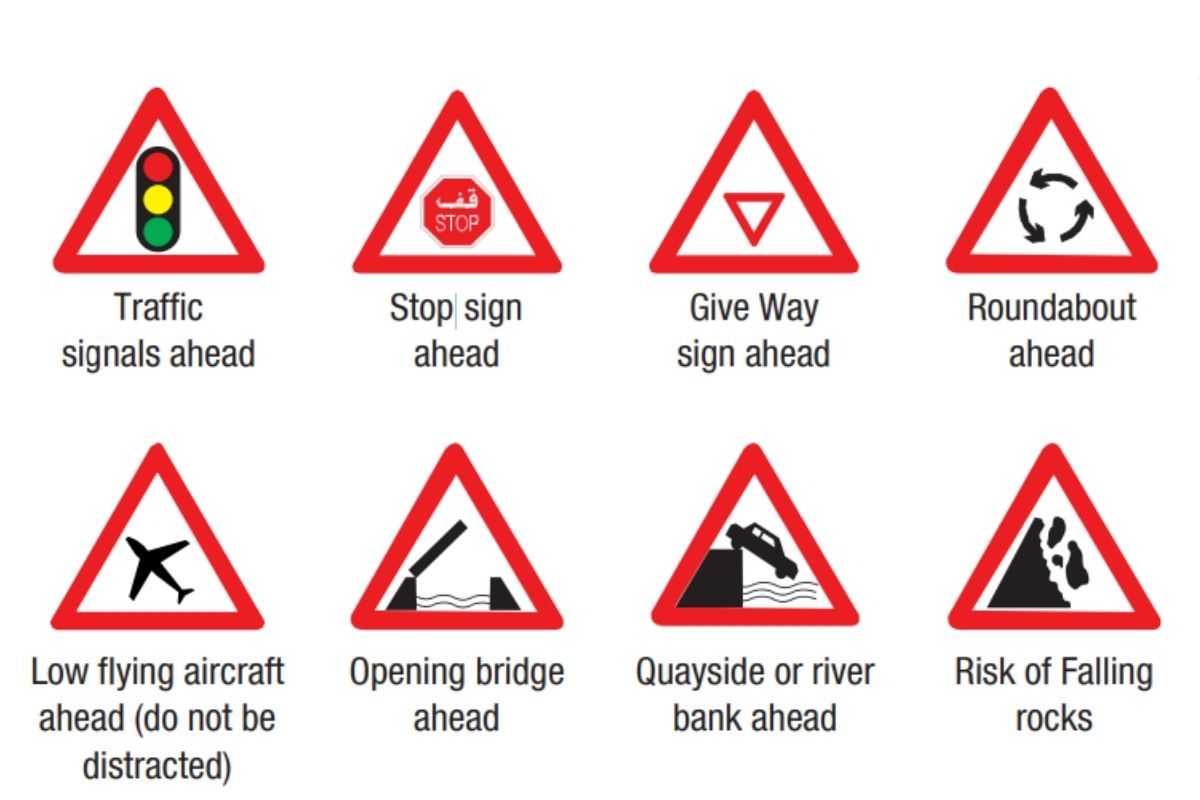 Triangle: Triangular signs indicate caution and are often used for warnings. A triangular sign board with traffic light symbol indicates upcoming traffic signals while the one with hump symbol indicates upcoming speed hump on the road. The symbol inside the triangle indicates the dangers or situation ahead of you.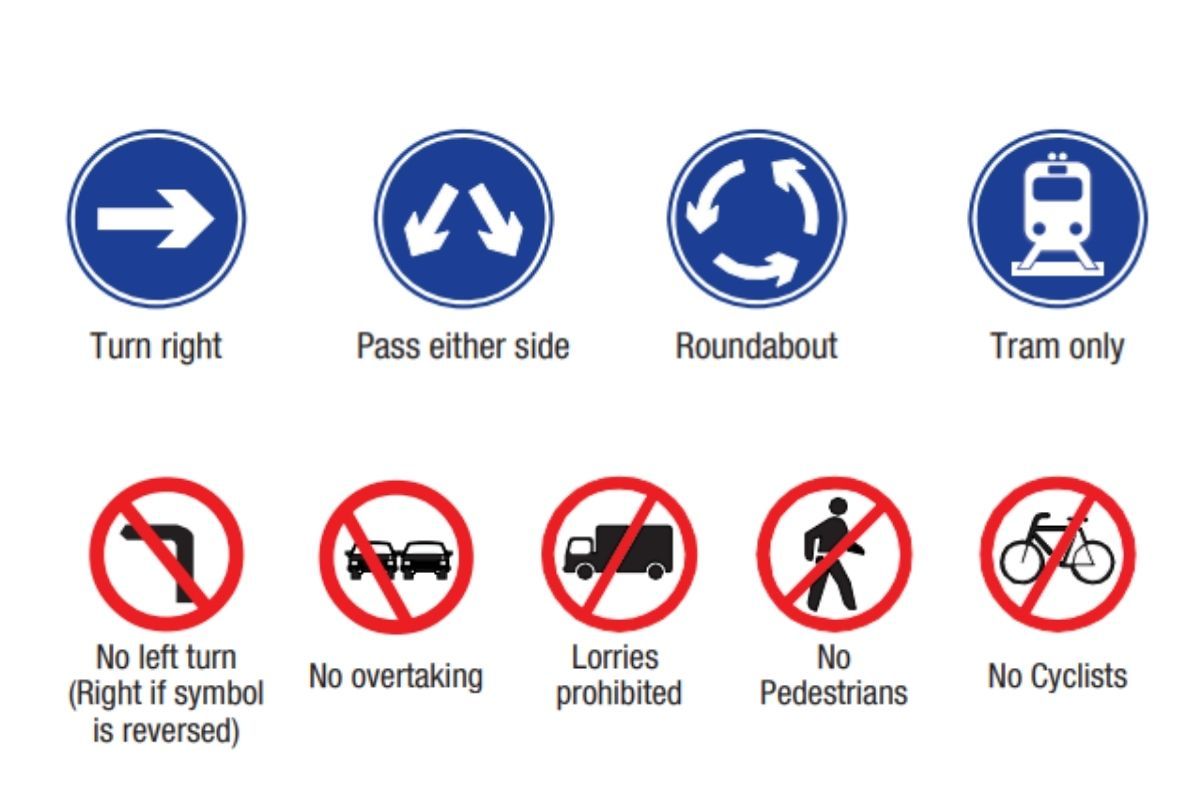 Circle: Circular signs indicate important instructions like speed limits. A red circle indicates prohibitory signs while a blue circle indicates mandatory signs. A red circle sign with a white horizontal bar indicates a prohibition, such as no entry or no U-turn while a blue circle with a white symbol represents a mandatory action, such as keeping left or following a specific lane.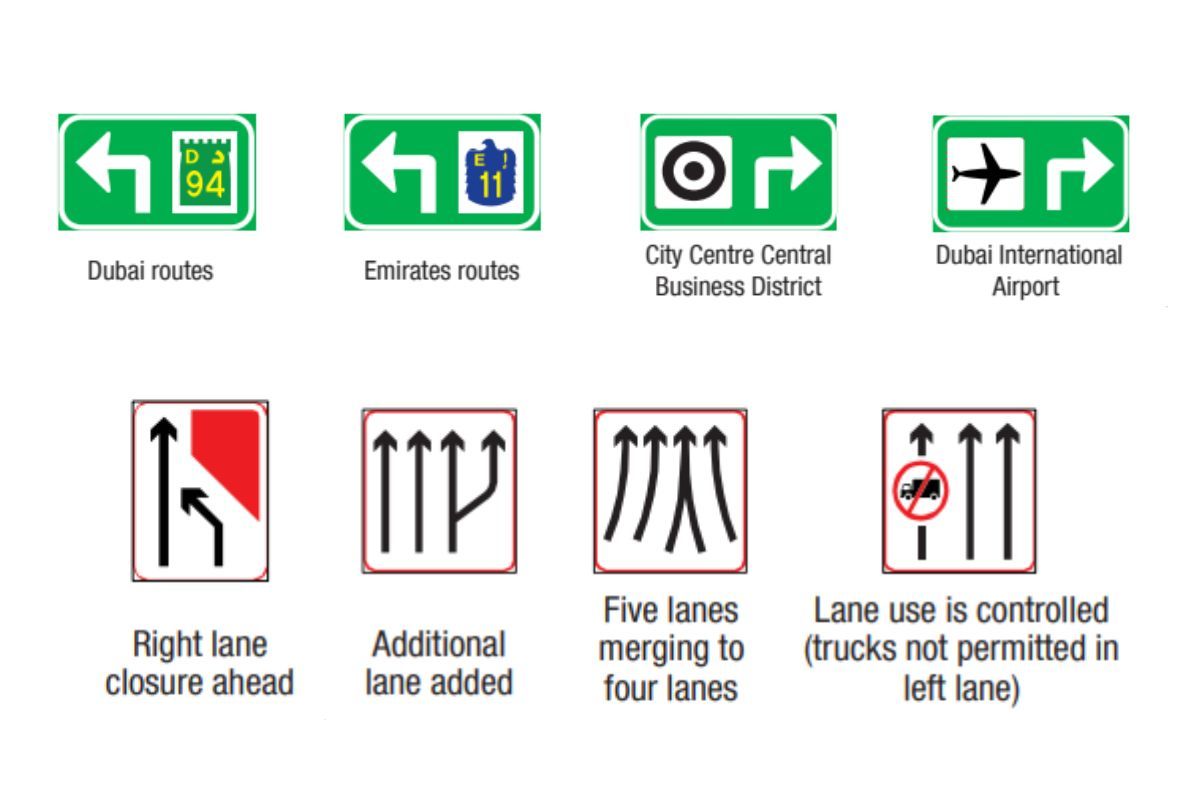 Rectangle: Rectangular signs are commonly used for informational purposes. They can provide directions, distance, or even identify nearby landmarks or services. You can also identify road merges or splits from these sign boards.
Decoding Colors
Colors play a significant role in conveying the urgency and purpose of road signs. Identifying the significance of the sign from their color will make following traffic rules easier.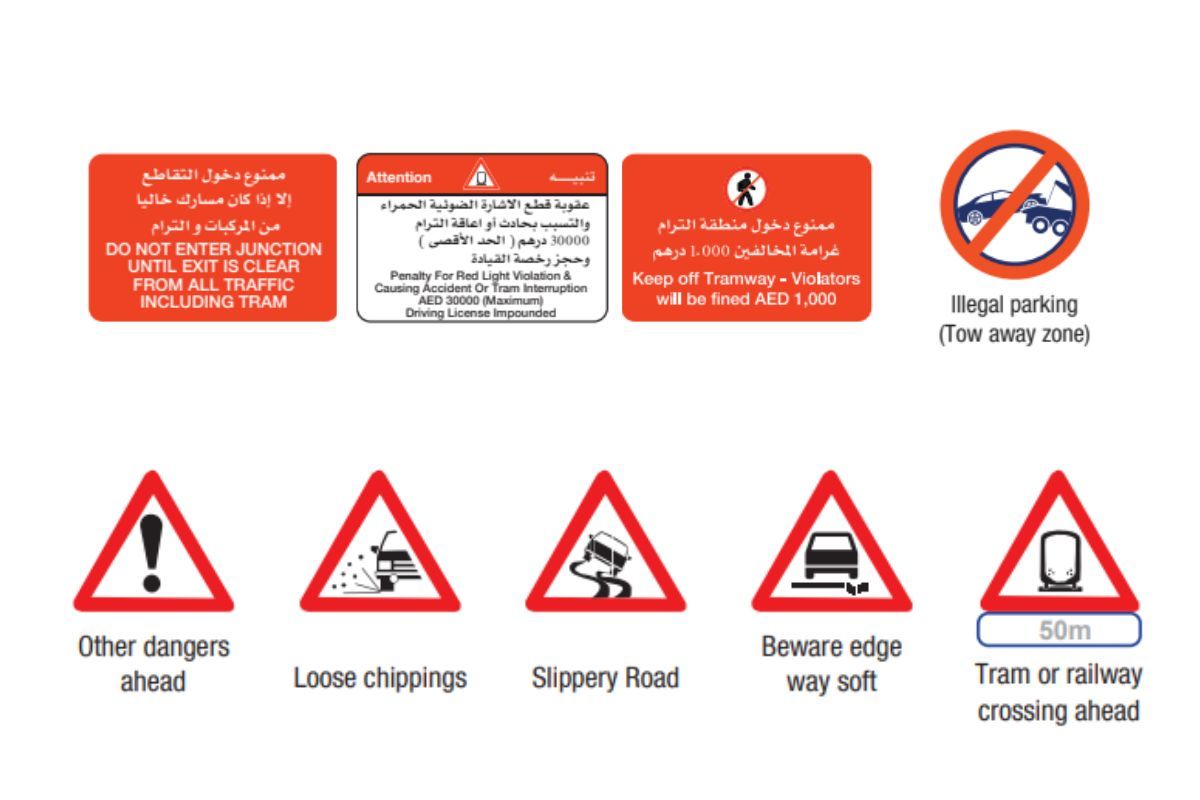 Red: Red is often associated with danger and commands immediate attention. Red signs indicate prohibitions, warnings, or important instructions that drivers must follow without exception. Triangular warning signs that indicate prohibitory signs use red color to indicate caution. Reduce Speed and Do Not Enter Junction are some of the frequent red signs you can find in Dubai.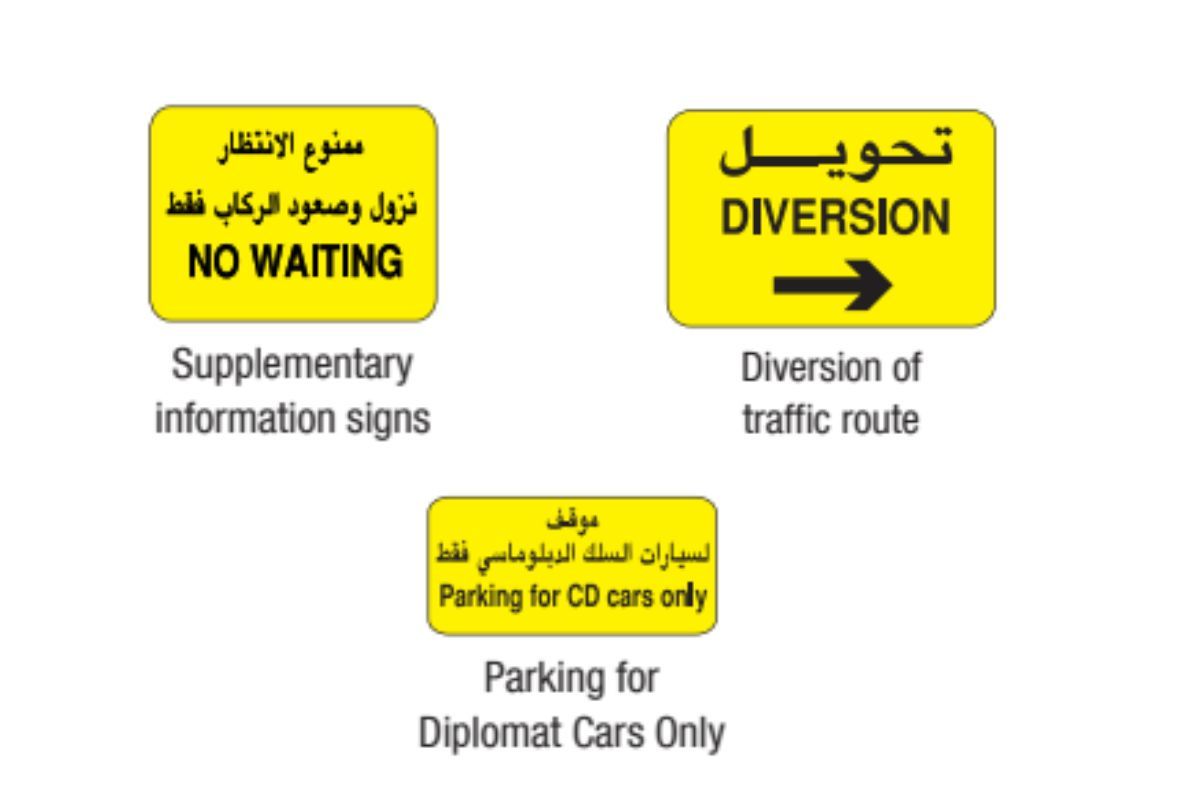 Yellow: Yellow boards are used to signify caution. These signs demand drivers to be alert and prepared for potential hazards or changes in the road conditions. Signs with yellow backgrounds are used for warnings, temporary situations, or construction zones. Diversion and road work ahead are the popular yellow boards you can see on Dubai roads.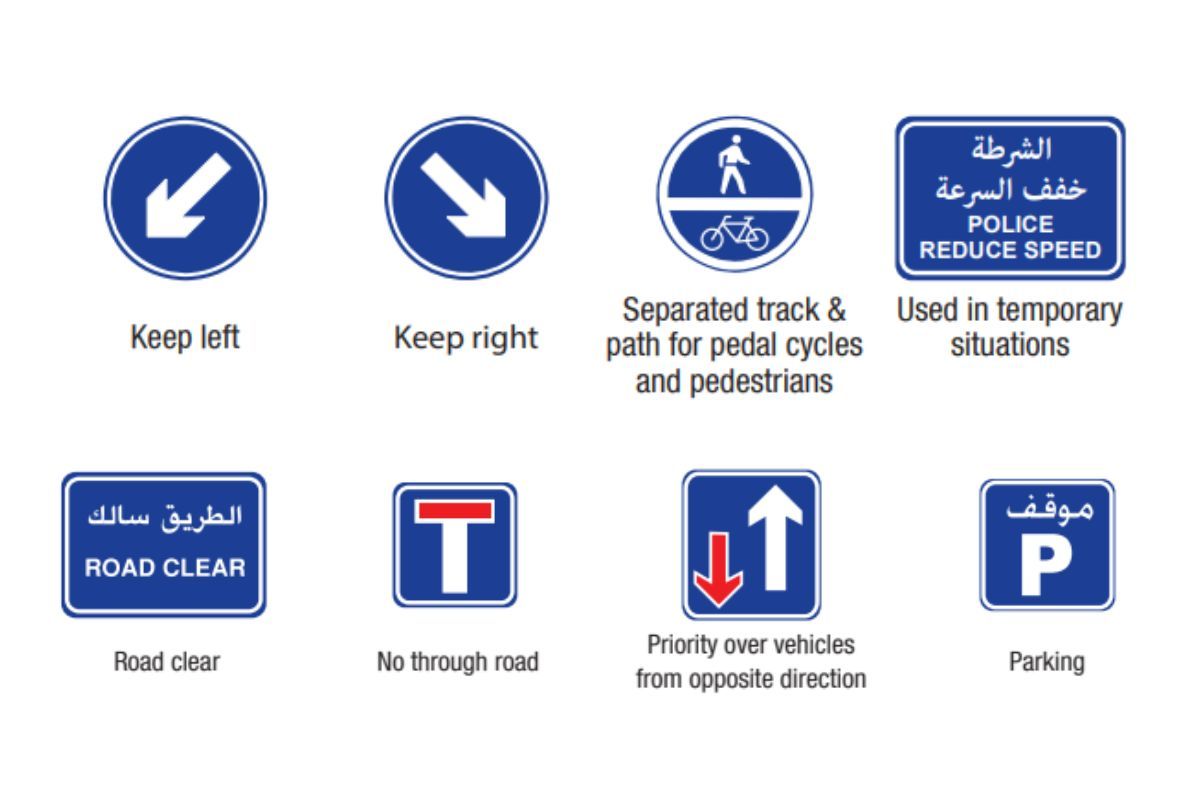 Blue: Blue signs are typically used to convey information or provide guidance. The symbols on these boards indicate change in directions, turns, cycle tracks, freeway control and minimum speed limit. Blue color on guide signs depicts national routes and also features the Emirates route symbol.
Reading Symbols
Most of the road signs uses symbols to convey messages easily to the motorists. Familiarizing with these visual cues will help you understand instructions better. Here are some of the common symbols you can find on Dubai's sign boards.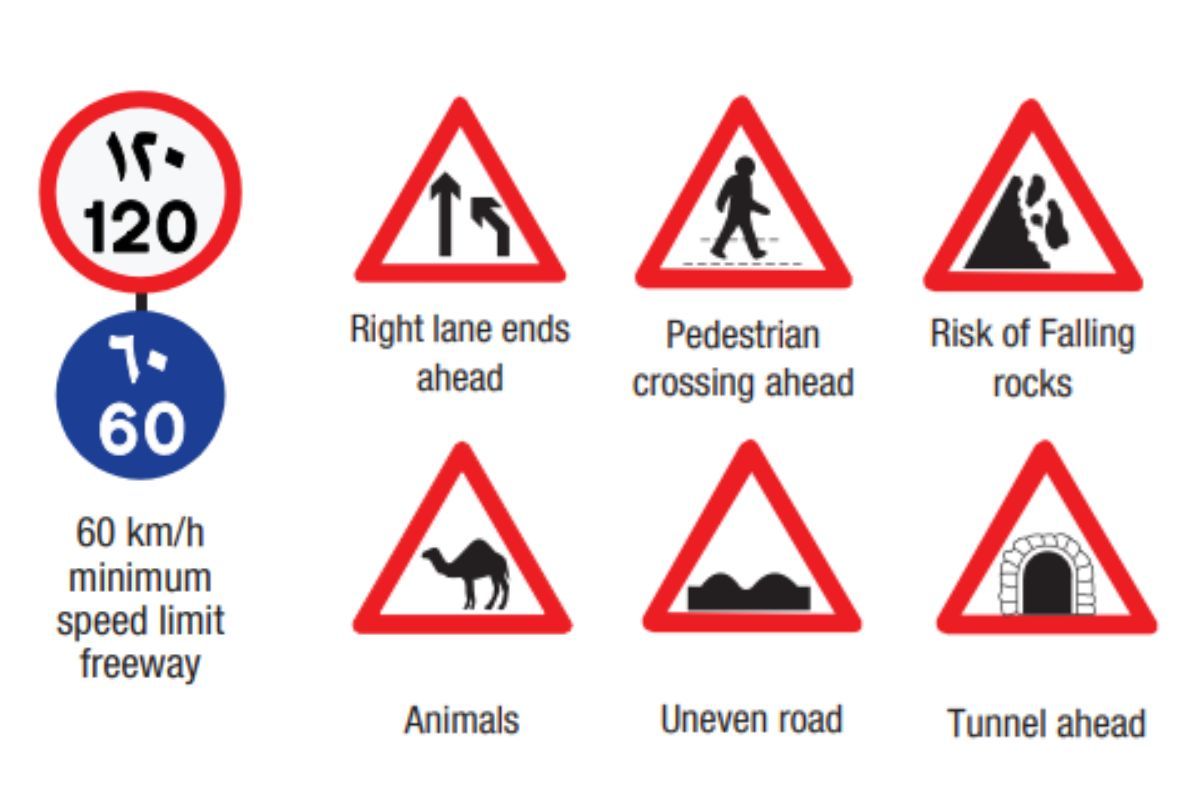 Arrows: Arrows indicate the direction of traffic flow or the recommended path to follow. They can guide drivers to take a specific turn, merge lanes, or proceed straight ahead.
Numbers: A round sign with a number inside indicates the speed limit allowed on that particular road. A red circular sign with a number inside indicates maximum speed limit while a blue circular sign with a number inside indicates minimum speed limit.
Person: The symbol of a person or persons on signs generally indicate pedestrians. Some of the popular places where you can see these kinds of signs are school areas and pedestrian crossings. Drivers need to be cautious and drive slow in these areas.
Flight: The flight symbol on sign boards indicates airports. Some of these symbols are accompanied by respective IATA airport codes.
Animals: The animal symbol on sign boards indicate animal crossing nearby. The guide sign boards also use animal symbols to refer to tourists destination like zoo and riding centres.
Hills: The hill symbol is not very common on major Dubai highways. However, in hilly regions like Hatta this is a common scene. The hill symbol with an arrow indicates steepness of the road while the hill symbol with rocks moving down demands the driver to be cautious about dangers while passing rocky mountains.
Humps: The hump symbol is generally used on sign boards to represent speed humps. The two humps on a road sign indicates uneven roads.
Guide Signs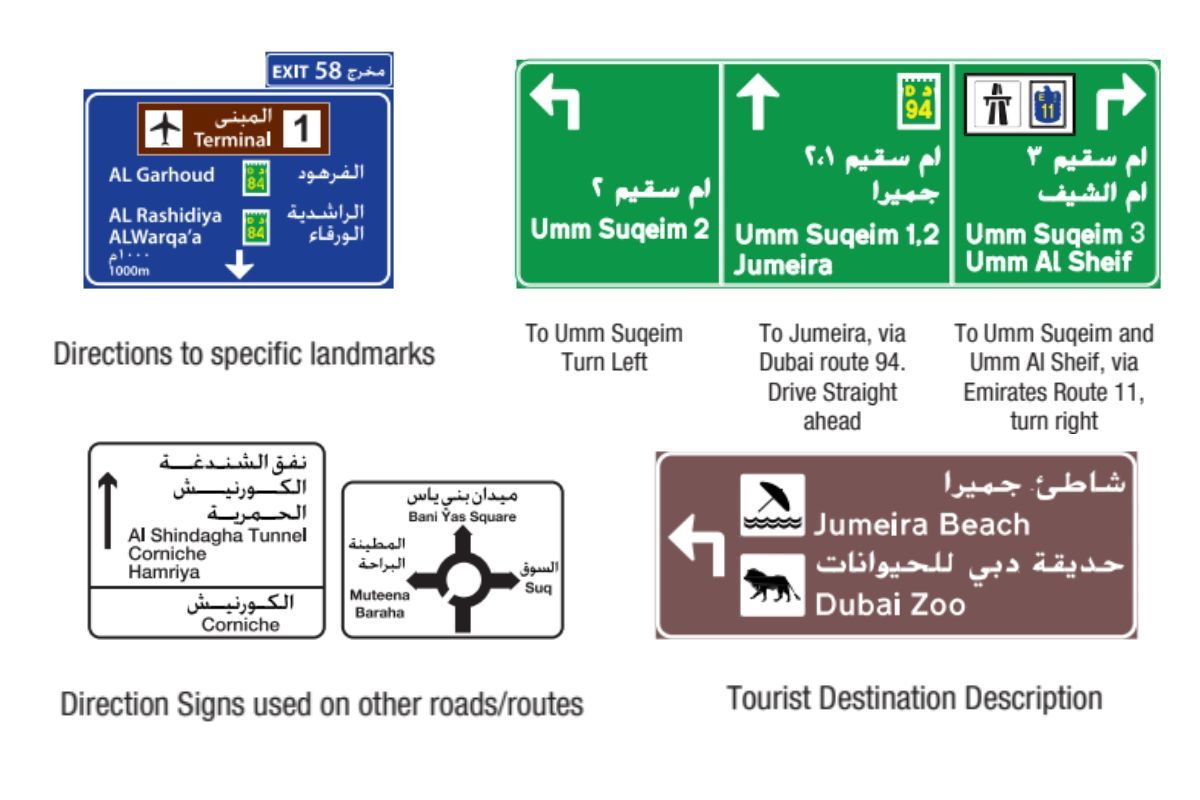 The guide signs include trailblazing signs and exit direction signs. Trailblazing signs inform the drivers on what lane to stay in order to head to the desired destination while the exit direction signs will guide them to take the necessary exit out of the main road. These guide sign boards are colored to indicate specific things. The blue color boards denote the national routes while the green color boards denote roads and places within Dubai. The white color boards show local roads or places while the brown color boards show important local destinations. The white exit panel below the exit direction sign board indicates that the particular lane is to be diverted from the main roadway.
Also read: