The Dubai Integrated Economic Zones Authority DIEZ today announced its operational and financial results for the first half of 2023. The results reveal a 5% year-on-year increase in total revenue and an impressive 34% surge in overall EBITDA.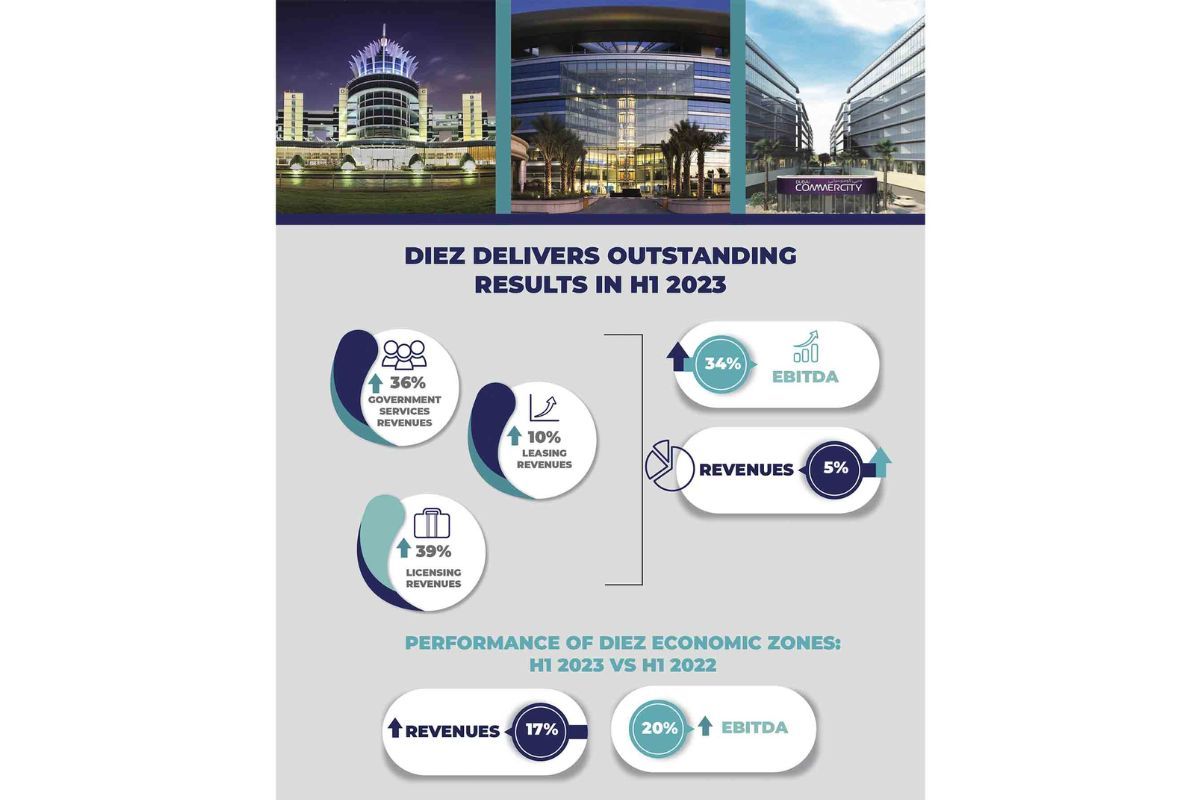 The organisation also achieved a 10% growth in revenue from leasing operations, a 36% growth in revenue from government services and a 39% growth in licensing revenues in the initial half of the year compared to the same period last year.

DIEZ's three economic zones, the Dubai Airport Free Zone DAFZ, Dubai Silicon Oasis and Dubai CommerCity, achieved a combined 17% year-on-year growth in revenue and 20% growth in EBITDA in H1 2023.

The strong H1 2023 financial results underscore the Authority's ability to maintain sustainable growth as well as the effectiveness of DIEZ's new integrated model, which consolidates the products and services of its three free zones. The model aims to enhance the competitiveness of Dubai's business value proposition, global economic stature and entrepreneurial and investment environment.

These exceptional results are driven by the constant improvements in operational efficiency that DIEZ has pursued since its establishment in 2021 through innovative processes, initiatives, projects and solutions. DIEZ has adopted global best practices and created a flexible economic environment to enhance the prospects of businesses based in its free zones in various sectors.

DIEZ's efforts are aligned with the objectives of the Dubai Economic Agenda D33, launched by His Highness Sheikh Mohammed bin Rashid Al Maktoum, Vice President and Prime Minister of the UAE and Ruler of Dubai, which aims to double Dubai's economy and make it one of the world's top three urban economies by 2033.

His Highness Sheikh Ahmed bin Saeed Al Maktoum, Chairman of the Dubai Integrated Economic Zones Authority -DIEZ-, said:
"DIEZ's strong financial results further contribute to raising Dubai's status as a city at the forefront of global trade and supply chain recovery and a leading international economic and logistical hub. We continue to steadily forge ahead in our mission to turn Dubai into a model of global excellence in economic zones."
"The seamlessly integrated ecosystem of DIEZ's economic zones delivers extraordinary value to investors and enterprises alike. Our robust momentum of growth encourages us to continue strengthening our strategic plans to enhance the contribution of free zones to Dubai's GDP to AED250 billion by 2030. We are confident that DIEZ and its economic zones will sustain their remarkable growth trajectory in the latter part of this year. We will continue our efforts to provide the best services, benefits, facilitations and support to enhance the chances of the business community's success and raise the competitiveness of the economic and investment landscape of Dubai, further bolstering its status as a regional and global investment destination,"
His Highness added.

His Excellency Dr. Mohammed Al Zarooni, Executive Chairman of DIEZ, said:
"Since its inception, the Dubai Integrated Economic Zones Authority has provided a comprehensive ecosystem based on the optimal integration of three of the most successful economic zones in the UAE and the region. The 34% increase in EBITDA and 5% increase in revenue achieved in the initial half of 2023 highlight the excellent financial and operational indicators of the Authority and its economic zones."
"This growth complements our efforts to strategically and sustainably contribute to Dubai's non-oil economy and develop a business environment that supports the growth of companies in different sectors. This comes in line with the plans, policies and economic strategies that drive our initiatives and projects, including the Dubai Economic Agenda -D33-, which has enabled us to outline a clear roadmap for the Authority's progress over the next decade,"
Al Zarooni further said.
Efficiency and sustainability
In an unprecedented achievement, the Dubai Integrated Economic Zones Authority was awarded the Integrated Management System -IMS- Certification within the first year of its operations. The certification combines the world's three most prevalent ISO standards -ISO 9001:2015 – Quality Management System, ISO 14001:2015 – Environmental Management System, and ISO 45001:2018 – Occupational Health and Safety Management System- under a single framework.

The achievement reflects DIEZ's keenness to improve the speed and efficiency of services for businesses and investors, support their ability to grow, diversify investments and take advantage of business opportunities, and enhance ease of doing business. This aligns with its broader aim to create an attractive business environment and consolidate Dubai's position as one of the best destinations for global investors and a key global focal point for commerce.

DIEZ achieved exceptional results in advancing sustainability and reducing carbon emissions through responsible practices that meet the ISO 50001 international benchmarks for the optimal and sustainable use of energy and the Leadership in Energy and Environmental Design -LEED- standards. This comes in line with the leadership's directives to promote sustainable development, invest in renewable energy infrastructure and raise energy efficiency.

DIEZ's commitment to sustainability resulted in a 24% reduction in carbon emissions and a 46% improvement in the performance of its smart waste management system compared to 2021. These results were driven by the implementation of responsible environmental initiatives and practices, and the adoption of the latest sustainable and smart technologies, which contributed significantly to reducing energy consumption and enhancing the management of cooling, irrigation and waste recycling systems.

DIEZ also adopted an effective demand flow control system for cooling services and utilised the green gas cooling system -407 R/410- to reduce energy consumption and environmental impact.

News Source: Dubai Media Office