Delhi Private School, Dubai, conducted its annual Maths Contest, "ExoMath 2022", on 8th December 2022 on its premises. A total of 9 teams comprising 52 students contested for the title, of which 6 teams were from Grade 9, and 3 groups comprised Grade 11 students.
The contest theme was "Futuristic problems in need of a modern solution".
Mathematics contests, in general, are perceived to be academic contests. Still, this one moved further and went on to a math-based tech start-up pitch contest.
The HiDubai editorial team had the opportunity to cover the event. It was a mind-blowing experience to see the level of creativity, clarity, mathematical competence, and technology prowess of 9th graders pitching relevant real-life start-up ideas using math and data science.
We observed that all the teams devised high-quality start-up business pitches with futuristic technology tools addressing real-life problems using math that would give the start-up ecosystem a run for its money. The themes varied from building eco-friendly homes for the homeless using mathematical principles, to detecting autism at a very early stage using nanobots.
The students have built functional web platforms, android apps, AI data models using the TensorFlow machine learning framework, 3D Models, VR design, and a fully functional metaverse classroom using the unity gaming engine.
Generation AUsome Team of Grade-9 students came up with a start-up idea of solving the Autism problem through early detection using nanobots when the child is mother's womb with follow-up tools in the form of the web platform and android app to continue the problem-solving journey. They were adjusted for "The Dream Team award in Exomath 2022" winners.
Team Tri-Hard approached the poverty and homelessness problem and attempted to solve it through Eco-friendly Homes with multi-level gardens for agriculture designed using mathematical principles for optimal utilisation of space, design, and resources. Their "Trideal House idea" won the "Pinnacle performers of Exomath 2022" award.
THE DREAM TEAM IN EXOMATH 2022 AWARD WINNER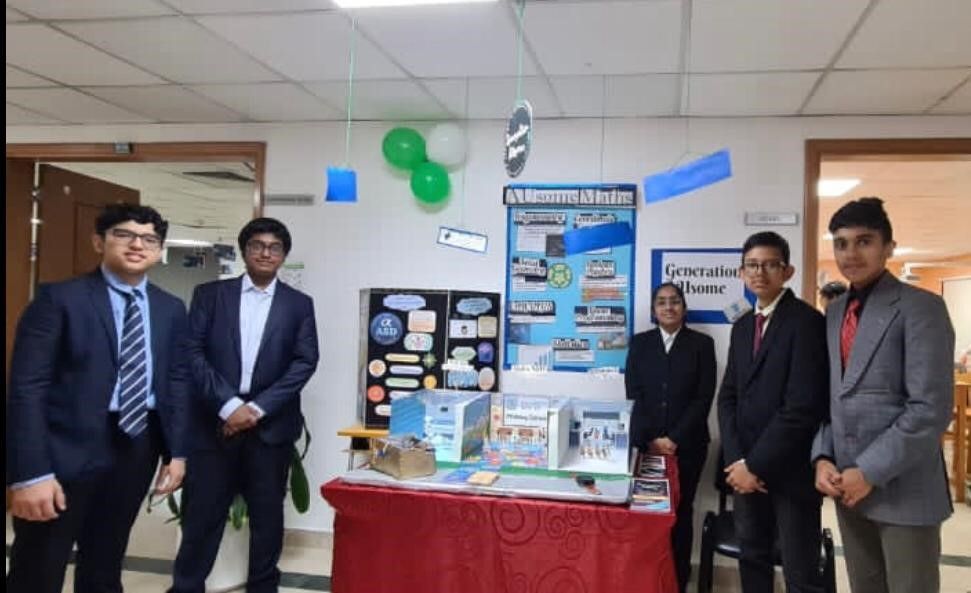 TEAM GenerationAUsome
CONCEPT: AUsome cure for Autism
TEAM MEMBERS: Aarsh Jain, Mritunjay Mukherjee, Tejasvi Hariharan, Hrudya Biju, Vihaan Mudgala, Thejaswin Ramesh – ALL GRADE-9 STUDENTS
The concept aims to use AI-powered nanobots to identify and cure AUTISM in a cost-efficient way before the birth of the child,  use AI in apps to help children in the early stages of their life to boost some necessary life skills, and try to decrease the adverse effect of autism on adults in the future.
PINNACLE PERFORMERS OF EXOMATH 2022 AWARD WINNER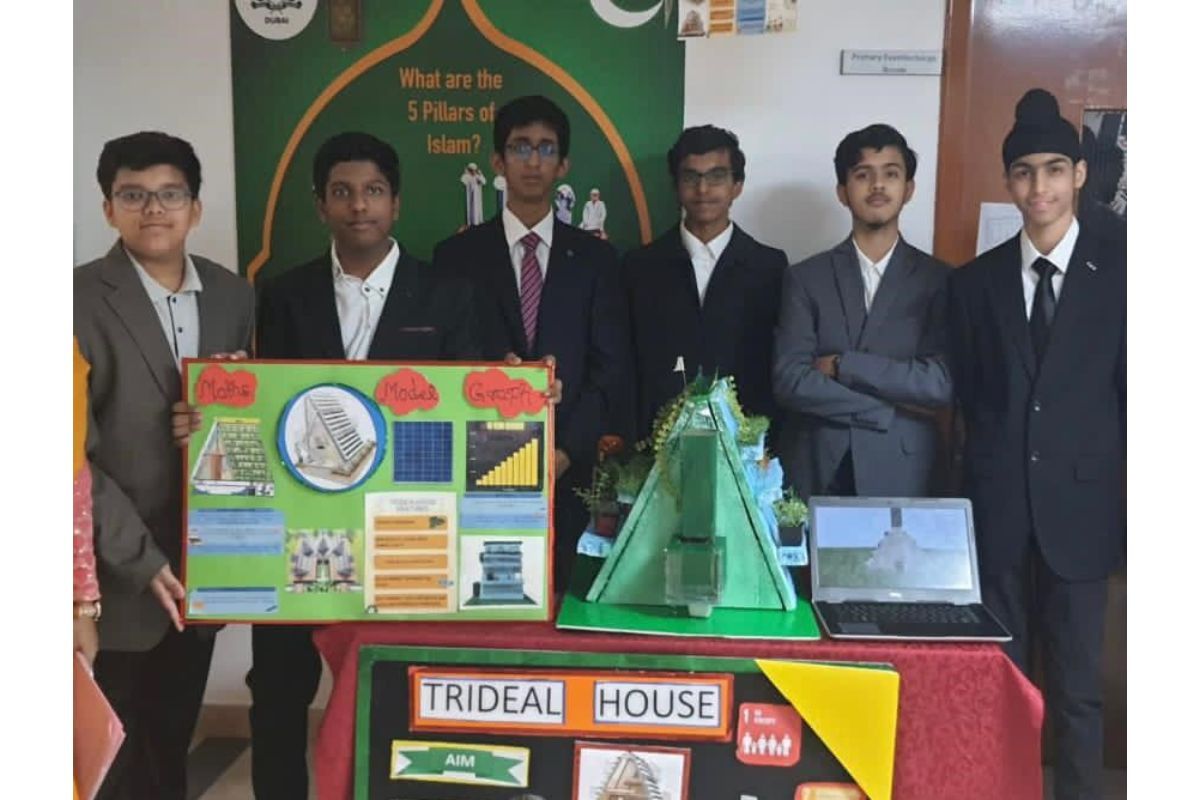 TEAM Tri-Hards
THEME: Exterminate poverty and homelessness among the people and make people self-reliant.
TEAM MEMBERS: Syed Raed Abdullah Gilani, Deven Singh Kalsi, Divit Bansal, Siddhant Awalegaonkar, Shrikar Nagarajan, Rahul Ravindran, Vishnu Arul Selvan – ALL GRADE-9 STUDENTS
"Futuristic solution to eliminate poverty using Trideal Houses." and integrate math topics beyond the curriculum to solve futuristic problems.
BEST MATHEMATICAL MODEL AWARD WINNER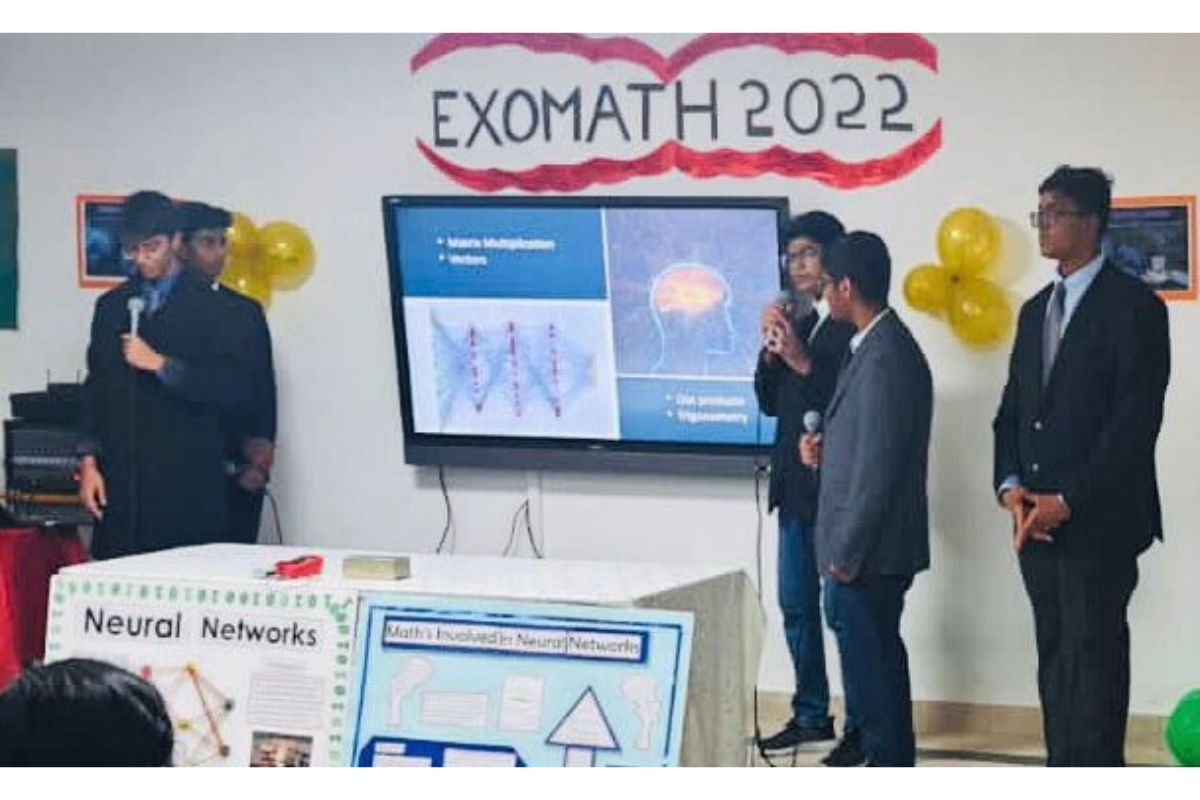 TEAM Anologists
CONCEPT: Comeback of Analog computers
TEAM MEMBERS: Nikhil Gupta, Sakthi Adhav, Shaurya Khadtare, Sujay Katoch & Rahul Ravindran – ALL GRADE-9 STUDENTS
The concept aims to show how analog computers can complement digital computers and help solve neural networks and other heavy AI workloads that will play a significant role in creating autonomous AI in the future.
THE BEST CRITICAL THINKING AWARD WINNER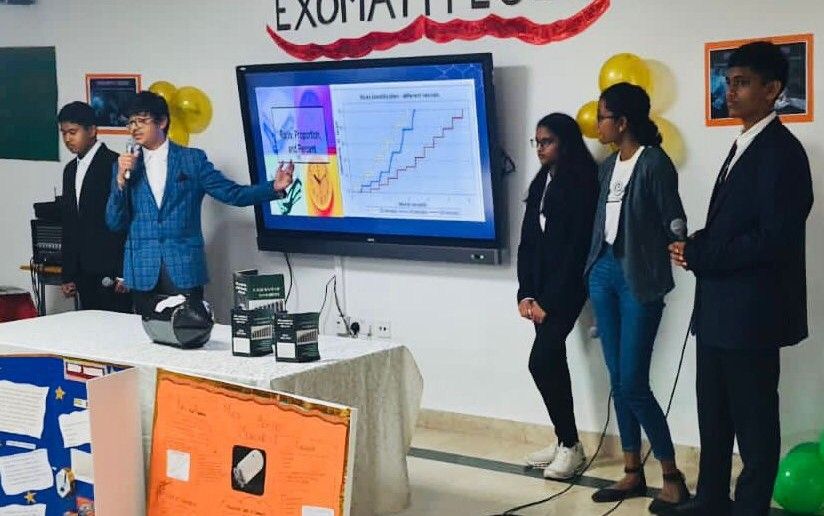 TEAM Quantine
CONCEPT: Nano Saviours
TEAM MEMBERS: Venkat, Sameesh, Rachit, Naviya & Rahini – ALL GRADE-9 STUDENTS
The concept aims to increase the use of nanobots in daily life. The idea of nanobots has been around for a long time however, recently, it has become a reality. Nanobots will soon revolutionize the medical world with the ability to work with incredible precision. Nano Saviour is a solar-powered nanobot to be used in the healthcare Industry.
MOST INNOVATIVE IDEA AWARD WINNER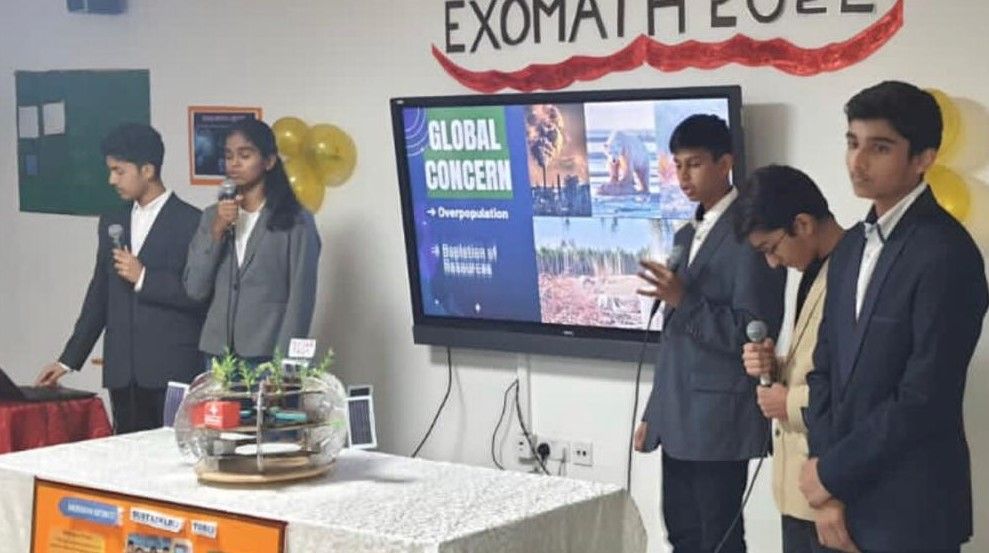 TEAM #Solar_Us
THEME: Habitat in Space
TEAM MEMBERS: Shubh Tiwari, Praneel Narayan, Rahil Shah, Mayank Mehta. Aarush Kodandera, Nisha Noronha – ALL GRADE-9 STUDENTS
To concept aims to create a habitat for humans to live outside Earth, which will be sustainable. It will act as an alternative habitat for humans in case the natural resources are depleted on Earth.
BEST TECHNICAL COMPETENCE AWARD WINNER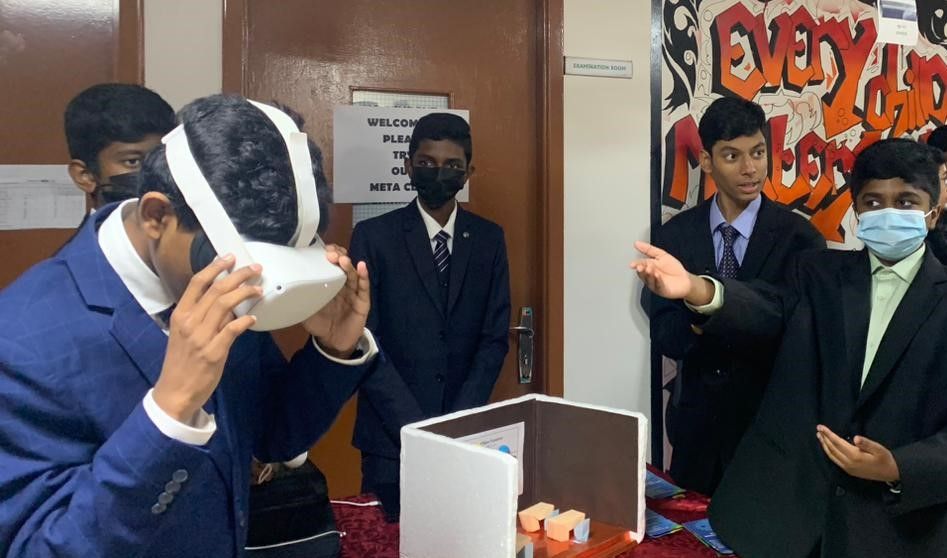 TEAM Tsukuyomi
THEME:  Metaverse for Education
TEAM MEMBERS: Krishanth Sorna Aravintha Losanan, Nathanael Dhanapal, Vignesh Muthukumar, Josh Pulicken Tiny, Siddartha Nandimandalam– ALL GRADE-9 STUDENTS
The futuristic Metaverse solution built using the Unity gaming engine is set to increase the literacy rate. It aims to provide proper education to everyone, integrate math topics beyond the curriculum to solve futuristic problems, and provide quality VR education for all.
BEST THEMATIC PRESENTATION AWARD WINNER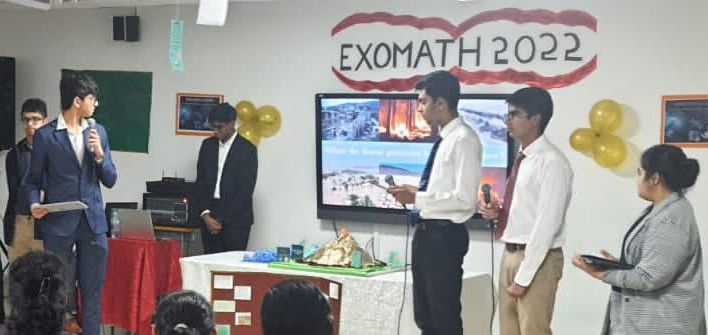 TEAM The Earthcredibles
THEME: Predicting natural Disasters using AI
TEAM MEMBERS: Kevin Dsilva, Swarnil Pal, Yuvrraj Singh, Aaryan Jha, Aditya Nair, Simra – ALL GRADE-11 STUDENTS
The Earthcredibles built a working model to foresee natural disasters to save thousands of lives annually using Data Science and AI algorithms.
BEST FUTURISTIC DESIGN AWARD WINNER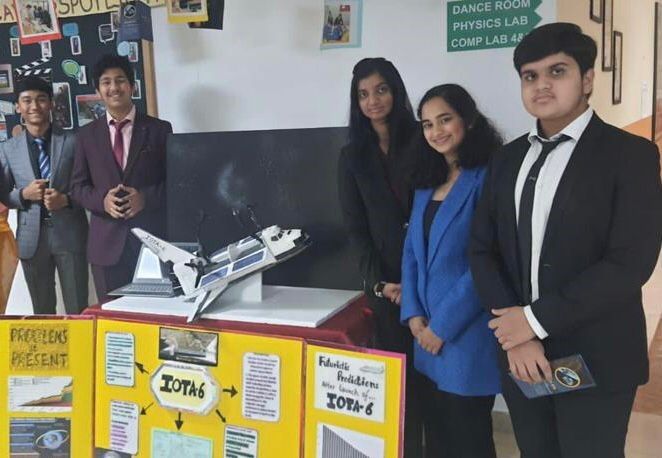 TEAM Solar Seekers
THEME: Solar-powered Spacecraft to clear space debris.
TEAM MEMBERS: Asil Fawaz, Anuj Shukla,Aaron Menezes, Elan Venatius Sequeria, Aditi Rathore, Tiya Jathan – ALL GRADE-11 STUDENTS
Today, scientists place a greater emphasis on space exploration while ignoring the harm they are causing to the space surrounding the Earth. Solar-seekers attempt to solve this space debris problem using mathematical principles in an eco-friendly way.
PROJECT RELEVANT TO THE SOCIETY AWARD WINNER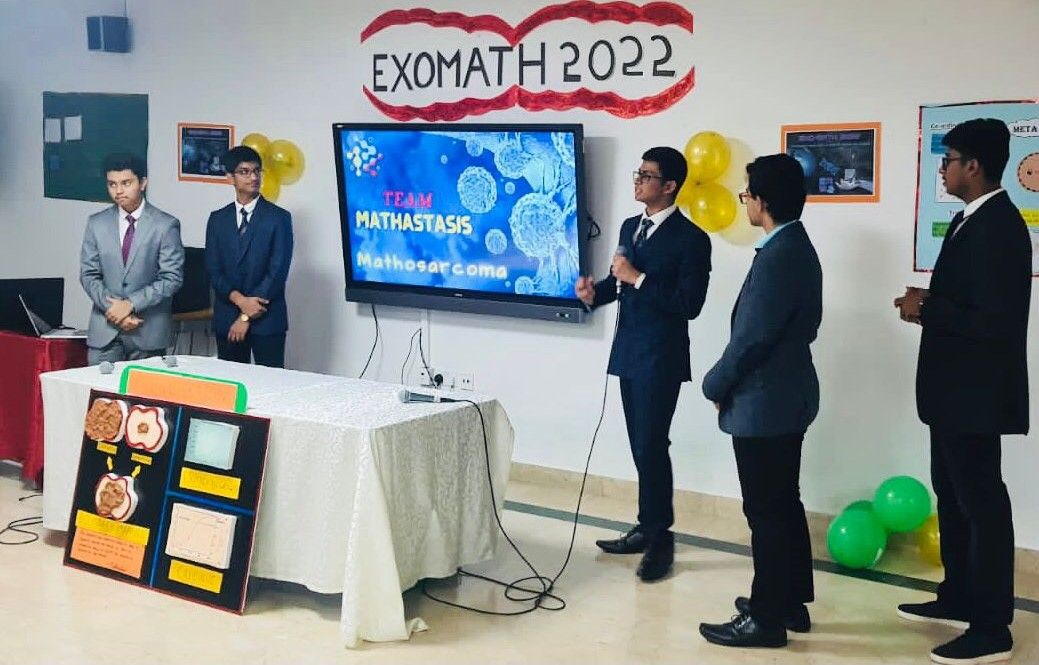 TEAM Mathastasis
Theme: Fight cancer using mathematical concepts
Team Members: Mayank Belgaonkar, Shlok Tandon, Naga Vamsi Krishna Vempati, Shivaay Dhondiyal, Kinjal Chakraborty, Parth Goli – ALL GRADE-11 STUDENTS
The concept aims to critically analyze and integrate mathematics in the detection and curing of CANCER. During cancer, using computer vision, mapping the growth rate of cancer (using GP, statistics, differential, mapping), and predicting the urgency of the treatment.
Anuj Shukla, a Grade-11 Student, won the prestigious "Young Mathematician Award".
Kinjal Chakraborty from Grade 11 was chosen as the winner of "The innovative Genius Award".
The event was organized by the Mathematics Department and judged by a panel of Mathematicians and tech start-up professionals, and attended by Industry representatives, Academicians and Parents.