Dubai Electricity and Water Authority PJSC (ISIN: AED001801011) (Symbol: DEWA), the Emirate of Dubai's exclusive electricity and water services provider, which is listed on the Dubai Financial Market (DFM), today reported its second quarter 2023 consolidated financial results, recording quarterly revenue of AED 7.3 billion and net profit of AED 1.98 billion. For the first six months, DEWA's consolidated revenue was AED 12.7 billion and net profit was AED 2.7 billion.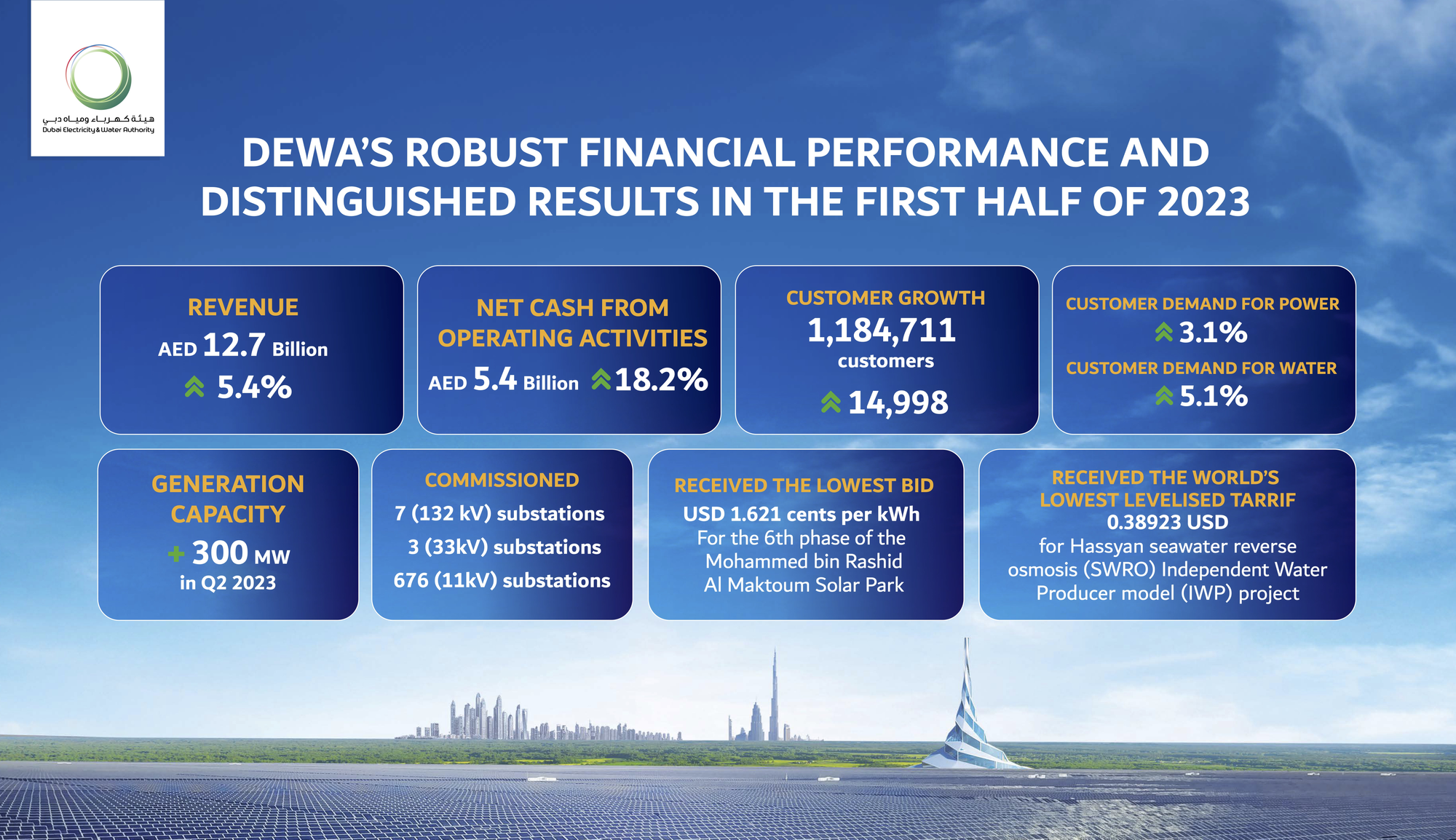 By the end of H1, 2023, the Company's net cash from operating activities increased by a record AED 837million to AED 5.4 billion, representing a stellar 18.2% increase versus the same period for the last year.
Robust on the ground fundamentals are driving top line growth
DEWA's first six month consolidated revenue increase of 5.4% to AED 12.7 billion was mainly driven by an increase in demand for electricity, water, cooling services and an increase in the revenues of DEWA's other portfolio of assets. Revenue growth for electricity, water and cooling increased by 5.7%, 3.8% and 4.9% respectively. DEWA's other portfolio of assets grew their revenue by 7.8%.
During the second quarter consolidated revenue increased by 4.1% to AED 7.3 billion, driven by an increase in demand for electricity, water and cooling services and an increase in the revenues of DEWA's other portfolio of assets.
Demand for power in the second quarter reached 14.3 TWh compared to 14.0 TWh for the same period in 2022. DEWA's second quarter gross heat rate for power was 8,230 BTU / kWh, which is a 4.2% improvement compared to the same period in the last year, reflecting higher operational efficiency resulting from the Company's targeted sustainability and environmental efforts.
Demand for water in the second quarter of 2023 reached 35.3 billion imperial gallons (BIG), representing a 4.6% increase.
By the end of the second quarter of 2023, DEWA is serving 1,184,711 customer accounts, representing an increase of 14,998 customer accounts from the first quarter of 2023.
Net Profit Reconciliation
Compared to the first half of 2022, DEWA's first half 2023 net profit was impacted as a result of an increase in net finance costs, and depreciation. Net finance costs were higher by AED 262 million as a result of increase in EIBOR during the last 12 months, and as a result of a reduction in capitalised interest of new IPP projects that have been commissioned. In addition, depreciation has increased by AED 190 million due to new IPP projects that were commissioned, adding to DEWA's generation capacity.
Quote
"At DEWA, we continue the journey of excellence and sustainable growth guided by the vision of His Highness Sheikh Mohammed bin Rashid Al Maktoum, Vice President and Prime Minister of the UAE and Ruler of Dubai, and the directives of His Highness Sheikh Hamdan bin Mohammed bin Rashid Al Maktoum, Crown Prince of Dubai and Chairman of the Executive Council of Dubai, and His Highness Sheikh Maktoum bin Mohammed bin Rashid Al Maktoum, First Deputy Ruler of Dubai, Deputy Prime Minister and Minister of Finance.

DEWA's continued focus on smart project delivery, innovation and accelerating digital transformation have bolstered our top line results and our operating cash flow performance through the first six months of 2023. We are committed to advancing strategic priorities of sustainability focused smart growth, enhanced customer happiness, globally leading operational excellence and attractive capital returns for our shareholders, "
said HE Saeed Mohammed Al Tayer, MD & CEO of DEWA.
"In line with our strategy, we continue to maintain a robust infrastructure and services to keep pace with rapid developments in Dubai driven by the sustainable economic growth, execution of the ambitious Dubai 2040 Urban Master Plan and the associated increase in population. Today we provide world leading services to over 1.18 million customers at the highest standards of availability, reliability, efficiency and safety, and we are committed to future proofing the same,"
added Al Tayer.
"DEWA's strategy is focused on delivering consistent returns, upholding highest Environmental, Social, and Governance (ESG) standards, sustainable growth and compounding of our growth value over time for our investors"
noted Al Tayer
Delivering growth
The Company's installed generation capacity currently stands at 14.9 GW with 2.4 GW of this capacity representing renewable energy. In line with Dubai Clean Energy Strategy 2050, the Company added 300 MW of green capacity during the 2nd quarter of 2023. The current installed desalinated water production capacity is unchanged at 490 MIGD.

By the end of 2030, DEWA plans to have gross installed capacity of 20 GW and 730 MIGD of desalinated water. Of this 20 GW, DEWA intends to have 5 GW of installed renewable capacity, representing 25% generation from renewable sources. In addition, the Company plans to add 240 MIGD of desalination capacity using reverse osmosis technology.
In the second quarter of 2023, DEWA received a world record low bid of USD 1.621 cents per kWh on the IPP tender for its 1800 MW solar PV plant at Mohammed bin Rashid Al Maktoum Solar Park. DEWA also received the world's lowest levelized tariff of 0.38923 USD per cubic meter for its 120 MIGD Hassyan seawater reverse osmosis IWP tender, and USD 0.365 per cubic metre in the alternative proposal of 180 MIGD.
In May, 2023, DEWA commissioned its 60 MIG Lusaily water reservoir. By the end of 2024, DEWA expects to increase its water reservoir capacity from 882 MIG to 1,152 MIG. These reservoirs will enhance water security and enable DEWA to keep pace with the increase in demand.
In the second quarter of 2023, DEWA's generation plants maintained world leading availability factor and reliability factor of 90.4% and 99.9% respectively, representing an increase from the same period in 2022.
By the end of the half year of 2023, DEWA commissioned seven 132 kV substations, three 33kV substations, and six hundred and seventy six 11kV substations. There are currently seventy four 33kV substations and 43,557 (11kV or 6.6 kV) substations in DEWA's network.
Dividend policy
As per DEWA's dividend policy, the Company expects to pay a minimum annual dividend of AED 6.2 billion, over the first five years, starting October 2022. The dividends are being paid semi-annually in April and October. The upcoming dividend payment of AED 3.1 billion for H1, 2023 is expected to be disbursed in October 2023.
News Source: Dubai Media Office