Dubai International Chamber, one of the three chambers operating under Dubai Chambers, has announced details of several notable achievements in attracting foreign direct investment and supporting chamber members in their efforts to expand into global markets.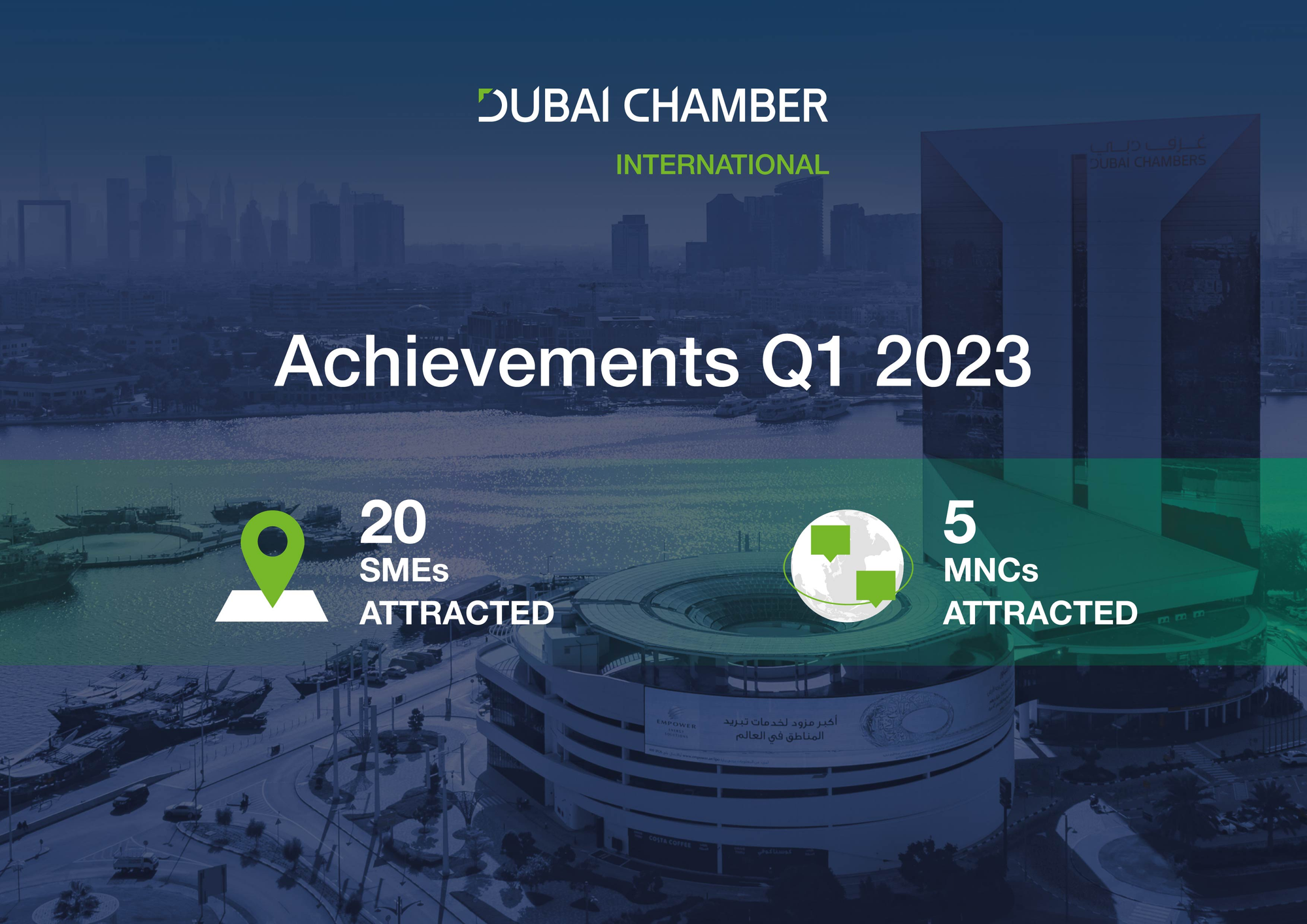 The chamber attracted five Multinational Corporations (MNCs) and 20 Small and Medium-sized Enterprises (SMEs) during Q1 2023 alone, which exceeds the total numbers attracted throughout the whole of 2022. In addition, the chamber also supported the expansion of seven local and national companies into foreign markets by helping them increase their exports or establish a presence abroad.
The Chamber also opened a new representative office in Hong Kong, bringing the total number of its international offices to 16 by the end of Q1 2023 with a presence in Africa, Latin America, Eurasia, India, China, and the Middle East. The opening of these offices comes as part of the Dubai Global initiative, which was launched by H.H. Sheikh Hamdan bin Mohammed bin Rashid Al Maktoum, Crown Prince of Dubai and Chairman of the Executive Council of Dubai, and is led by Dubai International Chamber. The initiative aims to establish a powerful network of 50 commercial representative offices for Dubai across five continents by 2030.
H.E. Sultan Ahmed bin Sulayem, Chairman of Dubai International Chamber, highlighted the vital role the Chamber plays in consolidating Dubai's position as a global destination for foreign direct investments and a launchpad for expansion into global markets. His Excellency further emphasised the significant contribution of the Chamber's international offices to promoting Dubai as a city for business, talent, capital, and companies of all types and sizes.
"Participating in exhibitions and conferences and organising bilateral business meetings abroad are at the core of the Chamber's efforts to support the global expansion of Dubai's private sector,"
H.E. bin Sulayem added.
"Our trade mission to the Central Asian markets was a prime example and achieved its goal to enable participants to forge new business relations that will soon mature into economic partnerships. Dubai International Chamber remains committed to supporting the emirate's target of boosting the volume of non-oil foreign trade from AED1.4 trillion to AED2 trillion by 2026."
Mohammad Ali Rashed Lootah, President and CEO of Dubai Chambers, commented:
"We launched several new initiatives in Q1 2023, most notably the International Partner Network, which aims to enhance cross-border dialogue between the chamber and commercial attachés and business councils. In addition, the network will enrich interaction, communication, and partnerships to accelerate the implementation of the chambers' plans and support the interests of Dubai's business community."
The chamber intensified its efforts to support Dubai-based companies in their plans for global expansion with the launch of the New Horizons initiative to support the expansion plans of its member companies. The initiative is aimed at forming trade missions consisting of companies from the emirate to visit targeted global markets, where events and meetings will be held to explore investment opportunities and prospects for joint economic partnerships. The first mission targeted the Central Asia region and included more than 430 bilateral business meetings between representatives of 24 companies from Dubai and their counterparts in Uzbekistan, Kazakhstan, and Kyrgyzstan.
Dubai International Chamber is focused on strengthening partnerships with global corporations, investors, and entrepreneurs and working to boost Dubai's status as a major global trading hub. The chamber contributes to achieving Dubai's vision to expand to new global markets, forge new economic partnerships, and support local companies in achieving global success, while also attracting promising talent and investors from around the world. It has outlined plans to cover 30 international markets of strategic importance to Dubai through its network of international representative offices.
News Source: Dubai Media Office