Driven by the implementation of a series of measures to enhance ease of doing business and enhance confidence among merchants in Dubai, the emirate has recorded a 17% decline in commercial complaints in 2021.
All commercial complaints, which involve business-to-business disputes, submitted in 2021 came through smart channels, indicating a strong preference among businesses for engaging digitally with government authorities in Dubai.
The Commercial Compliance & Consumer Protection (CCCP) Sector in the Department of Economy and Tourism (DET) received 414 commercial complaints in 2021, compared to 500 in 2020. DET received 91% of the commercial complaints in 2021 on its website - consumerrights.ae - and the remaining 9% on the 'Dubai Consumer' app.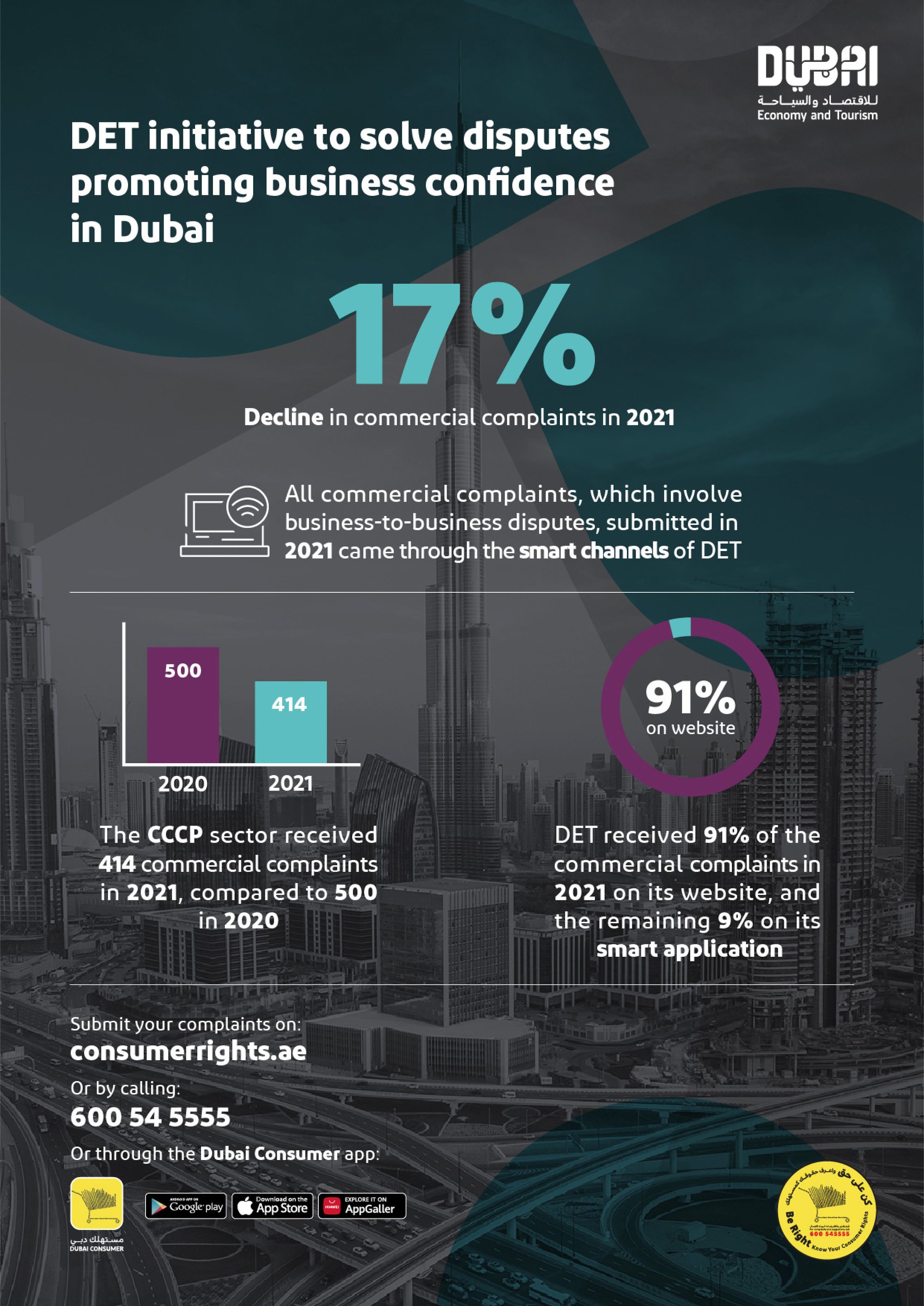 Mohammed Ali Rashed Lootah, CEO of CCCP, remarked that initiatives launched by the Sector to increase compliance awareness among traders, and enable them to adopt best practices in transacting business with their counterparts as well as consumers, have helped promote confidence internationally in the Dubai brand as well as the competitiveness of the emirate as a hub and gateway.
"We receive, and resolve, commercial complaints as part of our Business Protection services. The initiative is part of our efforts to create a competitive business environment and make businesses increasingly aware of their rights and responsibilities. The ongoing digital transformation of services across the government as well as private sectors is contributing to our efforts," said Lootah.

"Any business, irrespective of whether they operate in or outside the UAE, can approach us if they have a dispute with a merchant in Dubai. Businesses globally will feel more confident about Dubai when we protect their rights and enable them to grow sustainably, especially at a time when the emirate is becoming increasingly connected with international markets," Lootah added.
CCCP issued a 'Commercial Compliance Manual' in 2019 explaining the most important points the trader should focus on to avoid interruption and violations. The business community can refer to the directory, available in Arabic and English, by visiting the Consumerrights.ae website.
The services sector accounted for a majority (31.6%) of the commercial complaints received in 2021, followed by the building materials (18.8%), foodstuffs (13.8%), decoration & construction (12.6%) accessories (5.8%), electronics (5.8%), shipping (5.6%), furniture (1.5%) and cars (1.5%). The remaining came from sectors such as equipment rental, labour supply, car rental, document clearance and transportation.
Non-compliance with the agreement terms was the cause of 61.59% of the complaints, while commercial fraud (19.32%), after-sales service (6.28%), unauthorised activity (5.8%), non-compliance with specifications and standards (3.4%), and failure to comply with warranty terms (2.4%) were the other leading complaints. Additional fees on a service/product and shop policies inconsistent with the law were also found to have led to disputes.
Merchants can file their complaints relating to services provided by commercial establishments in Dubai, along with the necessary documents and evidence, through the Consumerrights.ae website or through the 'Dubai Consumer' app available on Apple, Google, and Huawei stores. If the complainant is from outside the UAE, the documents must be certified by the competent authorities in their respective countries
News Source: Emirates News Agency