The city's most remarkable homes competed for the crown of Dubai's Top 50 Homes Competition
Dubai has some amazing luxury properties that rival those found in other modern cities. These properties offer top-notch amenities and a luxurious lifestyle. Due to high demand, the property market in Dubai has been booming, with prices reaching new heights in recent years.
Dubai has seen some incredibly expensive properties being sold, including a penthouse that sold for over Dh410 million. There are also mansions in Emirates Hills and penthouses in Bugatti by Binghatti tower that are priced at a record-breaking Dh750 million. This shows that there is a strong demand for ultra-luxury properties in the city.
Additionally, there was a competition called Dubai's Top 50 Homes, where over 300 homes were submitted and 50 were shortlisted. The winners were chosen by both the public and a panel of judges. These homes range from beautiful villas and apartments in exclusive communities to luxurious penthouses with stunning views. They feature luxurious touches like hand-cut glass chandeliers and homes designed by Bentley and Versace. These properties offer endless possibilities for entertainment and relaxation.
Here are the 10 best homes in Dubai:
10. Contemporary villa in Dubai Hills Estate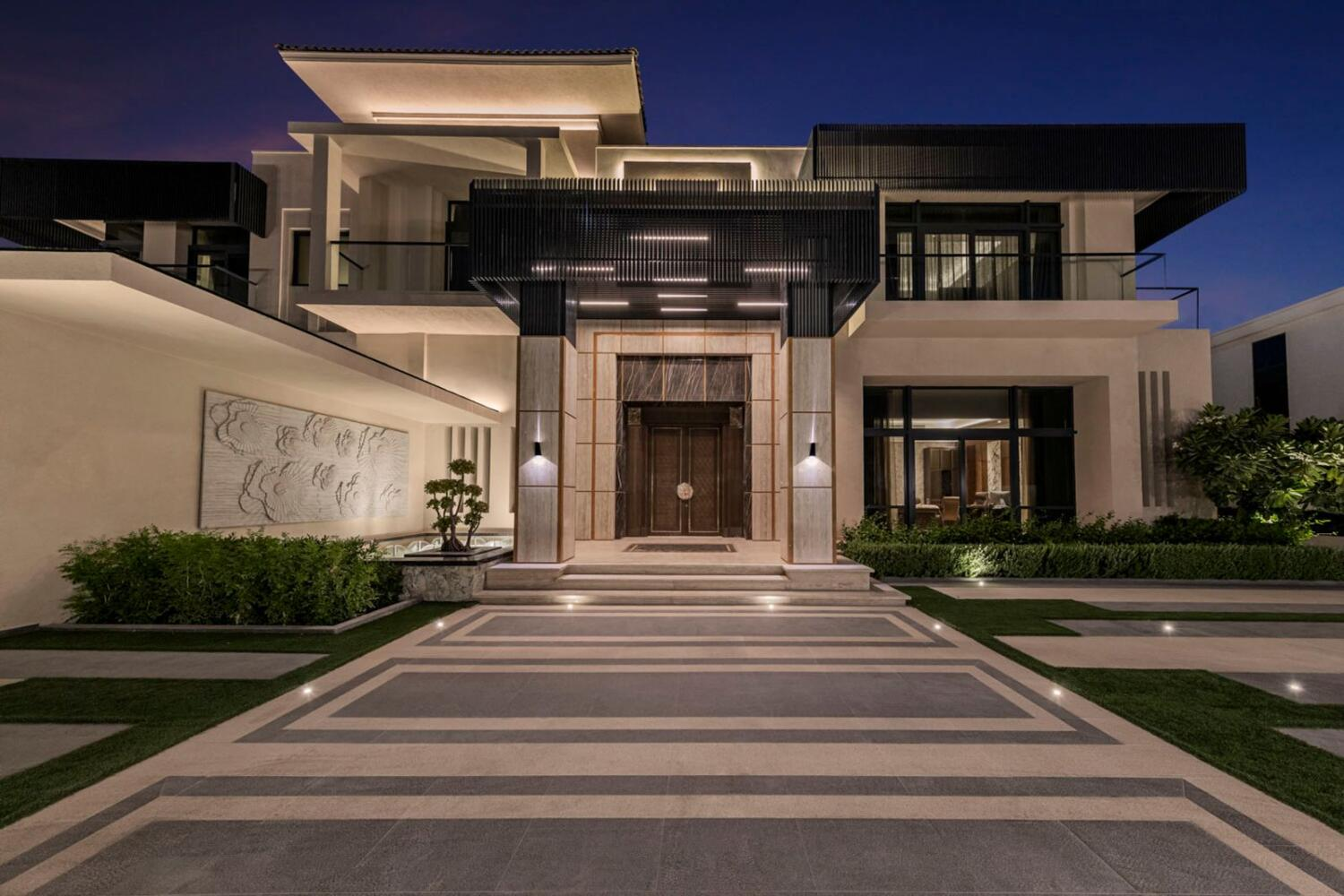 This 6-bedroom villa located in Dubai Hills Estate came in third place as the public's favorite. The villa features a modern design and its main highlights include a wave sofa, a striking carpet, an impressive entrance foyer, and an elaborate mosaic wall that showcase the luxurious lifestyle. The centerpiece of the villa is a breathtaking hand-cut glass chandelier located in a double-height seating atrium. The atrium is open to the sky through a glass ceiling, allowing ample natural light to flow through and creating a connection between all the rooms in the house.
9. Japanese-inspired villa in Emirates Hills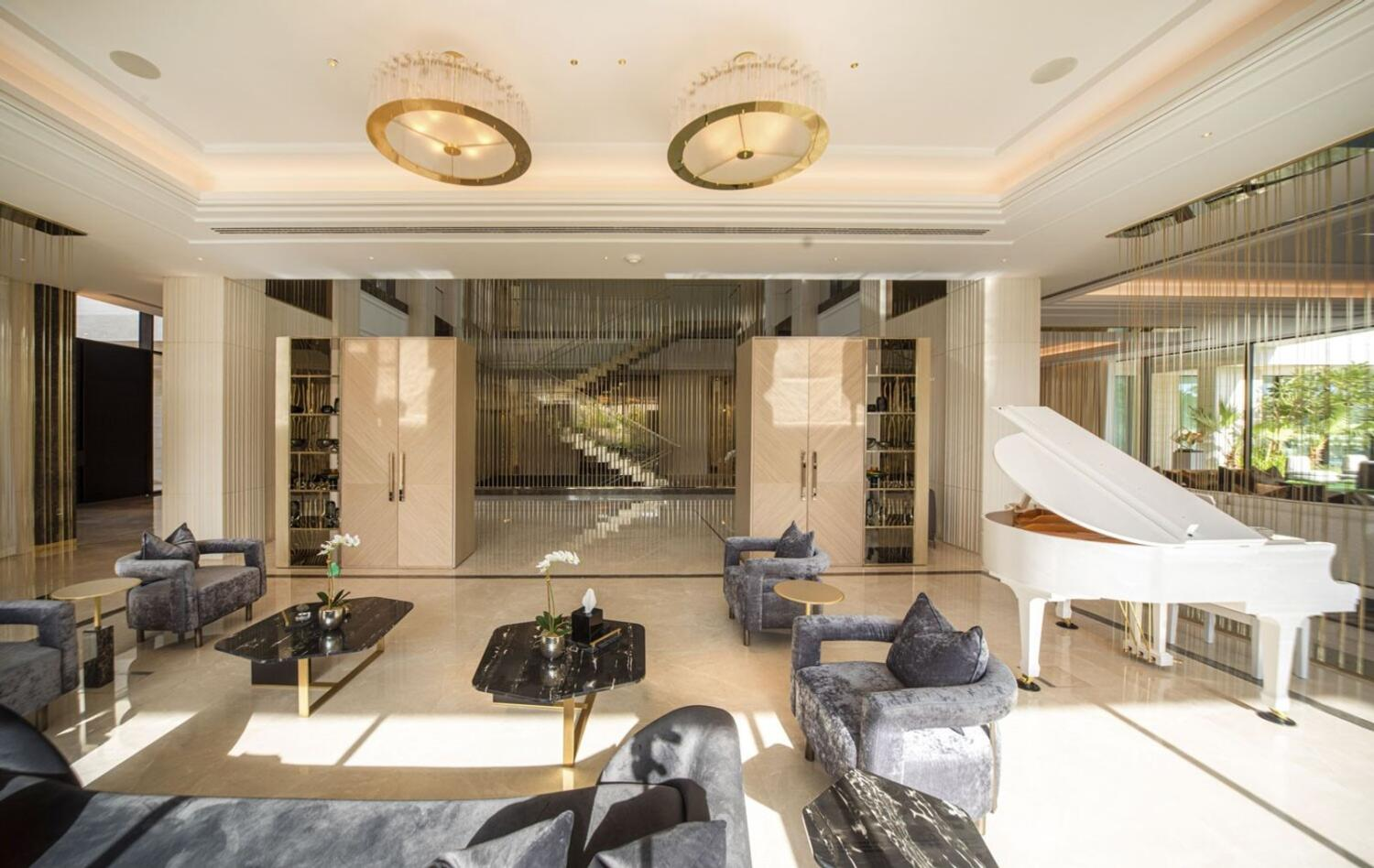 The public voted this four-storey villa in Emirates Hills as their second favorite. Spread over 45,000 square feet, the villa boasts a stunning staircase that combines Japanese minimalism and classical-inspired proportions with modern touches. The villa is designed to provide a luxurious living experience, offering a cinema, poker room, games room, bar, gym, and spa. With these amenities, the home offers endless opportunities for entertainment and relaxation.
8. Beachside mansion at Palm Jumeirah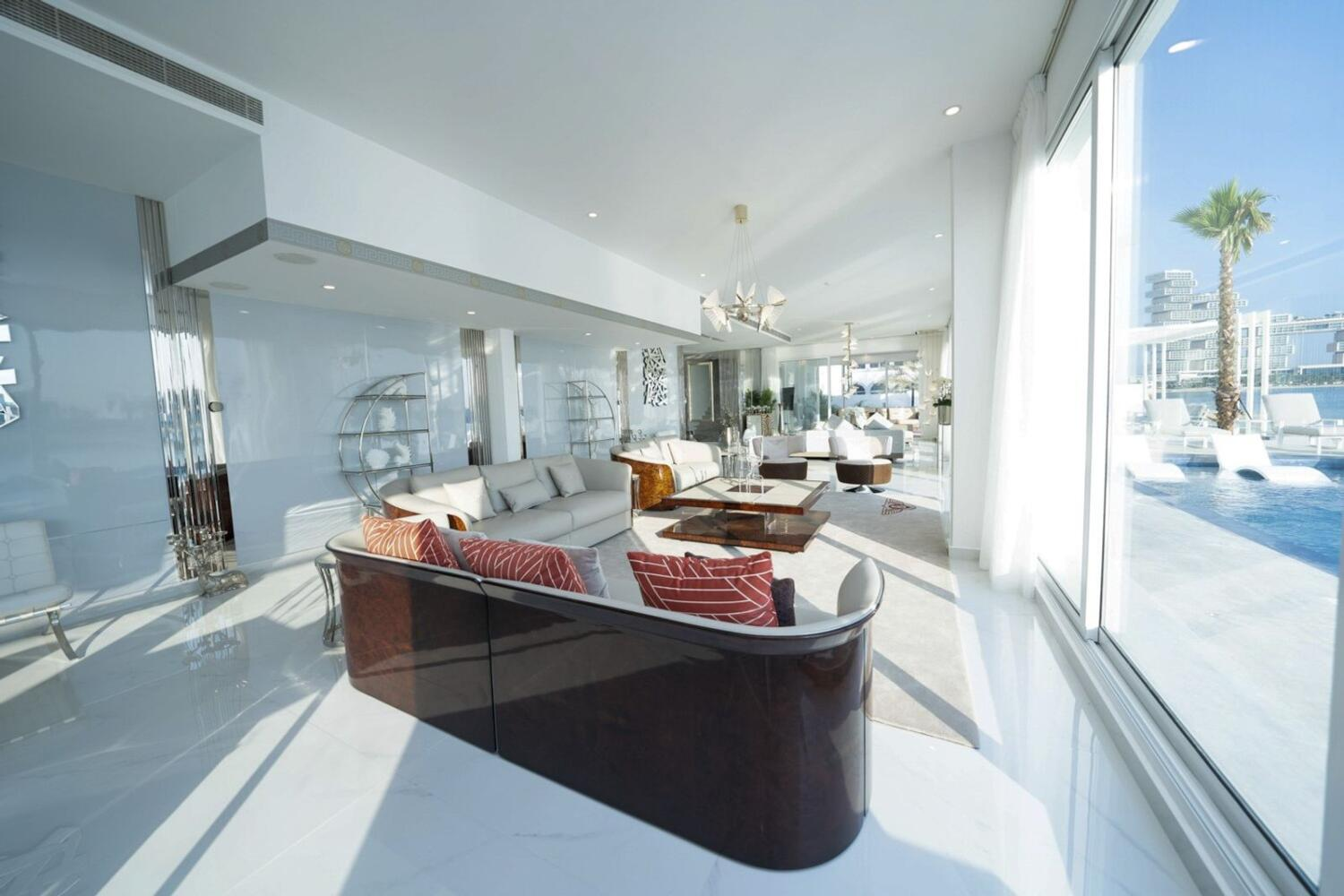 Voted as the public's favorite, this magnificent 10-bedroom mansion is located by the beach and showcases opulence at its finest. The property has been meticulously designed by renowned luxury brands like Bentley and Versace, adding a remarkable level of sophistication and grandeur. With its spacious and open floor plan, the mansion offers a variety of amenities including a private pool, outdoor entertaining areas, and a cutting-edge home automation system. Situated in the highly desirable Palm Jumeirah, the villa also features its own private beach and offers breathtaking views of Atlantis The Royal.
7. Bohemian-style villa in Greens Community West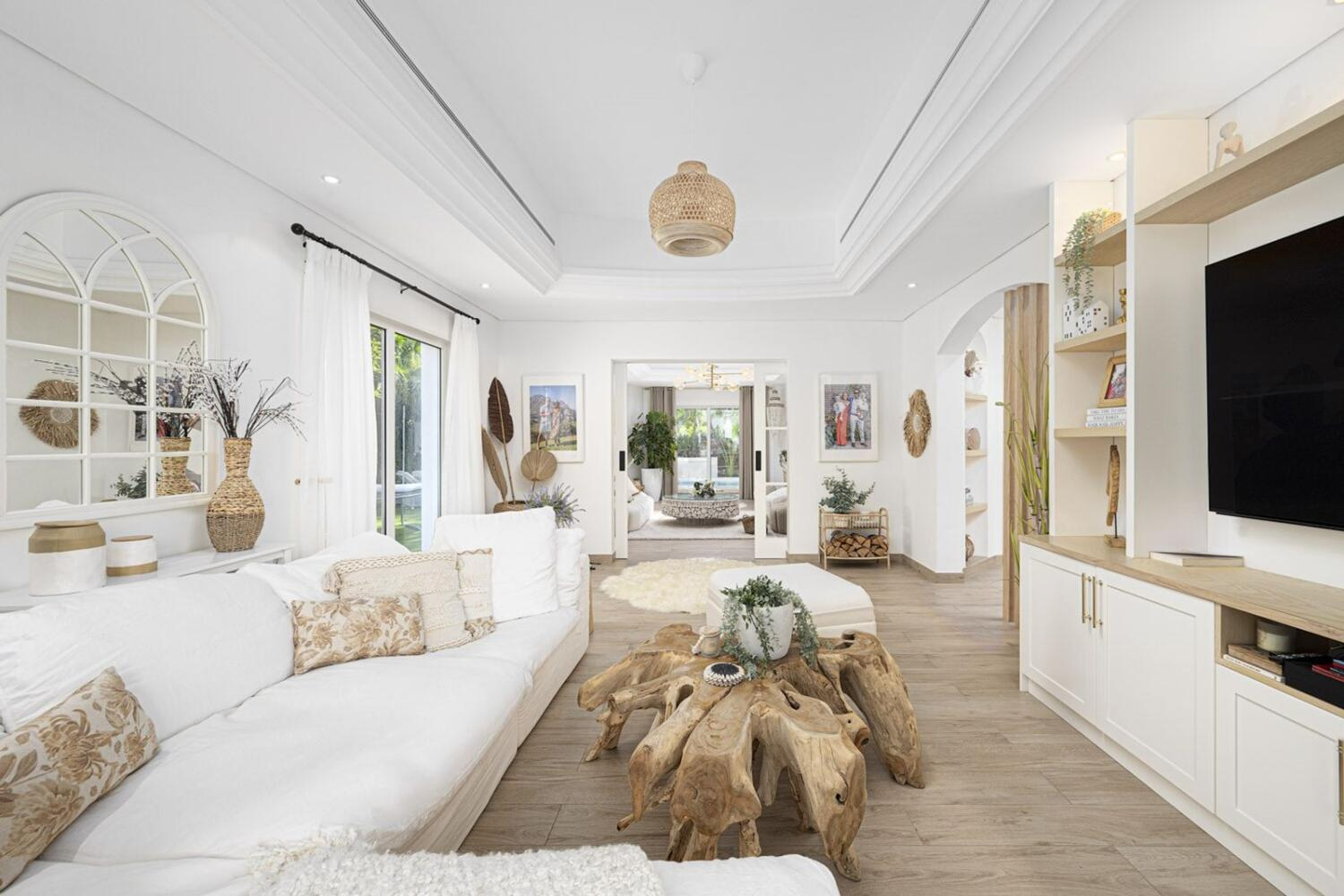 Located in the Greens Community West, this bohemian-style villa is a stunning example of exquisite design. The villa has been meticulously crafted, with every element carefully considered to achieve a space that is not only visually striking but also practical. The use of natural wood accents and a warm color palette adds a touch of coziness, creating an inviting and relaxing atmosphere. The decor and furnishings have been thoughtfully curated, ensuring that every detail reflects a unique and personal style. This villa is a true masterpiece, showcasing the perfect blend of beauty and functionality.
6. Villa overlooking golf course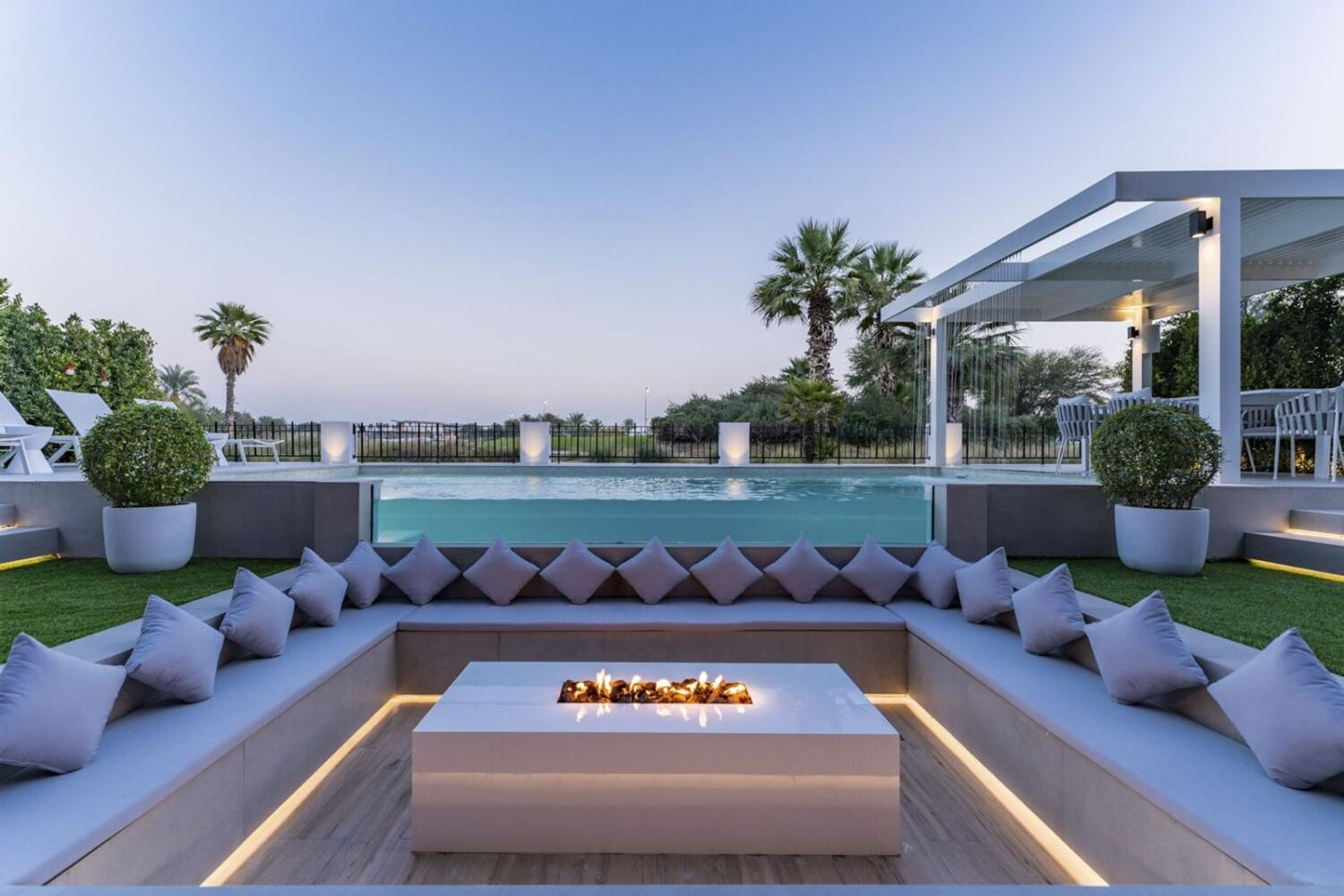 Step inside this remarkable villa that has undergone a stunning transformation, thanks to the passion and expertise of a talented couple. Kyle, the owner of Rare Renovations, has skillfully revived every aspect of the property, while his wife has meticulously curated the interior design and staging with remarkable attention to detail. From the elegant lines to the luxurious marble and travertine surfaces, this home epitomizes the pinnacle of luxury living. The open-plan living area seamlessly connects to the garden through bi-fold doors, providing breathtaking views of the immaculate golf course. Prepare to be captivated by the flawless beauty of this exceptional residence.
5. Villa with indoor BBQ area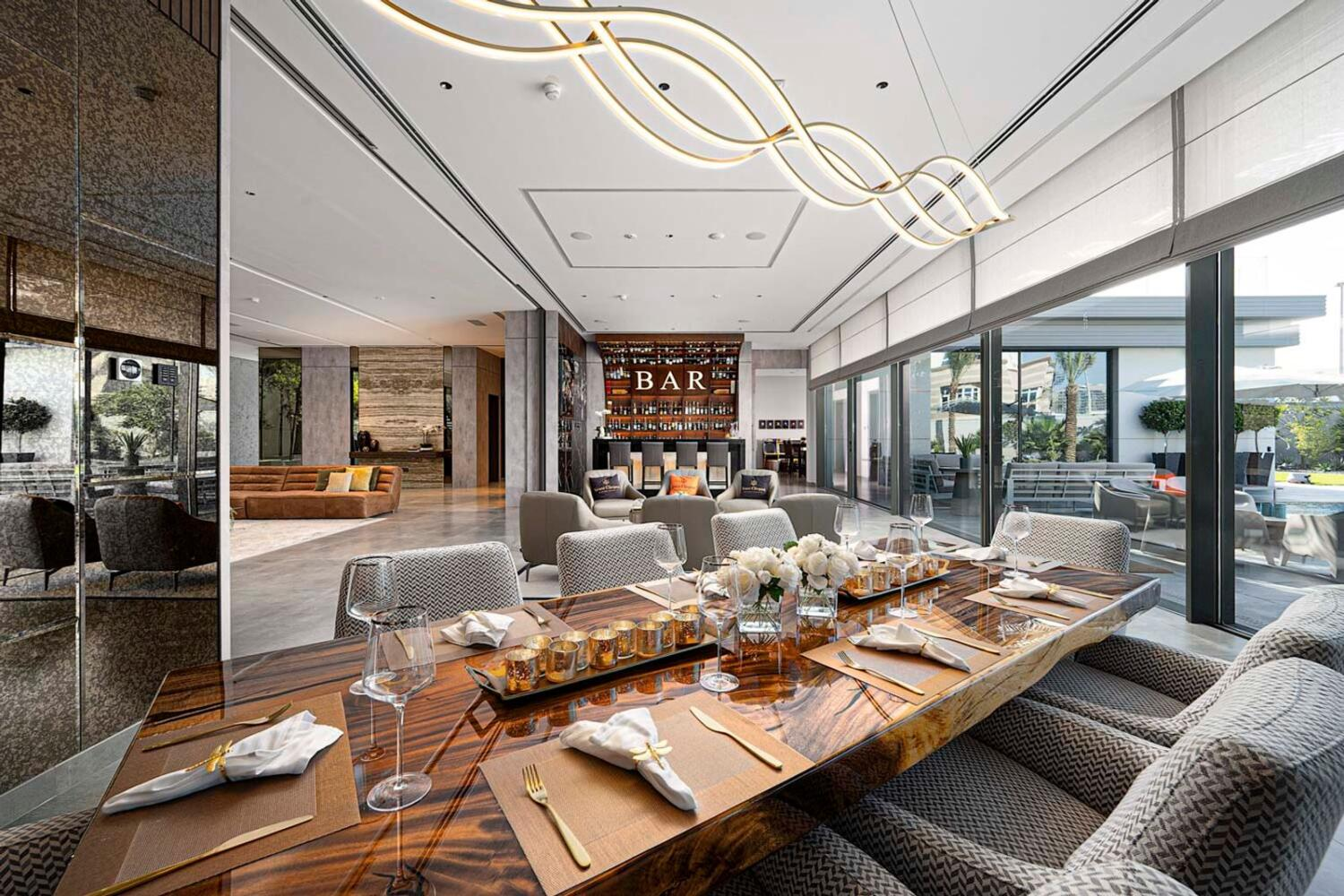 The recipient of the Best Entertainment Area award is a stunning villa that has garnered considerable praise. One of its standout features is the indoor BBQ area, which is cleverly designed with proper ventilation all the way to the roof, enabling enjoyable BBQ sessions throughout the year. Additionally, the villa includes a cinema room with a stocked refreshment area, a gym, an Xbox gaming room, a golf simulator room, a spacious kitchen, a separate caterer's kitchen, and an outdoor pool screen. Adding to its charm, there is a fully equipped American diner designed specifically for children to cook, eat, watch TV, and have a great time with their friends. This exceptional villa offers an array of entertainment options that cater to every member of the family.
4. Oasis of tranquillity in Business Bay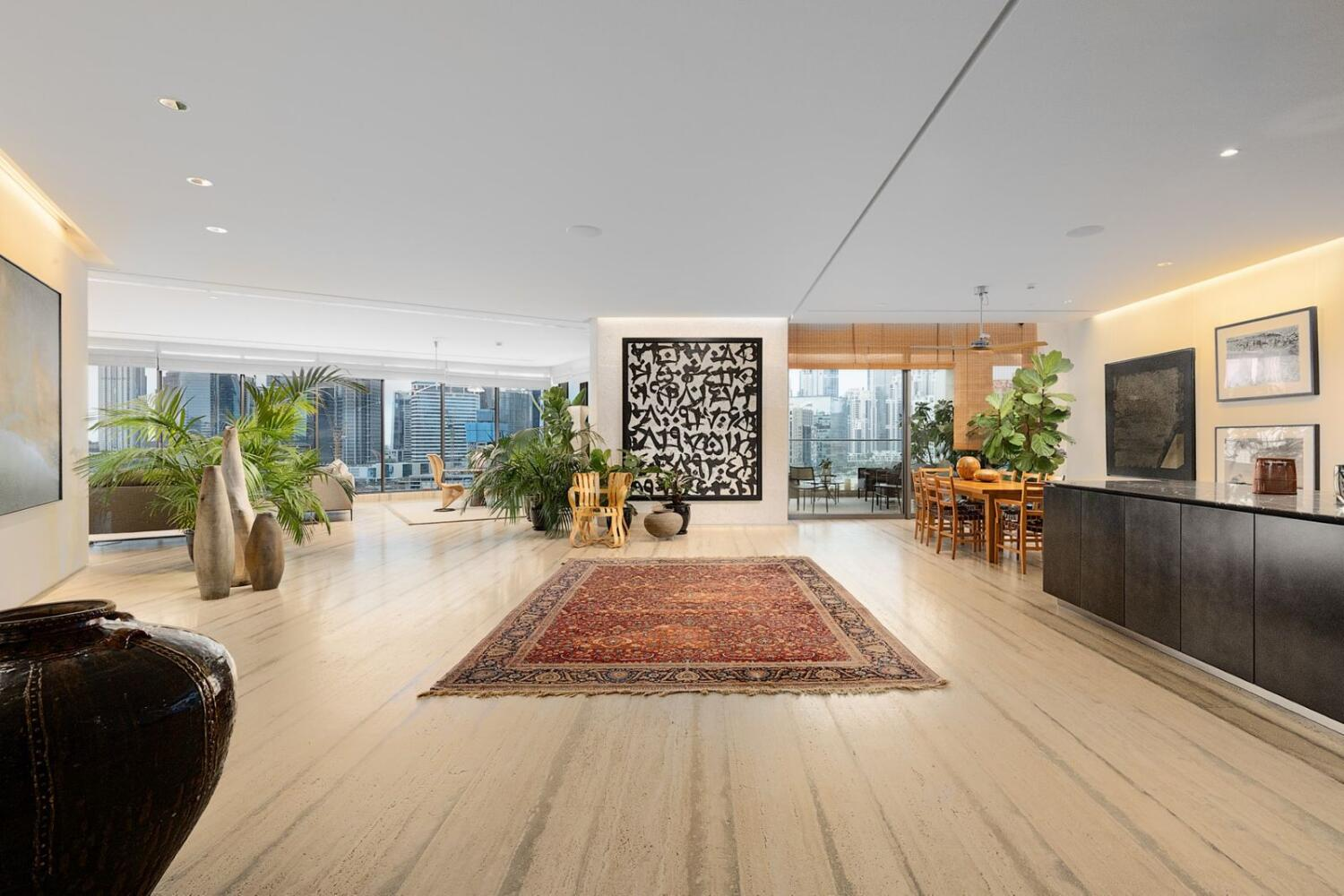 Discover a truly special 2-bedroom apartment in the bustling area of Business Bay. Spread across 5,000 square feet, this residence offers a serene and elegant atmosphere. Owners Kito and Jane De Boer took the opportunity to customize the apartment during the planning stage, with a notable change being the opening up of the living room to provide a wider view of the canal. Now, the apartment showcases a remarkable collection of over 40 art pieces and sculptures sourced from various parts of the world. Immerse yourself in the artistic ambiance of this unique and thoughtfully designed oasis.
3. Minimalist villa in Meadows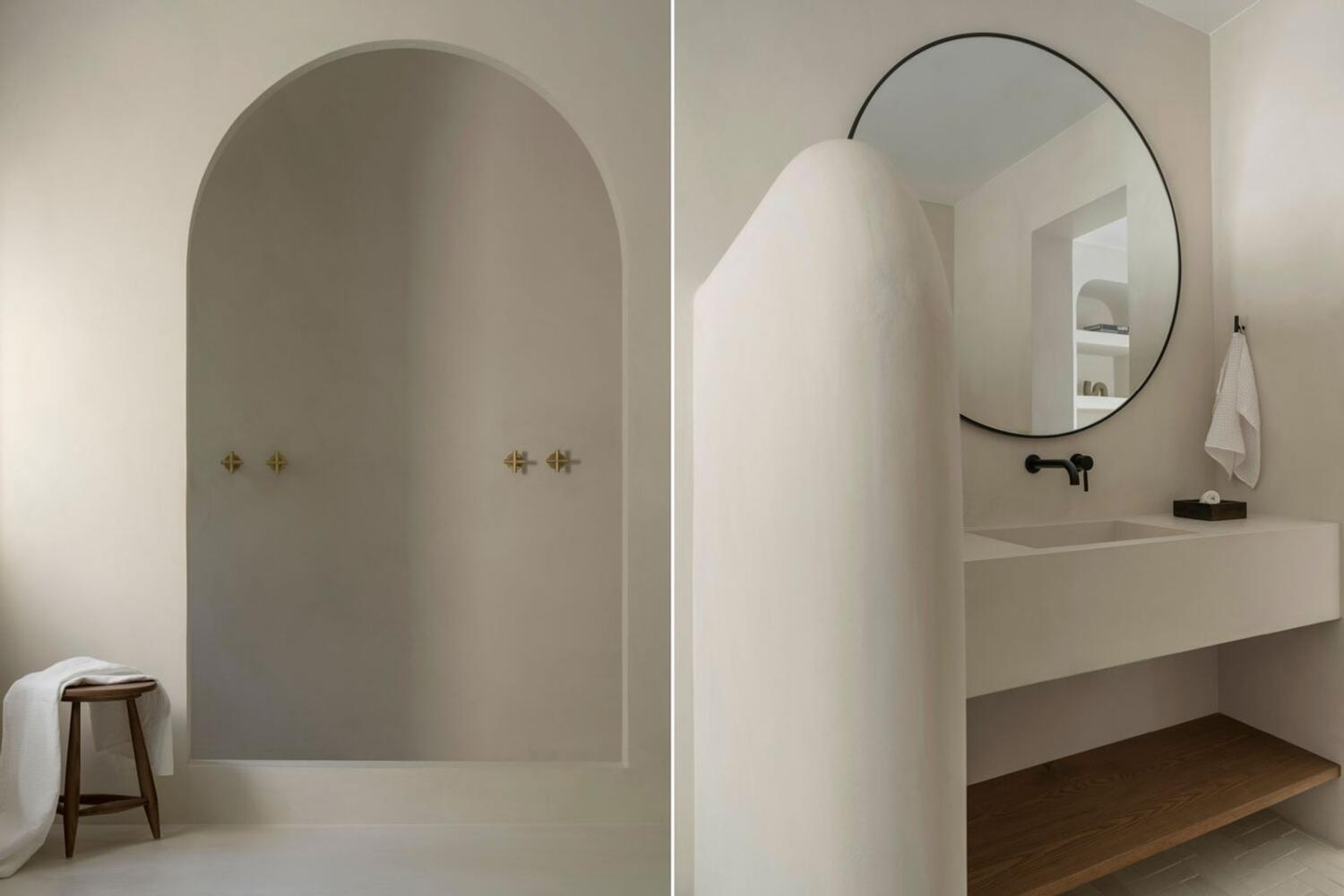 Welcome to a stunning minimalist villa situated in the Meadows community. This remarkable property showcases a consistent and textured design with micro-cement utilized on the floors and walls, both inside and outside the house. This choice of material creates a seamless and cohesive palette throughout the entire space. The kitchen has been expanded and features three large pivot doors that open up to a micro-cement pool and lounge area, blurring the boundaries between indoors and outdoors and offering an ideal indoor-outdoor living experience. The understated elegance extends throughout the villa, with a neutral color scheme and earthy textures used to create a soothing and luxurious ambiance. Prepare to be immersed in the tranquility and beauty of this refined home.
2. Villa with Bali-inspired pool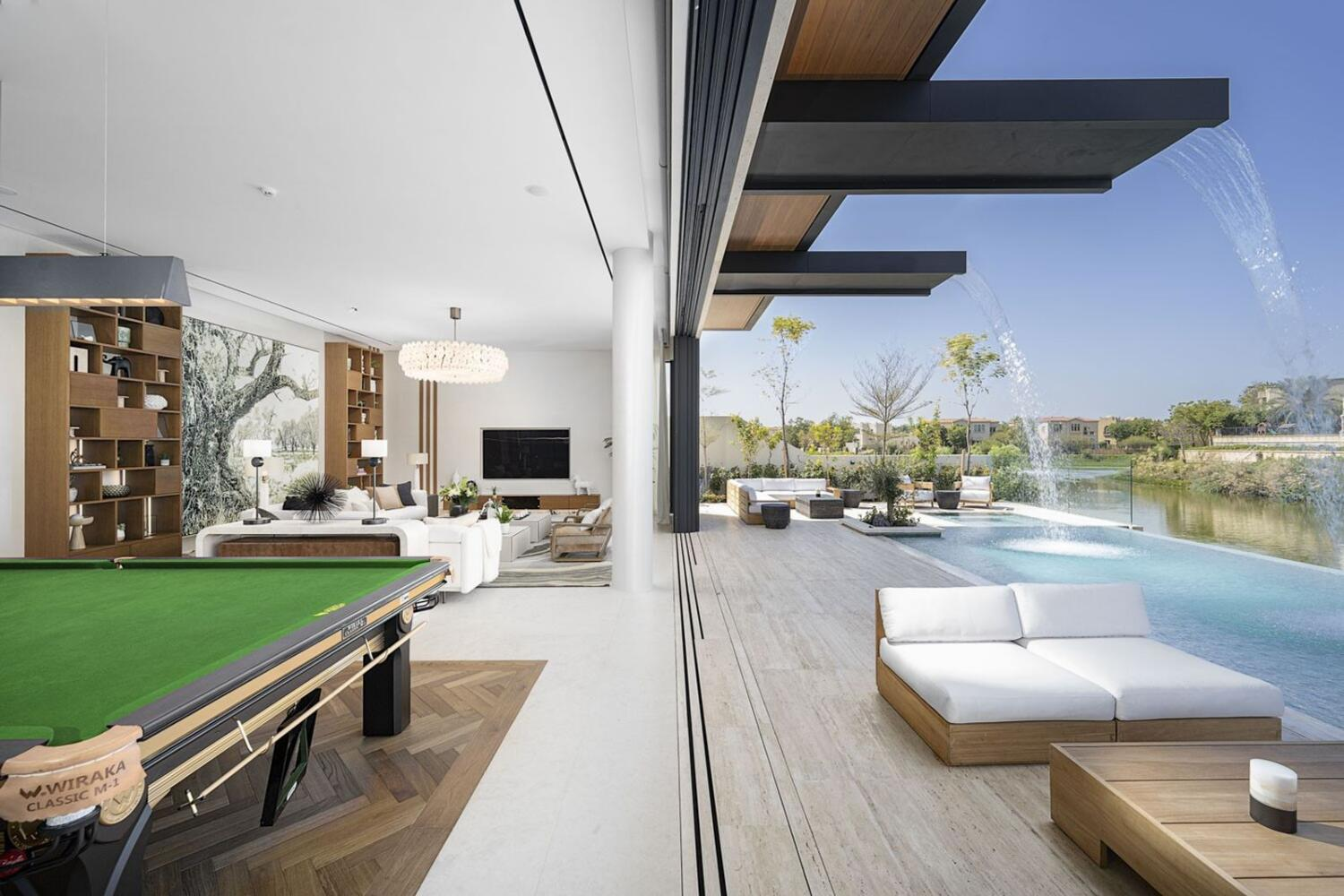 Abdul Khalid's exceptional villa in Jumeirah Island has been honored with the prestigious Gold Residential Home Award. This awe-inspiring residence offers a range of customized amenities that cater to the owner's unique taste. Among the standout features are the luxurious cigar lounge, game room, golf room, F1 Ferrari gaming room, snooker room, and various music areas. However, it is the mesmerizing cascading waterfalls that lead to a Bali-inspired pool that truly captivate attention and steal the spotlight. This villa is a testament to opulence and unparalleled luxury, creating an extraordinary living experience.
1. Venetian-style villa in Jumeirah Islands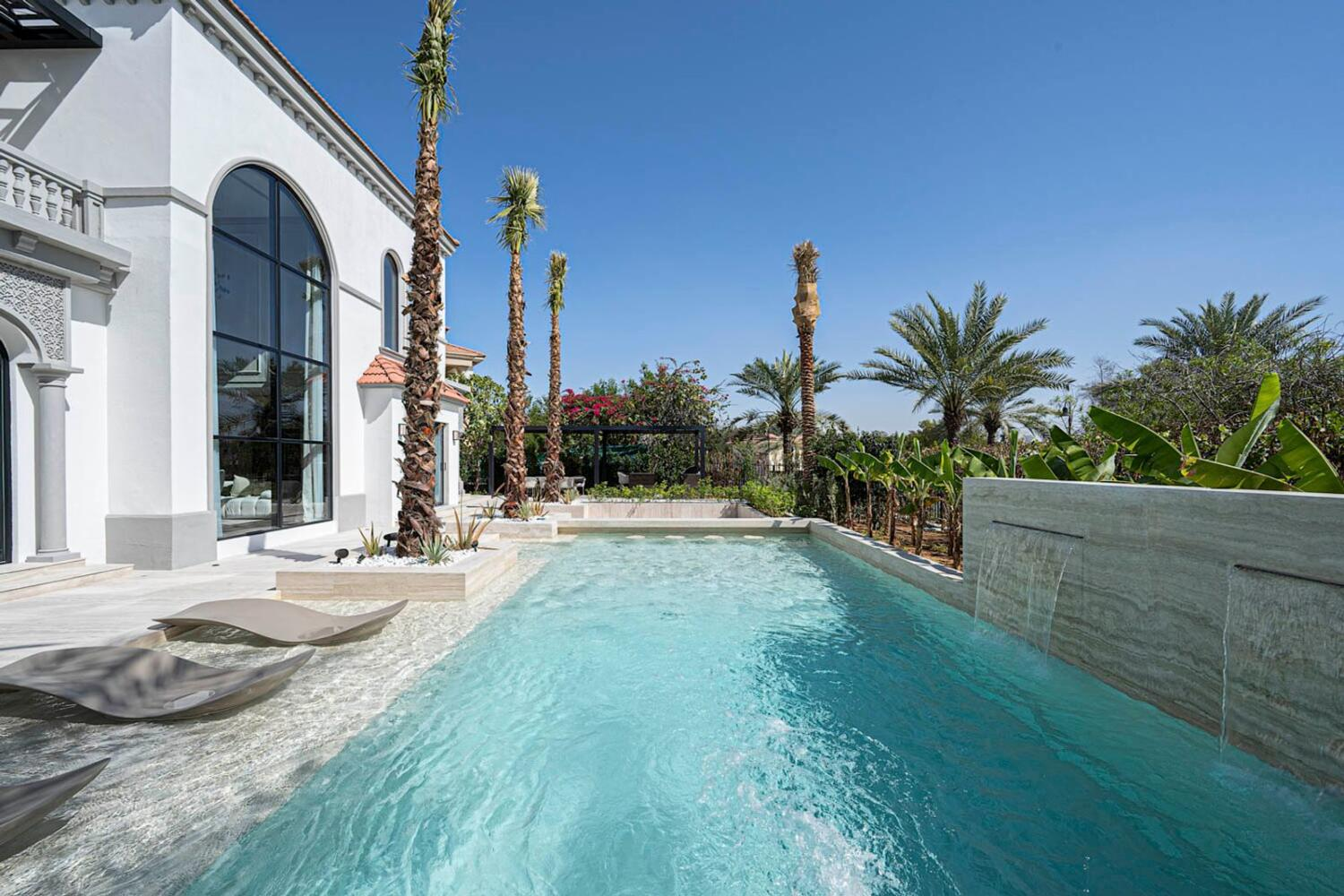 K4, the proud winners of the Platinum Residential Home Award, stole the show with their exquisite Venetian-style villa located in Jumeirah Islands. The moment you step inside, you're greeted by a black and white marble floor that sets the stage for the opulent finishes that await. Every corner of the home showcases K4's impeccable craftsmanship, from their custom-built arched doors and windows to the intricate details such as an emerald-coloured hundred-piece chandelier. The custom-made Italian travertine shelves further enhance the overall atmosphere of elegance and sophistication.
News Source: Khaleej Times