Dubai's Department of Economy and Tourism (DET) today announced the launch of a new QR Code initiative for Holiday Homes in Dubai, as part of efforts to improve transparency and increase confidence among investors and visitors in the short-term rental market.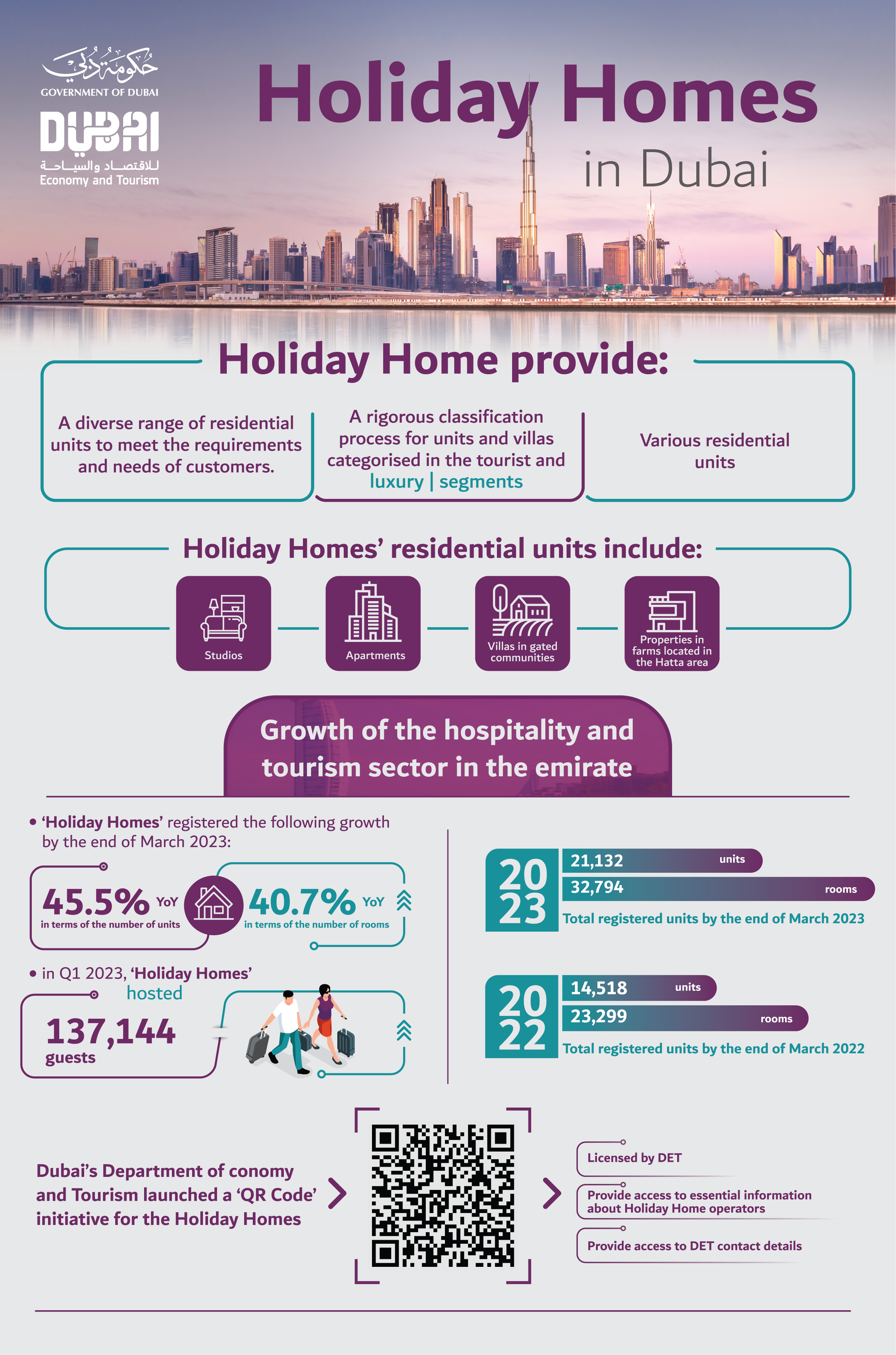 Launched as part of Dubai's commitment to supporting the continuous growth of the hospitality industry, the initiative is closely aligned with the goals of the Dubai Economic Agenda (D33) to further consolidate Dubai's position as one of the top three global cities. Additionally, the initiative is in line with Dubai's digital transformation strategy, which seeks to establish the emirate as a leading global smart city.
As part of the initiative, owners of Holiday Homes will now be required to display a QR code on the main entrances of their vacation properties in Dubai. This code enables visitors and guests to conveniently scan it and access essential information about the operator of the Holiday Home and the relevant contact details for DET. The initiative will also facilitate oversight and inspections conducted by the Dubai Corporation for Consumer Protection and Fair Trade, part of DET, ensuring strict compliance with procedures.
DET's Dubai Business License Corporation will oversee the implementation of the QR Code project, which will further enhance the city's diverse hospitality infrastructure catering to the varied preferences and budgets of international travellers.
Shaikha Al Mutawa, Director of Hospitality Affairs Department at Dubai's Department of Economy & Tourism (DET) said:
"As we continue to navigate the ever-changing landscape of the tourism industry, we recognise the importance of innovation and technology in further bolstering Dubai's image as a must-visit destination. To ensure the effective governance of the Holiday Homes segment, we are introducing QR codes, as a part of the ongoing digital transformation process across customer and visitor touchpoints in the city. It is also a testament to our commitment to providing exceptional experiences for our guests in line with the vision of His Highness Sheikh Mohammed bin Rashid Al Maktoum, Vice President and Prime Minister of the UAE and Ruler of Dubai, to make Dubai the best city to visit, live in and work. We are also continuously taking steps to offer flexible and multiple options year-round in the short-term rental market, thereby strengthening confidence among investors and potential guests."
According to DET data, the Holiday Homes segment has registered excellent growth, reaching 21,132 units (+45.5% YoY), with 32,794 rooms (+40.7 % YoY) by the end of March 2023, compared to the same period in 2022 (14,518 units and 23,299 rooms). Additionally, Holiday Homes hosted 137,144 guests in Q1 2023.
Dubai's Holiday Homes features a diverse range of residential units, including studios, apartments, and villas in gated communities, as well as properties in farms located in the Hatta area, providing privacy and ample space for families as well as a unique vacation opportunity for guests that transcends traditional hospitality experiences.
The Dubai Business Licence Corporation (DBLC) offers licences and permits for licensed establishments to manage and document their activities based on the Holiday Homes classification system. Dubai's Holiday Homes market undergoes a rigorous classification process, periodically categorised into tourist and luxury units and villas, based on the conditions set by DET, which conducts inspections to ensure that the units meet the approved classification criteria. Detailed information can be found by accessing a guide for operating vacation homes, available on DET's website for Holiday Homes. The guide is updated regularly to align with updates in the sector and as per the needs of stakeholders.
The Department also addresses complaints and disputes, offering solutions in a timely manner via ecomplaints@dubaitourism.ae. Non-compliance with the Holiday Home standards, rules and requirements will result in warnings for violators, and if there is any recurrence in violations it could lead to the imposition of penalties on the operator. The Department will also not issue a classification certificate to the Holiday Homes property unless all specified conditions, specifications, requirements, and technical equipment are met. For updates, procedures, and instructions on Holiday Homes, visit their website.
Dubai has experienced remarkable growth in the hospitality industry, including significant demand from investors due to its sophisticated infrastructure, vast potential, and legislation on par with international standards. The emirate has also established itself as a top tourist destination, welcoming 4.67 million visitors in the first quarter of 2023, a 17% YoY growth, which is 98% of pre-pandemic levels, making Dubai the fastest recovering destination globally. The city has further consolidated its position as a must-visit destination after being chosen as the No.1 Global destination in the Tripadvisors Travellers' Choice Awards 2023 for the second year in a row, becoming only the second city in history to have achieved this feat.
News Source: Dubai Media Office