Emirates Foundation has released the first half of 2023 ( H1 2023) results of its pioneering DAWAMEE Programme, which aims to secure remote and part-time employment opportunities for UAE Nationals in line with the National Emiratisation Agenda.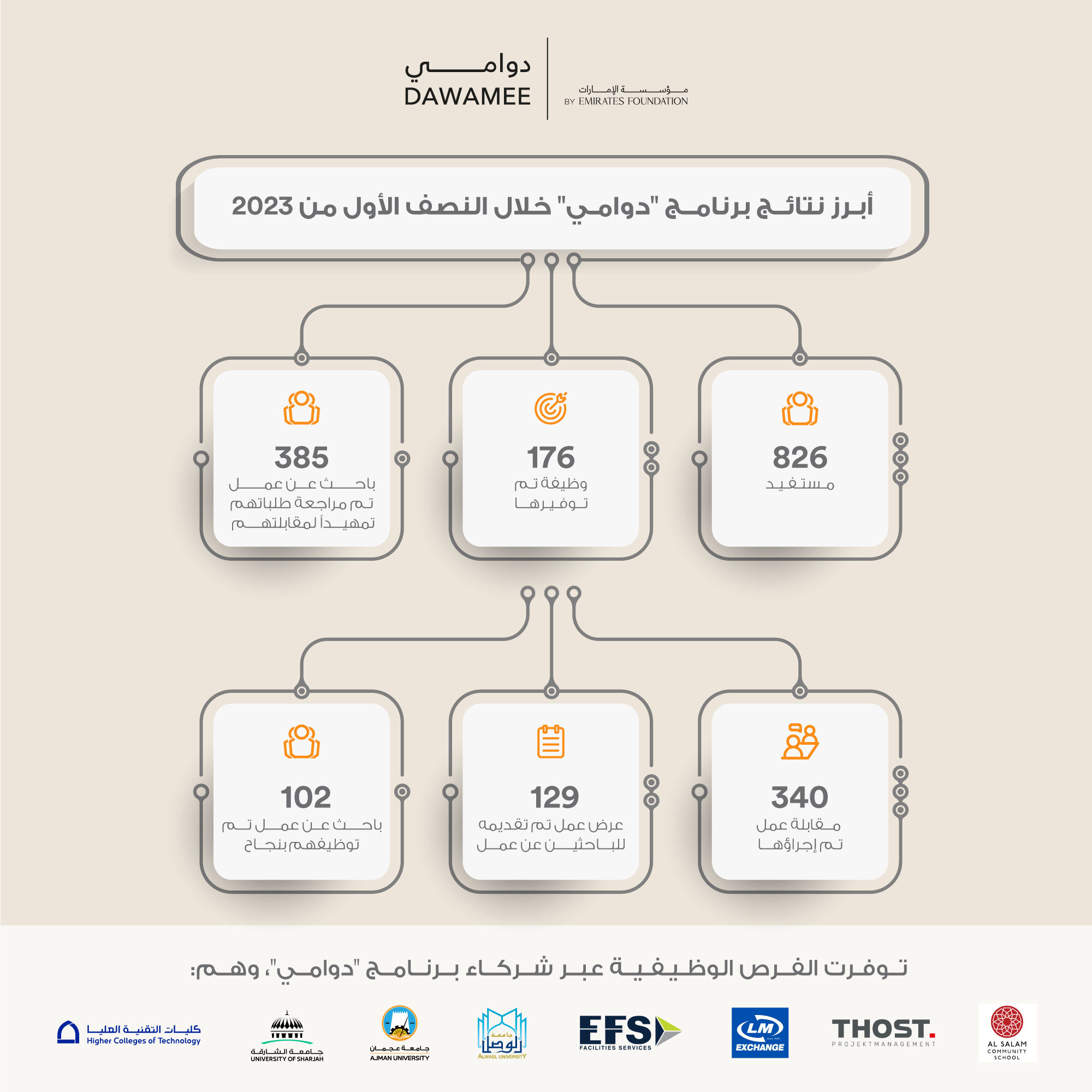 The results showed that 826 jobseekers benefited from the programme in H1 2023, while 385 candidates were screened to interview, over 100 of whom were successfully hired by the partners of the programme. The total number of job offers made by partners to Emirati jobseekers crossed 120.
As a free digital platform, DAWAMEE is targeted at UAE Nationals who are 18 years and above and priority is given to groups facing employment challenges such as people of determination, low-income individuals, and those living at remote locations across the country. The portal provides cost effective solutions for companies and corporations across a wide spectrum of sectors by offering them access to flexible employees with the right skills and knowledge.
Jamal Al Khater, Manager of DAWAMEE Programme, said,
"The impressive results we have seen so far in 2023 have been largely down to the vital role played by our partners, and we would like to applaud their efforts in helping make DAWAMEE a success. This programme is so important for raising awareness about flexible employment, whether part-time or remote job opportunities – especially for UAE Nationals who may have felt their options were limited – we are delighted to see the progress thus far."
Key partners to the DAWAMEE Programme include Higher Colleges of Technology (HCT), Al Ansari Exchange, LM Exchange, EFS Facilities Services, and Al Salam Community School.
H1 Results
Total number of beneficiaries of DAWAMEE platform and events organised by the programme since the start of 2023 reached 826.
Number of jobs posted by DAWAMEE partners on the digital platform reached 176.
Number of jobseekers screened to interview by the programme's partners reached 385.
Number of interviews conducted by DAWAMEE partners reached 340.
Number of job offers made by the partners to jobseekers reached 129.
Successfully hired job seekers by the programme's partners totalled 102.
News Source: Emirates News Agency