Dubai is the city of gold where you can not just buy and wear it but also eat it! Yes, you heard that right. The city's reputation for luxury isn't just limited to its shops, cars, and lifestyle, it is also popular for providing various culinary dishes and experiences including dishes made with edible gold. From Burgers, ice creams, cappuccinos to samosas you'll find lots of variety of gold foods in Dubai. Gold is safe to consume but that doesn't mean you start nibbling on your necklace! It contains metal impurities which can adversely affect your health. Edible gold is usually between 22 - 24 karats, is flavorless and is typically grounded into powder, glitter or into extremely thin sheets.
Since, the key ingredient in these dishes is pure gold, the prices also tend to be quite pricey but I guess that's the price one has to pay to eat gold!. If you are a fan of gold or a foodie who loves to try out new and unique foods and culinary experiences, then you must try out these unique gold foods in Dubai that not just look blingy but are delicious too.
1. Gold Vada Pav at O'Pao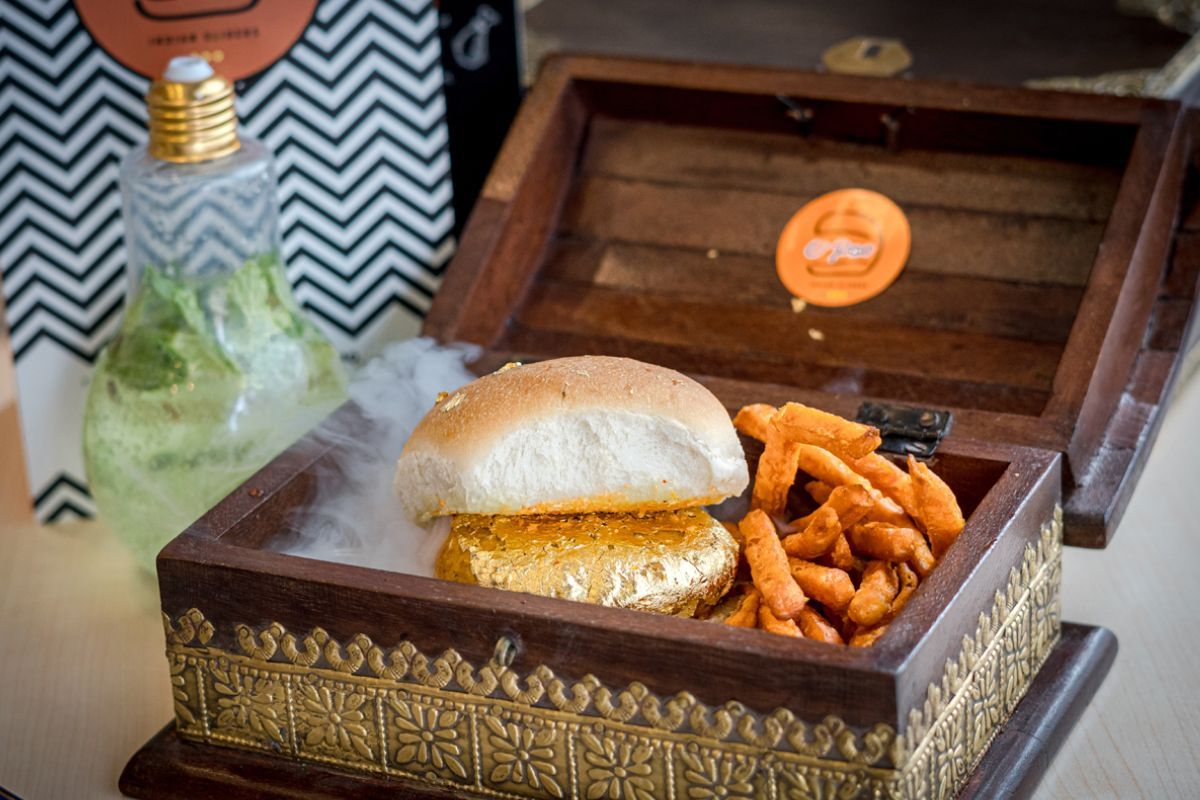 The Vada pav is a classic Indian street food that is a favorite of not only Indians but also other food lovers. The delicious taste of crispy potato Vada placed between two soft buns paired with spicy chutney is a burst of flavors in your mouth. Being far from home in Dubai, it is the perfect snack that reminds us of home. O'Pao is a restaurant is Dubai that provides sliders with a unique Indian twist. They have introduced a unique and luxury item to their menu – The 22K Gold Vada Pav. Which is a uber luxe treatment with premium posh ingredients and an edible gold leaf finish. You'll see a freshly fried, crisp and golden Vada that is a filled cheese and French truffle butter and is covered 22 karat gold leaves and placed on a specially crafted and carved box that is presented to you amidst plumes of liquid nitrogen. Other popular dishes you must try at this flavorful eatery are - O' Chili Cheese Pao, O' Butter Chicken Pao, O' Triple Schezwan Chicken Pao, O' Egg Omelette Pao, Crispy Manchurian Roll, Butter Chicken Roll, Pav Bhaji Ball and many more.
Location: Behind Park Regis Hotel, Karama
Timings: 11:00 am – 03:30 am
Price: AED 99 (Gold Vada Pav)
2. Gold Cappuccino at Sahr Eddar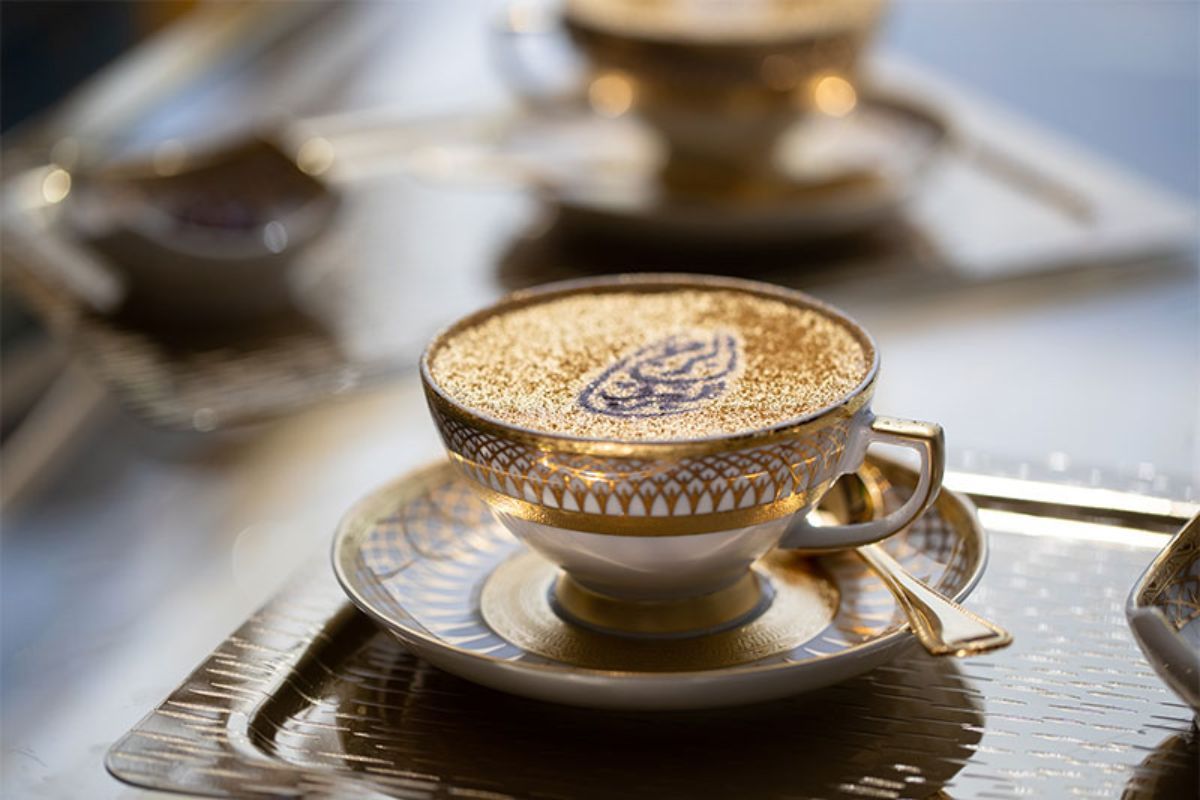 You can expect nothing less than luxury at every step at one of the world's most iconic and only 7-star hotel - The Burj Al Arab. It comes as no surprise that you can find gold plated dishes and gold foods at Sahr Eddar at this iconic tower in Dubai. The most popular item that has gained the attention of many food lovers and celebrities is the 24K gold cappuccino where gold is blended into the foam and heaped on the top too. It is a smooth creation of premium coffee, fresh milk and fine 24 Karat gold served with a chocolate marshmallow. Your cup will be served on a gold tray, gold spoon and a golden bone-China cup. You'll also find a replica of the famous structure of Burj Al Arab drawn on the coffee foam. Now that's one coffee you can't miss! Other popular dishes you can try are – Vitello Tonnato, Eggplant Parmigiana, Burj Al Arab Salad, Potato Gnocchi, Penne Pasta, Yellow Tomato Pizza and Red Prawn Carpaccio.
Location: Sahn Eddar, Burj Al Arab, JBR
Timings: 10:00 am – 11:00 pm
Price: AED 120 for the gold cappuccino
3. 24Karat Restaurant
As the name suggests, this place gives you a menu filled with dishes made with gold. They serve their dishes on gold tinted plates, Even the restaurant is decorated in gold. This Italian restaurant serves some over the top gourmet dishes. You can choose from an array of gold infused dishes like Black Spaghetti with clams, calamari and bottarga for AED 145 or without gold for AED 95. You can also get a gold upgrade to common options like pizza, pasta and burgers. Loyal diners even have their own custom cutlery sets engraved with their names in gold for dining at the restaurant. Now that's some royal and luxury treatment! Other dishes you must try at this golden restaurant include – Black Soil Soup, Beef Fassona, Baby Calamari Fritters, Lemon Pasta and many more. Each of the dish on the menu are available as it is or with a priced option to upgrade to gold if your heart and wallet desires so.
Location: Marriott Hotel Al Jaddaf, Za'abeel, Dubai
Price: AED 145
4. Gold Burger at Hard Rock Café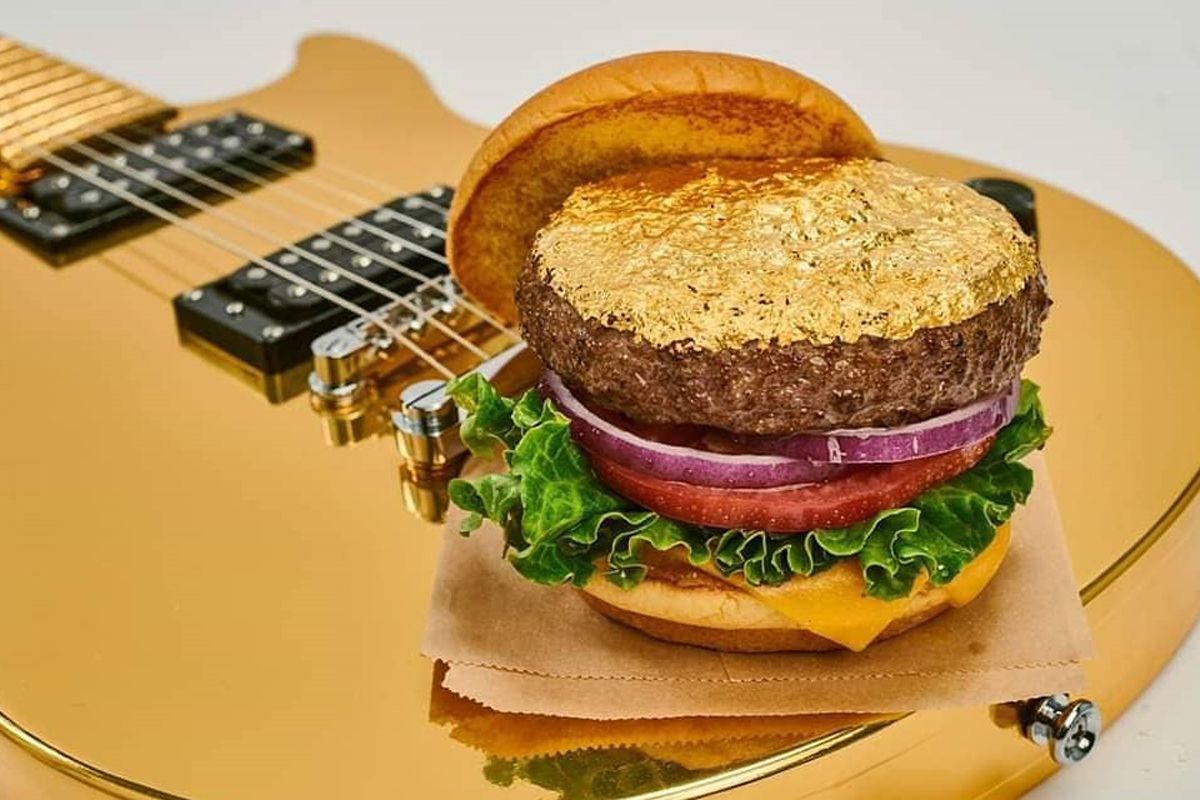 Hard Rock Café is a very famous American restaurant that is known for its rock-themed ambience and delicious food. Indulge in luxury like never before with their 24 Karat Gold leaf burger!  This dish was introduced to celebrate the restaurants golden era and features a 227g fresh steak patty that is topped with all the usual burger toppings including crunchy lettuce, juicy tomatoes, red onion, and slice of melting cheese. The juicy patty is covered in generous amounts of edible gold leaf which makes the burger a one of a kind dish giving you a culinary experience like never before! The dish comes with fries to complete the golden feast.  Other popular dishes you can try at this American restaurant include – Lionel Messi Burger, Nachos, BBQ brisket, BBQ ribs, chocolate brownie sundae, molten lava cake and many more. You can indulge in their classic Steak burgers, BBQ ribs, milkshakes, cocktails, and other dishes whilst enjoying fun live music.
Location: Dubai International Airport and Dubai Festival City
Timings: Sun – Thurs 12:00 pm – 12:00 am Fri- Sat 12:00 pm – 01:00 am
Price: AED 135
5. Gold Steak at Rhain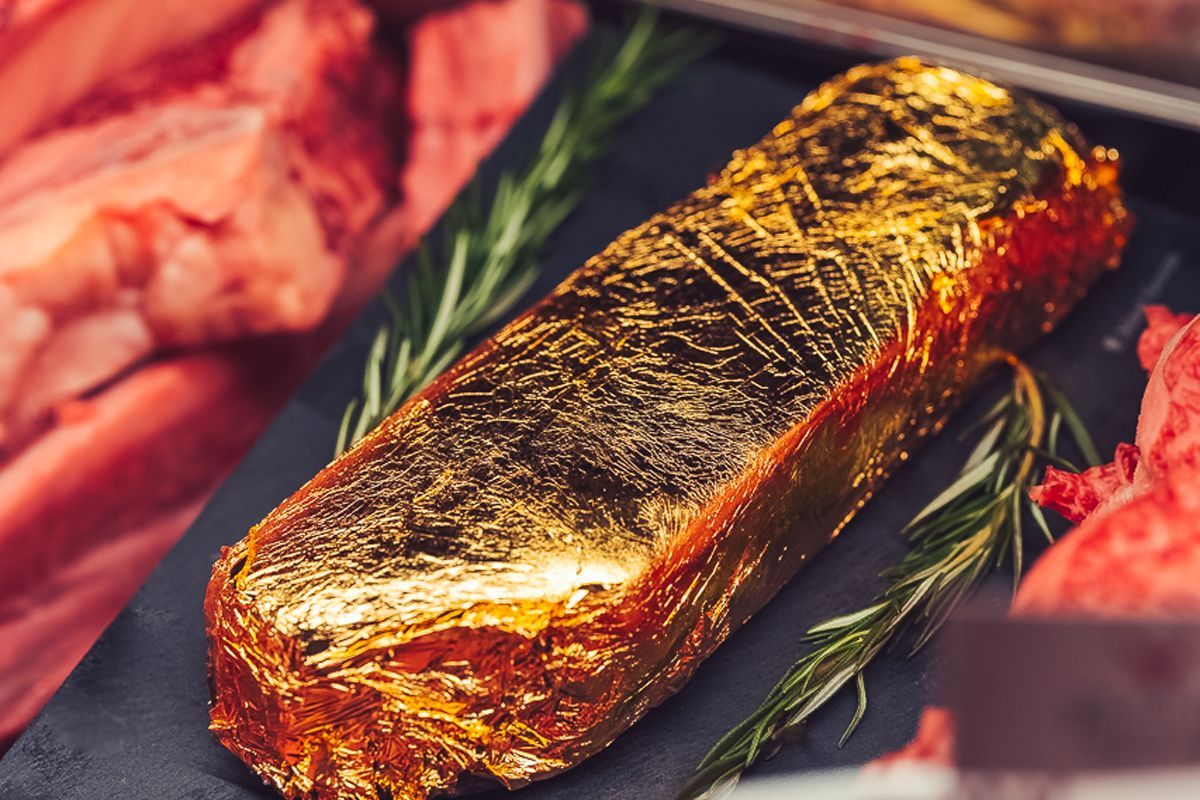 If you're going for gold, you may as well devour a wagyu steak enveloped in it. 'Rhain' derived from the Celtic language which means 'spear' is a gourmet steakhouse in Dubai that boasts a top-notch selection of wet and dry aged meats. You can discover the signature Gold Steak, a premium 400g Australian wagyu striploin BMS 9+ 600-day grain fed beef steak wrapped in 24K edible gold. The juiciness and tenderness of the meat mixed with gold makes it a one-of-a-kind dish.  They also have gold burgers in Wagyu meat or Beef tenderloin options for AED 375 if you upgrade to its golden option. Other dishes you can try at this restaurant are – Neapolitan Meat Balls, Watermelon feta, Niçoise Salad, Spicy tuna, Sole De Petit Bateau, Lobster Linguini, Truffle Rigatoni, Profiterole, Baklava, Baked Alaska and many more.
Location: Conrad Dubai, Sheikh Zayed Road
Timings: 07:00 pm – 02:00 am
Price: AED 895
6. Scoopi
You can find several dishes with gold on the menu at Scoopi. It is a gourmet ice cream and chocolate café in Dubai that aims to bring world-class and experimental chocolates and  ice-creams to you. The most popular gold dish on its menu is the Charcoal ice cream with gold which contains gleaming mounds of nitrogen-frozen and smooth black ice cream and is bedecked with a glittering gold leaf crown and served in a charcoal waffle cone. Other very popular and the most priced gold dish on Scoopi's menu is the Black Diamond which is not just an ice cream, but a rich experience one can indulge in and never forget. Made with smooth and rich vanilla beans, finest saffron, topped with black truffle slices and edible 23- karat gold leaf and flakes. This royal delight is served in a detailed gold handcrafted bowl with a silver spoon. Truly an experience meant for royals! More dishes on the menu can be given the golden touch for an additional AED 100.
Location: Time Out market, Souk Al Bahar, Downtown Dubai
Timings: Sun-Wed, Sat 12:00 pm – 12:00 am Thu-Fri 12:00 pm – 01:00 am
Price: AED 50 (Charcoal Ice cream) AED 3,000 (Black Diamond)
7. Trophy Room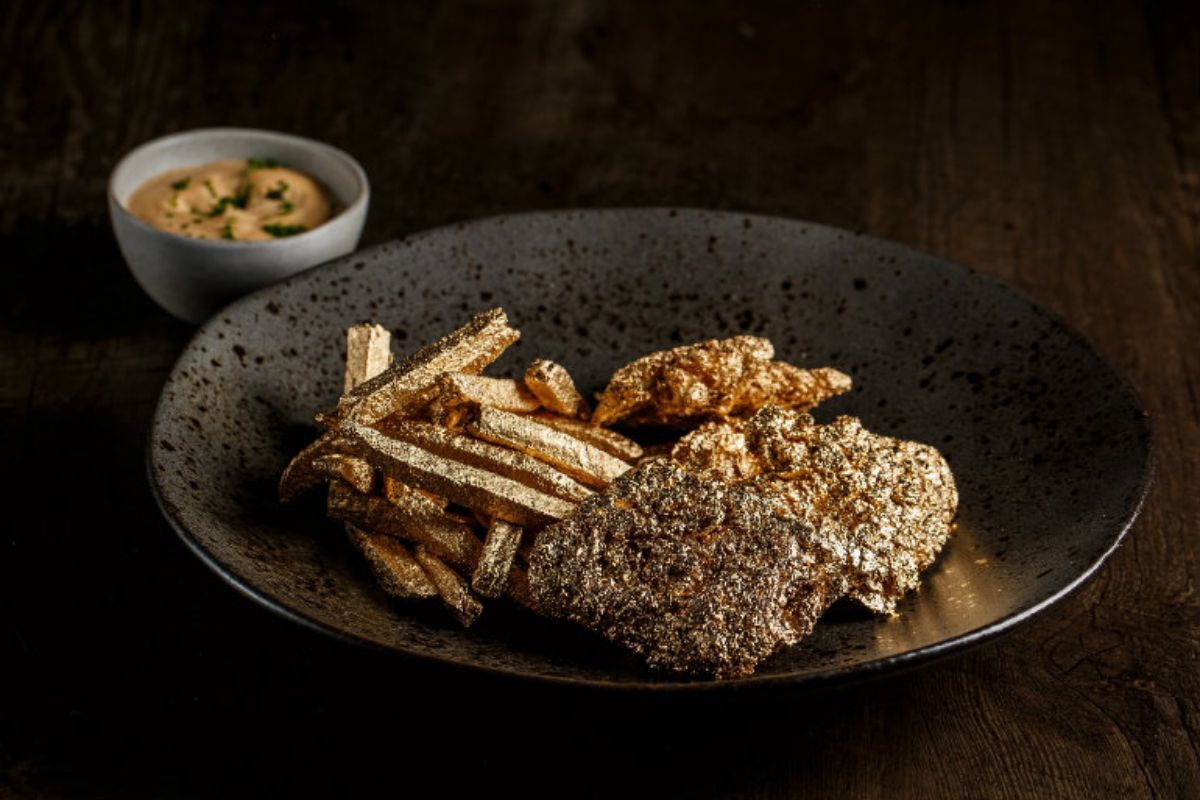 When you try these golden chicken nuggets and fries, you'll never go back to regular ones! Trophy Room, a sports bar at the Fairmont in Dubai, creates its own memories by serving classic British, European, and international pub food favorites. The "Go for Gold" package, which includes 24 karat gold dusted chicken nuggets and golden fries, is a golden trophy for foodies. The dish comes with four chicken nuggets and three sauce options: Danish blue cheese dip, black pepper ranch, and ranch sauce. The nuggets are double breaded and made from French corn-fed chicken. Trophy Room was the first and, so far, only restaurant in Dubai to serve golden chicken nuggets.
Location: Fairmont Dubai, Sheikh Zayed Road
Timings: 12:00 pm - 02:00 am
Price: AED 185