In iOS 17, Apple implemented several modifications to the Messages app, including a fresh visual design, enhanced stickers functionality, and crucial safety features to enhance the sense of security for solo travelers. This comprehensive guide showcases all the new features that Apple has incorporated into Messages in ‌iOS 17‌.
Design Updates

Apple streamlined the design of the Messages app to reduce clutter. Now, the compose window features a "+" button on the left side, where all Messages apps and tools are housed. Tapping on the "+" button opens a dropdown list of options, encompassing Camera, Photos, Stickers, Cash, Audio, Location, Store, and installed Messages apps.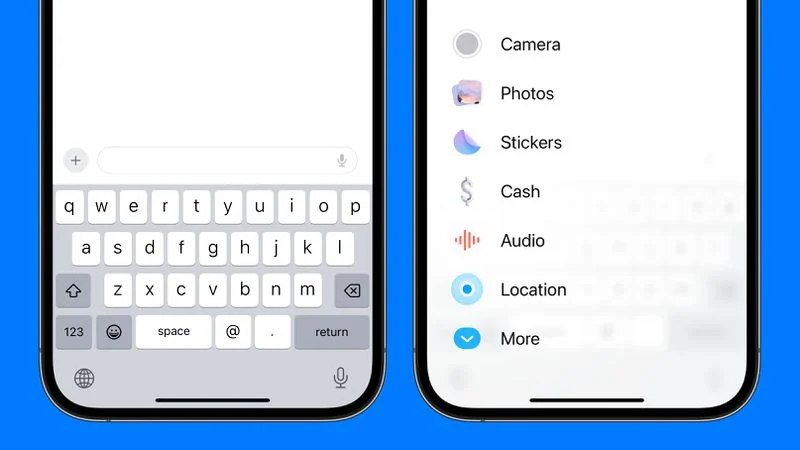 In ‌iOS 17‌, you have the option to tap on the desired function within the dropdown list. For instance, instead of clicking on the small photos icon in ‌iOS 16‌ to add a photo, you now tap on the "+" button and then select the ‌Photos‌ option, which takes you to your Camera Roll.
In ‌iOS 16‌, Apple had a camera icon and an App Store icon that could be tapped to reveal more options, displayed horizontally across the top of the keyboard. With the cleaner and more organized vertical design in ‌iOS 17‌, this represents a significant change. The larger icons and text descriptions in the new design make it much easier to identify and access different functions, resulting in a more simplified and user-friendly interface.
Check In
The Check In feature serves as a safety measure for travelers. It allows you to have someone else monitor your journey's progress. By informing a friend or family member of your destination, they will receive automatic notifications when you reach that location.
To utilize the Check In feature, begin by selecting a conversation with a trusted individual. Tap on the "+" button within the conversation and then select the Check In option. From there, you can input the location you are heading to and the estimated time of your arrival.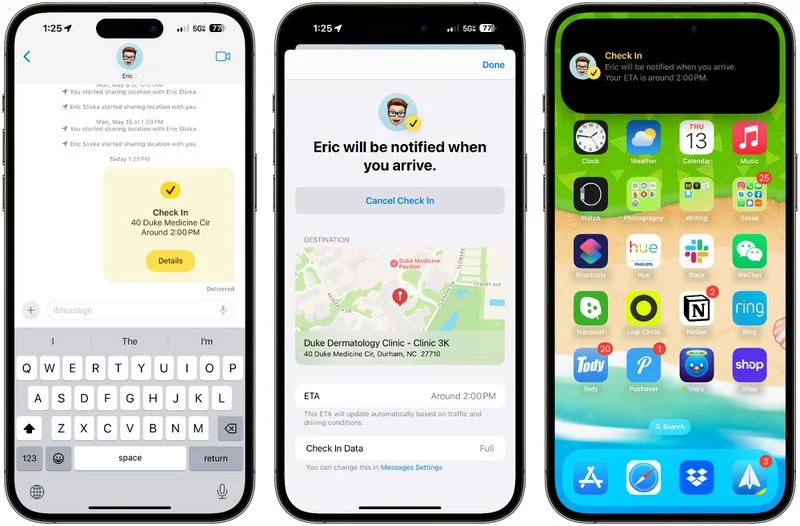 The recipient of the Check In notification will be informed of your destination and estimated arrival time. If your progress on the way is halted, Messages will prompt you to provide an update. If there is no response, the person you selected will receive information regarding your battery level, precise location, and cellular status as a safety precaution.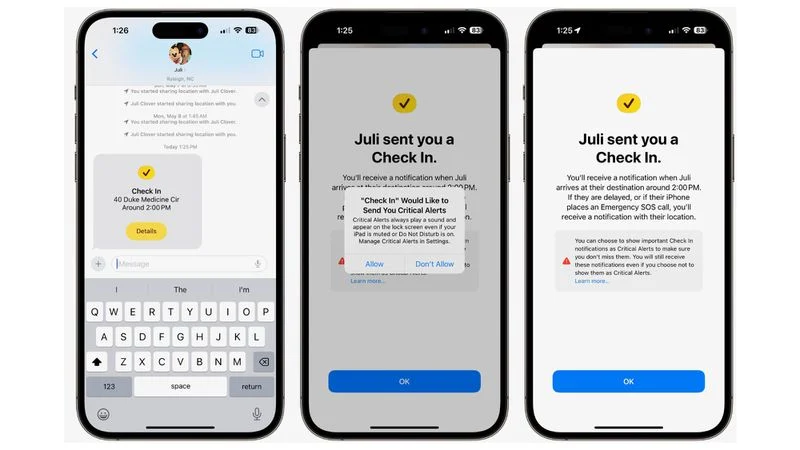 You have the flexibility to customize the data you share. In "Limited" mode, you share your location, network signal, and battery level. However, in "Full" mode, you share all of the aforementioned information, as well as the route traveled, location of the last iPhone unlock, and the location where the Apple Watch was last removed.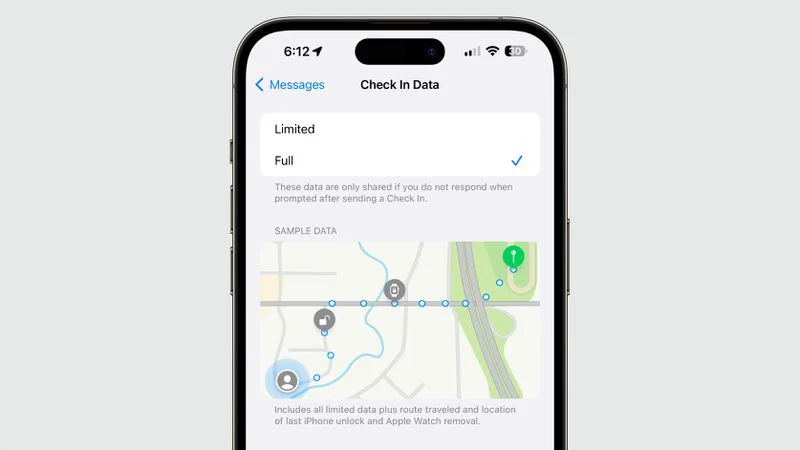 Upon reaching your destination, your friend or family member will receive a notification confirming that you have arrived safely, and the Check In process concludes successfully.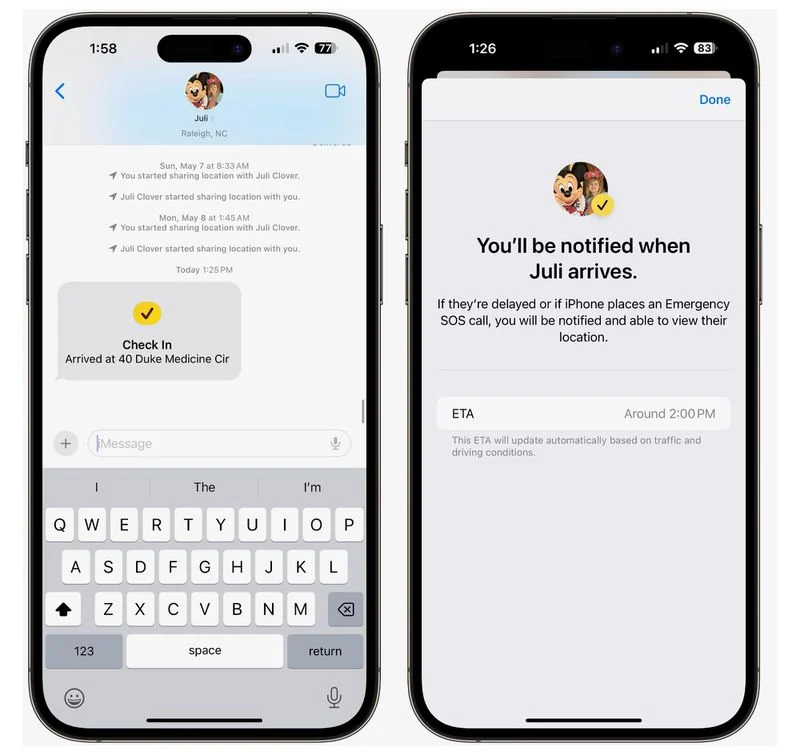 Stickers
Stickers have been a part of the Messages app for several years, but they haven't received much focus. However, in ‌iOS 17‌, Apple is giving them more prominence by classifying all emoji as stickers, in addition to the traditional stickers available.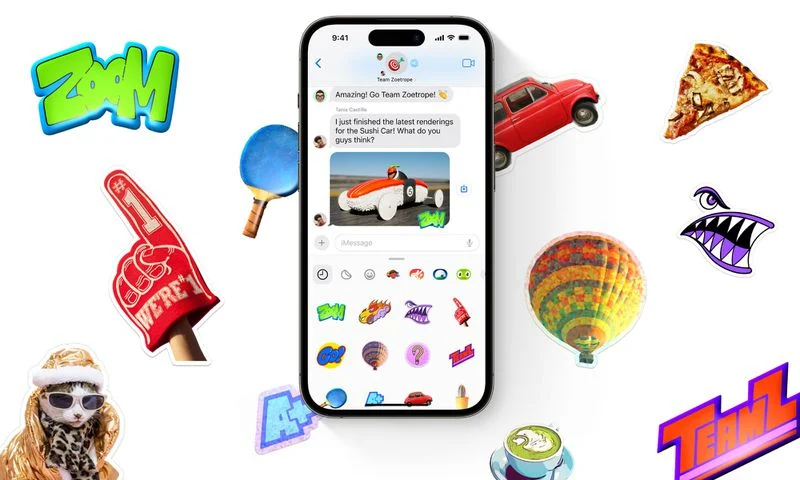 In ‌iOS 17‌, emoji now function similarly to stickers. Apart from inserting them into a conversation, you can also drag them anywhere within a message, allowing you to layer them and create emoji scenes. To add an emoji to a message, open the emoji keyboard, select an emoji, and drag it up to the desired message for emphasis.
Furthermore, when you access the Stickers section in the Messages app, you'll find stickers from downloaded apps, stickers you've created, emoji, and Memoji all consolidated in one location.
Creating Stickers
In ‌iOS 16‌, Apple introduced the "Remove Subject From Background" feature, which allows you to separate subjects from photos. In ‌iOS 17‌, you can use this feature to create and save your own stickers. By selecting any of your photos and performing a long press on the subject, you can access the "Add Sticker" option.
Once you choose this option, the subject will be added to your sticker collection, and if it's a Live Photo, it will animate. To make your digital stickers appear more realistic, you can apply various effects such as a white outline, comic-like shading, a puffy 3D appearance, and a shiny, holographic finish. These sticker effects will animate and reflect light appropriately, giving your self-created stickers a polished and professional look.
Sticker Reactions
Since emoji can now be freely positioned within an iMessage, you can use them as an alternative to tapback reactions. Instead of using the long-press method for a tapback, simply drag the emoji to the message you wish to respond to. This allows you to easily incorporate emoji reactions into your conversations.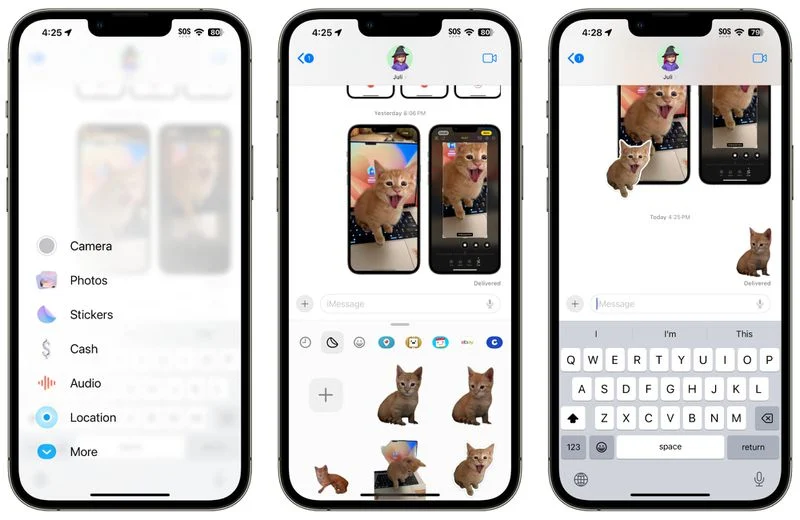 Sticker Expansion
Stickers can now be utilized in various places where emoji are accessible, such as third-party apps, pictures, emails, and more. This means that once you create stickers from photos, you can employ them in a wide range of scenarios beyond just sending them to people via Messages.
Memoji
Apple added new halo, smirk, and peekaboo Memoji stickers to go along with the existing still Memoji sticker options.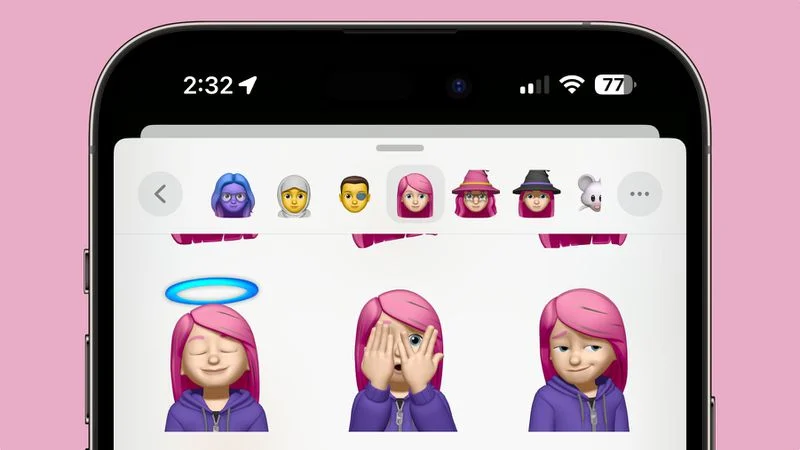 Catch-Up
In ‌iOS 17‌, if you fall behind on a Messages chat with an individual or a group, a catch-up arrow is displayed. Tapping on this arrow will instantly take you to the first message in the conversation that you haven't read yet, helping you catch up quickly.
Swipe to Reply
To reply to a particular message in a conversation, you can now simply swipe from left to right to access the reply interface. This method is significantly faster than the previous process of long-pressing and tapping the reply button, allowing you to respond directly to a specific statement made by someone in the conversation.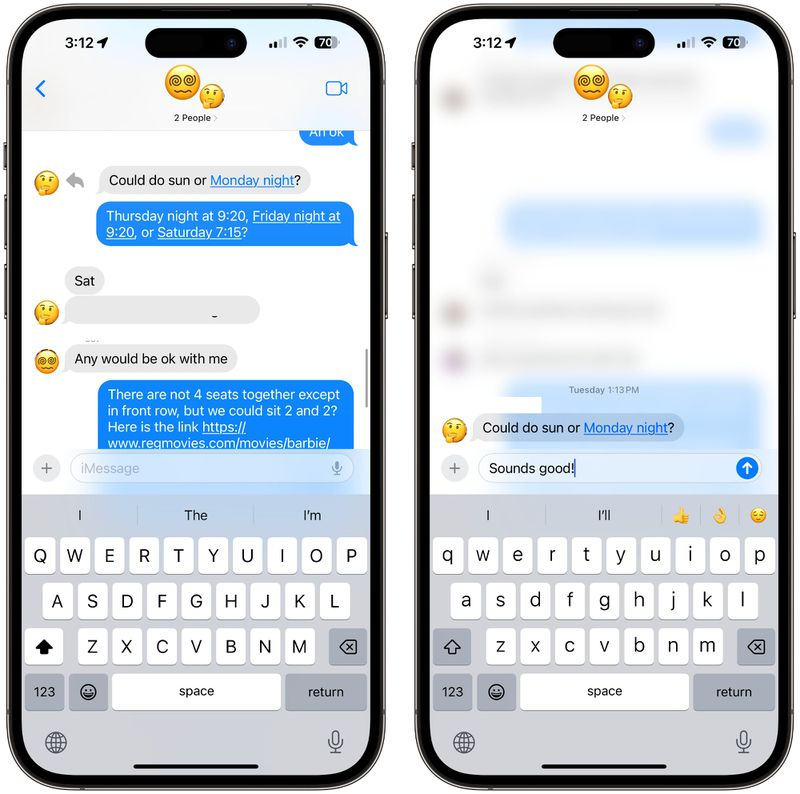 Search Improvements
In ‌iOS 17‌, Apple enhanced the Messages search feature by introducing the ability to combine multiple filters. For instance, if you want to find images from a specific person, you can enter "photos" and then the person's name, selecting each search filter to refine your search results effectively.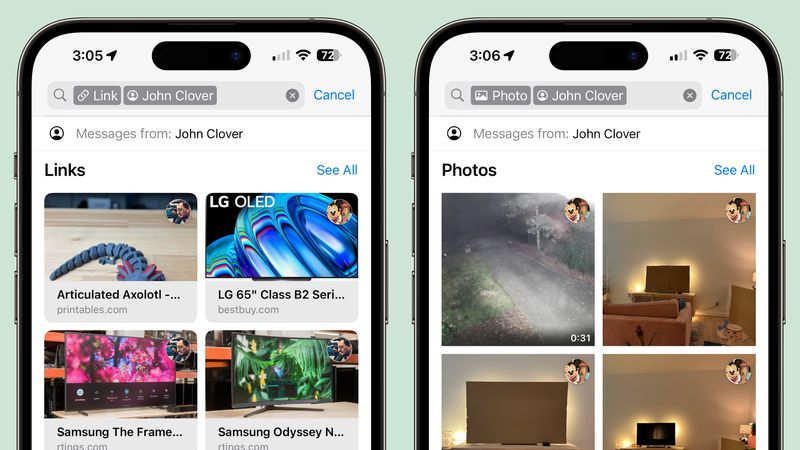 Audio Message Transcriptions
In ‌iOS 17‌, if you receive an audio message but find yourself in a situation where you can't listen to it immediately, the system will automatically transcribe it for you, allowing you to read the message instead.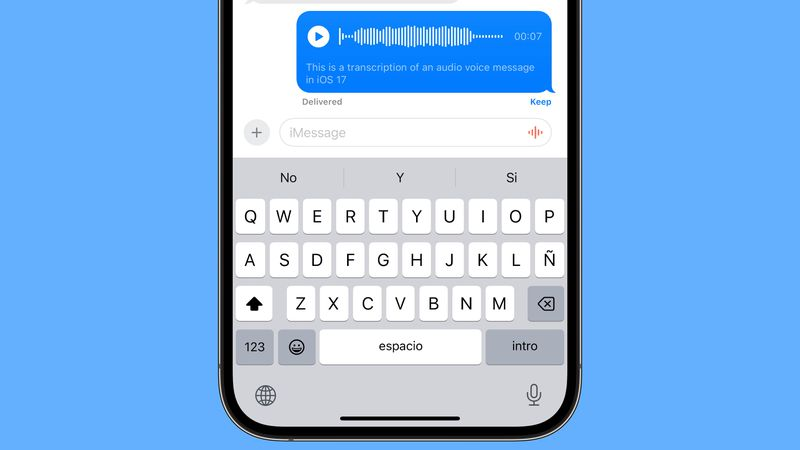 Auto-Delete Verification Codes

Numerous websites and services employ texted one-time passcodes for verification, which can clutter the Messages app. In ‌iOS 17‌, there is a feature that allows these messages to automatically delete after the code is used for login via autofill. Apple might prompt you to enable this option when using autofill after updating to ‌iOS 17‌, but you can also manually toggle it on under Settings > Passwords > Password Options > Clean Up Automatically.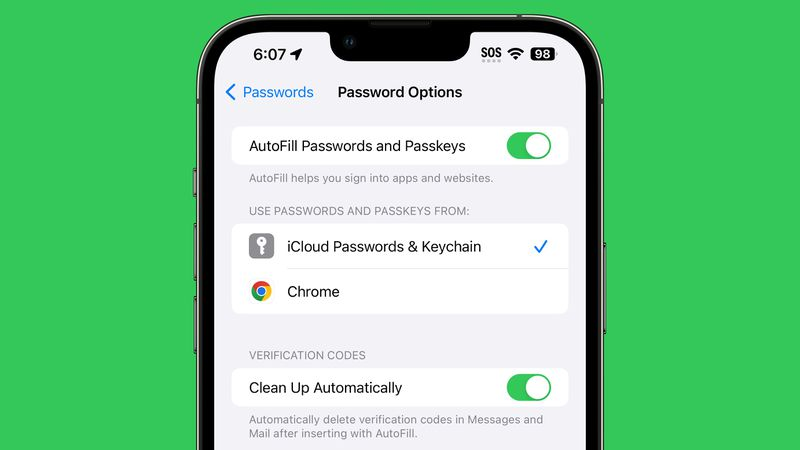 Location Sharing
The "Location" feature within the Messages options allows you to either share your location or request your friend's location directly from the Messages app. Additionally, you can set a pin at a specific location you plan to visit, all without needing to open the Maps app.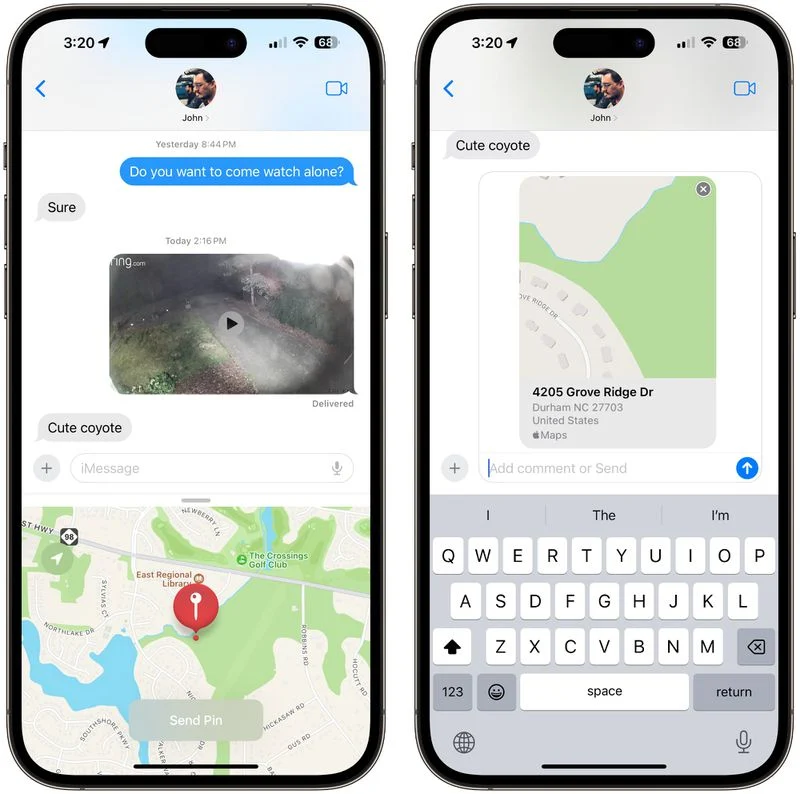 News Source: MacRumors.com