The Ministry of Education is introducing a new model for the eleventh- and twelfth-grade students in the general and advanced streams in public and private schools that implement the Ministry's curriculum, to allow them to choose elective subjects.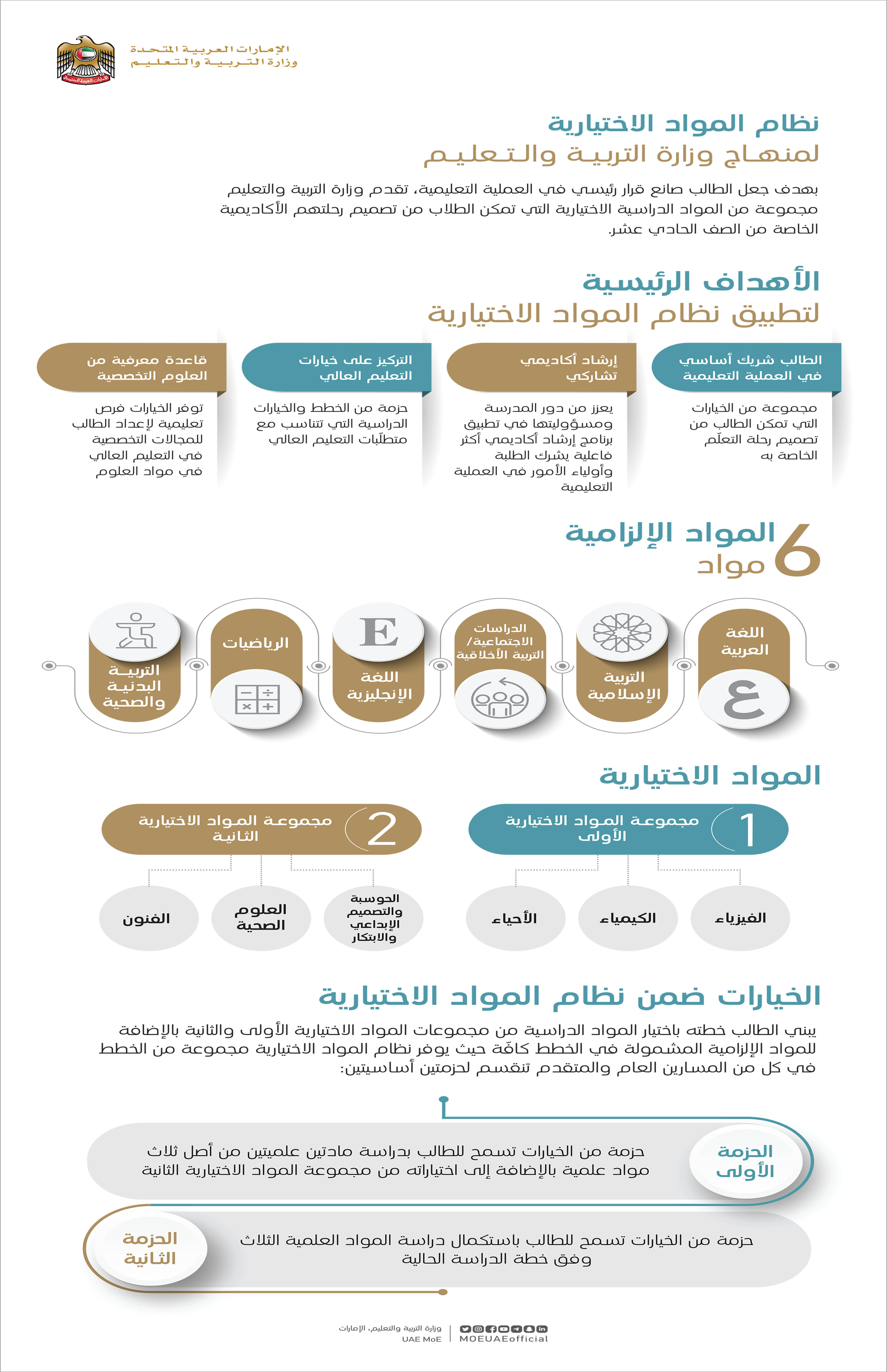 The model allows students to shape their own education pathway by picking subjects that suit their abilities and academic level. The ministry said that the decision will only be applied to eleventh-grade students in the academic year 2023-2024 and further be applied to eleventh and twelfth-grade students starting from the 2024-2025 academic year.
Dr. Ahmad Belhoul Al Falasi, Minister of Education, explained that the decision to implement the elective subjects' model is part of the Ministry's efforts to improve the education system by adopting the best international standards and practices.
"This new model is more flexible and considers each student's unique capabilities, allowing them to develop their knowledge and skills. By doing so, students will be better equipped with the necessary knowledge to pursue their desired academic specialisations in higher education."
He noted that the new model will offer an opportunity for schools to provide more effective academic guidance and launch academic or skill programmes tailored to students' needs.
Dr. Al Falasi added,
"The elective subjects' model will contribute to developing the educational system in the country to better meet student potentials, enabling them to excel in both their academic and professional careers. Our goal is to use the Electives Model to encourage students and parents to participate more effectively in the education process. Periodic evaluations will be conducted to the implementation of the new model with all schools and relevant authorities in order to monitor the system implementation and improve its outcomes."
According to the Elective Subjects' Model, eleventh-grade students in the academic year 2023-2024 and eleventh and twelfth-grade students starting from the academic year 2024-2025 within the general and advanced streams are required to complete six Compulsory Academic Subjects: Arabic language, Islamic Studies, Social Studies/Moral Education, English language, Mathematics, Physical and Health Education. The remaining subjects will be divided into two groups of electives. The first includes three science subjects: Physics, Chemistry, and Biology. The second group of electives includes three diverse subjects: Computing, Creative Design and Innovation, Health Sciences, and Arts.
The Ministry has affirmed that the Electives Model will maintain the targeted learning outcomes as per its curriculum expectations. Students can choose a study plan that matches their interests, educational level, and future higher education options. The total number of subjects and classes will vary for each student depending on their chosen plan.
News Source: Emirates News Agency