Dubai is a city that is filled with thrill and adventure. It offers several thrilling theme parks that fulfil all your adventure needs. Whether its family fun or hair-raising thrills you're looking for, Dubai has a theme park for you. From epic water rides, roller coasters to Hollywood inspired parks, experiencing these thrills just once won't be enough. These theme parks have several thrilling rides, activities, zones, eateries, shopping places, theatres and much more, it is highly popular among tourists and residents of Dubai.
Get ready for an adventure filled and thrill induced experience of a lifetime. Here are some of the most thrilling theme parks in Dubai you must visit.
1. IMG: Worlds of Adventure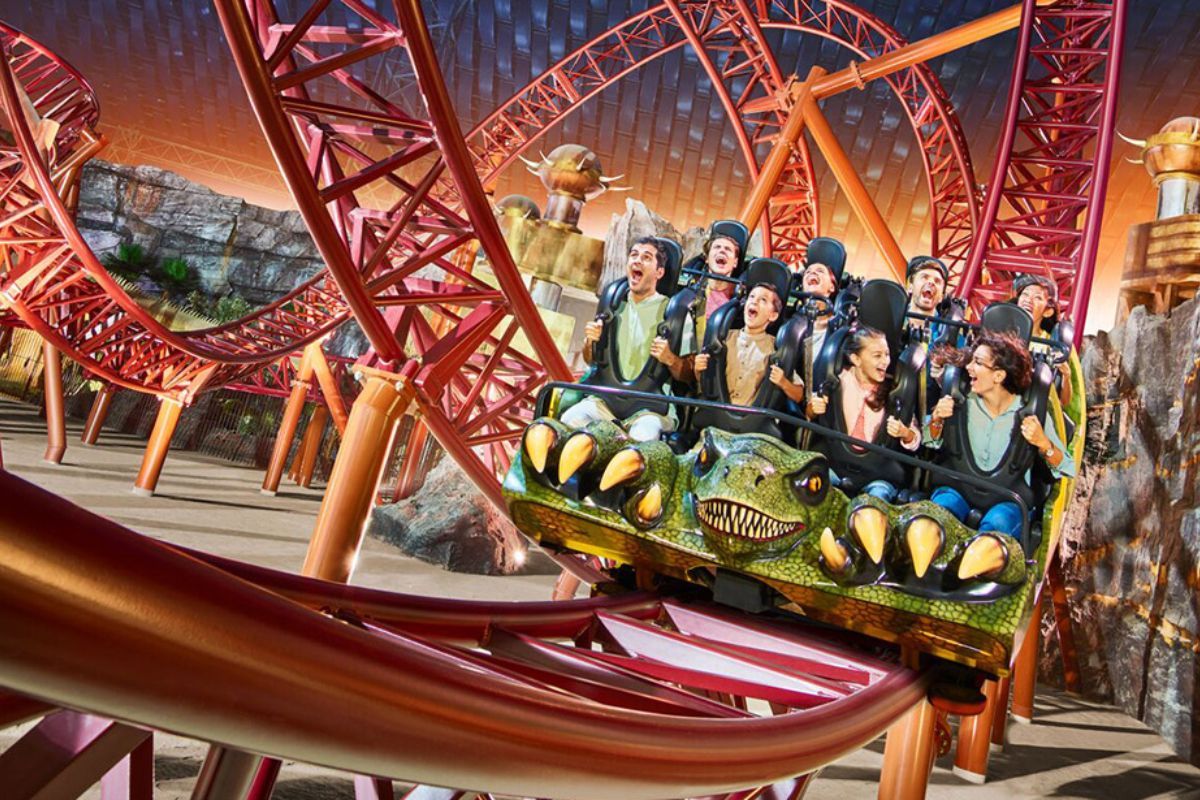 IMG Worlds of Adventure is the world's largest indoor theme park that is spread across 1.5 million square feet. There are 4 adventure zones and 22 rides, so it is the perfect place for you to unlock your imagination and have fun like never before. You will have different levels of thrills to choose from with rides from Thunder Spin to Lazy Town. IMG is also every kid's dream destination as it has rides inspired by their favorite cartoons like Hulk, Powderpuff Girls, and Ben 10. IMG is the world's second largest temperature-controlled indoor theme park that can welcome around 20,000 visitors in a day.
The Park is divided into 4 adventure zones-
1)  Marvel- This zone is favorite of every Marvel super fan ever. It promises to transport you into the Marvel Universe with several attractions and rides inspired by your favorite superheroes including Captain America, Hulk, Iron Man and Thor.
2) Cartoon Network- Cartoon Network has been very kid's favorite cartoon channel ever. This zone offers different rides and attractions inspired by famous CN cartoons like Gumball, Adventure Time, Powderpuff girls, and Ben 10.

Read more - Best attractions for kids in Dubai
3) The Lost Valley- A zone that is filled with dinosaur adventure. There are many varieties of dinosaur themed activities, rides, and restaurants all over the zone. Get ready to be transported into a dinosaur park and enjoy rides that will take you back into the prehistoric era.
4) IMG Boulevard- IMG Boulevard is the welcome zone of the park. It offers a mix leisure and thrilling experience for all from vast retail outlet to a wide selection of dining options.  It also includes the haunted hotel ride among other fun attractions.
The park has various dining and shopping options in each of the zone that complements the theme of each zone. There is also a Novo Cinema there so you can watch the latest blockbuster movies with your friends and family once you're done with all the rides.
Location: Sheikh Mohammed Bin Zayed Road
Timings: Weekday 12:00 pm – 10:00 pm | Weekend 12:00 pm – 11:00 pm
Ticket Price: AED 345
Signature ride: The Velociraptor- One of the tallest and fastest roller-coaster in Dubai that propel you 100 km in 2.5 seconds from prehistoric jungle into the desert.
2. Motion Gate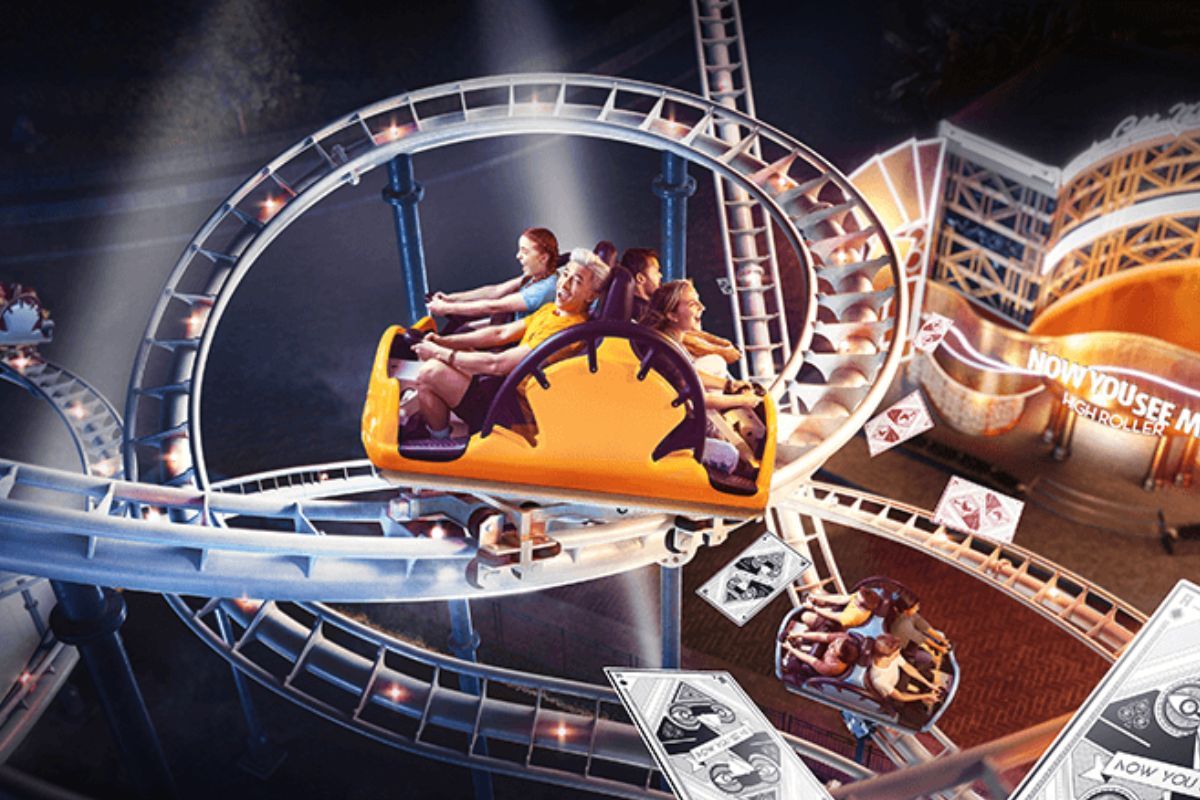 Motion gate is Dubai's first ever Hollywood inspired theme park that has 27 themed rides from popular Hollywood production companies like Lionsgate, Sony Pictures, and DreamWorks. You'll get a sneak peek at how films come to life and enjoy various rides and attractions based on the various zones. You'll get to make unforgettable memories on the roller coasters and thrilling rides and enjoy the various multimedia theatre shows and interactive games. Adventure, fantasy, magic, and thrill await you in one of the largest theme parks in Dubai. This theme park is a dream destination for movie lovers who enjoy Hollywood flicks.
The park is divided into 5 zones-
1) Columbia Pictures- Where you'll get to immerse yourself into the world of Columbia Studios. Enjoy memorable rides where you get to chase ghosts like in Ghostbusters, explore the exciting 4D Underworld, meet Mavis and Drac from Hotel Transylvania and enjoy thrilling rides inspired by other Columbia hits.
2) Smurfs Village- Enjoy all the fun with Smurfs inspired rides and attractions. You'll get lost into the world of Smurfs with these different rides and attractions. Even get a chance to meet them.
Read more about Smurf Village at Dubai Miracle Garden
3) DreamWorks- Enjoy rides based on the different blockbuster movies of DreamWorks. You'll get to witness characters from popular movies like Kung Fu Panda, Madagascar, Shrek and How To Train Your Dragon come to life.
4) Lionsgate- You'll get to embark on edgy adventures based on the hit movies of Lionsgate Studios. Immerse yourself into a world of adventure, thrill, and fun with the Hunger Games crew, Now You See Me and the Step-Up gang.
5) Studio Central- This zone is tribute to Hollywood's Golden era and showcases some behind-the scenes fun.
You also get to enjoy spectacular live shows from every zone throughout the week. Your favorite movies and characters will come to life, and you'll even get a chance to meet them. There are also play areas for kids, motion simulators and water and roller coaster rides too.
Location: Sheikh Zayed Road
Timings: Weekdays 12:00 pm- 09:00 pm | Weekends 12:00 pm – 10:00 pm
Ticket Price: AED 198
Signature ride: Now You See Me ride- it features multiple twists and turns and is the world's fastest single car spinning roller coaster, echoing the movie's heist plot.
3. Bollywood Park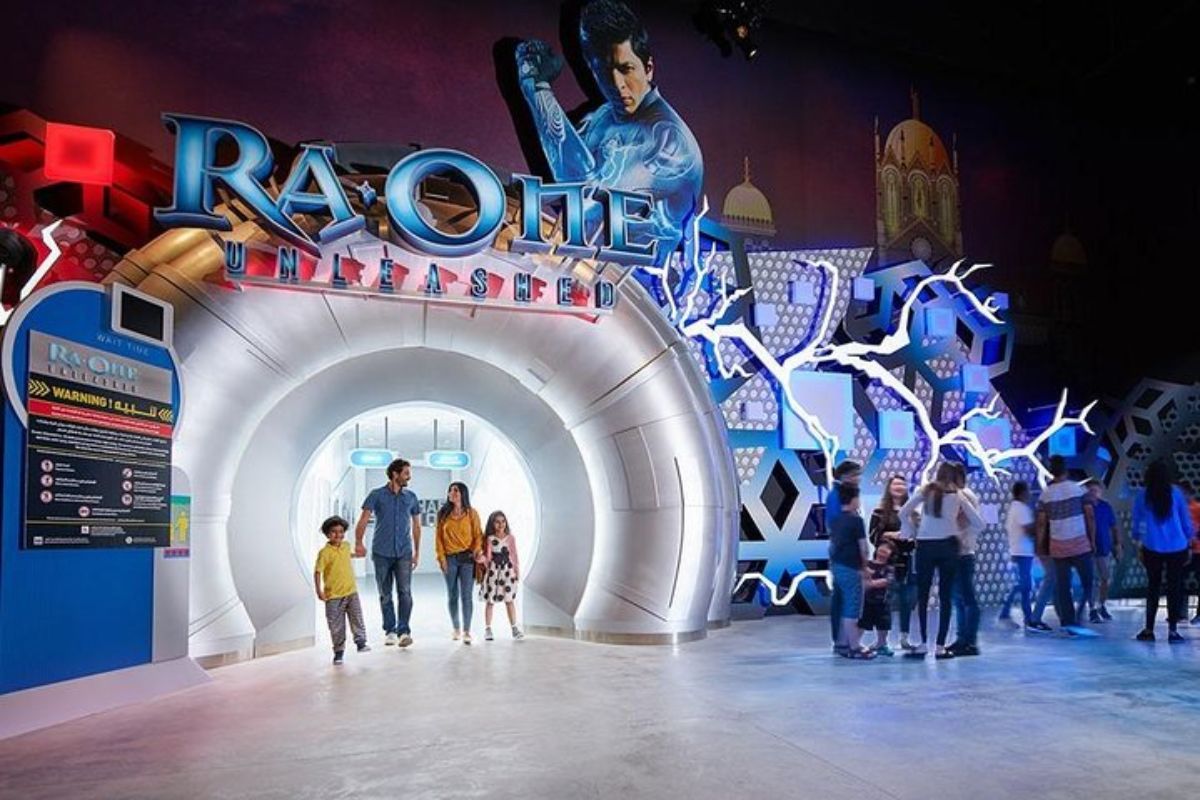 Bollywood Park is the first Bollywood themed park in Dubai which celebrates Mumbai's iconic film industry and is spread across 5 zones inspired by Bollywood Blockbusters. Experience live entertainment, stage performances and cinematic rides that makes up the unique experience of visiting Bollywood Park. Meet your favorite Bollywood superheroes with thrilling simulation rides like Ra One and Krrish or enjoy the scenic moments from all-time favorite hit films like Sholay and Lagaan. Not only do you get to experience a Bollywood cinematic experience, but you also get to dine at the various cinematic dining options and shop from the various retail outlets the parks has to offer. The park is divided into these segments:
1) Bollywood Boulevard- This zone allows you to lose yourself in an enthralling choice of entertainment, cafes, street-style food carts and shopping that are designed to dazzle and awe you. You can choose to sit down and relax in this zone after walking all day.
2) Mumbai Chowk- Experience the feel of Mumbai- the city of dreams, glamour and the home of Bollywood. You'll find rides like Don: The Chase, Tanga No 13 and Taxi No 1 here which help you transport yourself into the heart and soul of Mumbai. The simulation rides and rollercoasters are both thrilling and exciting in their own ways.
3) Rustic Ravine-It is themed to represent the colorful village landscape of rural India. Rustic Ravine transports you to the authentic hustle and bustle of middle India. Here you'll find rides and attractions inspired by classic movies like Lagaan and Sholay. There are also other thrilling rides like Rocket and Abra ka Dabra.
4) Royal Plaza- This zone lets you visit a different era, one of opulence and splendor like no other.  The main attraction of this zone is the Rajmahal Theatre which is also an iconic landmark. Inspired by the iconic Taj Mahal from outside, inside you'll find a theatre where live shows and stage plays take place on the daily.
5) Bollywood Film Studios- Meet your favorite superheroes Krrish and Ra.One both of which take you on a journey like no other. This simulating ride is an experience you can't miss! Get to learn the behind the scenes in making a film with the Zindagi Na Milegi Dobara attraction. You'll be in awe of the hard work that goes behind the screen once you see this one-of-a-kind site.
Along with cinematic inspired rides that are both thrilling and fun and take you on a journey like no other, you'll also find various dining and shopping options here that are inspired by cinematic influences.
Location: Sheikh Zayed Road
Timings: 02:00 pm- 10:00 pm
Ticket Price: AED 295
Signature ride: Krrish: Hero's Flight- This 4D cinema adventure provides plenty of thrills as you get a bird's eye view of Krrish's battle to save Earth from an alien invasion.
4. LegoLand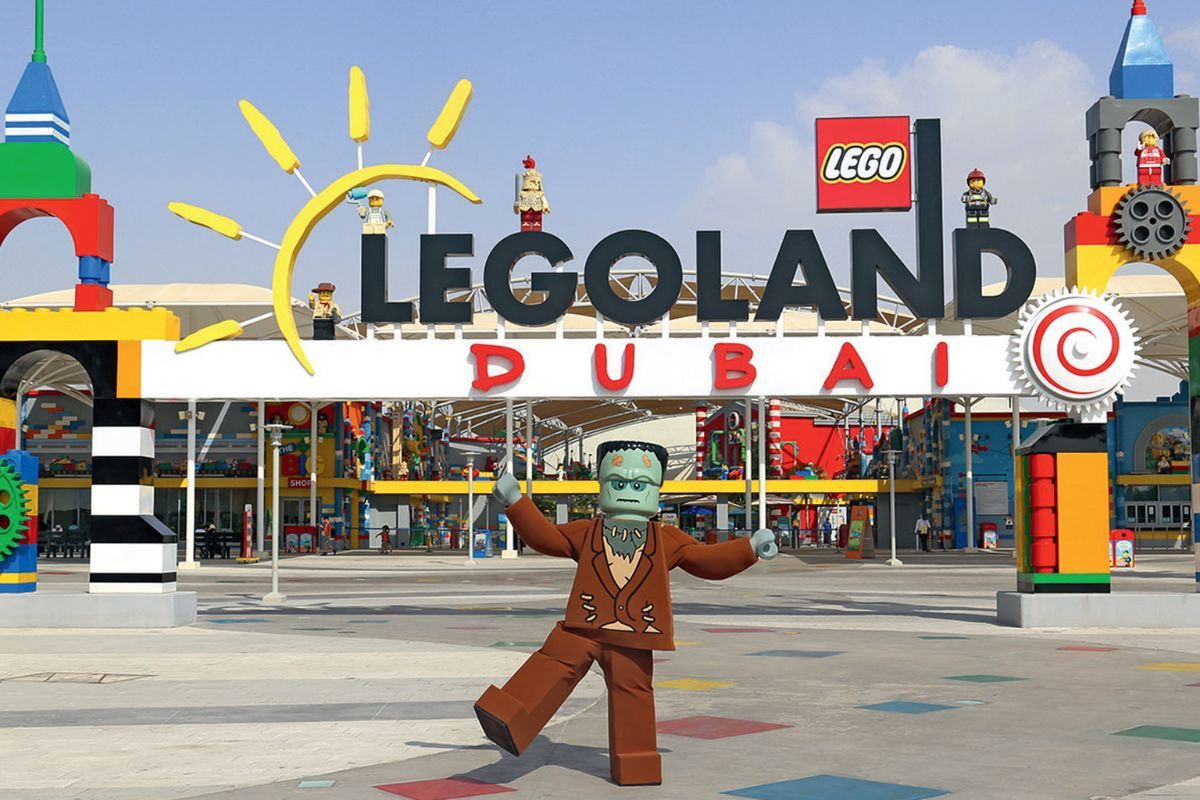 Lego is a favorite among all kids around the world. The LEGO-themed park is a theme park which is part of the Dubai Parks and Resorts and a favorite among kids and adults alike. With over 15,000 Lego models and beautiful structures that are made entirely out of Lego blocks it is the perfect place for kids. At each corner you'll find various attractions and structures made of Lego blocks that will make you take a double look. The park has more than 40 Lego inspired rides and attractions and is divided into six zones.
1) Factory- Get to see how Lego blocks are manufactured. Kids who love playing Lego will be amused to see the behind the scenes of making a Lego block.
2) Lego City- This part of the park lets your younger kids play around and experience new thrills. They get to play rides like Boating School, Driving School, City Airport and much more. Parents can also assist their little ones in these rides especially the Junior Driving School.
3) Imagination-This section of the park gives your little ones a much-needed creative space to build masterpieces using the Lego blocks provided. Here's where your child's creativity can shine through, and they can just build masterpieces and enjoy their time while you explore the more adult friendly rides.
4) Kingdoms-A Lego city with a medieval era theme, it has various rides and attractions. Some thrill rides you can expect in this zone are The Dragon and the Dragon's Apprentice. These rides can be enjoyed by people of all ages.
5) Adventure- This is where you and your little ones can get more adventurous and enjoy various attractions and rides each filled with unique experiences. You can capture an underwater submarine in the Submarine Adventure ride. Other rides you can expect include Pharaoh 's Revenge and Wave Racers.
6) Miniland- This unique interactive area has iconic landmarks of Dubai, and all built using Lego bricks. You'll get amazed at the beauty of this Lego world and applaud the creativity that went behind building it.
Besides the theme Park Lego Land also has a water park attached to it. So, you can also experience some water thrill rides in the various rides it offers. Legoland also has a resort so that you can comfortably stay at the resort and spend your day exploring the park.
Location: Sheikh Zayed Road
Timings: 10:00 am – 06:00 pm
Ticket Price: AED 295
Signature ride: Dragon Coaster- encounter various twists and turns with a view of life in the enchanted King's castle.
5. Play DXB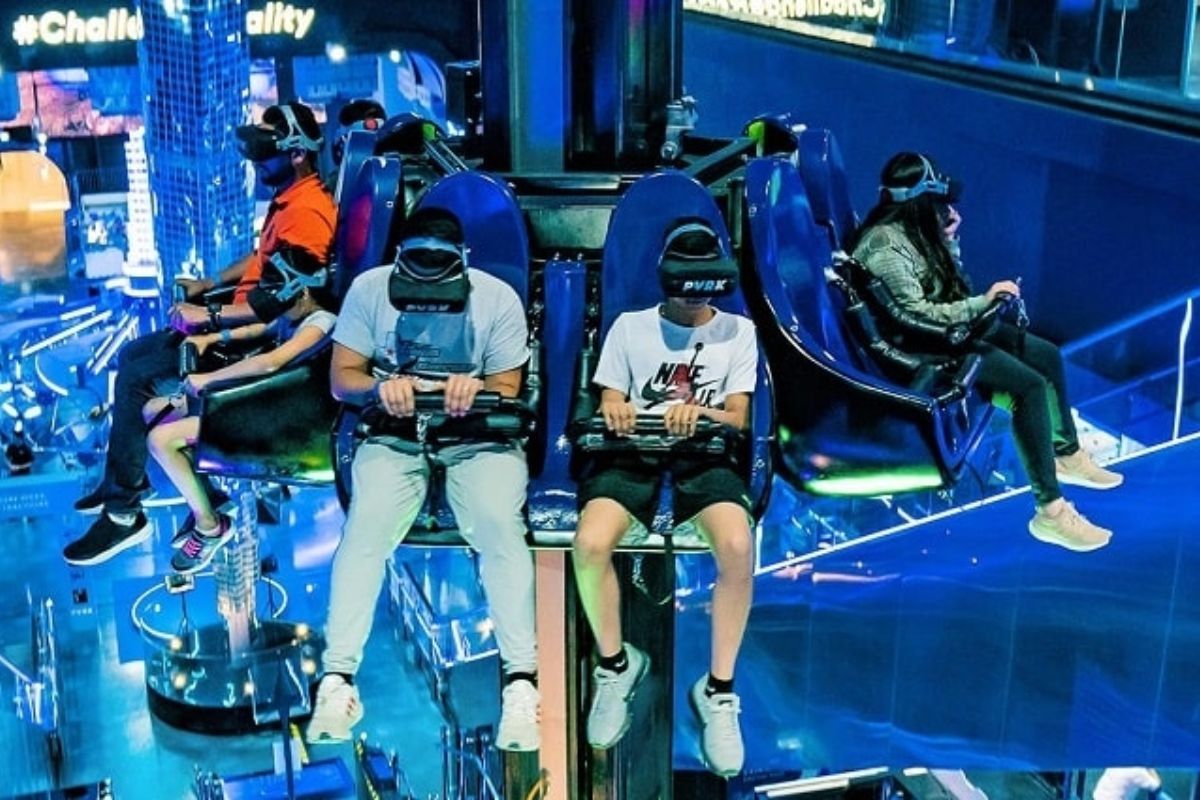 Play DXB, previously known as VR Park, is the largest indoor virtual reality park in the world. The park is centered on the concept of 'shared escapism' and invites you to 'Challenge Reality'. You'll find more than 30 exhilarating rides, experiences and games that blur the lines between perception and reality. Spread across 2 floors, this park caters to people of all ages and promises an unforgettable and mind-blowing experience! Immerse yourself in the various rides and games it offers that are themed around horror, sports, adventure and more that will get your adrenaline pumping. They also have solo and multi-player experiences that allows you to interact with one another and live the thrilling experience with your friends and family. So, strap on your VR headsets and get ready to get lost into a world filled with thrills.
Location: Level 2, Dubai Mall, Downtown Dubai
Timings: Weekday- 10:00 am – 11:00 pm | Weekends- 10:00 am – 00:00 am
Price: Rides range from AED 15- AED45
Signature ride: The Burj Drop - a nail-biting VR experience that will see you hanging onto the Burj Khalifa by a thread.
6. Atlantis Aquaventure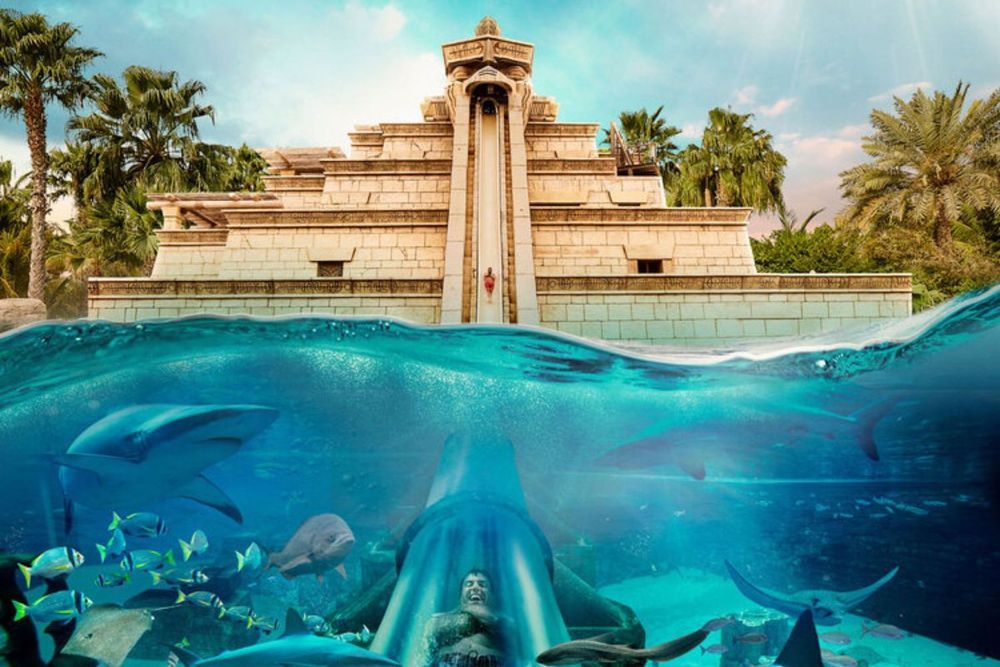 If you are a water baby or just enjoy water parks, then this is the perfect place for you! This thrilling waterpark is the largest waterpark in Dubai and has achieved the title of "Middle East's Leading Water Park" in 2016. Spread over 42 acres this waterpark is filled with exhilarating rides and slides. Enjoy a day filled with exotic marine creatures as you get the chance to swim with sharks and stingrays. Apart from the thrilling rides at this park you can also find The Lost Chambers Aquarium which is Dubai's largest aquarium with over 65,000 marine animals. You even get a chance to meet dolphins at the Dolphin Bay. Kids can join the adrenaline-fueled fun on smaller waterslides and pools in the Children's Play Area. Aquaventure is known for its list of impressive gravity-defying rides like the largest waterslide – Aquaconda or the Poseidon's Revenge which drops you 75 feet down and then takes you through a mind-boggling double loop.  The slides are surrounded around an ancient pyramid-like structure which is also the theme of this park. Apart from enjoying the water rides and slides, you can also relax by the 700-meter-long beach.
Location: Atlantis, The Palm
Timings: 09:30 pm – 06:00 pm
Ticket Price: AED 299
Signature Ride: Leap of Faith- a 90-foot slide that takes you through a lagoon with real sharks