The National Election Committee (NEC) today announced the lists of the electoral college members from all emirates for the 2023 Federal National Council (FNC) elections, which features 398,879 members, marking a 18.1 percent hike over the 2019 lists that included 337,738 Emirati electors.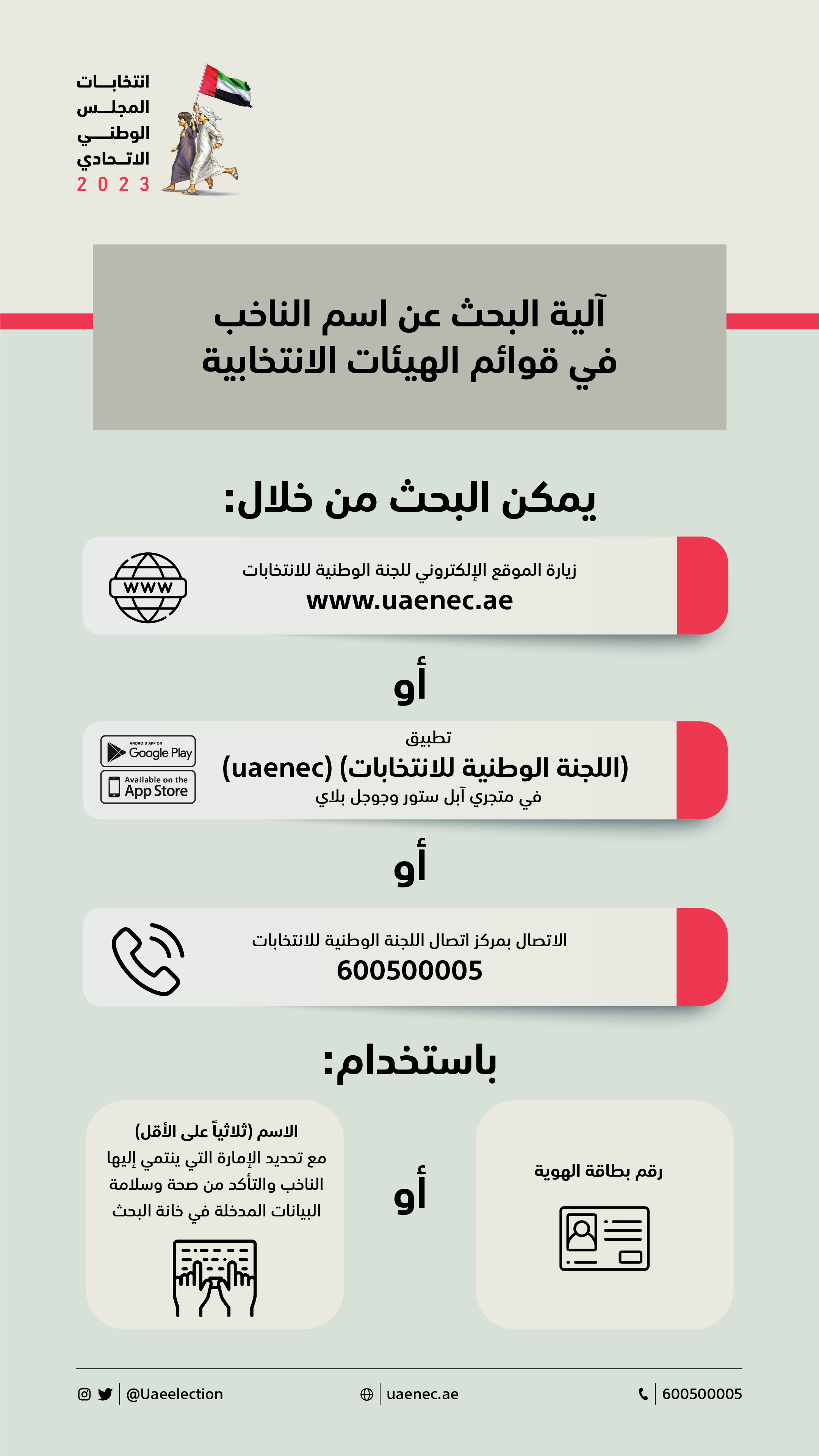 The representation of Emirati women in the electoral college for 2023 has increased by 51 percent, compared to 49 percent for men, the NEC said, adding that the electoral college lists have a significant representation of electors in the 21-40 age category (55 percent), reflecting the crucial role of youth in the UAE's progress. Those in the 21-30 age category and 31-40 age category account for 29.89 percent and 25.11 percent respectively of all electoral college members.
"This allows a large number of young Emiratis across the UAE to participate in the elections and choose their representatives in FNC,"
the NEC added.
In terms of geographical distribution, 126,779 members originate from Abu Dhabi, 73,181 members from Dubai, 72,946 members from Sharjah, 12,600 members from Ajman, 7,577 members from Umm Al Qaiwain, 62,197 members from of Ras Al Khaimah and 43,559 members are from Fujairah.
Dr. Abdul Rahman bin Mohammad bin Nasser Al Owais, Minister of State for Federal National Council Affairs and Chairman of NEC, affirmed that the unlimited support extended by President His Highness Sheikh Mohamed bin Zayed Al Nahyan, His Highness Sheikh Mohammed bin Rashid Al Maktoum, Vice President and Prime Minister of the UAE and Ruler of Dubai, and Their Highnesses the Supreme Council Members and the Rulers of the Emirates, constitutes the key cornerstone for developing the parliamentary experiment in the UAE.
''The announcement of the electoral colleges marks a new, important milestone in organising the the electoral process as per the best standards in line of the UAE people's aspirations and preserving the gains through which the UAE offered an exemplary parliamentary model based on consultation and affective participation in decision-making process,''
he added.
NEC has requested members of the electoral college to validate their names on the 2023 list using their Emirates ID numbers through a variety of channels, including its website (https://uaenec.ae) and smart applications on App Store and Google Play . The electors can also contact the elections call centre on 600500005, and track their names or talk directly to the centre's representative. They can also visit the electoral committee office in their respective emirate for any clarifications.
According to the Executive Regulations, all citizens in the electoral college list are entitled to participate in the electoral process, whether as candidates or as voters. Every voter has the right to vote once in person and cannot authorise anyone else to exercise this right on his or her behalf, the NEC concluded.
News Source: Emirates News Agency