June PMI reading shows month-on-month growth highest since October 2021.
S&P Global data reveals the fastest ten-month surge in new businesses in Dubai during June.
The headline S&P Global Dubai Purchasing Managers' Index (PMI) rose to 56.9 in June, after a 55.3 reading in May, a statement from S&P Global said.
"Growth rates for both variables remained well above their long-run averages. Employment rose solidly and firms continued to build inventory as supply chains improved further,"
S&P said.
This signaled the strongest overall improvement in operating conditions in the non-oil sector since August 2022. Moreover, the headline index remained well above its long-run trend level of 54.6 and the month-on-month rise at 1.6 points was the largest recorded since October 2021.
June data signaled another relatively modest rise in average input prices, enabling firms to continue to offer discounts by cutting prices charged for goods and services. The PMI is derived from individual diffusion indices that measure changes in output, new orders, employment, suppliers' delivery times, and stocks of purchased goods. The survey covers the Dubai non-oil private sector economy, with additional sector data published for travel and tourism, wholesale and retail, and construction.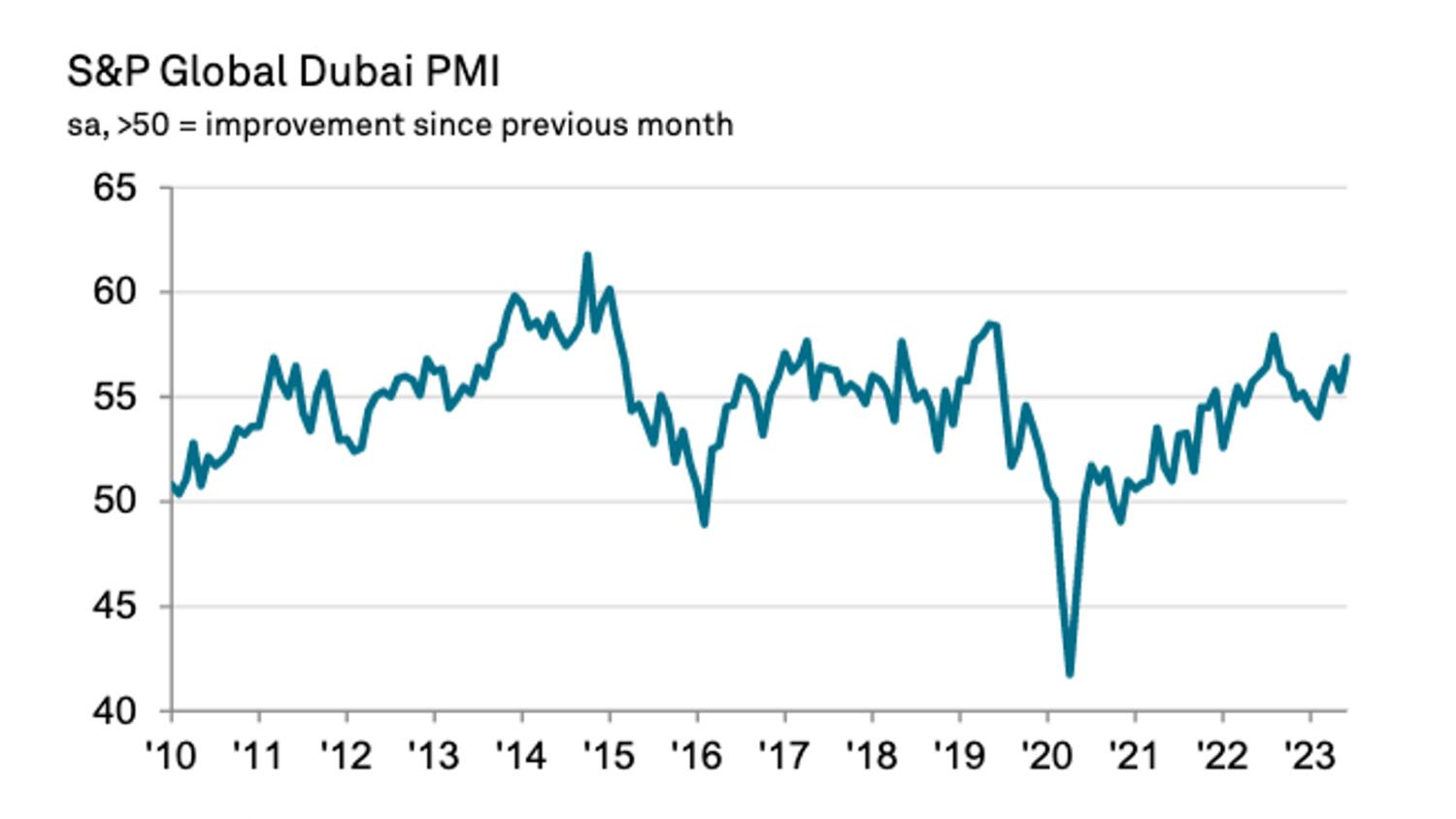 Trevor Balchin, economics director at S&P Global Market Intelligence, said:
"Dubai's non-oil private sector economy enjoyed accelerating growth of new business in June, supporting another marked rise in overall output. All three of the key sectors monitored - construction, wholesale and retail and travel and tourism — registered faster increases in new work mid-way through the year. Strong demand led to further job creation, with the current 14-month run of growth the longest in over six years. Companies were also able to continue offering lower prices to customers despite a slightly faster rate of input price inflation during the month."
Total non-oil private sector business activity in Dubai rose for the thirty-first successive month in June, and the expansion rate remained sharp despite easing slightly since May. All three key sectors posted similarly marked rates of expansion at the mid-way point of 2023.
Employment at non-oil private sector firms rose for the 14th successive month in June, the longest run of continuous job creation in over six years. The rate of growth was little-changed since May, remaining slightly above the long-run trend level. Recruitment was notably robust among construction firms.
Supply chains improved further in June, with average lead times falling for the sixth month running. Companies reported that requests for quicker deliveries had been met by suppliers, aided by the prompt payment of orders.
Stock-building efforts continued as input inventories rose for the eleventh month running, the longest sequence in over three years.
Pressure on firms' input costs appeared to remain manageable in June. Average input prices rose at the fastest rate in three months, albeit one that remained weaker than the long-run series average since 2010. Construction firms faced the biggest increase in input costs.
In contrast to rising input prices, charges levied for goods and services were reduced in June. The rate of discounting remained solid, albeit slightly weaker than in April and May. The 12-month outlook for activity eased slightly since May but was still the second-strongest since October 2021. Of the three key sectors monitored, construction was the most optimistic, followed closely by wholesale and retail.
News Source: Khaleej Times