Pawdy Neighbors is Rita Abou Obeid & Elie Raad's new F&B adventure, launched on August 4, 2022
The hybrid concept was imagined for pets and their owners and is nestled in the heart of Downtown, Al Manzil Souk, at the foot of Burj Khalifa. Pawdy Neighbors is where a professional pet spa meets your neighborhood cafe.
Pawdy Neighbors
On a market where the offering of pet-friendly restaurants and cafes is on the rise, these two proud dog parents wanted to create an experience entirely curated around animals first and humans second.
"As dog owners, we have gone to multiple outlets priding themselves with having a pet-friendly attitude,"
says Rita Abou Obeid, Co-founder of Pawdy Neighbors.
"But it is sometimes more of a marketing argument than an actual service. Our aim is to raise the bar of pet-friendly food establishments, without compromising on quality of food and beverages, as well as quality of service."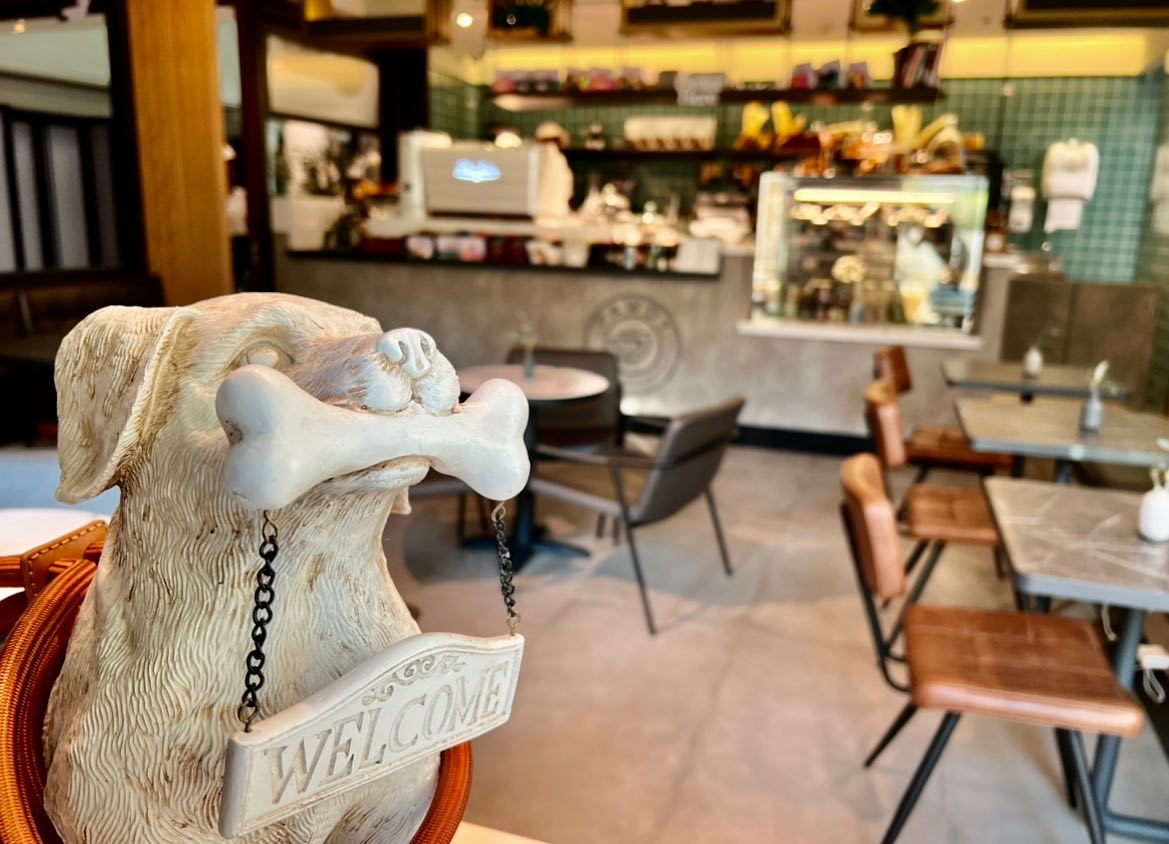 At Pawdy Neighbors, the tables are fixed to the benches, in order to avoid spills and leash accidents and the pet spa is run by certified free-stylers. The adjoining cafe is separated by a see-through glass, decorated with vibrant graphics. This enables pet owners to keep an eye on the grooming process, whilst fur babies are given limited visibility and don't get agitated in the presence of their parents. Pawdy Neighbors is also a great place to get some work done, with high-speed Wifi and multiple plugs to keep laptops on charge.
"We are very sensitive to Health & Safety and have specialised in this particular field for years, running Specifico, a company devoted to best F&B practices. That is why hygiene is key at Pawdy Neighbors. Using easy-maintenance materials across the venue, we have designed a space where humans and pets can cohabit in a clean and safe environment. We took every measure so that there is zero risk in serving food in a facility that also welcomes pets,"
continues Co-founder Elie Raad.
Throughout the day, the team pass around Puppuccinos for their guest pets, yes, which doesn't mean the culinary offering comes second for human guests. Rita Abou Obeid and Elie Raad are passionate fitness aficionados and have engineered a menu that combines healthy and comfort foods alike.
For breakfast, guests can enjoy specialty coffees, teas and matchas, with a variety of milk alternatives. Delicious breads, croissants of all sorts, muffins and other lovely cakes and pastries are available all day. The couple has developed a strong knowledge in nutrition for the sake of their fitness routine and a wide array of salads, wraps and sandwiches are there, too, for diet-conscious guests.
Guests can also take their pick for a bounty of vegan options, made with gluten-free ingredients, all Rita and Elie's creations. Their cakes, brownies, ice creams, açai specials, shakes, smoothies and salad dressings are all vegan.
Pawdy Neighbors as a concept is truly one-of-a-kind. It takes on airs of a European cafe, with its beautiful terrace shaded under an olive tree and intimate indoor area, right by the food display and barista station. Rita and Elie are there everyday, which gives patrons the feeling of coming into a home.
The vibe is relaxed, joyful and warm, mostly due to the numerous pet-guests there.
"We also welcome guests who do not have pets, but enjoy being in their company, which is almost like therapy!" exclaims Rita Abou Obeid, with a huge smile on her face. "Pawdy Neighbors is first and foremost a happy place, and a unique place in the city, we believe!"
continues Elie Raad.