Collaboration features appealing characters and designs including TOILETPAPER, Keith Haring, Disney and Marvel, and more.
Samsung Electronics today announced the launch of the new "Samsung Eco-Friends" lineup, which features various accessories with recycled materials and unique designs. The new lineup will be available in more than 40 countries, including Korea, China, the Netherlands, Singapore, South Africa, the U.A.E. and the U.S.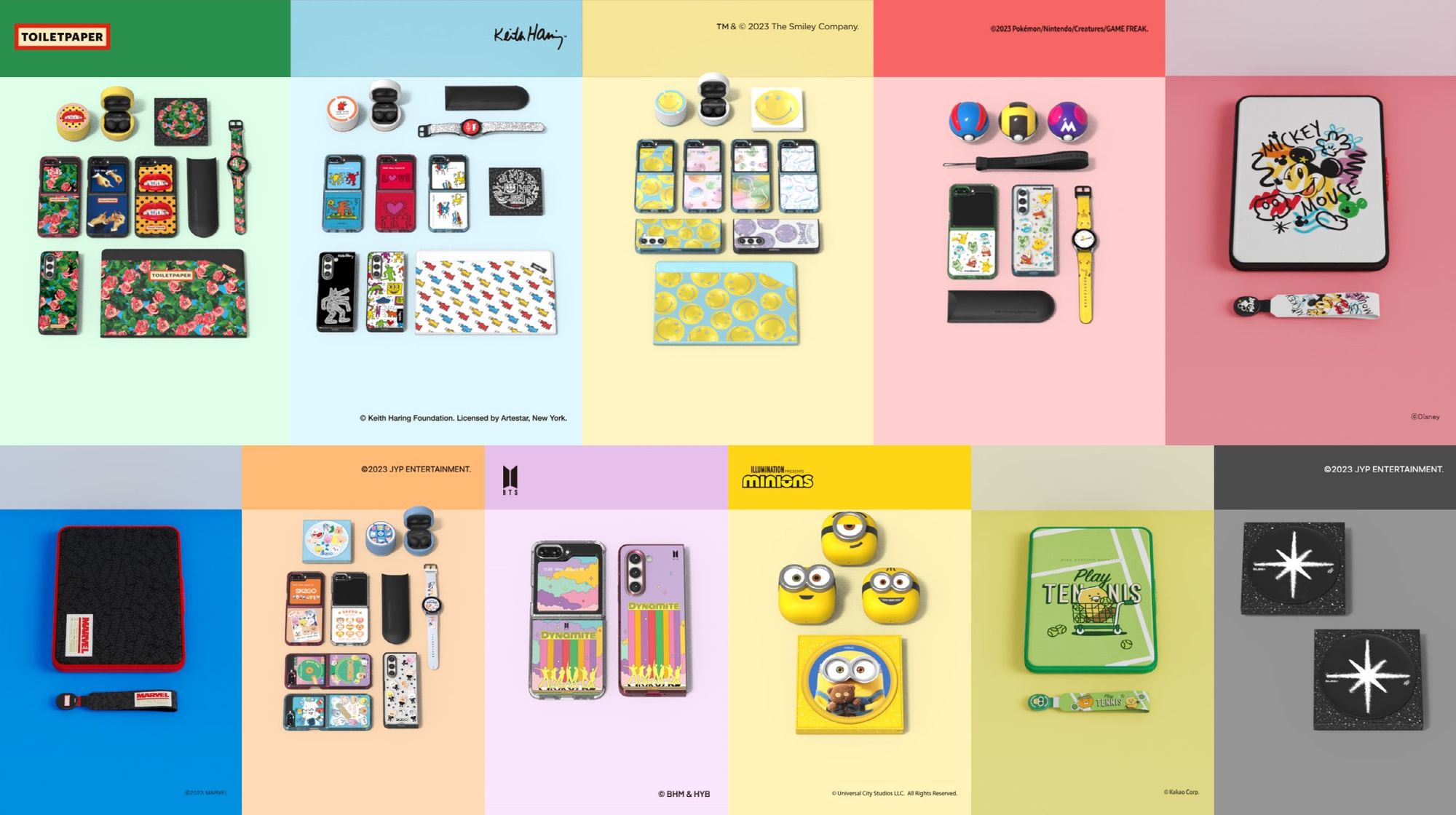 Samsung Eco-Friends are accessories such as product cases and wearable straps that contain a minimum of 40% Post Consumer Material (PCM). The Samsung Eco-Friends lineup was planned by Samsung's Future Generation Lab, which comprises global employees in their 20s and reflects the values and tastes of the younger generation. Future Generation Lab also helps partners expand their sales through the Samsung Mobile Accessory Partnership Program (SMAPP).
The new Samsung Eco-Friends products feature 11 characters and designs popular across the globe. The collaboration brings the works of TOILETPAPER, Smiley, and Keith Haring, as well as Disney, Marvel, Minions, Pokémon, and Kakao Friends. The lineup also includes designs by famous K-pop artists, such as Stray Kids, SKZOO, and BTS Dynamite.
In particular, the accessories with TOILETPAPER design are noteworthy. TOILETPAPER is an influential creative studio in Italy, known for its disruptive and experimental creative work. The studio's designs have been applied to "Samsung Bespoke Refrigerator" panels, and now extending to mobile accessories. A rose graphic unveiled earlier this year, as well as its popular lipstick graphic, is applied to Samsung Eco-Friends.
The Samsung Eco-Friends lineup includes accessories for mobile products such as the Galaxy Z Flip5 and Fold5, Galaxy Tab S9, Galaxy Watch6, and Galaxy Buds2 Pro, as well as The Freestyle portable projector. A total of 64 products offer appealing characters and designs for customers to choose from to personalize their devices.
Also available with this launch is the ability for customers to coordinate their foldable phone screens with Samsung Eco-Friends accessories through near-field communication (NFC) technology and QR codes. This allows users to express themselves with a design that is cohesive from case to screen.
With the introduction of the Galaxy Z Flip5, the exclusive Flipsuit case features an NFC-based Flipsuit card that enables a new experience by automatically playing screen themes when it is inserted into the product. By simply replacing the Flipsuit card provided by Samsung Eco-Friends, customers can easily set the screen theme depending on their preferences.
Samsung plans to continue to expand the use of recycled materials in Samsung Eco-Friends to deliver eco-conscious values and update its lineup and design to enrich customers' experiences.
News Source: Samsung