To simplify the visa process for travelers, Saudi Arabia has introduced new instant e-visa options for individuals holding UK, US, and Schengen visas, as well as permanent residents of the UK, US, and any EU country.
This update comes after the country expanded its regulations to offer visas on arrival to these six categories, as the Saudi Press Agency reported.
Since opening its doors to tourism in 2019, Saudi Arabia has experienced rapid growth in its tourism market, with 93.5 million visitors in 2022. The Saudi Tourism Authority is actively working to improve accessibility and connectivity by leveraging digitization, creating streamlined entry pathways for travelers, and allowing them to explore the country's diverse cultural heritage.
Saudi Arabia Announces New Instant E-Visa Options For Visitors: pic.twitter.com/vjTd8H6Xj6 — SPAENG (@Spa_Eng) June 12, 2023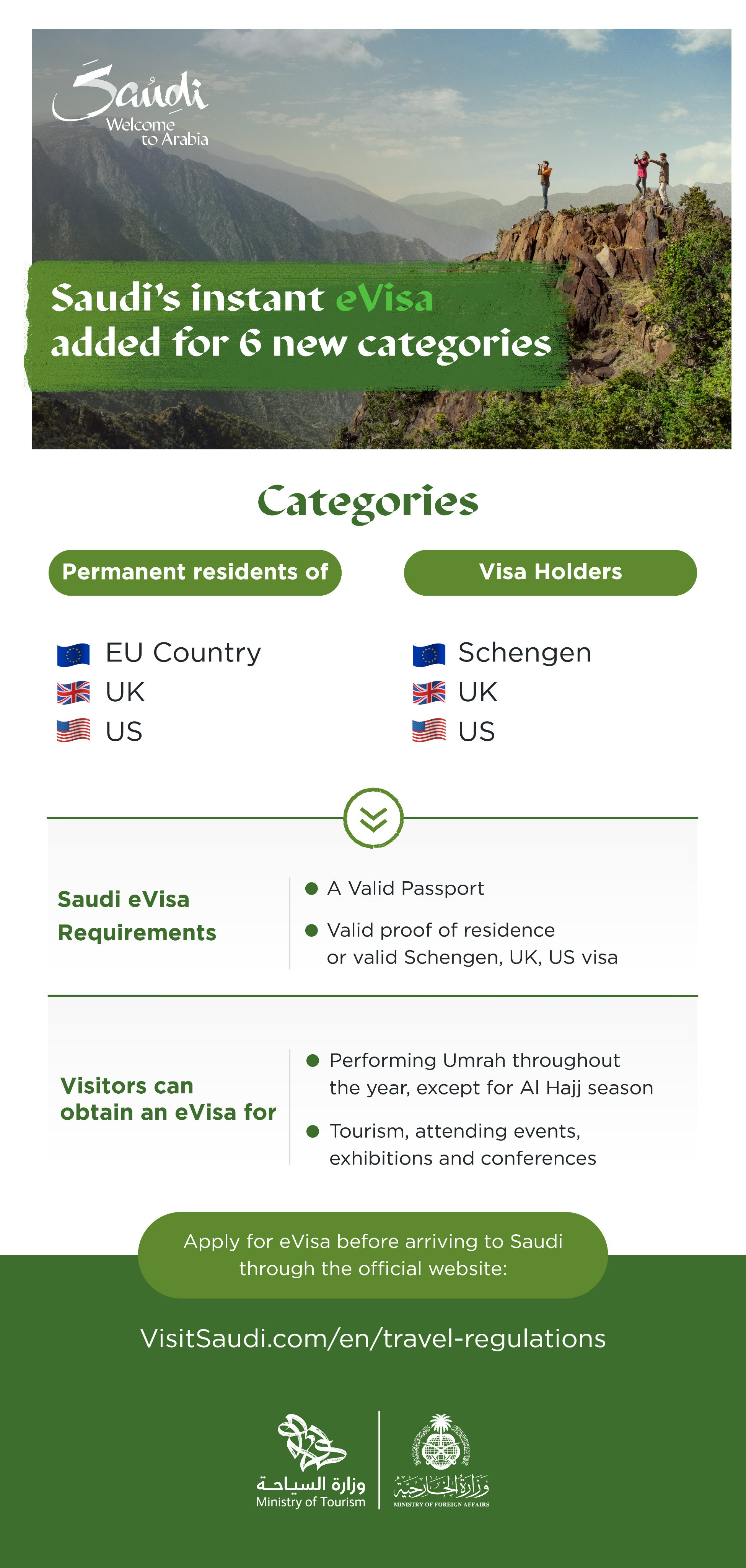 The kingdom has implemented various initiatives in the past year to enhance the overall visitor experience, with the introduction of the new instant e-visa being just one of them. In collaboration with the Pilgrim Experience Program, the Saudi Tourism Authority launched the Nusuk platform in 2022, which serves as the country's official integrated digital platform. Nusuk provides a user-friendly planning gateway for pilgrims and visitors embarking on journeys to Makkah, Madinah, and other destinations in Saudi Arabia.
Moreover, Saudi Arabia had previously extended visa-on-arrival services to individuals holding valid US, UK, and Schengen visas, as well as permanent residents of the UK, US, and any EU country. Additionally, e-visa eligibility was expanded to include Gulf Cooperation Council (GCC) residents.
Earlier this year, Saudi Arabia introduced the Stopover Visa, which is a free-of-charge option specifically designed for passengers traveling on Saudia and flynas airlines. Unlike the previous tourism e-visa, this new visa is available to a larger number of countries and allows visitors to stay in the kingdom for a duration of up to 96 hours.
News Source: Gulf Business