Saudi citizens can now invite their Muslim friends from abroad to perform Umrah in the Kingdom on a "personal visit visa."
These visas can be obtained online and are available as either single entry or multiple entry. Besides performing Umrah at the Grand Mosque in Makkah and visiting the Prophet's Mosque in Madinah, visitors can explore various tourist destinations in Saudi Arabia.
Applications for a personal visit visa can be made through the visa platform of the Saudi Ministry of Foreign Affairs. The single-entry visa is valid for 90 days, while the multiple-entry visa is valid for one year, with each visit allowing a stay of up to 90 days.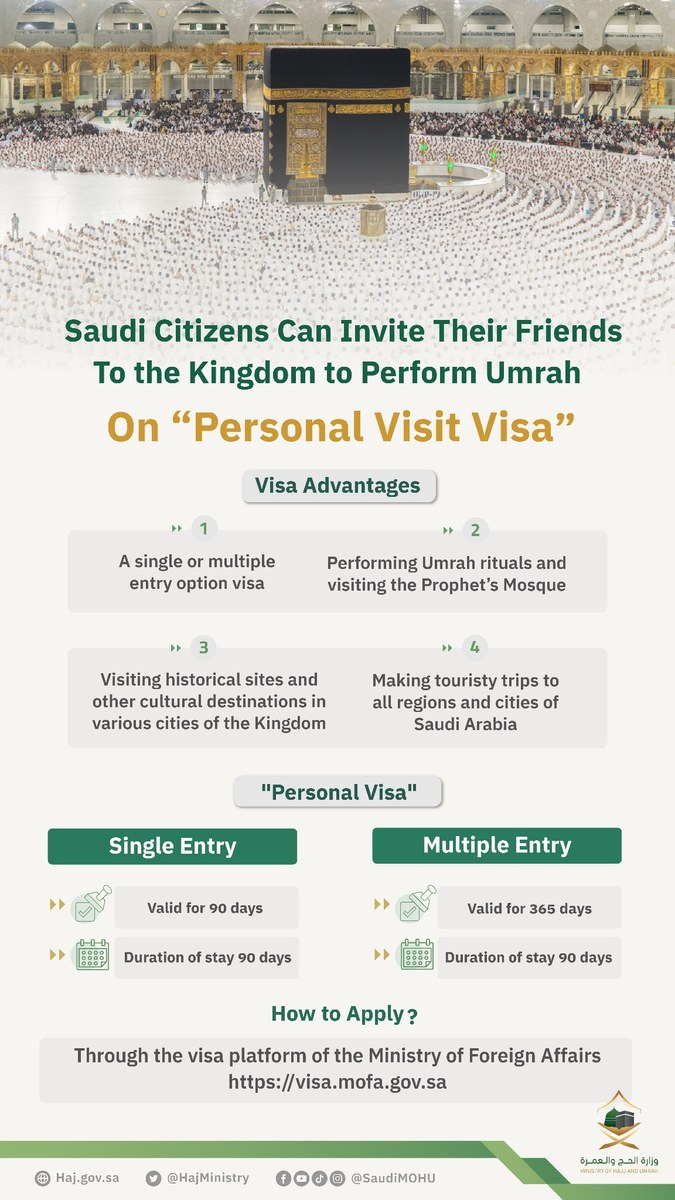 The Presidency of the Two Holy Mosques announced its readiness to welcome the first worshippers for this year's Umrah season. The Umrah pilgrimage commences a few weeks after Hajj to allow Hajj pilgrims to return home and avoid congestion in holy places and airports.
As part of the Saudi Vision 2030 strategic plan initiated in 2016, Saudi Arabia has been opening its historical sites and cultural destinations to boost its tourism industry. The plan aims to reduce the country's reliance on oil exports and diversify the economy by exploring new industries and sectors.
Tourism is a crucial element of the strategy, with the Kingdom setting a target of attracting 100 million visitors by 2030. The tourism industry is expected to create over a million jobs for the growing workforce and generate substantial revenues for the economy.
Additionally, there are plans to significantly increase spiritual tourism in the holy cities of Makkah and Madinah, with the number of pilgrims expected to reach 30 million by 2030.
News Source: Arab News