Get ready for an exciting month of September!
Keep an eye on these spectacular events taking place in Dubai this September so, that you don't miss out on the fun and book your tickets in advance.
1. Pinnoy Piyesta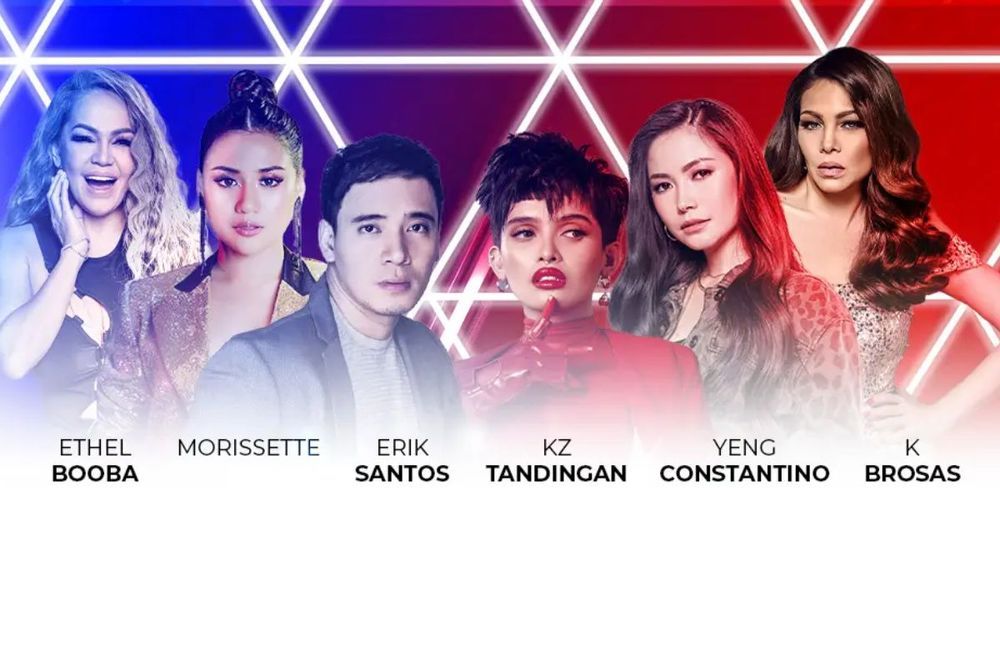 Dubai will transform into one giant 'Pinoy Piyesta' with this music and comedy festival that will celebrate what Filipinos are best known for – their people, music, and culture. Singing sensations that have taken the Philippines to global stages will bring the concert to life these include- Asia's Soul Supreme KZ Tandingan, singer-songwriter Morisette, pop rock sensation Yeng Constantino and OPM hitmaker Erik Santos. K Brosas and Ethel Booba who are also known for their singing and acting, will add their unique and hilarious flair to the night by making you laugh with their rib-ticking comical routines. So, get ready for a night of melodious and head-bobbing tunes, comedic routines that will leave you feeling entertained and satisfied.
Venue: Coca-Cola Arena, City Walk
Date: 2nd September
Timings: Doors open at 7pm.
Ticket Price: AED 150 | Buy your tickets here
2. Jo Koy- Funny is Funny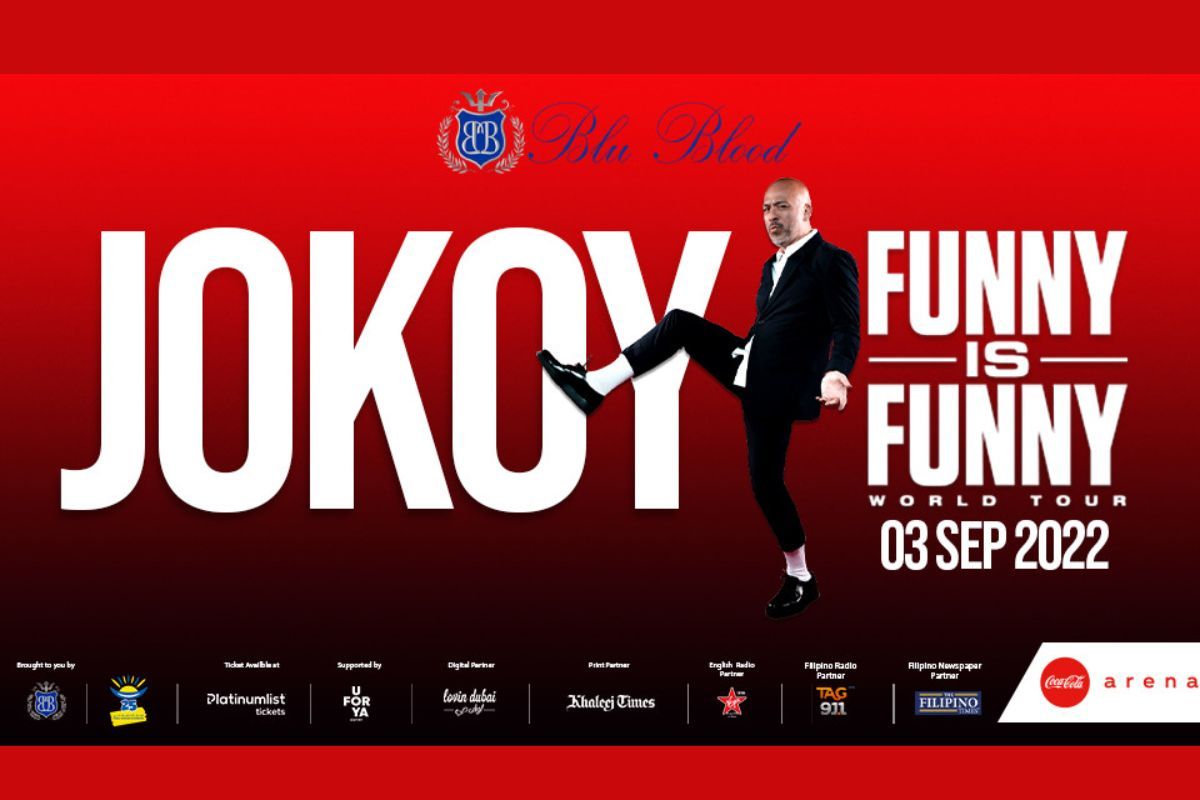 Laugh Out loud with Jo Koy a Filipino-American comedian that will bring unlimited jokes for you to laugh your heart out. Watch him perform his amusing performance before it airs on Netflix. This talented comic has made various appearances on popular Tv Shows like Chelsea Lately, The Tonight Show Starring Jimmy Fallon, @midnight with Chris Hardwick, Jimmy Kimmel Live! and many more. He has sold out various shows across the world with his unique style, hilarious observations and storytelling. Get ready for a night filled with hilarious insights of his daily life which will make you burst out laughing.
Venue: Coca Cola Arena, City Walk, Dubai
Date: 3rd September
Timings: Doors Open 7:30PM/Show Starts at 09:00 PM
Ticket Price: AED 280 | Get your tickets here
3. The Big Night Out Festival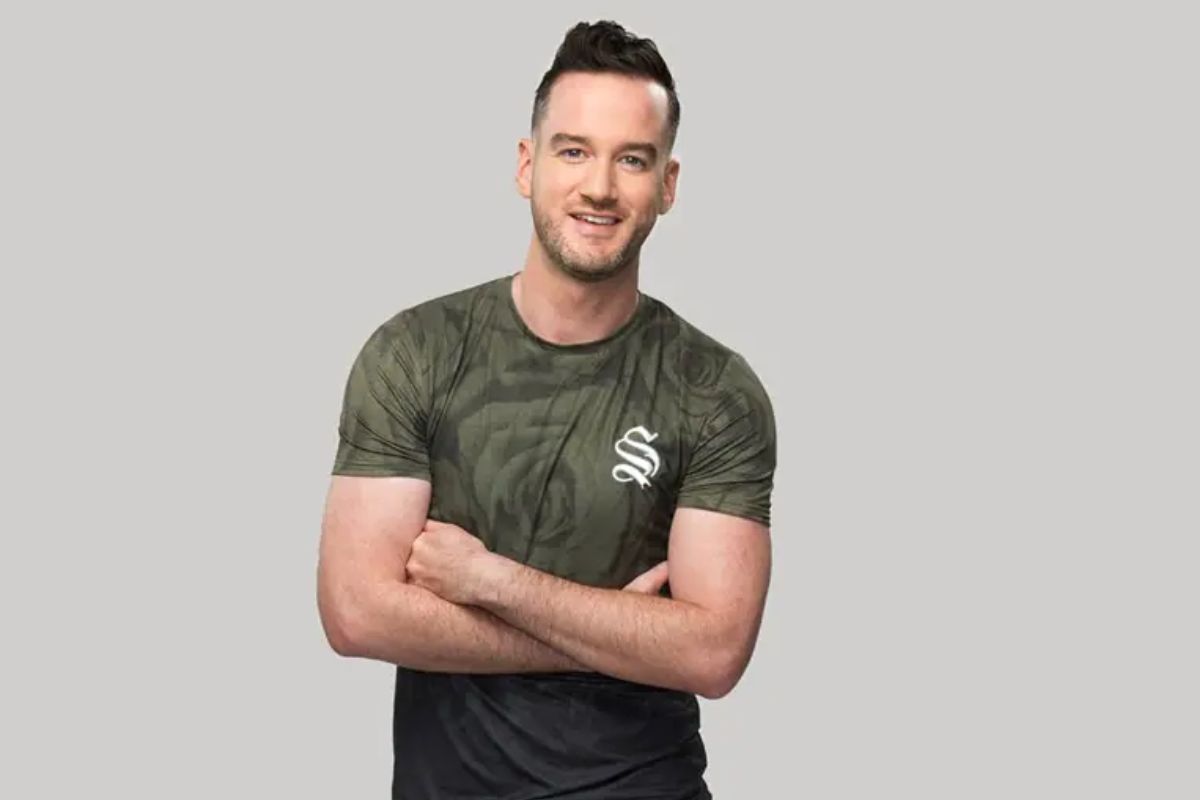 Have a weekend filled with laughter where comedy meets music and entertainment at The Big Night Out Festival. Award-winning international comics Danny O'Brien, Elena Gabrielle and Karl Spain will be bringing the house down with their hilarious antics and unique humour making it a night you can't miss. You will not have even a second to pause between chuckles with O'Brien's high-energy anecdotes, Gabrielle's witty quips and Spain's funny one-liners. After the stand-up comedy event, Dubai92's DJ Jono Hayes will take spin chart-topping tunes that will keep you moving all night.
Venue: The Baggot, McGettingan's JLT
Date: 9th – 10th September
Timings: 07:30 pm
Ticket Price: from AED 100 | Buy your tickets here
4. Global Gujrat Mahotsav Launch Event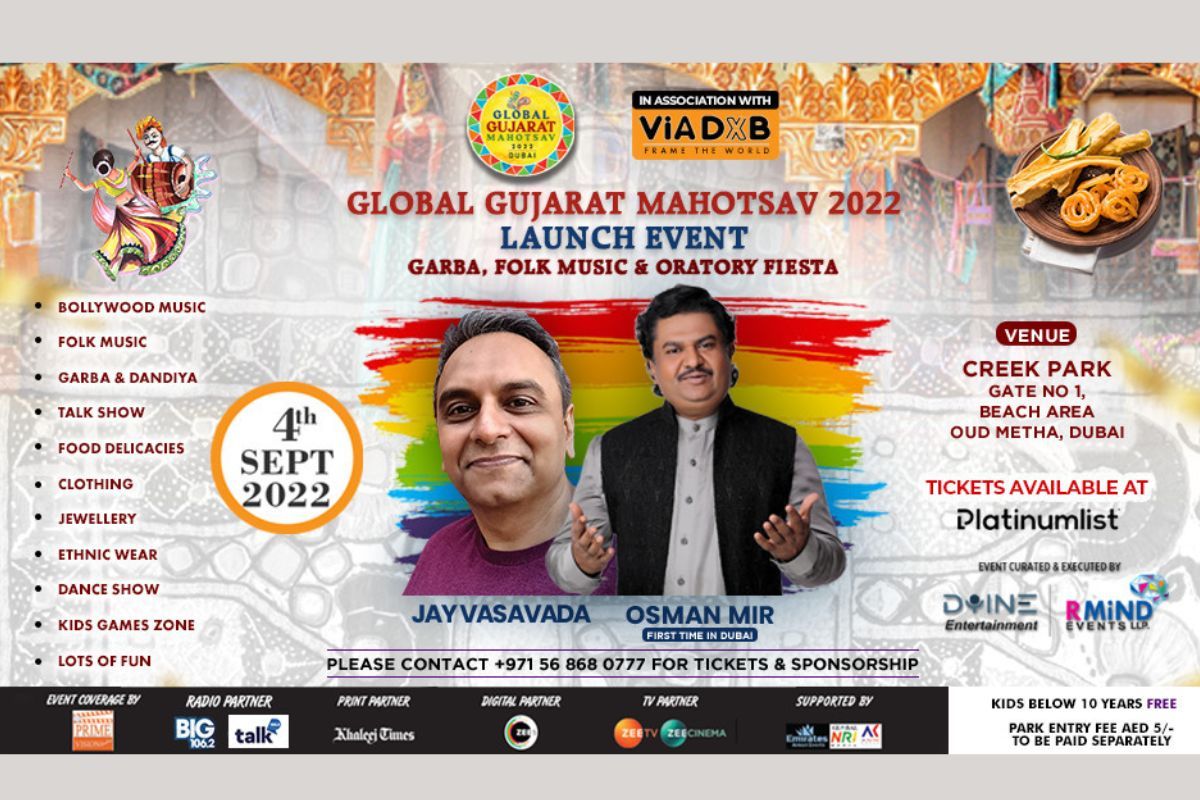 Immerse yourself in the rich Gujrati culture and heritage. With this fun Garba, Folk music and Oratory fiesta like no other. There are two special appearances including - Osman Mir a renowned folk singer that has given his voice in many regional and Bollywood songs. His melodious voice has got him millions of fans across the world. And Jay Vasavada who is astute orator writer and columnist. His proficiency across a vast number of topics and his witty humour makes him special and a favorite of people. You can expect many exciting things at this event like Garba &Dandiya, Dance shows, kids game zone, food stalls, clothing stalls and jewelry stalls. So, there is something for everyone in the family and you can guarantee to enjoy yourselves to the fullest.
Venue: Creek Park, Gate No 1, Beach Area,
Date: 4th September
Timings: 18:00pm
Ticket Price: AED 30 + AED 5 Park fee | Buy your tickets here
5. Sonu Nigam Live in Dubai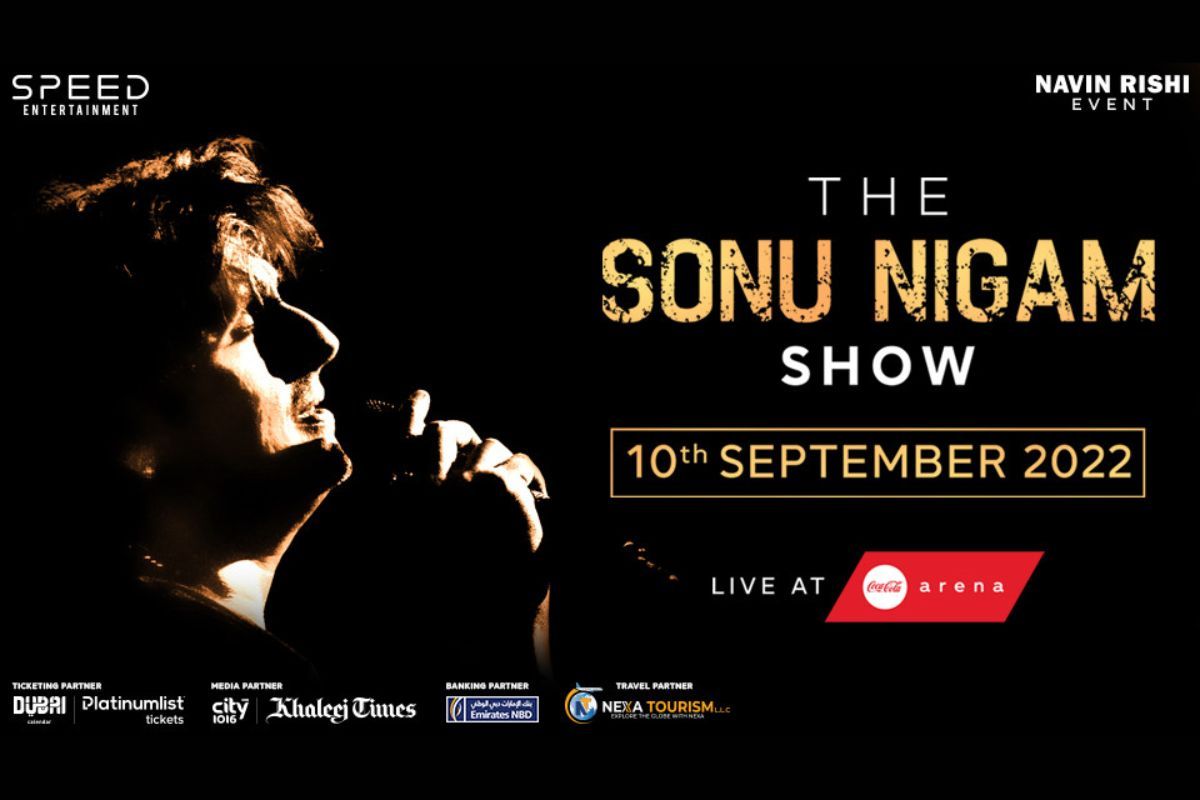 Enjoy a night of musical melody with the man who has a number of voices Sonu Nigam. He's an Indian singer who has sung various popular 2000s era songs which were a favorite of many Indian millennials growing up. This Padma Shri award winner will belt out his all-time fan favorites this September. He has recorded a various type of songs throughout his career from romantic ballads, patriotic anthems, ghazals and devotional songs. Get yourself swept away into a world of nostalgia as Nigam sings his most popular songs like 'Kal Ho Na Ho', 'Main Agar Kahoon', 'Tumhi Dekho Na', 'Tumse Milke Dil Ka', 'Suraj Hua Matham', 'Abhi Mujh Main Kahin', 'Main Hoon Na' and so many more. Don't miss out on this golden chance to see Sonu Nigam live and have the best night hearing him sing some of his most popular songs. Hurry up and book your tickets soon.
Venue: Coca Cola Arena, City Walk, Dubai
Date: 10th September
Timings: Show Starts at 9:00 PM
Ticket Price: AED 325 | Get your tickets here
6. The Self-Drive Laughter Factory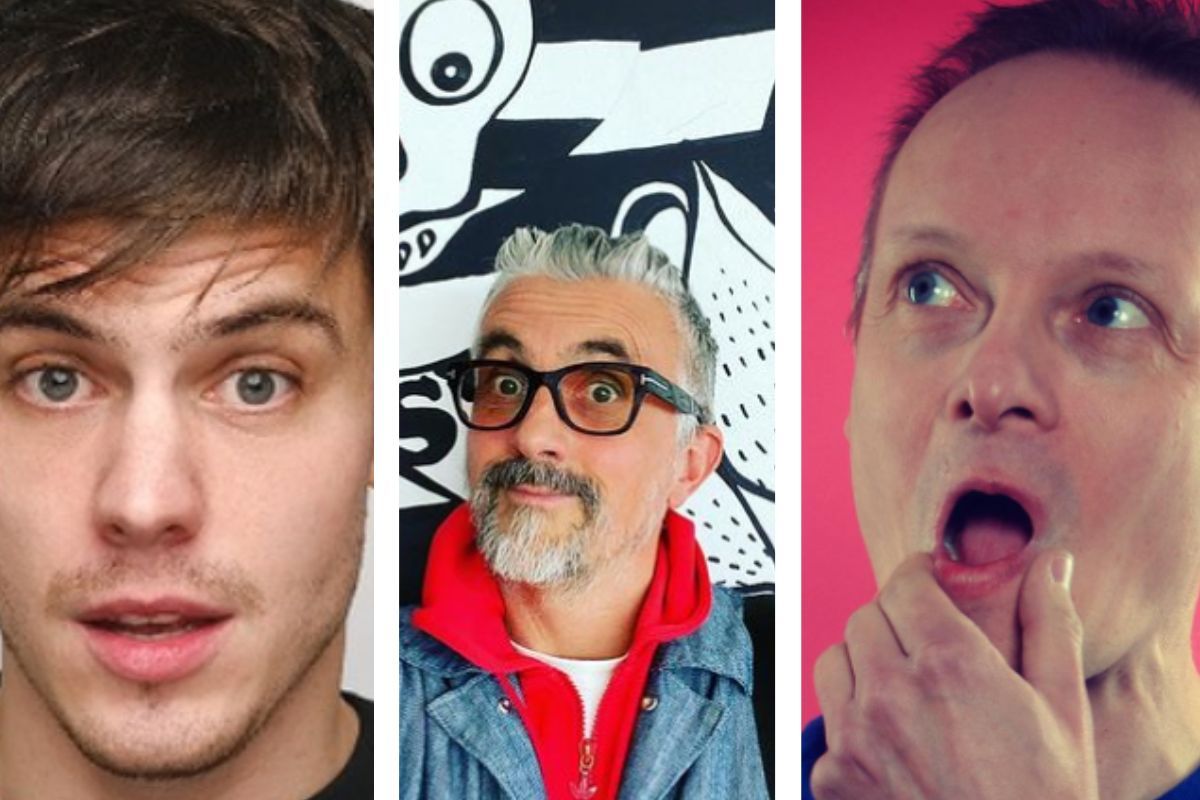 Get ready to laugh like you've never before as Markus Birdman, Stephen Grant and Ross Smith get ready to impress you with their hilarious comedy. You won't be able to keep a straight face for a second as the entire night will be filled with hilarious and rib-ticking comedy. Grant's infectious laughter which is always a part of his storytelling sets will make you laugh along with him. Birdman's witty style of delivering topical jokes will make you laugh before you have even heard the complete joke. And Smith's cleaver wordplay will give you plenty of reasons to keep smiling the entire night. So, end your day on a funny note with UAE's longest running comedy night that will definitely tickle your funny bone.
Venue: Movenpick Hotel Jumeirah Beach, Dubai
Date: 16th and 17th September
Timings: 08:30 pm
Ticket Price: AED 160 | Book your tickets here
7. Satinder Singh Live in Dubai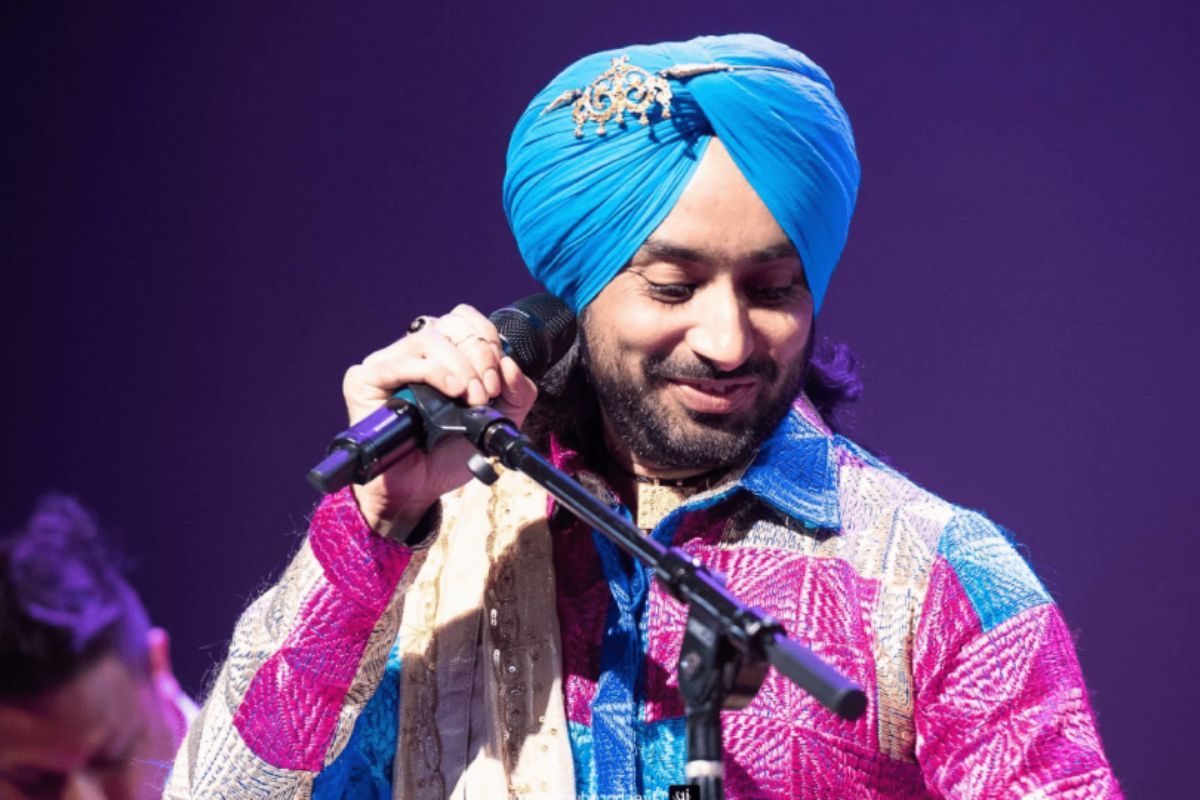 Watch the famous Satinder Pal Singh, popularly known as Satinder Sartaaj, an Indian singer, songwriter, actor and poet of Punjabi language films and songs in Dubai. He gained fame with his song "Udaarian". Since then, he has performed across the world. Watch him sing some of his popular songs including 'Sajjan Raazi', 'Kamaal Ho Gea', 'Masoomiat', 'Aarti', 'Tere Vaastey', 'Jalsa', 'Zikr Tera' and many more. He made his acting debut in 2017 with the film 'The Black Price' as Maharaja Duldeep Singh. Get ready for a night of impeccable music that you'll have a blast to. Book your tickets fast to not miss your chance of this incredible night.
Venue: The Agenda, Dubai
Date: 17th September
Timings: 08:00 pm
Ticket Price: AED 100 | Get your tickets here
8. Sorabh Pant live in Dubai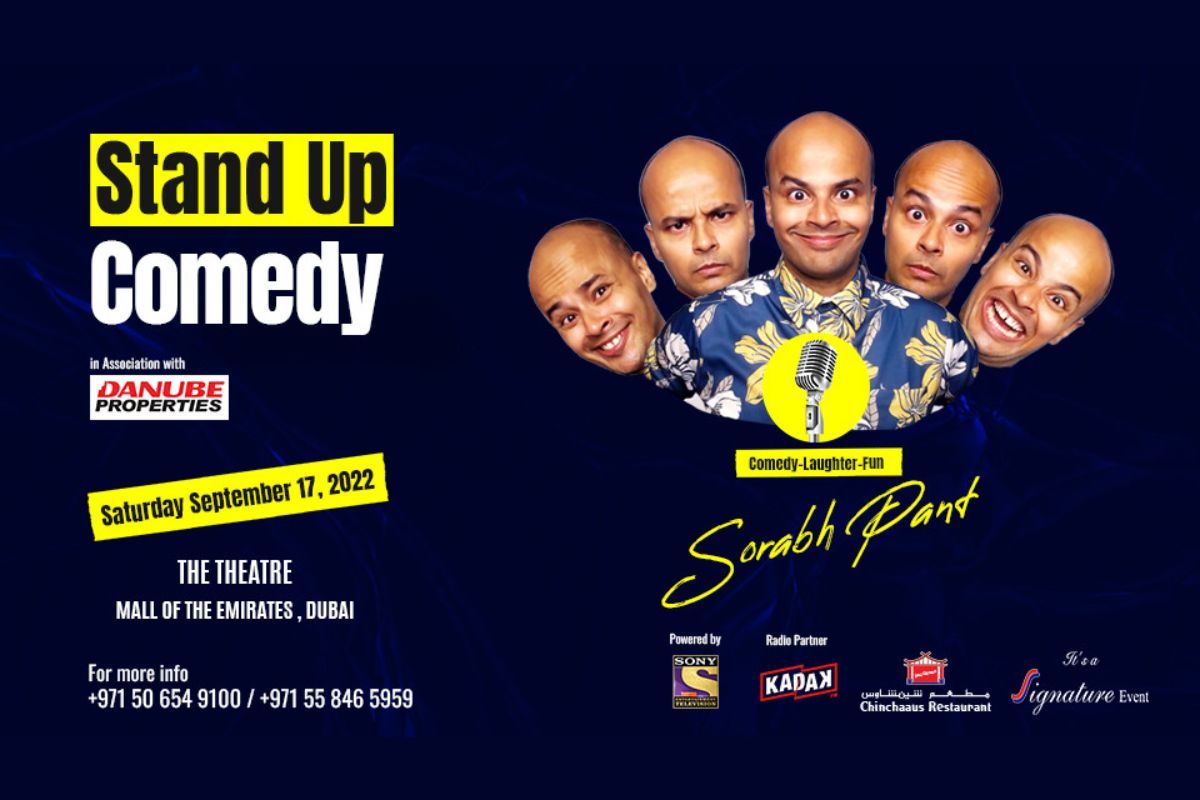 Sorabh Pant is one of India's leading comedians who is described by Wayne Brady as "the second most brilliant Indian comedian I've seen, after Russell Peters. He has done over 1000 shows in 60 cities across 15 countries, as well as 300+ corporate shows. This witty comic has even opened for international popular comedians like Rob Schneider, Wayne Brady and has TV show on Pogo, Star World, CNBC and ET Now. He also founded the very popular East India Comedy, which is India's funniest comedy company and has up to 115 million views on YouTube. Get ready for a night of hilarious jokes, witty humour and amusing punchlines that will make you laugh till you can't. Book your tickets now to avail an exciting early bird offer.
Venue: The Theatre - Mall of the Emirates, Dubai
Date: 17th September
Timings: Doors Open 8:30 PM / Show Starts 9 PM
Ticket Price: AED 72 (early bird offer) | Buy your tickets here
9. The King of Pop Tribute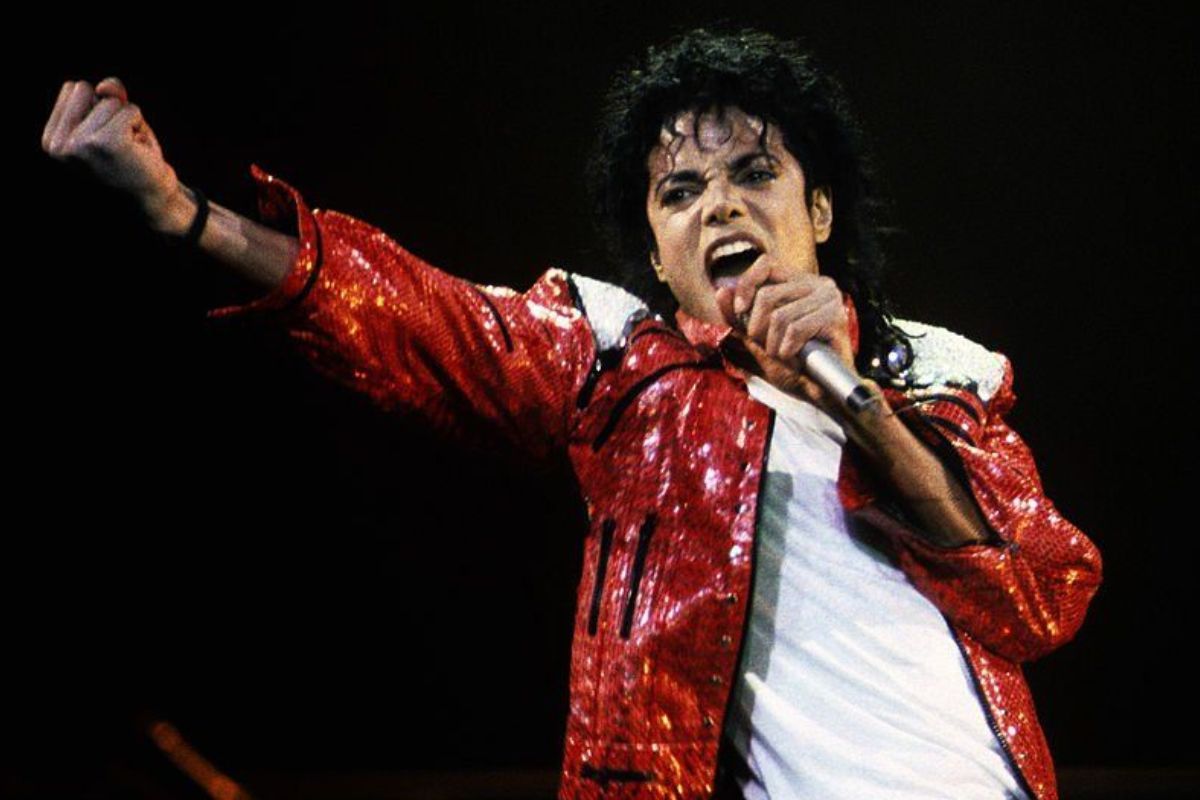 Salute Michael Jackson's legacy with this fantastic tribute show at the Dubai opera this September. Singer Rodrigo Teaser will be treating you to with a performance of the pop legend's top tracks like 'Billie Jean', 'Thriller', 'Beat It' and more, so don't miss out. You can marvel at the intricate dance routines that are choreographed by Lavelle Smith, who is known to have directed Jackson for many years. Witness the artist's moonwalk and other iconic moves during this special concert that is sure to spark nostalgia. Book your tickets today for this entertaining and nostalgic event.
Venue: Dubai Opera, Dubai
Date: 23rd – 24th September
Timings: 08:00 pm
Ticket Price: AED 600 |Get your tickets here
10.  Gaurav Kapoor Live in Dubai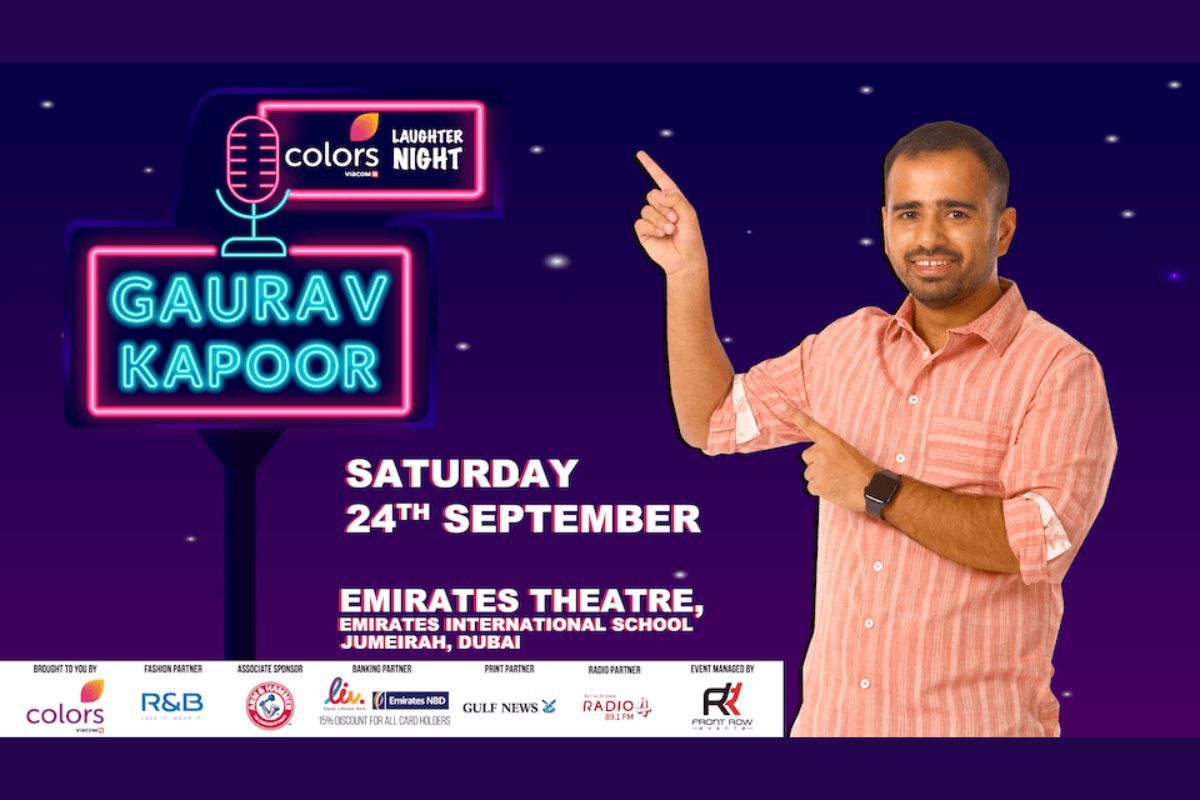 Gaurav Kapoor is one of the funniest Indian stand-up comics in the world. He is coming to Dubai to impress you with his razor-sharp wit and candid humor. His shows are a mix of observational humor and anecdotes where he narrates stories from corporate offices, festivals, 90's era, food, travel, and his marriage. The stories he narrates are so funny you can't tell if they're real or not. Join Gaurav as he makes fun of some super-relatable observations and situations from all walks of life. Emirates NBD and Liv Card holders can enjoy a 15% off on their tickets using the promo code ENBD15 or LIV15. A night of fun and laughter you can miss!
Venue: Emirates International School, Jumeirah, Dubai
Date: 24th September
Timings: 08:00 pm
Ticket Price: AED 75 | Buy your tickets here
11. Dholi Taro Dandiya Night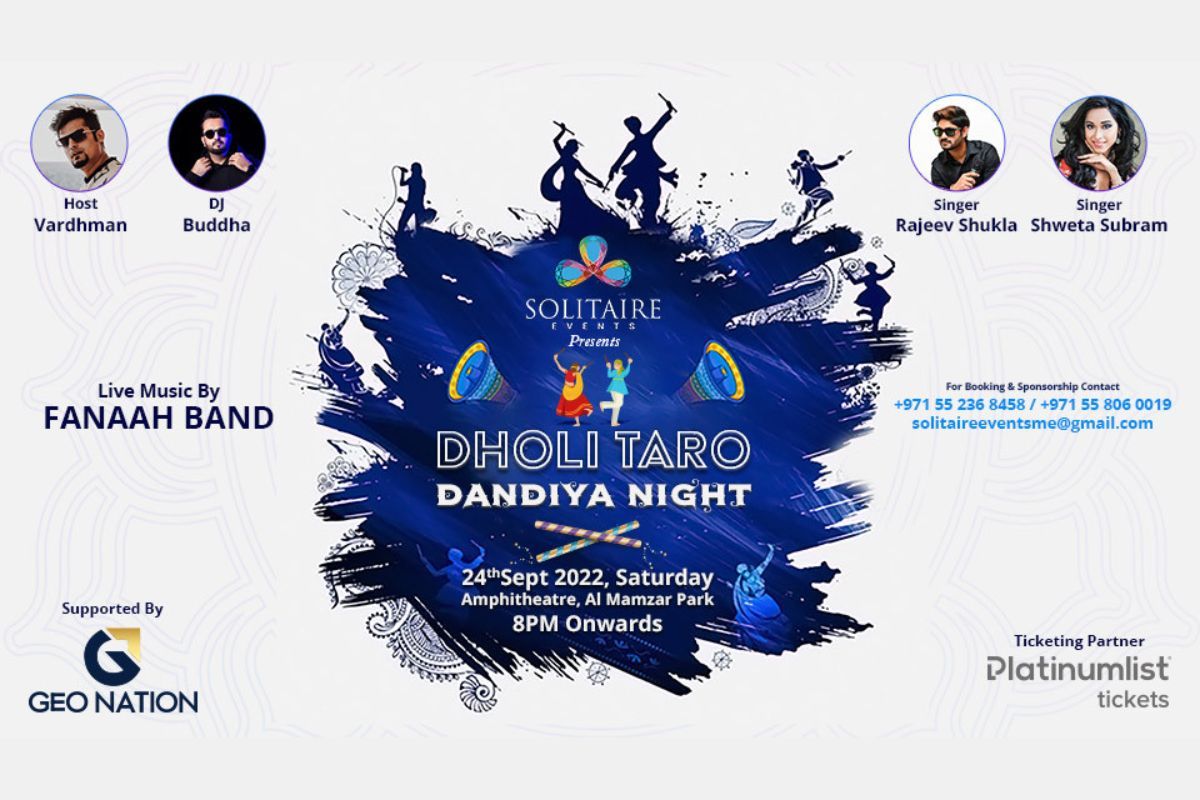 Solitaire Events presents a wholesome night of family musical entertainment with the "Dholi Taro Dandiya Night 2022" Get ready to play and dance on the live music by Fannah band along with renowned and talented singers like Rajeev Shukla and Shweta Shubham who got fame from the famous song Jalebi. There is also the International famous DJ Buddha who will perform non-stop Bollywood remixes. This event will be hosted by RJ Vardhman and will be a phenomenal night filled with rocking Bollywood music, traditional dandiya, garba tunes and delicious delicacies from a variety of Multi cuisine food stalls. You can also win lots of prizes as best dancers, Traditional dress and many more. This is one fun night you don't want to miss.
Venue: Amphitheatre, Mamzar Park, Dubai
Date: 24thSeptember
Timings: 08:00 pm
Ticket Price: AED 35  | Book your tickets here
12. Fontana Circus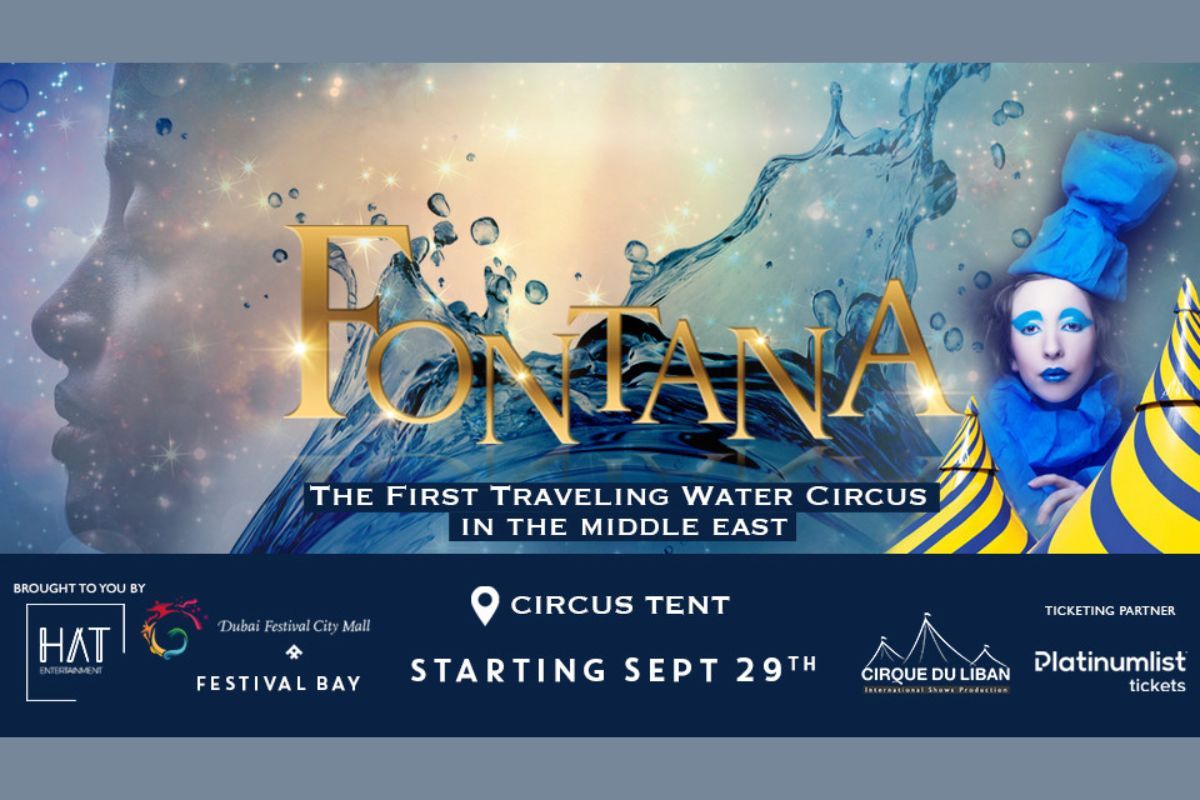 Be amazed during this acclaimed aqua theatre experience. The Fontana Circus is a breakthrough water experience with a world class musical dancing fountain along with spectacular aerialists and incredible circus thrills for the entire family. This internationally renowned Circus is making its debut in Dubai from 29 September to 9 October at the Dubai Festival City Mall. It is the first travelling water circus in the Middle East. From unbelievable acrobatics to live entertainment and aerial thrills, this captivating production has it all. Book your tickets now to witness this world-famous program live.
Venue: Dubai Festival City Mall
Date: 29th September
Timings: Doors open 06:00 PM / show starts 07:00 PM
Ticket Price: AED 90 onwards | Get your tickets here
13. 50 Cent Live in Dubai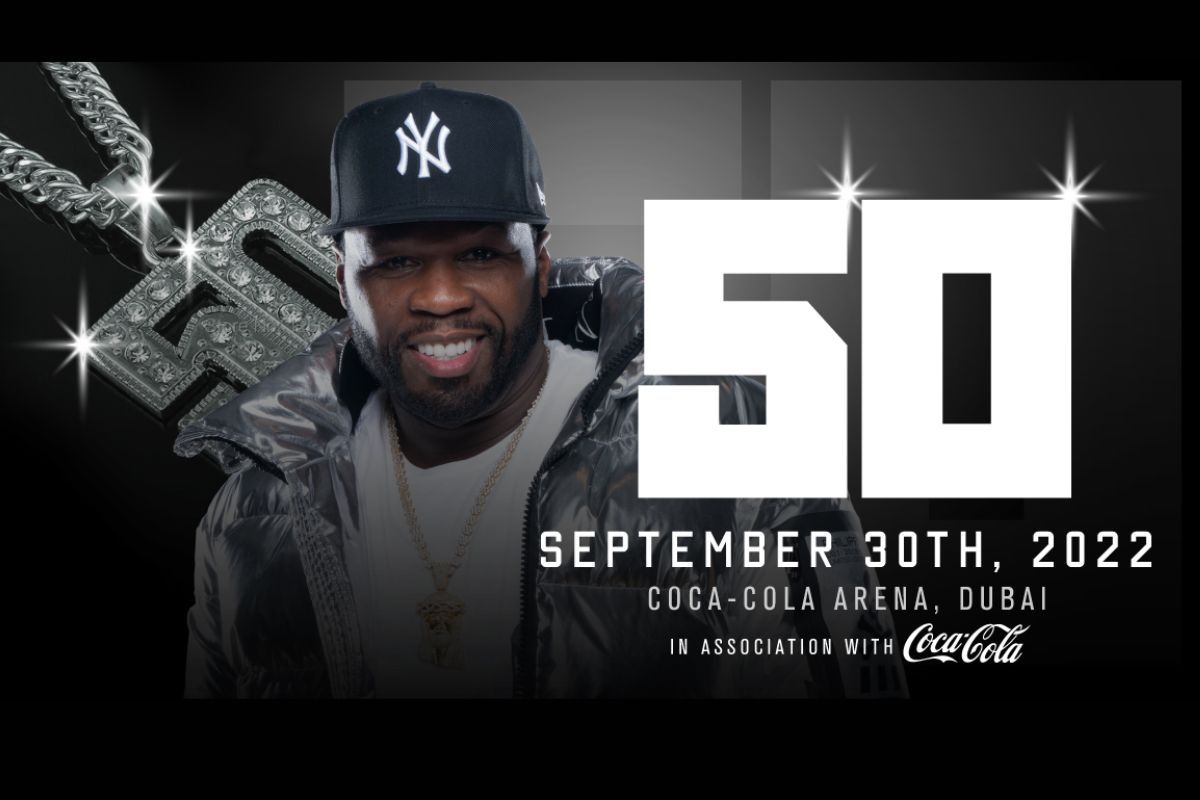 Popular Rap superstar Curtis James Jackson III aka "50 Cent" is bringing his Green Light Gang World Tour to Dubai for one night only. He is known for transforming the hip hop genre, which is why the chance to see him live shouldn't be missed. This popular rap singer will be lighting up the stage with his signature lyrics, presenting fan-favorite anthems like 'In Da Club' from the album that brought him to fame, 'Get Rich Or Die Tryin' alongside other hits. It's sure going to one incredible night so don't miss out and book your tickets now!
Venue: Coca Cola Arena, City Walk, Dubai
Date: 30th September
Timings: 08:00pm
Ticket Price: AED 225 | Book your tickets here