Nothing is better than relaxing on a beach and letting the cool waves of the sea help you unwind. Dubai has a gorgeous collection of beaches that are perfect for enjoying the sun, sand, and the sea. Whether you like to take a dip in the cool water, curl up with a book on the beachside or lay down on the silky sand and work on your tan, Beaches are always relaxing to your soul and an overall enjoyable experience. With over 1,000 km of shoreline across Dubai's beaches, there is enough sand and sea for everyone. The beaches in Dubai are buzzing hives of activity that is accessible all year round.
So, grab your swimsuit, lather on your sunscreen, and make the most of the coast. Here are the best beaches in Dubai.
1. Mamzar Beach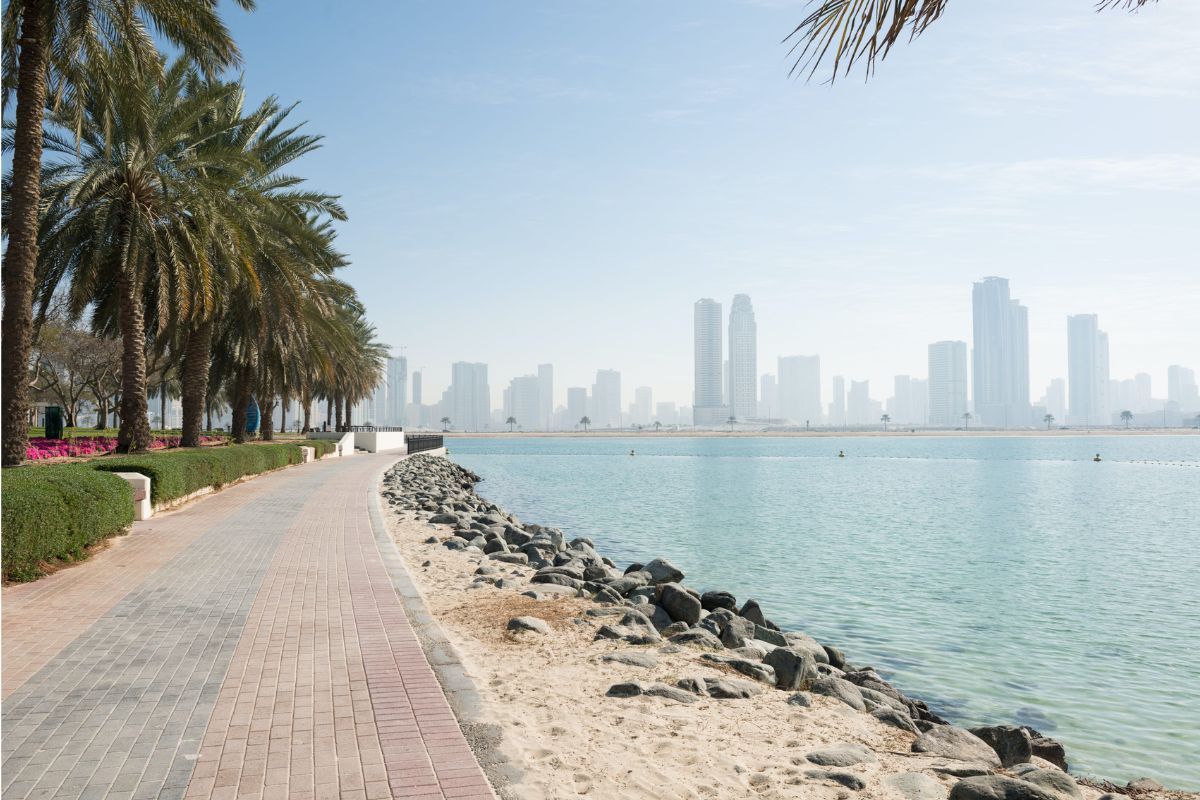 Mamzar Beach is a hidden gem that is located near the Dubai-Sharjah border. It has an open beach section part of which goes through the Mamzar Beach Park. You'll find not only one beach but four with pearlescent sand and clear blue waters that are just stunning. Besides swimming you can also run or cycle on the dedicated tracks or just take a walk along the shoreline. You'll also find large grassy areas, a swimming pool, multiple barbeque areas and a skate park. There are many cafes and kiosks for you to indulge into some yummy snacks or some ice cream to cool off. Spread over 106 hectares, Al Mamzar beach is the perfect place to enjoy your time relaxing at the beachside and even have a picnic with your friends and family on the weekends. It is the perfect getaway for everyone.
Location: Al Khaleej Street, Al Mamzar
Timings: 08:00 am – 10:00 am
Ticket Price: AED 5
2. The Beach JBR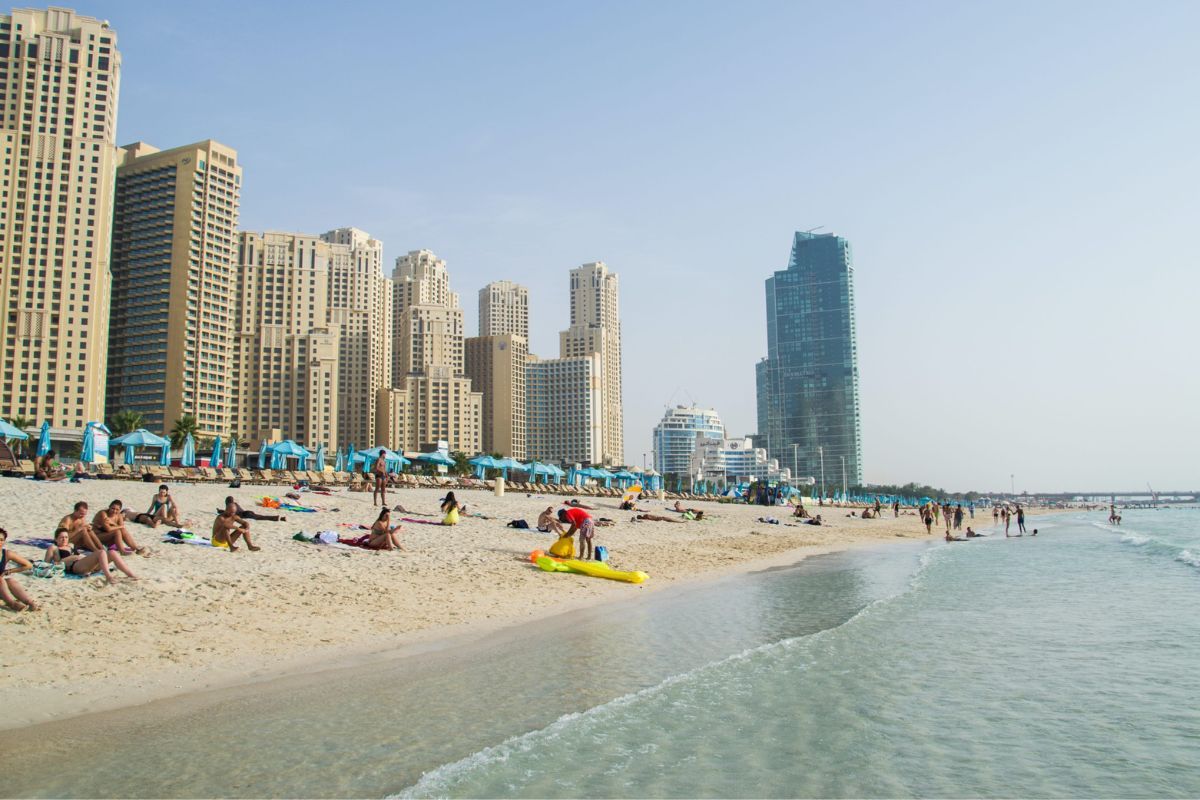 The Beach JBR is a buzzing hive of activity that is lined with sun-soaked cafes and shops. It is located alongside JBR which is a bustling cosmopolitan area with a contemporary Arabian touch. It offers a variety of water sports like waterboarding and parasailing, kids can enjoy rides like the banana boat ride. Besides sparklingly sun-soaked water, The Beach also offers Camel rides, Beach loungers, showers, a 600 m running track, outdoor gym, volleyball court, and food options. You can take in the spectacular views of the Bluewater Island and the Ain Dubai along with the orange hued sky, making it a picturesque view unlike anything you've seen before. The Beach is easily accessible from anywhere in Dubai and you can enjoy your time at the sea with mesmerizing views and a range of restaurants that provide mouth-watering food.
Location: Opposite JBR, Dubai
Timings: Sun-Wed 10:00 am -12:00 am | Thu-Sat- 10:00 am – 01:00 am
Ticket Price: Beach entry is free (water sports are charged)
3. Kite Beach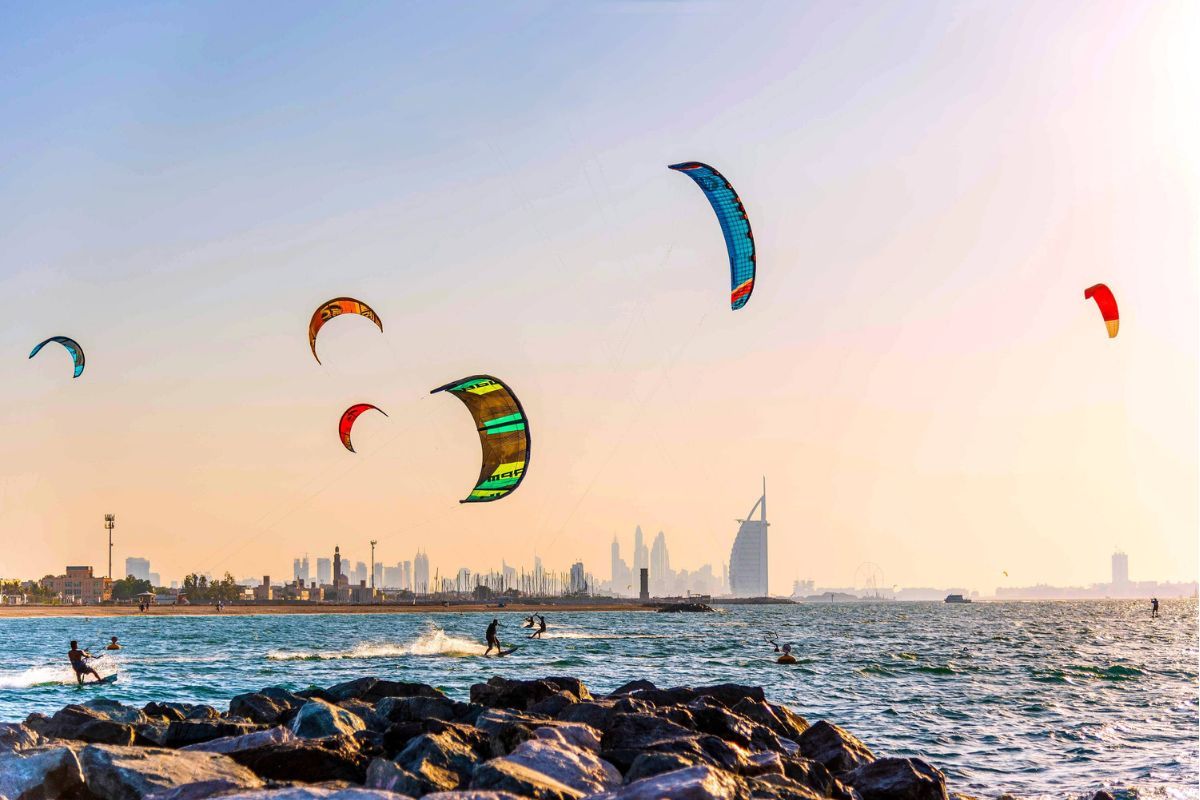 If you can't tell by the name already this is the sportiest beach in Dubai and a favorite among kite surfers. This beach offers spectacular views of the ocean, a quirky collection of food trucks and sun loungers where you can relax and work on your tan. You can also play beach volleyball with friends or try your balance at stand up paddle boarding and kayaking. You can find trendy cafes and gourmet food snacks, a skate park, hanging rope obstacle course, human sling shot experience, long swathes of sand, 14km beach-side running track, an outdoor trampoline and of course kite surfing.  You must try out the homegrown food truck style café Salt which is located near the beachside and serves some of the best beef sliders in Dubai. The kite beach is perfect for soaking up the sun, enjoy various fun activities with beautiful views.
Location: Street 5a, behind Jumeirah Beach Road, Umm Suqeim.
Timings: 10:00 am -10:00 pm
Ticket Price: entrance is free (water activities are charged)
4. La Mer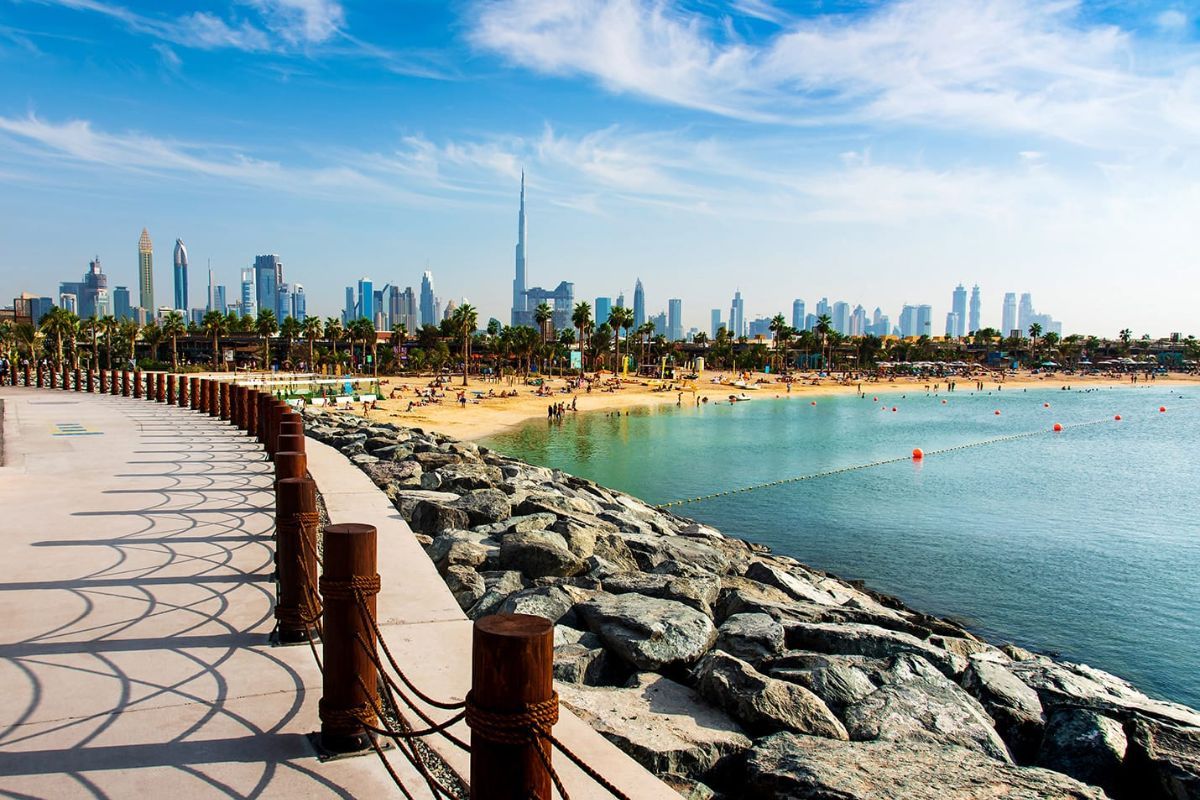 If you're looking for 1.24 million square meters of beach and fun, then La Mer is the place to go! With funky murals, clear waters, and stark white sands, it is a great addition to the urban beaches in Dubai. It has four important zones- The Beach, The Entertainment Hub, The North Island, and The South Island. It promises you all things sun, sand and fun with its wide-open walkaways that are lined with tree boulevards, cabanas, and graffiti. It is the perfect spot for relaxing on a day out with friends and family. La Mer also offers trendy coastal dining and shopping options and is also home to fast food spots and gourmet ice cream trucks, high end restaurants, a retro cinema, inflatable playground, and a water park. You can visit lamer for some fun time at the beach, indulge into some of the finest dining options, take a walk on the beachside or just sit around and enjoy the surroundings.
Location: 45 2 A St, Jumeirah 1, Dubai
Timings: Sun-Thu 10:00 am - 11:00 pm | Fri-Sat 10:00 - to 12:00 am
5. Black Palace Beach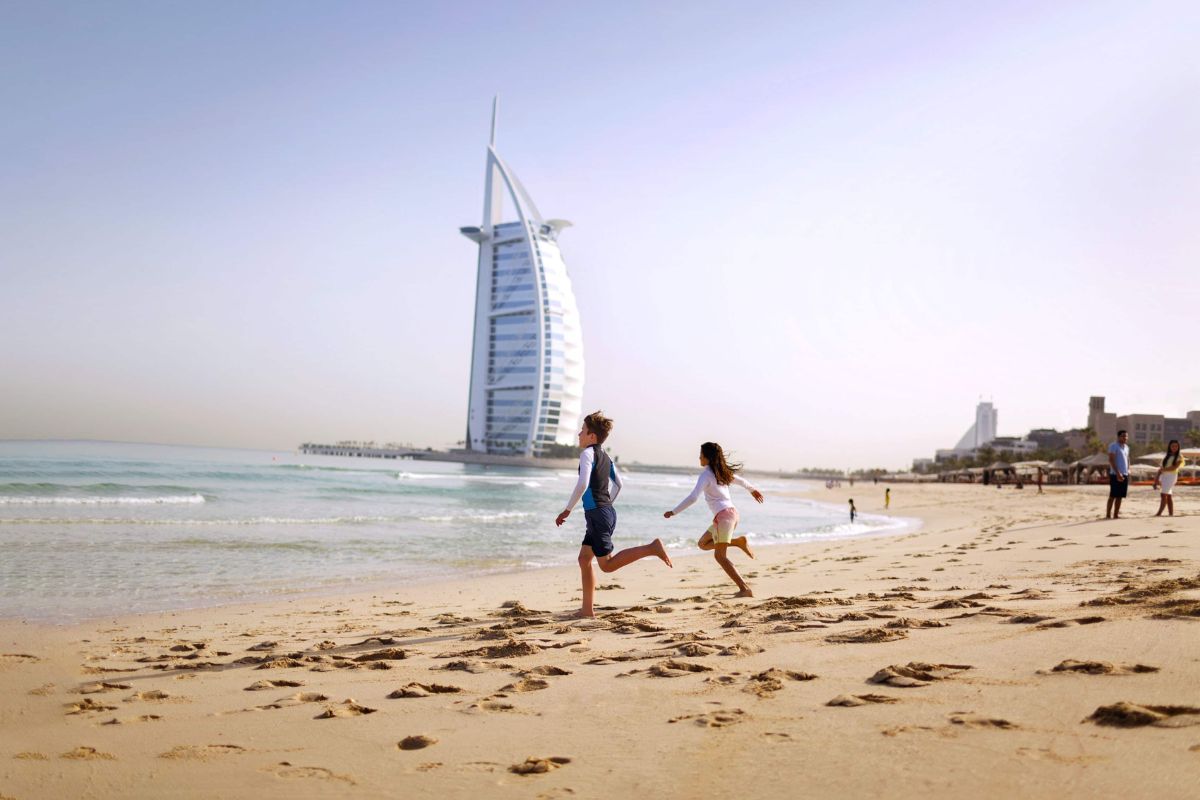 Also known as Al Sufouh Beach or the Secret Beach, it might be difficult to locate as it is located at the pathways between the royal fortresses in Dubai. It is the perfect spot for when you want to escape the crowds while also enjoying magnificent views. It offers the calmest waters and the most stunning sunsets in the city so you can relax, meditate, or take a nap. It is also known for its crystal-clear waters so you might spot some marine life as well. Bring your snorkeling gear for an amazing marine experience. Follow the pathway to discover an untouched shoreline that features views of Palm Jumeriah and Burj Al Arab at a distance. Befitting its Secret beach moniker there are no facilities or restaurants here so make sure you arrive with all the supplies you might need. If you want to breathe in the calming beach air, relax and get away from the city this beach is the perfect spot for you!
Location: Al Sufouh, Dubai
Timings: open 24hrs
6.Palm West Beach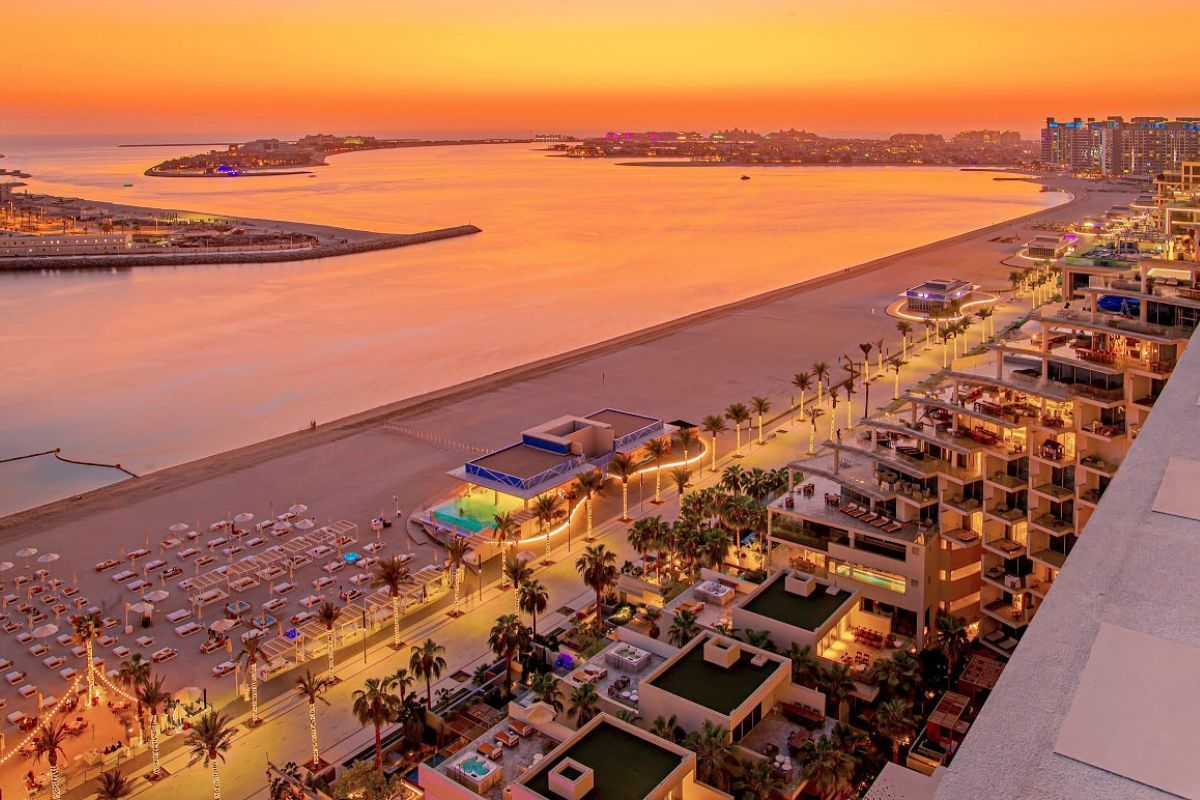 Palm West Beach is another popular beachfront destination in Dubai.  You can take stunning pictures of Dubai's skyline on the beaches' 1.6-kilometre promenade and enjoy a feast with your friends and family at the serval restaurants and cafes it offers. There are countless options for water sports such as kayaking, paddle boarding, surfing, electric hydrofoil surfing, sea bikes, catamarans, and VR diving. You can bring your pets along for a fun day at the beach. Get your daily dose of exercise by walking along the dedicated walking and running trail or build sandcastles against the backdrop of a picture-perfect sunset. If you want to enjoy an amazing time at the beach with remarkable views along with delicious food, then the Palm West beach is the perfect spot for you.
Location: Palm Jumeriah, Dubai
Timings: Mon-Fri 08:00 am- 12:00 am | Sat-Sun 08:00 am - 03:00 am