The business results were driven by a 70% growth in the overall non-food online delivery segment.
Talabat UAE, the region's leading food delivery and q-commerce platform, achieved an order growth of over 37 per cent in 2022 across its portfolio of food, groceries, and other non-food verticals, as well as an increase of more than 28 per cent in its customer base with over 23 per cent new app downloads.
The tech company also announced that over 68 per cent of online order payments were made digitally through its platform last year, reflecting the increased adoption of cashless modes of payment and digital transformation in the UAE.
The business results were driven by a 70 per cent growth in overall non-food online delivery segment, including supermarkets, grocery stores, pharmaceuticals, flower shops and more. talabat Mart (tMart), talabat's q-commerce and dark store concept, which delivers groceries in less than 30 minutes, also witnessed a growth of over 60 per cent in orders, with more than 30 stores strategically located across all seven emirates to meet the growing demand today.
Talabat UAE reported having over 19,000 active restaurants on the platform in 2022 across the seven emirates. Additionally, talabat reported over 400 per cent growth in orders from 10 active talabat cloud kitchens, contributing to talabat's solid results in 2022.
In 2022 alone, riders delivering for talabat received over 250 well-being and road safety trainings in collaboration with government entities across the seven emirates. This is part of the company's continued strategy to support the UAE's government's mission in fostering a road safety culture for all road users, including delivery riders, and enhancing safety and well-being in our communities.
Additionally, talabat launched its first Quick-Commerce-as-a-service (Q-CAAS) concept in the UAE, a delivery-only store operation management solution catering to the increased demand for hyperlocal delivery. This service extends talabat Mart's know-how in dark store management to benefit its retail partners and enhance their operational efficiency and customer experience. The talabat-operated Q-CaaS stores are home to aswaaq Retail, Marks & Spencers' food and Organics Food & Cafe.
Sustainability remains a top priority for the company. In early 2022, talabat UAE became the only founding partner for Dubai Can, a sustainability initiative by Sheikh Hamdan bin Mohammed bin Rashid Al Maktoum, Dubai Crown Prince and Chairman of the Executive Council of Dubai with 20 talabat water refill stations across Dubai.
Through its 20 machines, talabat UAE contributed to 45 per cent of the initiative's overall results in its first year, saving 3 million 500ml plastic single-use bottles and dispensing 1.5 million liters of drinking water.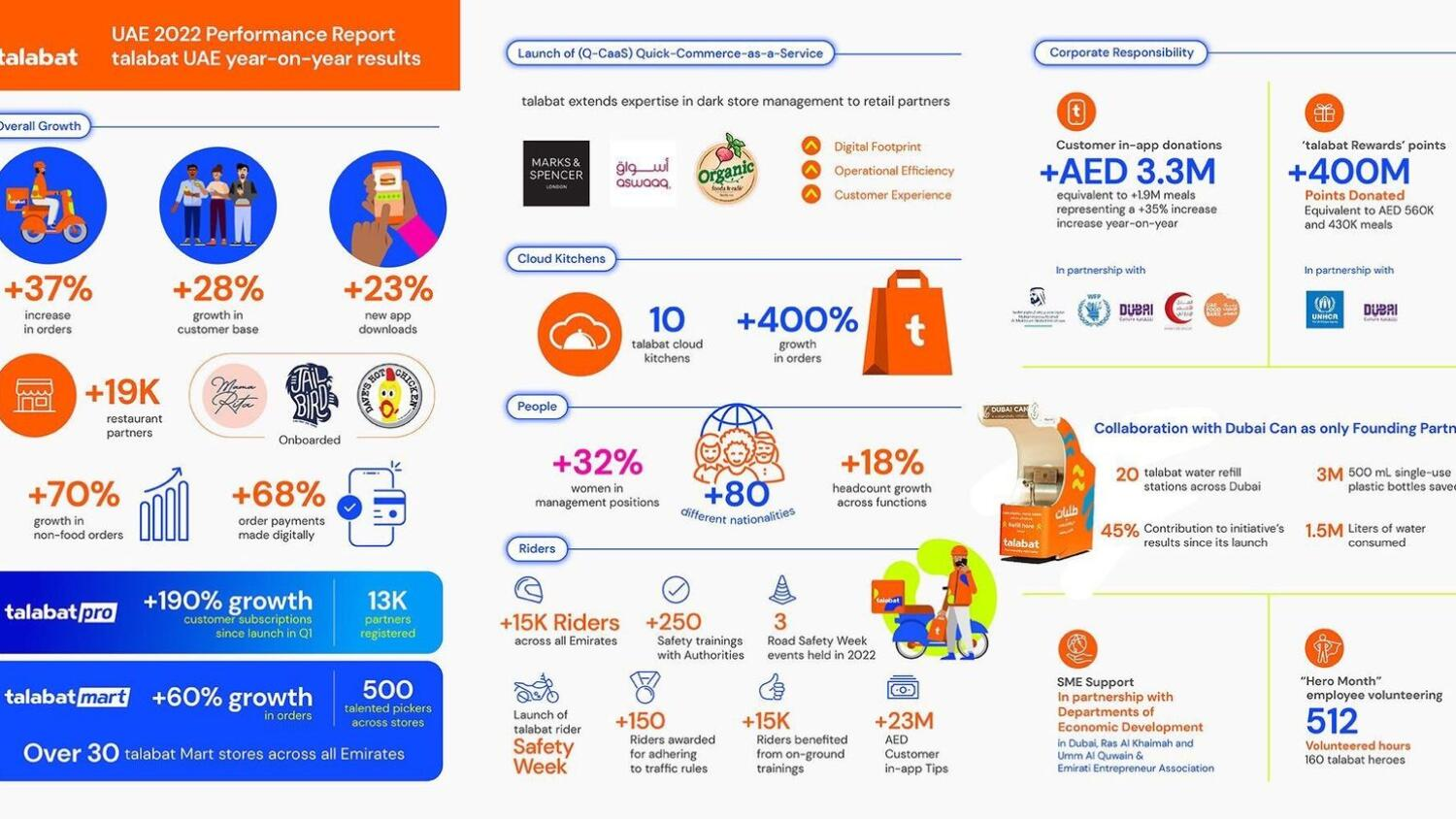 Tatiana Rahal, Managing Director, talabat UAE, commented:
"As a key player on the UAE tech scene, data and innovation play a crucial role in our growth, steering our efforts to improve our offerings and further enhance value for our ecosystem of customers, partners and riders. Being in a country such as the UAE, which is spearheading digital transformation in the region, provides businesses with the advanced infrastructure and fertile ground to flourish. This in turn enables the private sector, including talabat, to contribute to economic growth, as well as create shared value for the communities we operate in. Looking ahead to 2023 and beyond, we are excited to keep introducing new concepts across our operations and making the future of delivery a reality - from talabots to drone deliveries and more."
News Source: Khaleej Times