Pottery is all about the waiting game, from the initial process of moulding the clay into the desired shape to decorating it and then waiting for it to finally be ready. It is a slow and steady process.
For many potters in Dubai, the process of making art from clay is the origin of their fascination with the art just like the talented pottery artists featured below. To them, pottery is a medium to express their style, a method of conveying stories and connecting with people, and creating art inspired by nature's beauty and their own adventures amongst many others.
Min Yoo (@yoosh.studio)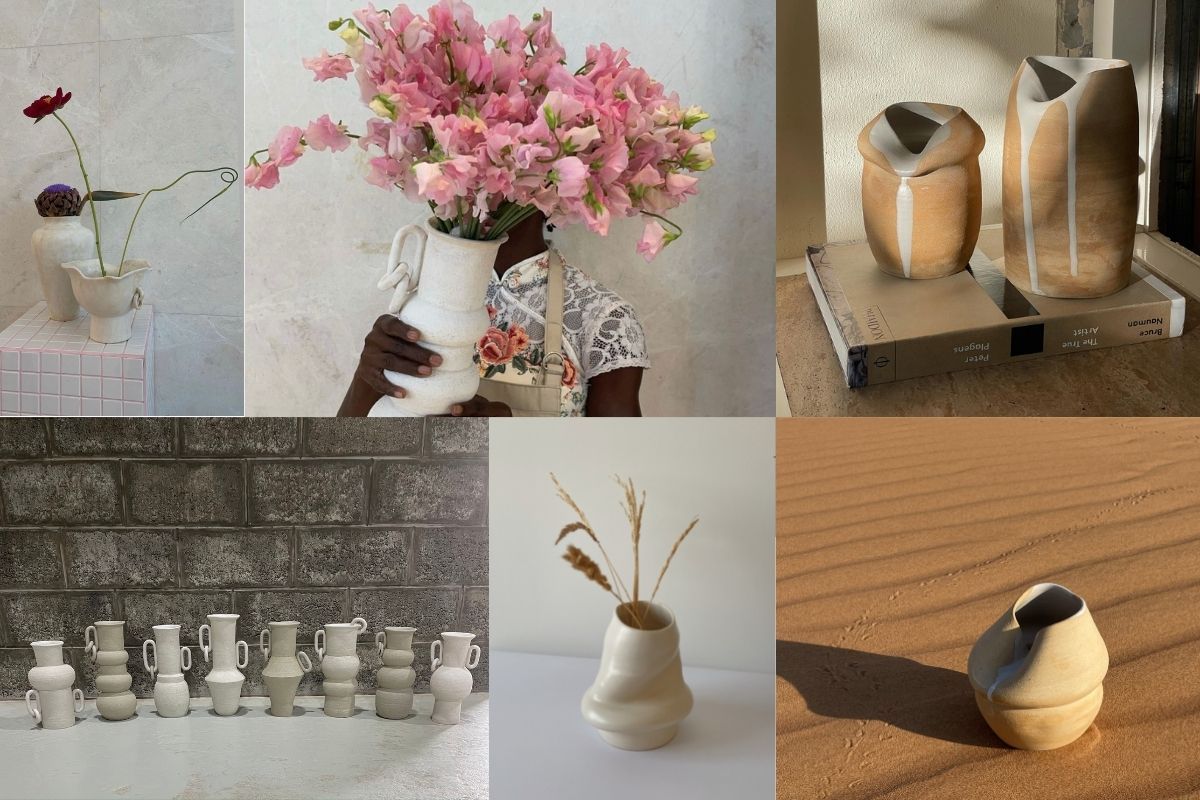 Yoosh is a ceramics brand founded by Min Yoo. Yoosh wants to create objects that can easily be inserted into daily life and provide both joy and a function.

Currently based in Seoul, I keep one foot in Korea and another in Dubai.

I first started with ceramics in 2009 whilst at art school, where I learned how to wheel throw, slip cast and make sculpture. After majoring in Ceramic arts and Craft, I moved to Dubai to work as a flight attendant and travelled the world. These experiences have resulted in my artwork which draw on multiple sources of inspiration. In 2021 I started pottery again, initially as a hobby and I fell in love with it. I am hoping to open my studio later in the year which I am so excited for.

I find inspiration from travel, nature and architecture. My work is mostly minimal with a limited colour palette, which draws attention to the beautiful silhouettes of my pieces.  I work with a variety of clays, from the refined to the coarse. My ceramics are wheel thrown for the most part and subsequently cut and assembled using hand building techniques. Therefore each piece is unique and shows some perfect imperfections. I continually investigating form and shape through my making process.
Instagram: Min Yoo (@yoosh.studio)
Pranoti Joshi Karajgi (@pranotikarajgi)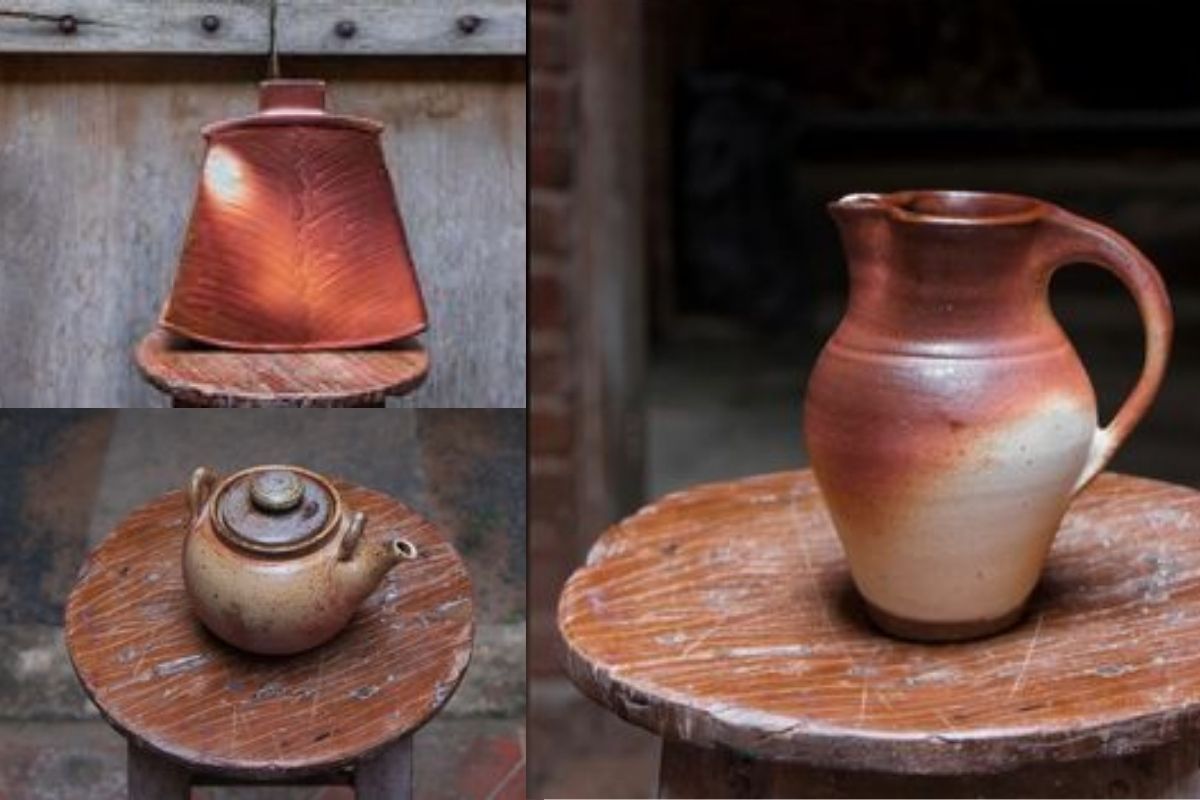 Pranoti Karajgi Ceramics is a clay based studio that specializes in handmade and wheel thrown pottery. The studio focuses on creation of custom ceramic sculptures and utilitarian pottery for clients and off the shelf use. It also welcomes newcomers and professional potters to pottery and ceramic art through different workshops and individual lessons.

My training at GBP encompassed more than just learning about pottery, it also instilled in me a devout sense of spreading my knowledge to the world.
I have found teaching to be extremely rewarding and have propagated pottery in Dubai through the humble workspaces of Dubai International Art Center.

Art has always been a vessel for expressing my creativity and individuality, I believe it reflects the state of the society we live in and showcases the struggle and achievements of a community. My journey with clay began at an early age of 19, with my unearthing of the potential of one such community; the Kumhars (a potter's community) in my hometown in India. Even though their utilitarian creations were adorned at every street corner, they failed to adorn the mantelpiece of any household.

I was motivated by the indifference that society endowed upon these potters and wanted to contribute towards the celebration of their work. I used this opportunity to collaborate with the Kumhars to make my own ideas come to fruition. I also used their pots as a canvas to paint a tapestry of colors and designs and thereby, highlight their skills and talent. My first exhibition "Ghatmanjiri" (1989), a solo undertaking, displayed over 400 unique pottery forms. I held solo pottery exhibitions across multiple cities in India and garnered appreciation throughout the art community. I was recognized as a budding artist, when Door Darshan (an Indian Public Service broadcaster, founded by Government of India) did a documentary film on me. Having worked with clay for just a few years, being recognized on a national stage was certainly overwhelming, nevertheless very promising. My interlude with pottery, furthered my interest in design and art, and led me to interior design, which I practiced professionally in India and UAE. I was beckoned by pottery once again, and I returned to it again. However, this time I wanted to take up the challenge of exploring ceramic pottery, and knowing the intricacies involved, I formalized my training under the stewardship of NCECA felicitated ceramicists Ray Meeker and Deborah Smith (pioneers of studio pottery in India) at Golden Bridge Pottery in Pondicherry, India.

My philosophy with clay is to bridge the gap between classical pottery techniques and contemporary design through the creation of functional pottery that showcases a variety of firing, glazing and throwing techniques. I have been trained in various disciplines including: Raku firing, Kurinuki, Kohiki, and Craquelle effect to name a few. I utilize my experience to not only throw uniform utilitarian pieces like mugs, teapots, and pitchers, but also create abstract designs that are a confluence of different classical designs.
Instagram: Pranoti Joshi Karajgi (@pranotikarajgi)
Nikita Sukhani (@claycrayceramics)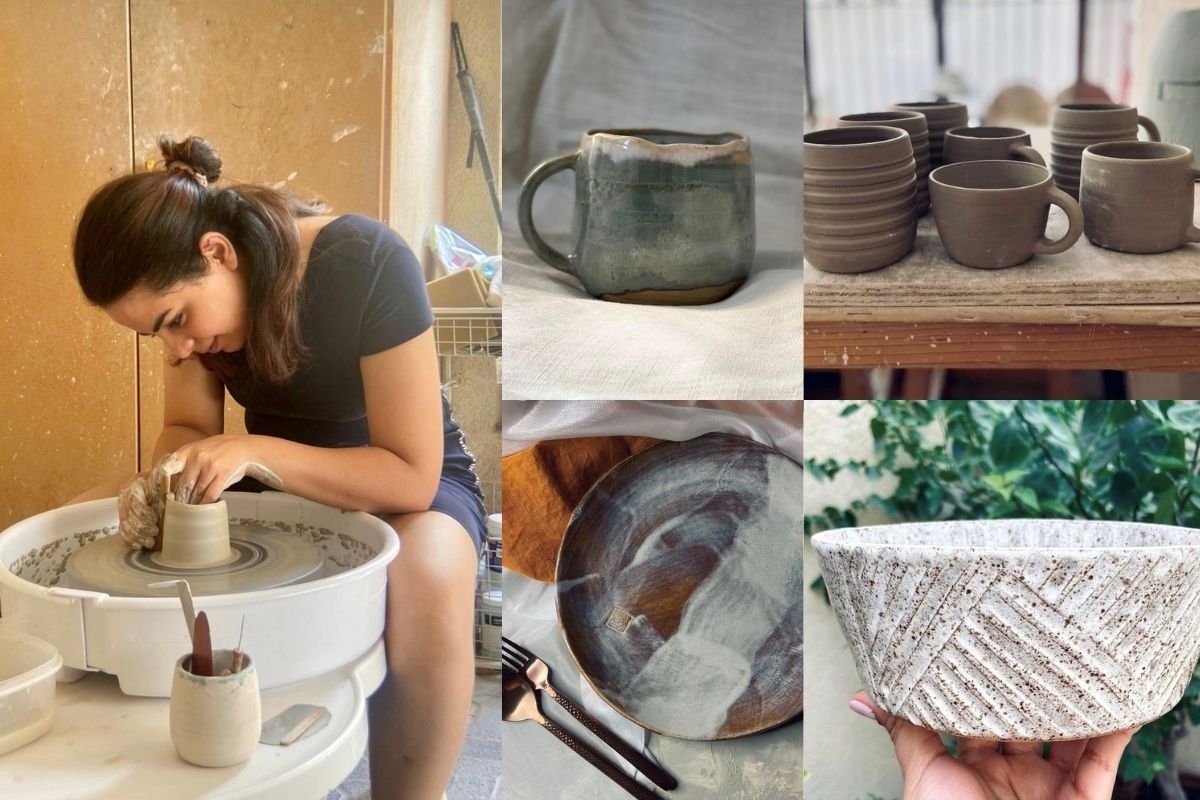 Handmade with Love!

She moulds soul into clay as if it were a way of life.

Tired of my mundane corporate life, I decided to explore my artistic skills one day and took up pottery lessons at 'Touch of clay' where I discovered a hidden fascination. I was in awe of the pottery-making process and spent every spare moment working my magic on clay. I embraced this earth and made it my canvas to create a variety of colours, shapes, designs, and just like that clay started dancing to the tunes I hummed.

The journey from learning to work with clay to starting my own business- Clay Cray Ceramics in 2019 has been extremely fulfilling and experimenting with different forms and glazes has helped me create some beautiful, unique pieces.

Each of my pieces is handmade to last and has a distinctive style and quirkiness associated with it. For some love might mean a bouquet of roses but for me, love is a chunk of clay that can be moulded into many different shapes and sizes to create objects of desire!

A love that is only felt by a potter!
Instagram: ClayCray by Nikita Sukhnani (@claycrayceramics)
Griet (@ceramics_by_griet)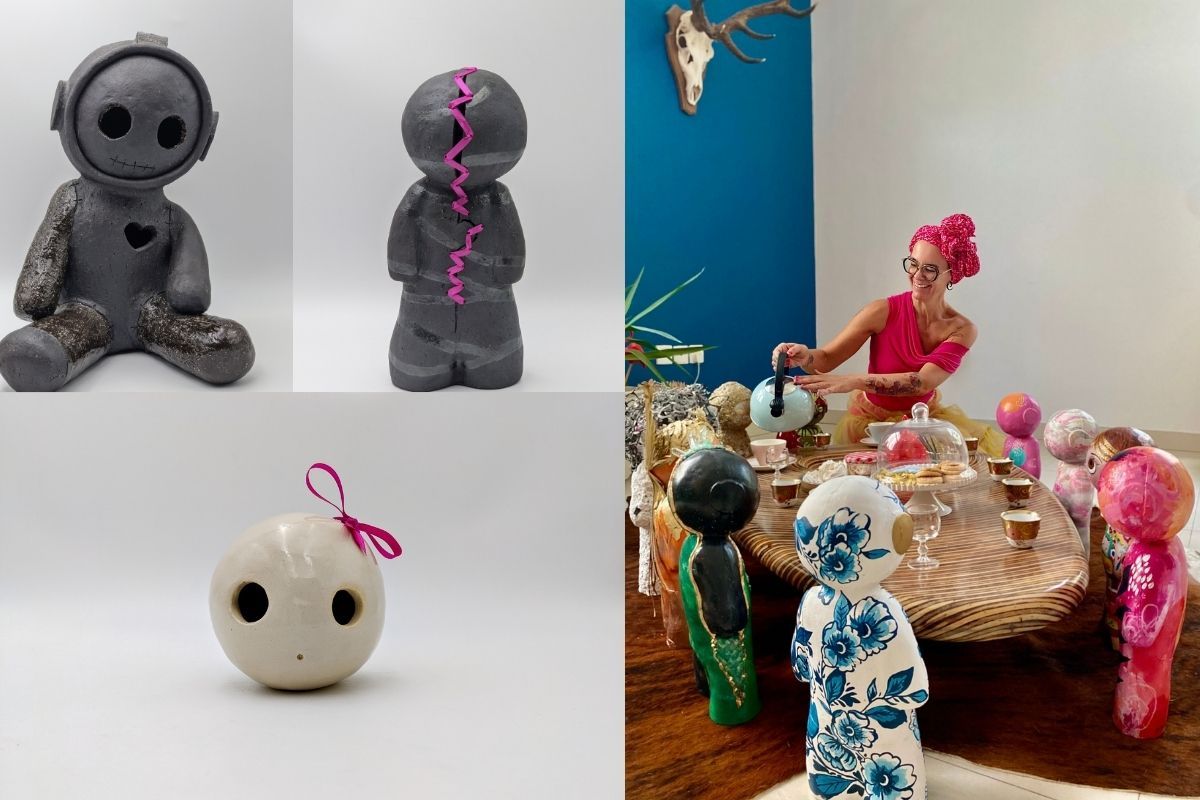 Through my art I want to spread love and positive vibes, I want my creatures to touch people and guide them through life, I want people to take a breath, stand still and be for a moment, surrounded by beauty, magic and remember what's important.

18 years ago I started a course at the Ceramic Academy in Belgium and got pregnant quickly after. After a few months I had to stop as the work on the wheel pushed too much on my big belly. And then life took over. We had a son and soon a daughter, we moved to Dubai in 2007. I started teaching and worked with children with special needs, I started my own fashion brand and then, finally, I took the time to get back to clay. Since 2017 I'm full time in the studio, creating my stories with one of the purest materials I know.

The simplicity of the creatures I make, people connect with them and when they hear their story, it gives an even deeper meaning to the art.

When I start creating, I have a plan and an idea about the outcome but the clay will tell me and show me what it will become. I'm not only the artist behind my work, often I just let myself be guided by the clay. I am here to share sacred stories through my art and I love that!

The stories that wrap around my sculptures come naturally and once all come together, I can't wait to send them, my work and the stories into the world.
Instagram: griet (@ceramics_by_griet)
Maria Isabel (@meraki.ceramicware)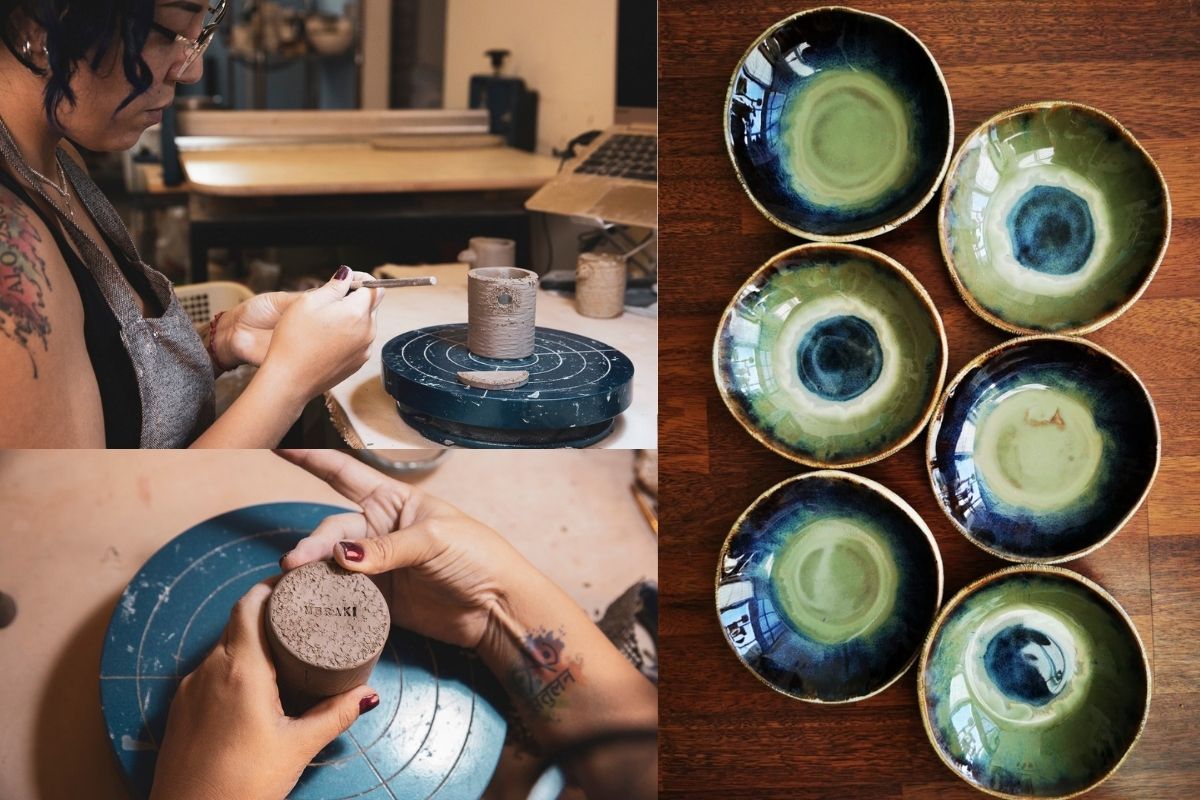 "Meraki Ceramic Ware is a brand that wants to contribute to the uniqueness of the Middle East."

My name is Maria Isabel. Originally from Peru, and the artist behind "Meraki Ceramic Ware".

Meraki is a brand that loves to play with clay (stoneware), and it specializes in bringing to life unique and custom-fit functional pottery pieces for hospitality and home décor.

Being in the food and beverage business for almost 15 years made me realize that the way you present the food is very important, motivates customers to receive and perceive it in different ways, and most importantly, as a brand, you leave a positive impact on their emotional side (an amazing moment to remember, you have created a fascinating memory).

Plates, also called crockery, play a special role here, and that's where my forever dream started to take shape. There is nothing better than creating something, especially for your personality, that complements the message you want to give to your guests, friends, or family.

"A fundamental part of Meraki is working together with chefs"

I love to sit down with chefs and work together to develop something particular for their creations, combining my knowledge of the service like how easy it is to place a dish on a table or how beautiful the colours and the different shapes will look together with the food and/or interior décor.

Did you ever feel those butterflies in your stomach? Well, that's the feeling of excitement I get every time I am designing and connecting with the clay to materialize it.

It is and it has been a very interesting, full of challenges, and outstanding path so far.

It all started as a "hobby". When I decided to study hospitality management back in Argentina, I made a promise to myself: "Whenever, wherever I open my own restaurant, I have to create every single piece of crockery for it" and being in Dubai for the past 10 years gave me that push to fight for my dream and make it happen no matter what.

Even though I had no idea how to get a license or the administrative work involved for permits, the knowledge I gained during those years made my path less stressful. Five years ago, SME companies were not that famous here, and information or standards were not that easy to get, so it took me a good time to dig into those procedures until finally everything started to work well.

Meraki has been on the market for almost 4 years, and I am very proud and happy when I see those plates created, especially for someone, on a table with amazing food on top!

"Meraki means to do something with soul, passion, creativity, love and absolute devotion – When you put "Something of yourself" into what you are doing, whatever it may be."

Since it is all handmade, it makes it unique by itself. Even though all the pieces are very similar, none of them are the same. Each one of them has its own personality and energy. Meraki does not use any moulds, which distinguishes it; it is slow crafted, hand-painted, rustic, and organic, which adds to its uniqueness.

The whole process is magical, from the selection of the clay body—how will it react when combined with the glazes in the kiln (ceramic oven), the correct temperature for clay and glaze crystallization, while making it food safe 100%. To let it dry patiently, some pieces take over a week or so to fully dry, including the technique selection for painting them and even the packing. To have complete control of those processes gives an invaluable point.
Instagram: Heartmade & Bespoke Pottery  (@meraki.ceramicware)
Born Free Ceramics (@bornfreeceramics)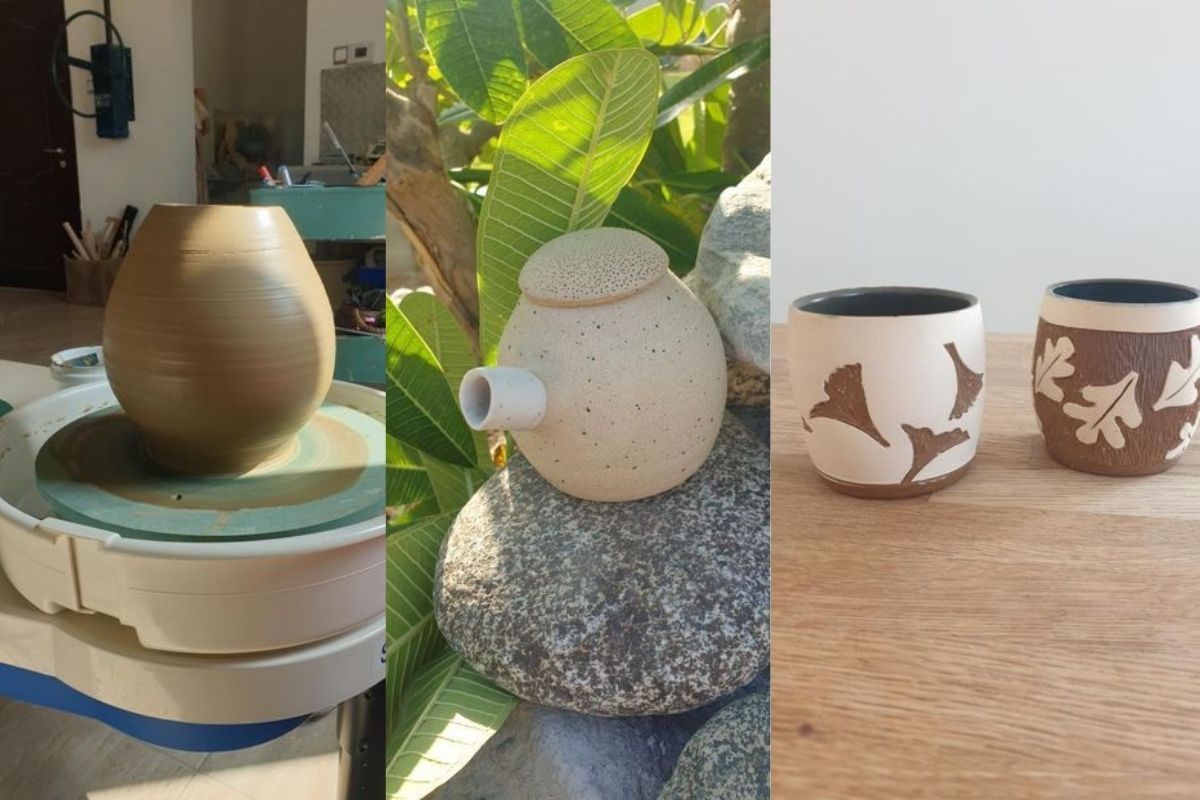 Born Free Ceramics is a pottery art & production studio, focused on creating unique ceramic collections mostly oriented towards functional work of art.

At Born Free Ceramics, we specialize in crafting custom tableware, tiles and ceramic art installations based on each individual clients' unique concept & requirements.

We use a combination of materials sourced from all over the world along with our in-house team's expertise and know-how to formulate a complete and imaginative collection of usable everyday art.

We are known in the industry to produce unique tableware that are currently supplied to restaurants and hotels as well as installations for hotel lobbies & other areas.

Born Free Ceramics came into existence in 2019 when I finally decided to listen to my heart & do what gives me joy. I earned my masters in IT and spent my early career in the corporate world before the entrepreneur in me broke free from the shackles of 9-5 schedules to indulge in my profound love for dogs. I trained as a professional dog groomer and founded Dawgz, India's first professional dog grooming studio. But that didn't stop the artist in me from seeking out.

I joined an animation school in Dubai, but at the same time, my tactile nature drew me towards clay. I was fascinated by the freedom it gifted me to seamlessly integrate all my creative inspirations from the digital and handcrafting world, into ceramics. This was a canvas that was mine to explore, embellish and own.

Fifteen years ago, I happily dipped my hands in clay, and ever since I have been moulding and pulling out functional pieces of art.

At Born Free Ceramics, we produce our own glazes. Born Free Ceramics is the proud first producer of glazes made in the UAE. With in-house glazes, we are able to take "Made to order" creations to an all new level for our customers. We can not only produce unique designs, but we can also give a range of unique colour choices to our customers that is not available in the market. In case, we don't have the color available, we also have the ability to produce new colors with our knowledge of the chemistry behind the glaze formulations.
Instagram: Born Free Ceramics (@bornfreeceramics)
Karine Legay (@karinelegayceramics)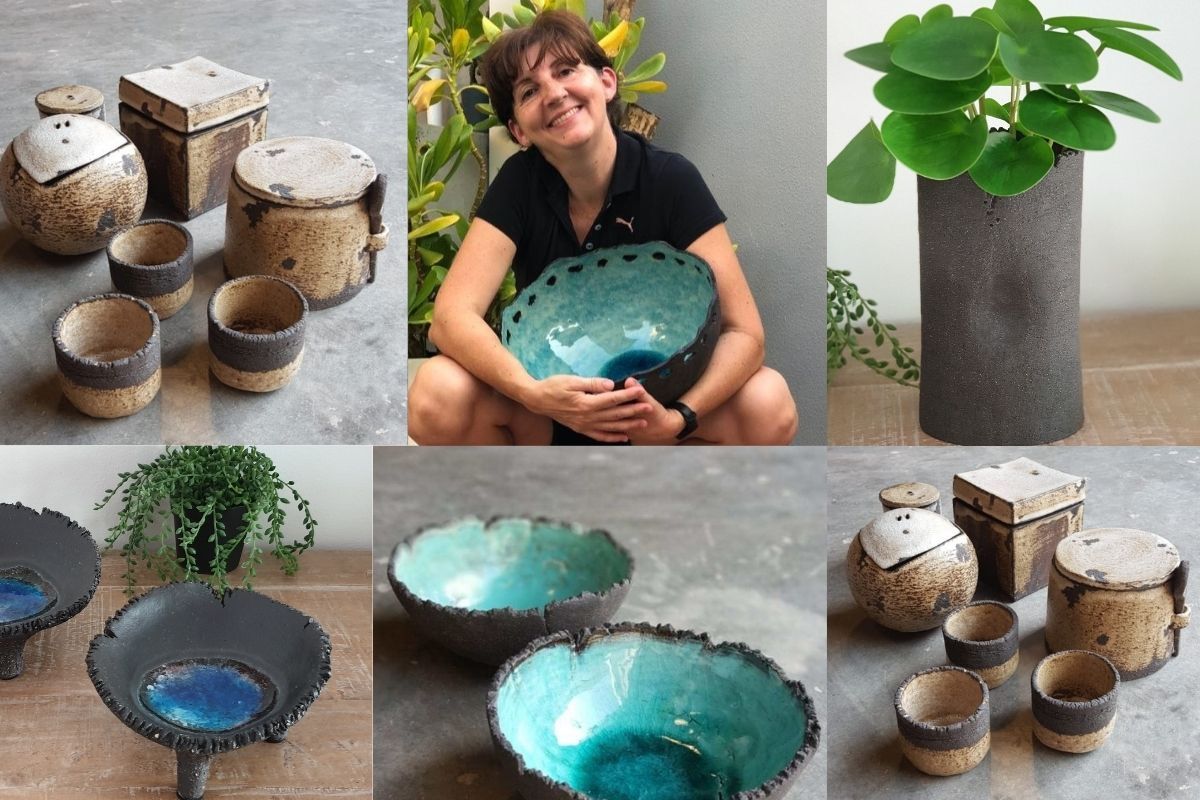 My name is Karine Legay, I'm French and I have been living in Dubai for 17 years.

From an early age, I have always been passionate about creation. I was always customizing or building things, making my own packaging and gift boxes, painting, drawing and wanting to try every single new possible manual activity.

Before coming to Dubai, I was working full time as a mechanical engineer in the aeronautic industry in Paris. Busy life in a busy city, with young kids, which didn't leave me too much time to seriously practice any form of art.

But moving to Dubai in 2004 made me become a full time mum with hundreds of projects in mind.

After starting a handmade jewellery line and selling it in different markets in Dubai or Abu Dhabi, I discovered ceramics with a close friend of mine in 2016.

It was love at first sight! I immediately loved the feeling of the clay, the infinite palette of colours, of textures, but I also liked the technical aspect of ceramics related to the chemistry of the glazes and the firing process.

The clay is so versatile and inspiring that it was a challenge for me to find my own style as I desperately wanted to try every kind of clay (white, black, stoneware, porcelain), every glaze colour available, every technique, every kind of possible shapes. I finally specialised in the hand-building process (as opposed to the wheel throwing) and I started to have my first fans : my parents, my husband and a few friends!

And after a couple years of practice, I can probably say now that most of my pieces are organic, inspired by nature, natural elements like lava, earth and water. I like to focus on contrasts between organic shapes and very smooth and shiny glazes, between dark clay and bright turquoise glaze, or between pure shapes and very rough textures. I also like to accentuate the organic aspect of my pieces by generating bubbles, cracks, rough edges, and mixing also different materials like driftwood, glass or twine. I still haven't reached the level of making my own glazes but I like to use the glazes available on the market not the way they are intended to, by mixing them, or changing the firing temperature.

Whereas most of my pieces are unique and used as home décor, I also make specific table ware in small series for private clients or restaurants. I am honoured to have recently been selected to work on commissions for two luxury hotel interior design projects. Some of my creations can also be found in design boutiques like FASTOUN and I participate every year in the Artisan Market in D3 during the Dubai Design Week where it's a real pleasure to meet art lovers and socialise with clients.
Instagram: KL Ceramics (@karinelegayceramics)