TECOM Group PJSC (DFM: TECOM), (the "Company" or the "Group"), the creator of specialised business districts and vibrant communities, today announced its financial results for the second quarter (Q2) and first half of the year (H1) ending 30 June 2023.
The Group delivered a strong performance driven by sustained high occupancy levels across its diverse high-quality portfolio, reporting a 6% year-on-year (YoY) increase in revenue to AED 1.05 billion and a 13% YoY increase in net profit to AED 485 million in H1 2023.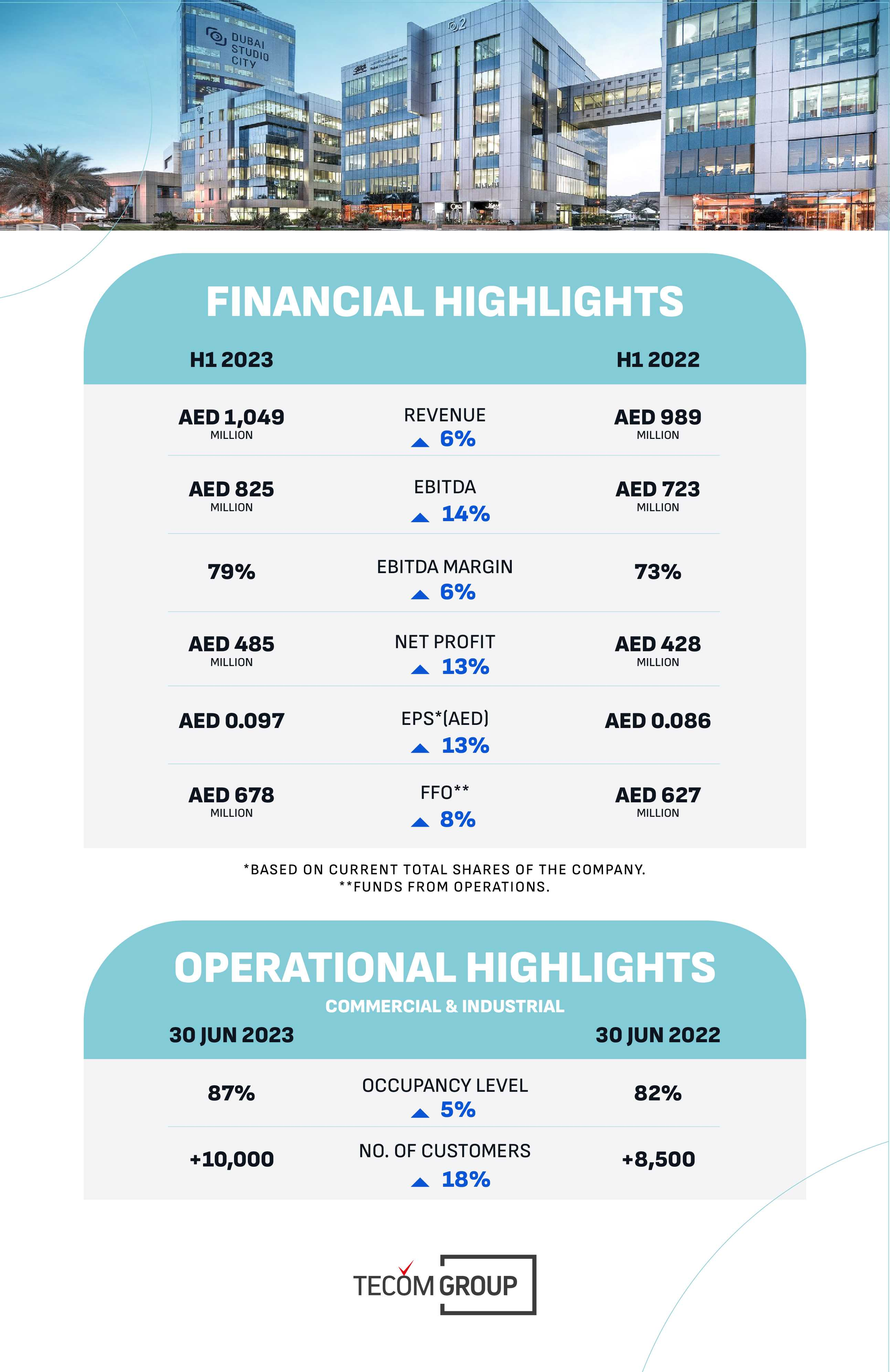 Financial Highlights
| | | | | | | |
| --- | --- | --- | --- | --- | --- | --- |
| | H1 2023 | H1 2022 | %Change (YoY) | Q2 2023 | Q2 2022 | %Change (YoY) |
| Revenue | 1,048,872 | 989,417 | 6% | 535,088 | 504,306 | 6% |
| EBITDA | 824,580 | 722,858 | 14% | 425,775 | 373,423 | 14% |
| EBITDA Margin | 79% | 73% | 6% | 80% | 74% | 6% |
| Net Profit | 484,501 | 427,533 | 13% | 229,368 | 237,271 | (3%) |
| Adjusted Net Profit* | - | - | - | 282,663 | 237,271 | 19% |
*Excluding the one-off impact from fees associated with refinancing loan facility
Operational Highlights
| | | | |
| --- | --- | --- | --- |
| Commercial and Industrial | 30 June 2023 | 30 June 2022 | YoY% |
| Occupancy Level | 87% | 82% | 5% |
| Number of Customers | +10,000 | +8,500 | 18% |
Malek Al Malek, Chairman of the Board, TECOM Group, said:
"TECOM Group continued to deliver strong financial and operational performance owed to our dynamic strategy which aims to further increase our occupancy levels across the portfolio while also maintaining prudent capital management. Our performance was underpinned by Dubai's robust economy and its visionary leadership. On the back of our exceptional results, I am pleased to announce that the Board has approved an interim dividend distribution of AED 400 million to shareholders for the first half of this year, to be distributed in September 2023."
Abdulla Belhoul, Chief Executive Officer, TECOM Group, said:
"Commercial real estate in Dubai is growing at a steady pace owing to Dubai's appeal as a global city to businesses, talent and investors alike and to its macroeconomic resilience. Our robust business model and our business districts' market reputation have enabled TECOM Group to capitalise on the strong demand, supporting our solid performance during the period. The vast majority of our leased assets, especially Grade A centrally located offices, have recorded high occupancy rates.

"We are confident in our ability to sustain occupancy levels for the remainder of the year while also focusing efforts to drive further efficiencies to sustain the strong EBITDA margin. We will continue to execute our clear strategy, supported by our robust financial position, top-notch talent, and access to strategically located land bank to help unlock greater value for our shareholders."
H1 2023 Financial Highlights
Revenue in H1 2023 increased by 6% YoY to AED 1.05 billion, supported by the continued growth in rental rates and the sustained strong occupancy level and customer retention rate across all business districts.
The occupancy level for commercial and industrial assets was 87% as of 30 June 2023, registering a 5% increase from the period ended 30 June 2022.
The overall customer retention rate stood at 92% as of 30 June 2023.
18% YoY increase in number of customers, surpassing 10,000 customers including leading multinational and regional companies.
Some of the most noteworthy new customers include Salesforce, which established its first Middle East office, as well as pharmaceutical giant AstraZeneca, biotechnology company Virax Biolabs Group, business school EM Normandie, F&B supplier and manufacturer IFFCO Group (THRYVE™ factory).
EBITDA increased by 14% YoY to AED 825 million, mainly driven by improved revenue quality and enhanced management of operating expenses.
Net profit grew by 13% YoY to AED 485 million, underpinned by strong top-line performance, continued growth across all business segments, enhanced operational efficiencies, improved leverage position and lower total financing cost.
Funds from operations (FFO) stood at AED 678 million, representing an increase of 8% YoY, a testament to improved revenue quality and operational efficiency across all income-generating assets.
Q2 2023 Financial Highlights
Revenue in Q2 2023 increased by 6% YoY to AED 535 million and also registered a solid sequential growth on the sustained demand across Group's portfolio.
EBITDA grew by 14% YoY to AED 426 million, impacted positively by ongoing efforts to reduce operating expenses and drive operational efficiencies.
Net profit for the three-month period increased by 19% YoY to AED 283 million, excluding the impact of the one-off expense related to settling the old loan facility.
The Group's debt profile has improved with loan-to-value (LTV) ratio of 15% and a 5.7x EBITDA to interest ratio, on the back of the immediate positive impact of the recent refinancing of the existing AED 7.6 billion loan facility, which was refinanced at lower margins and more favourable terms.
H1 2023 Key Business Highlights
TECOM Group has had a very active year across most of its business districts, a reflection of the strong level of business confidence.
In line with the rising demand for purpose-built and well-connected workspaces, TECOM Group expanded its D/Quarters co-working solutions to Dubai Science Park, strengthening the position of the Emirate as a magnet for global talent and businesses of all sizes and from any sector.
The Group continued to enable the entrepreneurial ecosystem in Dubai by launching a science-focused incubator in collaboration with Dubai Science Park. in5 Science will support startups under the Dubai Economic Agenda D33 umbrella.
Virax Biolabs Group announced the establishment of its regional headquarters at Dubai Science Park, further strengthening the region's scientific research and biotechnology landscape.
Dubai Industrial City contributed further to the Emirate's economic growth by attracting approximately AED 1 billion in investments from local and global manufacturing companies, reflecting the confidence in the business district and Dubai as a strategic destination for manufacturing and industrial activities.
Dubai Industrial City signed major strategic partnerships with the Ministry of Industry and Advanced Technology (MoIAT), the Ministry of Climate Change and Environment (MOCCAE), the Emirates Development Bank (EDB), and Dubai's Department of Economy and Tourism (DET) to support the sustainable development of the manufacturing sector in the UAE and strength its position as an attractive global industrial hub.
H1 2023 Key ESG Highlights
During the first six months of the year the Group made good progress on several ESG matters, of note:
Continued to deliver value to customers, with customer satisfaction levels increasing to 88.6% in H1 2023 from 87.8% in FY 2022.
Supporting 366 startups, as part of in5, up from 346 startups as at end of FY 2022.
9% of the energy consumption was generated by clean energy sources.
179 tonnes of waste was recycled across all business districts.
Distributed 12,000 meals during holy month of Ramadan.
Partnered with Emirates Red Crescent to launch "The Good Store", a virtual store encouraging people to donate essential supplies such as food, clothing and shelter materials.
Dividend
During its meeting held on 1 August 2023, the Board of Directors approved the first interim dividend payment of AED 400 million, which will be distributed in September 2023. As per the dividend policy set out in the IPO prospectus, TECOM Group is committed to paying a total dividend amount of AED 800 million per annum through September 2025.
News Source: Dubai Media Office