American food is the most popular cuisine in Dubai which is no surprise when you look at the numerous amounts of American restaurants in Dubai. From steaks, burgers, waffles, pancakes, wings it has everything a food lover could ask for. Chicken wings are the most delicious and scrumptious dish ever that are best paired with a game of football, a chilled drink, and some yummy sides. Dubai has a vast range of restaurants that serve crispy and delicious chicken wings tossed in a variety of flavorful sauces. Whether you like Buffalo wings, barbecue wings, boneless wings, grilled wings, fried wings any type of wing you're craving you'll find the most delicious and fiery wings in Dubai that will satisfy all your cravings.
So, get ready to feast on some juicy and flavorful goodness, here are the best Chicken wings in Dubai.
1. Buffalo Wild Wings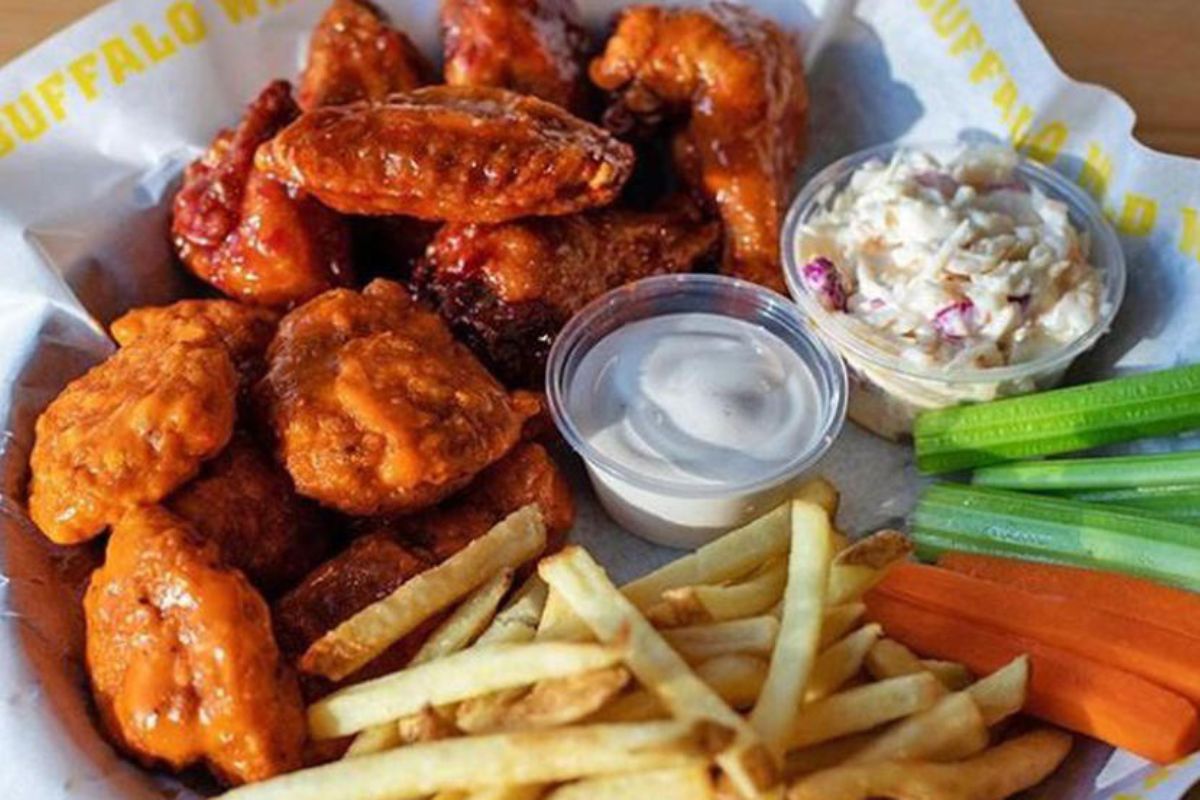 Buffalo Wild Wings is a popular American restaurant that is famous for its American style wings. It allows you to choose from 5 or 10 piece servings of either traditional or boneless wings that are available in 12 sauces and 5 dry seasonings. Each flavor is a delicious burst of flavor and spice, the sauces range from mild 'Smilin' through 'Sizzlin' and up to the intense 'Blazin'. You can enjoy your serving of delicious wings with classic sides like fries, coleslaw, and onion rings. Buffalo Wild Wings is perfect for football fans as it allows you to enjoy a fun match while you munch on delicious food. They have a vast range of other classic American dishes that are delicious too. Their Nachos, mozzarella sticks, onion rings, quesadillas, salads, burgers, wraps, and chicken tenders are all a must try. Their mojitos are the best to cool down the heat of the fiery wings.
Location: Multiple Locations including Mall of the Emirates, Mirdif City Centre, Jumeriah
Timings: 10: 00 am – 12:00 am
Price: AED 180 (approx. for 2)
2. Wing Stop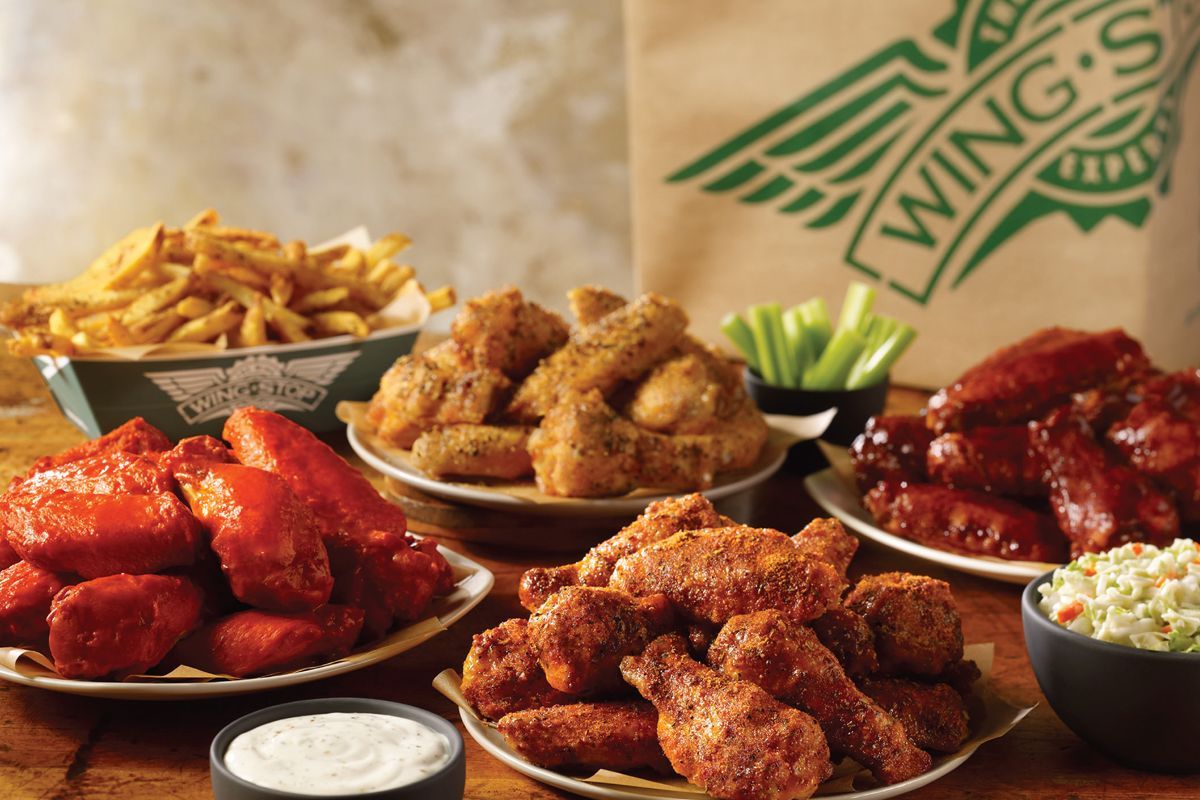 Wing stop is another chicken wings joint that offers one of the best and most delicious chicken wings in Dubai. They have amazing deals where you can choose from six pieces or eight pieces of either boneless or traditional wings. You'll find a variety of flavors that are both spicy and delicious at the same time.  You and your family can opt for a deal which includes 40 chicken wings in 4 different flavors along with dips, onion rings, fresh rolls, and fries and is enough for five – six people. Their flavors Mango habanero, Louisiana Rub, Cajun, and Hawaiian are some of the most delicious and hottest out there which will make you restless with just a bite. Their cheese, Voodoo and loaded fries are amazing and you can also get something sweet like their classic milkshakes that will help you to balance out the spice.
Location: Business Bay, Dubai Marina, Dubai Jumeirah 1
Timings: 11:00 am - 03:00 am
Price: AED 100 (approx. for 2)
3. Wingsters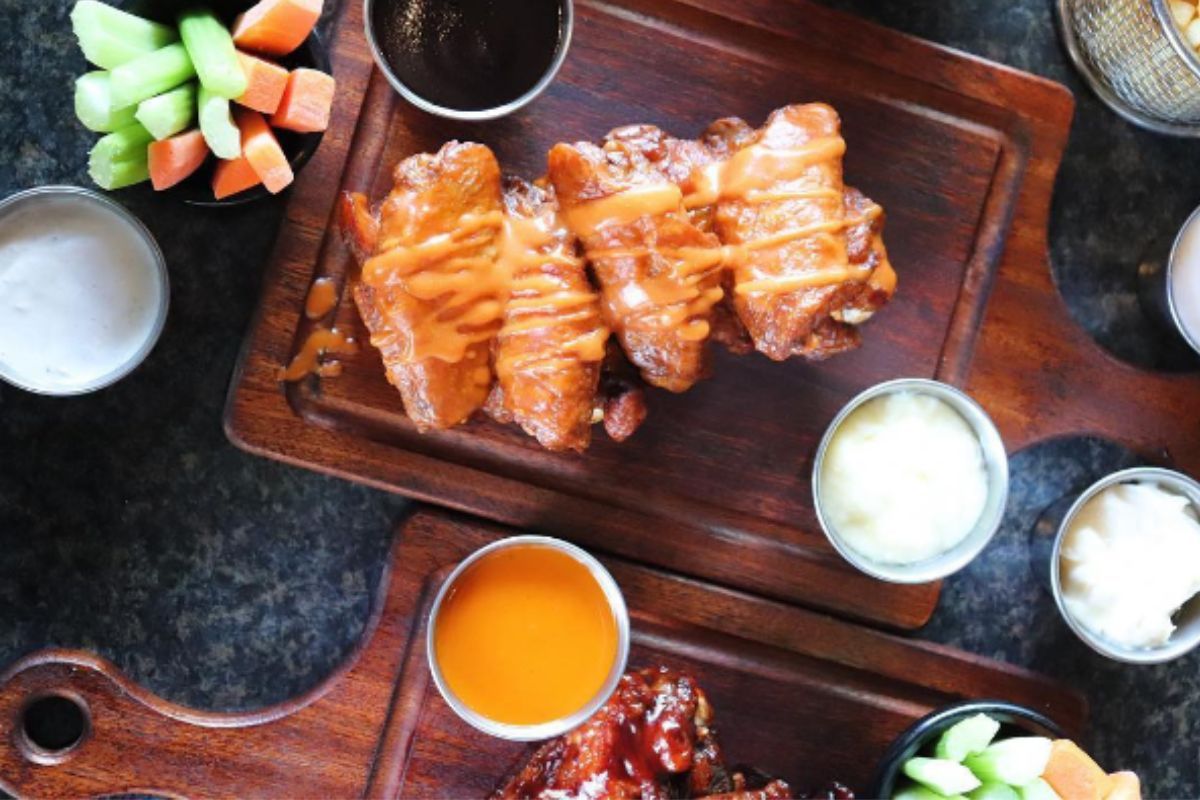 Get ready for a challenge like no other. Wingsters challenges its diners to eat eight extremely spicy wings in four minutes without consuming any liquid or wiping your mouth. The wings here are simply delicious, it's in the name after all. They have a vast selection of sauces to choose from with a unique spin on it. They have around 22 flavours including 'The Korean Henchman', which is a spicy Korean barbeque sauce, 'The Snitch' a sweet thali chilli sauce and the 'Mickey Blue Eyes' which is a signature sauce with sweet honey and is infused with garlic. Their Impossible Burger, Truffle Mac & Cheese, The Escobar Burger, Salads, and desserts are all worth trying besides the wings. You can choose their bundle meals where you'll get a certain number of wings in 1 or 2 sauce with sides and drinks.
Location: Dubai Marina
Timings: 11:00 am - 12:30 am
Price: AED 170 (approx. for 2)
4. Buffalo Wings & Rings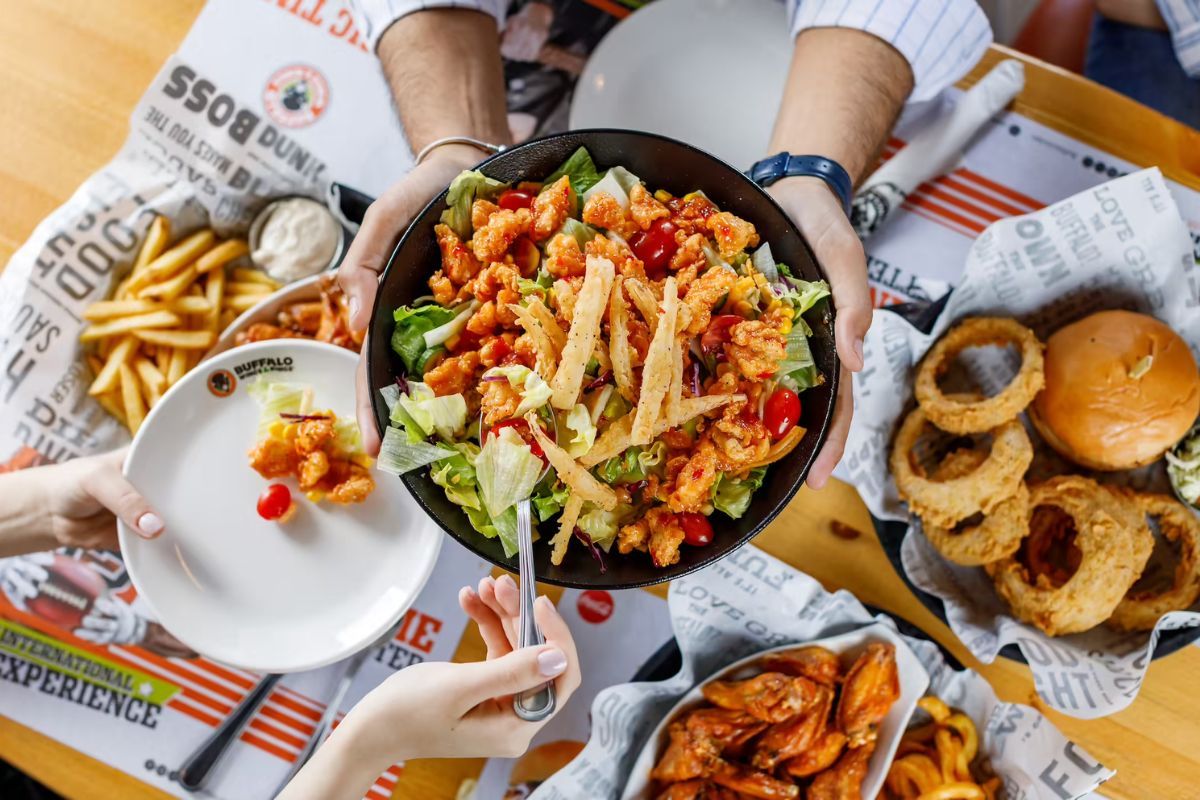 At Buffalo Wings & Rings you can get traditional wings, breaded wings, boneless wings, or crispy strips for AED 69. Their juicy and crispy wings are served with fries, blue cheese dip and ranch sauce that perfectly compliment your wing-fest. They have more than 12 sauce options with varying flavors and spice levels including sweet BBQ, sweet siracha, buffalo, lemon pepper, honey mustard, sesame ginger teriyaki and many more. Like Buffalo Wild Wings, this wings joint is also a popular sports fan joint where you can watch a fun game of football while munching on delicious food. Other dishes on their menu that are a must try include the Buffalo Chicken Salad, Buffalo Chicken Nachos, Loaded Tex-Mex Fries, Garlic Parmesan burger, BBQ Chicken Quesadillas, Chicken Taco and sides like Mozzarella sticks, onion rings and curly fries.
Location: DIFC, Dubai
Timings: 12:00 pm - 03:00 am
Price: AED 230 (approx. for 2)
5. Wavehouse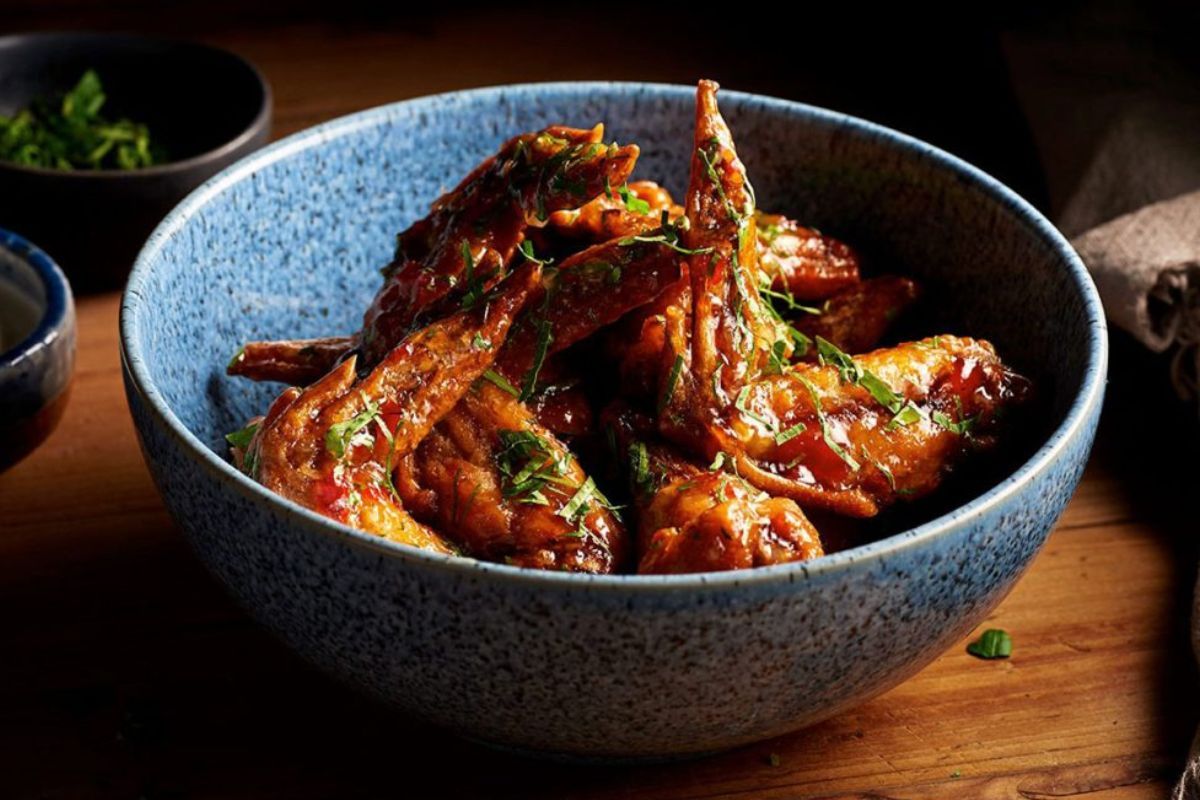 Wing lovers can order one kilo of the 'grenade' wings with the super 6 sauces that range in flavour and spice. You'll get one bottle each of their six hot and crazy hot sauces that are meant for true pepper heads and culinary explorers of Dubai.  The mildest flavour is the 'Hooah Jalapeno' which is a mild green jalapeño sauce. Next is their 'Grunt Green' that is a tangy green cayenne hot sauce, then comes their 'Dead Red' a classic medium heat red cayenne sauced which is followed by the 'Maple Mayhem' which is a medium heat habanero-infused pure Vermont maple syrup. You can then up your stakes of spice by dipping into the 'Danger Close' sauce which is a hot blend of cayenne and habanero peppers and their 'Shock &Awe' that is a very hot, citrusy habanero sauce. Even a small dip in these 2 fiery hot sauces will make you shiver from the spice heat. Their Salads, Burgers, Sandwiches, Pizza, Pastas, BBQ items, and Seafood items are all worth trying too.
Location: Atlantis the Palm Hotel, Dubai
Timings: 12:00 pm – 11:00 pm
Price: AED 115 (approx. for 2)
6. Black Tap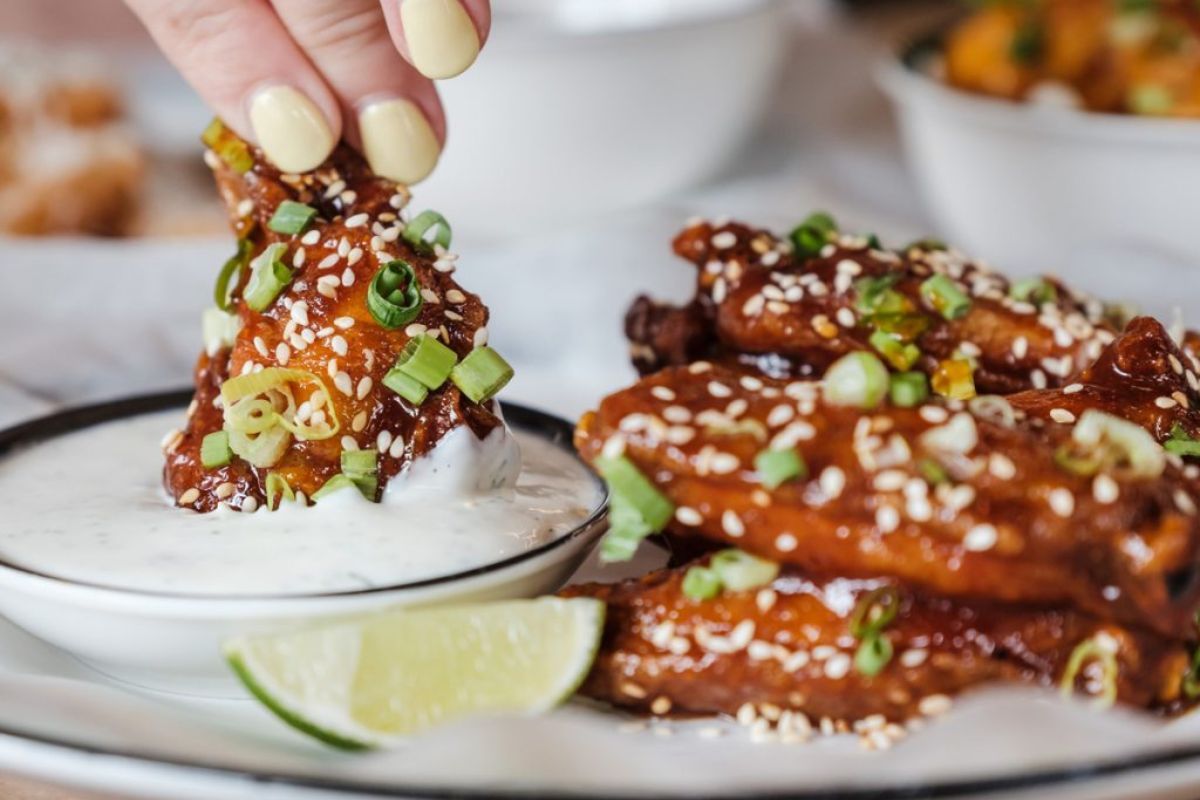 Though Black Tap is mostly famous for its American-style burgers, their chicken wings are equally popular. They have Korean BBQ wings, Texan BBQ wings, Mexican hot sauce wings, and Carolina BBQ wings. All four options come in two serving sizes of six or twelve pieces. The Korean BBQ chicken wings are basted with a sweet and spicy sauce and sprinkled with spring onions and sesame seeds. And their Mexican Hot Sauce has more heat than the usual buffalo and is dusted with blue cheese crumbles and served with a classic blue cheese dip. Apart from burgers and wings, Black Tap also offers various salads, tacos, sandwiches, fries and more. The restaurant also has an amazing list of beverages that includes milkshakes, iced teas, lemonade, sodas, fresh juices, slushies and more. Not to forget that Black Tap is especially famous for its legendary freak shakes.
Location: Jumeirah Road and Umm Suqeim, Dubai
Timings: 12:00 pm - 12:00 am
Price: AED 100 to AED 350 (approx. for 2)