Dubai International Airport (DXB) is one of the busiest airports in the world, serving millions of passengers every year. With its state-of-the-art facilities and a wide range of amenities, DXB is a popular layover destination for travelers heading to various destinations around the globe.
If you find yourself with some time to spare at DXB, here are some things you can do to make the most of your layover:

Catch some zzz's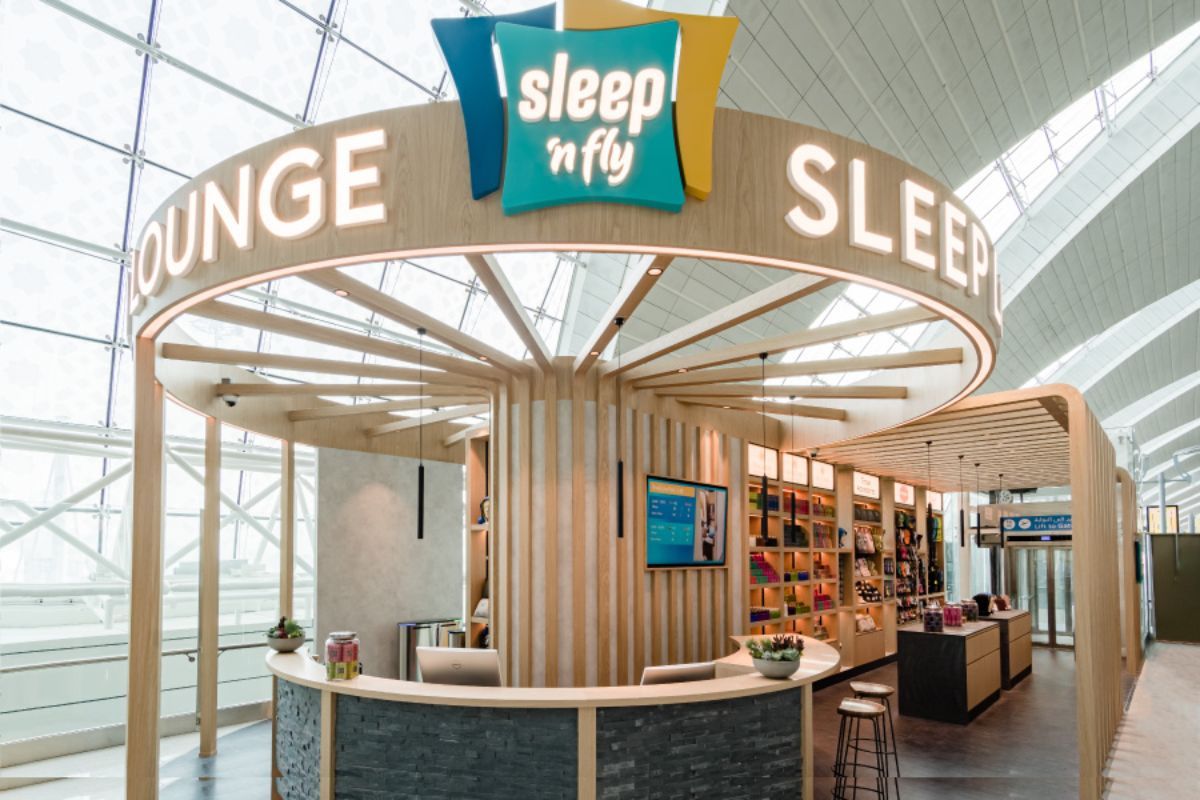 Get a more comfortable and enjoyable travel experience by taking a good rest. The Sleep 'n Fly Sleep Lounges, available in four locations at DXB (Gates A, B and C in Terminal 3, and Gates D in Terminal 1), are designed with both comfort and style in mind. Whether you need a quick 1-hour power nap or a full night's sleep, the lounges offer a range of options including sleep pods, single, double, and bunk cabins. You can also make use of the workspace provided for comfortable productivity before your flight. Certain locations also provide shower facilities and restrooms for added convenience.
Location: Opposite Gate A1 in the duty-free area of Concourse A (Terminal 3).
Go gaming!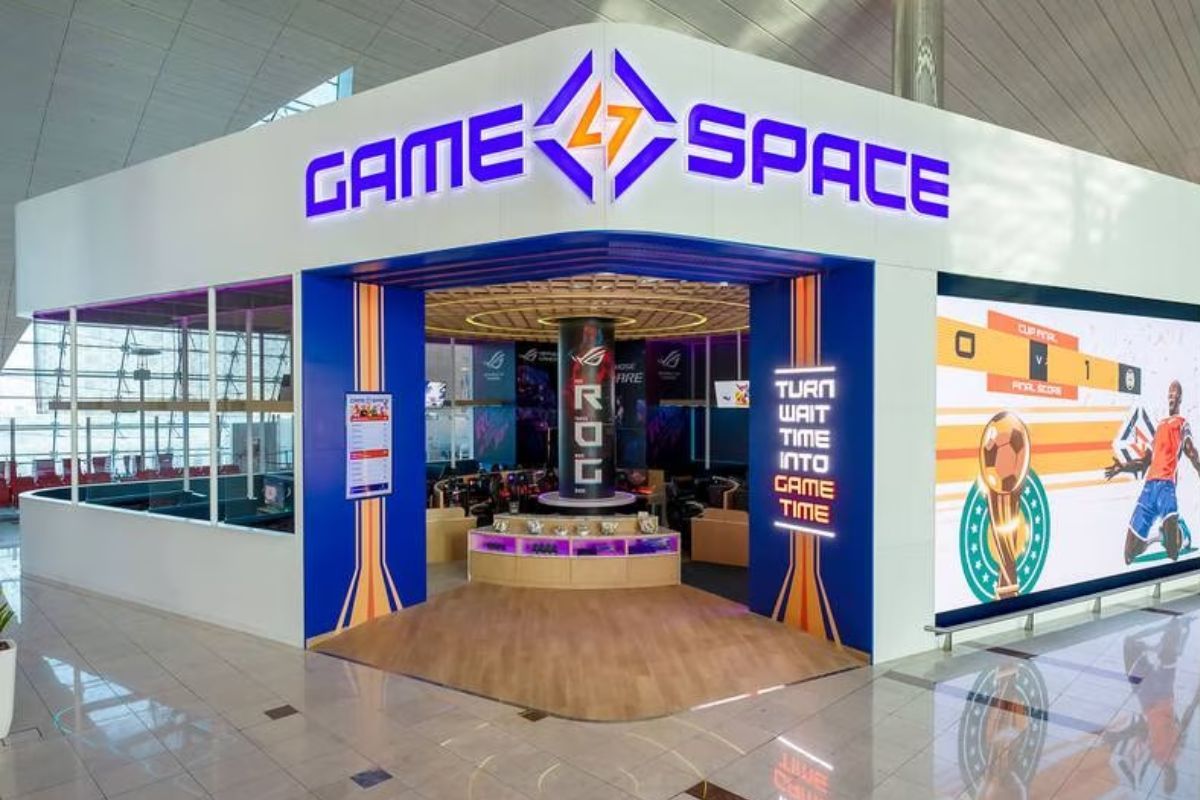 The first airport gaming lounge in the region is available to travelers departing from Dubai International Airport. Game Space, located within Emirates' Terminal 3, is a distinctive lounge experience that provides over 40 video games to entertain passengers who are fans of gaming while they wait for their flights. The lounge is open 24/7 and available for a fee to all passengers.
Location: Terminal 3, B Gates, near gates B31A and B32
Work on your fitness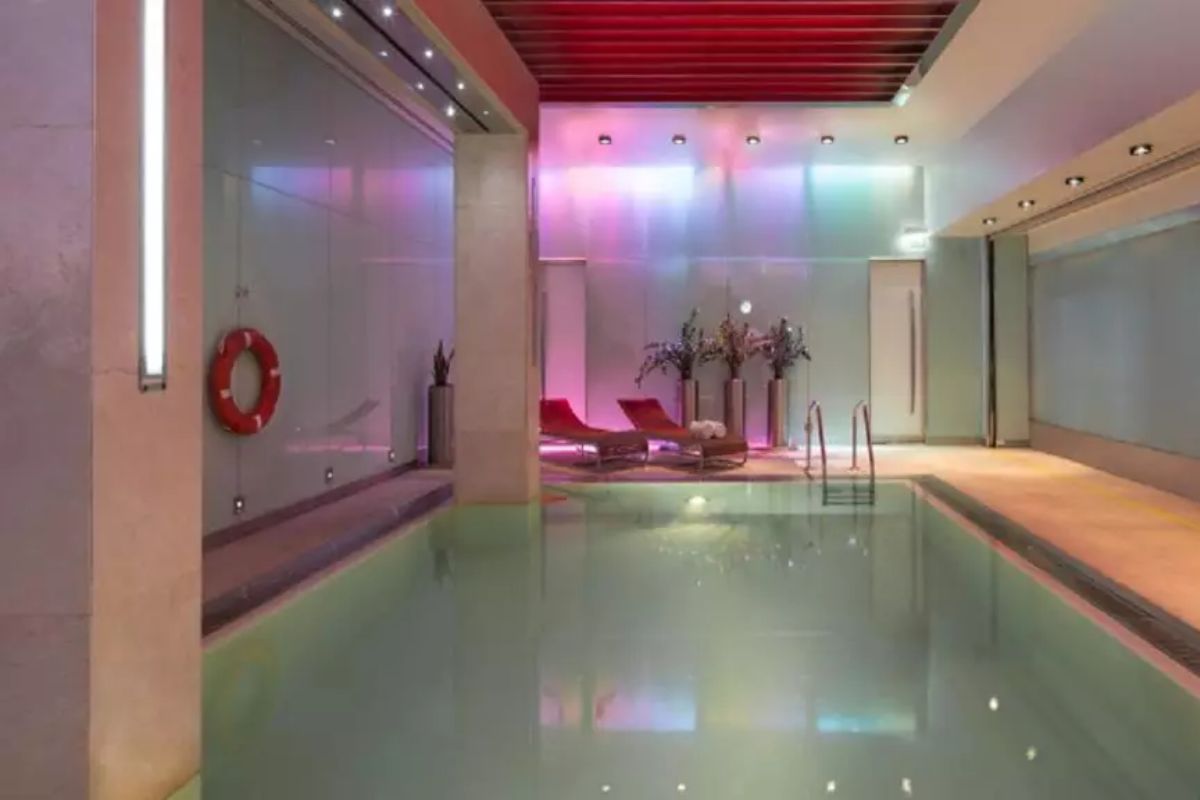 It might seem uncommon to find a swimming pool in an airport, but that's precisely what the G-Force Health Club in DXB's hotel offers. Besides the pool, you can also unwind in the jacuzzi, sauna, steam room, or exercise in the gym. The fantastic news is that you don't need to be a hotel resident to enjoy these facilities.
Locations: Terminal 3, Concourse A (Near Gate A1), Concourse A (Near Gate A24), Concourse B (Near Gate B14), Concourse B (Near Gate B22), Concourse C (Near Gate C15).
Pamper yourself

Relax and unwind with a calming massage at any of the numerous spa facilities located at DXB. You can also get a manicure, pedicure, or facial treatment. Whether you are seeking a quick service or a more luxurious experience, the spas are dedicated to providing a complete pampering experience.
Here are some of the best spas at DXB:
Be Relax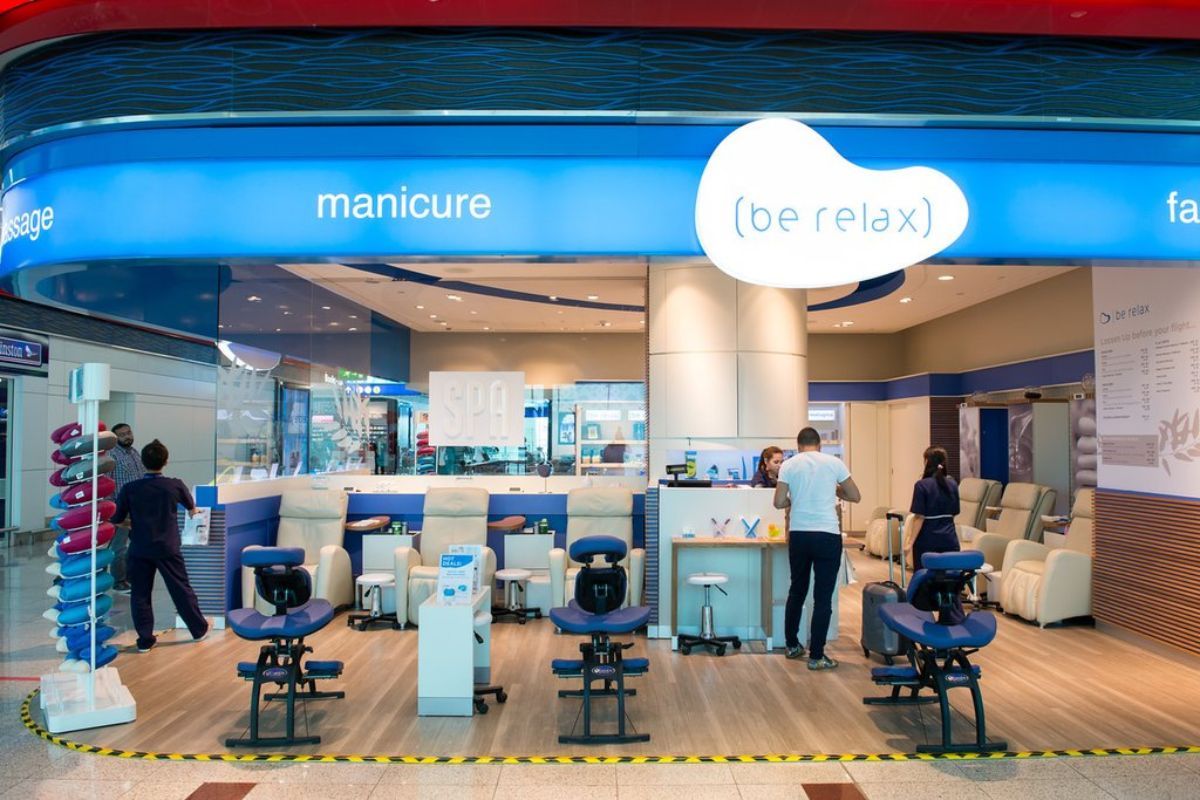 Be Relax is a global provider of beauty and wellness services for airport passengers. Their services, designed by professionals, aim to deliver an effective airport spa experience that is accessible to all before boarding their flight. Passengers can indulge in various treatments such as massages, manicures, pedicures, and facials at any of Be Relax's airport spas around the world.
XpresSpa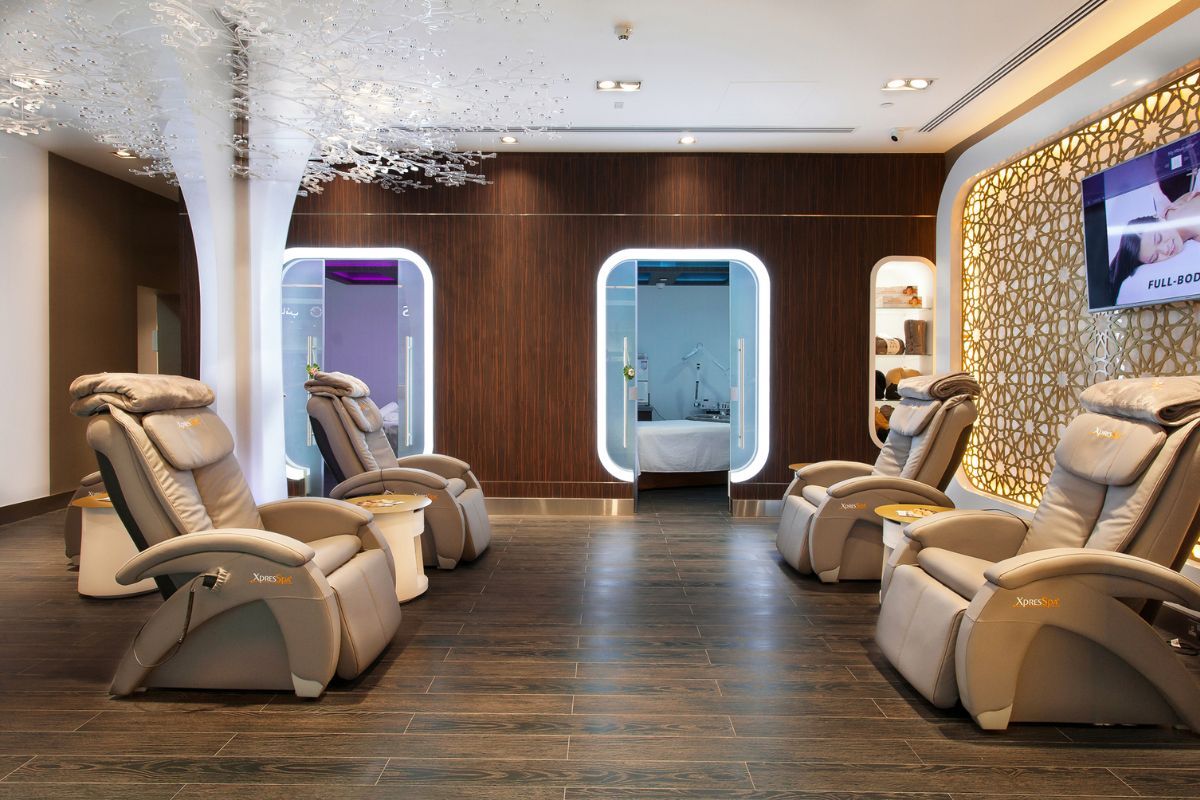 XpresSpa is a well-known relaxation and wellness brand that provides a variety of spa services at Dubai International Airport. The spa offers a range of treatments and services, including massages, facials, manicures, pedicures, and hair styling. In addition to providing services that promote relaxation and wellness, XpresSpa offers its customers the opportunity to purchase wellness products such as aromatherapy oils, skin care products, and travel essentials.
World of Wellness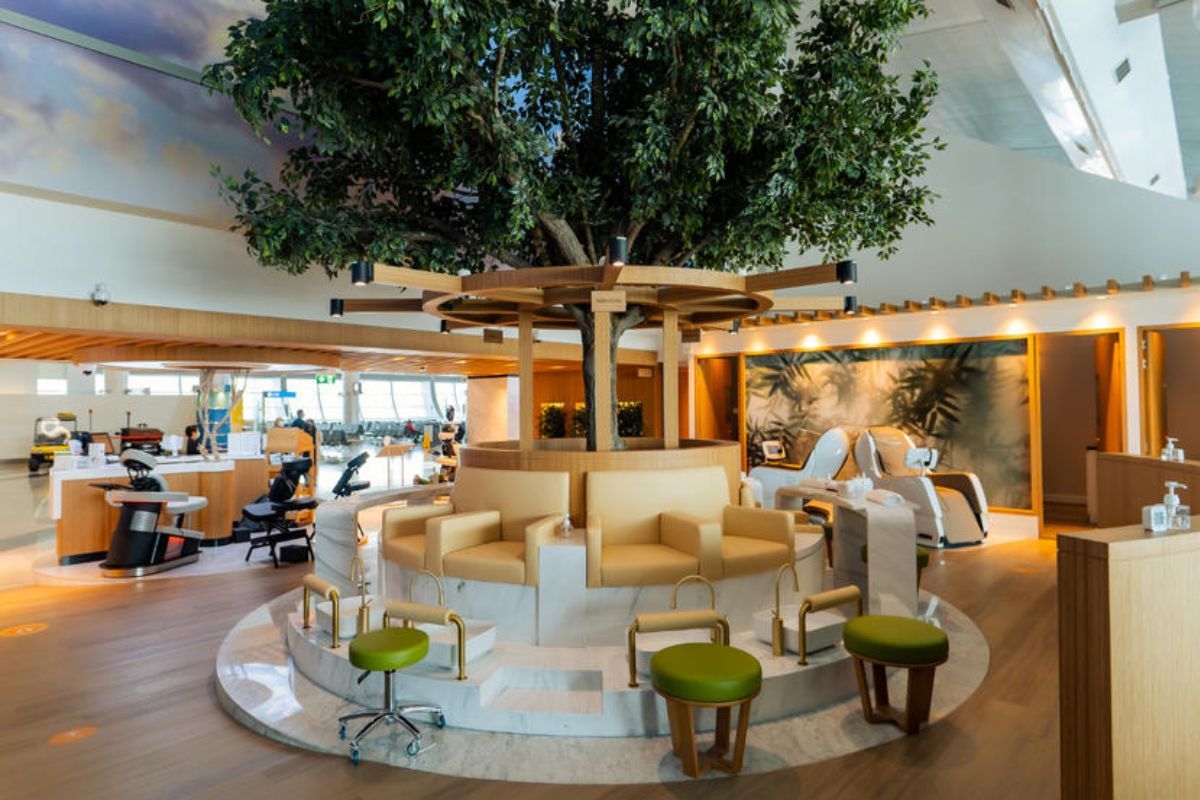 World of Wellness is a comprehensive wellness facility that is managed by XpresSpa. It provides an elevated experience of restoring and revitalizing the mind, body, and senses. The center offers an array of wellness services that include massages, cryotherapy, manicures, pedicures, oxygen treatments, henna application, sleeping pods, hair treatments, wave loungers, and shower amenities.
Timeless Spa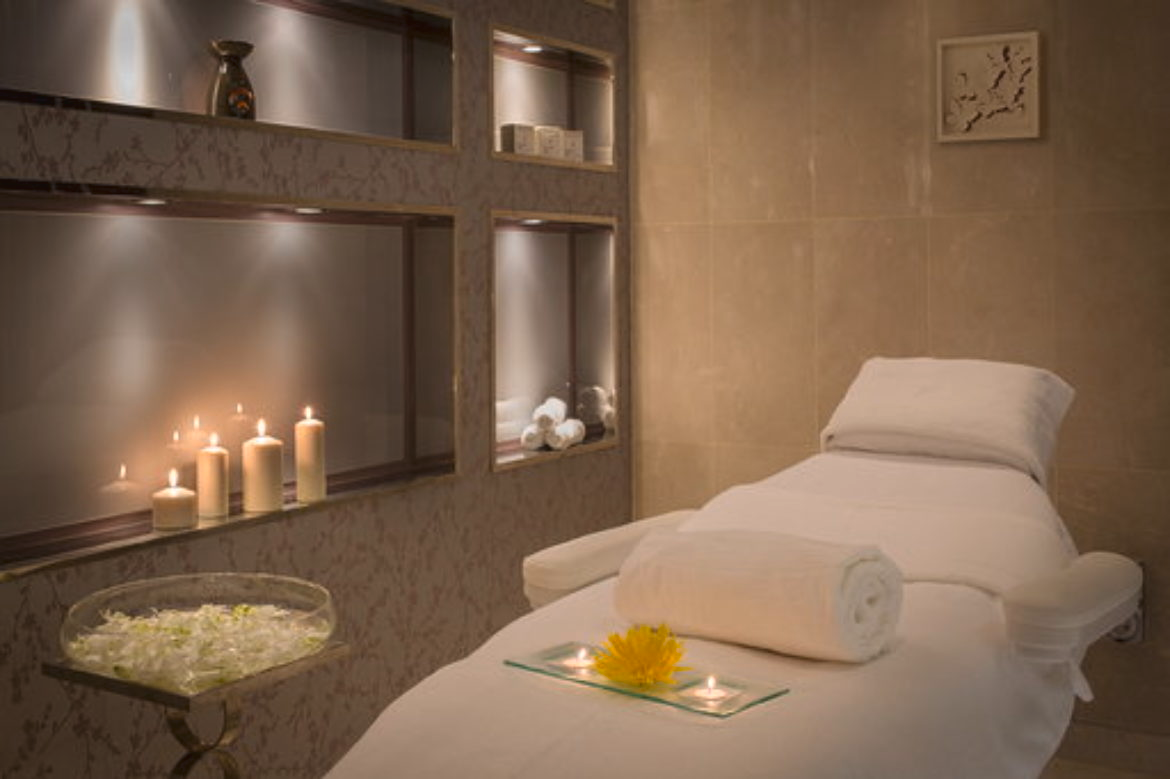 With 71 treatment rooms scattered throughout DXB, Timeless Spa serves as a personal sanctuary for indulgence within the airport premises. Rejuvenate your tired body and mind with high-quality signature products skillfully administered by experienced therapists. Timeless Spa provides a variety of services, such as facial therapy, body massages, beauty and skincare therapy, and spa packages.
Relax at the lounges

At DXB, you can experience the premium lifestyle even if you're not flying in business or first class. A variety of luxurious lounges such as Emirates, Marhaba, Ahlan, Plaza Premium Lounge, and the latest addition, Their Patio, are available for all passengers to access by paying.
Marhaba Lounge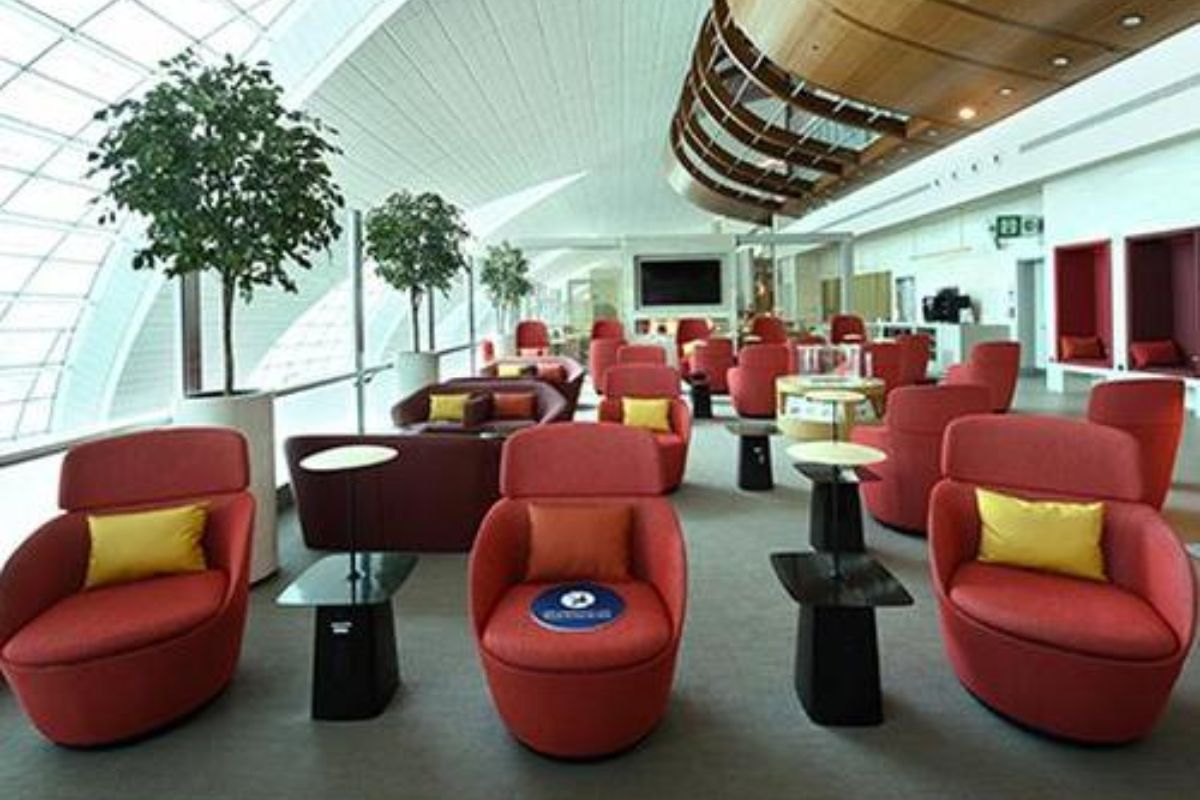 No matter which airline you're flying with or what type of ticket you have, you can unwind in comfort at Marhaba's lounges in every terminal of DXB. By paying a small fee, you can enjoy the amenities, such as an open buffet that serves various international dishes and a fully stocked bar, in addition to access to business facilities. Moreover, there are shower facilities available for those who want to freshen up before their next flight.
Plaza Premium Lounge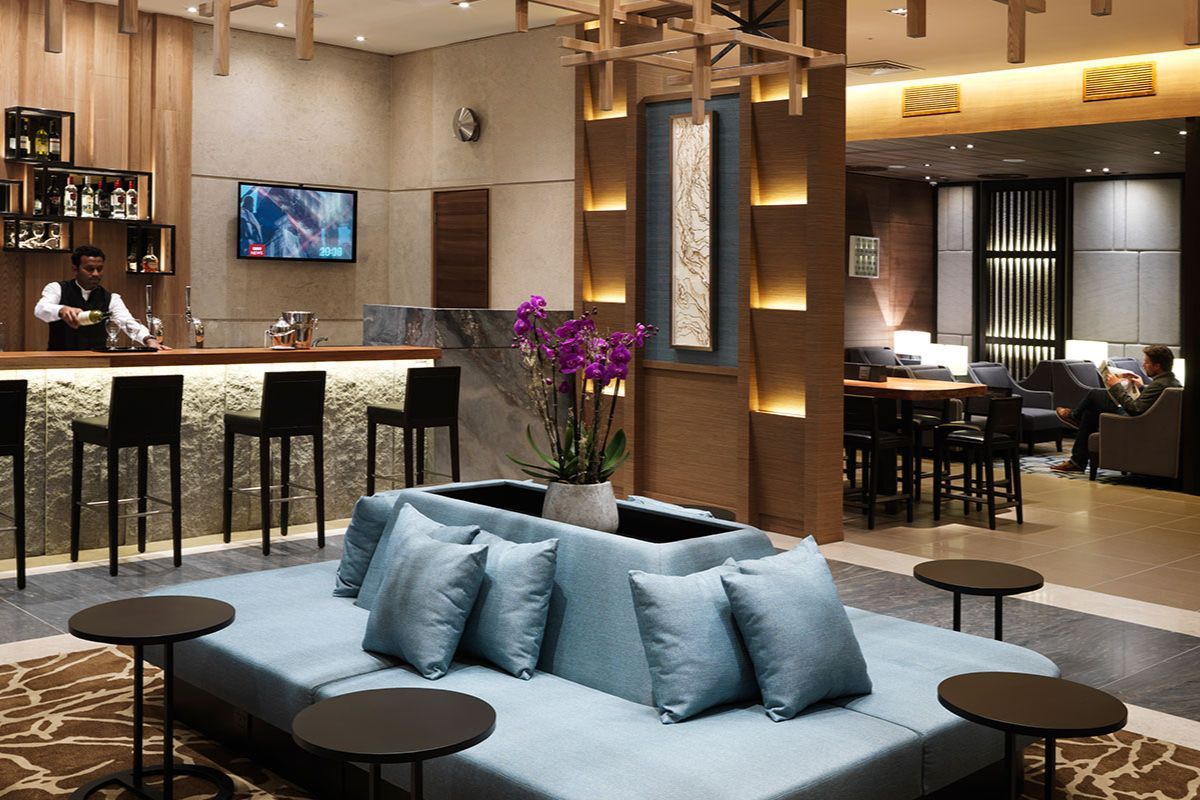 Plaza Premium Lounge provides a luxurious experience for travelers in the economy class, complete with cozy seating and a delightful selection of Arabic, Asian, and International foods made freshly in the kitchen. The kitchen serves various beverages, such as tea, coffee, soft drinks, and alcoholic drinks from its well-supplied Aerobar throughout the day. Moreover, the lounge features a Family Suite to ensure more seclusion, as well as showers and a play area for children to keep them entertained.
Ahlan Business Class Lounge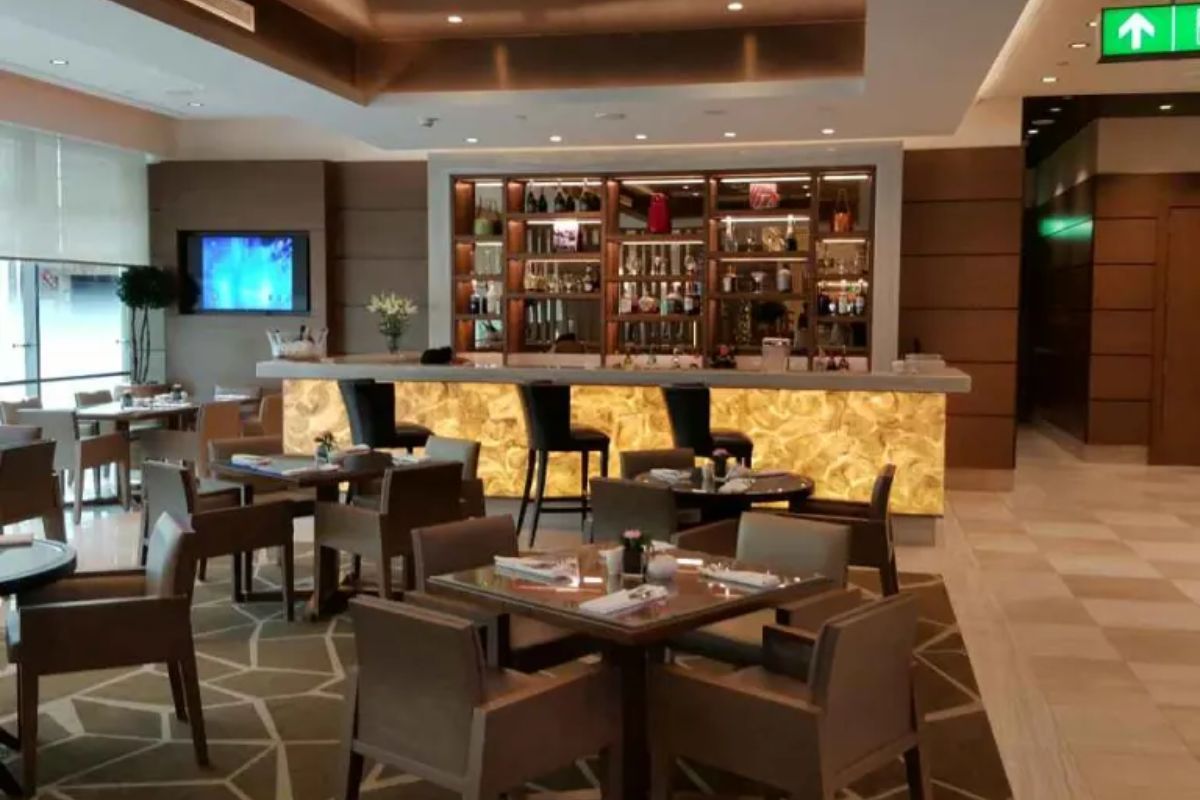 The Ahlan Business Class Lounge provides a diverse range of food and beverages to Business Class travelers who are flying with airlines that do not possess their own exclusive lounge.
Ahlan First Class Lounge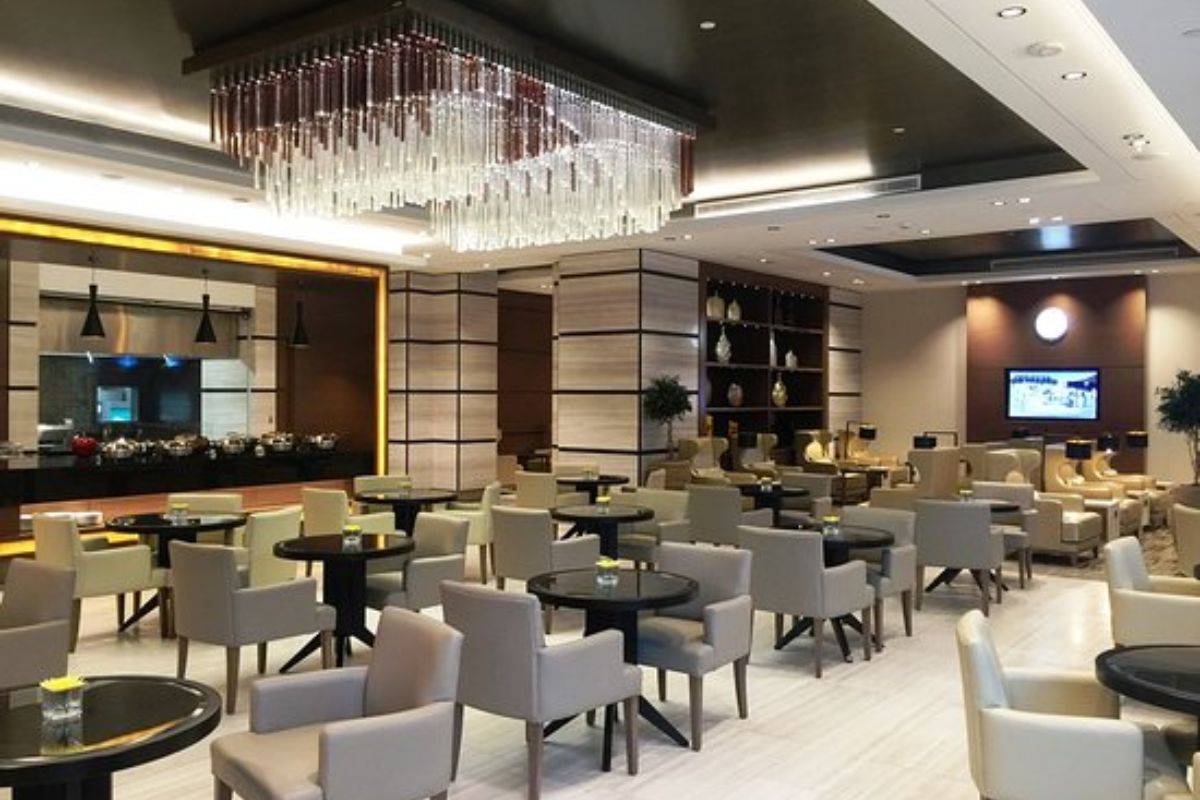 The Ahlan First Class Lounge provides a broad range of food and beverages to First Class travelers who are flying with airlines that do not have their own exclusive lounge.
Emirates Lounge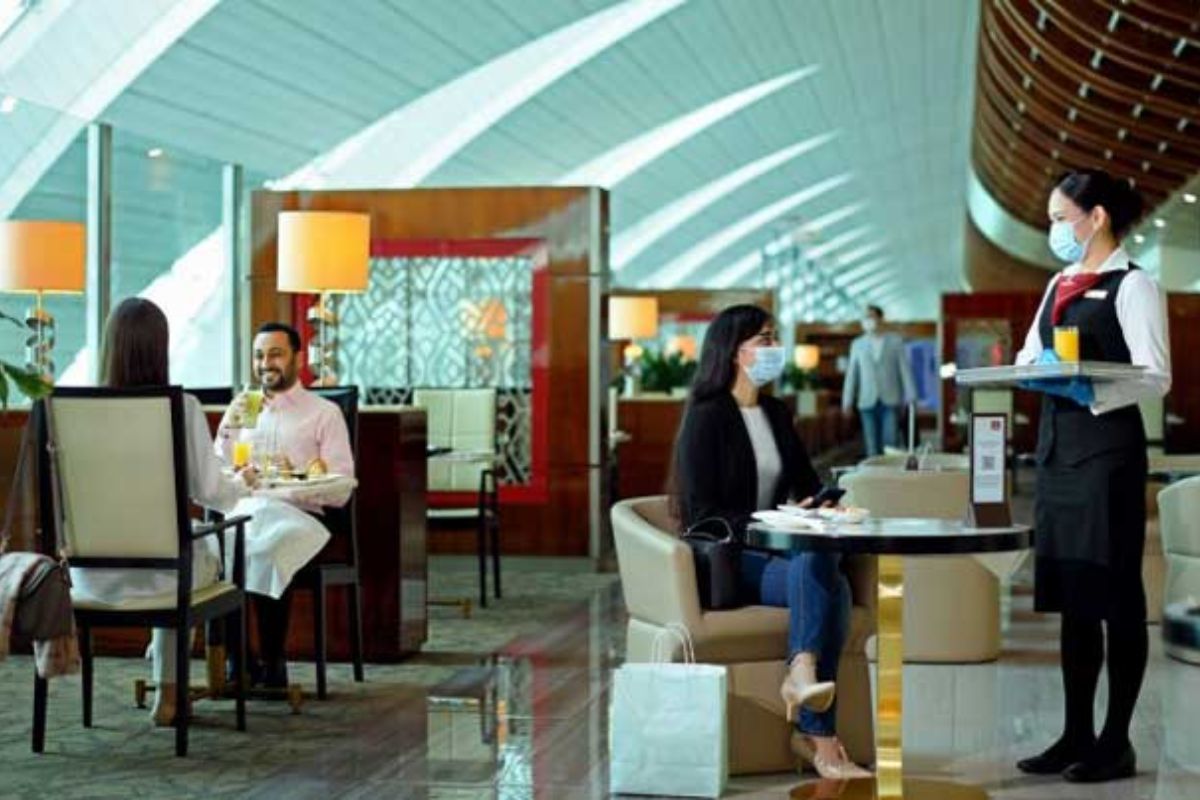 The Emirates lounges at Dubai Airport offer us the opportunity to experience a luxurious and comfortable way of traveling. With a total of seven lounges, they are categorized into Emirates lounges, Emirates first class lounges, and Emirates business class lounges, all located in Terminal 3 across Concourses A, B, and C. Although access to the Emirates lounges is available for anyone traveling on an Emirates flight, it is not free of charge for everyone. The lounges provide various amenities, allowing visitors to choose what interests them, such as complimentary Wi-Fi to catch up on the news and stay connected, or network in the bar areas. Visitors can also enjoy a selection of gourmet dining options from around the world and exclusive beverages.
Locations: Terminal 3 across Concourses A, B and C.
Their Patio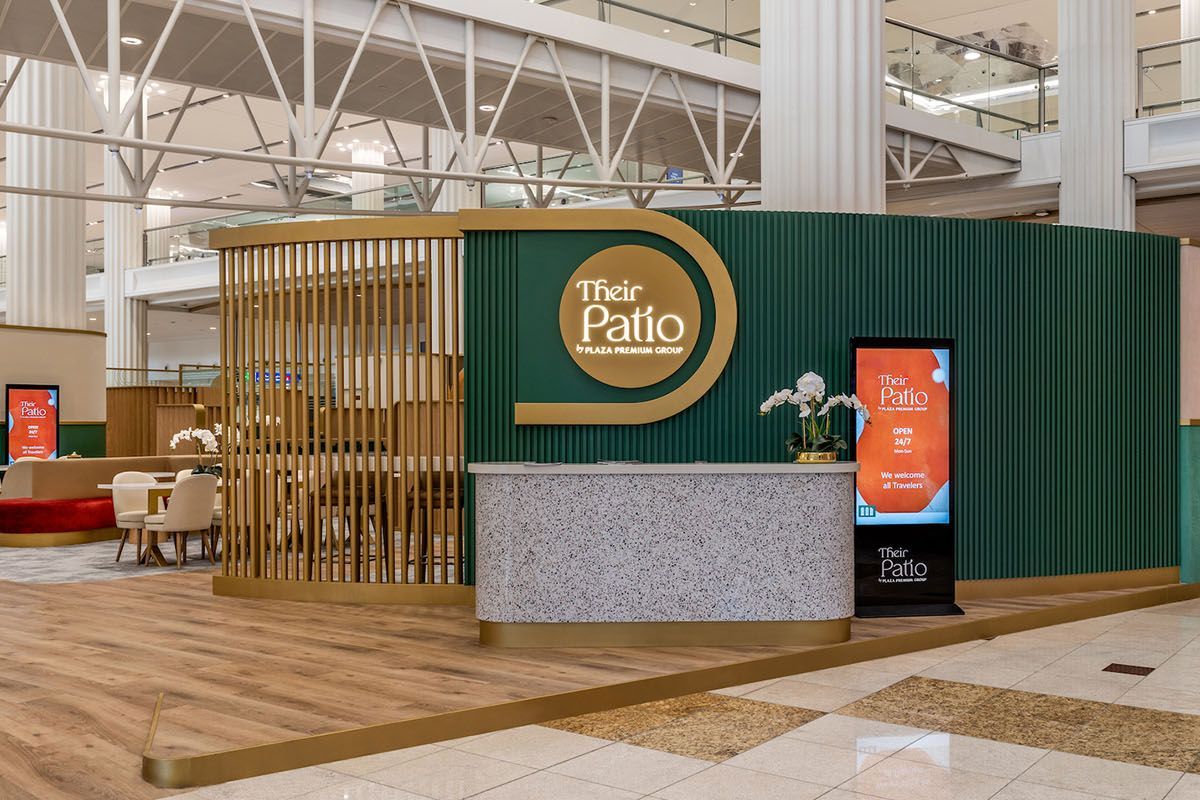 The Patio is a unique lounge for travelers in the region, where they can work independently or network with other professionals in a shared workspace. It's the first lounge of its kind in the area and offers access to meeting rooms at the airport. Travelers can take advantage of this space before their next flight and receive up to a 20% discount on lounge access packages, subject to specific terms and conditions.
Location: Terminal 3 Arrivals (Near Arrivals)
Unaccompanied Minors Lounge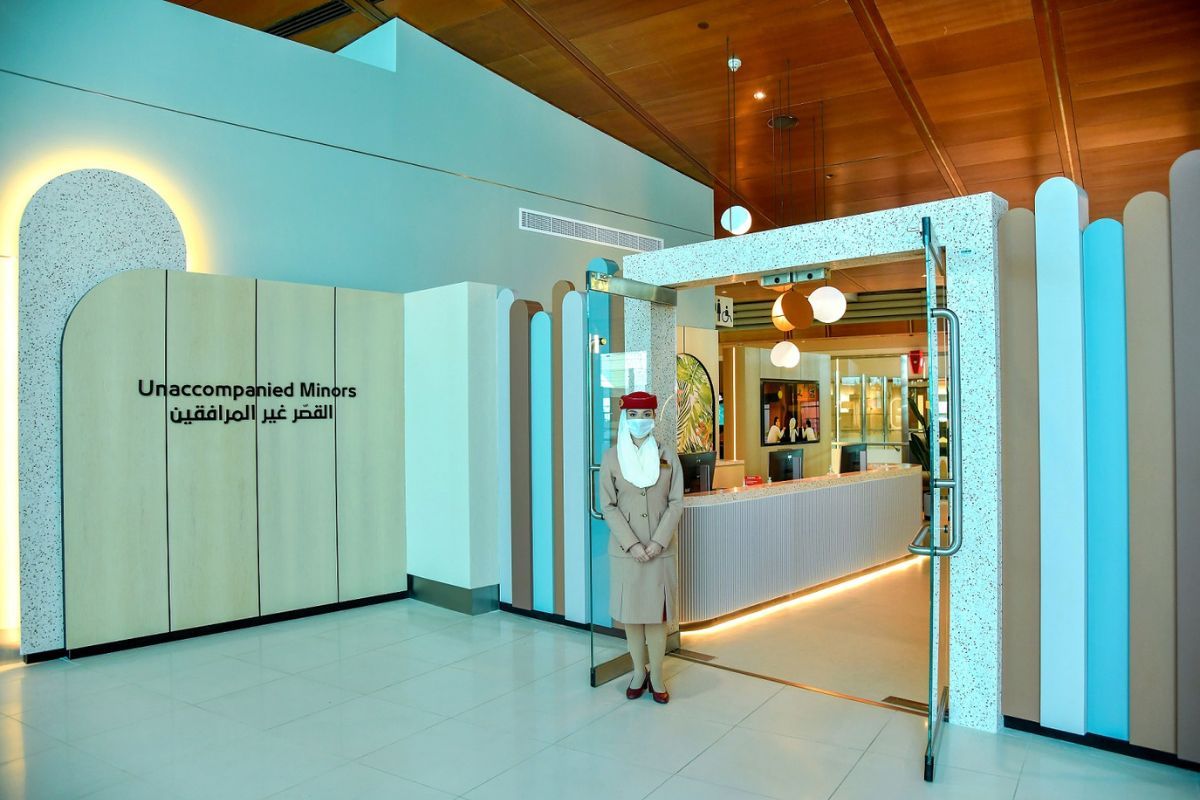 Young travellers flying Emirates as unaccompanied minors can now relax and wait for their flight in a newly upgraded lounge dedicated for them at Dubai International Airport, located next to Emirates' First Class Lounge in Concourse B. Emirates' lounge for unaccompanied minors is open 24/7, and the newly upgraded facility offers fun video games, drinks and snacks, comfortable seating areas, free wi-fi, and washrooms designed for kids.
Al Majlis Lounge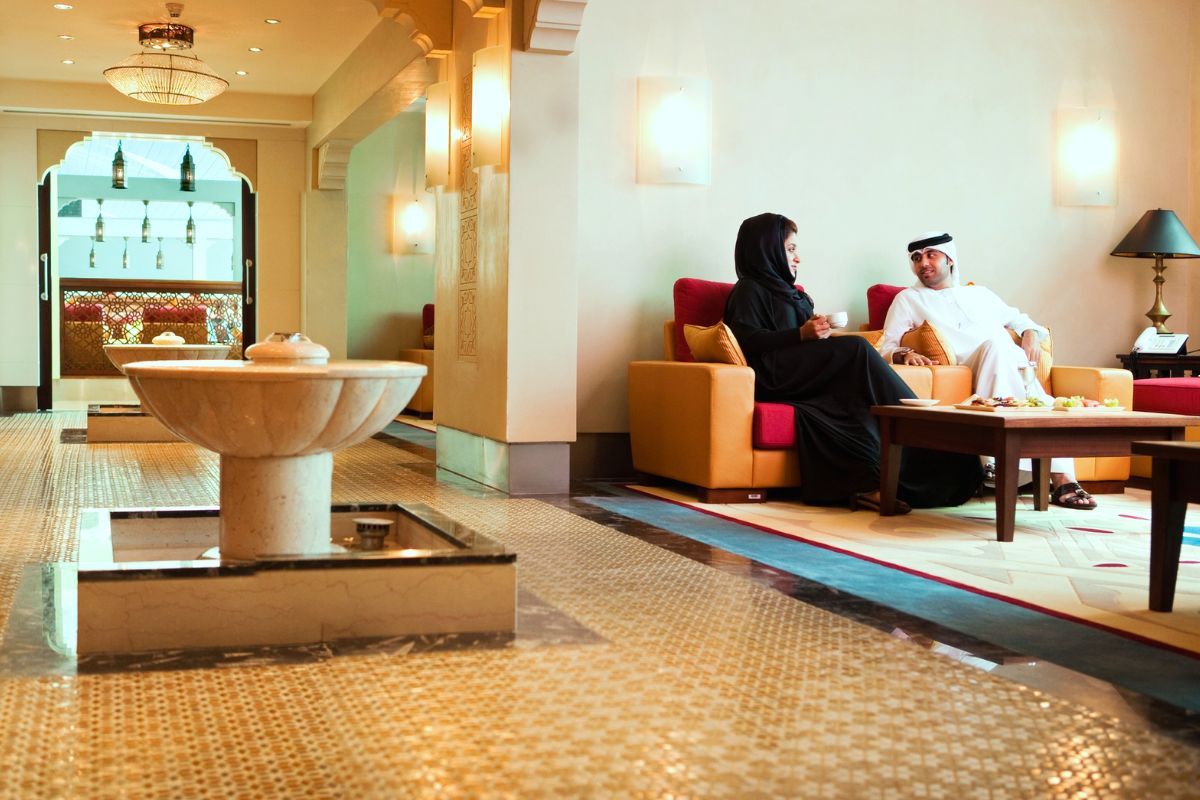 Eliminate the chaos and commotion from your airport experience by taking advantage of the Al Majlis VIP Service and Lounge at Dubai International (DXB). Regardless of your travel class, the Al Majlis service simplifies your airport journey by expediting processes such as check-in, passport control, and baggage clearance, as well as providing limousine transportation to and from the boarding or arrival gate. In addition, they offer assistance with travel documentation, all while you relax in the opulent lounge.
Location: Terminal 3 next to Exit 4 at the departure level.
Relax at a hotel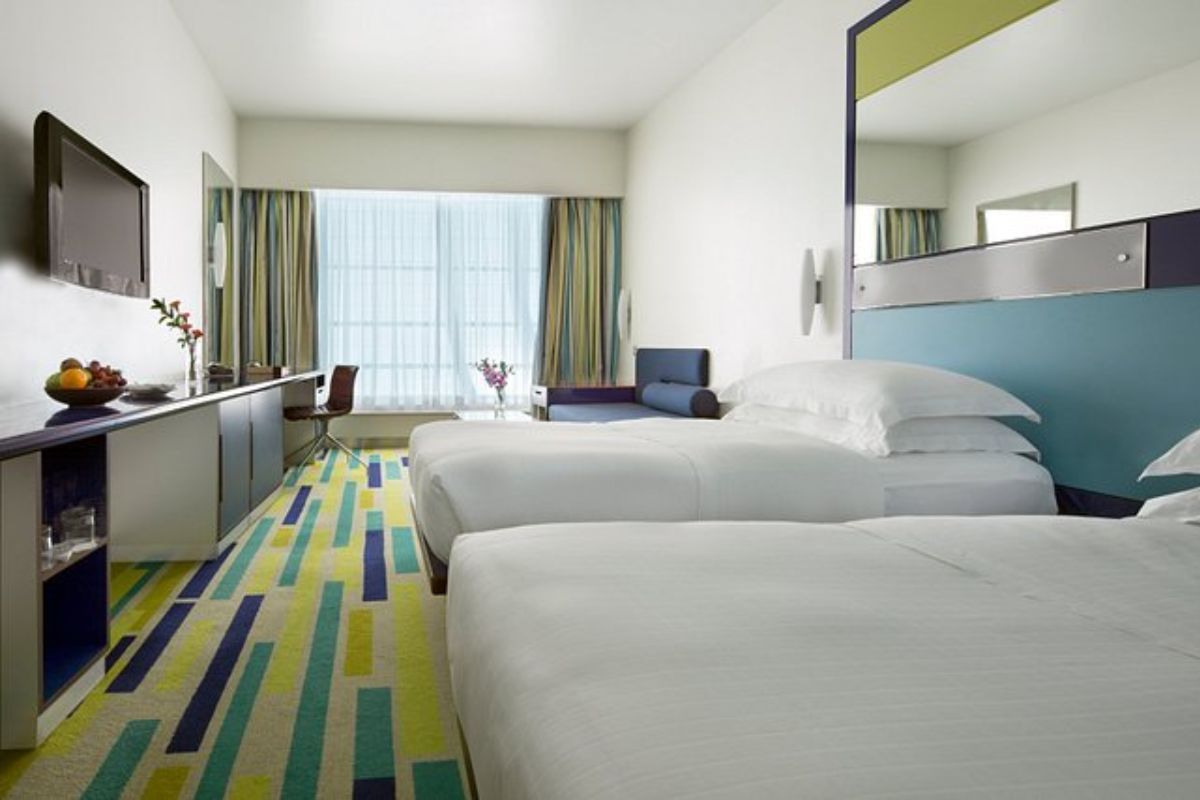 The Dubai International Hotel is committed to ensuring your stay is as pleasant as can be, and it is conveniently positioned at the Dubai International Airport. Our location is in Terminal 3 of the airport, and we specialize in providing lodging options for passengers who are in transit.
Shop till you drop

If shopping is your thing, then you're in for a treat at DXB. The airport boasts an impressive array of shops, from luxury brands to high street stores. You can shop for souvenirs, gifts, electronics, clothing, and much more. The airport also has duty-free shops, where you can purchase items without paying taxes.
Explore the airport

DXB is a vast airport, spanning over three terminals, and there are plenty of things to explore. You can take a walk around the terminal and enjoy the stunning architecture of the airport. DXB features art installations, sculptures, and even an indoor garden, making it an aesthetically pleasing airport.
In conclusion, DXB is more than just an airport; it's an experience. With its world-class facilities and a range of amenities, DXB has something for everyone. Whether you're looking to relax, shop, dine, or explore, DXB has it all. So, the next time you find yourself with a layover at DXB, make the most of it and enjoy all the airport has to offer.