Dubai is a city where everything is bigger, better and one of a kind from the tallest of buildings, outlandish culinary options, thrilling activities and even cinema experiences. Dubai has many movie theatres across the city, you'll find one in every mall around the corner. Watching a movie with your friends or family is guaranteed to be fun. Besides your usual movie watching experience, Dubai has quite a few unique cinema experiences that make your time at the theatre even more fun.
So, get ready to munch on some popcorn while enjoying a movie with a unique experience like no other. Here are the 6 most unique cinema experiences in Dubai.
1. Horror Cinema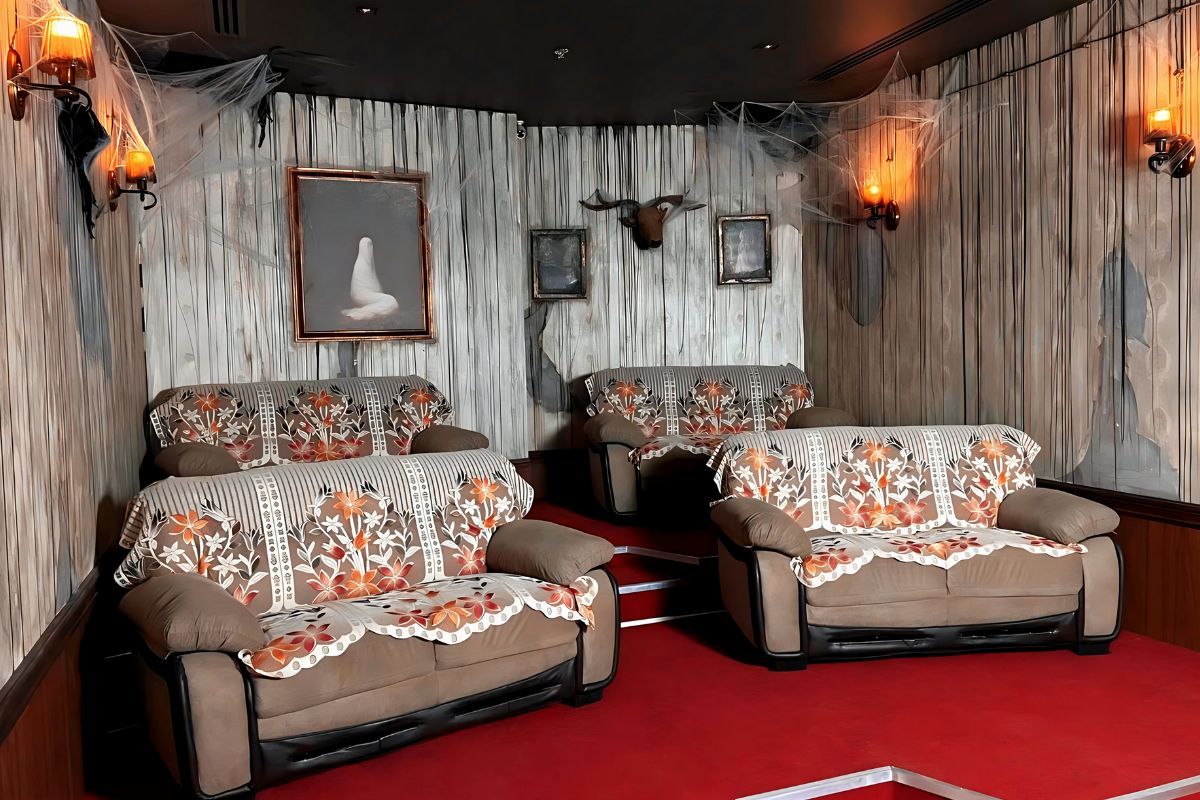 This movie experience is not for the faint-hearted. Enjoy a unique thrilling experience at Dubai's first horror cinema. Watch some of the best horror movies in cinema history but the best part is you won't be alone… Professional actors dressed in scary get up will pop up at the film's tensest moments to bring the horror from the screen to life. So, closing your eyes and clutching tightly at your friend's arm won't save you. The cinema features high-tech special effects, splashes, flashes, and realistic sounds. This horror cinemas experience is part of the Horror Rooms that has special horror escape rooms and cinemas experiences for you. Get a movie and thrill experience of a lifetime with this unique Horror cinema!
Location: Horror Rooms, Indigo Sky Building, Umm Al Sheif
Timings: 1:00 pm- 2:00 am
Price: AED 144| Book your spooky movie experience here
2. Dive in Cinema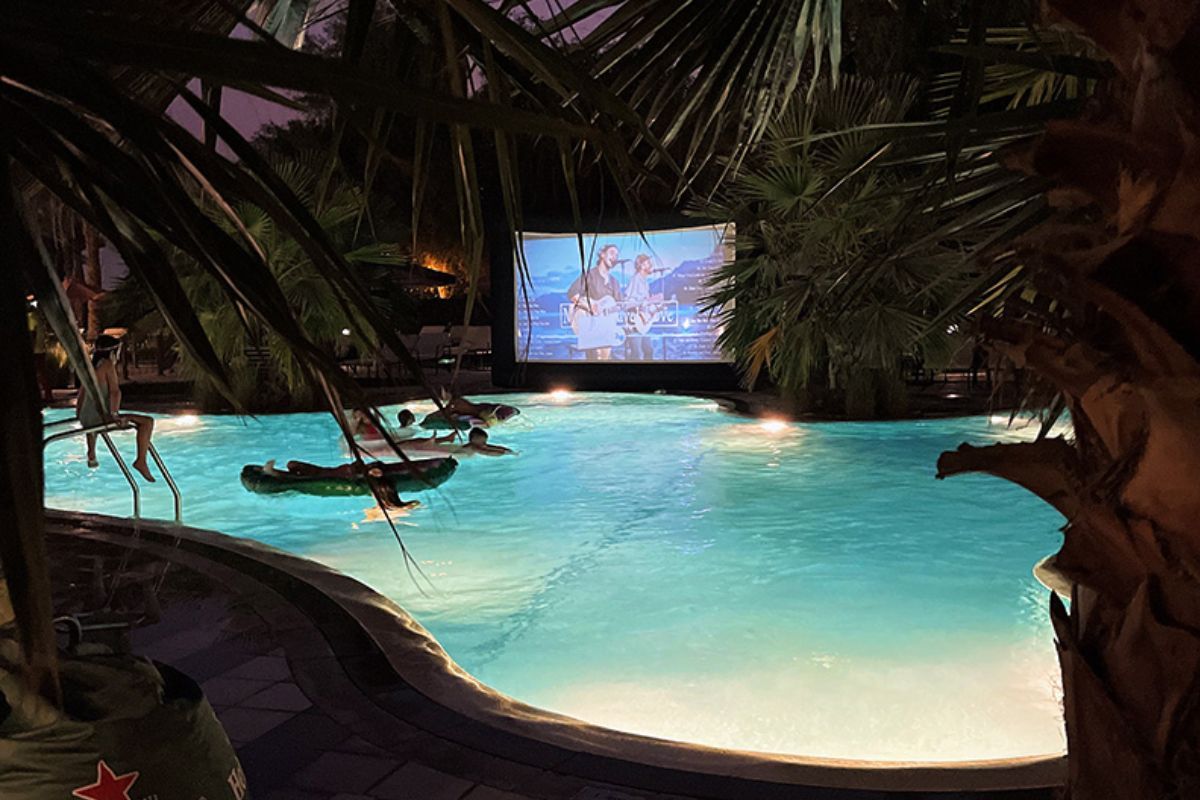 Have your ever wondered what it would be like to take a dip in the cool water, relax and watch a movie while you're in the pool? Well, you can do that at Dubai' s first Dive-in Cinema where you get to splash the cool water, relax, and enjoy a fun movie. Taking place every Friday, this family-friendly movie night lets you cool down at the pool with a classic family film, a tasty set menu and more. You can choose to be in-pool and float around with a floatie or seat near the poolside and recline on a plush or beanbag. With this experience you'll get unlimited popcorn, a three-course menu that includes yummy options like crunchy prawn tacos, hot chicken wings, pepperoni pizza and American cheeseburger. You can also get 3 drinks from a selection of in-house drinks and a rotation of weekly-changing cocktails that are inspired by the movie on the screen.
Location: The Green Room, The Els Club, Sports City
Timings: 7:30 pm, Fridays
Price: AED 150 adults AED 80 children | Book your fun here
3. Snow Cinema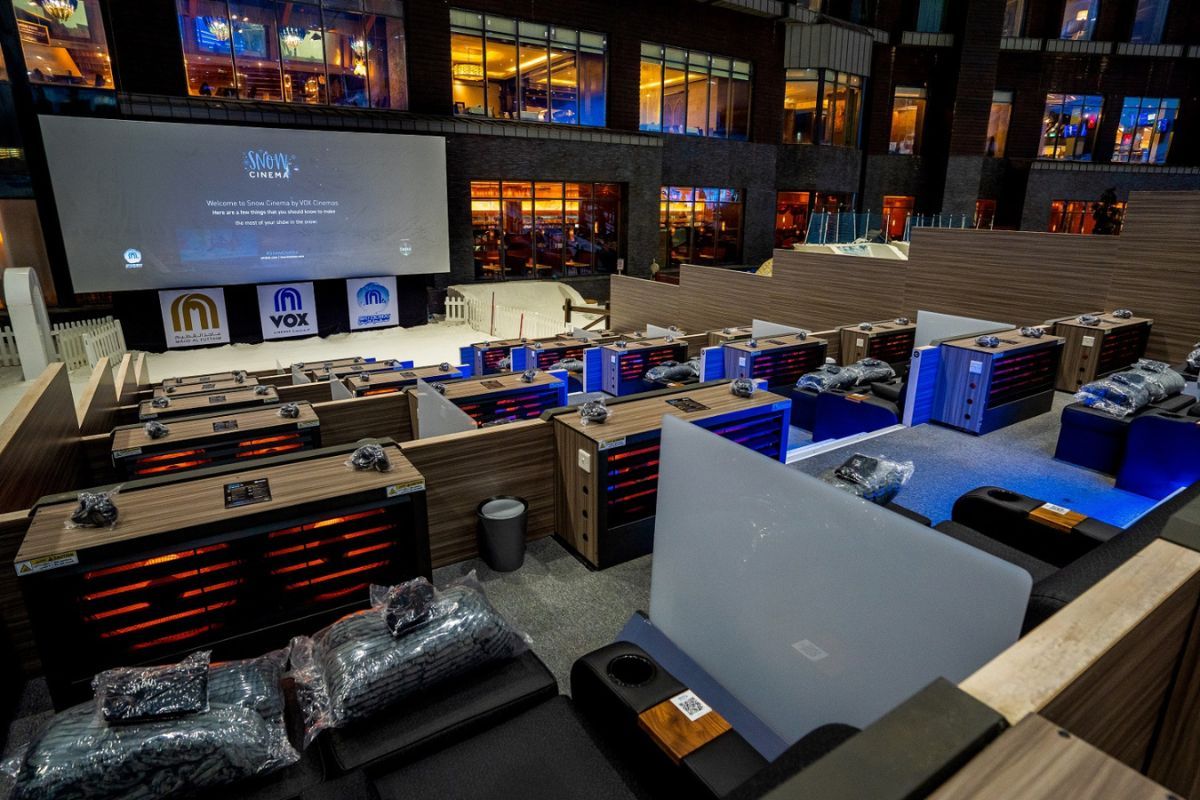 Watch a movie in minus four degrees while sipping on hot chocolate and munching on yummy popcorn. Vox Cinemas has teamed up with Ski Dubai to offer this cool and unique cinema experience. This experience includes two movie tickets to a movie of your choice, gloves, jackets, socks, boots, beanie, blanket along with snacks. You can also choose to order from North 28's extensive menu delivered directly to your seat. It gets quite cold even though there's a heater and things to keep you warm it is advised that you arrive in layered clothing to keep you warm. The seating is on a first-come-first-served basis so make sure you arrive early to get the best seats. This is an experience you can't miss! So, Hurry up and book your tickets now to this memorable experience.
Location: Ski Dubai, Mall of the Emirates
Timings: Mon- Fri- 10:00 am- 11:00 pm Sat- Sun- 9:00 am- 12:00 am
Price: AED 200 for 2 | Book your tickets here
4. Outdoor Cinema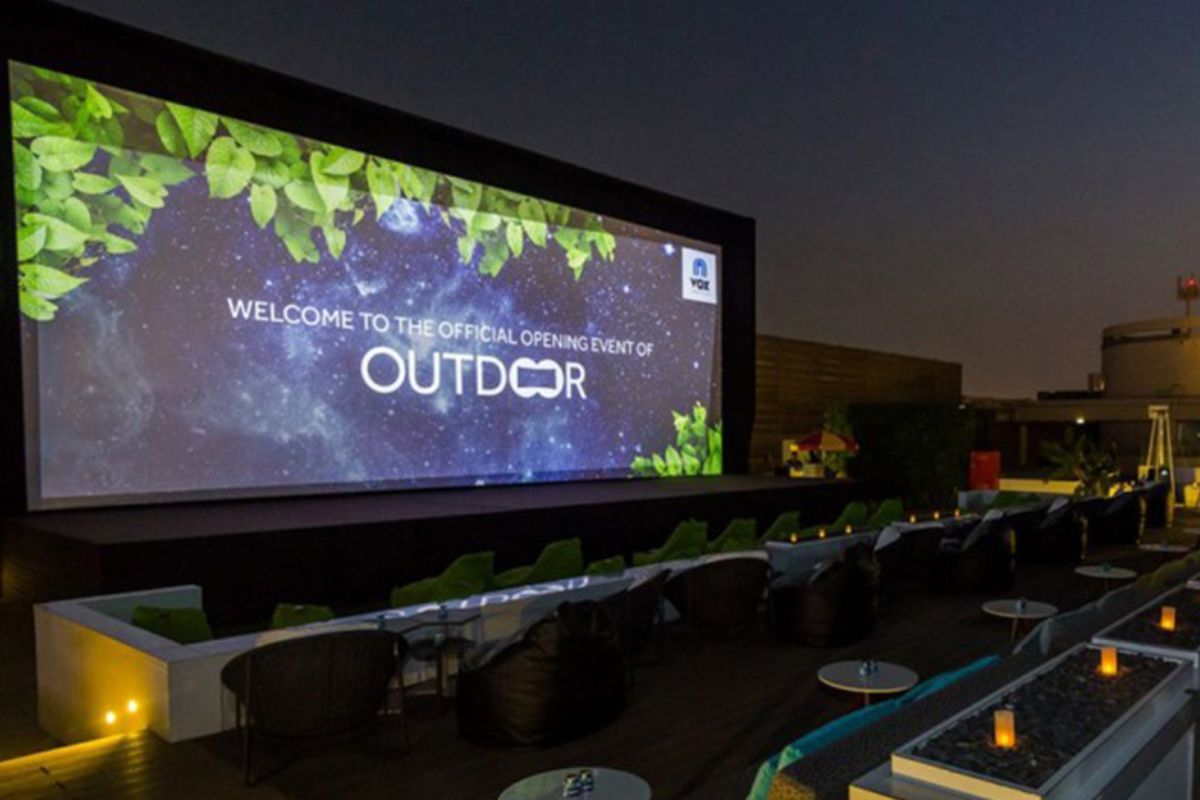 Watch movies under the glistering sky and the sparkling lights of the Dubai skyline. Visit the rooftop cinema on top of the Galleria Mall that is brought to you by Vox Cinemas for a movie experience like no other. The cinema is equipped with the very best visual technology and surround sound so you can sit back and relax on comfy couches and bean bags. You get to enjoy the latest blockbuster movies under a canopy of the glittering sky giving you an open-air movie experience with food and beverage served to your seat. There are three types of seat packages- Standard, VIP couch package for 2 and kid's package. In all the packages you'll get - a seat, food, and beverage pack with the choice of nachos or hot dog, salt or caramel popcorn, soft drink, Evian water and a box of Monkey cookies. Book your ticket now to enjoy this unique cinema experience as this is the perfect weather.
Location: Vox Cinema, The Galleria Mall, Al Wasl Road
Timings: 10:00 am- 12:00 am
Price: Kids: AED 90
Standard Package for 1: AED 137 (Weekday) AED 158 (Weekend)
VIP Couch Package for 2: AED 316 (Weekday) AED 368 (Weekend)
Book your tickets to this outdoor movie experience here
5. Dine-in Cinema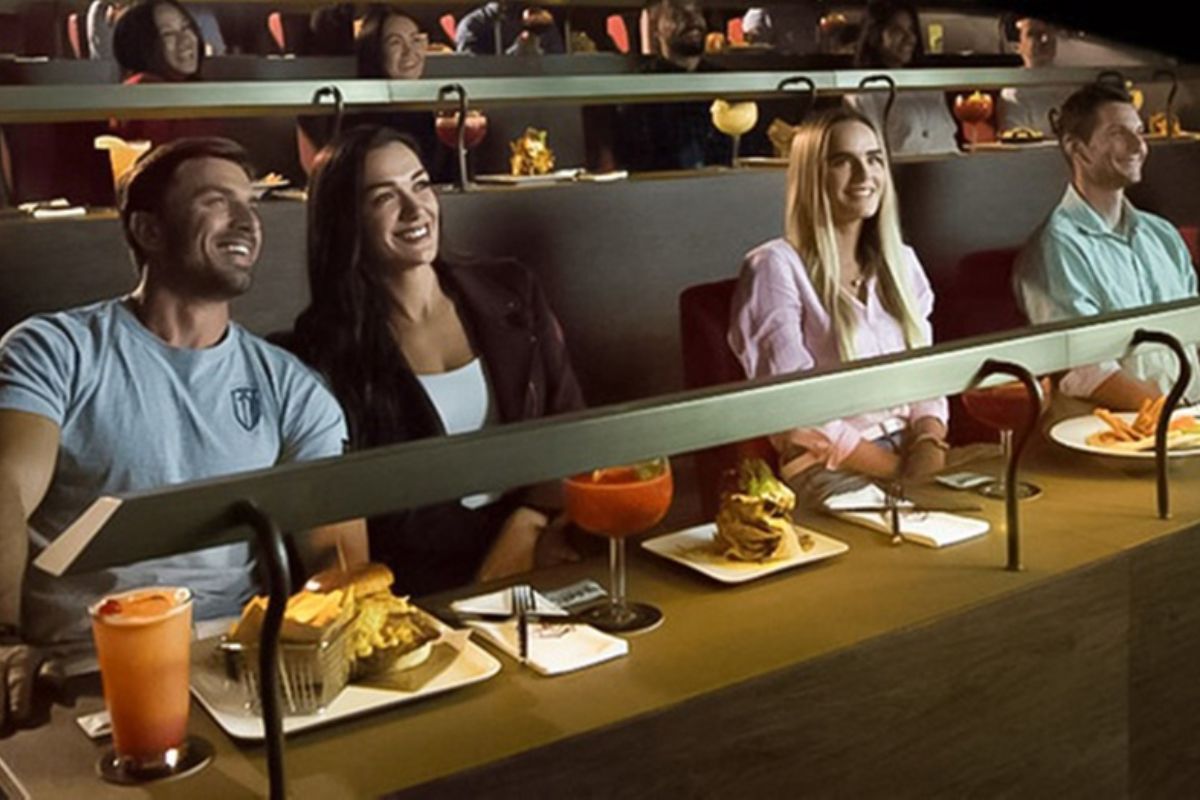 Dinner and a movie might be a regular of yours at home but now you can do the same at the theatre too! You no longer must limit your cinema munching to popcorn, nachos, and hotdogs. Visit this restaurant rolled into a cinema that serves you an elaborate restaurant style-meal while you binge on the latest movies. You can order snacks, mains, desserts, and delicious thick milkshakes that will all be served to you diner-style to the bench-table in front of your seat. There's even a little light so that you don't spill anything. And you devour delicious and mouth-watering culinary treats without breaking attention from the movie on screen. From starters, pizzas, burgers to desserts and refreshing beverages you can order anything your heart desires. Enjoy this unique cinema experience now and live a memory to cherish forever.
Location: Reel Cinemas - The Dubai Mall, The Pointe, and the Jebel Ali Recreational Club.
Timings: 10:00 am – 2:00 am
Price: AED 95 | Book youth tickets to this unique movie experience here
6.  Xtreme - The Biggest screen in the region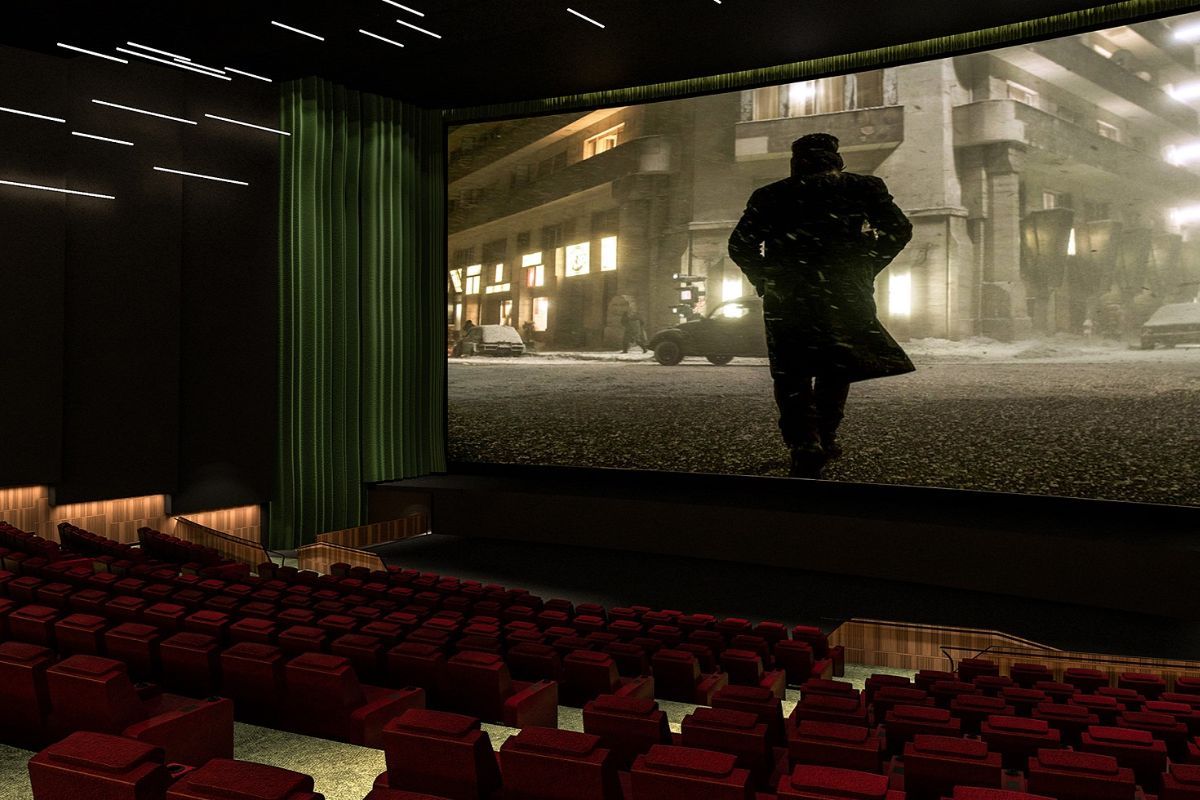 Watch a movie at the biggest screen in the Middle East. At 423 square meters the screen is so big that you could put two standard tennis courts together and still it will be bigger in size. It has crystal-clear laser projection, heart pounding surround sound and the most comfortable seats. This giant screen cinema can seat 382 people. There are three sections of seats – Silver, Platinum, and Directors Box. The Director's box has 36 seats, and you can watch the movie with utmost privacy. Watching a movie on this mega screen will give you cinema experience like no other. Wherever you are seated, you'll get the best view of the screen which is the best part of this cinema. Book your tickets now for this unforgettable movie experience.
Location: Roxy Cinema, Dubai Hills Mall
Timings: 11:30 am – 1:00 am
Price: AED 55 (Standard)
AED 85 (Premium0
AED 175 (Director's Box)
Book your tickets to this unique movie experience here