The Dubai Festivals & Retail Establishment unveiled its 2023 Retail Promotions Calendar, which has been strategically developed to provide an active stimulus to both resident and tourist consumer spending on shopping.
The calendar features a diverse range of city-wide events, activations, and experiences, which offer numerous opportunities for retailers to get involved across a wider range of product categories and brand segments.
The calendar includes shopping-related festivals, promotions, and seasonal offer periods, as well as mega-sales events and exclusive retail experiences and activations.
The primary objective of launching the Dubai Retail Calendar is to increase both the volume and spending of residents and tourists, further establishing Dubai as a leading tourism destination, while also promoting growth and improvement in Dubai's Retail Sector.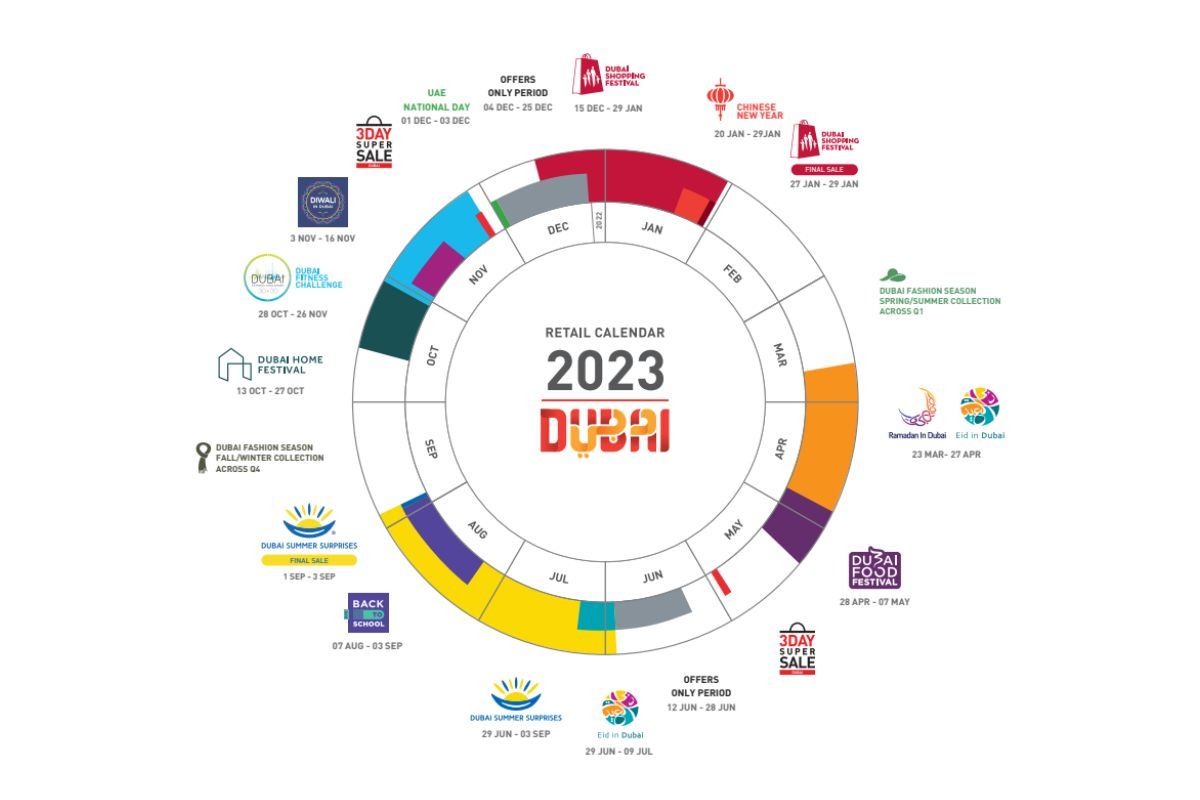 DUBAI FOOD FESTIVAL:
28 April 2023 - 7 May 2023
Dubai Food Festival held annually, stands out as the sole citywide food festival in the Middle East. It commemorates Dubai's status as a culinary hotspot by featuring a variety of food-related events and promotions. These showcase Dubai's distinctive food culture, superb dining options, and exceptional F&B establishments. Additionally, the festival presents exclusive discounts on kitchen and dining segments to add to the excitement.
3-DAY SUPER SALE (3DSS)
Edition 1: May 2023
Edition 2: November 2023
Dubai is committed to maintaining its prominent global standing as a premier shopping destination, and one of the initiatives that reinforce this goal is the Super Sale weekend. This event is designed to attract shopping enthusiasts and boost tourism by offering discounts ranging from 25 to 90 percent on a wide range of items, including clothing, shoes, accessories, electronics, furniture, homeware, and even groceries. The aim is to encourage spending and make Dubai an even more appealing shopping destination.
DUBAI SUMMER SURPRISES
29 June 2023 - 3 September 2023
Dubai Summer Surprises is an annual summer event that offers a wealth of exciting experiences for both residents and tourists. This shopping extravaganza is known for its fantastic bargains and incredible entertainment, which are spread throughout the city. From spend-and-win promotions to thrilling competitions, the event features daily deals on top brands at unbeatable prices, as well as a range of entertainment options. With so much on offer, Dubai Summer Surprises is a must-attend event for anyone looking to enjoy a fun-filled summer in Dubai.
DSS FINAL SALE
1 September 2023 - 3 September 2023
To mark the closing of the citywide shopping extravaganza, shoppers can take advantage of the DSS Final Sale taking place during the last weekend of Dubai Summer Surprises featuring final price reductions, amazing deals, and the best offers.
EID IN DUBAI (EID AL ADHA)
29 June 2023 - 9 July 2023
This special period calls for cultural activities, family gatherings, as well as gifts for the near and dear. While Eid in Dubai brings a great deal of buzz and excitement, featuring retail promotions at malls and souks, as well as special holiday packages offered by hotels across the city.
BACK TO SCHOOL
7 August 2023 - 3 September 2023
Back to School is an exciting time of year, and parents can share in their children's enthusiasm. This season positions Dubai as the best place to do back-to-school shopping and also encourages parents to spend time with kids while teaching them smart shopping habits.
DUBAI HOME FESTIVAL
13 October 2023 - 27 October 2023
The Home Festival provides a great platform to offer fantastic savings on a range of home furnishing products, as well as boost the overall homeware retail category. The homewares segment will be activated by engaging with home stores in the city who will create special promotions.
DUBAI FITNESS CHALLENGE
28 October 2023 - 26 November 2023
The Dubai Fitness Challenge is a city movement towards health and happiness for all with an action-packed public engagement programme that includes fitness events, classes, and sporting activities, plus exciting deals and promotions across a wide range of retail, sports, and fitness providers, and healthy F&B concepts.
DIWALI IN DUBAI
3 November 2023 - 16 November 2023
The Festival of Lights, Diwali, is a time for celebration, family, and positivity. The festival, is a period for gift-giving and shopping, with many of Dubai's top retailers offering exciting shopping promotions on gold & jewelry, bridal wear, fashion accessories, and home décor. The city's shopping malls and entertainment destinations put on an array of festive-themed events and activities.
UAE NATIONAL DAY CELEBRATIONS
1 December 2023 - 3 December 2023
A tribute to the UAE's unity and continued growth, the UAE National Day celebrations consist of three days of festivities including special retail promotions, firework displays, and activations all over Dubai to honor the nation and its people.