The COP28 UAE Presidency today is using the occasion of being 100 days away from the world's largest annual climate summit, COP28, to call on the world to come to the UAE ready to make transformational and practical progress towards addressing the climate crisis.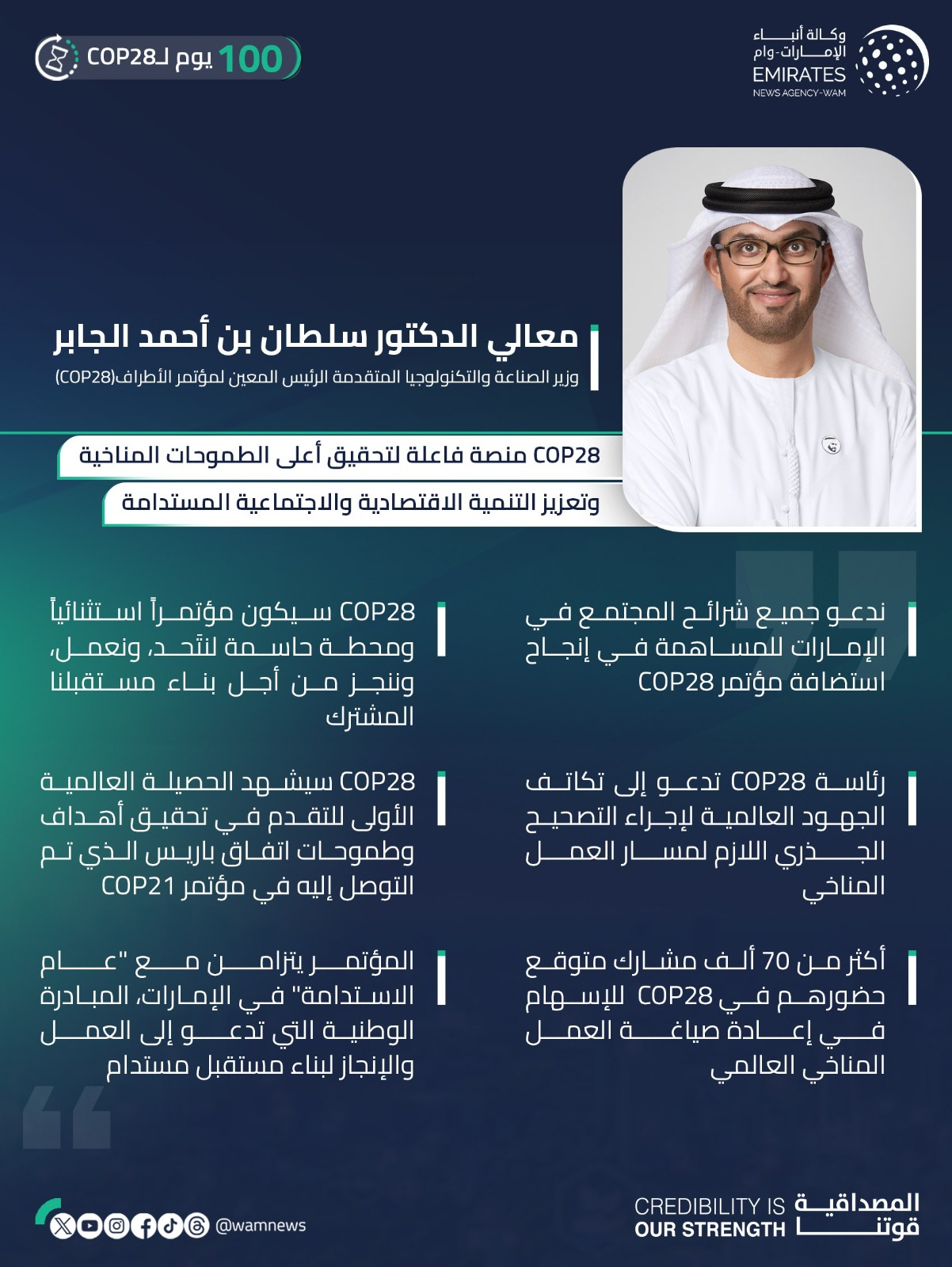 COP28 will feature the first Global Stocktake to measure progress against the goals and ambitions set out in the Paris Agreement at COP21. However, we don't need to wait for the Global Stocktake to tell us that we are way off track.
To address this and to deliver a major course correction, the COP28 Presidency has stated its determination to deliver ambitious negotiated outcomes and a practical action agenda. The objective of this collective action is to turn pledges and promises into progress to address the climate crisis.
The COP28 Presidency has set out four key pillars to deliver the necessary course correction. Those include fast-tracking a just, orderly, and equitable energy transition; fixing climate finance; focusing on people, lives, and livelihoods; and underpinning everything with full inclusivity.
COP28 in the UAE will convene global stakeholders to provide practical solutions across these pillars that are intended to unite the world and keep 1.5°C within reach.
With just 100 days to the start of COP28, we are at a critical moment for our planet. COP28 UAE will bring the world together to deliver transformative Climate Action at Expo City Dubai, from 30th November to 12th December.
With an expected gathering of over 70,000 participants, including world leaders, NGOs, private sector representatives, Indigenous Peoples and young people, COP28 is poised to shape the course of international climate action.
The UAE will lead a process for all stakeholders to agree upon a clear roadmap to accelerate progress towards a just, orderly and equitable global energy transition and a "leave no one behind" approach to inclusive climate action.
At its heart, COP28 aims for more than a dialogue among leaders; it's about driving change at every level.
Inclusivity is one of the key pillars of the COP28 action agenda and the Presidency has been conducting a global listening and engagement tour to understand the perspectives of all parties and include them in the process of climate diplomacy.
From Presidency's listening tour it was clear that climate diplomacy has not been inclusive enough, trust has broken down, critical enablers are not in place, and we need an "all of the above" approach to climate action that addresses every pillar and leaves nobody behind. Building on these insights, the COP28 Presidency announced its Action Agenda that seeks to reignite hope through action. The Presidency is now building global coalitions to progress the delivery of its priorities in order to keep 1.5°C within reach.
COP28 reflects the UAE's wider activity to ignite public engagement that will lead to a lasting transformation. Inspired by the legacy of Sheikh Zayed bin Sultan Al Nahyan, the UAE's Founding Father, the nation's dedication to sustainable growth remains unwavering.
This year, under the banner of the 'Year of Sustainability' UAE President His Highness Sheikh Mohamed bin Zayed Al Nahyan has rallied the nation to embrace a greener tomorrow. The initiative calls for responsible consumption, conservation, and collective action against climate change. The COP28 Presidency is also using the 100-day milestone ahead of COP28 to remind all UAE residents of the importance of climate action.
Marking 100 days to COP28, Dr. Sultan bin Ahmed Al Jaber, Minister of Industry and Advanced Technology and COP 28 President-Designate, said,
"Eight years after the Paris Climate Agreement, it is now time to reignite hope through unity and action. The countdown to COP28 has begun, marking a pivotal moment to shape our shared future. COP28 embodies collective action, a platform where leaders and citizens from every corner of the world unite to forge a sustainable path forward. The four pillars – fast-tracking the energy transition, fixing climate finance, focusing on people, lives and livelihoods and reinforcing everything with full inclusivity – are our guiding lights, illuminating the way to a greener, healthier, more resilient world. At COP28, the world must unite, act and deliver."
The COP28 Presidency is also placing an emphasis on the pivotal role that young people can assume in addressing the climate crisis.
To empower young people in the UAE, the COP28 Youth Climate Champion, in collaboration with the COP28 Presidency and the Ministry of Culture and Youth, launched the first cohort of the UAE Youth Climate Delegates Programme.
The objective is to bring young people from within the UAE to the forefront of international climate decision-making; develop their skills and capabilities through capacity building and experience; empower them; embed youth leaders within the COP28 negotiations and other key domestic and international climate forums over the year.
Moreover, the Youth Climate Champion team is bridging the gap between Emirati youth and senior citizens through a series of intergenerational dialogues on key climate topics.
Shamma bint Suhail Faris Al Mazrui, Minister of Community Development and COP28 Youth Climate Champion, said,
"We are committed to empowering UAE's youth by amplifying their voices on climate change and action. Our goal is to not only raise awareness about climate change impacts but also actively involve young people's perspectives from across the UAE and beyond in the decision-making process at COP28. Youth in the UAE and across the world have the power to positively disrupt the status quo in climate action, accelerating progress and taking us closer towards fulfilling our climate ambitions."
A key moment in this, and for youth globally, will be the 18th edition of the Conference of Youth (COY18), held at Expo in the UAE in November ahead of COP28.
Razan Al Mubarak, UN Climate Change High-Level Champion for COP28, emphasised the power of unified action through governments and non-state actors coming together to succeed in this shared endeavour.
"A whole of society emergency requires a solution that includes the whole of society. Alongside top-down government action, we need a bottom-up groundswell of action as well by businesses, cities, NGOs, Indigenous Peoples, youth and women to succeed. Climate action must be inclusive of all stakeholders from the global south and global north, and across every sector,"
she stated.
Al Mubarak said there is no net zero future without restoring nature loss and asked for accelerating ocean climate action, eliminating value chain deforestation, and making nature-based solutions bankable.
Today, the COP28 Presidency is also highlighting that the conference will offer an opportunity to showcase how sustainability is integral to the UAE's history and cultural heritage and educate visitors about the rich diversity of its traditions, the legacy of the nation's founder, and the UAE's arts, crafts, customs and food.
Dr. Al Jaber added
"This is a unique time for Emirati society, in all its rich diversity, to welcome the world to our nation and present our heritage of sustainability. We hope that everyone can unite and enjoy the vibrant exchange of cultures and learning ahead."
An exciting two-week thematic programme for COP28 is in place, which has been designed to give a space for all stakeholders to make positive contributions and underpin the global climate summit with full inclusivity.
The programme has been developed through an open consultation to drive action and implement policy, finance, and technology solutions aligned with the core objectives of the COP28 Presidency.
For the first time at a COP, COP28 will dedicate a day to Health with a high-level climate health ministerial, among other thematic activities. COP28 will also be the first to focus on the role of trade in tandem with finance.
There will be an Indigenous Peoples Day and a dedicated pavilion throughout the summit for Indigenous Peoples, who make up 5 percent of the global population yet protect 80 percent of our biodiversity.
Recognising that solutions need to come from all levels of society, COP28 will also welcome what is expected to be the largest delegation of mayors to ever attend the global climate conference.
Thematic programmes will run in both the Blue and Green Zones. The Blue Zone will be a UNFCCC-managed site, open to accredited party and observer delegates, whereas the Green Zone will welcome delegates and guests of the Blue Zone, the public and private sector, NGOs and the general public.
In the Year of Sustainability, every individual has a role to play. This can range from amplifying awareness to propelling meaningful action and driving change at all levels. Collective action today will be critical to achieving the UAE's net-zero ambitions by 2050 and delivering a greener and more sustainable tomorrow.
The COP28 Presidency is inviting people in the UAE to join the countdown and be catalysts for change. Further information about access to Expo City Dubai during COP28 will be released in due course.
News Source: Emirates News Agency