The General Directorate of Residency and Foreigners Affairs in Dubai has revealed that the number of passengers traveling through Dubai airports during the past year was 17 million and 889 thousand and 183 passengers, while smart gates' user exceeded the one million mark with 706 thousand and 619 passengers.
The GDRFA Dubai confirmed that these numbers reveal a smart plan implemented by its own, in light of the exceptional circumstances that the world went through due to the COVID-19 pandemic. The UAE, as an integral part of the global system, overcome the crisis with innovative solutions to combat COVID-19 and coexist with it.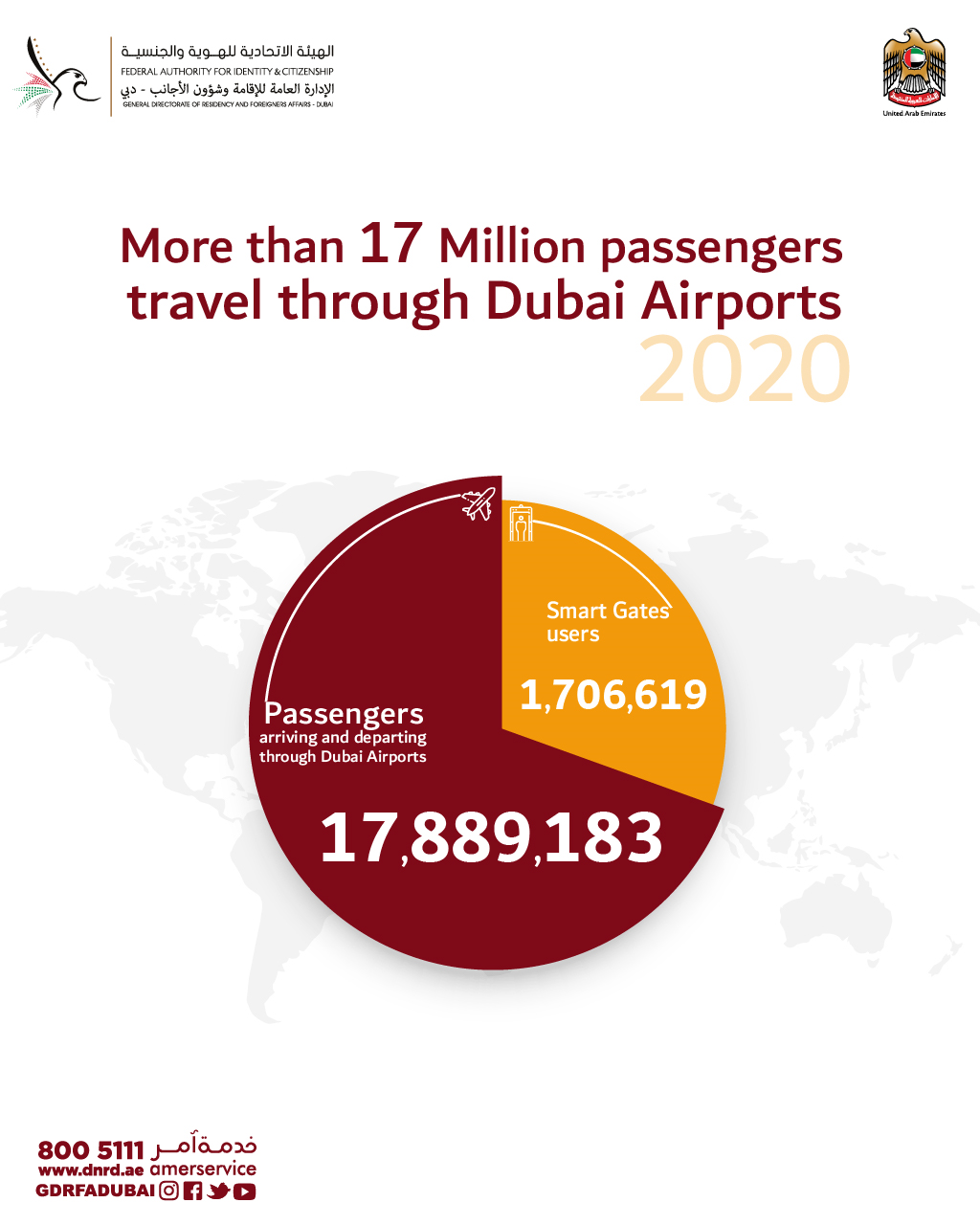 His Excellency Major General Mohammed Ahmed Al Marri, Director General of GDRFA Dubai, confirmed that what Dubai airports had witnessed an increase in passenger's number since the return of air traffic last July.
He added this emphasize the readiness of Dubai to receive its travelers from around the world and its success in achieving positive growth levels, and that by providing the best global health and safety standards with all responsibility and accuracy, in close cooperation with health authorities and government entities.
Al Marri also said that the increase in the number of travelers during the New Year holidays reflects the increased confidence in the precautionary and preventive measures taken by the UAE to address the repercussions of COVID-19 and the spread of new syphilis.
"The reopened of the smart gates at Dubai International Airport for passengers departing from Terminal 3 was an important step, especially at this time. as these gates are characterized by the speed travel procedures, avoiding waiting and direct communication with passport control officers, which makes it the safest way for travelers to ensure the highest levels of health and safety for all." Al Marri said.
H.E Major General Mohammed Al Marri expressed his appreciation for UAE's extraordinary efforts to confront the repercussions of the COVID-19 pandemic and ensure protection for all, as it began giving vaccine for COVID-19 to citizens and residents free of charge so that everyone can obtain it. Al-Marri also praised the efforts made by GDRFA Dubai employees who work in the front line to provide the highest levels of comfort and safety for travelers.
H.E Major General Mohammed Al Marri said:
"We pledge our wise leadership to be hand in hand, working in a team spirit and making every effort to make the United Arab Emirates one of the best countries in the world for security and safety."
News Source: https://www.mediaoffice.ae/en/news/2021/January/09-01/About-18-million-passengers