The Bur Dubai district in Dubai deeply captures the essence of Dubai's transformation from a fishing and pearl hunting village to the world's most glitzy and glamorous city. The Bur Dubai district is a haven for residents and tourists alike, with many cultural gems, traditional souks, authentic dining options, and other fun activities and attractions.
Being located on the western side of Dubai Creek, Bur Dubai is eminent of its history, culture, and heritage. Bur Dubai typically means 'Mainland Dubai' which refers to the traditional separation of the Bur Dubai area from Deira by the Dubai Creek. Visit Bur city and discover the history and heritage of Dubai through the many historical sites, wonder the lanes of the traditional souks and shop good quality products at a cheaper rate, indulge into some delicious food or enjoy some fun time with friends and family with the many activities and attractions it offers. The Bur Dubai area has everything you're looking for!
Here's a list of all the things you can do in Bur Dubai:
Historical Sites:
1. Al Fahidi Historical Neighbourhood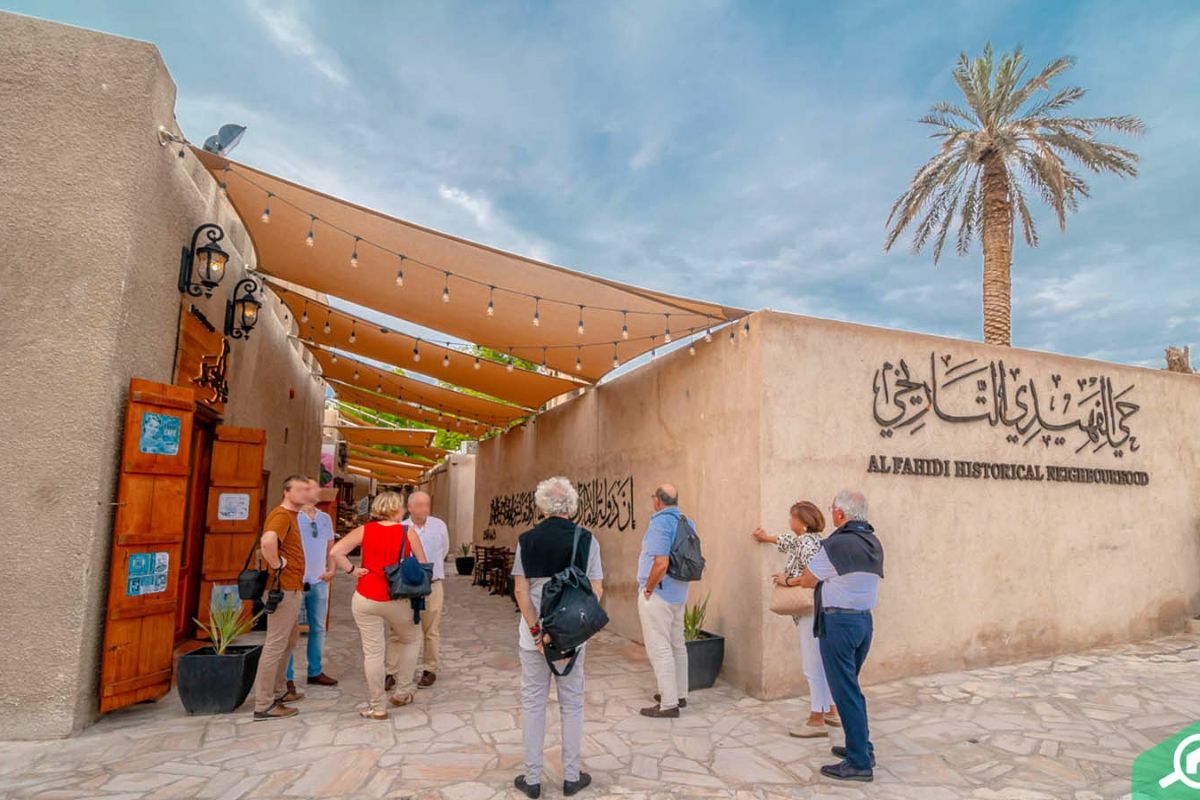 This peaceful neighborhood in Bur Dubai was formerly known as the Bastakiya Quarter. This is where you can go to escape the buzz of the more overdeveloped parts of Dubai. Located near the Dubai Creek, it is a key heritage site in Bur Dubai as it preserves much of the original architecture built during 19th century. As soon as you enter this neighborhood, you'll see its signature wind towers known as barajeel that were built with materials like gypsum, stone, teak, sandalwood, and stone. Each breezy tower, building and twisting alleyway tells a story of a time before the emirate developed into the glittering metropolis it is today. Travel back in time to see what life was like for residents of Old Dubai in the mid-nineteenth century. Upon exploration, you'll find many historic museums, craft shops and appealing courtyard cafes in this area.
2. Dubai Museum & Al Fahidi Fort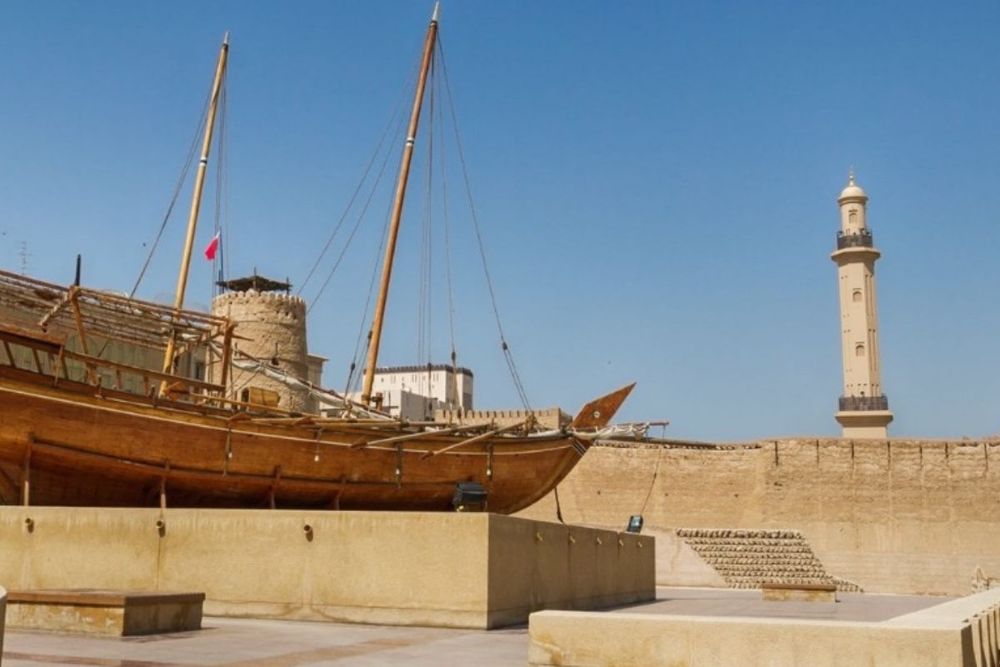 Built in 1787, this historic museum is built within a fort and looks remarkable from the outside. What will catch your attention is the large model of wooden dhow displayed and the cannons that are played next to the entrance. The Dubai Museum gives you a chance for you to encounter colorful and enlightening exhibits that display the origin of UAE. Have you ever been curious what Dubai looked like all those years ago? Then visit this museum for an experience you'll remember and look back upon. The fort the museum is built in was once used as a monarch's base and served as a fortified residence, prison, and weapon arsenal. During the reign Sheikh Rashid bin Saeed, the site was renovated and opened to the public in 1971 as a museum that showcases Dubai's history. This place will take you back in time to old Dubai with the galleries that recreate scenes from marine life and the desert. You'll also get to see the historic Arab mosques, date farms, souks and houses that were present in that era.
Location: Al Fahidi St, Bur Dubai
Timings: Saturday - Thursday 08:30 am – 08:30 pm | Friday 02:30 pm – 08:30 pm (Currently closed for renovations until further notice)
3. Shindagha Museum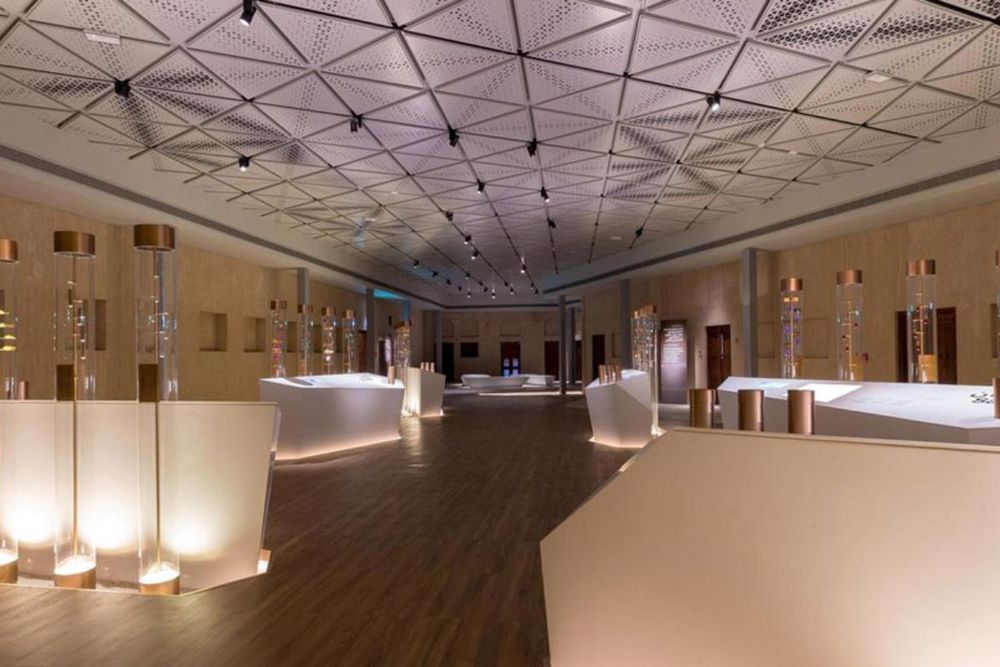 The Shindagha Museum is located at a very prominent spot in Dubai that has witnessed the city's inceptions and development. You'll be transported back in time to the 19th century and learn about the heritage and growth of UAE to the stunning metropolis it is today. You are sure to leave the museum with profound knowledge and insight into UAE's rich past from pearl diving, oil era, cultural practices, and the significance of The Creek on trade. You also get to visit the Perfume House where you'll get to see the traditional methods used for making different scents. This museum features various sections with interactive displays with photos, videos, and artefacts. The Sheikh Saeed Al Maktoum House, which was the oldest building in Dubai and the official residence of Sheikh Saeed Al Maktoum, is now also a part of the Shindagha Museum.
Location: Al Shindagha, Dubai Creek
Timings: 10:00 am – 08:00 pm (Closed on Tuesdays) Last entry is at 07:00 pm
4. Coin Museum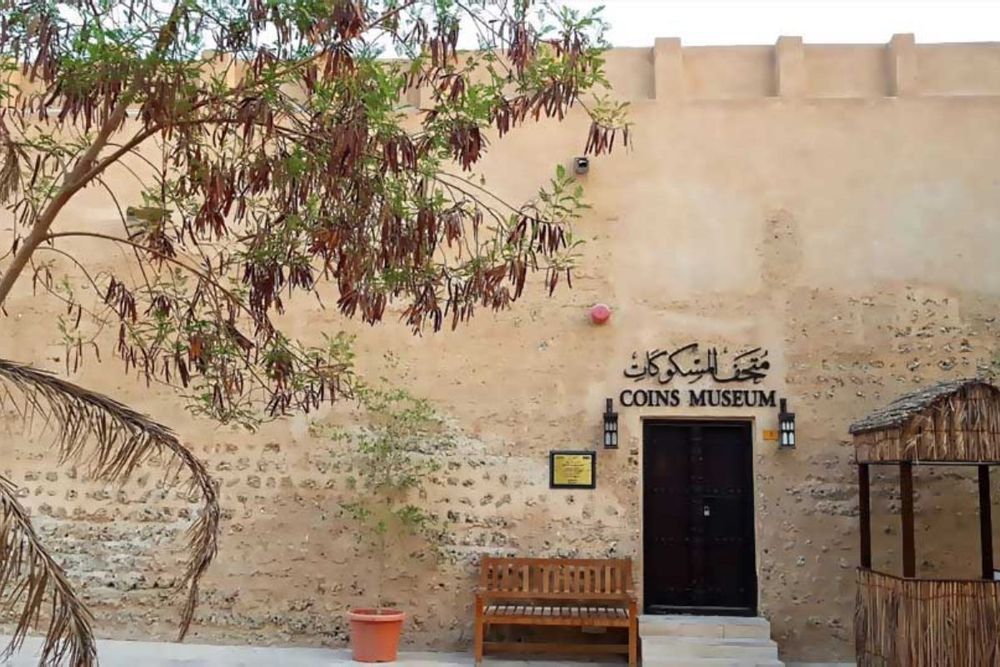 the Coin Museum which like other historical museums in Dubai, is in the historical neighborhood in Bur Dubai. The museum has two floors where you will get the chance to discover about 470 coins on display belonging to different historical areas. There are also touch screens you can interact with to find out much more about the coins that catches your interest. There are eight rooms in this museum, each with a different theme. The first one curates the history of coinage. The rest have coins dedicated to different eras and geographical regions from Rashidun Caliphate to Umayyad, Abbasid, and other Islamic civilizations. There are also coins from Egypt, Turkey, North Africa, Islamic Spain, and those minted in UAE.  If you are a numismatologist or a fan of history, then you must visit this museum at least once.
Location: Al Fahidi Neighborhood
Timings: Monday to Thursday 08:00 am – 03:00 pm | Friday 08:00 am – 11:30 am | Closed on Saturday and Sunday
5. Coffee Museum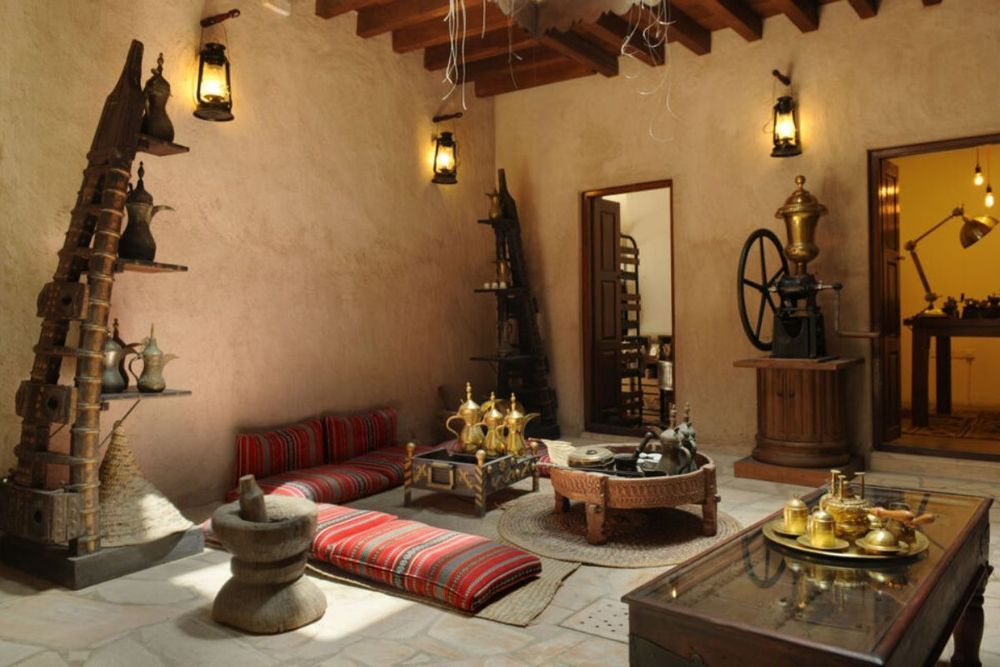 If you love coffee, then you must visit The Coffee Museum! It is the largest coffee museum in the Middle East which showcases a wide selection of antique items that illustrate the regional and international coffee history and culture. It is in one of the many heritage houses in the Al Fahidi historical neighborhood. Inside you'll find elaborate rooms that are dedicated to the ancient coffee brewing and drinking artefacts like old roasting rosters, pots, and grinders. You can even try different varieties of coffee including Arabic, Ethiopian and Japanese brews. They also have a small library with many historical texts related to coffee, a café, and a souvenir shop inside this unique museum. Increase your love for coffee by learning more about its history and taste some of the finest coffee you've ever tasted.
Location: Al Fahidi Historical Neighborhood, Bur Dubai
Timings: Saturday- Thursday – 9:00 am- 5:00 pm
Shopping in Bur Dubai:
1. Textile Souk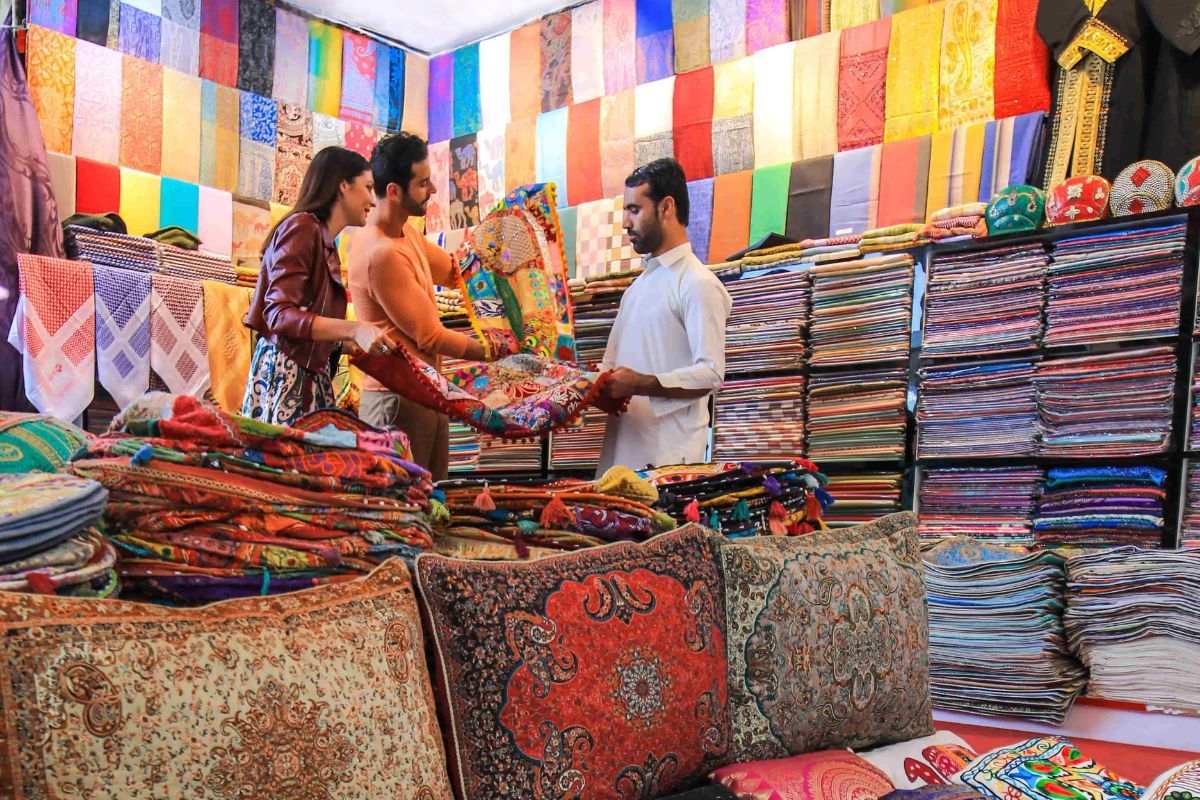 Textile Souk, also known as Old Souk, is the place to go for all your shopping cravings. This restored traditional bazaar is covered with buildings with arched wooden roofs, providing a cool relief from the scorching sun of Dubai. It is a goldmine of textiles, vibrant garments, souvenirs, and handwoven weavers from all over the world. You can search through the endless collections of raw silks, embroidered fabrics, and cotton garments at this traditional souk. The Textile Souk in Bur Dubai isn't popular just for fabrics and readymade clothing, they also have a slew of stores selling sequins, buttons, lace, stone, and other accessories for anyone looking to add an Arabic flair to their clothing. Make sure you brush up your bargaining skills before visiting this souk to get good prices
2.  Meena Bazaar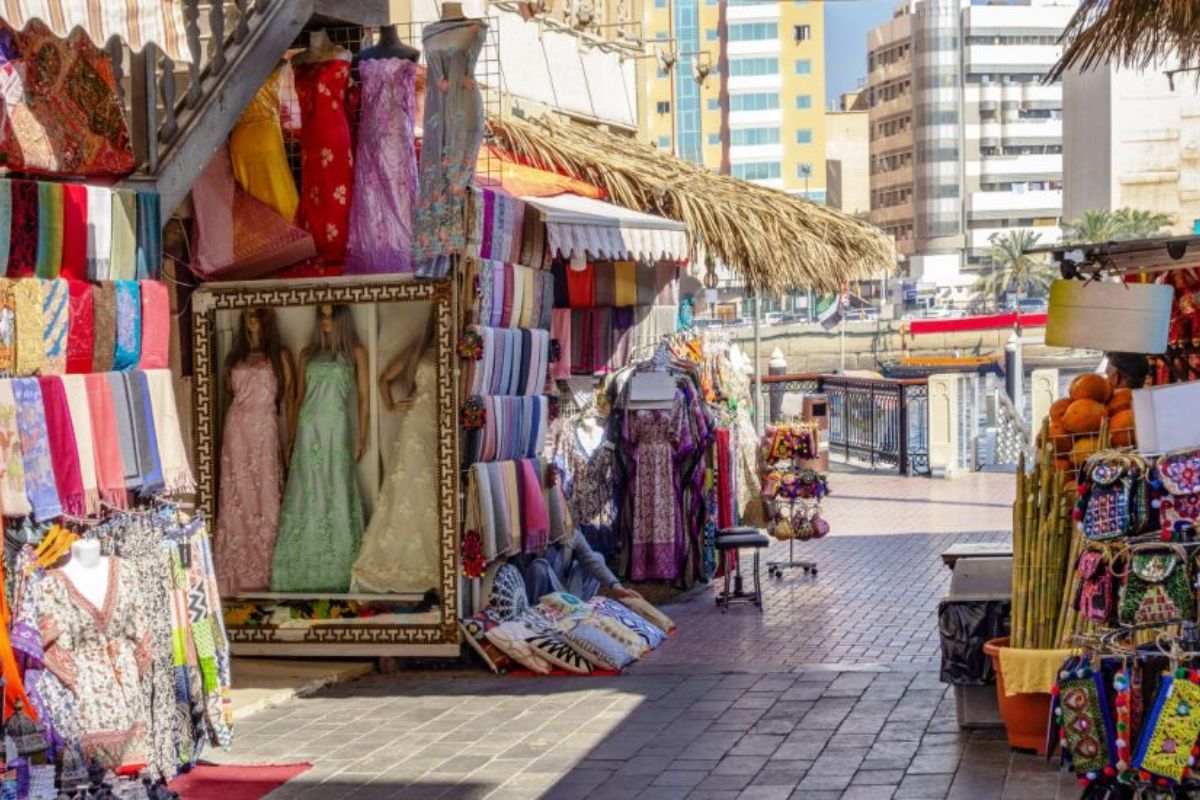 Meena Bazaar is a very popular shopping district in Bur Dubai. It is a place where you can go for shopping like royals did in their time. This shopping district in Bur Dubai is a center for the textile industry and you'll find various shops that are filled with colorful garments and other items all around. Meena Bazaar in Bur Dubai is arguably the busiest shopping district in Bur Dubai. You can find everything here from cloths, half stitched garments to handicrafts. This bustling shopping district in Bur Dubai is a haven for shopaholics in Dubai that are on the hunt for trinkets, accessories, and unique pieces of jewelry. After you're done shopping, you can also grab a bite to eat form the many Indian restaurants and street food stalls at a very cheaper price.
Dining options in Bur Dubai:
1. Rajdhani Street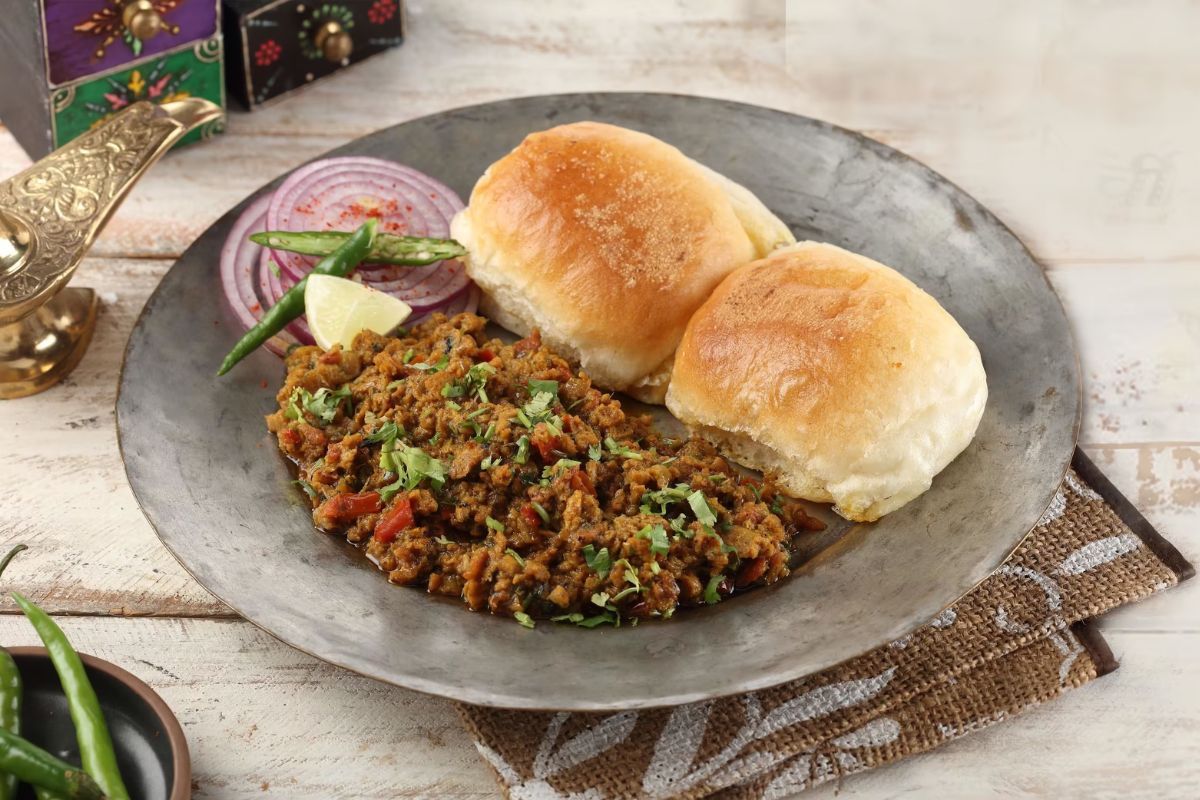 Rajdhani Street is a well-known eatery, especially amongst expats from South Asia. The concept of dining is unique and well executed, Indian street food served in a quirky setting, part of the reason why it is also among the best street food places in Dubai. The place is pretty Instagrammable, too, with colorful geometric patterns on the walls and a brick wall adorned with food-themed pop art on one side. You must try their Dal Baati Churma, Surti Dal, Dhokla Pizza and their Unlimited Veg Thali.
Location: Ground floor, Al Khafajy Building
Timings: 11:00 am to 11:00 pm
Price for 2: AED 120 (approx.)
2. Arabian Teahouse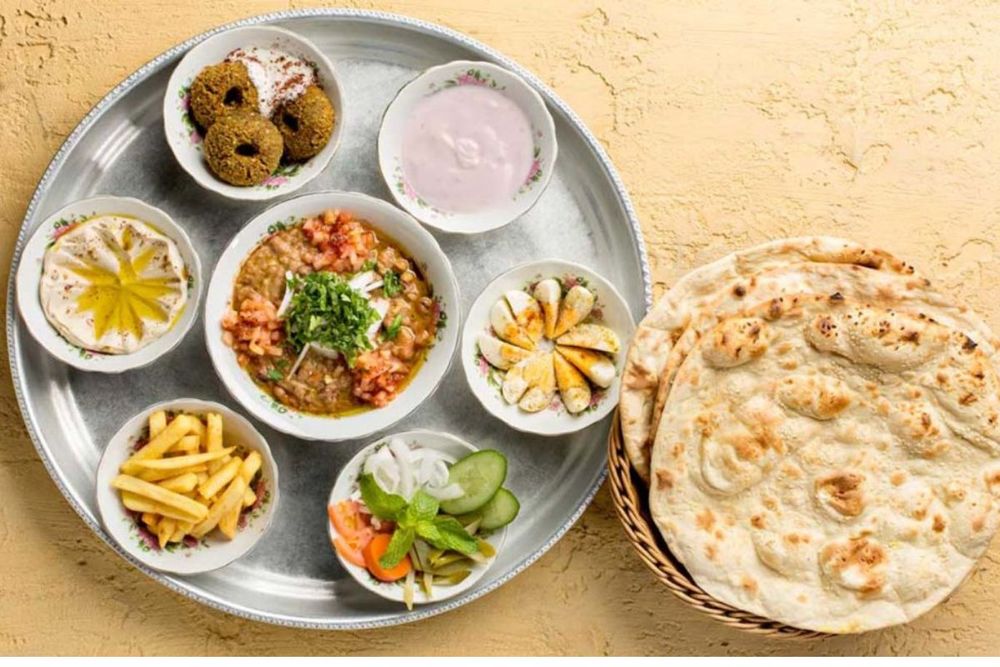 The Arabian Tea is a popular breakfast place located near Bur Dubai's busiest shopping district. Tea lovers will love the 100 varieties of tea served in ornate pots and sipped in delicate glasses. This eatery specializes in authentic Arabic cuisine, menu includes everything from Sambosas, Fattoush salads to Emirati breakfast spreads and Nashef Leham. Their Khameer halloumi zaatar which is served on homemade Emirati bread, is very popular and a favorite of many. The Man'oushe and Raqaq bread with cheese and honey is another popular item on the menu. It is also one of the most popular breakfast spots in Dubai.
Location: Al Fahidi Street, Bur Dubai
Timings: 08:00 am - 02:00 am
Price for 2: AED 225 (approx.)
3.  Grub Shack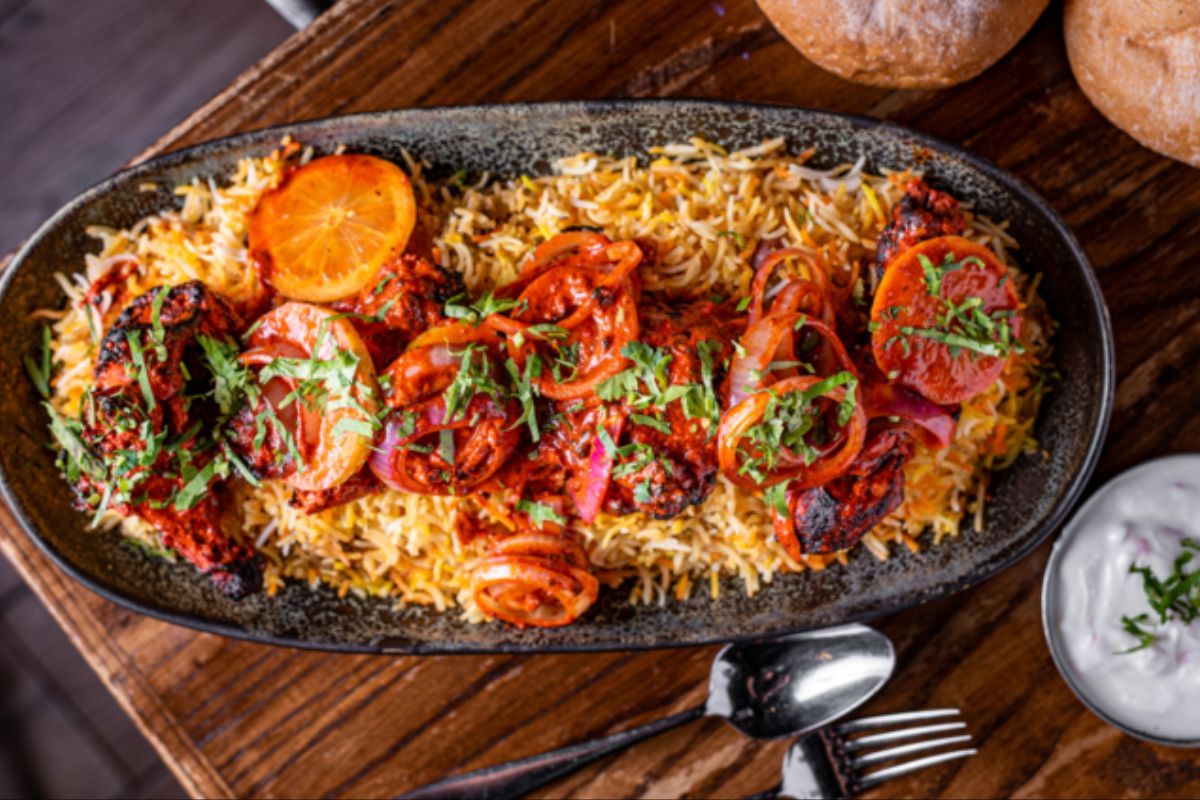 The Grub Shack is a family-owned business that has evolved from a humble shack into one of the best places in Dubai for East Asian cuisine. It is also one of Dubai's best Goan restaurants. The venue itself is breath-taking, it makes you feel like you're dining in a fairground, with reels of bare bulb lights, shuttered windows, and loose wires. If you enjoy restaurants with a unique personality, you will feel right at home here. Their Firecracker Shrimp that is topped with crispy fried noodles and spring onion which will give you tasty touch to your day.
Location: Near Mediclinic City Hospital, Dubai Healthcare City
Timings: 12:00 pm to 11:00 pm (Sunday) |12:00 pm to 11:30 am (Monday to Thursday) | 12:00 pm to 12:30 am (Friday and Saturday)
Price for 2: AED 200(approx.)
4.  Little Bangkok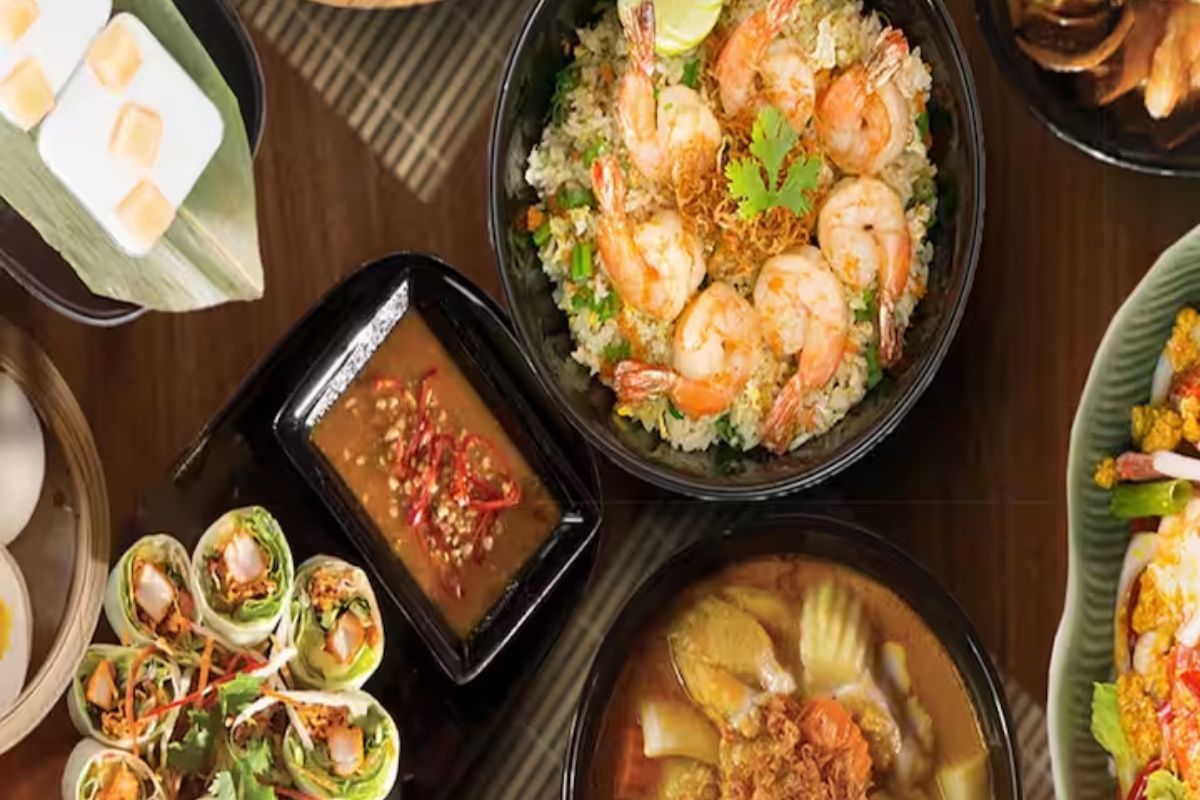 Little Bangkok is just what you need for some delicious Thai and Chinese food after a tiring day of work. Order one of their platters for the best dining experience. Prawn shrimp rolls, fried prawn wonton, Nam Nuang, and Gai Satay are all part of the LBBK Mixed Thai. Cool down with a cold glass of Tom Yum Cooler — iced lemongrass juice with lemon and a hint of lime — or Cha Nom Yen, a street-style Thai iced tea with milk — on those scorching summer days. As you'll take a bite of their delicious food, you'll know why it is known as the best Thai restaurant in Dubai.
Location: 10th Street, Oud Metha
Timings: 12:00 pm to 11:30 pm
Price for 2: AED 175(approx.)
Other Attractions to visit in Bur Dubai:
Other attractions and things to do in Bur Dubai are – Picnic in Creek Park which also includes fun activities like Dubai Dolphinarium and Children's City, Go on a Dhow Cruise and enjoy the serene view of the sparkling water with Dubai's skyline while munching on delicious Arabic food, Sit down and relax at Zabeel Park with friends and family, Visit The Dubai Frame to enjoy picturesque 360 views of Dubai or art lovers can also visit the Majlis Gallery to experience historic art pieces in Bur Dubai.