The month of love is getting all the more exciting!
Keep an eye on these spectacular events taking place in Dubai this February so, that you don't miss out on the fun and book your tickets in advance. Get ready for a melodious month filled with music and tunes that will make you dance out of joy.
Concerts and Performances:
1. Afroworld Live in Dubai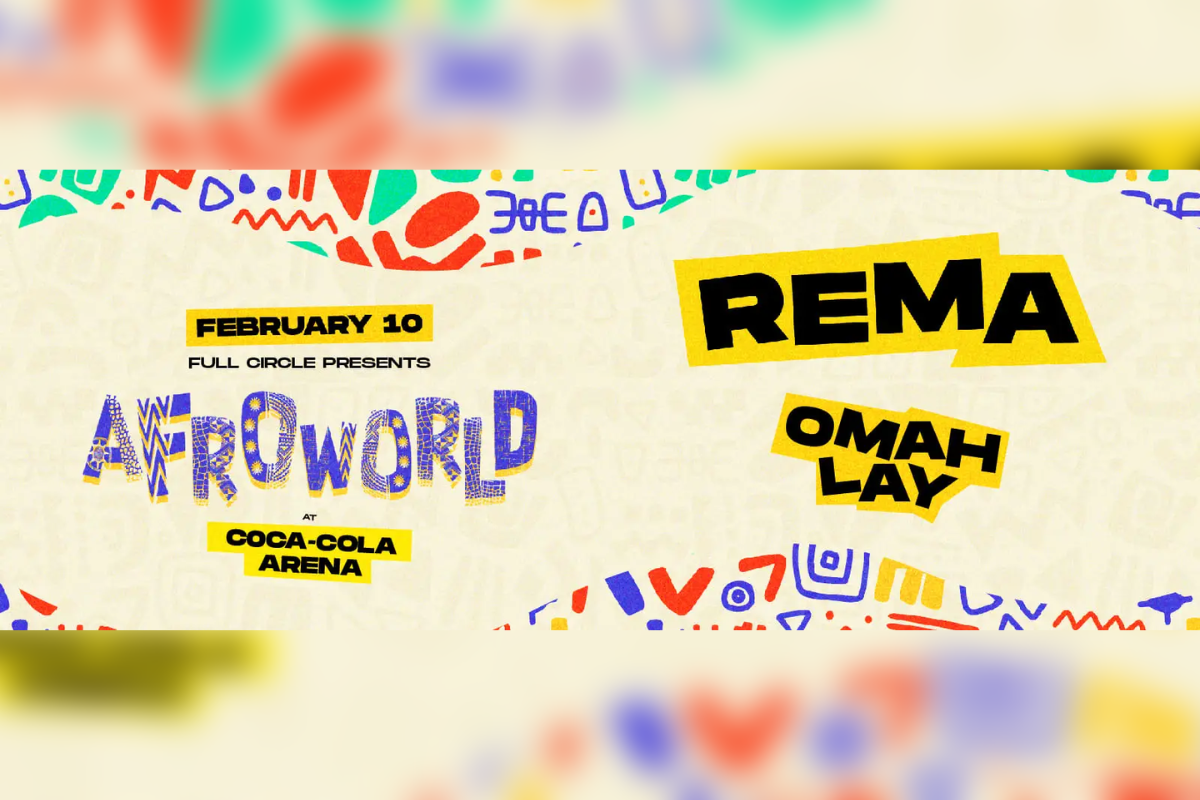 Prepare to enjoy the much-anticipated second edition of Afroworld. You can enjoy the vibrant sounds of Afrobeats with some of Africa's biggest names. The concert will be headlined by Rama, a rising star whose vibrant and contagious tunes have taken the world by storm. You can shake a leg to his biggest hits, including "Dumebi," "Calm Down," and "Iron Man," among others. Omah Lay, whose smooth and soulful melodies "You" and "Bad Influence" have earned him a dedicated fan base, will join him on stage. Prepare to be immersed in the rhythms and cultures of Africa. Don't miss this once in a lifetime opportunity to see Rema and Omah Lay live in Dubai!
Location: Coca Cola Arena, City Walk
Date: 10th February
Timing: 07:00 pm
Ticket Price: AED 175 | Buy your tickets here
2. Maya Diab in Concert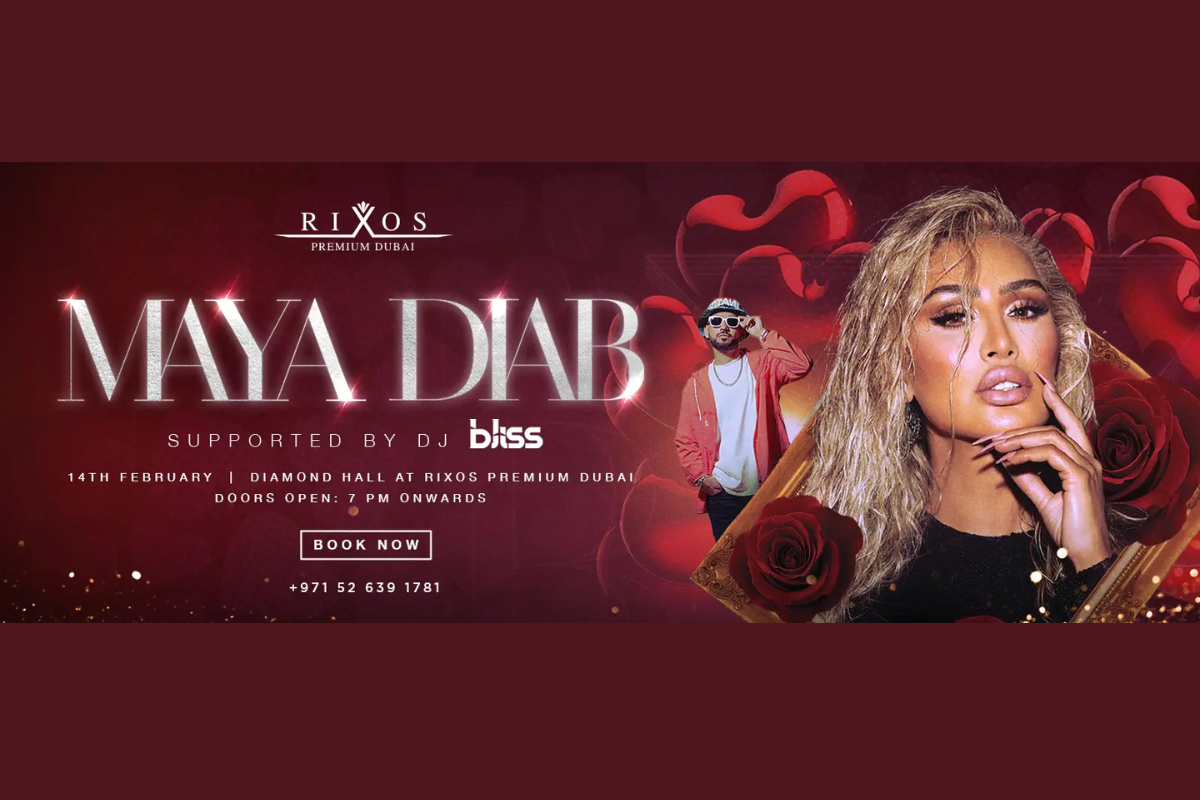 This Valentine's Day, surprise your partner with an unforgettable musical event and experience. Maya Diab, the Lebanese pop sensation, will perform her most popular hits including Sawa, Gatifin, Keda Bardou, Away, Amelli Antar, Asmar Ya Helo, Layliyi, Ahla Kalam, and more. To make the most of the month's most romantic day, this exclusive intimate show also includes a four-course meal with unlimited beverages. After that, you can dance the night away with DJ Bliss at an after party. With this one-of-a-kind event in Dubai, you'll have the best Valentine's Day ever!
Location: Diamond Hall, Rixos Premium Dubai, JBR
Date: 14th February
Timings: 07:00 pm onwards
Ticket price: Silver Package: Unlimited Soft Drinks & 4 course of meal– 1,300 AED Per person
Gold Package: Unlimited variety of house beverages & 4 course of meal– 1,800 AED Per Person
Platinum Package: Unlimited wide range of import beverages with bubbles & 4 course of meal– 5,000 AED Per Person
3. Shrek The Musical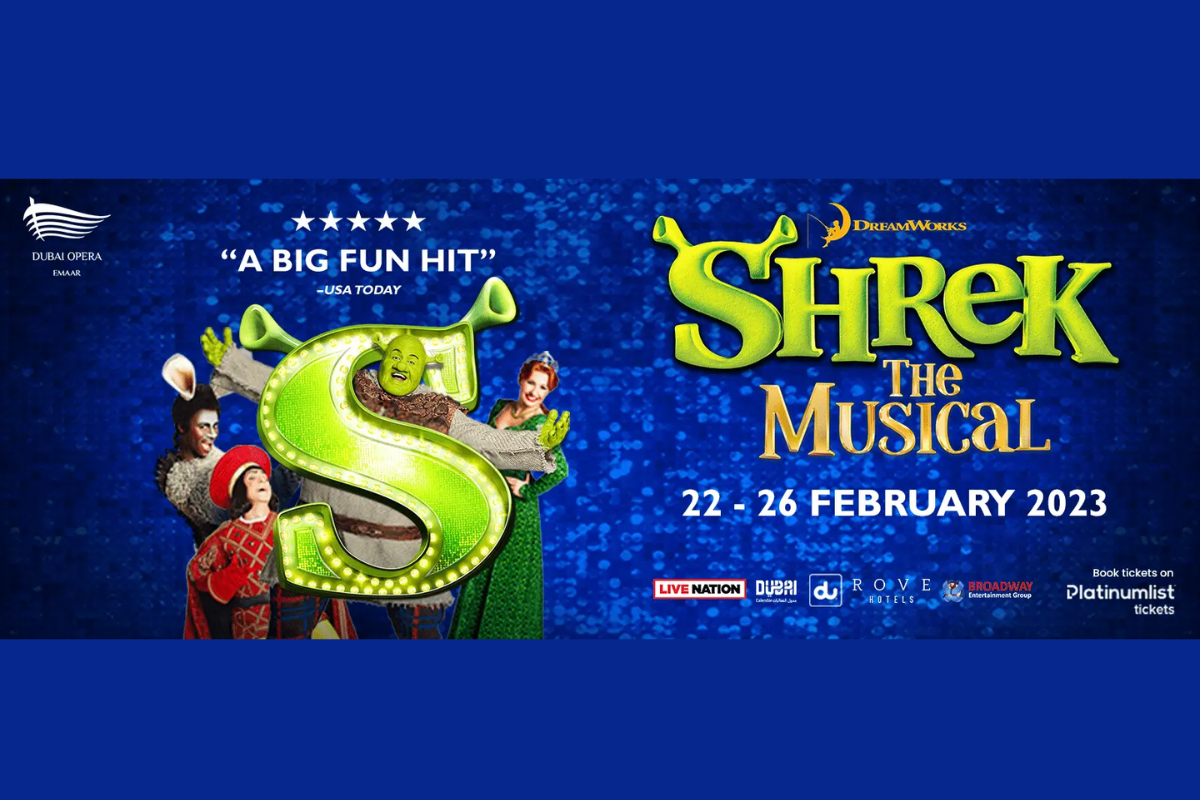 This February, a series of spellbinding performances of the enchanting live musical Shrek the Musical, which is based on the Oscar-winning DreamWorks film, will take place in Dubai. Several beloved fairy-tale characters will light up the stage in this musical comedy production, including the brave Princess, the loud-mouthed Donkey, the short-tempered villain, and the beloved cookie. The show will tell the enthralling tale of Shrek, in which things in a far-off kingdom are turned upside down when an unassuming ogre arrives to save a spirited princess rather than the ordinarily handsome prince. This live version of the show will include innovative choreography, breathtaking backdrops, and 19 new songs to the already well-liked soundtrack. So, don't miss out on this spectacular musical performance!
Location: Dubai Opera, Sheikh Mohammed bin Rashid Boulevard, Dubai
Date: 2-26th February
Timings: 08:00 pm
Ticket Price: AED 275 | Buy your tickets here
4. Karnivool The Regeneration Tour in Dubai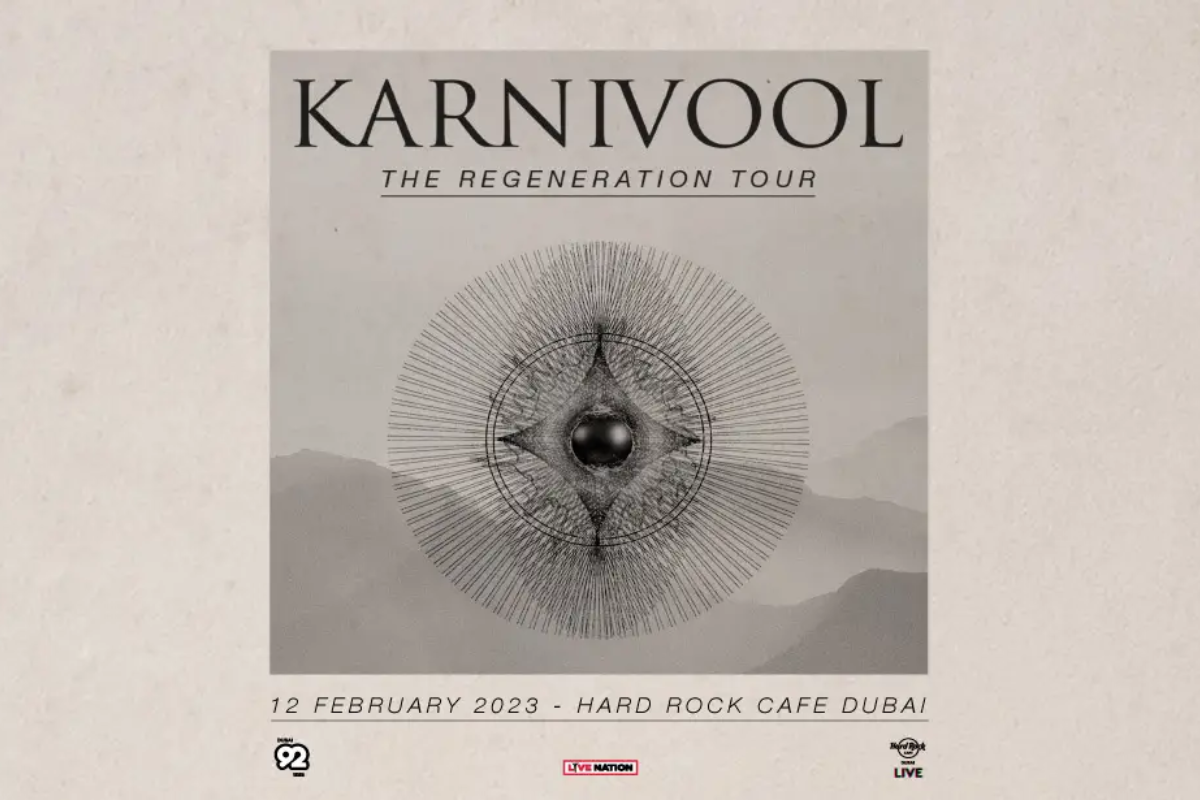 Karnivool has added a stop in Dubai to the end of their European tour at the Hard Rock Cafe Dubai in Dubai Festival City, where they will perform in February as part of The Regeneration Tour. Karnivool made a name for themselves as one of the most important forces in contemporary progressive music. Fans and newcomers to the band's alternative/prog-rock sounds will be blown away by the dynamic and potent setlist of the concert. Their most well-known hits, such as New Day, All I Know, C.O.T.E, Simple Boy, We are, Deadman, All it Takes, Shutterspeed, Fear of the Sky, and many others, can be anticipated. So, make sure you book your tickets soon to not miss this unmissable musical night!
Location: HardRock Café, Dubai Festical City
Date: 12th Februaury
Timings: 07:00 pm
Ticket Price: AED 199| Buy your tickets here
Stand up Comedy Shows
1. Selfdrive laughter factory: The Impolite Tour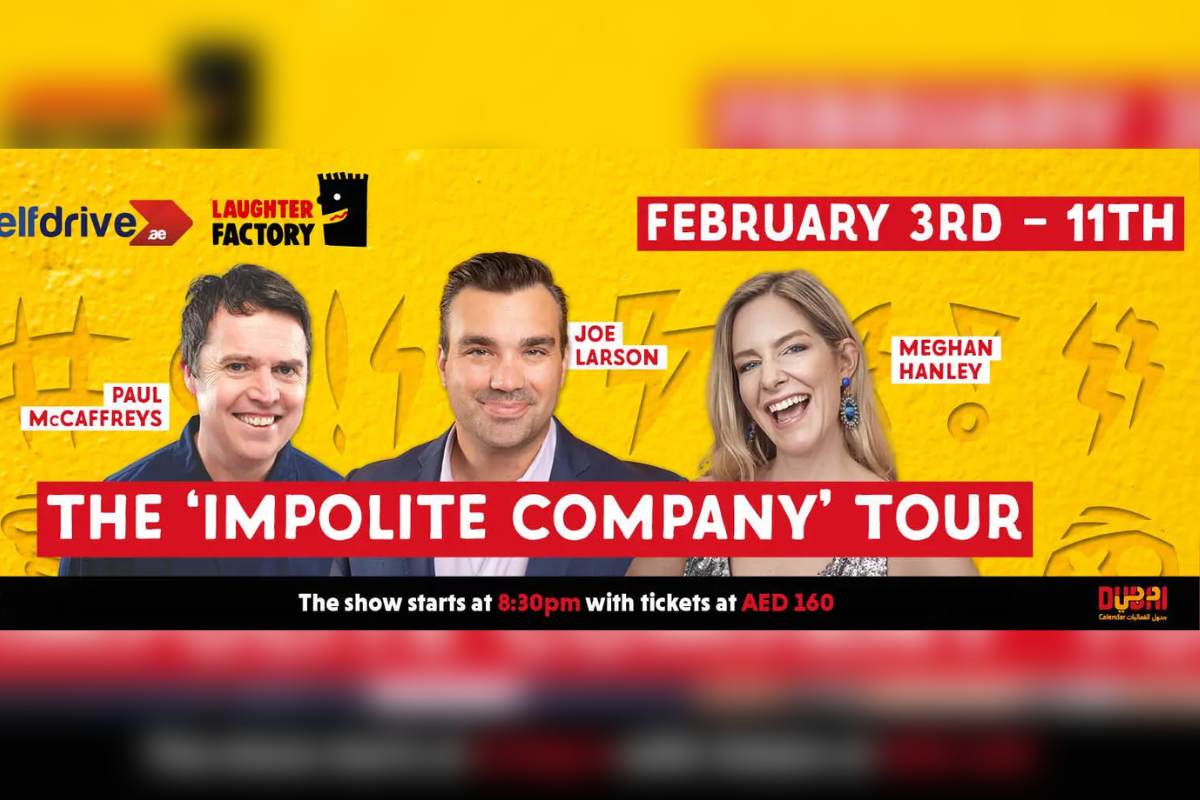 Laugh out loud like never before!  The best live standup comedy is about to be offered, and comedy fans can hop on the happy train. Paul McCaffery, one of the most renowned rising stars in UK television, will be introduced during this evening of mayhem, decadence, and mischief. This hilarious comic is now a common sight on TV. with frequent appearances on "Live at the Apollo" and "Good News with Russell Howard." Two of the four shows happening this month will have their debuts in Abu Dhabi. You can't miss a funny when the comedians are this funny! Book your tickets now before its too late!
Location: Movenpick JBR (3&4th) Media Rotana Barsha Heights, (8th) Dukes the Palm (11th)
Date: 3rd, 4th, 8th and 11th
Timings: 08:00 pm
Ticket Price: AED 160 | Buy your tickets here
2. Laugh-a-thon: IS THIS IT? ft. Kanan Gill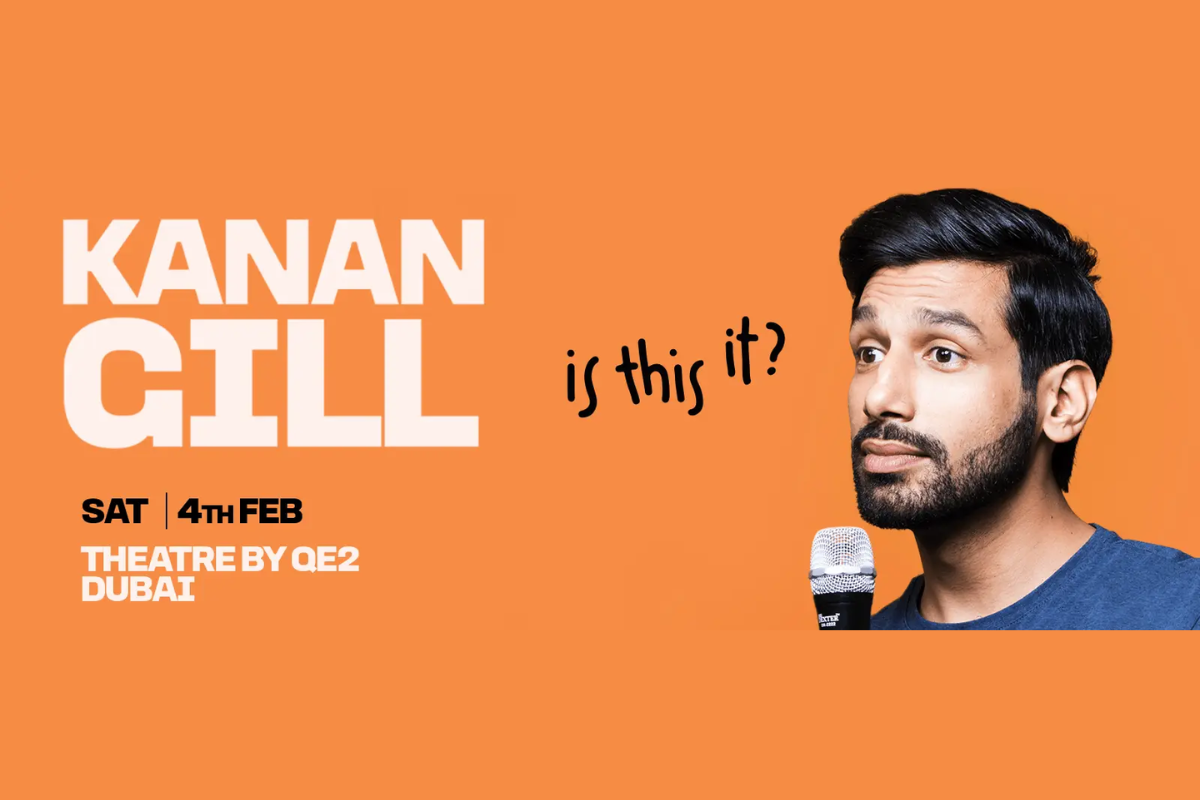 Prepare to burst out laughing! Kanan Gill, one of India's top standup comedians, will provide you with a night of giggles and laughter in February. Have you ever asked yourself, "Is this it?," as you surveyed your life? The focus of the program is on that. The path Kanan has taken as a comedian has been challenging. His stand-up special Keep it Real, which he performed all over the world, was regarded as one of the best in the nation and a hit all over the world. Kanan has traveled the globe performing his special Teetar, in which he fuses the fundamentals of comedy, existentialism, and storytelling to produce and present one of the most cutting-edge comedy specials.  Don't miss out on this night filled with unlimited laughter!
Location: Theatre by QE2, Queen Elizabeth 2, Dubai
Date:4th February
Timings: 08:30 pm
Ticket Price: AED 95| Buy your tickets here
3. The Selfdrive Laughter Factory Presents "Jason Manford: LIVE" in Dubai
Jason Manford will be testing out his new material while traveling through Dubai on his way to Australia. This is the reason he will perform in Dubai in February. The full show, which is only available on May 12 at the Emirates Palace auditorium in Abu Dhabi, is not included in this 45-minute set. Along with Jason, there are four other exceptional comedians who will be adding to the fun: Liz Bains, Maher Barwany, Miqdaad Dohadwala, and Saaniya Abbas. It will be an incredible night that you absolutely can't miss out on!
Location: Movenpick, JBR, Dubai
Date: 17th February
Timings: 08:30pm
Ticket price: AED 160| Buy your tickets here
4. Kenny Sebastian Live in Dubai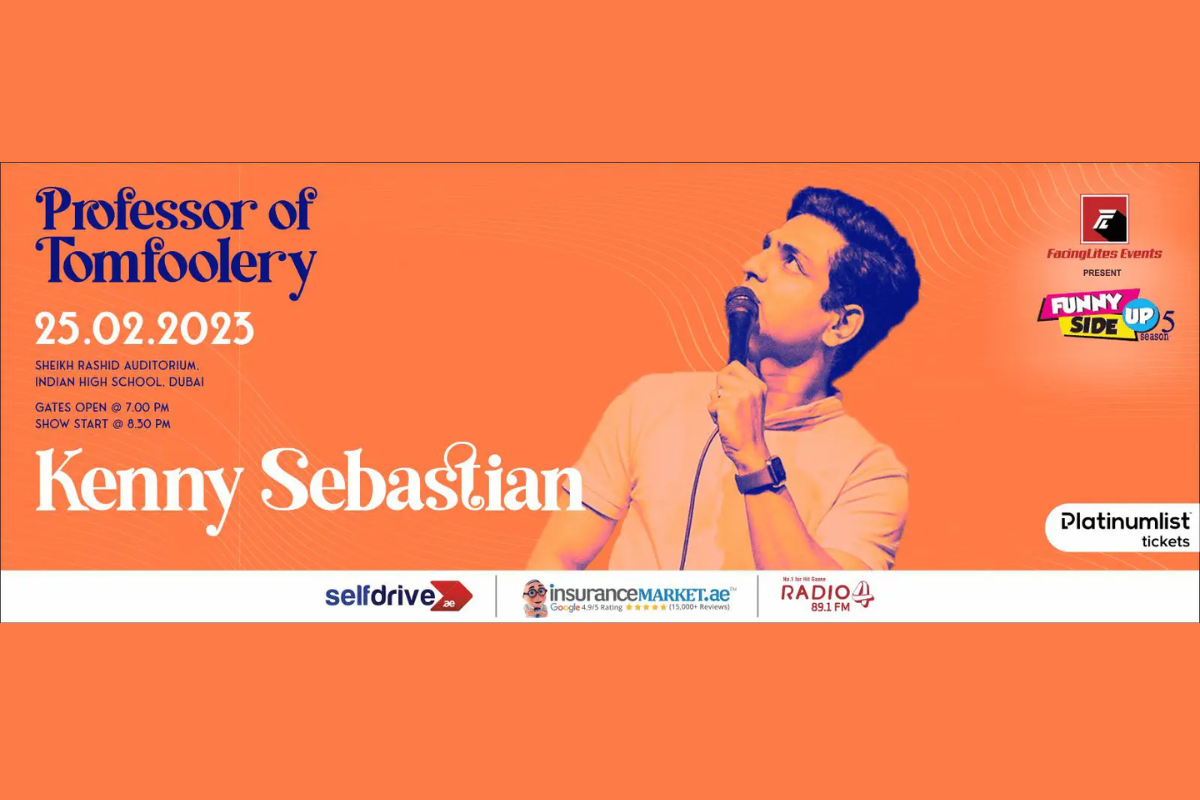 Kenny Sebastian has the world at his feet, with a great sense of humor that touches on everyday topics, a singing voice, and the rare ability to make even the stiffest faces smirk. This stand-up comedian, writer, showrunner, musician, and improviser from Bangalore is arguably one of the country's biggest English comedy acts, creating content for both the internet and the stage. His comedic abilities can be seen in his Amazon Prime Video special, Don't Be That Guy, as well as the YouTube sci-fi comedy web series Starboyz and Comedy Central's The Living Room. Kenny will be performing yet another spectacular show as part of the 5th season of Funny Side Up in February. If you are a fan of comedic lines mixed with music, then you must go for this show!
Location: Sheikh Rashid Auditorium, Indian High School, Dubai
Date: 25th February
Timings: 07:00 pm
Ticket Price: AED 139| Buy your tickets here
Other Events
1. Emirates Airline Festival of Literature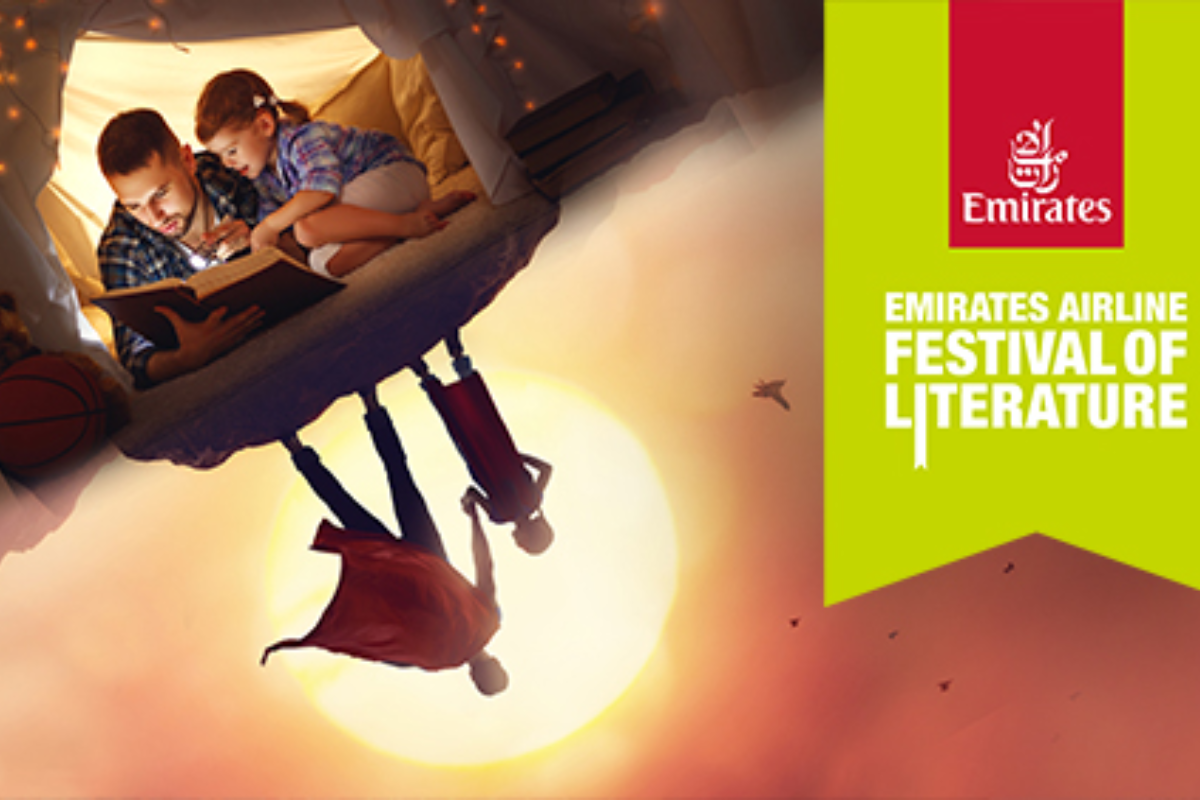 The Emirates Airline Festival of Literature, the region's largest celebration of the written and spoken word, will be held from 1-6 February 2023. Along with highlighting local talent, the festival allows visitors of all ages to socialize with their favorite authors, attend literary debates, and participate in workshops. At the InterContinental Dubai Festival City and Mohammed bin Rashid Library, celebrate literature, arts, and creativity with world leaders, thinkers, and icons. The theme this year is 'Old Friends,' and the star-studded lineup includes, to name a few, actor Brian Cox, one of India's top journalists Barkha Dutt, celebrity chef Bobby Chin, and businesswoman Ghizlan Guenez.
Location: Dubai Creek, Al Jaddaf
Date: 1-6th February
Timings: 10:00 am| Buy your tickets here
2. Murder at the Speakesy: Dolls of the Gangster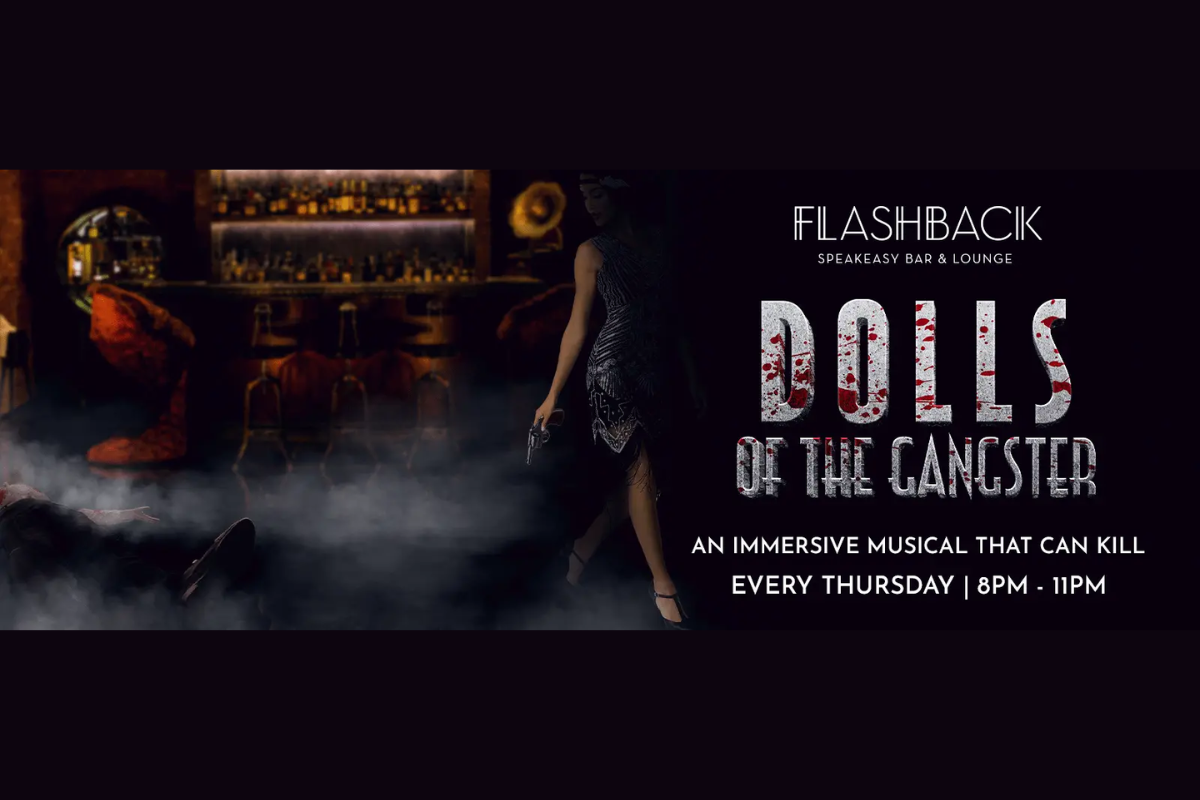 Flashback into the era of gangsters and dolls with this sensational musical from the Paramount Hotel Dubai, featuring Broadway caliber powerhouse vocal performances. Travel back in time to New York in the 1920s and join in for a night of music, culinary treats, and crime-solving at Flashback as the renowned "Murder in the Speakeasy" returns with a new tale. Put on your detective hat as you enter a film, an alternate universe of drama, prostitution, and music behind the secret speakeasy door in the Paramount lobby to assist in solving a century-old murder. You'll gather information about the crime from the cast and the music throughout the course of the evening. Dress up in your finest 1920s attire and don your favorite Hercule Poirot mustache as you eavesdrop on the immersive characters in the room where Bugsy Alphonse was killed for information.
Location: Flashback Speakeasy Bar & Lounge
Date: Every Thursday 2nd 9th, 16thaand 23rd Februaury
Time: 8:00 PM - 11:00 PM
Ticket Price: (including show & dinner): AED 299 Soft Package | AED 380 House Package| AED 550 Bubbly Package
3. Taste of Dubai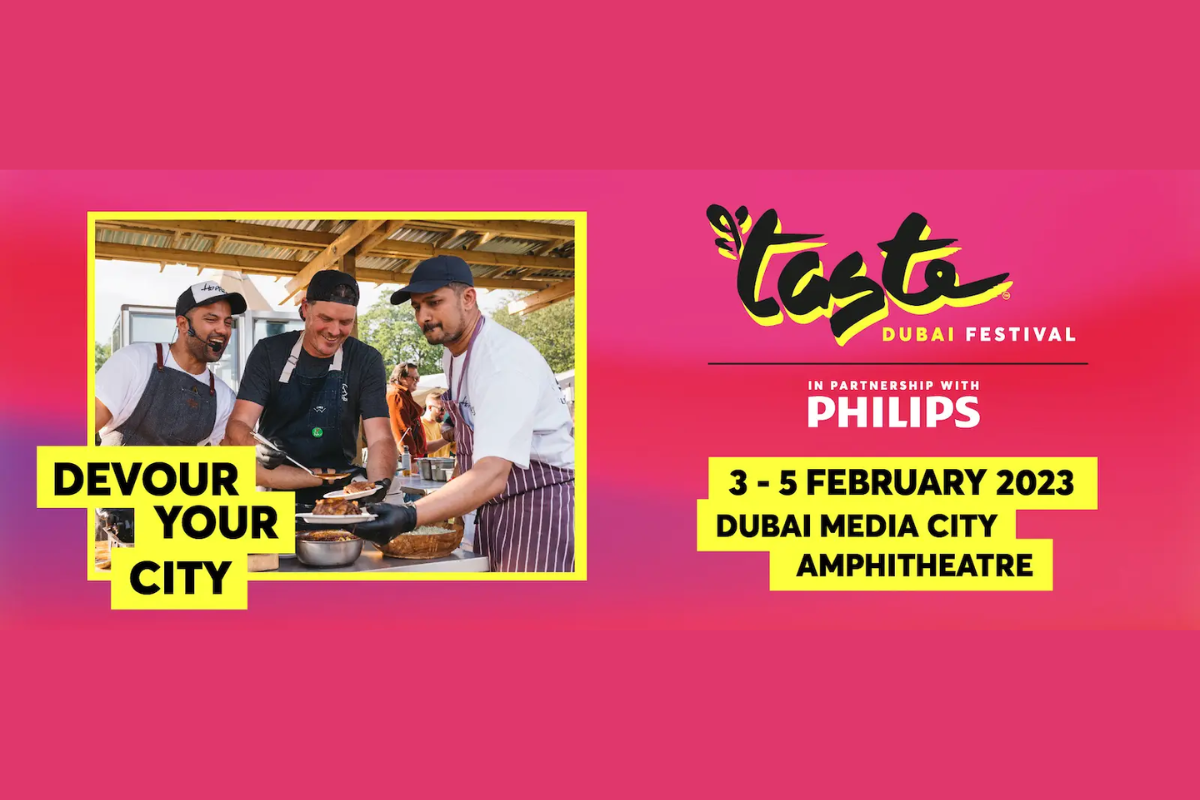 Taste of Dubai is here, and it is bigger than ever! Dubai's favorite food and drink festival will attract 15,000 foodies, friends, and families for three days of culinary celebration and entertainment. The event will feature 15 of Dubai's top gourmet restaurants, world-famous chefs, and some of the hottest up-and-coming culinary talent, boasting the best lineup in Taste of Dubai history. Each restaurant will offer a menu of 3-5 dishes served in taster-size portions, allowing festivalgoers to build their own tasting menu from their favorite restaurants in the lineup. Free masterclasses and workshops with chefs are available at the Philips Cook School, Waterfront Market BBQ School, and the Kibsons Cooking Challenge. Three days of festival vibes will be further enhanced by entertainment from talented bands and DJs. From laid-back acoustic performances to energetic DJ sets taking place across multiple festival areas, the crowds will be dancing from day to night. Don't miss out on this event—every it's foodie's dream!
Location: Media City Amphitheatre, Media City, Dubai
Date: 3-5th Februaury
Timings:
Friday 3rd Feb from 3pm to 12am
Saturday 4th Feb from 12pm- 12am
Sunday 5th Feb from 12pm-10pm
Ticket Price: AED 75| Buy your tickets here
4. elrow XXL in Dubai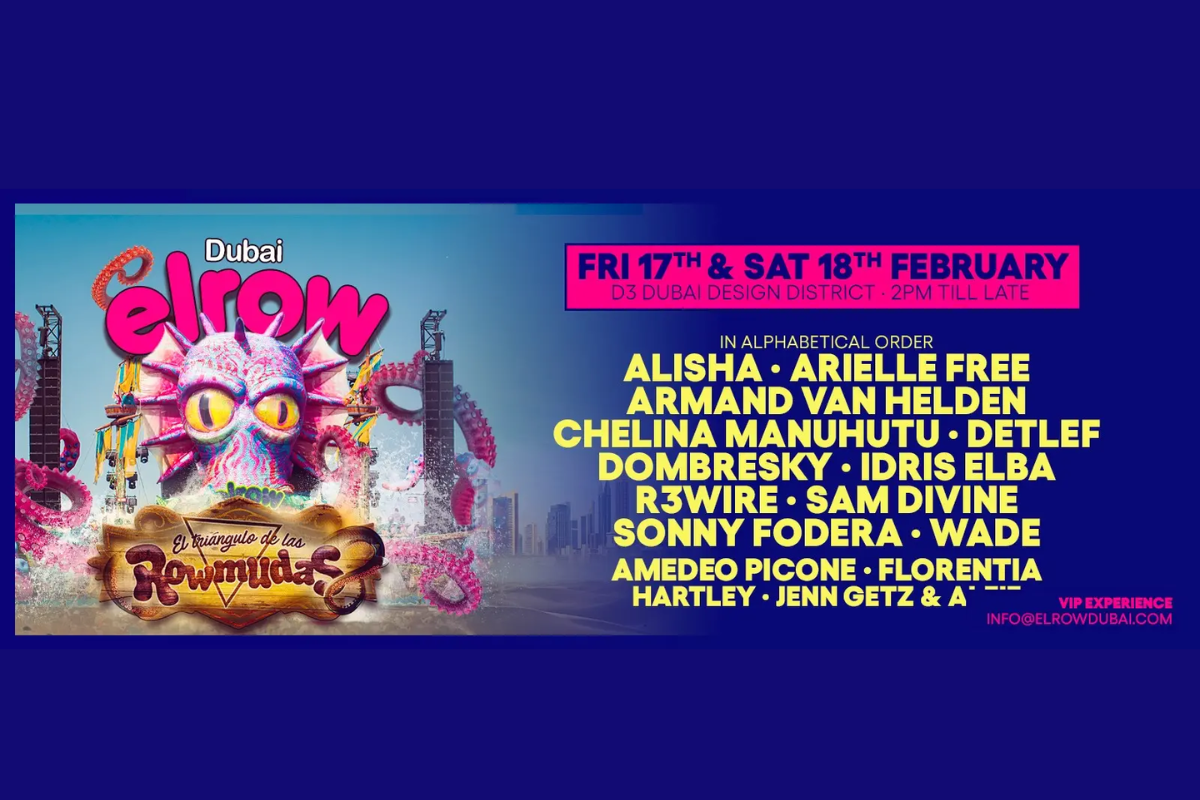 The festival elrow XXL is coming to Dubai, and the excitement is palpable. The demand for this event has been totally unbelievable, with thousands of tickets already sold. Due to the success of the first day's event, a second date has now been added!  The event will take place at D3 Dubai Design District, a venue that can hold over 10,000 people and will host the massive and colorful El Traingulo de las Rowmudas stage, which will be making its Middle East debut - and aptly, with the Dubai canal and city as the perfect backdrop. You can expect all things fun at this extravaganza. The party brand takes pride in providing events unlike any other, with extravagant decorations and a bright visual on the senses as confetti bursts up into the sky and performing dancers waltz past you dressed in breathtaking costumes.
Location: Dubai Design District
Date:17-18TH February
Timings: Doors open: 2:00 PM Event ends: 2:30 AM
Ticket Price: AED 350| Buy your tickets here
Also Read: