Dubai is a land of million possibilities. The city has turned into a global hub for trade and investment with the introduction of strategic policies like visa regimes, infrastructure, and luxury. Dubai has offered foreigners the opportunity to buy land in freehold areas in the city. The concept of freehold ownership in Dubai has unlocked a world of possibilities for both residents and investors. This has been a game-changer for the real estate market in Dubai, attracting investors and creating a thriving cosmopolitan community.
What are Freehold Areas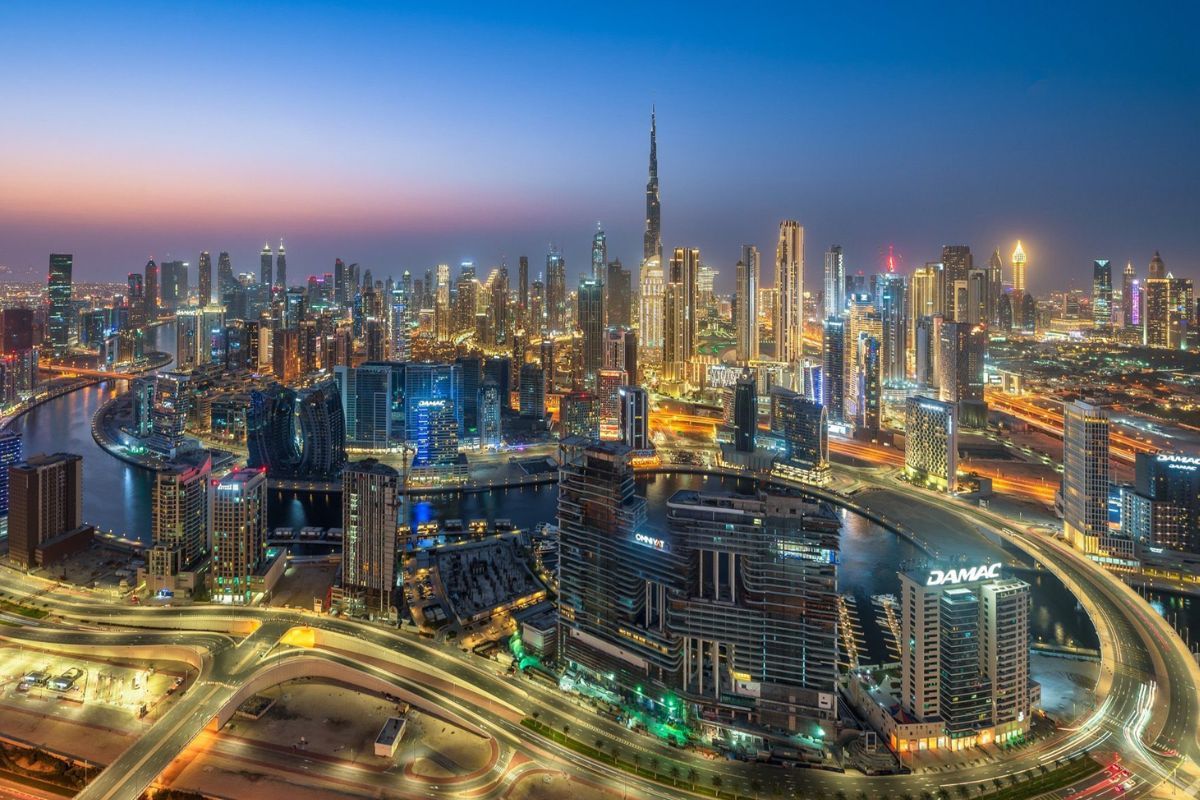 Freehold areas are zones where individuals, regardless of their nationality, can own property outright and enjoy complete ownership rights. Under Law 7 of 2006, non-UAE nationals are granted the opportunity to acquire properties in these designated areas, with their ownership rights registered by the Dubai Land Department (DLD).
This visionary move by Sheikh Mohammed Bin Rashid Al Maktoum, Ruler of Dubai, opened up the real estate market to non-GCC nationals. It also created a transparent and regulated framework for property ownership. This law ensures that the rights of property owners are protected and establishes a clear legal process for property transactions.
After the purchase of a freehold property, you need to register your ownership rights with Dubai Land Department (DLD) to establish a public record of ownership. The DLD plays a pivotal role in overseeing property transactions, ensuring compliance with regulations, and safeguarding the interests of all parties involved.
Freehold Areas in Dubai
If you are planning to buy your dream property, Dubai is the ideal city to do so. From luxurious waterfront villas to high-rise apartments and office spaces, there is a property to suit every lifestyle and investment objective. Be it for personal or investment purposes, choose an area that best suits your interests.
*Some of the freehold areas in Dubai also has non-freehold zones which are exclusive to GCC nationals*
Here are some of the best freehold areas in Dubai you need to consider before buying a property in the city.
Arabian Ranches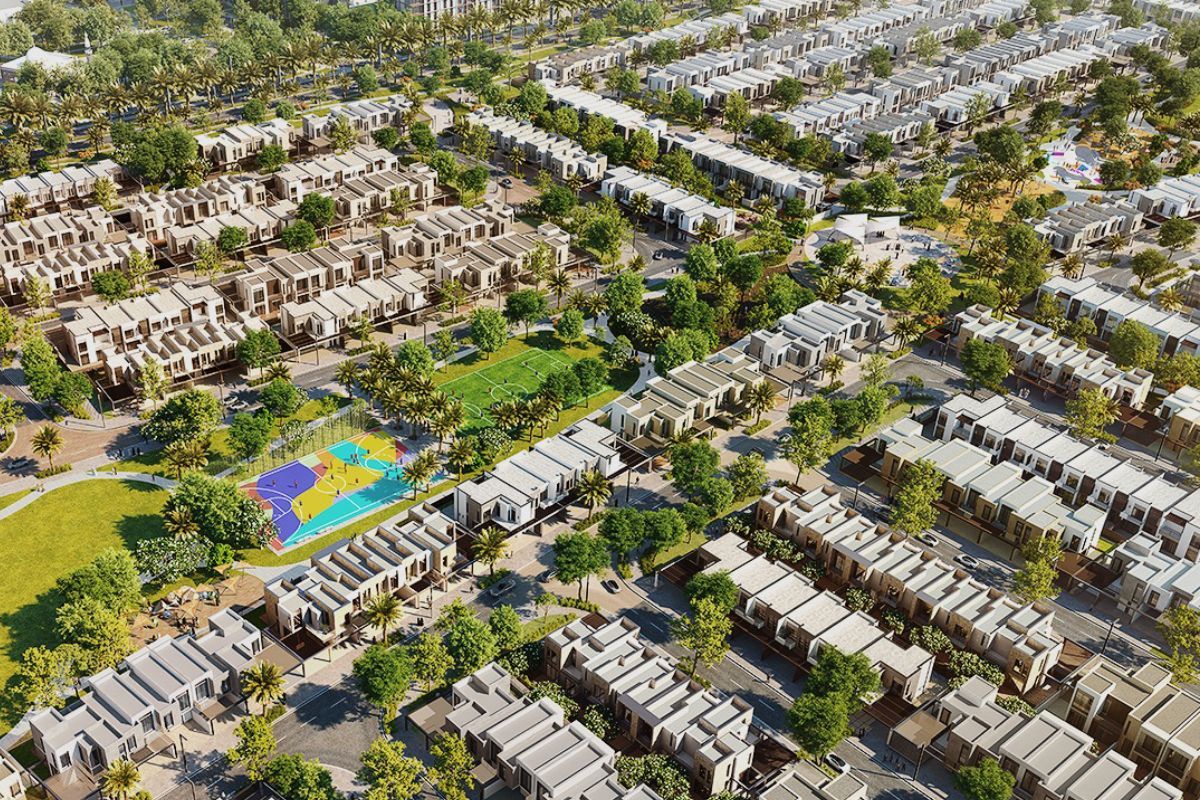 Arabian Ranches is one of the first suburban freehold neighborhoods in the city. This neighborhood has become a sought-after destination for expats looking to own a villa in Dubai. It offers a unique blend of community living, luxurious villas, and proximity to world-class amenities. The Ranches is a golf community and is home to the prestigious Arabian Ranches Golf Club, which attracts avid golfers from around the world.
Arabian Ranches spans 1650 acres offering a peaceful and green environment away from the hustles and bustles of the city. The community is further divided into 15 sub-communities. These homes are inspired by Mediterranean and Arabian designs. The community is beautifully landscaped, and each area within it has its own amenities like swimming pools, tennis courts, and BBQ areas. It is also a great choice for pet owners as it is one of the few pet-friendly neighborhoods in Dubai with plenty of green spaces and spacious homes.
Emirates Hills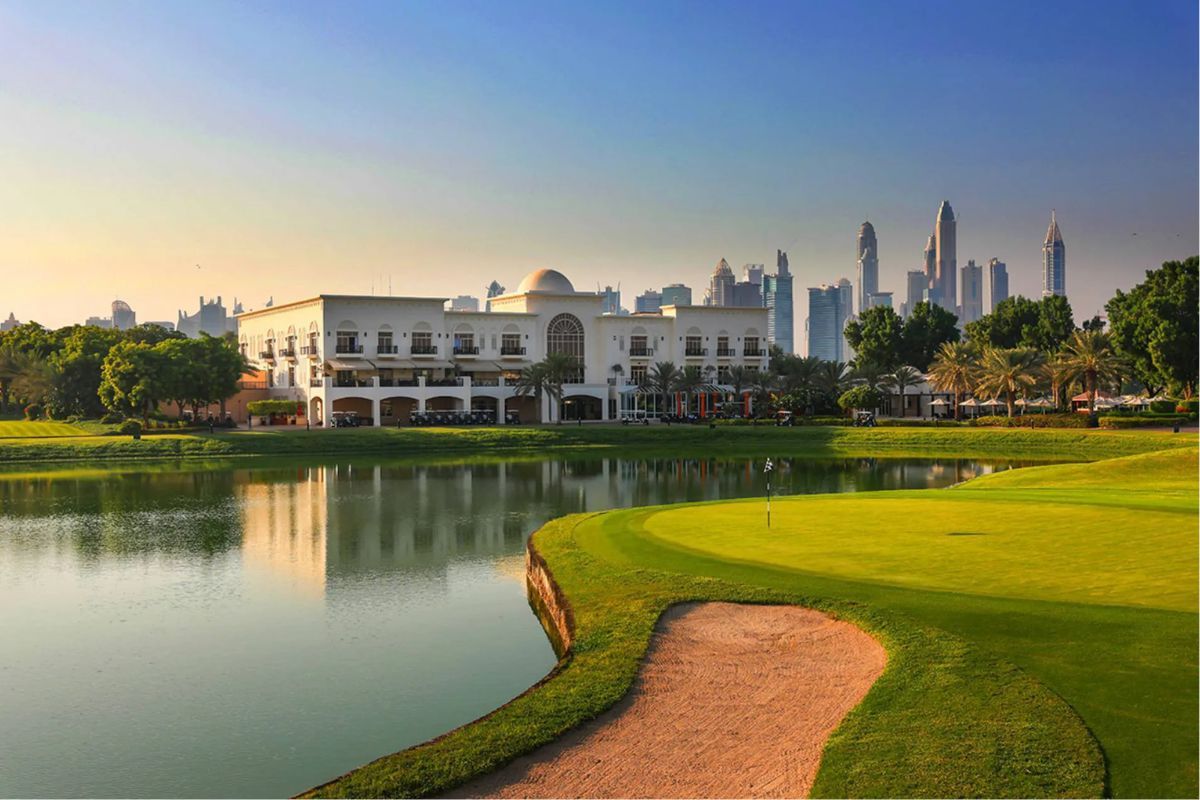 Emirates Hills is a fancy gated community developed by Emaar Properties. Established in 2003, this project draws inspiration from Beverly Hills in the USA aiming to provide the utmost luxury living experience in Dubai. It features beautiful villas and green surroundings. This community has been attracting investors with its beautiful landscapes, stunning architecture, and convenient location.
At Emirates Hills, you can choose to buy a ready-to-move-in modern property or purchase a plot to build your dream home according to your preferences. The community guarantees a secure environment with 24/7 security services. Many houses in the Emirates Hills community provide mesmerizing views of the renowned Montgomerie Golf Club Dubai with its 18-hole golf course. Despite its peaceful environment, it's conveniently connected to Dubai's main highways and is close to business districts like Dubai Marina and Dubai Media City. This makes it a suitable choice for those who need to commute frequently.
The Sustainable City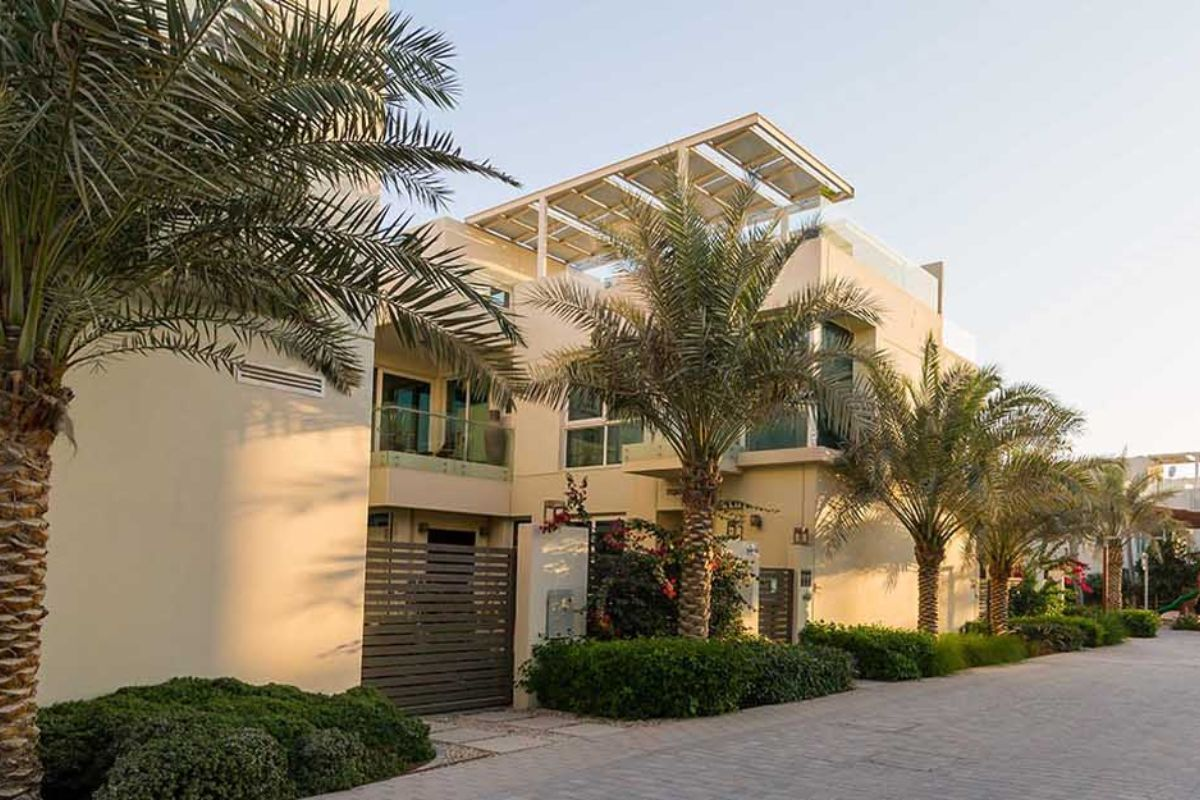 The Sustainable City is one of the best options for people considering eco-friendly living. Established in 2015, this community developed by Diamond Developers is known for its focus on nature and sustainability. It is the first zero-energy development in the UAE. It has been recognized as the best green project in the GCC by Emirates Project Magazine. The residential properties in The Sustainable City are designed to conserve energy while still offering luxurious homes and lifestyle amenities.
This community has 500 villas that provide a clean and high-quality way of life. The community uses solar panels and energy-efficient appliances, and it has car-free zones in both residential and commercial areas. They have successfully reduced 6,741 tons of greenhouse gas emissions, showing their commitment to sustainability. They have installed around 250 charging stations for electric vehicles encouraging residents to use transportation modes that helps in reducing pollution. The community also has electric buses that are free for commuters.
Read more on Sustainable Residential Communities in Dubai
Jumeirah Islands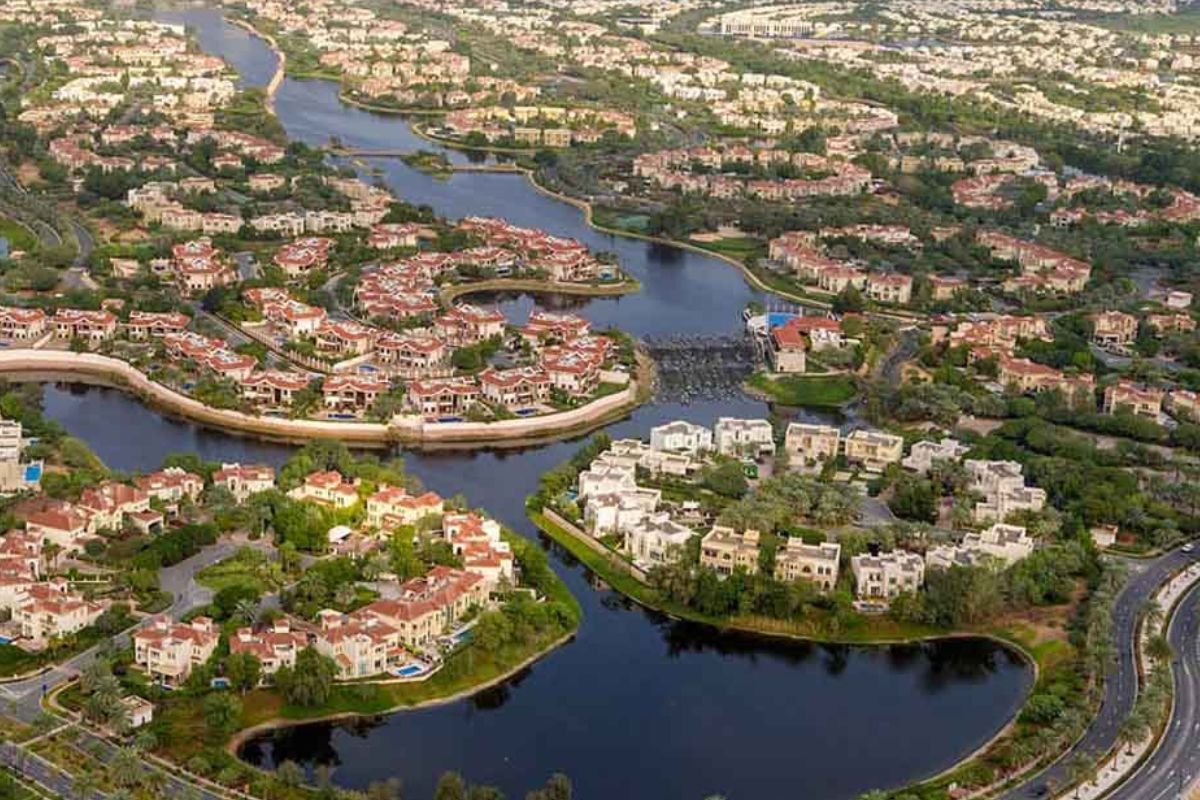 Jumeirah Islands is a luxurious housing project in Dubai developed by Nakheel Properties. Out of the 50 man-made islands in Jumeirah Islands, 46 are residential clusters with each cluster featuring villas and townhouses with unique architectural themes. The houses are surrounded by beautiful man-made lakes making it a perfect place for nature lovers. Some of the villas offer picturesque views of the sea.
Jumeirah Islands is home to over 736 residential properties classified into 6 different residential clusters. These include European, Islamic, Mediterranean, Oasis, Tropical, and Contemporary villas and townhouses. It offers a high-end lifestyle and is conveniently located near major highways.
Al Barari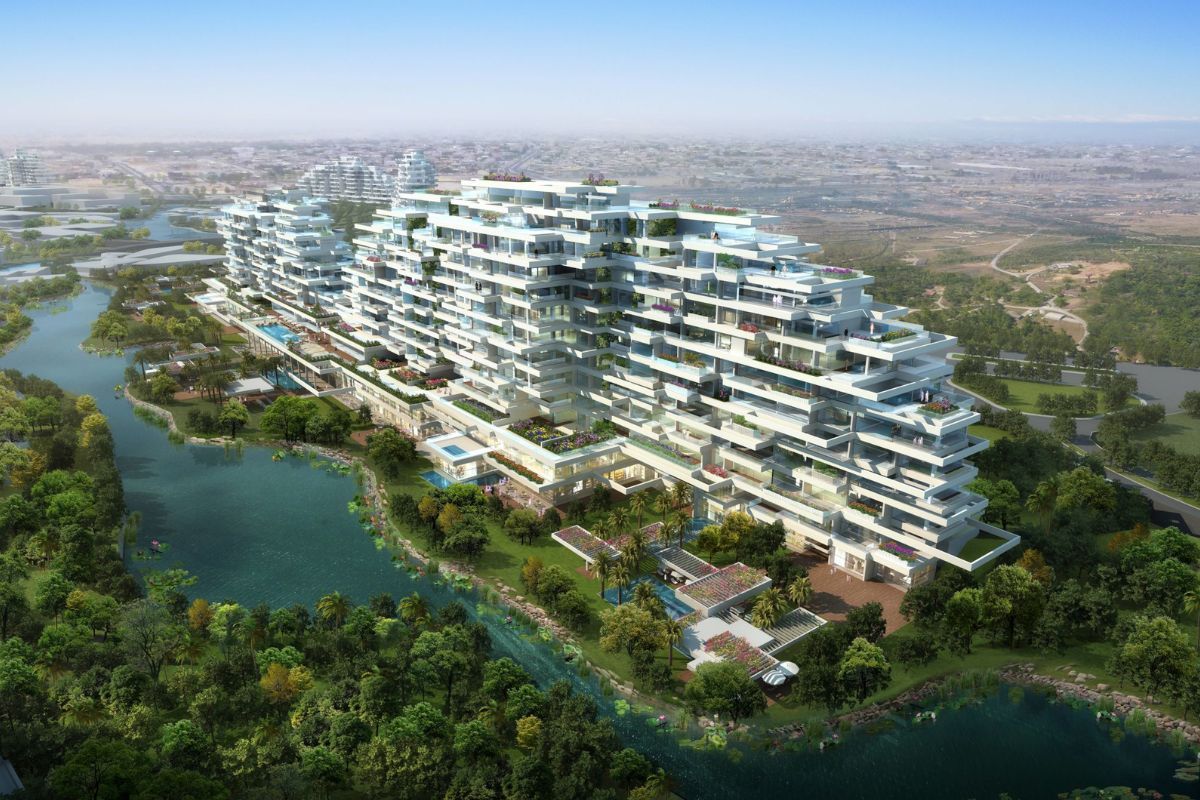 Al Barari is one of the most luxurious eco-friendly residential communities in Dubai. It houses some of the most expensive villas in Dubai. At Al Barari, you can enjoy a private and secluded environment with access to top-notch amenities. The residential community is divided into six sub-communities housing luxury villas and apartment complexes.
Popular for its sustainable and luxurious living standards, this residential development covers a vast area of 18 million square feet featuring green spaces, landscaped gardens, natural lakes, and streams. As a resident of the Al Barari community, you will be offered a tranquil ambiance, an eco-friendly environment, and access to lifestyle amenities and dining options. Away from the hustle and bustle of the city, Al Barari is a great option for those who are looking for a sustainable property to invest in.
Al Furjan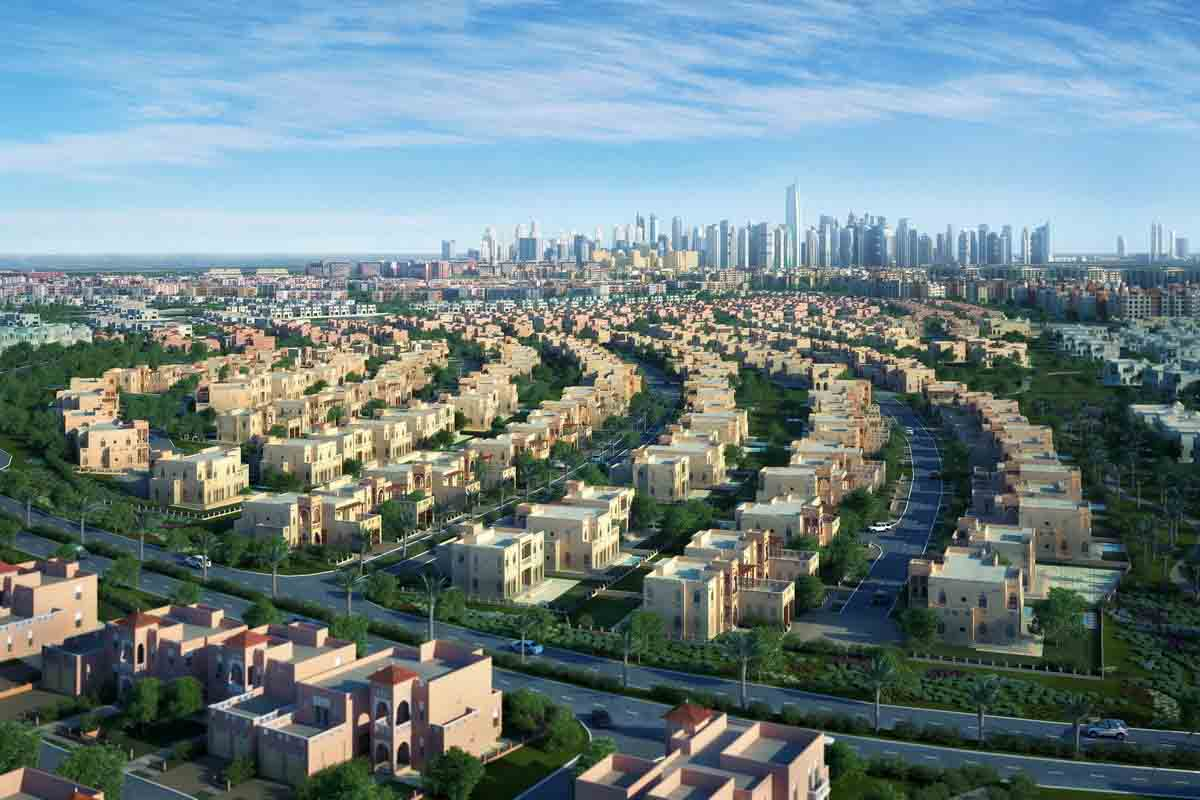 Al Furjan is a popular residential area in Dubai developed by Nakheel Properties. The properties in Al Furjan are diverse and cater to different preferences. You can find villas, apartments, and hotels developed by reputable builders in Dubai. The community is meticulously planned with functional features that meet the needs of families and ensure a comfortable lifestyle.
Al Furjan boasts its shared network of pathways and residential amenities. Residents can also enjoy the 40km cycling track connecting Discovery Gardens, Garden View Villas, and Al Furjan. It is situated between Sheikh Zayed Road (E11) and Sheikh Mohammed Bin Zayed Road (E311) making it easier for the residents to commute to popular landmarks of Dubai. It is also one of the highest ROI communities in Dubai near the Expo 2020 site.
Al Warsan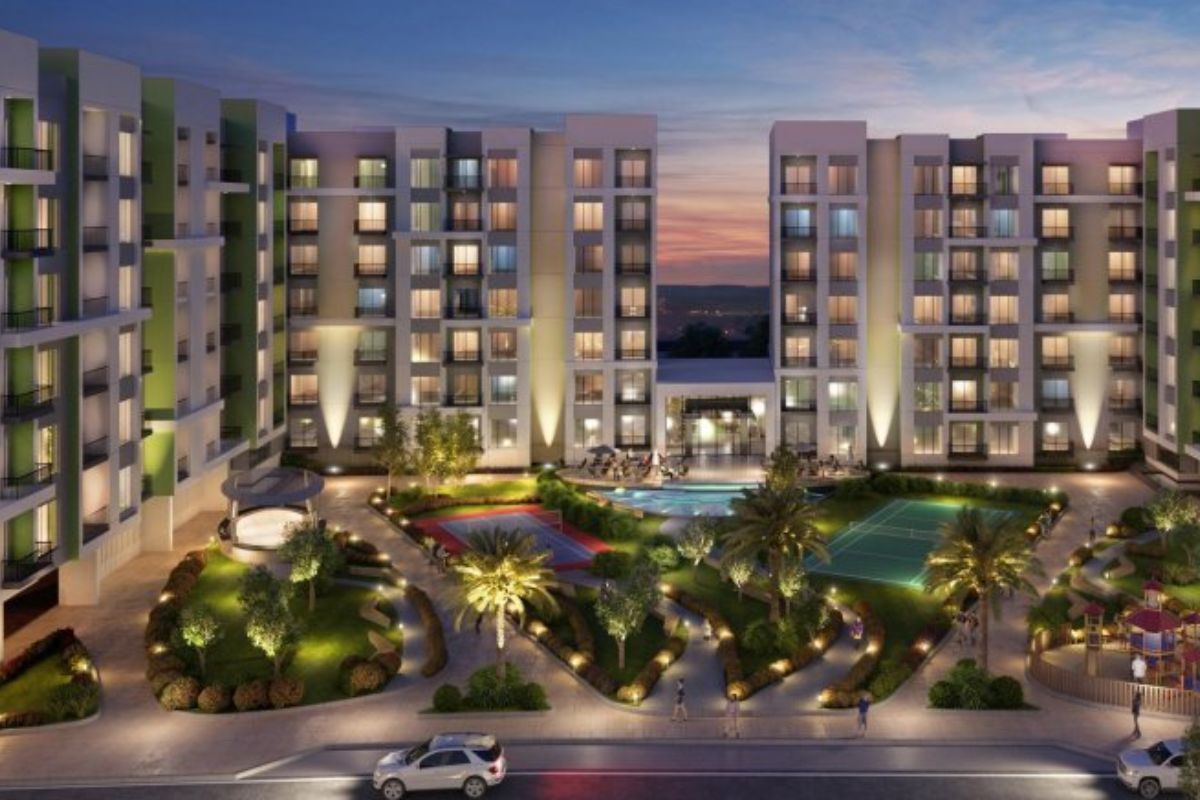 Al Warsan is a popular neighborhood near International City. Al Warsan offers many affordable investment opportunities in its neighborhood. It is a relatively new development close to Al Warqa and Nad Al Sheba. Initially an industrial area, this neighborhood has seen a lot of residential projects over the past few years. The different districts of Al Warsan have green spaces, governmental offices, and ongoing projects.
The community consists of a mix of villas and apartments. The villas often come with pet-friendly gardens, swimming pools, and other amenities for comfortable living. Al Warsan is well-connected to the main road network including Sheikh Mohammed Bin Zayed Road and Ras Al Khor Road providing easy access to other areas of Dubai.
Dubailand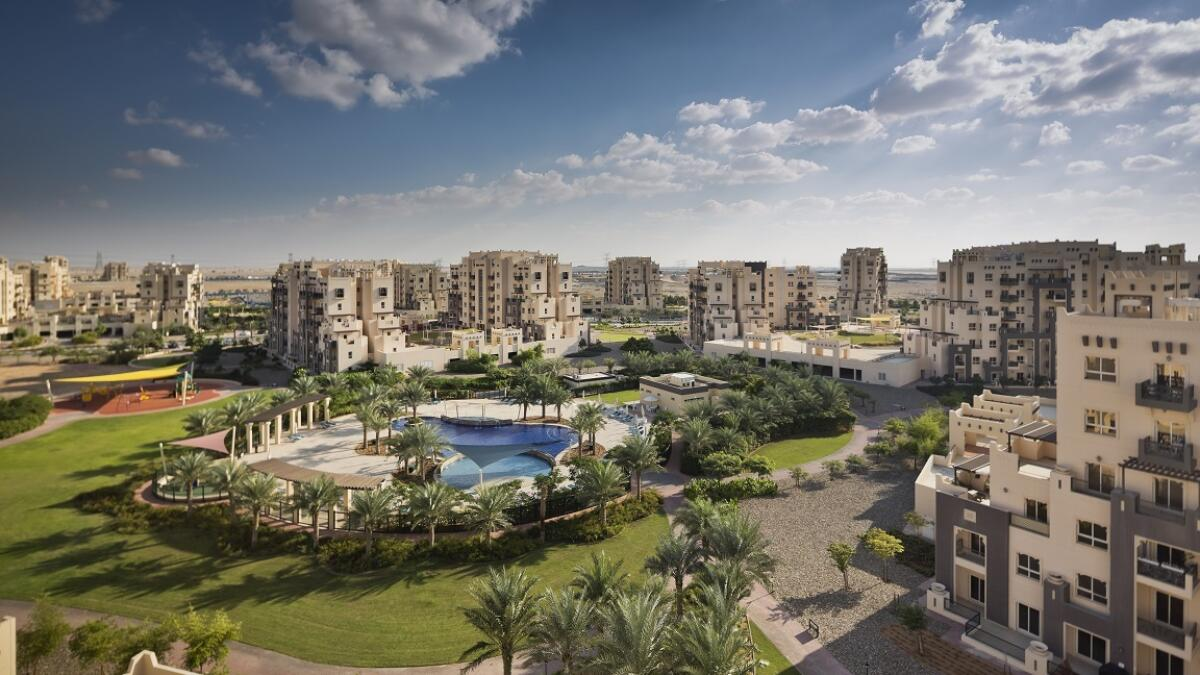 Dubailand is a large residential development and a popular hotspot in Dubai. Dubailand offers a range of properties that cater to different budgets, ranging from affordable to luxurious units. Dubailand also provides a variety of furnished and unfurnished units, monthly rental options for villas, and affordable small villas.
It spans over 3 million square feet housing many residential, commercial, and entertainment components. It is divided into several districts such as Al Habtoor Polo Resort & Club, Dubailand Oasis, Layan, Majan, Falcon City of Wonders, Living Legends, Villanova, Rukan, Tiger Woods, and Al Waha. It also offers a wide range of facilities including theme parks, shopping malls, eco-tourism projects, and residential communities.
Jumeirah Village Circle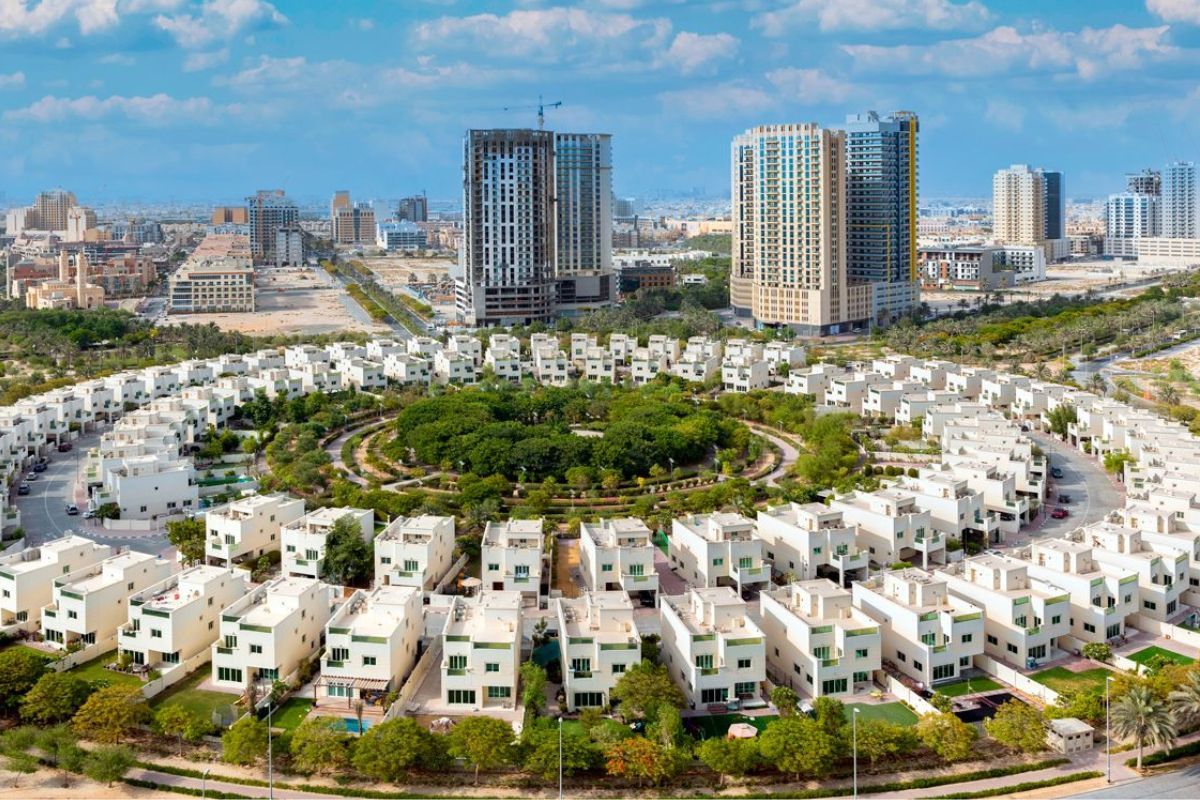 Jumeirah Village Circle is a family-friendly community developed by Nakheel Properties. It offers a unique blend of urban living in a village-like atmosphere. The serene surroundings of lush gardens and canals provide a peaceful and calm ambiance for residents in the midst of the bustling city. The community is known for providing affordable options to rent or buy apartments and villas in Dubai.
Jumeirah Village Circle Dubai offers a wide range of residential options, with over 2,000 units available. Many residential apartments in JVC come with shared amenities such as a gym, swimming pool, and launderette. The community also features schools, parks, fitness centers, clinics, hospitals, and pharmacies.  Real estate investors are attracted to the area due to its attractive pricing and high rental yields.
Dubai Hills Estate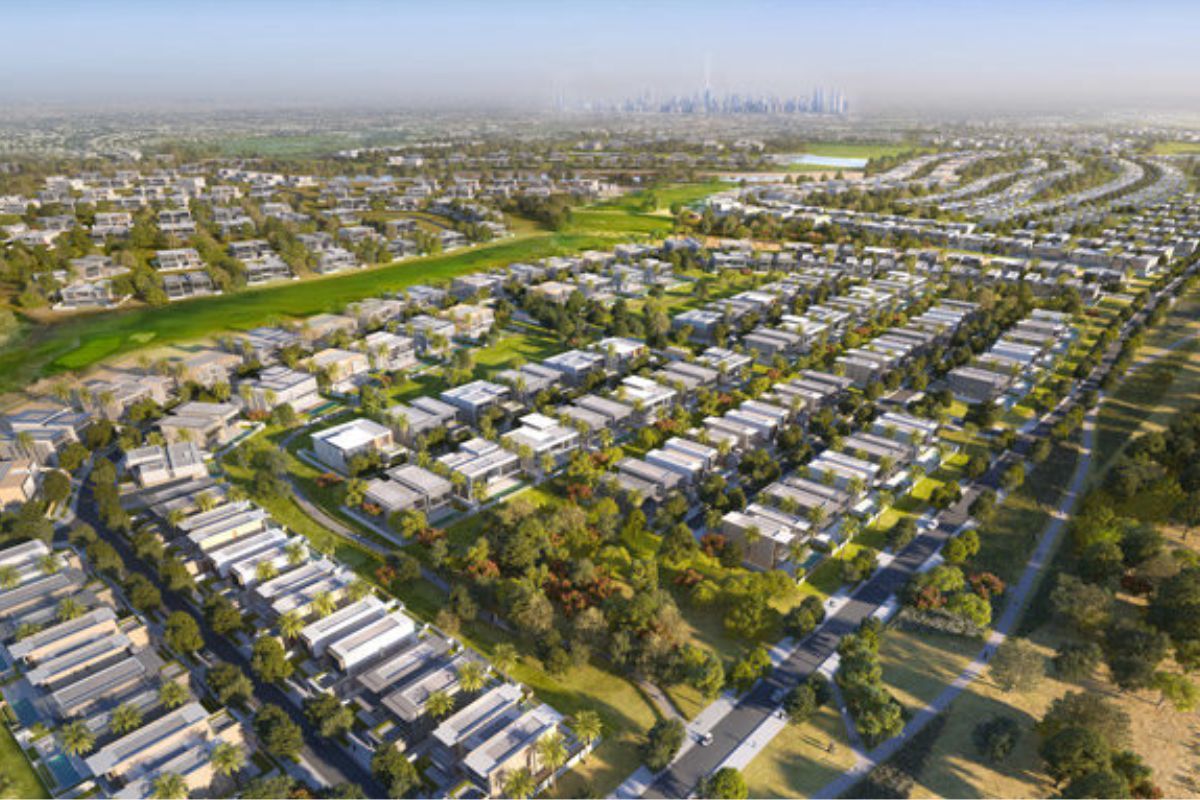 Dubai Hills is a popular choice among those looking for luxury properties near the city. It is a part of the Mohammed Bin Rashid City (MBR City) development. The project is a joint venture between Emaar Properties and Meraas Holding, two leading developers in Dubai. This community features an abundance of green areas, walkways, and playgrounds, providing ample opportunities for outdoor activities and recreation.
The development is spread over a vast 11 million square meters area and is planned to accommodate over 150,000 residents across 20 neighborhoods. With a variety of property types available, including villas, apartments, townhouses, luxury mansions, and residential plots, there is something to suit every preference and budget. The community is also in close proximity to three renowned schools.
Also Read: