Dubai has always been at the forefront when it comes to making exceptional changes that could create a positive impact worldwide. Dubai's commitment to making the planet greener and better is remarkable.
With UAE being the COP28 host, Dubai has become more responsible for enhancing sustainable lifestyles in the region. UAE also intends to attain its net zero target by 2050. UAE started its initiatives toward sustainable living a few years back.
Dubai has introduced many initiatives to make the quality of our environment better. Sustainable developments in the region are the result of some eco-friendly decisions taken forth by the government. Increased use of renewable energy, implementing eco-friendly lifestyles to reduce carbon emissions, and construction of green buildings are some of the measures taken to promote sustainability in Dubai.
If you wish to do your small part to achieve the goal of sustainable living, here are some eco-friendly residential areas where you can rent your new home.
Sustainable City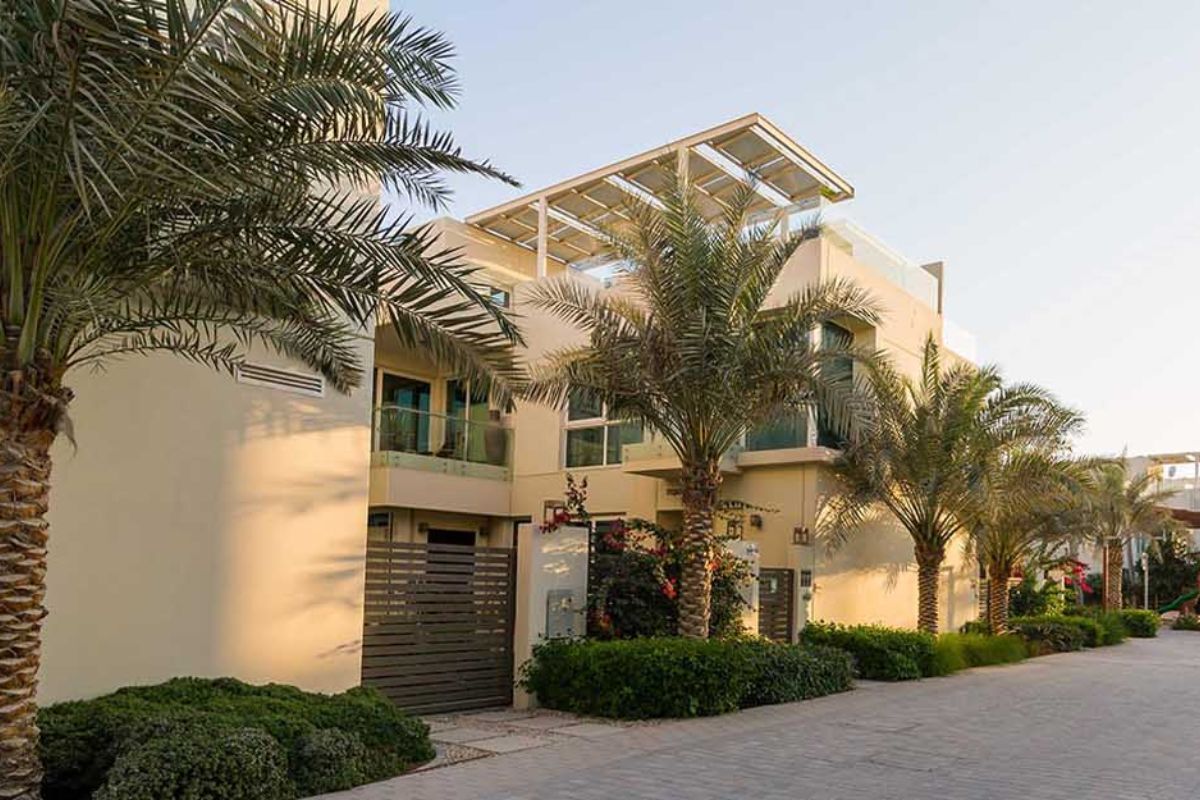 The Sustainable City in Dubai is one of the best places to live in the region. It has been recognized as the first zero-energy area in the UAE. It has also received the title 'happiest community' at the Gulf Real Estate awards. This city has many eco-friendly features to provide convenience for the residents.
A 10-meter-high buffer zone surrounds the Sustainable city acting as a barrier against the pollutants. Sustainable City is home to a 15,000 sqm sustainable plaza, a hospital, and a school among other facilities. There are 500 housing villas grouped into five residential clusters.
The central spine of this sustainable community is a park that has 11 biodomes in a line with 3,000 sqm space for urban farming.
Each residential cluster has its courtyards, gardens, and signature villas. There is an equestrian club where the residents can take classes on horse riding for beginners and intermediates. Sanad Autism Village provides behavior therapy services and has experienced interactions with individuals with autism, AD/HD, and behavioral problems.
You can rent a villa in the Sustainable City for AED90,000. It is a child-friendly neighborhood.
Sustainable City is located along Al Qudra Road. It has Arabian Ranches and Damac Hills in the neighborhood. The city is also away from the hustles of Dubai.
Damac Hills 2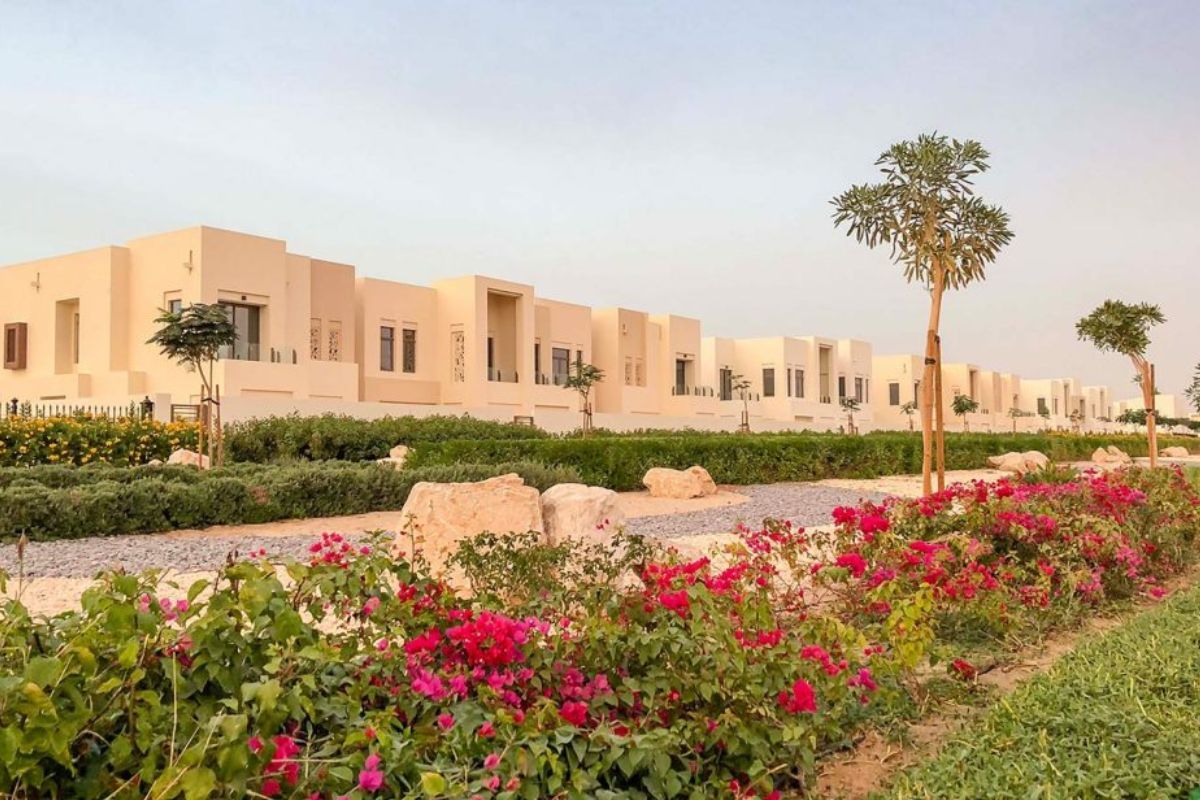 Damac Hills 2 is a residential area that is located away from the city rush. It is a green community. Damac Hills 2 is divided into multiple residential clusters.
Damac Hills 2 provides luxurious amenities like waterplay fountains, a yoga conclave, and a luxury spa. It also has a gym, supermarket, playgrounds, and a community center. Away from city life, it offers the residents a peaceful and relaxing home. The Place also has greenery to soothe your eyes.
Damac Hills 2 also has a golf course. The area is family-friendly and safe. Damac Hills 2 (Akoya Oxygen) has apartments for rent unlike Damac Hills 2 which has residential villas for rent.
The average cost of renting a two-bedroom apartment in Damac Hills 2 is AED91,000, while you can rent a studio and one-bedroom apartment for around AED24,000 and AED35,000 respectively.
You can rent a three-bedroom villa for AED61,000 a year, a four-bedroom villa for AED77,000, and five bedrooms for AED97,000 a year.
Damac Hills also has famous tourist attractions like Dubai Butterfly Garden, Global Village, and Mall of Emirates with less than half an hour's drive. The Dubai highways are also easily accessible from Damac Hills 2.
Al Barari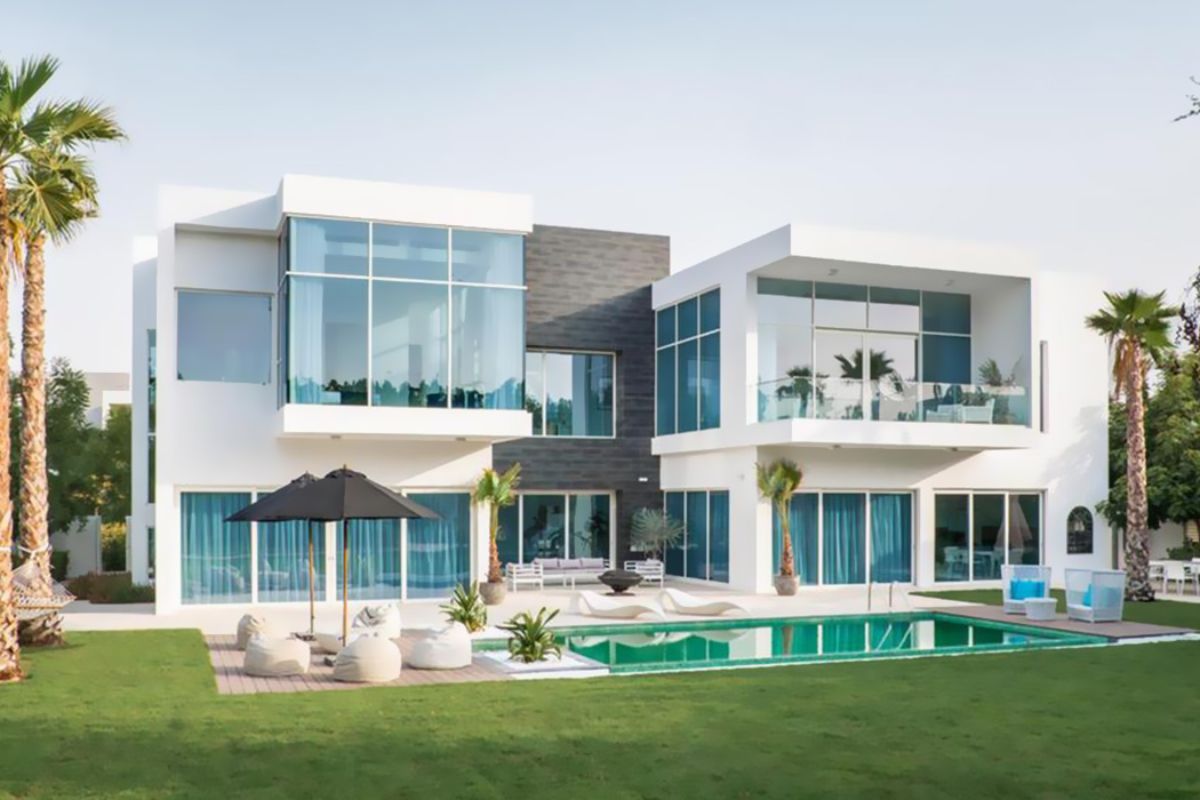 Al Barari is one of the most luxurious eco-friendly residential communities in Dubai. It is home to some of the most expensive residential villas in the region. The residents of Al Barari are entitled to world-class amenities and a private and secluded environment.
Al Barari has raised the standards of sustainable living in Dubai. It spans an area of 18 million sq. ft. with trees, landscaped gardens, freshwater streams, and natural lakes comprising more than half the area of the community. It is the perfect place for you to stay if you like greenery.
The residential community is further divided into six sub-communities. A total of 189 ready villas, 28 villas of the Reserve community, and 55 houses in the Nest.
Al Barari also has a restaurant, playgrounds, and health and wellness centers inside the community. The location of Al Barari makes it easier to reach some of the reputed international schools in Dubai.
The average rate of one bedroom apartment in Al Barari is AED143,000 and goes up to AED264,000 for a three-bedroom apartment. You can rent the villas for AED452,000 for a four-bedroom villa. The rent hits AED727,000 for a 7-bedroom at Al Barari.
Al Barari is located near Nad Al Sheba and is easily accessible through E311.
Jumeirah Golf Estates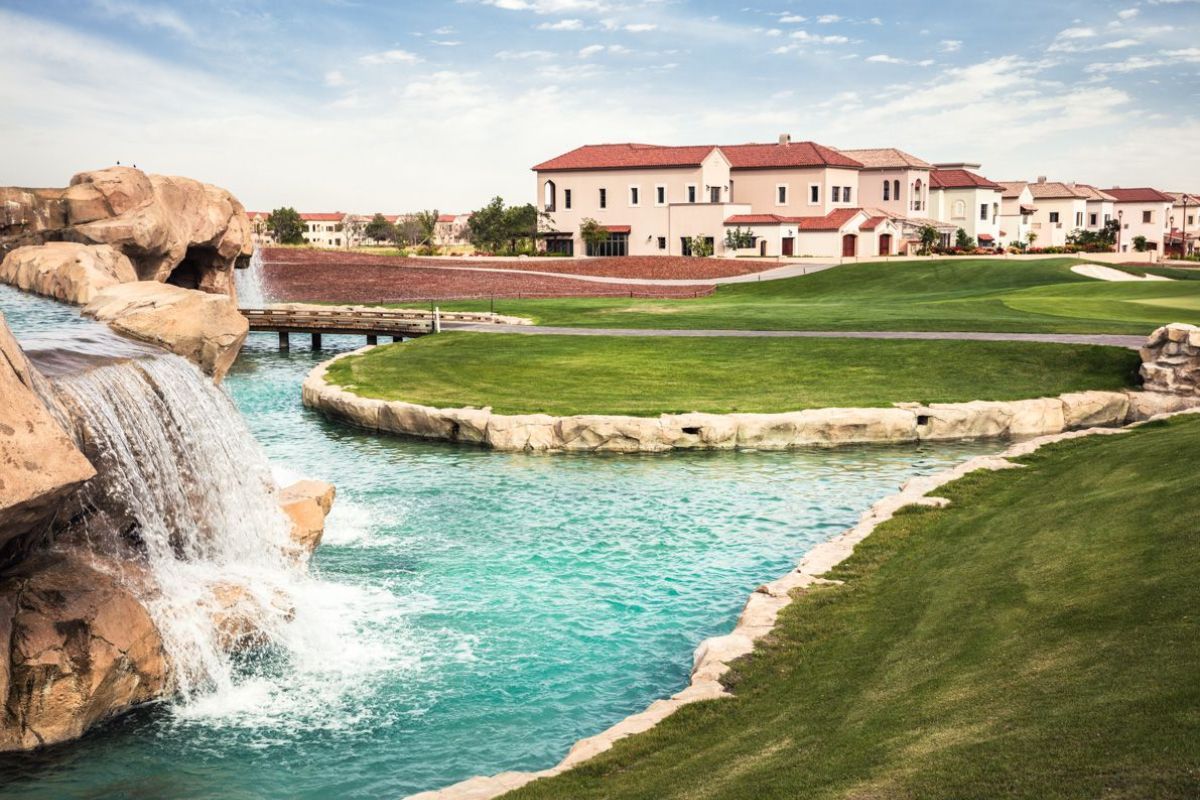 Jumeirah Golf estate is an eco-friendly place to live in Dubai with a great view. This community has got 5 lakes in it and some beautiful, lush greens for you to enjoy. The place has bagged many titles including 'Best Residential Development Arabia' and 'Best Leisure Development'.
You are open to a wide range of properties at Jumeirah Golf Estates. They have one-bedroom apartments to four-bedroom townhouses on their list. You can either rent or buy these properties at Jumeirah Golf Estates making this community desirable for residents and investors alike.
Jumeirah Golf estates have a 16-kilometers jogging track that spans around the community. While taking a stroll through this track, you can witness the beauty of the place. Jumeirah Golf Estates is home to a swimming pool, two golf courses, and a gym.
The gym is equipped with high-quality fitness equipment and personal trainers to keep you fit. You also have options for dining inside the community. This community also has a special swimming pool for the children. Residents can make use of the clubs for meeting new people and learning new skills.
Townhouses in Jumeirah Golf Estates provide amenities like servants' quarters and outdoor terraces. Some properties at Jumeirah Golf Estates have a lake view to their luxury.
The location of Jumeirah Golf estates is an advantage as it has easy access to iconic landmarks of Dubai and business hubs in the region. Dubai highway is also near the estate which makes it easier for the residents to commute. Jumeirah Golf Estates also provides enough parking spaces for the guests. The villa and townhouse residents are provided with private garages.
The average rent of a three-bedroom villa at Jumeirah Golf Estates is around AED239,000, while the rent for four-bedroom and five-bedroom villas are priced at an average of AED414,000 and AED694,000 respectively.
Dubai Silicon Oasis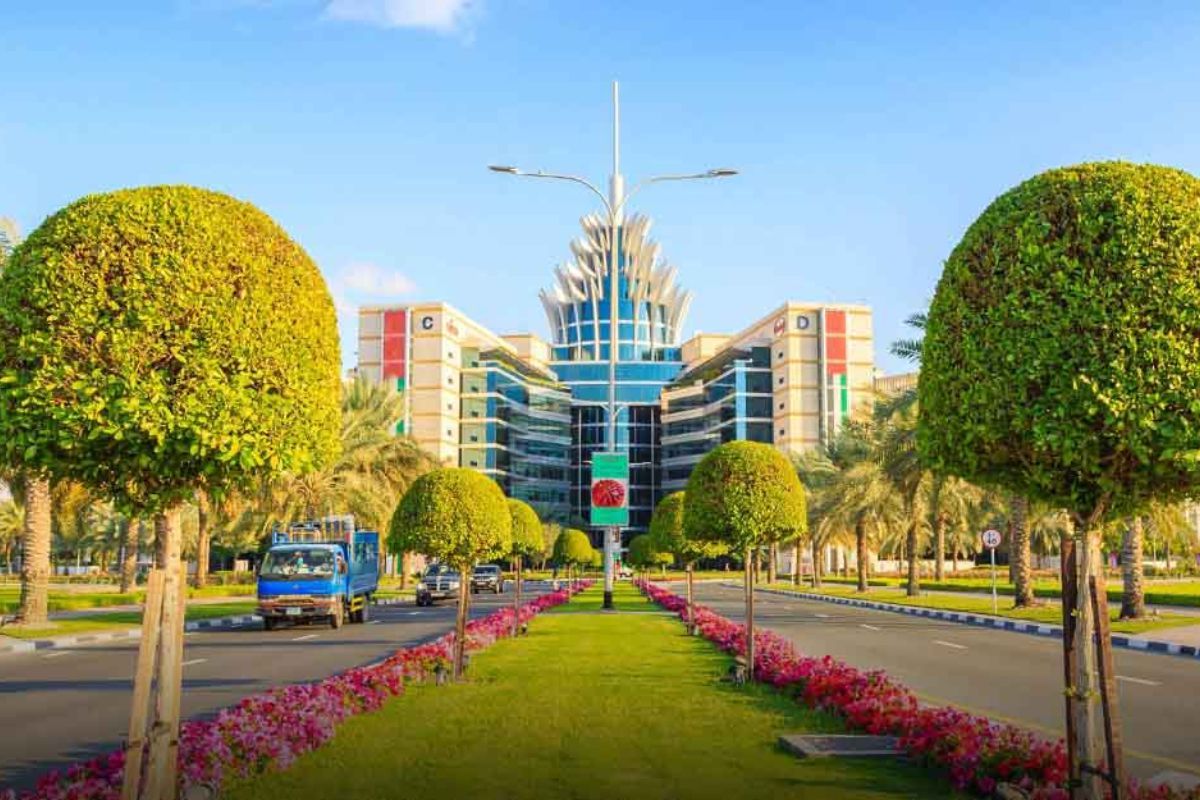 Dubai Silicon Oasis is one of the most popular eco-friendly communities in Dubai. If you are looking for an affordable option, this is the right community where you would want to live.
Dubai Silicon Oasis is home to a technology park, a residential complex, and sub-communities. The community includes supermarkets, mosques, shopping outlets, and nurseries. They also have residential communities and healthcare facilities.
The place is livelier than the other communities which are generally calmer. Dubai Silicon Oasis also has lots of parking spaces inside the community.
They have a wide range of variety in apartments and villas. It is more comfortable for families to live here because school zones are nearby. Dubai Academic City is hardly 10 minutes from Dubai Silicon Oasis which makes it easier for university students to rent an apartment outside campus.
The reasonable rent is one of the main reasons why people are choosing to move to this location. It would be hard to find an apartment in their price range to have all the amenities and most importantly is eco-friendly. You can also buy properties at Silicon Oasis.
The location of Dubai Silicon Oasis makes it easier for people to reach here. It is located at the intersection of Dubai-Al Ain road and E311. You can reach the center of Dubai within 20 minutes from here. RTA bus service is available to Dubai Silicon Oasis.
You can rent a studio apartment here for just AED18,000 a year and buy studio apartments for AED220,000 only. The average cost of renting a studio apartment is AED29,000 while AED39,000 and AED58,000 are the average rents of one-bedroom and two-bedroom apartments. They also have three-bedroom apartments.
Also read: