Dubai is known as the city of dreams. It is home to many culturally diverse districts and neighborhoods that cater to the needs of locals, expats, and tourists. From the many luxury districts of Dubai such as Business Bay and Downtown Dubai, the city also has many traditional community-based districts like Bur Dubai and Deira. Another such district in Dubai is the Al Karama area. It is one of the oldest areas in Dubai and is a multicultural hotspot for tourists.
Learn more about this cultural area in Dubai, Here's a complete guide to Al Karama area in Dubai.
About Al Karama area in Dubai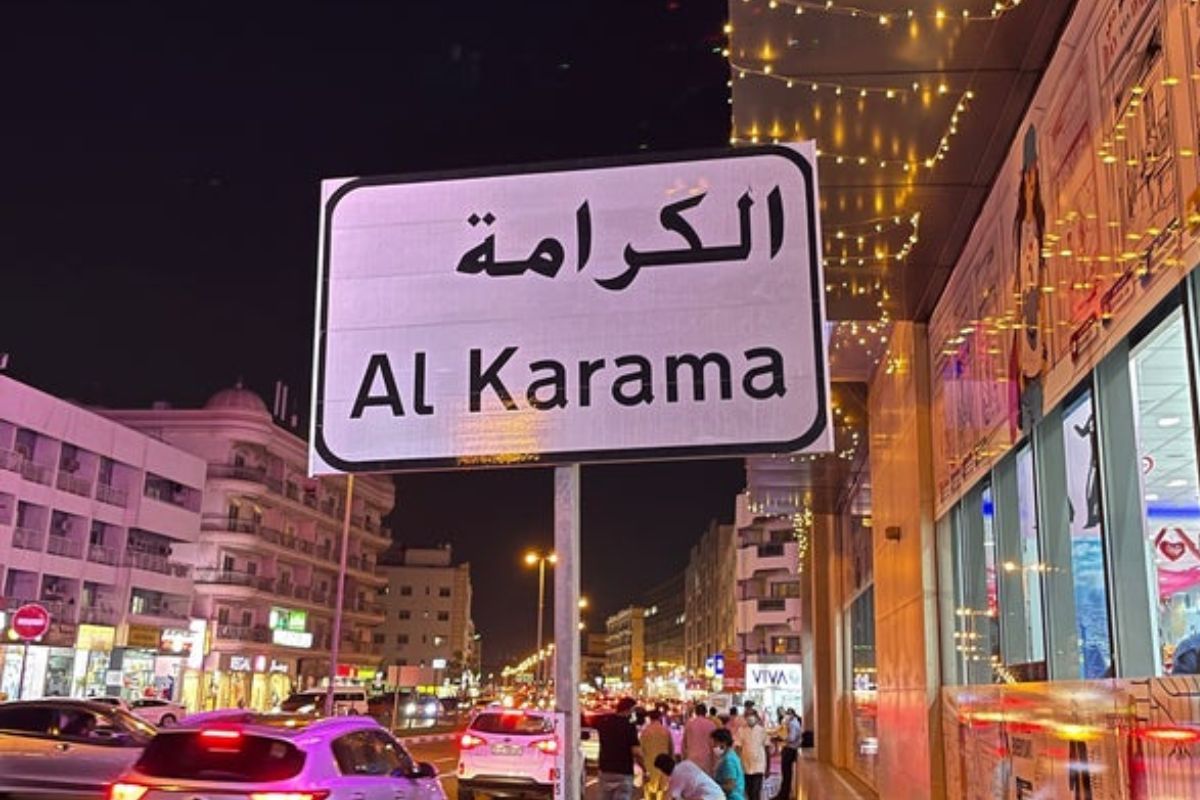 Al Karama or Karama is a vibrant residential district in Dubai that lies close to the stunning waters of the Dubai Creek. It is one of Dubai's older neighborhood's with low-rise residential buildings and hotels away from the glamorous city's bustling life. Karama is not considered as a tourist area but is popularly known for being a bargain shopping district with many thrift stores and souvenir shops lining up together across several buildings. The name of the area is inspired by the Arabic word 'Karama' that literally translates to 'dignity'. Al Karama occupies an ideal location with Zaa'beel Street as the main road of the central area which gives way for several commercial units. It is one of the most accessible places from all of Dubai.
The neighborhood is one of the most densely populated areas in Dubai, with thousands of residents as well as a plethora of restaurants and shops, despite being only 2 square kilometers in size.   It also has 300 bazaar-style shops that line 18B Street at Karama Souk. You'll be able to pick up some great souvenirs and beautiful fabrics at reasonable prices. Karama's multicultural nature is reflected in its diverse selection of South Asian cuisine,  this cultural hotspot is a must-see for both tourists and locals.
View Al Karama area in Dubai on google maps here
Things to do in Karama
Shopping in Karama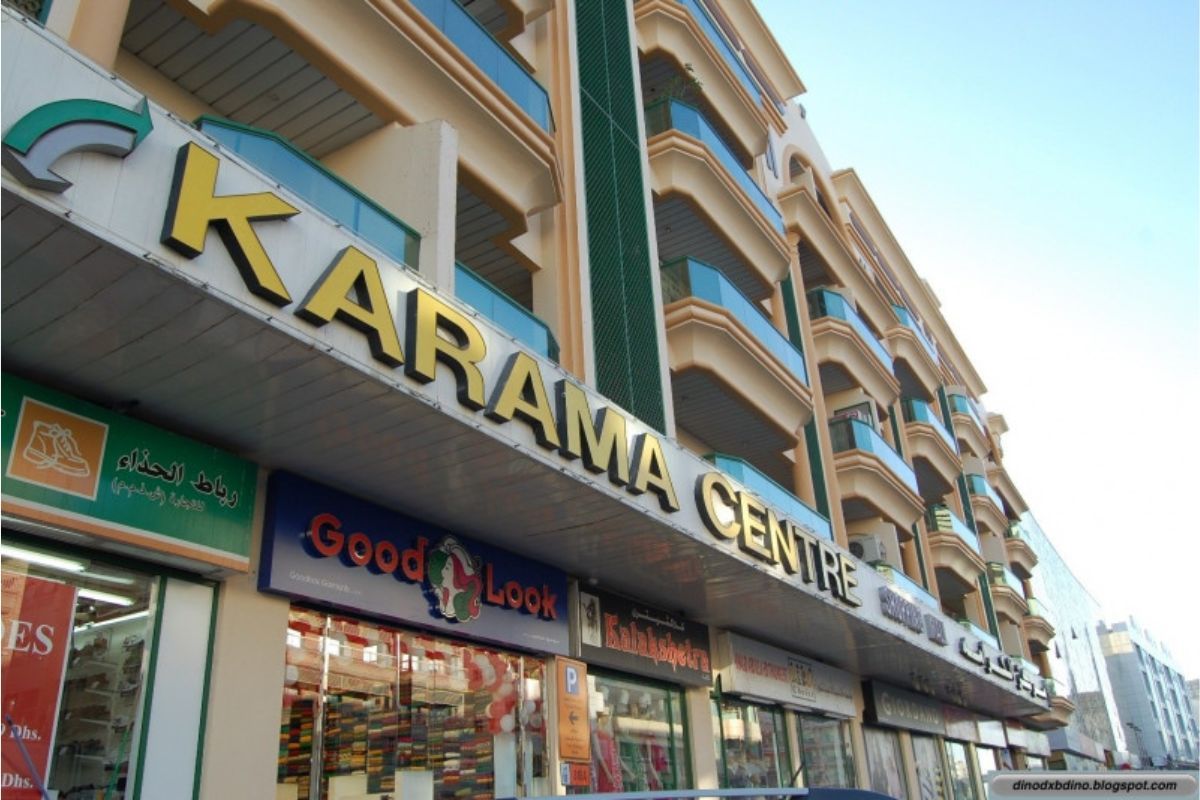 There is a plethora of stores to shop from in Karama that sell anything and everything from leather goods, sportswear, watches, sunglasses, souvenirs and many more. You will literally "shop 'til you drop" in Karama. The central shopping hub, better known as Karama Market, is home to more than 300 shops spread across a number of buildings. The area is known for selling a huge range of fashion items, you'll find plenty of handbags, clothing, sportswear, and accessories here – just don't forget to bargain!
There are many supermarkets in Al Karama that cater to the day-to-day necessities of the residents living there. There is a Lulu Supermarket right next to the Karama Park, and a Lulu Hypermarket across the road from Zabeel Park. You can also find many valuable goods at the Karama Centre which is the oldest and most popular shopping center in Karama. If you love seafood you can head to the Al Karama Fish Market to buy fresh produce of different types of fish, crabs, prawns and other types of seafood. Other popular shopping markets in Karama are Al Attar Shopping Centre, Gift Tent Karama, Al Karama Old Market and Ansar Gallery.
A more conventional shopping mall in Al Karama would be the Burjuman Mall which is located on the edge of the neighborhood. It has many retail options with popular brands and stores along with many dining and entertainment options. There are endless shopping possibilities in Karama, you need to really know your way around it and bargain to the best of your abilities to get the best deal.
Restaurants and cafes in Karama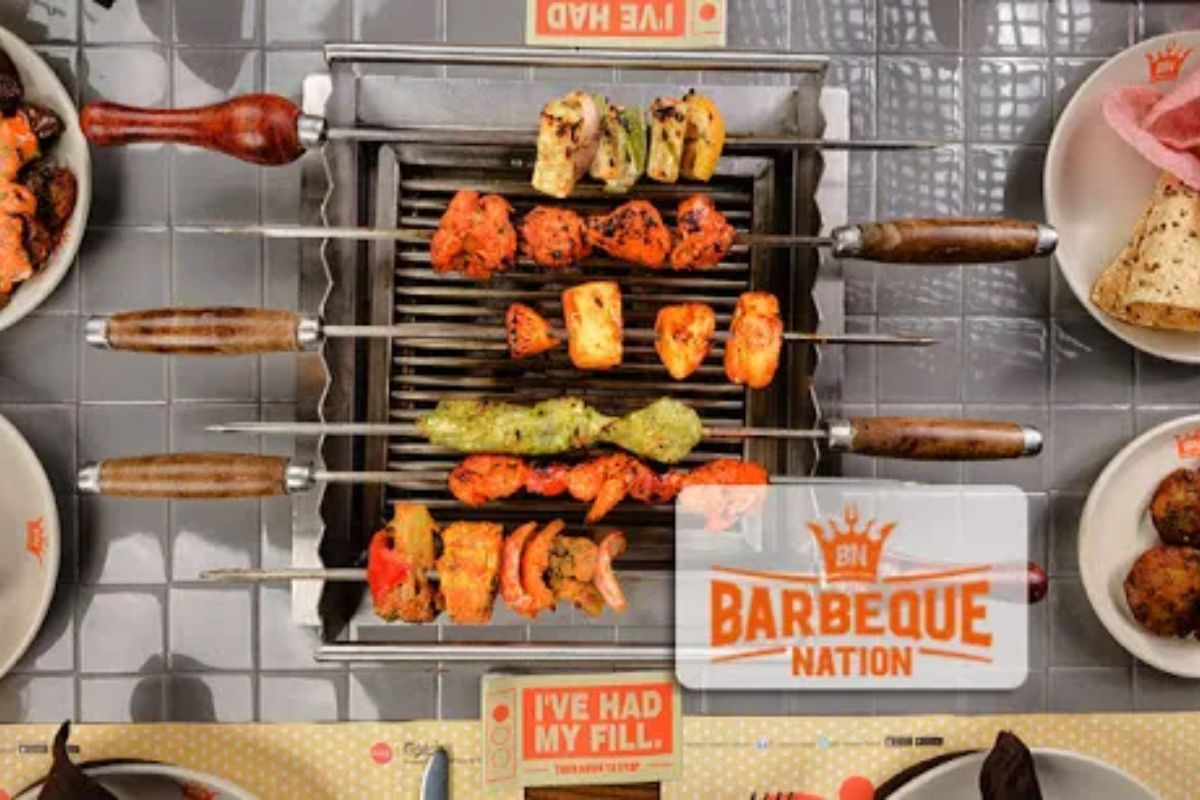 Karama's restaurant scene is another reason for the area's popularity, being second to Deira in the number of dining choices it has. From casual alfresco eateries to high-end restaurants, Al Karama has got anything you're' in the mood for. Being a part of this multicultural city, it has a diverse range of culinary options available. From the Indonesian Batawi Café, Nepalese restaurant 'Yalla Momos' to African steakhouse 'Jambo's Grill Café' and Filipino eatery 'Seafood in a Bucket'. There's a wide selection of global cuisines for you choose from. Yet, Indian restaurants are the ones that dominate the dining scene in Karama. Being an area dominated by Indian expats you will also find some of the top South Indian and North Indian restaurants here. There are many high-end dining options here but if you fancy some street bites, the small street side cafes in Karama won't disappoint you.
Some popular restaurants and cafés in Karama are:
• Student Biryani
• Barbeque Nation
• Maharaja Bhog
• The Meeting Room
• Ravi Restaurant
• Rasoi Ghar
• ChowKing
• China Bistro
• Aryaas Gourmet
• Al Damyati & Iskandaron
• Bhukkad Café
• Sigdi Restaurant
• Park & Sip
• Filli afe
• Al Khawater Café
• FnS Café
• Shakespeare & Co.
• Jus T Café
Hotels in Karama
There are several hotels in Al Karama that often offer amazing discounted family packages. Being located in a great spot, you can enjoy sunsets from the balcony of your spacious suites. These hotels are perfect for family members of expats living in Karama who've come to meet them from their home country.
The popular hotels in Al Karama are:
• Ramee Royal Hotel
• Regent Palace Hotel
• President Hotel
• Fortune Karama Hotel
• Park Regis Kris Kin Hotel
Location and how to reach Karama
Al Karama area in Dubai sits next to Oud Metha and is near Bur Dubai. While Deira and its subsequent areas are to the east of Karama, areas like Al Satwa, Jumeirah and Dubai Marina falls to its west. Downtown Dubai and Business Bay are a short 15-minute drive away. Dubai International Airport is just 12 minutes away from Karama and the Dubai Mall and Downtown Dubai area are 15 minutes away.
Since Karama is located in the center of Dubai it is accessible and easy to commute to from any corner of Dubai. You can reach Karama easily using public transport, hop on to the Dubai Metro and get down on either ADCB Metro Station or BurJuman Metro Station using the Red Line, both of which connects you to other key points of Karama area. Karama is also home to a bus station - The Karama Bus station has many buses and bus routes that take you to different parts of the city. You can also take a short walk from Oud Metha Metro Station if you want to visit the outskirts of the Karama neighborhood. You can drive, take a taxi, or book taxi services like Uber and Careem to reach your destination in Karama area in Dubai. If you are a tourist travelling through the metro is the most convenient and cheapest option. You can get down on either of the stations mentioned above and choose to either walk from there or take a bus or taxi.
Other things to do in Karama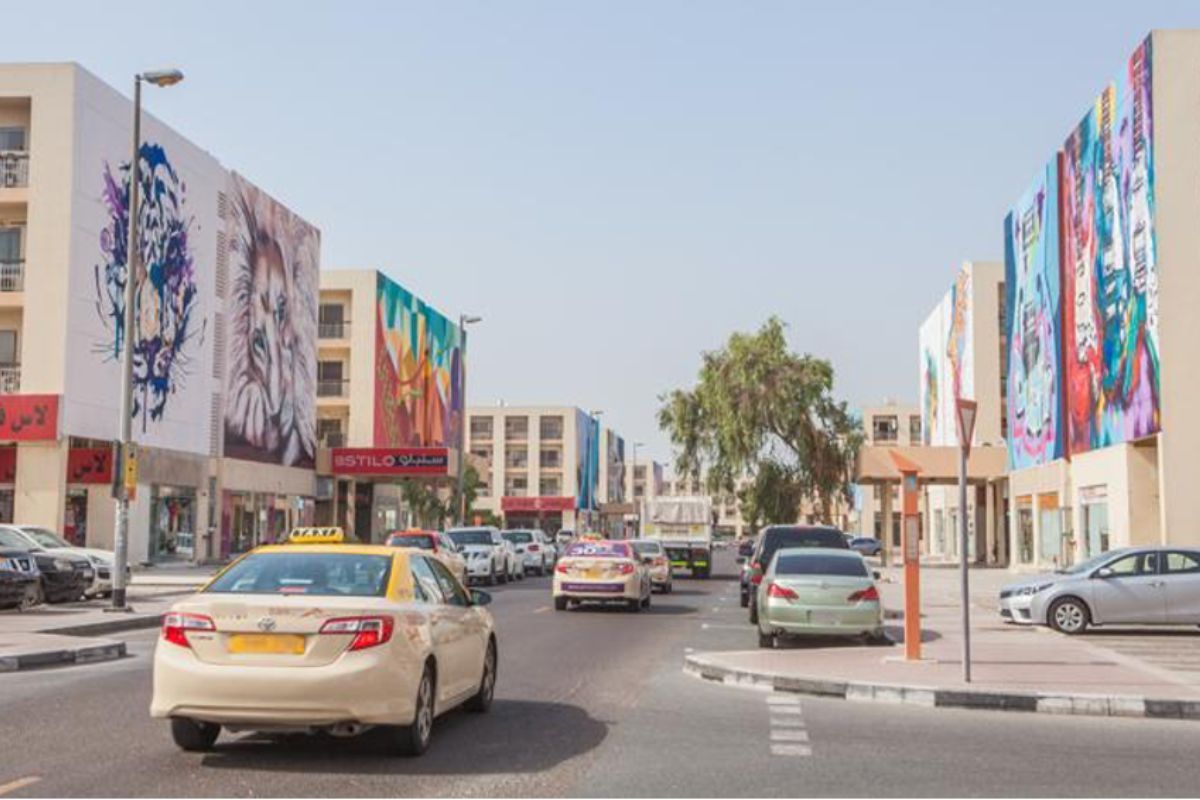 • Take Stunning Instagram pictures: A group of artists have used buildings as their canvas, creating large-scale graffiti murals on 18 B Street in Karama that have become the talk of the town. There are plenty of colourful surprises around every corner, from giant birds and abstract expressionism to pearl diving and amplified guitars which provides you an opportunity to click the perfect pictures for your Instagram feeds.
• Karama Park: When you visit this small park, you'll see families happily picnicking on its patch of green space, chatting, playing games, and taking in the beautiful winter weather. There are areas for cricket and badminton, sauntering paths, cycling lanes, and patches of grass ideal for an afternoon nap
• BurJuman Mall: BurJuman Mall is the oldest mall in Dubai and offers the latest fashion, beauty and lifestyle products provided by the world's leading retailers. It has a state-of-the art cinema called Vox cinemas, a family fun-packed entertainment centre called Magic Plant along with Carrefour and a great range of dining options which all together makes the mall the perfect family destination providing something for everyone. Some popular brands store you can find here include H&M, Forever 21, Splash, Brands for Less, Next, LC Waikiki, Aldo, Inglot, Charles & Keith and many more.
• Zabeel Park: Zabeel park is another park that is quite close to Karama being a short drive away. It is the biggest park in Dubai and is home to the renowned Dubai Frame. It's various amenities include a jogging track, golf, boating, BMX track. The Zabeel park also features flea markets, live performances, and other unique parks besides it.
Other things to do near Karama:
• Dubai Creek
• Creek Park
• Dubai Frame
• Ismaili Centre Dubai
• Omni Club Dubai
• Third Eye Motion Spa
• Dubai Garden Glow
• Dinosaur Park
• Zabeel Cricket ground
• Dubai Dolphinarium
• Children's City
• Ice Park
Also Read: