Dubai is a city that has an ever-growing list of one-of-a-kind attractions, activities, and experiences. This city never bores you! From thrill seeking activities to breathing in the serene views, you'll be spoilt for choice when it comes to activities in Dubai. Dubai is a glamorous and luxurious city which is why most of the activities it offers tend to be on the costlier side. Fortunately, there are plenty of activities you can do in Dubai that are not too expensive.
Here are the top 10 places to visit in Dubai for under AED 100.
1. Flying Cup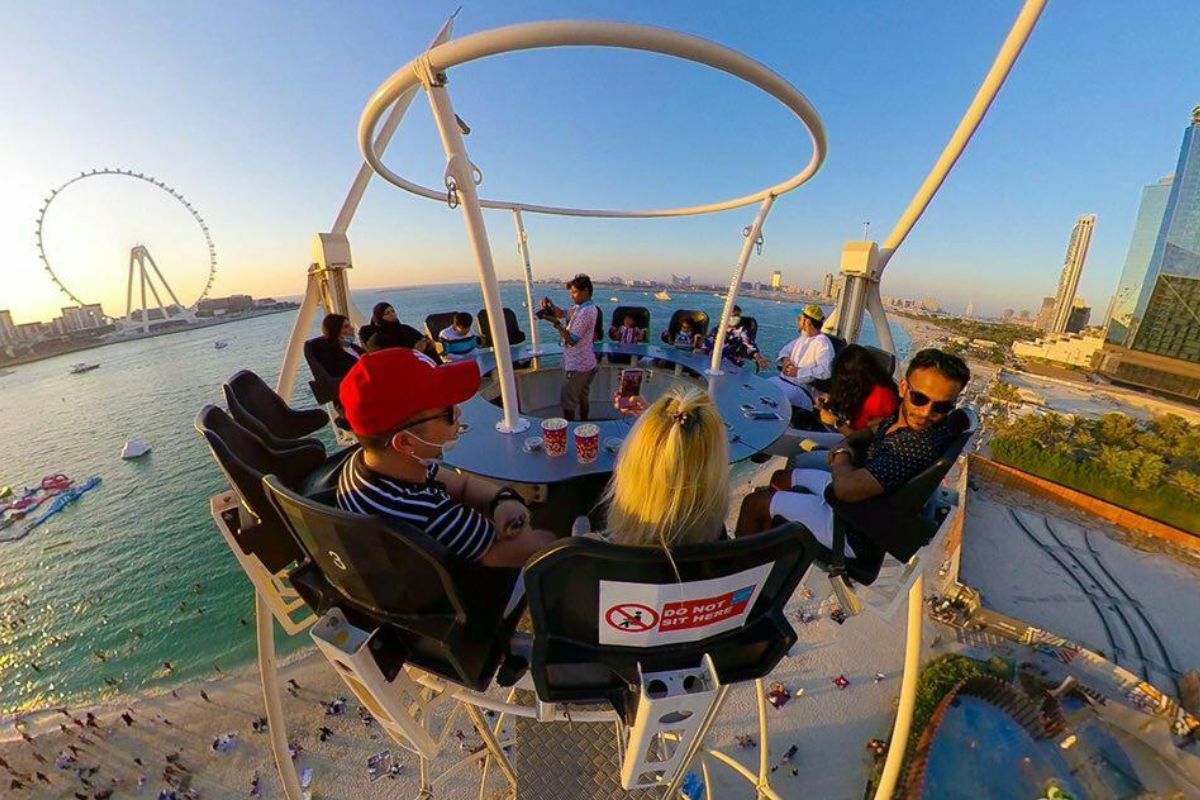 Want to enjoy dining several feet up in the air? The Flying Cup is an innovative concept that involves food and thrill with 360 aerial views of Dubai.  Experience a 20-minute ride that rises 40m above the ground. Dining in the sky while your feet are dangling in the air will be one of the most unique and memorable experiences of your life. This thrilling ride allows you to sit back relax and enjoy the magnificent views of the sea and the Burj Al Arab and Atlantis the Palm at a distance. Pricing depends on the chosen refreshments. You can also choose the flight-only option to enjoy this thrilling ride without any edibles.
Location: The Beach, JBR
Timings: 10:00 am - 12:00 pm
Ticket Price: AED80 (Adult) [ride+ refreshments] AED 60 (Adult) [flight-only]
2. Dubai Frame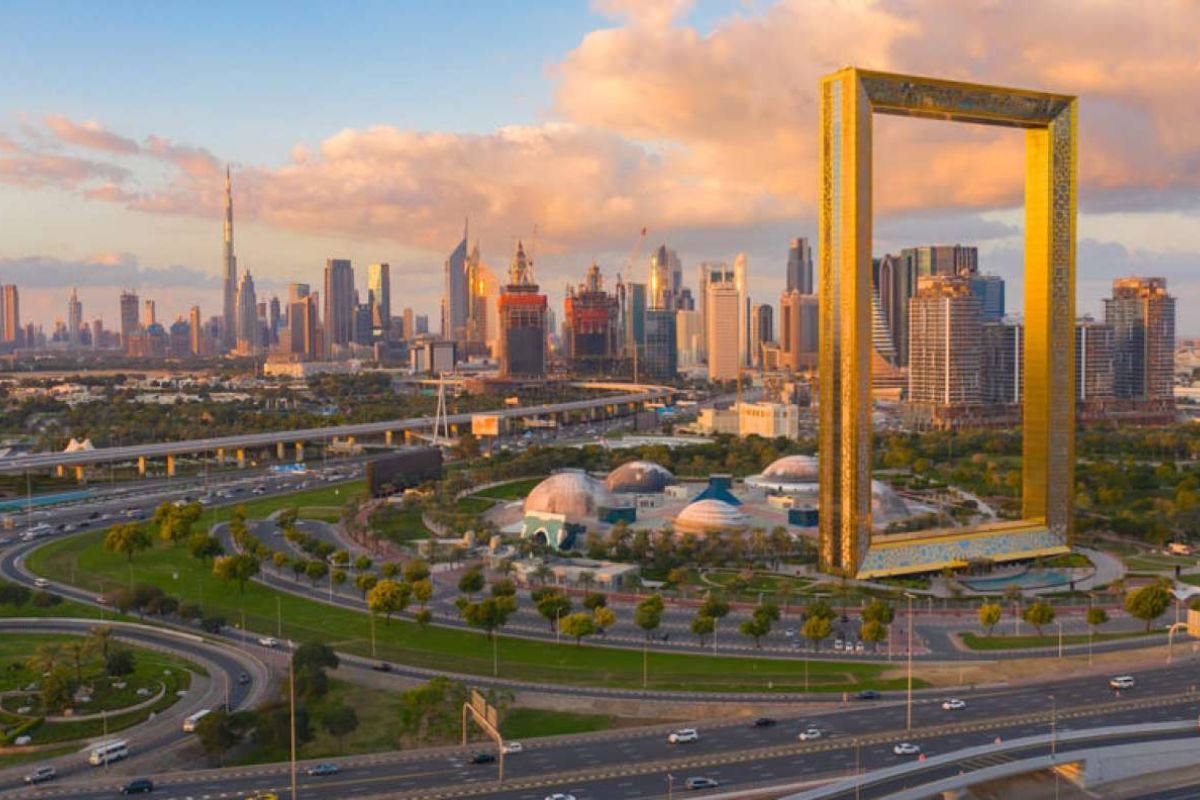 The Dubai Frame has been a hit ever since it opened in 2018 with ticket prices that are well within the AED 100 range. The massive structure stands at a whopping 93 meters and is a great viewing point in Dubai. It was built to connect old and new Dubai, framing each of them so that you can view their skylines from a distance via a frame. You can stroll across the top of the Dubai Frame for even better glorying views of the city. Breath in the spectacular 360 views of Old Dubai and New Dubai along with the beauty of this unique building. Take photos with some of Dubai's coolest structures as a backdrop.  Sip on coffee and munch on delicious snacks at the café there while you learn important details about some of Dubai's major landmarks.
Location: Dubai Frame, Zabeel Park, Dubai,
Timings: 09:00 am – 09:00 pm
Ticket Price: AED 50 (adults) AED 20 (children)
3. Glow Garden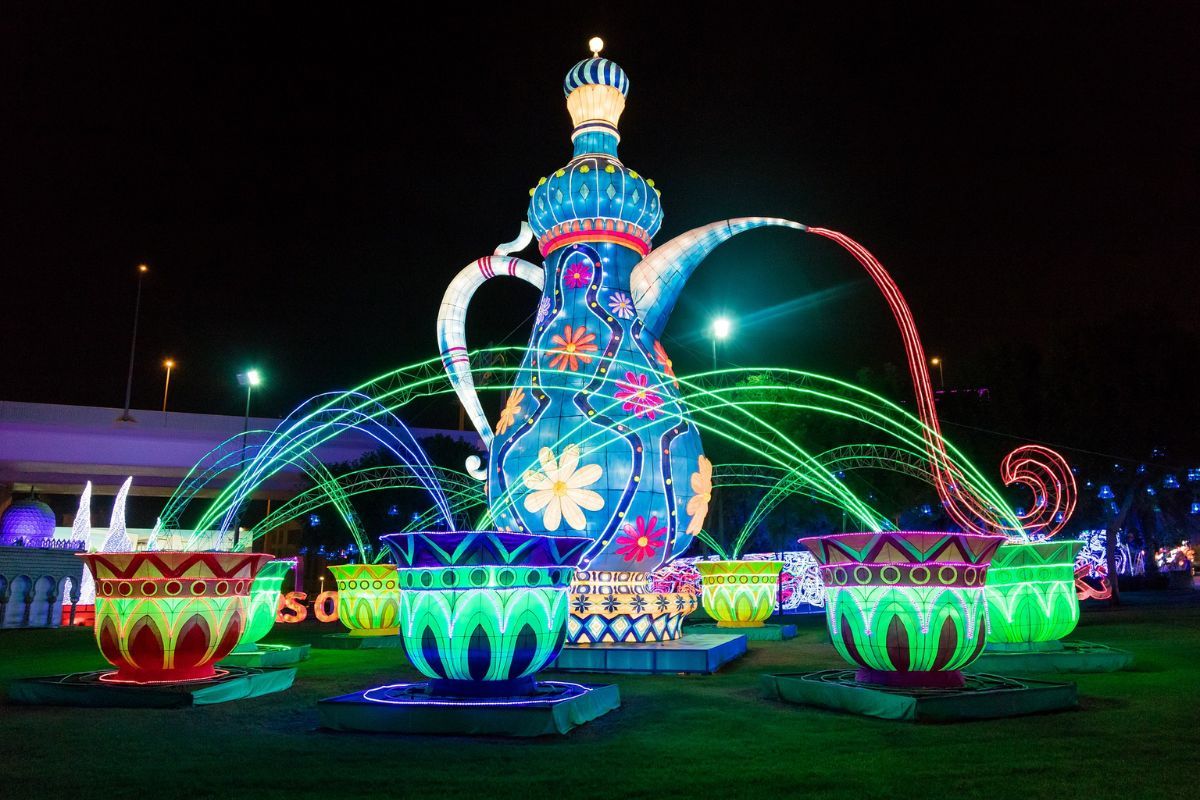 The Dubai Glow Garden is another attraction in the AED 100 under range. It is the world's first unique glow garden. This largest glow-in-the-dark garden has over 10 million LED lights and has many eco-friendly models and structures that are built based on a theme with handmade lights.  You can wander around the different attractions and be amazed by the world of imagination. The park changes themes every season to keep you entertained and amazed. It is bright, magical, and colorful, the perfect place to have a good time your family. Besides this unique and bright park, you can also find other attractions like Dinosaur Park, Magic Park, and Ice Park nearby. Among which, the Dinosaur Park is the most popular with young visitors owing to the presence of several animatronic prehistoric animals. These Parks are only open for a limited time in a year from October to April so, mark your calendars to visit this one of a kind garden.
Location: Zabeel Park, Dubai
Timings: 05:00 pm to 11:00 pm, 05:00 pm to 12:00 am (Saturday)
Ticket Price: Starts from AED 65
Also Read: Top Parks in Dubai You Must Visit
4. Chill Out Lounge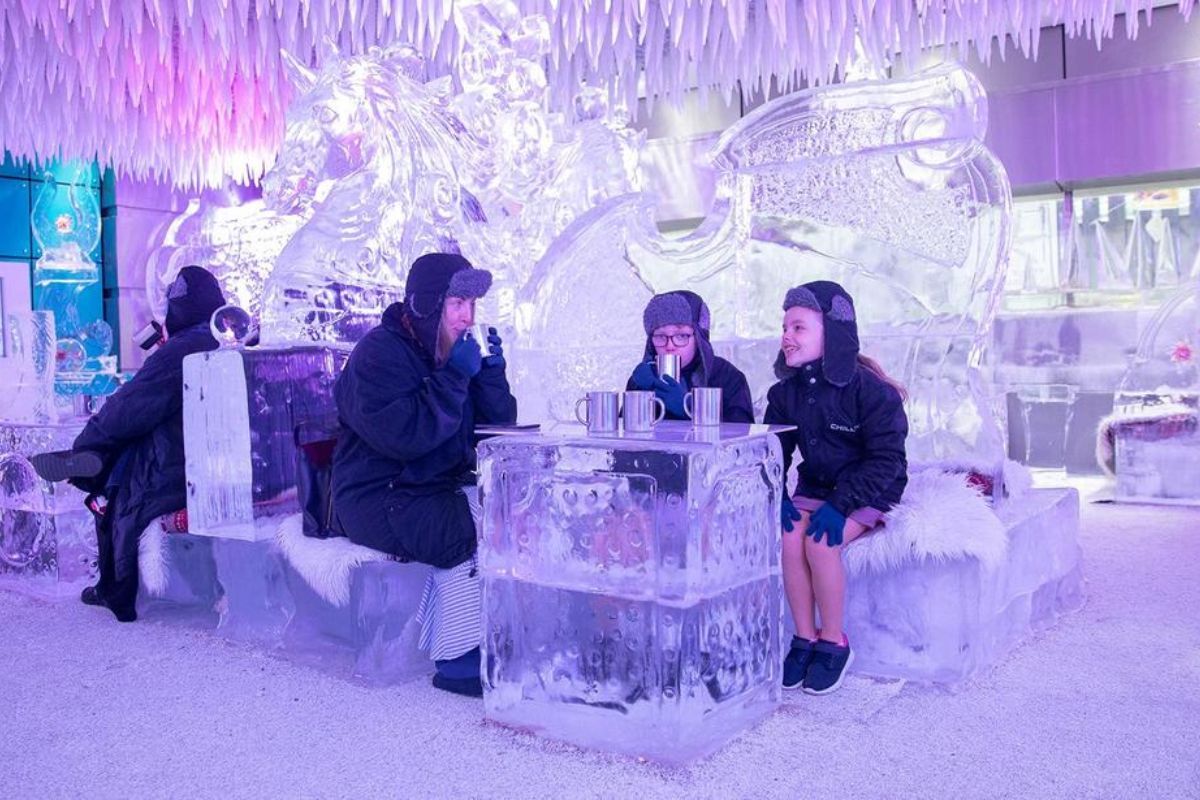 Cool off from Dubai's scorching heat without hurting your purse at the Chillout Ice Lounge. This chilling lounge is the first ice lounge in the region and continues to attract many visitors since it opened in 2007. You'll start shivering as soon as you enter this lounge where the temperature is maintained at an Icey -6 Celsius.  Adding to its allure are mesmerizing ice sculptures, ice seating and tables and a uniquely illuminated interior. Before entering the lounge, they'll provide you with warm essentials like jacket, hat, shoes, and gloves. You also get a complimentary welcome drink with your ticket. You'll find delicious hot food at the lounge like soups, sandwiches, juices, hot chocolates, coffee, tea, and a variety of other drinks, which makes it the first of it kind in the world to serve hot food & beverages. This unique ice lounge is the perfect place to cool down from the rising temperatures of Dubai.
Location: Times Square Centre – Ground floor
Timings:  10:00 am -10:00 pm
Ticket Price: AED 80 (adult pass) | AED 65 (child pass)
5. Museum of Illusions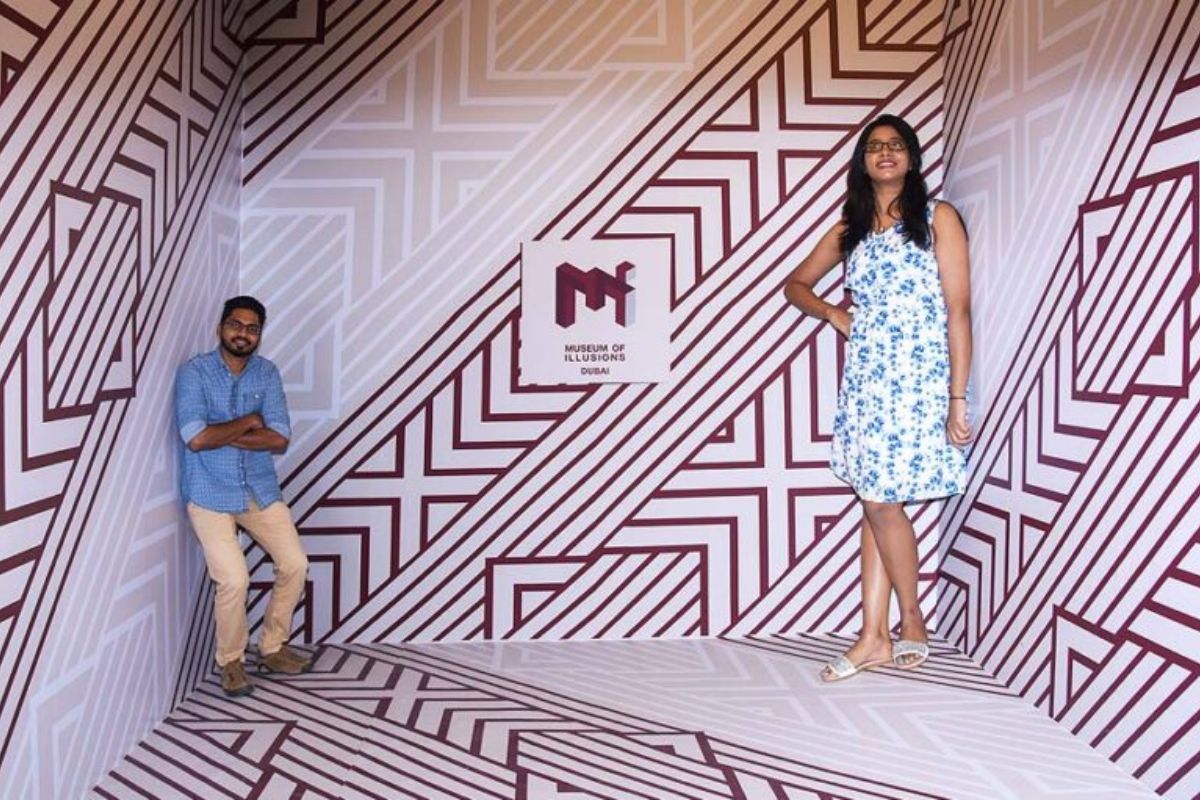 Get ready to be fascinated and blown away at the same time at the Museum of Illusions. This is a completely different kind of museum in Dubai. This artistic site takes you to a world of mind-blowing optical illusions. It features more than 60 visual and educational exhibits including optical illusions, holograms, and immersive rooms. Which is what makes this museum a favorite of children who will get amazed at the different illusions and just have fun. Museum of Illusion is one of the many such museums by the world-renowned museum chain though, the one in Dubai is the biggest out of all the others around the world. The main attractions are the Ames room where you can look bigger or smaller than your friend, The Slanted room where you can defy gravity, and the Vortex Tunnel which will deceive your mind with visual effects into thinking that the platform you are standing on is movie while standing still.
Location: Building 17, Heritage Area, Al Seef
Timings: Monday to Thursday 10:00 am – 10:00 pm | Friday to Sunday and Public Holidays 10:00 am – 11:00 pm
Ticket Price: Adult: AED 80 | Children (5-15 years): AED 60| Children below 5 years: Free | Students and Seniors: AED 70
6.  Dreamscape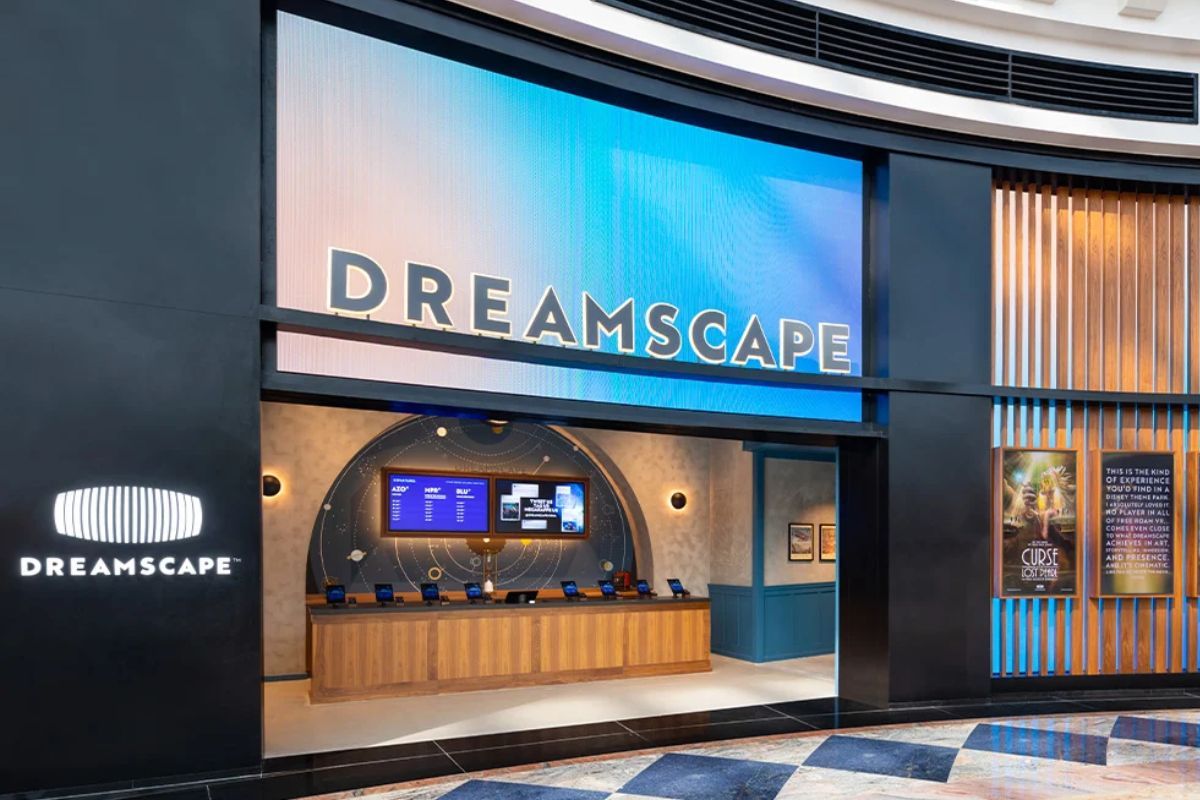 Enjoy a VR experience like no other at Dreamscape!  It offers whole new worlds of adventure using the 'free roam' VR technology which allows you to realistically move around magical settings. This innovative attraction is a state-of-the-art technology, so you can fully immerse yourself in whichever experience you choose. Dreamscape's vision is to combine the emotional power of Hollywood storytelling, the visceral excitement of a great theme-park rides and this extraordinary technology to create stories and worlds that push the limits of virtual reality. Travel to the depths of the ocean to rescue whales, visit an alien zoo in a distant galaxy, or search an ancient temple while solving riddles. Each adventure at Dreamscape is a shared experience that embraces the human desire to explore, learn and enjoy together. One of the best thrilling adventure places that won't hurt your pockets and are under AED  100.
Location: Sheikh Zayed Rd, Mall of the Emirates Level 2, Next to Apple Store Dubai
Timings: 10:00 am – 12:00 am
Tickets Price:  AED79
7. Sky Views Dubai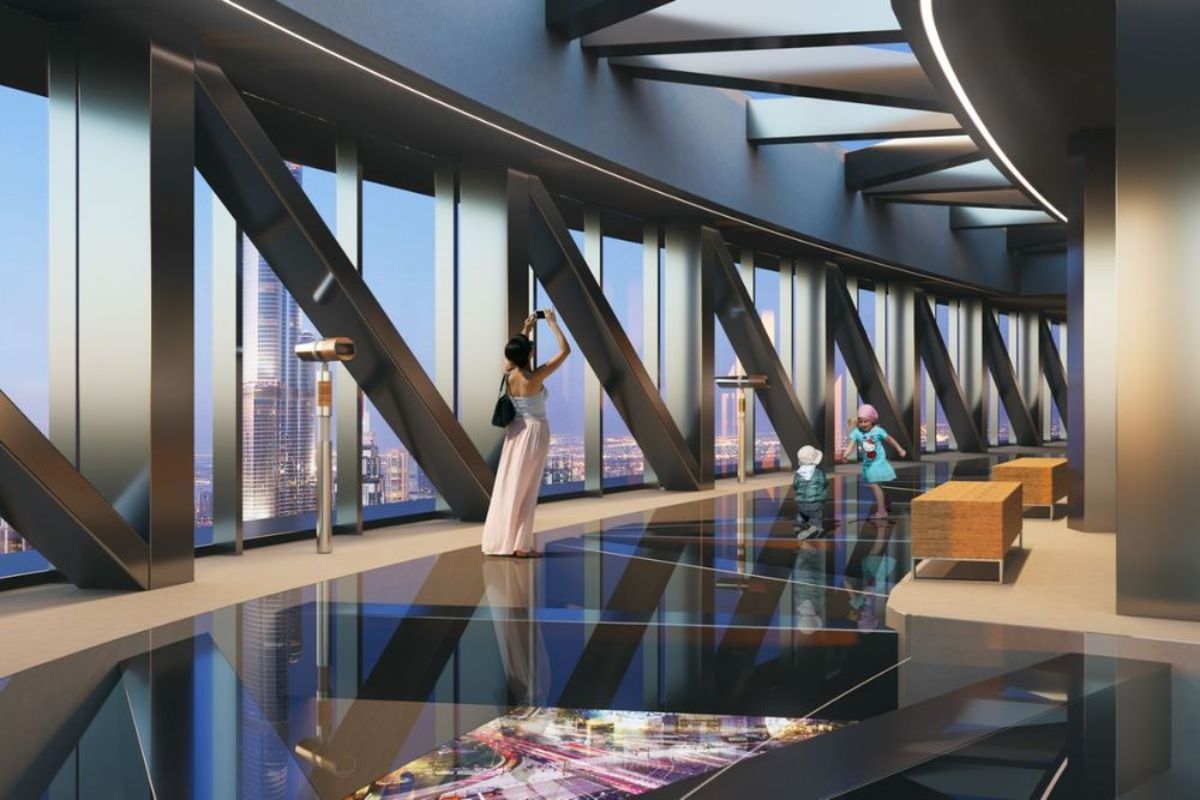 If you're a fan of heights, you should head on over to Sky views Dubai to take a bird eye view of Dubai's mesmerizing skyline from 219.5m above ground. It is a popular attraction for those who love to breath in spectacular 360 views of Dubai and have a ick for an adrenaline rush. Located in the Address Sky View Hotel, this wonderful marvel offers you a thrilling and unforgettable experience that is also under the range of AED 100 – The Sky views Observatory + Glass Slide. The Sky Views Observatory is located 200 meters above ground and gives you a bird's eye view of Dubai while being close to Dubai Mall it also gives stunning views of the Burj Khalifa and Dubai Fountains. It has a 25-meter-long glass floor that provides spectacular views of the city below. You'll be mesmerized of the sight below! Along with it, enjoy a ride on the outdoor Glass Slide, that transports you in a translucent glass slide form level 53 to 52 while you marvel the mind-blowing views surrounding you.
Location: Address Sky View Hotel, Downtown Dubai
Timings: 10:00 am – 10: 00 pm
Ticket Price: AED 85 (adults) AED 70 (children) [includes observatory and glass slide]
8. Abra Ride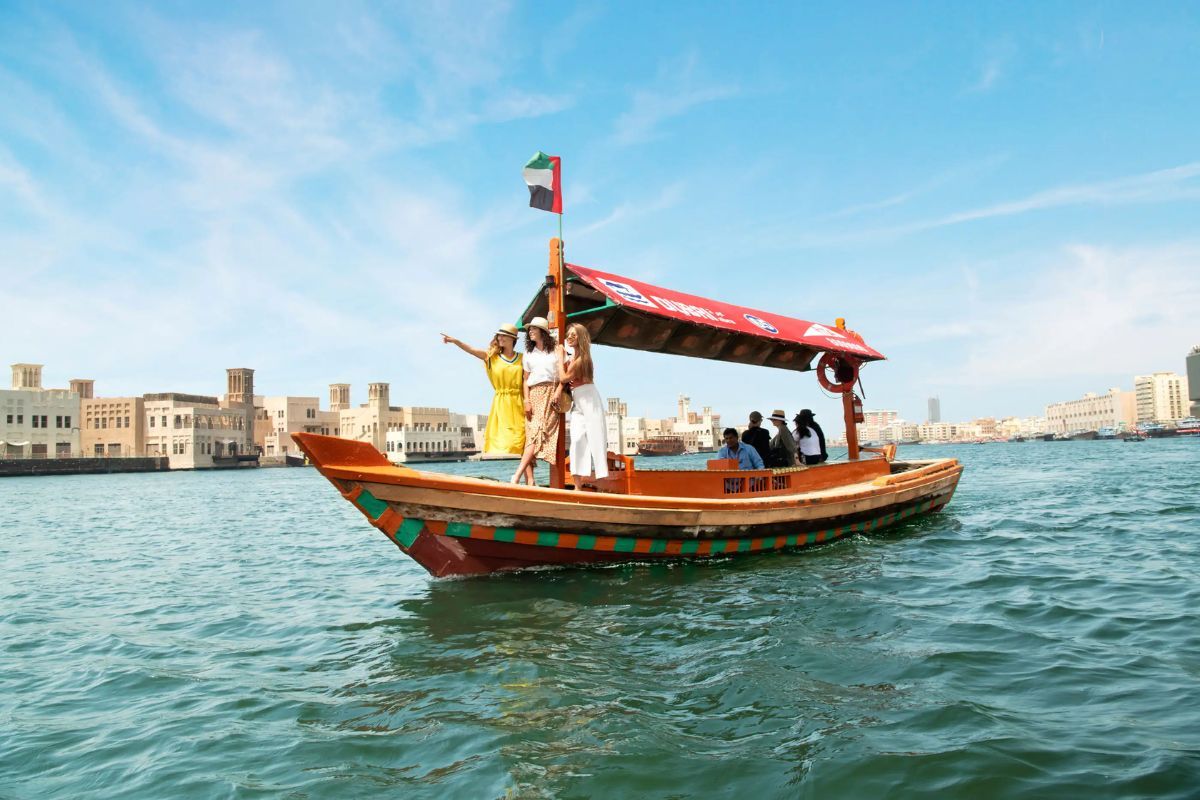 The word 'Abra' comes from the Arabic verb 'abara' which means 'to cross'. Ride the Dubai Abra, the city's oldest form of transportation which makes it a symbol of the city's heritage and culture.  In this classic hybrid of a half-boat and half-raft, you can discover the beauty of ancient Dubai. It is a great way to connect with Dubai's history, heritage and culture. There are four stations sprinkled along Bur Dubai to Deira where you can spend as little as AED1 for a brief one-way trip on these traditional boats. Admire spectacular views of old Dubai including traditional houses, wind towers and minarets. These sights are interspersed with signs of the city's trajectory towards modern living, featuring landmarks like the Deira Twin Towers and hotels or commercial buildings in glass facades gleaming against the water. Book a dhow trip to travel further down the creek if you want to see even more of the city by water.
Location: Stations through Bur Dubai to Deira
Timings: 05:00 am – 12:00 am
Ticket price: AED 1
9. Miracle Garden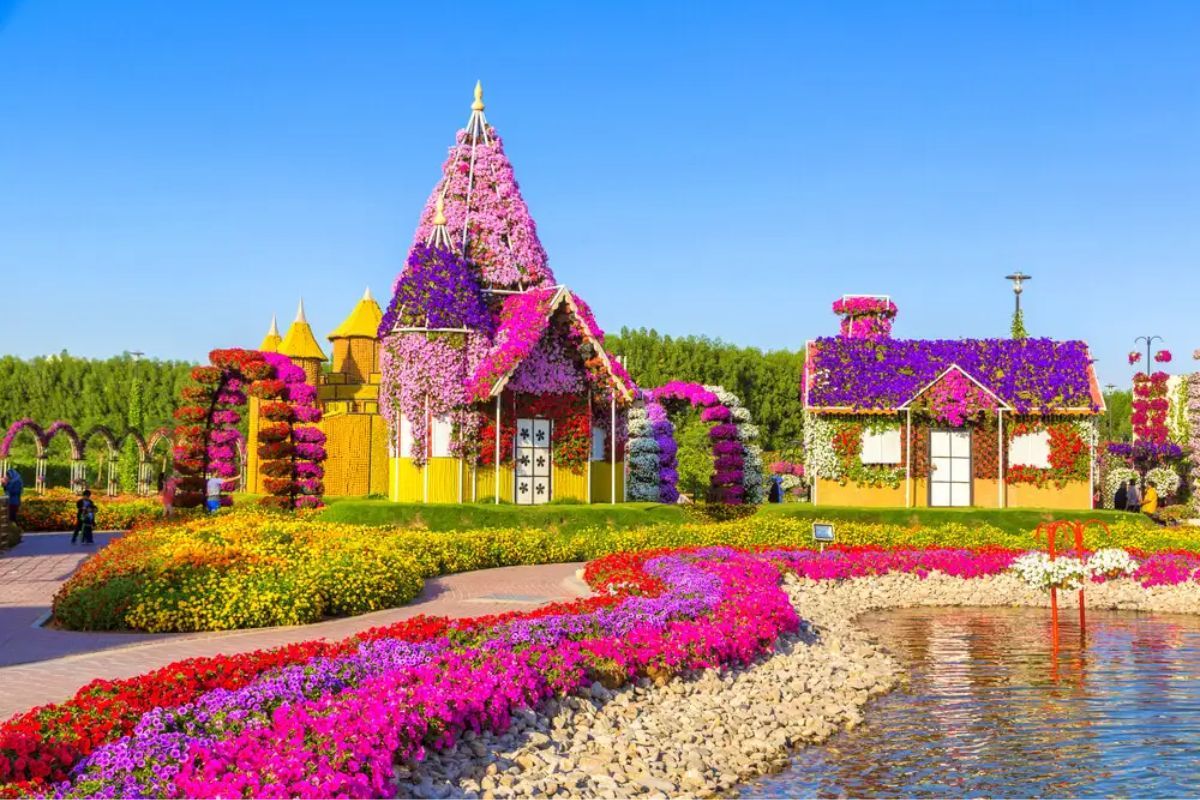 Visit the world's largest natural flower garden in Dubai which showcases about 150 million beautiful natural flowers and plants. Stunning blooms are arranged in breath-taking ways in this one-of-a-kind garden, making it a sight to behold. They are organized in eye-catching patterns, distinctive structures, and bright arches. This location is incredibly amazing, and each new season brings even more exquisite structures and decorations. You must take part in the weekly live performances, parades, and musical performances if you want to capture the greatest Instagrammable moments. The Floral Clock, Emirates A380, Disney Avenue, 3D Floral Designs, Lake Park, Floral Villas & Castle, and Heart Tunnel are just a few of the noteworthy creations. You can also make unforgettable memories here at the photo booth it offers or purchase souvenirs to capture your memories. If you want to visit this Instagrammable garden, keep in mind that it is only open from November to May each year.
Location: Street 3, Al Barsha South
Timings: 09:00 am – 09:00 pm (weekdays) 09:00 am – 10:00 pm (weekends)
Ticket Price: AED 55 for adults| AED 40 for children (below 3 are free of charge)
10. Global Village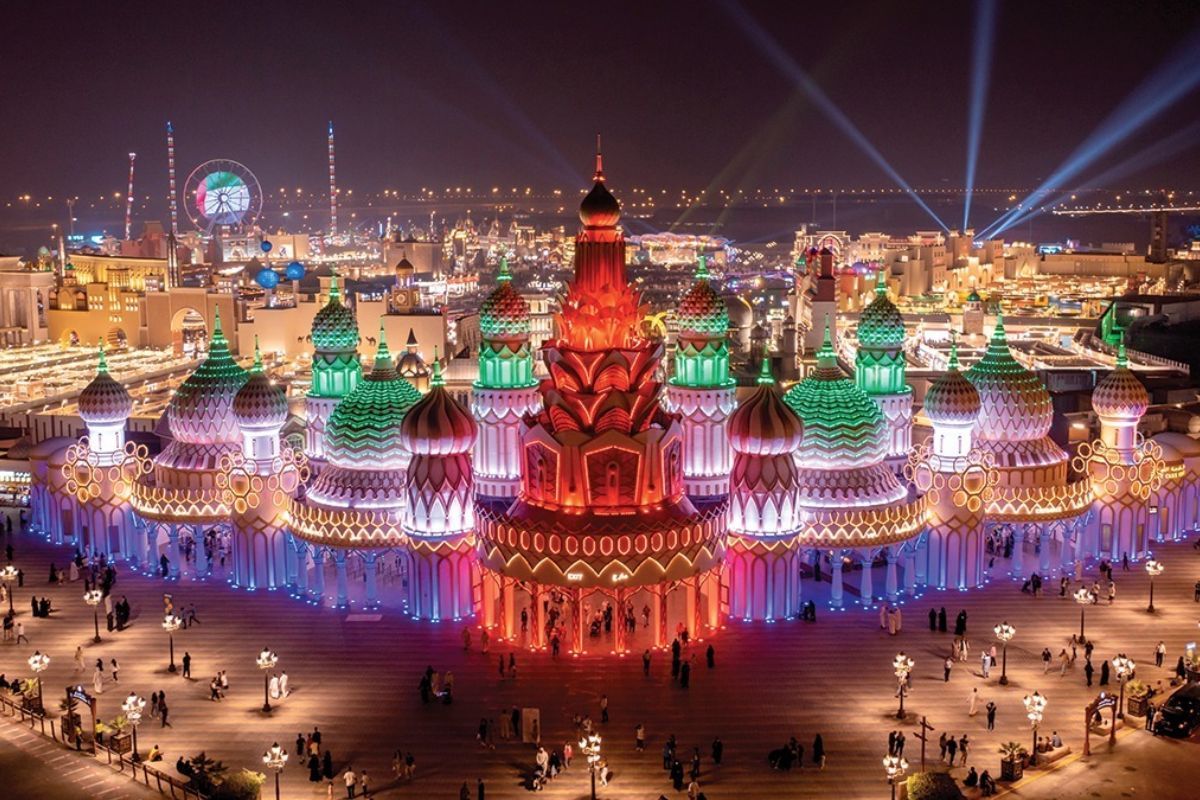 Dubai's Global Village lets you travel the world in just one night. Experience international diversity at this renowned multicultural event which showcases several pavilions of varying cultures. It is the world's largest tourism, leisure, shopping, and entertainment project, featuring more than 20 pavilions that represent international arts and crafts, authentic cuisine, traditional dance and entertainment, and local produce. Each location is curated in such a way that it gives you a feeling of being in the country itself. The Carnival Funfair has over 160 rides, attractions, and arcade games. Feast your eyes and your bellies at over 200 restaurants, cafes, and knowledgeable street food specialists. Sample local delicacies at Indian Chat Bazaar, Floating Market, Happiness Street and Fiesta Street. They also offer a variety of live entertainment and events including stunt shows, children's shows, fireworks, fountain shows, street shows and cultural shows. Mark your calendars for this multicultural event, which runs from October through April every year.
Location: Emirates Road and Sheikh Mohammed bin Zayed Road, Exit 37
Timings: 04:00 pm to 12:00 am (Monday to Thursday) | 04:00 pm to 01:00 am (Friday to Sunday)
Ticket Price: AED 15 to AED 20 (general admission)