Dubai's top tourist spots go beyond its shopping malls, theme parks and astonishingly spectacular skyscrapers. This glamorous city is also home to many green spots filled with lush greens. From zoos, parks, gardens, wildlife reserves, sanctuaries to other nature filled outdoor tourist spots – you'll find it all here.
Dubai is also home to some of the most beautiful parks in the world. With its arid climate and limited green spaces, Dubai's parks are a respite from the hustle and bustle of city life. They offer a peaceful environment for families to spend time together, for fitness enthusiasts to exercise, and for nature lovers to enjoy the beauty of the region's flora and fauna.
Being surrounded with lush green filled lands and serene, enjoying quality time outdoors with friends and family and dining on delicious BBQ – a picnic can't get more enjoyable and relaxing than this. If you are looking to escape into nature for a few hours and relax with nature, then Dubai has various parks to suit all your needs. Whether you want to unwind, soak up the sunshine under the shade of a tree, stay fit or entertain the little ones with various outdoor activities or play zones, you can do it all at the same place!
So, get ready to plan your next picnic! Here are the top parks in Dubai you must visit.
Creek Park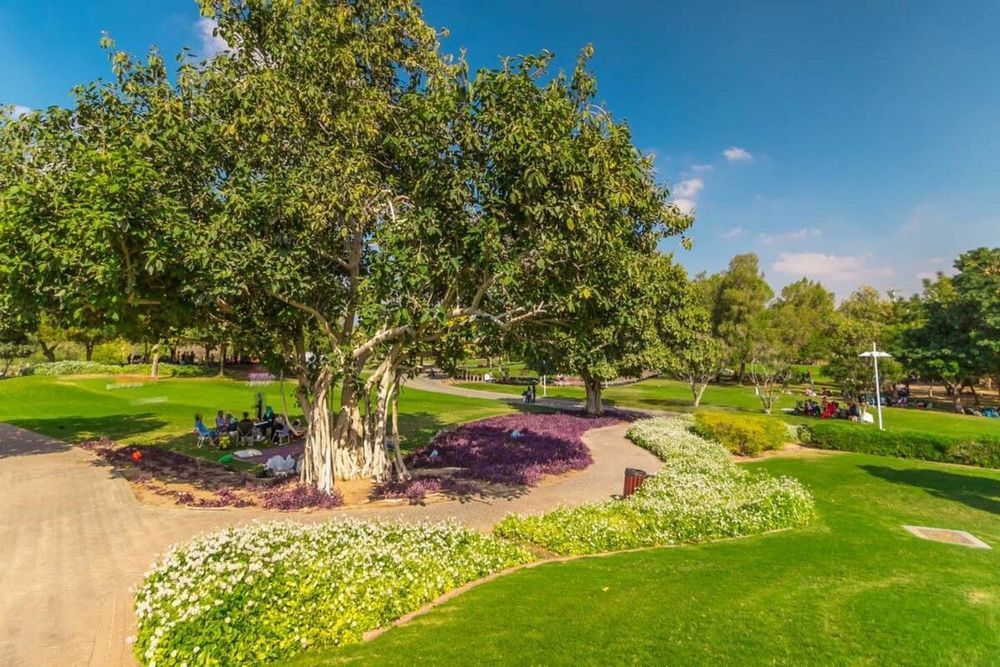 Creek Park is one of Dubai's oldest and best parks, having opened in 1983. Its location on the edge of Dubai Creek distinguishes it from other green spaces in the city. It is the second largest park, encompassing 96 hectares of land. Creek Park is a popular picnic and barbeque spot with a large botanical garden, mini-golf, and a go-kart track. There are several playgrounds for children scattered throughout the park. Creek Park also houses Children's City, an indoor 'edutainment' center, and the Dubai Dolphinarium, where families can watch dolphin tricks and seal stunts. Its pleasingly old-school feel, botanical gardens, and spectacular views out over the water make it a popular picnic destination for many Dubai residents. The park also has a Cable Car that runs throughout the day and provides a breathtaking view of the Dubai skyline.
Location: Umm Hurair 2
Timings: Sun-Wed 08:00 am – 10:00 pm Thu-Sat 08:00 am – 11:00 pm
Entrance Fee: AED 5
Know more about - Fun Activities to do in Dubai Creek Park
Mushrif Park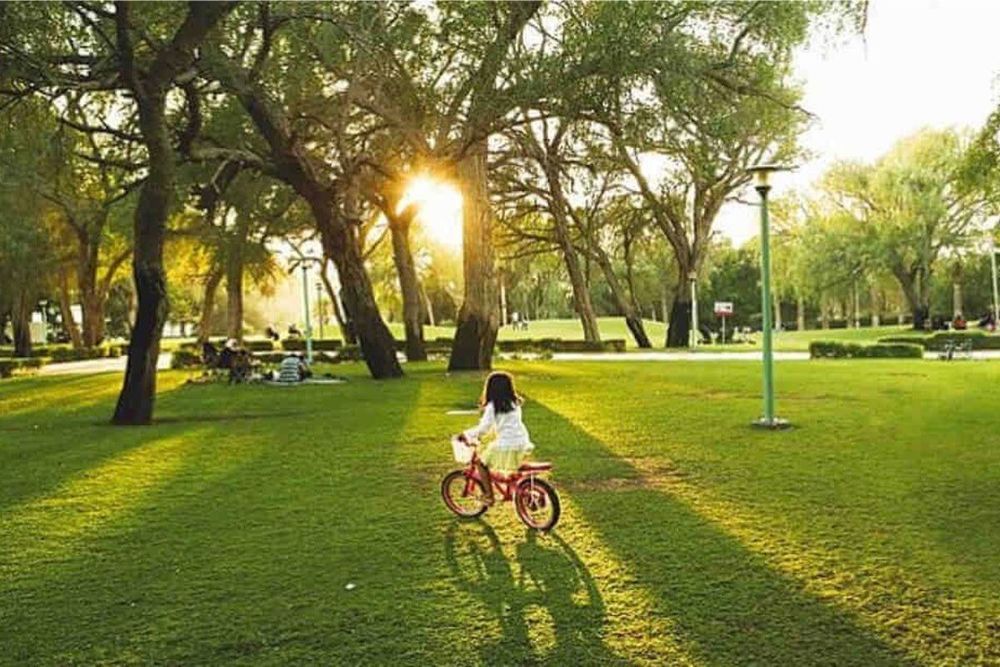 Mushrif Park, established in the early 1980s, is one of Dubai's oldest parks. It is a nature lover's and bird spotter's dream, covering five square kilometers and encompassing a lush Ghaf-tree lined forest teaming with wildlife. It has something for everyone, including an equestrian center, running tracks, a swimming pool, sports courts, children's play areas, a mini-global village with traditional houses, and other amenities. Restaurants, barbeque areas, a petting zoo, and walking and cycling trails will keep your family entertained. Mushrif Park is also known for being the home of Aventura Parks, a high-flying adventure zone with thrills for all ages such as tree surfing, zip-lining, and rope climbing. It is the perfect activity for anyone with adventure and thrill in their hearts. No wonder Mushrif Park is popular and the go to spot for families and friends in Dubai.
Location: Al Khawaneej St
Timings: Sun-Wed 08:00 am – 10:00 pm Thu-Sat 08:00 am – 11:00 pm
Entrance Fee: AED 10 (per car) AED 3 (per person)
Read more - Mushrif Park Dubai - Fun Things to do
Safa Park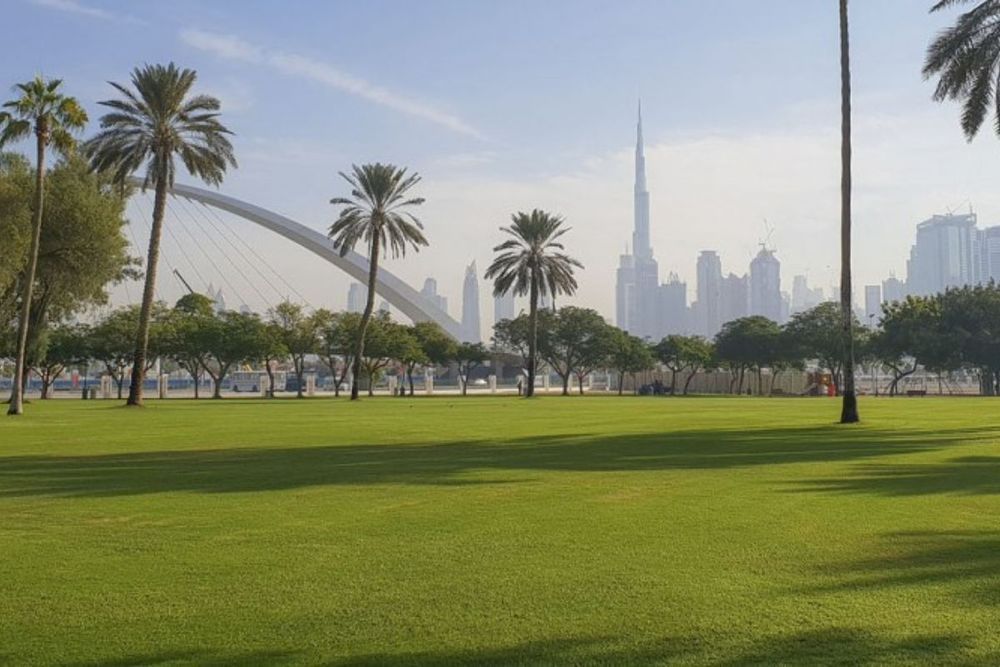 Safa Park, Dubai's first public park, opened in 1975. It is a leafy sanctuary in the heart of the city, with many lawns, gardens, waterfalls, and over 300 different bird species. Safa Park is a tranquil oasis in the heart of the city, with nearly 80% of the park covered in greenery and 17,000 different types of trees and bushes to explore. It has wonderful amenities such as a jogging track, tennis and basketball courts, playgrounds for children, picnic areas, and a stunning view of the Dubai Skyline, the canal, and Downtown Dubai. There will also be many of Dubai's running and walking community here, taking advantage of the 3.5-kilometer running track that snakes around the park. Within the park, there is also a separate ladies' garden where mothers can relax while their children play. Safa Park is one of the city's most tranquil areas, and it's a popular place to unwind after a long and exhausting day.
Location: Sheikh Zayed Rd
Timings: Sun-Wed 08:00 am – 10:00 pm Thu-Sat 08:00 am – 11:00 pm
Entrance Fee: AED 3 per person
Know more about - Things to do in Safa Park Dubai
Zabeel Park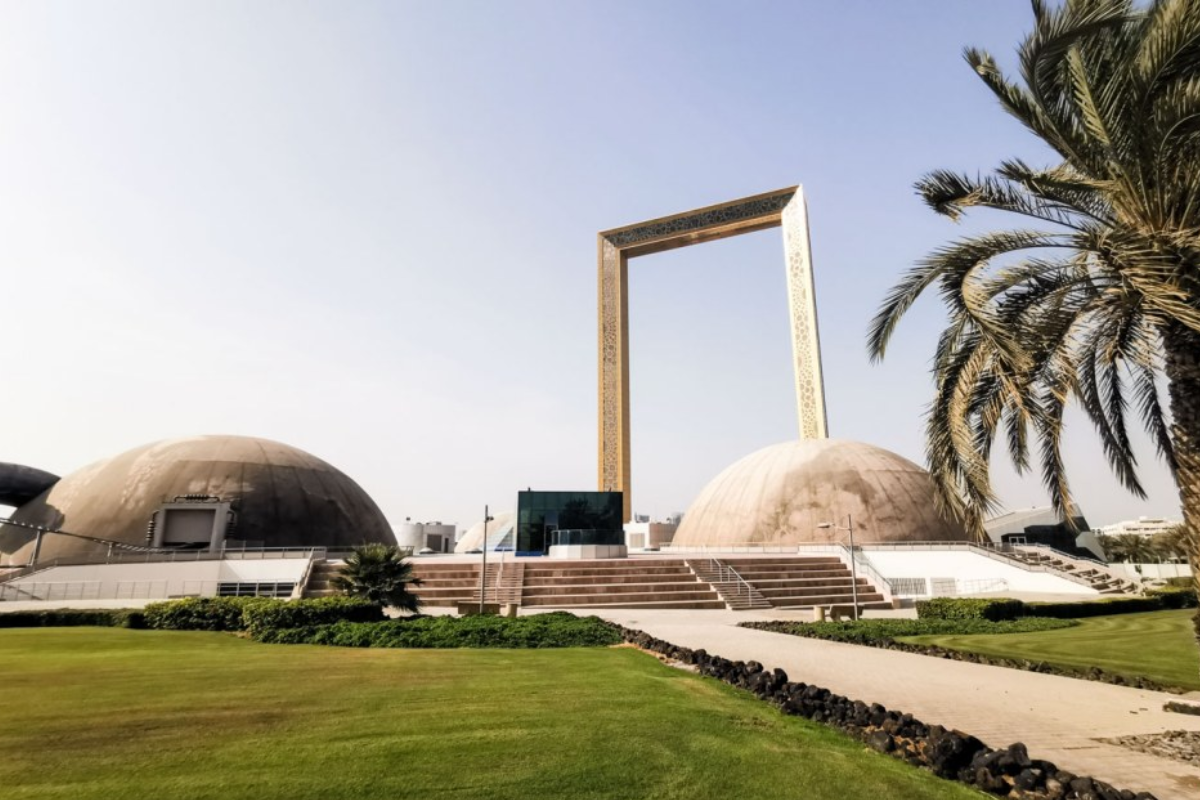 Zabeel Park is more than just a park; it is a hub of entertainment for people of all ages in Dubai. It is located in the heart of the city and spans over 40 hectares. The park first opened in 1979 and has remained a popular tourist destination ever since. Apart from the usual park amenities such as vast areas of grass, picnic and barbecue areas, a running track, playgrounds, restaurants, and a boating lake, it also has three interactive children's 'edutainment' centers. Popular tourist attractions in Zabeel Park include the Dubai Garden Glow, Dinosaur Park, and the statuesque Dubai Frame. There are also several picnic areas in the park where families can enjoy a relaxing day in the sun. In addition to these amenities, Zabeel Park has a number of food stalls and cafes where visitors can enjoy a delicious meal or snack while admiring the park's views. It is one of the best and the most popular parks in Dubai!
Location: Near Al Jafiliya Metro Station, Zabeel Area
Timings: Sun-Wed 08:00 am – 10:00 pm Thu-Sat 08:00 am – 11:00 pm
Entrance Fee: AED 5
Know more about - Fun Activities To Do in Zabeel Park Dubai
Quranic Park
The Quranic Park in Dubai is a one-of-a-kind park that combines nature, education, and entertainment. It is the world's first Quranic Park, and its stunning attractions with a cultural twist aim to promote values of peace, tolerance, and love. Through interactive exhibits and attractions, visitors can learn about the history and teachings of Islam. The Garden of the Quran, a large garden filled with plants and trees mentioned in the Quran, is one of the main attractions of the Quranic Park. The Cave of Miracles is another popular park attraction that displays remarkable events from the hold book. The park also features a replica of the Prophet's Mosque in Madinah, as well as a museum highlighting the history of the Quran and Islamic civilization. In addition, the park contains 12 orchards, each dedicated to a different plant species mentioned in the Quran, such as figs, pomegranates, palms, grapes, citrus, and others. The park also has a number of food stalls and cafes where visitors can enjoy a delicious meal or snack while admiring the scenery.
Location: Zayed Bin Hamdan Street, Al Khawaneej
Timings: Sat- Thu 09:00 am -  09:00 | Friday 03:00 pm -  09:00 pm
Entrance Fee: General Entry: Free | Glass House: AED 5 per head | Cave of Miracles: AED 5 per head
Read more - The Quranic Park - Paradise to visit in Dubai

Mamzar Beach Park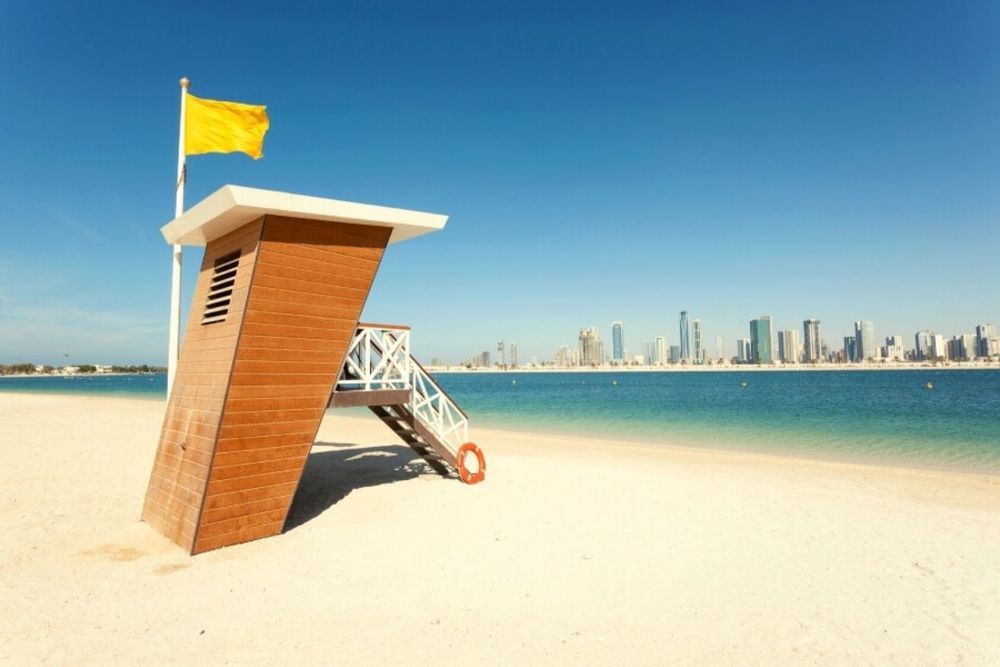 AL Mamzar Beach Park is another popular destination that features both a beautiful park and a sparkling beach. This park, which offers a variety of activities and attractions, is a popular destination for families, beachgoers, and sports enthusiasts. Mamzar Beach Park is well-known for its beautiful beaches, which are ideal for swimming, sunbathing, and water sports. When you arrive, you'll discover not one, but four beaches! The park features a large, landscaped lawn, an amphitheater, basketball, volleyball, and football courts, as well as several picnic areas where families can enjoy a relaxing day in the sun. Mamzar Beach Park also has a number of food stalls and cafes where visitors can enjoy a delicious meal or snack while admiring the park's views. Al Mamzar also has private beach huts for rent as well as a swimming pool, making it an ideal location for a day out with loved ones.
Location: Al Khaleej Street, Al Mamzar
Timings: Sun-Wed 08:00 am – 10:00 pm Thu-Sat 08:00 am – 11:00 pm
Entrance Fee: AED 5 per person, AED 30 per car (kids under two years and people of determination have free entry)
Read more about - Al Mamzar Beach Park in Dubai
Burj Park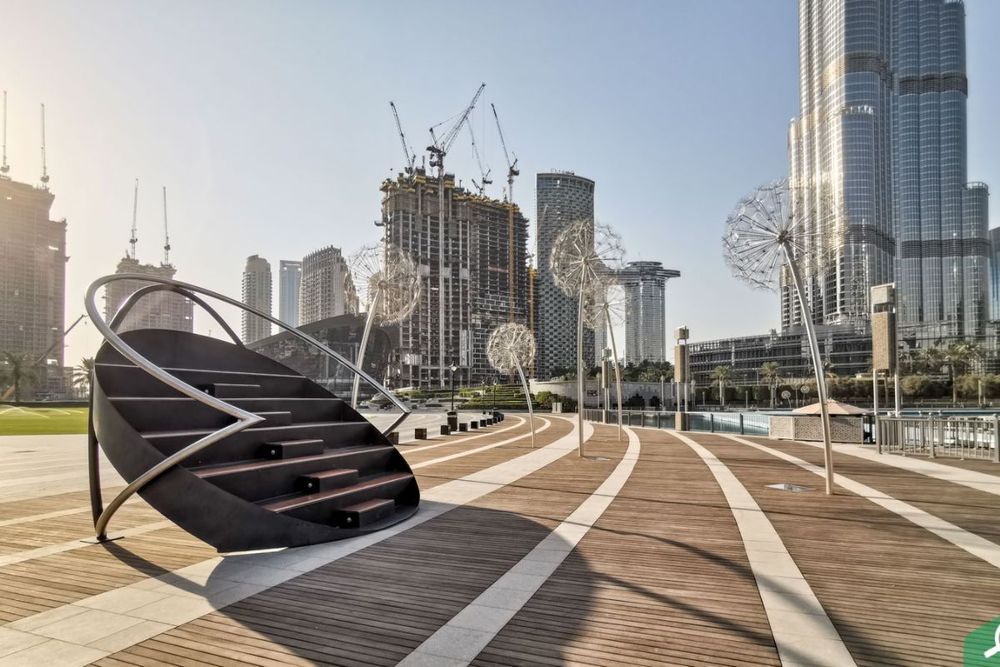 Burj Park is a tiny island that is connected to the main Downtown area by bridges and is located at the base of Burj Khalifa which is also known as the Dubai Fountain Lake. It is a pleasant place to take a short walk with a picturesque backdrop and is among the most relaxing things to do in Downtown Dubai. During night you can catch a glimpse of when the park is illuminated by cube-shaped lights, it is a magnificent view! The park is open at all hours of the day and is free of cost. During winter, The Burj Park hosts food truck festivals, art soirées and other events. Since the Burj Park overlooks the Dubai Fountains, it's a great place to watch the nightly light and water show. It also has unobstructed views of the Burj Khalifa, so visitors strolling down the verdant green strip will be treated to some stunning scenery. And guess what, pet owners? Burj Park is one of the few pet-friendly parks in Dubai!
Location: Behind Burj Residences, Downtown Dubai
Timings: 09:00 am – 11:00 pm
Entrance Fee: Free
Al Barsha Pond Park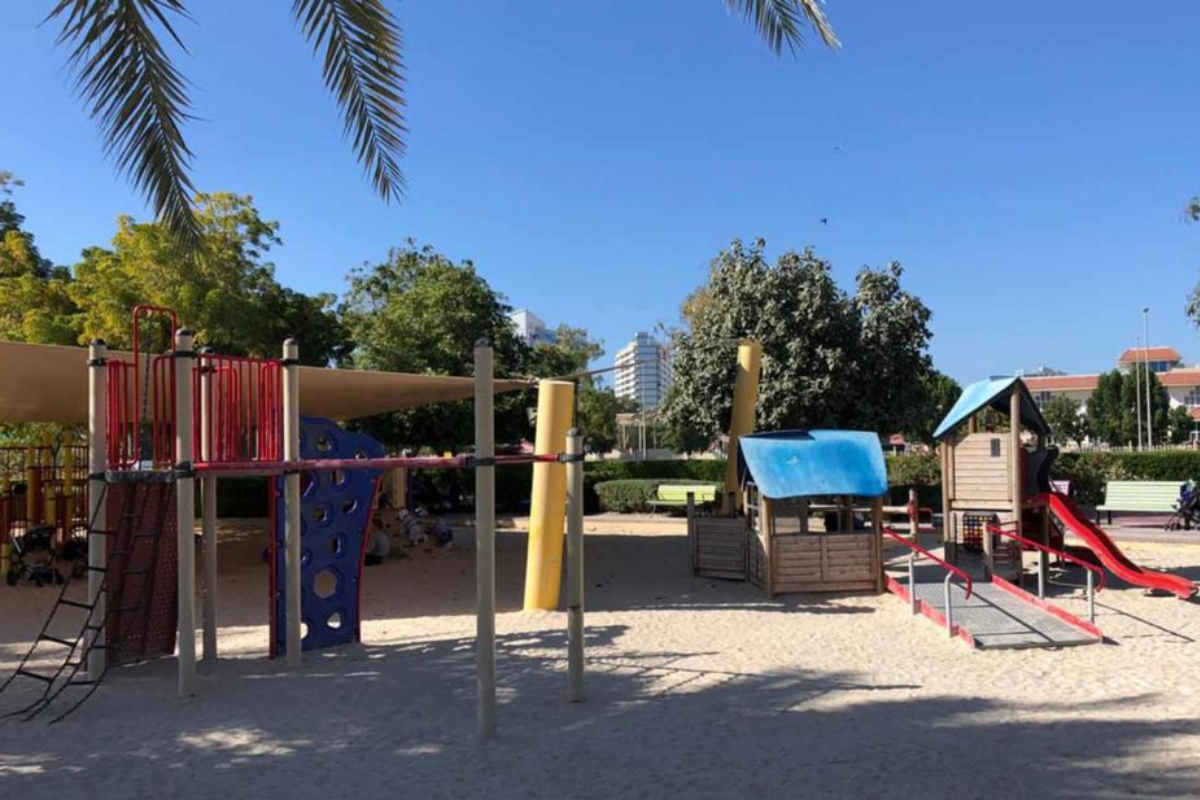 This residential park in Al Barsha is notable for its large, picturesque pond. While it is not small, it is certainly more low-key than some of Dubai's other parks. Fresh date palms, flower-lined hedgerows, a lovely central lake, children's playgrounds, fountains, a jumping castle, a running track, gym equipment, and tennis courts are all available in the park. There are also bikes and karts for rent, allowing visitors of all ages to stay fit and active in the sun. You can also pack a picnic with delicious pastries from Al Barsha Mall, which is just a short walk away. It allows fitness enthusiasts to get their workout done , children to have the time of their lives playing and jumping around, or you can just lie down and relax! While barbecues are not permitted in this park, we believe it is an excellent location for a picnic in nice weather.
Location: Next to Barsha Mall, Al Barsha 2
Timings: 08:00 am –11:00 pm
Entrance Fee: Free
Things to keep in mind before visiting the parks in Dubai:
• Dubai can get incredibly hot, especially during summer, so dress appropriately,        bring a hat, sunglasses, and plenty of water.
• Parks in Dubai have specific operating hours, so check before visiting.
• Dubai has a conservative dress code, especially in public areas, so dress modestly.
• All the parks have various dedicated areas for barbeque, it is important to not          litter and keep the area clean.
• Each park in Dubai has its own set of rules and regulations, so make sure to read      and follow them to ensure a safe and enjoyable visit.
Also Read: