Opened in 1994, Al Mamzar beach undeniably remains one of the most popular beaches in Dubai. Spreading over 106 hectares, Al Mamzar is much more than just a simple beach. Aside from holding five pristine beaches ideal for sunbathing or going swimming, it also has three magnificent pools where families can cool off instead of getting sand in their clothes and shoes on the beach. Mamzar Beach Dubai is a perfect opportunity for families and children to enjoy a quiet and peaceful day off. There is no better place in the city to cool off on a hot day than Al Mamzar Beach Park. Relax in the unbeatable combination of sun rays, soft white sand, deep blue sea, and crashing waves.
Additionally, the park holds over 1,600 palm trees, 300 coconut trees, and more than 55,000 square meters of lush grass can be found in the gardens. Due to its size, Al Mamzar beach park has two parking areas, both internal and external. The free external parking area can hold 618 cars, and the 30 AED internal parking area holds 620, and among these, there are 10 disabled parking! This massive beach park will surely win your heart and provide you with unforgettable memories with your loved ones. Only a 5 AED entry fee per person, 30 AED per car, and kids and people of determination enter free!
Beach timings

- Sunday to Wednesday from 8 AM to 10 PM
- Thursday to Saturday, and public holidays from 8 AM to 11PM
The Amenities

Conveniently located near Deira, Al Mamzar Dubai is completely unique in comparison to other beaches in Dubai. The park has three different entry points: one for vehicles, and two others for walk-in visitors. Al Mamzar Beach Park is the city's first integrated leisure destination, combining smart beach and park services. It is Dubai's first Smart Park, with many smart amenities to keep you secure and connected with your loved ones while having fun at the park.
These smart amenities include:

Smart Gates: At the entrance, these gates allow you to access the park using your RTA NOL card, instead of spending time waiting in queues.
Smart Trees: The palm trees are scattered throughout the park. But the crazy thing about them is that they're actually structures designed to look like trees, but they offer charging areas, Wi-Fi, and some shade from the sun!
Smart Benches: Like the trees, the benches all around the area offer Wi-Fi and charging stations without any USB cable needed!
Smart Watches: This smartwatch is perfect for any parent to look over their child. Waterproof and containing a GPS, these watches can connect to any smartphone so you to keep your eyes on your kids inside and around the park while enjoying the sun.
Private chalets, beach cabins, and sunbeds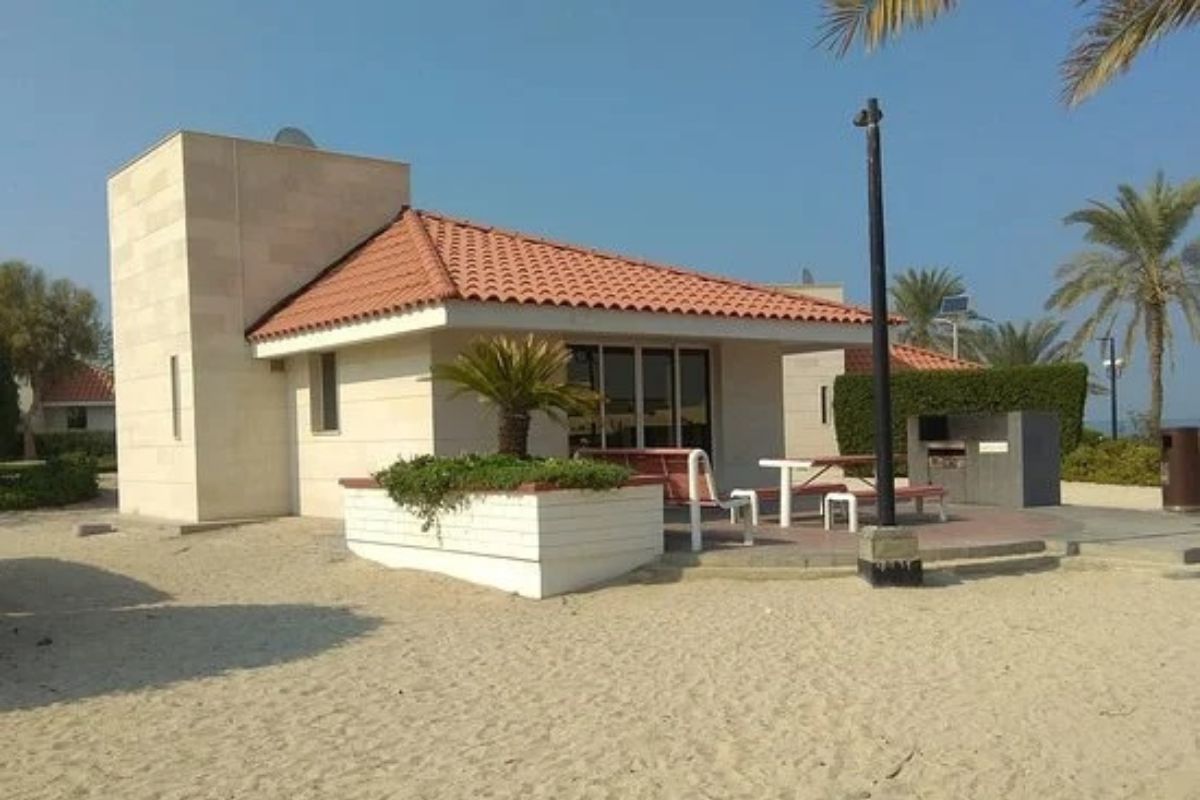 Visitors can also rent out private chalets, beach cabins, and sunbeds. People who seek a location to enjoy with their friends and family frequently reserve chalets in the park; a large chalet is for 200 AED and holds around a dozen people, while a small one is 150 AED and holds 8 people, and the same goes for a beach cabin. These cabins and chalets are perfect for an all-day stay at Al Mamzar, fully equipped with showers, air conditioning, barbeques, and more to make your beach day much more luxurious, and make you feel like a VIP! If you simply just want to sit near the beach, a sunbed costs about 15 AED and umbrellas are 10 AED.
Ladies Day

With a ladies' day every Monday and Wednesday, the girls can enjoy a day in the sun with their children and relax. The ladies' day only allows sons to enter if they are below 4 years old, other than that, no men are permitted on campus.
BBQ

Although no campfires or pets are allowed on campus, the park makes up for that with the 28 different BBQ grill areas that are scattered around the park, which also adds to the ambiance of the area and is one of the many things that visitors love!
How to get there

Al Mamzar Beach Park is reachable via bus, taxi, or private vehicle. Visitors can take the C28, E308, or E306 bus to get there.
Al Qiyadah Metro Station is the closest stop on the Dubai Metro. Visitors may opt to connect via cab as walking to Al Mamzar Beach will take about 45 minutes. RTA taxis were abundant in the area, or you can hire one using a service like Careem, or Uber. Payment for vehicle entry is made with an RTA-issued Nol Card and is paid at AED30 per car.
Being only 20 minutes away from Downtown Dubai, and having numerous bus routes that pass through, Al Mamzar Beach in Dubai is very accessible and simple for everyone to find; you can reach the beach through the Mamzar Beach Road or via Al Nakheel Road.
Al Mamzar App for tickets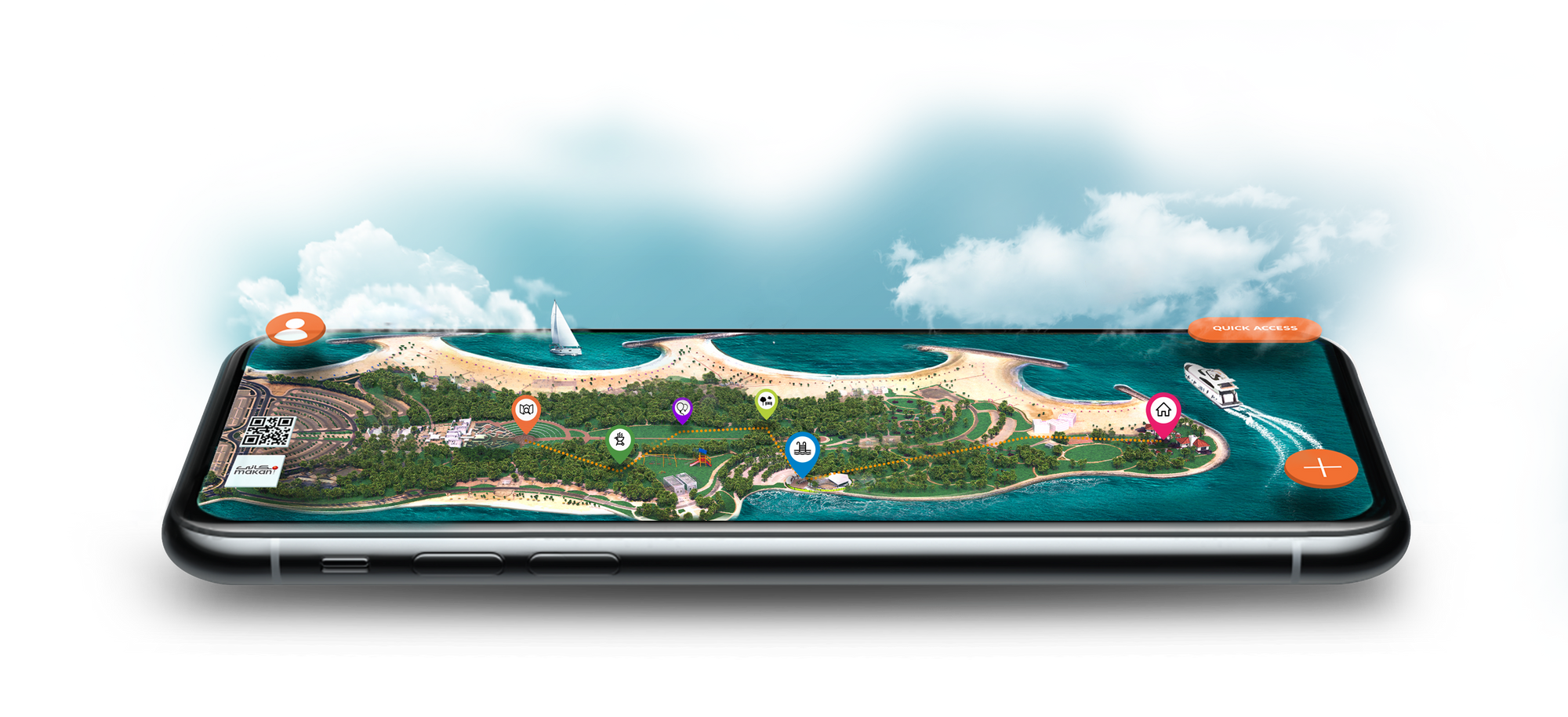 And you don't need to trouble yourself while trying to use these amenities! There's no need to wait in the burning sun for your turn to get tickets, rent a chalet, or simply get a sunbed. All these actions can be done at the touch of your screen using the Al Mamzar App, everything you need is just a click away.
Activities

The most obvious thing to do at Al Mamzar Beach Park is to enjoy a swim in the clear waters, build sandcastles with the kids, and soak up the sun. You can even take a book with you and enjoy reading while listening to the relaxing sound of the ocean waves! However, if you're in the mood to explore, there are many other activities to do at the beach park!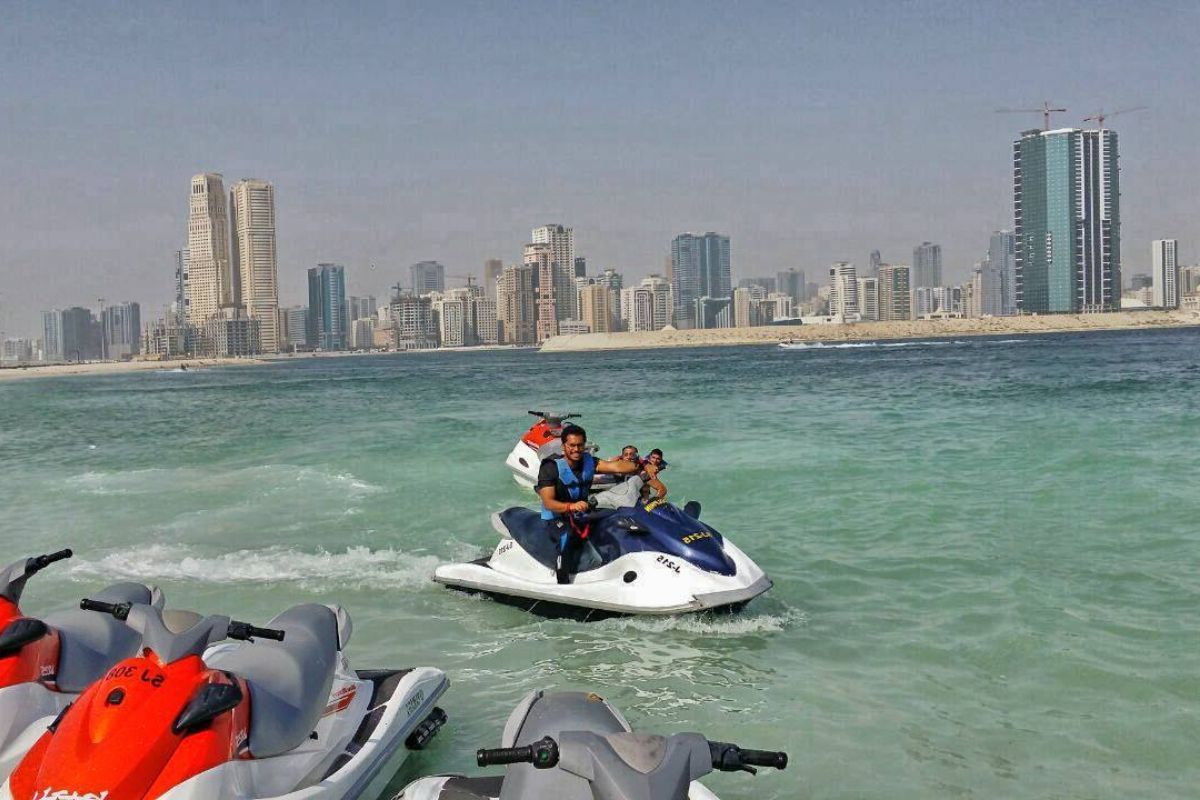 If you have an enthusiasm for water sports, you can try out the variety offered at Al Mamzar. You can try out jet skiing, for 150 AED and 200 AED for 30 minutes and an hour, respectively. You can go snorkeling and explore the clear ocean and its exotic marine life, or swim in one of the three swimming pools available. The timings for jet skiing are: daily from 9 AM to 6 PM.
For sports lovers, don't you worry, there's something for you too! Al Mamzar beach holds a basketball court for you to shoot hoops, a football pitch, and a volleyball net. They even have a skate park, so you can grab your skateboard or your roller skates and have a blast!
If you get tired of walking around, hop on the train and take a tour of the beautiful areas surrounding the park! This 2 AED train ride will give you a perfect look at the entire area. While on the train, you will be able to explore the sheltered beaches, lush green fields, playgrounds, and food kiosks. This scenic ride is a big hit with anyone looking for some laid-back fun!
Al Mamzar Beach Park is also an excellent location for a blissful bicycle ride. You can rent a bicycle and ride it around the park. This will cost between AED 20 and AED 30 per hour. Bicycle rides are the most convenient way to see the main attractions, which include an 8-meter-tall tower, an amphitheater, shaded areas, bungalows, and cabins.
Here are some other activities you can do:

Take a jog across the track
Watch the live entertainment at the amphitheater
Enjoy a picnic by the beach
Take the kids to the numerous playgrounds around
Take a climb on their climbing wall
Dining

Feeling puckish? You can walk around and find the dozens of food kiosks located around the beach park, so you can grab a snack by the beach! But if that's not your style, here are some restaurants nearby to have a nice meal:
Community Restaurant: A 4-minute drive will take you to Community Restaurant, which serves all international cuisine, breakfast, and even healthy food. The price averages around 200 AED for two people, and they offer both outdoor and indoor seating!
Timings are from 8 AM to 12 AM Daily
Located on Al Mamzar Road
Emly & Chilli: This restaurant, only a 5 minutes drive from the park, offers international fast food including burgers and fries. For around 55 AED for two, you and your friends can enjoy a classic American meal.
Timings are from 11 AM to 1 AM on Thursdays and Fridays, and from 11 AM to 12 AM on Saturdays through Wednesdays.
Located in the Sheikha Building, ear Lamcy Plaza
Spices Restaurant: Although Spices Restaurant serves international cuisine, their specialities are with Pakistani cuisine. They host buffets, and brunches, and give you a completely new and unique taste. The price is around 230 AED for two people.
Open 24 hours every day
Located in Al Rihan Building, on Corner Cairo Road
Kabab Al Mamzar: This Persian restaurant is only a 15-minute walk, or a 3 minutes drive, from the Mamzar Beach Park. Open 24/7, and averaging around 120 AED for two, Kabab Al Mamzar is perfect for anyone wanting to try authentic Iranian food.
Open 24 hours every day
Located on Al Mamzar Road
Some other restaurants nearby, specifically in Century Mall which is 5 minutes away, include:

Alvand Restaurant
Godavari Andhra
Open from 6 AM to 11 PM daily
Fast food restaurants like Pizza Hut and KFC
Timings depend on the restaurant
Green Light Restaurant
Also read