Dubai's top tourist spots go beyond its shopping malls, theme parks, and astonishingly spectacular skyscrapers. This glamourous city is also home to many parks, wildlife reserves, sanctuaries, and other natural attractions. One such green attraction in Dubai is the Love Lake Dubai which gives Dubai Miracle Garden a run for its money. It is designed to resemble two interlocked hearts and is known as one of the most romantic places to visit in the city. Find out more about this stunning destination in Dubai all the things to do there and why it is worth the visit.
About Love Lake Dubai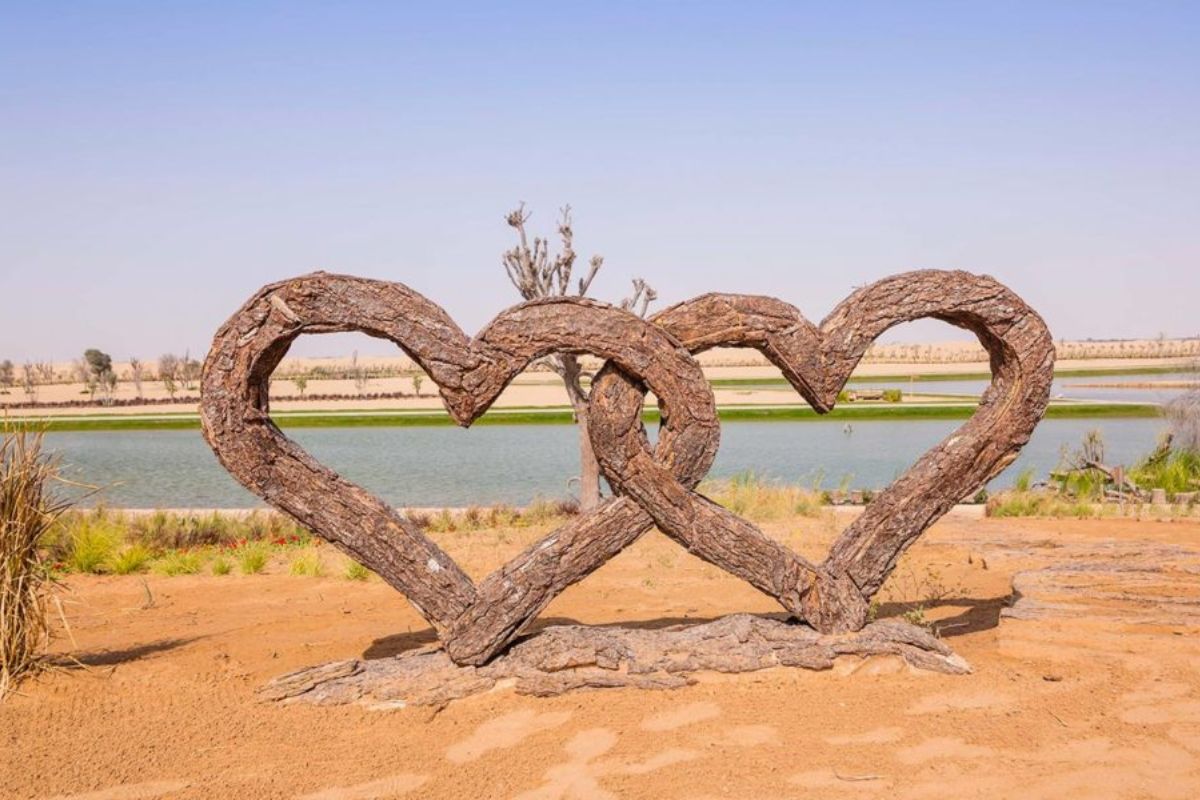 Love Lake Dubai has been an irresistible place to visit for anyone with romance in their hearts, ever since it opened in 2018. It is a popular destination for families, singles, and young couples, all of whom leave with the perfect Instagram photos of this Instagram-worthy location. Love Lake is situated in the middle of Dubai's arid desert known as Al Qudra (Al Marmoon Desert Conservation Reserve). It is a large area surrounded by sand dunes and fauna with two intertwined heart-shaped lakes. The two heart shaped lakes cover an area of over 550,000 square meters, so the shaped of the lakes can only be viewed from the sky. Nevertheless, you won't be disheartened with your time spend here as every inch of the area is dedicated to love with heart shaped signs and motifs everywhere you look.
If you want to be surrounded by nature and enjoy some peace and quiet, Love Lakes Dubai is a tranquil haven. There are numerous types of colorful flowers, shrubs, and over 16,000 different trees, including olives and the dessert staple Ghaf trees. You may wonder why it is called Love Lake. The entire area is devoted to love, with even the trees spelling out the word 'Love.' Its love-filled atmosphere is what makes it one of the most romantic places in Dubai and the ideal location for couples to spend some quality time together.
Highlights of Love Lake:
• Love Lake Dubai is a popular destination for both family outings and romantic getaways.
• The Lake Area is ideal for barbeque evenings and has fire pits.
• The Lake also acts as a magnet in the middle of the deserts, allowing bird       watchers to take some of the most beautiful photographs.
• Most of the materials used at the lake and its surroundings are environmentally friendly and promote a clean, litter-free environment.
• The Lakes' hearts are so large that the entire shape is visible only from the sky.
• There are various resting spaces around the lake with seating located in shaded areas where tourists can rest for a while and soak in their beautiful surroundings while exploring the lake
Things to do at Love Lake
Love Lake is a gorgeous place to go on a picnic with your friends or family or on a romantic getaway with you special one. Here are some of the to do at Love Lake Dubai:
Take Instagramable selfies and portraits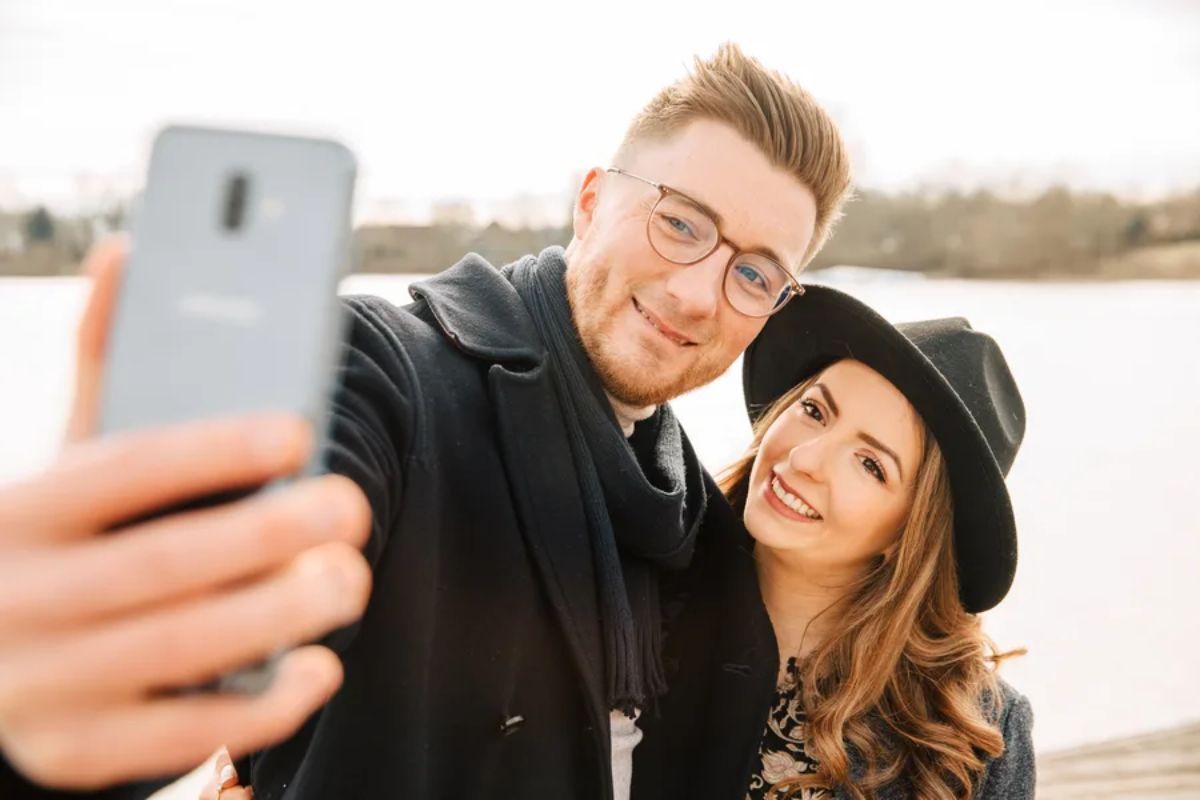 The entire lake has countless spots perfect for a selfie. Love Lake is the absolute dream location for couples seeking that great photo op in Dubai. Even though you won't be able to capture the heart-shaped lakes in your photo, the surrounding area make a great picturesque view and the perfect opportunity for you to amp up your Instagram feed.
Explore the exquisite flora and fauna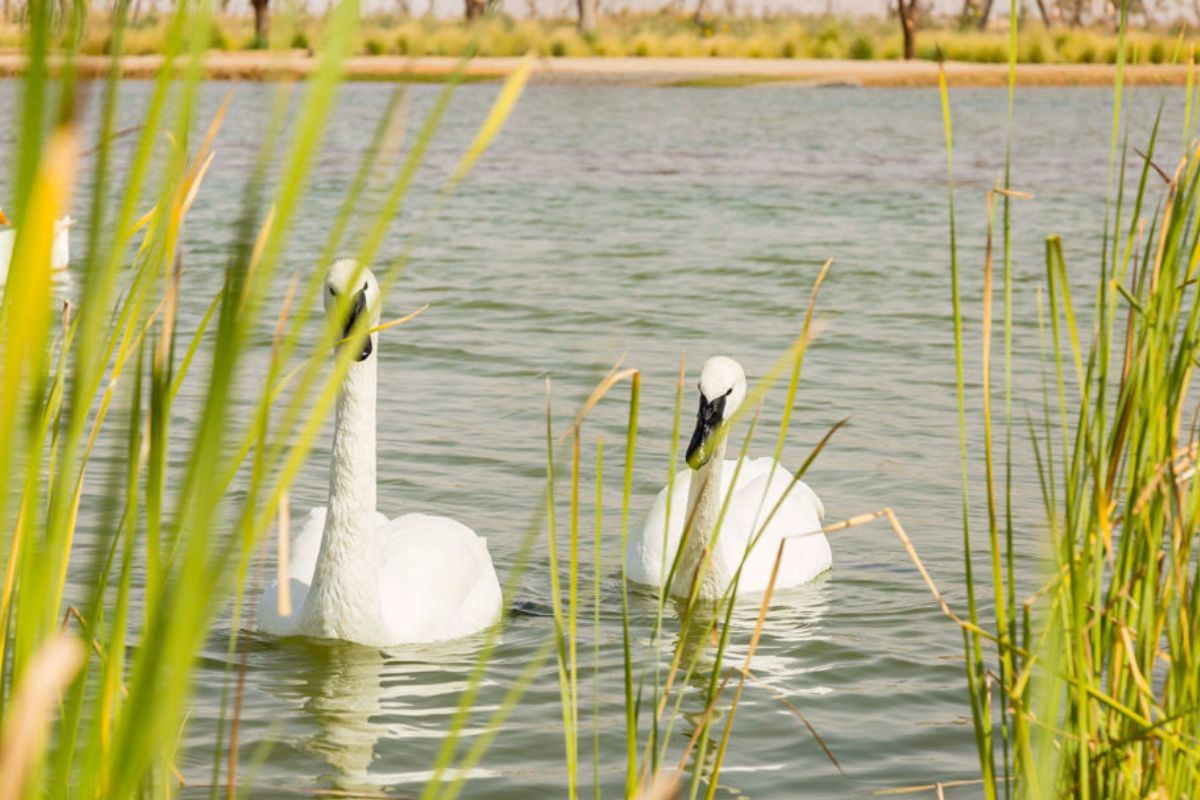 Even though Love Lake is nestled in a desert, this lush oasis is home to over 170 species of exotic animals, flowers, and plants. Some of these plants have even been planted in a specific pattern to resemble the intertwined hearts similar to the lake. The entire lake is surrounded by different types of trees which includes hundreds of olive trees and The Ghaf which are known as the 'National Tree of the UAE'. The love lake is also home to a huge variety of birds, you'll no doubt come across the black and white swans in the clam waters of the lake. Other birds you can spot here include ducks, eagles, and falcons. Get your binoculars to enjoy bird watching the native or even migratory birds. A small section of the lake is dedicated to the colorful marine life, you can see goldfish and other fish species merrily swimming around in the waters.
Take a stroll across the Waterways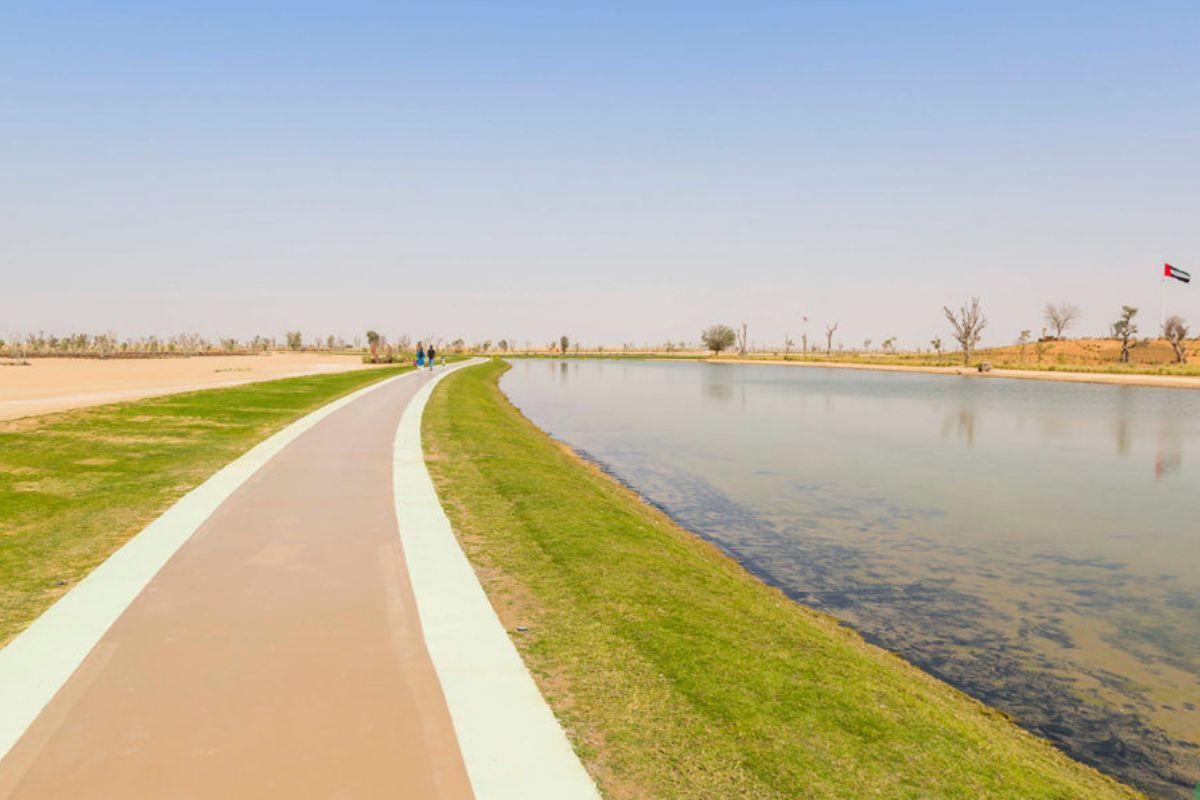 The Love Lake in Dubai has a shallow section that is a great spot for a scenic stroll. Whilst walking through the waterways, visitors can soak in the enthralling beauty of the desert and the lake. The rubber track around the lakes with the beautiful foliage around, almost 7km in length, allows for a wonderful stroll and jog. Take the opportunity to dip your feet and walk across the shallow parts of the lakes.
Fire up the grill and have a yummy BBQ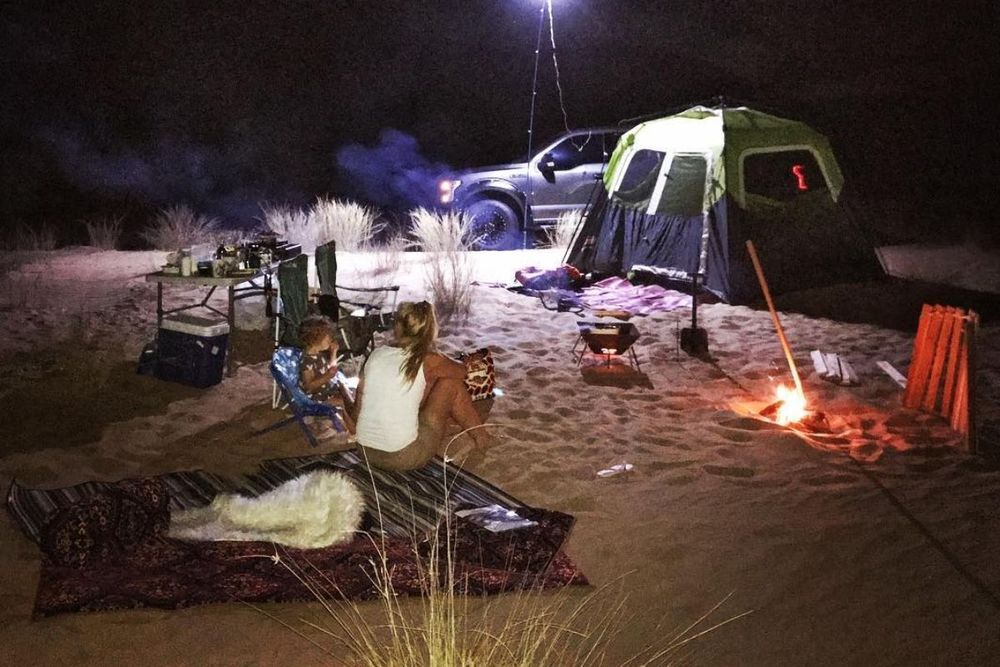 One of the popular activities at Love Lake in Dubai is to have a barbeque with your friends and family. There are dedicated BBQ sections at the lake just perfect for a day of fun, excitement, and great food! There are many areas dedicated for barbeque, however in some parts of the lake you aren't allowed to BBQ, and you can even get fined. Don't forget to bring your own barbeque materials including barbeque pit, charcoal, dry wood, fuel oil and other items required. It is also important to clean up after your dinner and abide by the restrictions. Throw the remains of burned charcoal carefully and keep in mind that it can be hazardous for the environment especially rivers if the charcoal is thrown in it. The love lake is the perfect place to go on a picnic and enjoy the surrounding view with your friends, family or loved one.
Camp under the stars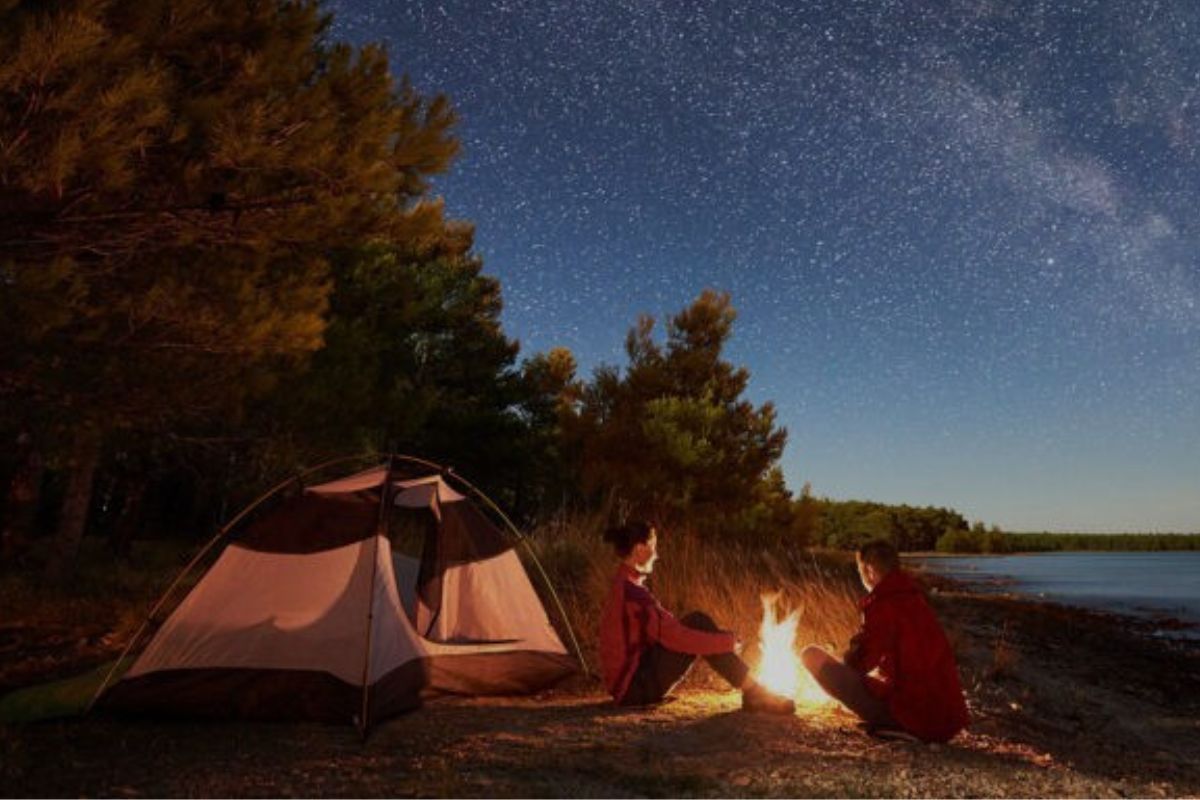 Love Lake is also a well-known camping location in Dubai. It is open 24/7, night camping is one of the best things to do here. You can spend a memorable night under the stars by the calm waters of the lake and make the most of the designated camping sites. Wake up with the beautiful view of the sunrise, birds and the cool and wet breeze of the lake, the camping experience you can get in Dubai. However, bring all your camping supplies, including sleeping bags, tents, and lanterns. It is also advised to bring warm comforter during the winters as the night can get chilly. In case you do forget something, the camping stores in Dubai will have all the items you need.
Experience the beautiful Sunrise/ Sunset views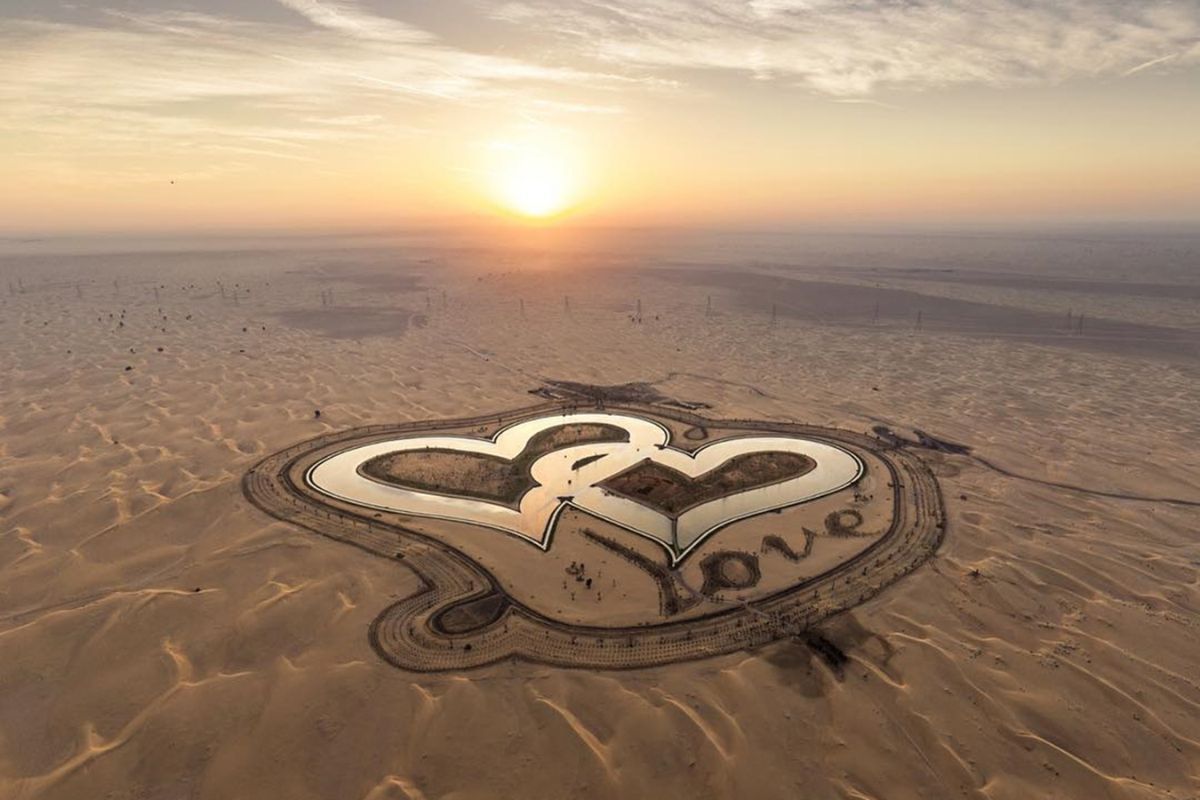 Above all, the love lake Dubai is the ideal location for catching a beautiful sunset with your loved ones. There are no high-rise buildings to obstruct your view of the beautiful orange sky as the sun sets over the dunes. If you stay until after sunset, you might be able to see twinkling stars and constellations as you gaze up into the night sky. Despite its remote location, the lake offers its visitors some of the most magnificent and beautiful sunset views one can imagine, set against the backdrop of an endless desert and surrounded by the charming and lush surroundings of this enormous and beautiful lake.
Other things to do near Love Lake Dubai
Al Qudra Cycling Track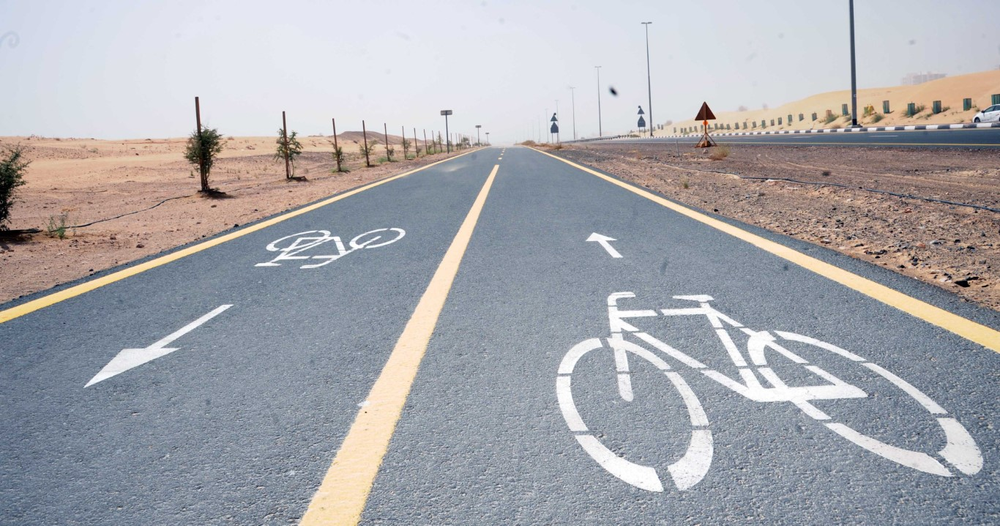 Al Qudra cycling track is an 86 km long cycling track and a popular destination among Dubai's cyclists and fitness enthusiasts. Cycling here is an excellent way to see the desert and if you're lucky you'll also be able to see camels and oryxes on your way. Get here at sunrise and enjoy the cool morning breeze while taking in the magnificent views of the desert. The cycling track is located towards the end of Al Qudra Lake.  If you don't have a cycle, you can rent one from a huge shop in Last Exit. The track isn't illuminated at night, so it is advisable to carefully plan in advance. The track is popular with both professional and novice riders alike and is frequented by both individuals and groups of friends.
Al Qudra Lake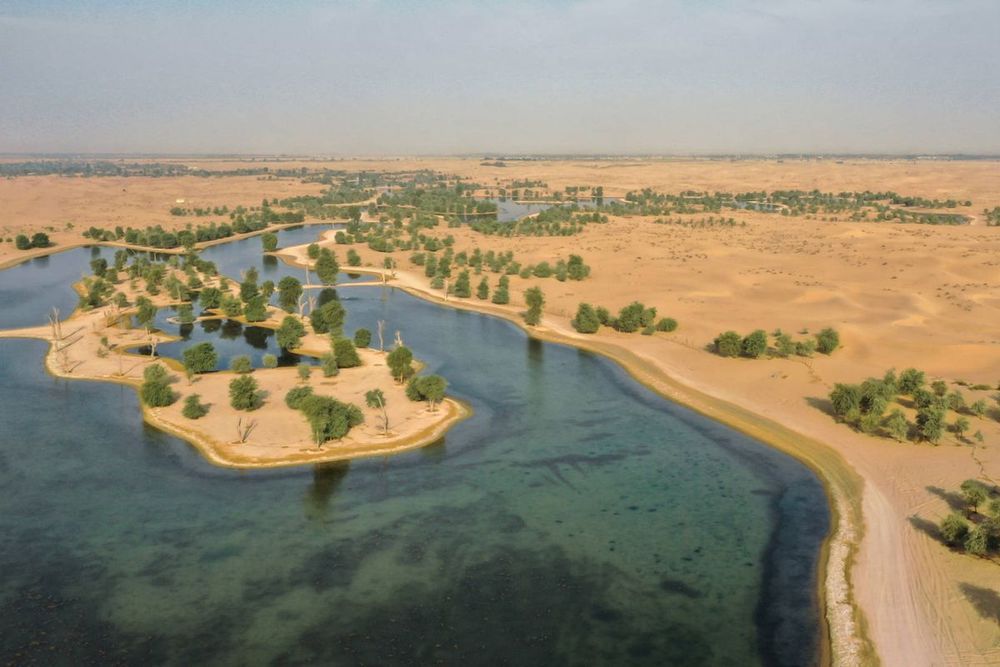 The Al Qudra lake is not just one lake but, a cluster of many lakes in the middle of the desert. It is a haven for birds and is the habitat for at least 175 species some of which come are considered endangered. This place is a collection of artificial lakes surrounded by sand dunes offering a beautiful setting for barbeque, stargazing, and overnight camping. This man-made attraction is a habitat for many species of birds and other wildlife. You will be able to spot black swans, ducks, flamingos, and if you are very lucky maybe even a few free-roaming gazelles. Al Qudra is open for 24 hours and offers visitors to merge in with nature calmly and serenely. It also offers a variety of enjoyable activities, including cycling, eating, bird viewing, and picnicking.
Al Qudra Last Exit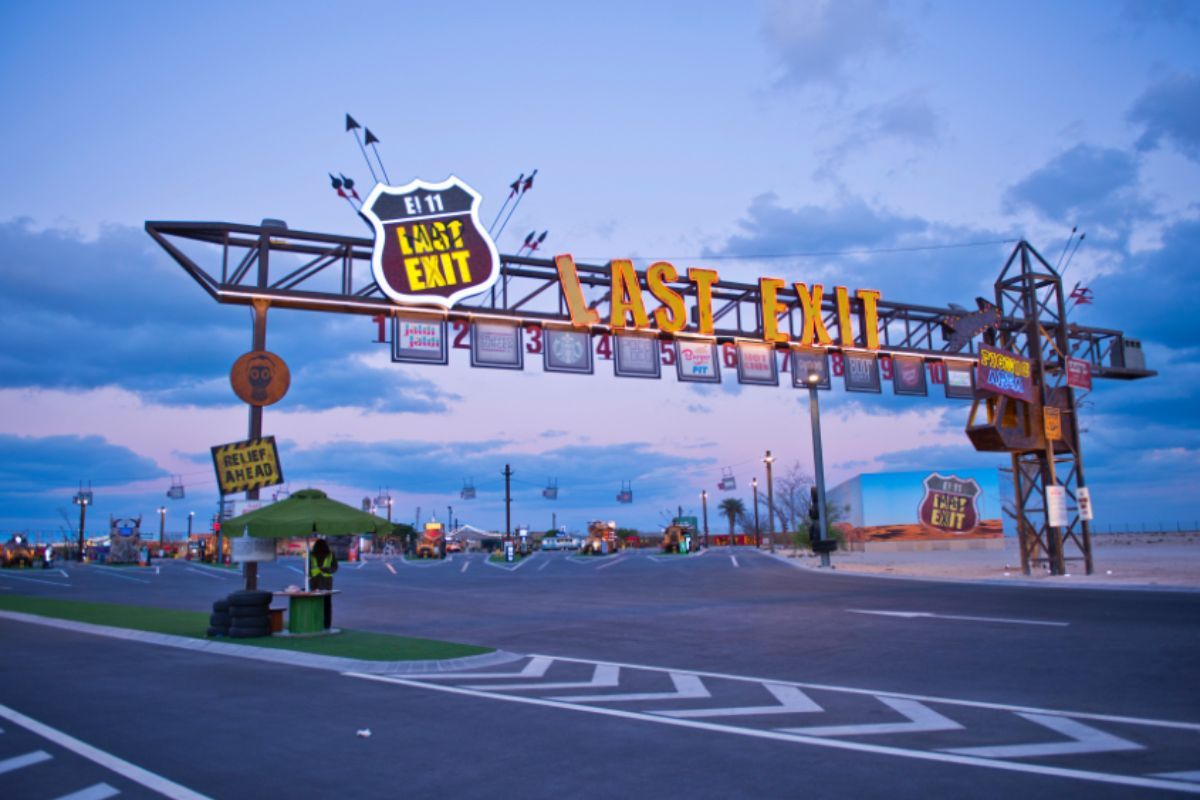 If you're looking to satisfy your food cravings, you can visit The Last Exit Al Qudra as the lake itself doesn't have any dining options.  It is an informal food truck park that provides an exotic variety of cuisines to choose from. Located with an equestrian-inspired setting, this place has a drive-thru and outdoor seating options, as you grab your food from one of the food trucks, designed to look like horse trailers. The atmosphere is very chilled and relaxed. Close to the food park, there is a petrol station and a massive store for your camping needs. The Last Exit can also be a short destination before you head out of the wilderness of Love Lake. Al Qudra Last Exit also has washroom facilities and is open from 9:00 am to 10:00 pm.
Al Marmoum Desert Conservation Reserve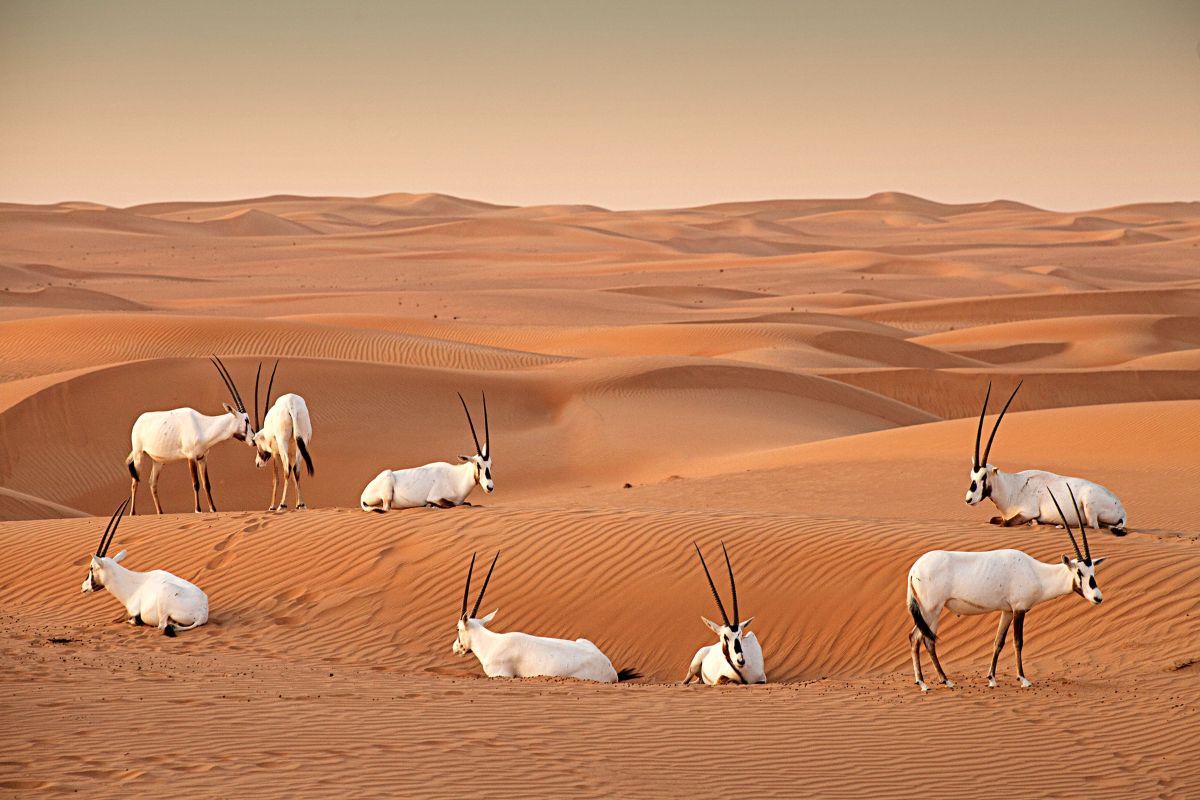 The Al Marmoum desert conservation reserve is the largest unfenced conservation reserve in the UAE, covering approximately 10% of the land area of Dubai. Many endangered species are protected here. Flamingos and Arabian oryx can be seen. The Saruq Al Hadid, the country's most ancient archeological site, is also located in Al Marmoleum. Desert safaris and other similar activities are prohibited in this area.
The Camel Farm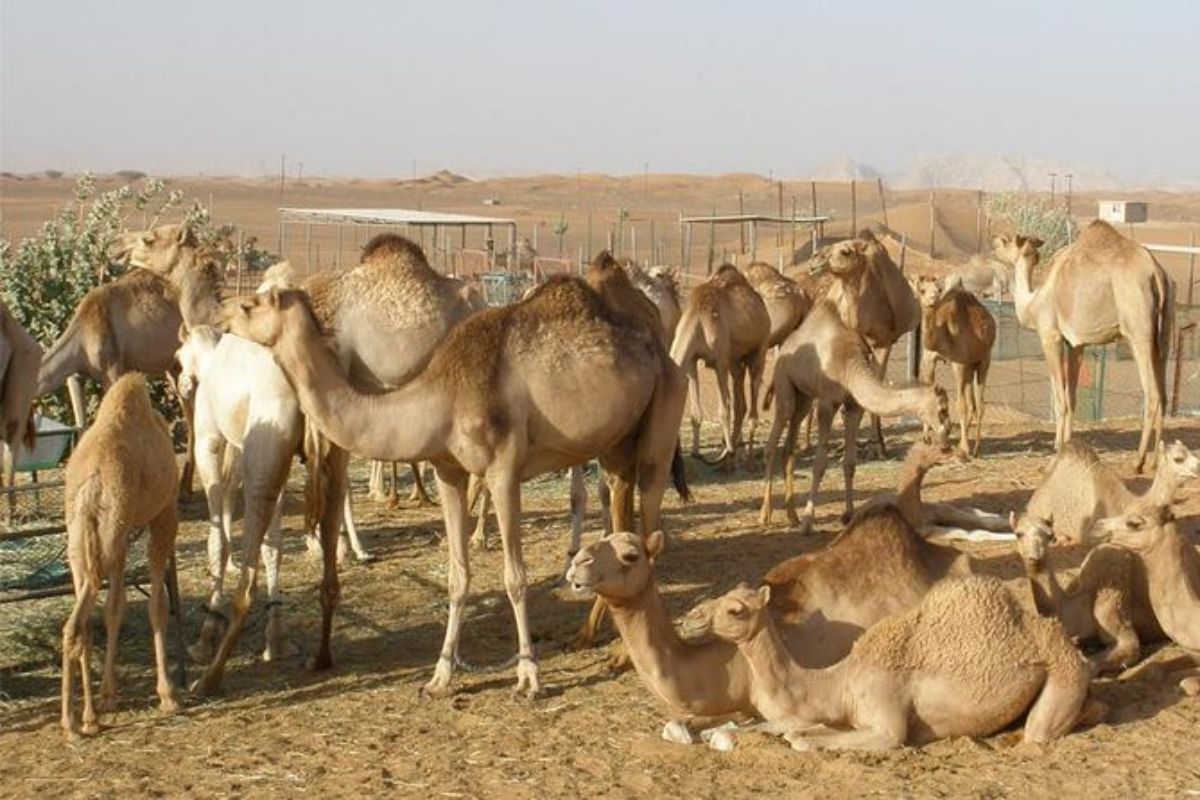 The magnificent animals can also be seen up close in the desert. Other domestic animals on the camel farm include goats and hens, and you can pet and ride on the camels. The farm provides a half-hour to an hour-long camel ride. However, the camel farm is only open to tourists during the winter months.
Restaurants/ Dining options near Love Lakes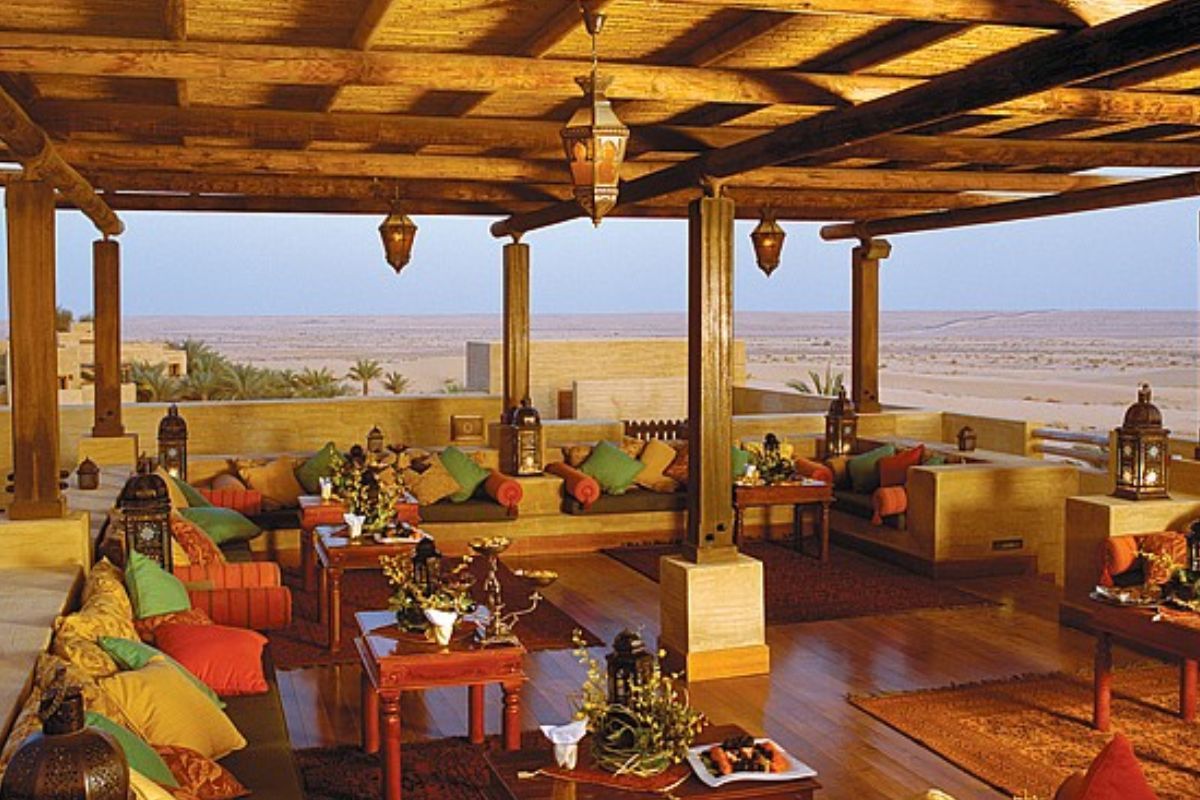 Since love lake doesn't have any restaurants or other dining options in it, the nearest restaurant is almost 18 kilometers away from the lake.
Here are some of the dining options you can find near Love Lake:
• Al Sarab Rooftop Lounge
• Nara Desert Escape
• Last Exit Al Qudra
• Zad Food Stores
• Starbucks
• Bab Al Shams Dining – Al Hadheerah, Al Forsan, Masala, Le Dune
*Please note that Al Sarab Rooftop Lounge and Bab Al Shams Desert Resort & Spa will remain closed until early 2023 for renovation.
Location and how to reach Love Lake
The Dubai Love Lake is a hidden gem tucked away amidst the Al Salam desert dunes and is a pleasant 10-minute drive away from Dubai's Al Qudra Lake, just off Umm Sequim-AL Ain Road. It is located along the Al Qudra Road (D63) and is approximately a 45-minute drive away from Dubai. It can be easily accessed via Dubai-Al Ain Road (E66) or Emirates Road (E611), depending on which way you are coming from. The one and the only way to reach Love Lake Dubai is through your very own rented car or a cab. The lake is situated in an isolated desert location and does not have an effective public transport connectivity. Moreover, it is highly recommended to get your hands on a powerful 4x4 to easily make your way to the Lake through the rugged terrain that leads to this beautiful oasis.
Best Time to visit Love Lake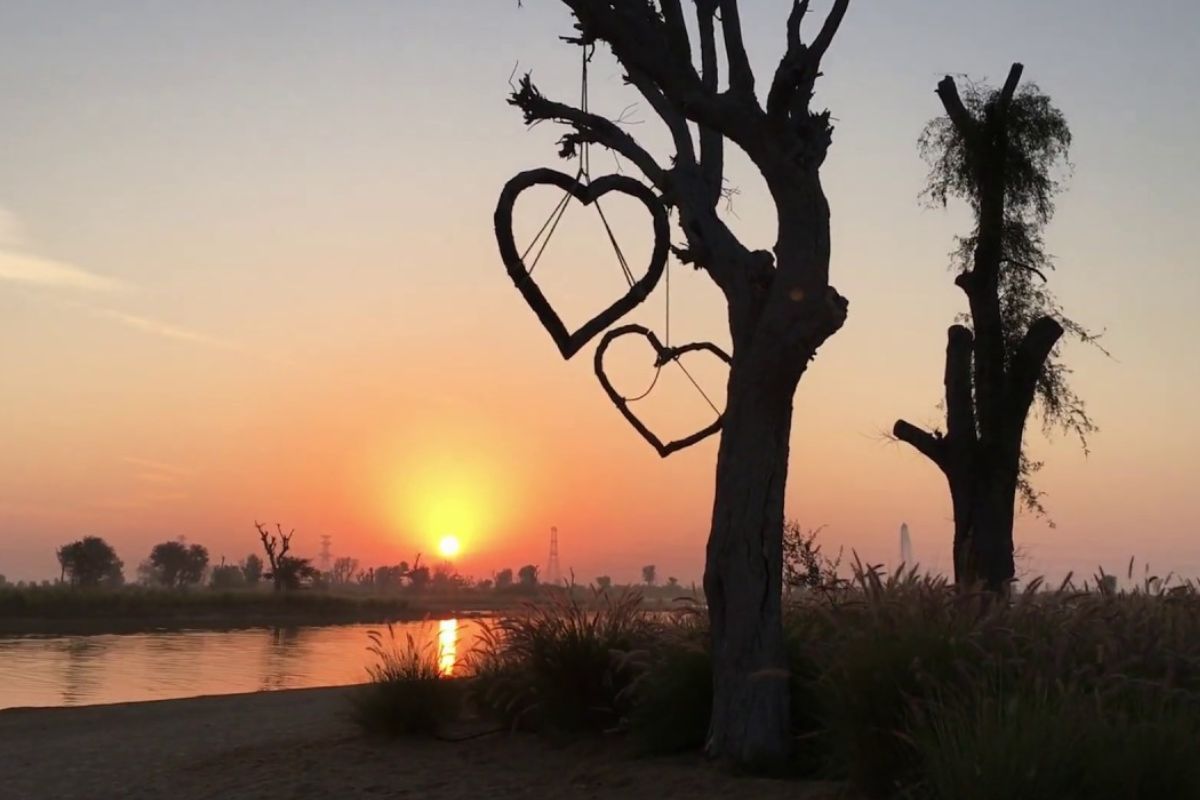 Love Lake Dubai is best explored just before sunset. It not only allows you to see the breathtaking sunset, but it also provides you with pleasant weather and birds chirping in the background, making your visit even more enjoyable. Furthermore, if you intend to camp or barbeque around the Lake, arriving in the evening will give you plenty of time to set up your equipment for a beautiful starry night.
Tips before visiting Love Lake
• Entry to the park is free of cost.
• If you intend to fly drones in the park, obtain the necessary permits from the authorities.
• Do not feed the park's fish or birds.
• Keep in mind that the park is not wheelchair accessible.
• Deserts are much colder in winter than cities. So, when you come, dress appropriately and wear a jacket.
• When visiting Love Lake, a four-wheel drive vehicle is recommended. There is no harm in driving a standard vehicle.
• It is easy to get fined for littering in the park or anywhere near it. There are plenty of trash cans in the area. Make use of them. Most Dubai's parks adhere to the same set of rules.
• Barbecues and campfires are only permitted in designated areas.
• Very few restrooms facilities are available and only located near the car park area.
If you're looking to explore more such stunning natural wonders in Dubai you must definitely consider a visit to Ras Al Khor Wildlife Sanctuary.
Also Read: