Dubai is a popular tourist destination in the world. One of the main reason for always staying top on the list is because of its wide spectrum of attractions. Dubai has a lot to offer the world. Be it the waters, deserts, or sky, every time there is a new attraction which possess the ability to pull the crowd.
Water parks in Dubai are not a new thing. The number of water parks in the region is slowly increasing due to the popularity of water fun activities in the region. People have found water parks to be adventurous and exciting among other activities. Water parks are also the perfect place to take your kids for a day out.
Water parks are apt for Dubai's warm climate. Its not like you will have a chilly time at water. This is because of the fact that Dubai is generally hot, and now that the winters are approaching, mornings and nights are going to be chilly, but the afternoons are going to be warm.
Are you some one who likes to play in water but afraid of the depths of the sea? Water parks are here to your rescue. You could dip yourselves at the pool to give yourself the perfect treat similar to a hydrotherapy.
If you are some one who likes to try out some adventures in water, here are some of the water parks in Dubai that you should check out.
Wild Wadi Water Park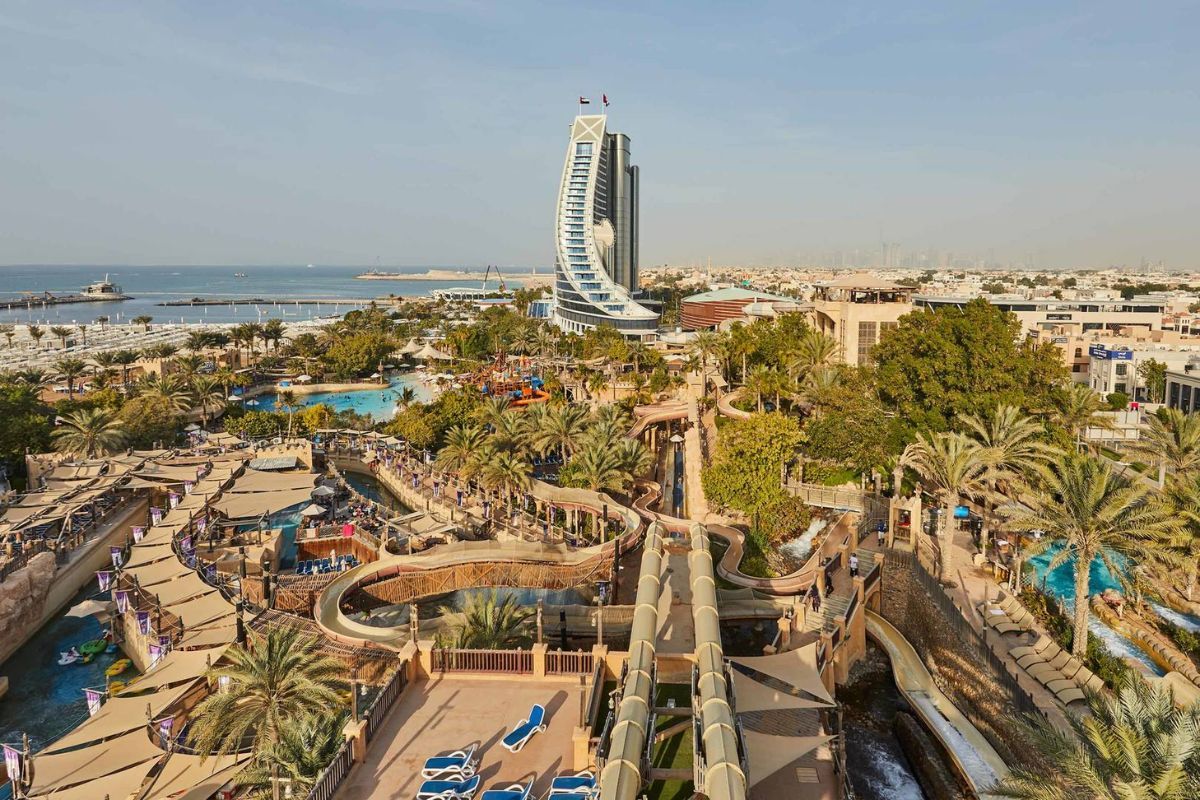 Wild Wadi water park is the first water park in Dubai. It is also one of the best water parks in the world. Wild Wadi water park if famous for its unique aquatic Arabian experience the visitors enjoy at the park.
The entire park is themed around an Arabian folk-lore character named Juha. Children are going to love this place because of the variety of rides and water slides this place has to provide. At Wild Wadi water park there are activities that can be enjoyed by all the age groups.
Some of the popular rides at Wild Wadi that you would want to try are Jumeirah Sceirah, and Flood River Flyer. If you are more of a relaxing person and does not like the thrills of heights you can chill by the Wave Pool, or just rest on a cabana near the Lazy River.
Timing: It is open on all days from 10 am to 6 pm.
Pricing: The general admission starts from AED269 but if you are a UAE resident, you can get it for AED189. There are also many other offers listed on their website.
Location: It is located near the Burj Al Arab in Jumeirah. Therefore, this place also offers excellent view of this iconic landmark in Dubai.
How to reach Wild Wadi Water Park in Dubai
You can take your private vehicle to the destination. It is just few kilometers away from Sheikh Zayed Rd. There is a big parking lot where you can park your car for free.
If you wish to make use of public transport, there are direct bus routes that operates to Wild Wadi. You can also use the metro and get down at Mall of the Emirates Metro station, from there you will have to hire a cab to the destination.\

Know more about - Wild Wadi water park
Legoland Water Park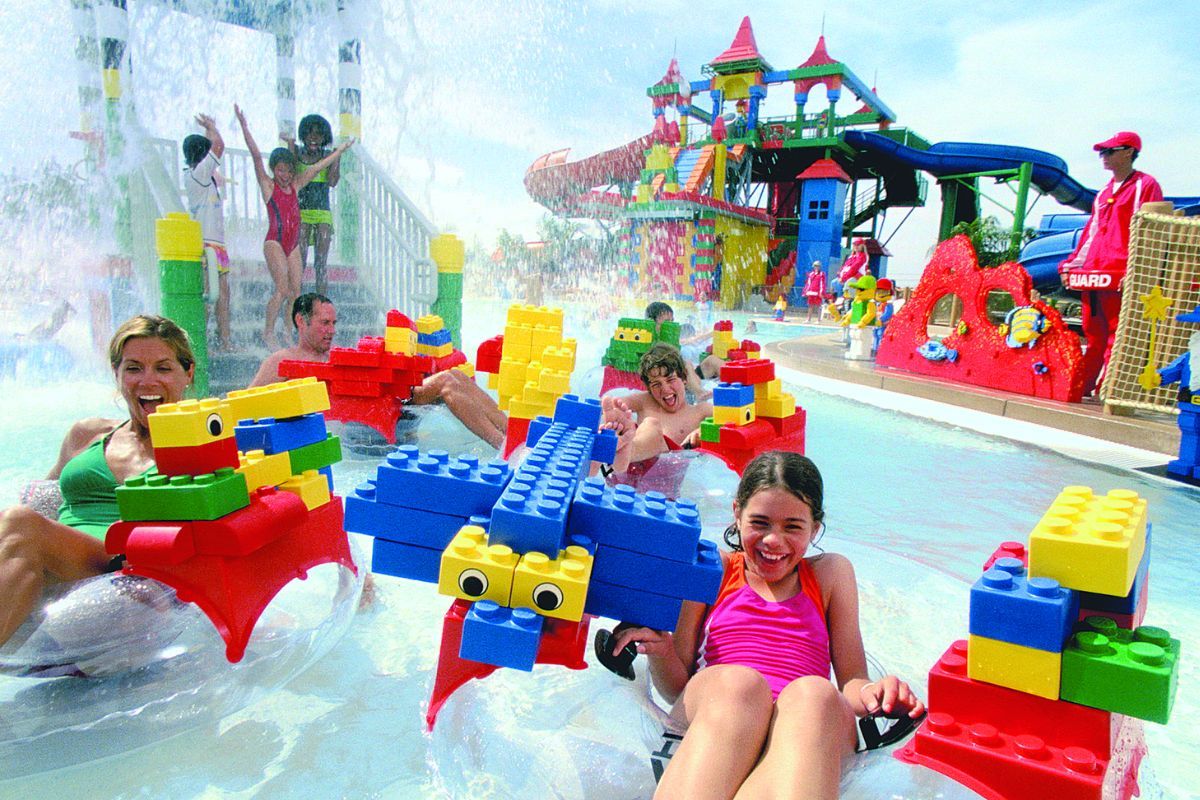 Legoland Water Park is another water park filled with adventurous rides and slides that you would want to try out while in Dubai. There are more than 20 thrilling rides that could give your body an adrenaline rush.
The rides and slides at Legoland Water park gives thrills to young citizens as well as citizens who have youth inside them. There are rides where you could compete against your dear ones and rides which will allow you to turn into groups to have a good time together.
If you have a toddler with you, great, you can take them for a fun time on Duplo Splash Safari at Legoland Dubai. There are few kid-friendly attractions for your kids at the water park. Activities like Build-a-boat will give your kids a chance to make the boat of their dreams with Lego blocks and to test if it can sail.
Timing: It is open from Thursdays to Tuesdays at 10 am and closes by 6 pm. It is closed on Wednesdays.
Pricing: The tickets to Legoland Water Park could cost you around AED295. However, you can get a combo offer ticket valid to enter to Motion Gate Dubai at AED355.
Location: It is located in Dubai Parks and Resorts near Sheikh Zayed Road.
How to reach Legoland Water Park
You can get there by your private transport and park at the large parking lot in Dubai Parks and Resorts.  You can also opt for public transport. However, there is no metro station near to the destination. You could get down at Ibn Batuta Metro Station and take a bus or cab to reach Legoland.  When using the bus service, you might have to walk a distance of little less than 1km to reach the destination.

Know more about - Legoland Water Park
Aquaventure Water Park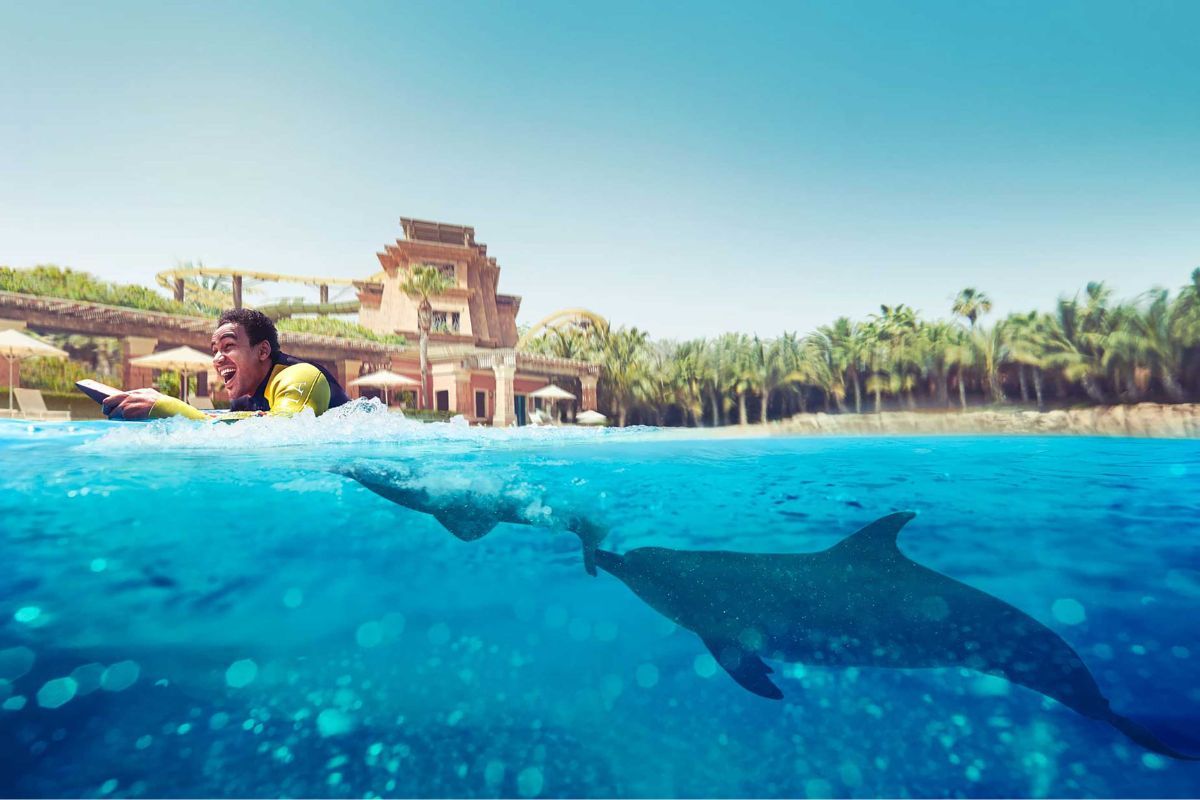 Aquaventure water park is a must visit water park on this list. It has many record breaking title to its name including 'world's largest water park' and the waterpark that has the highest number of slides.
The water park spans across 2.4 million square feet after expansion. This large water park is home to 105 water slides. The water park provides the visitors with three tower, marine, private beach and watersport experiences. They also have special play areas for children.
Some of the popular rides in Aquaventure water park are Medusa's Lair, Shockwave, and Blackout. Leap of Faith is a must try ride you need to try when at this water park. For adrenaline junkies there is a zipline ride which will take you across the park. You can also take a walk along the beach side which spans about 1 km in length.
Timing: It is open daily from 9:15 am to 5:30 pm.
Pricing: The tickets are priced at AED299 for adults and AED249 for kids. However, there are special discounts available on their official website.
Location: It is located in the Atlantis, The Palm in Jumeirah.
How to reach Aquaventure water park
When coming by a private transport, you can park at the parking provided by Aquaventure Water Park and make use of the shuttle service to reach the destination.
If you prefer public transport, you can get there by Palm monorail. There is no metro station nearby.
Laguna Water Park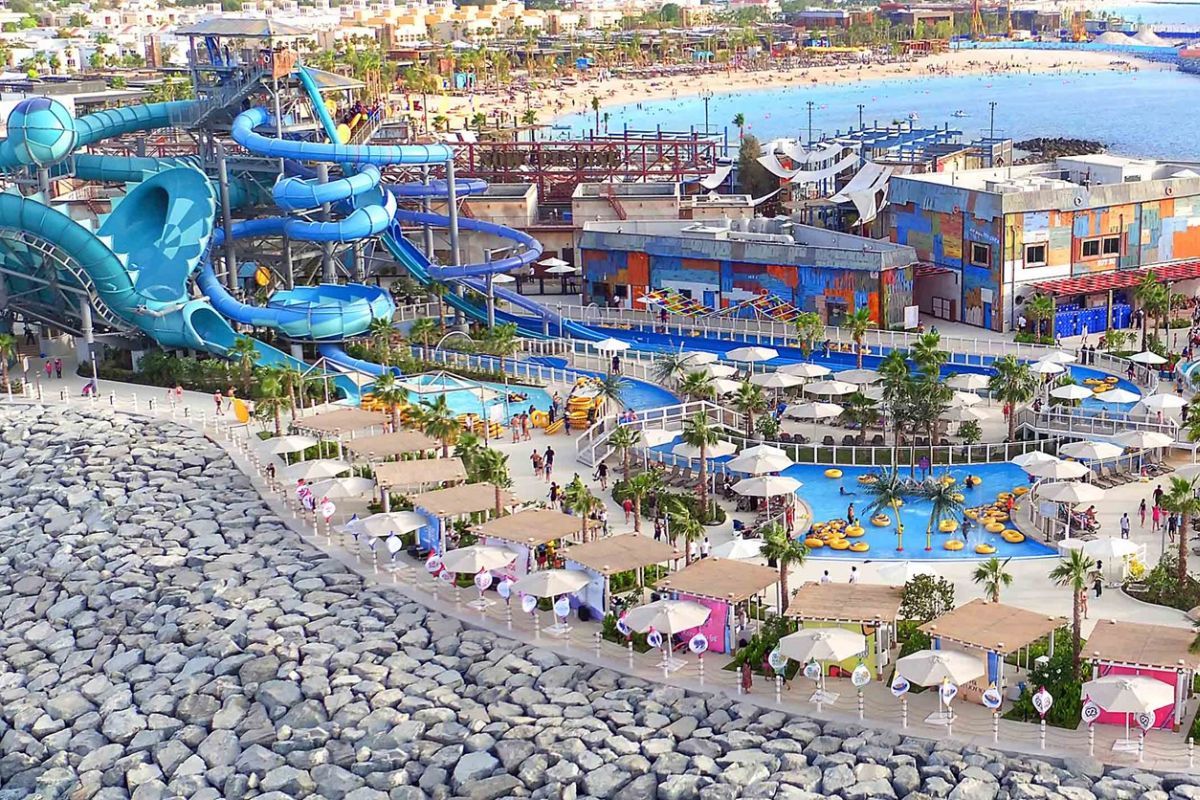 Laguna water park is a latest addition to the thrilling attractions in Dubai. It is located in the mesmerizing modern beach in Dubai.
Laguna water park is home to 10 rides which possess different adventure levels. Adventure junkies can try out the famous Free Fall ride at Laguna water park. the WaveOz 180 FloRider is a perfect ride to all those who would like to surf across waves. there are only three surf machines in the world. So consider yourself lucky and get on this ride while at Dubai. Manta is a family ride which you could try with your family. There are slides which could get your heart racing.
Timing: It is open daily from 10 in the morning to 6 in the evening.
Pricing: The all inclusive ticket package starts from AED210. You can get discounts on it when purchasing the tickets online.
Location: It is located in La Mer Jumeirah.
How to reach Laguna Water Park
You can take your private vehicle since there are parking spaces available. Public bus services are also available to the destination.
Also read: