Now that the 'winter is coming' to Dubai, it is time to get out for some cool air. Dubai is a tourist hub which attracts over a million tourists every year. Dubai has many activities that involve adventure, life-risking activities when it comes to leisure.
If you are some one looking for an adventurous trip in Dubai, here are some leisure activities that you can try. And for spoilers, none of them are on the ground.
Dinner in the sky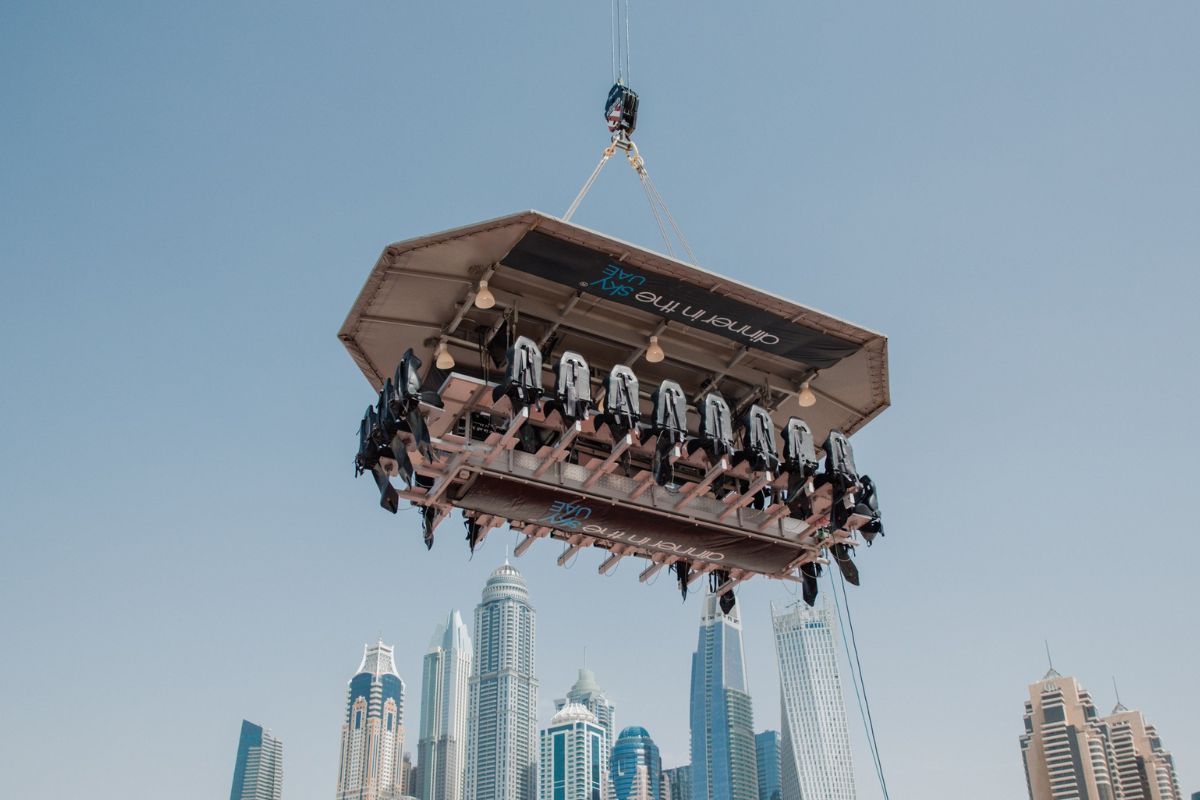 The Dinner in the sky will take you up in the sky for a fine dining experience. This could be one among the unique dining experience you can get anywhere in the world.
The staff will take you to a platform where you will be seated as in a restaurant. Once secured in the seat with safety harnesses, the platform will be raised to a 50 metres height from where you will be enjoying your meal. You will be served a three course meal during your experience. Lunch or dinner will be served according to the time you have booked. However, Dinner in the sky is not about 'dinner' but 'sky'.
You can enjoy the Dubai skyline and neighbouring attractions like the Ain Dubai and Dubai Harbour. It is best to visit during the sunset, as you can witness both the evening and night sky of Dubai.
Dinner in the sky also lets you host small intimate events in the sky with prior booking. The platform can only accommodate 22 persons a time. Brands are also welcomed by them to collaborate with them.
The Dinner in the sky is located near Sky Dive Dubai. You can use both private and public transport to reach the destination.
The tickets are priced at AED599 (afternoon) and AED699 (night) on weekdays. On weekends, the prices can go up to AED799 depending on your time slot.
Hot Air Balloon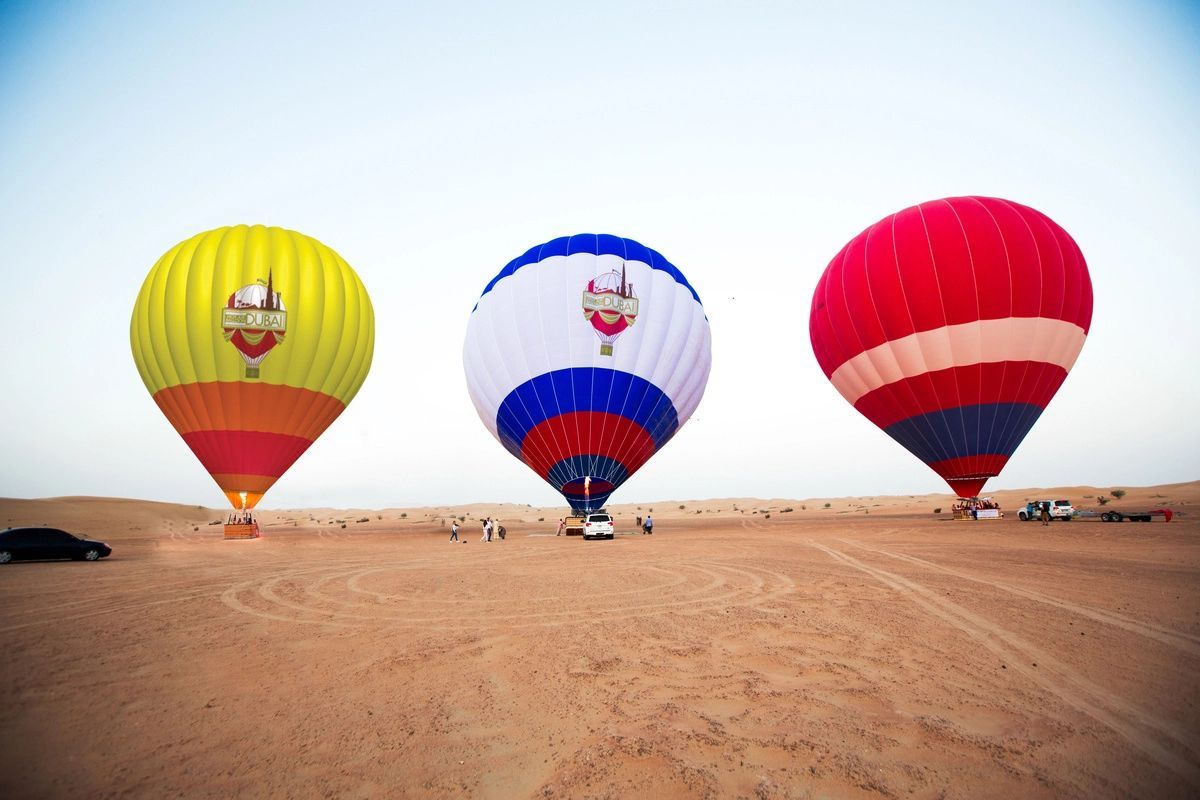 You do not have to go to Cappadocia in Turkey to hop on a hot air balloon. Hot Air Balloon Dubai will provide you with a similar experience here in Dubai.
You will be taken in a magical hot air balloon to the sky and gently skim through the Dubai desert lands. At 4000ft above the sea, you can see the beauty of the vast stretched Arabian sands. You can witness sunrise from up there while on your ride.
Hot Air Balloon Dubai does not just take you around in a hot air balloon but also provide other facilities like pick-up and drop, breakfast, experience with falcon, camel rides and desert rides based on the type of package you have booked.
The hot air balloon experience will require you to wake up early since it begins at sunrise. The duration of your flight is around an hour. But this mind blowing experience is worth your morning sleep.  
This experience can cost you over AED1100 for an adult and AED1000 for a child.
Sky Dive Dubai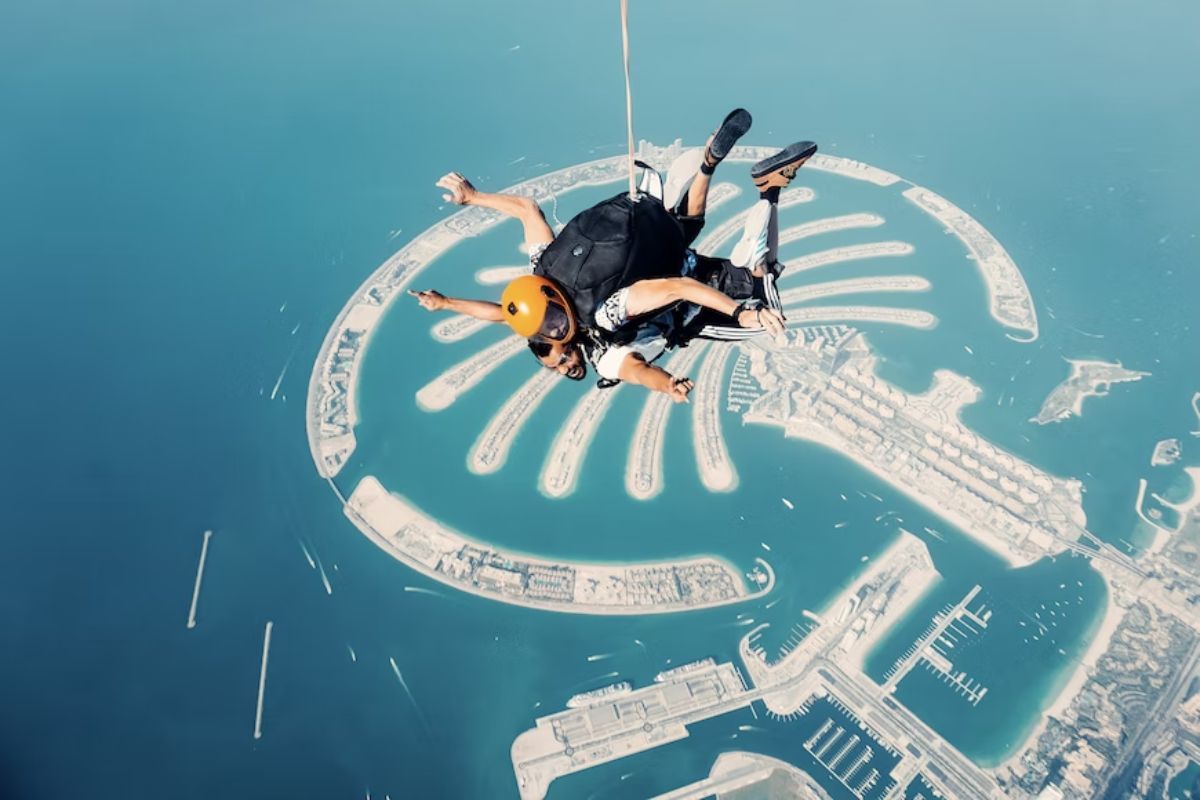 Sky Dive Dubai is undoubtedly one of the most popular attractions in Dubai. Sky Dive Dubai offers multiple experience like Tandem Sky Dive, teaching you to skydive with expert skydivers, gyrocopter flights, and indoor skydiving.
Tandem Sky Dive gives you a full on experience of free falling from the sky at a speed of about 120 miles per hour. You need not worry as there will be sufficient safety precautions taken by the crews. You can select your drop zone; Desert drop zone or Palm drop zone.
With palm drop zone you can see the Palm Jumeriah Island along with other views like Ain Dubai, World Islands, and Burj Al Arab. If you are a desert person, you can opt for a desert drop zone, where you will be taken 35km away from Dubai and during your dive you can see large stretches of sand dunes below.
Also Read - A Guide to Palm Jumeriah in Dubai
You will also receive a photograph and video of you sky diving via your email which you can proudly upload on your social media handles.
Make sure you are physically and medically fit to participate in this adventure. The tandem skydive experience can cost you around AED2000 including the Instagram video.
You can arrive at the destination by private transport or public transport.
XLine Dubai Marina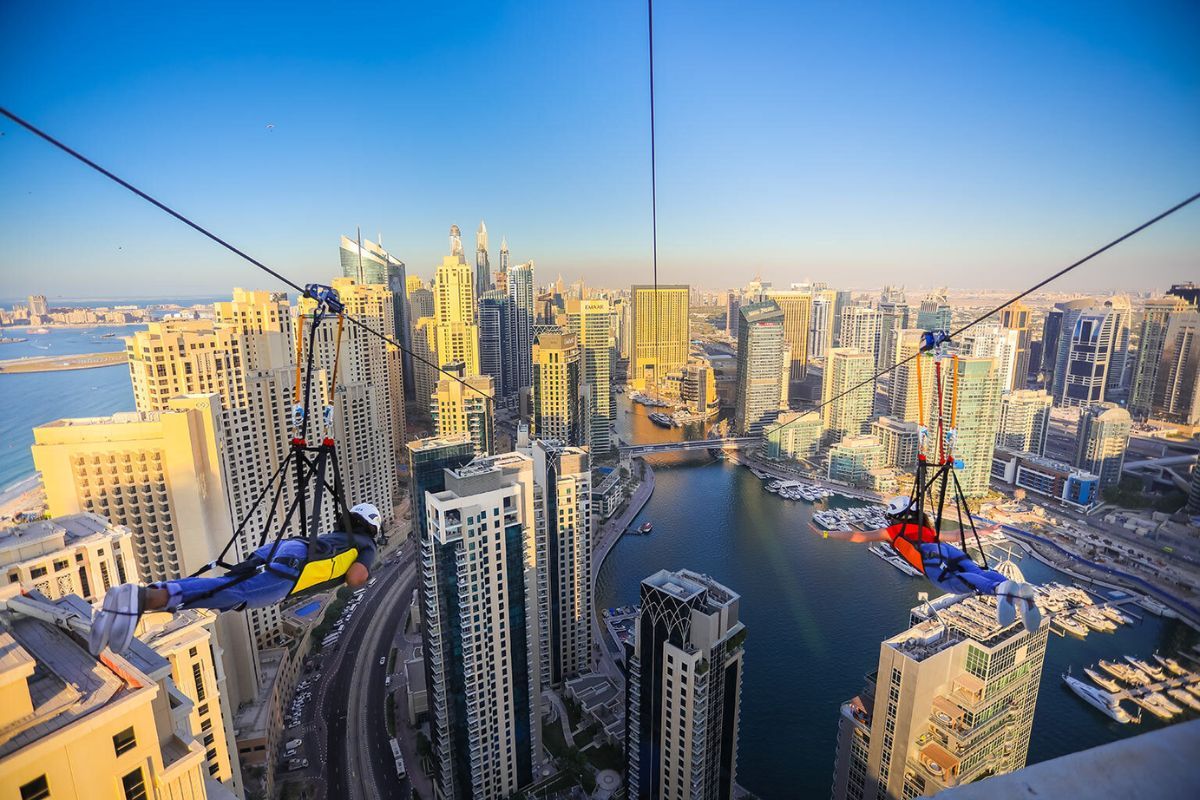 XLine Marina will take you through the skies of Dubai Marina through a wire. This experience is for the adventure seekers who loves to go over board.
XLine Dubai Marina is the longest urban zipline in Dubai. During your ride, you can see the high-rise buildings of the Marina along with the scenic beauty of Dubai coast. You will be secured with all safety harnesses during your belly-down journey through the marina. The panoramic view of the city you are entitled to during your zipline is over-the-top experience for your eyes.
You can record your ziplining experience at XLine Dubai. You will receive a personalized photograph and video of your zipline journey. This experience can cost you around AED650.
Since it is located in the Dubai Marina, it is accessible by the public transport.
Parasailing in Dubai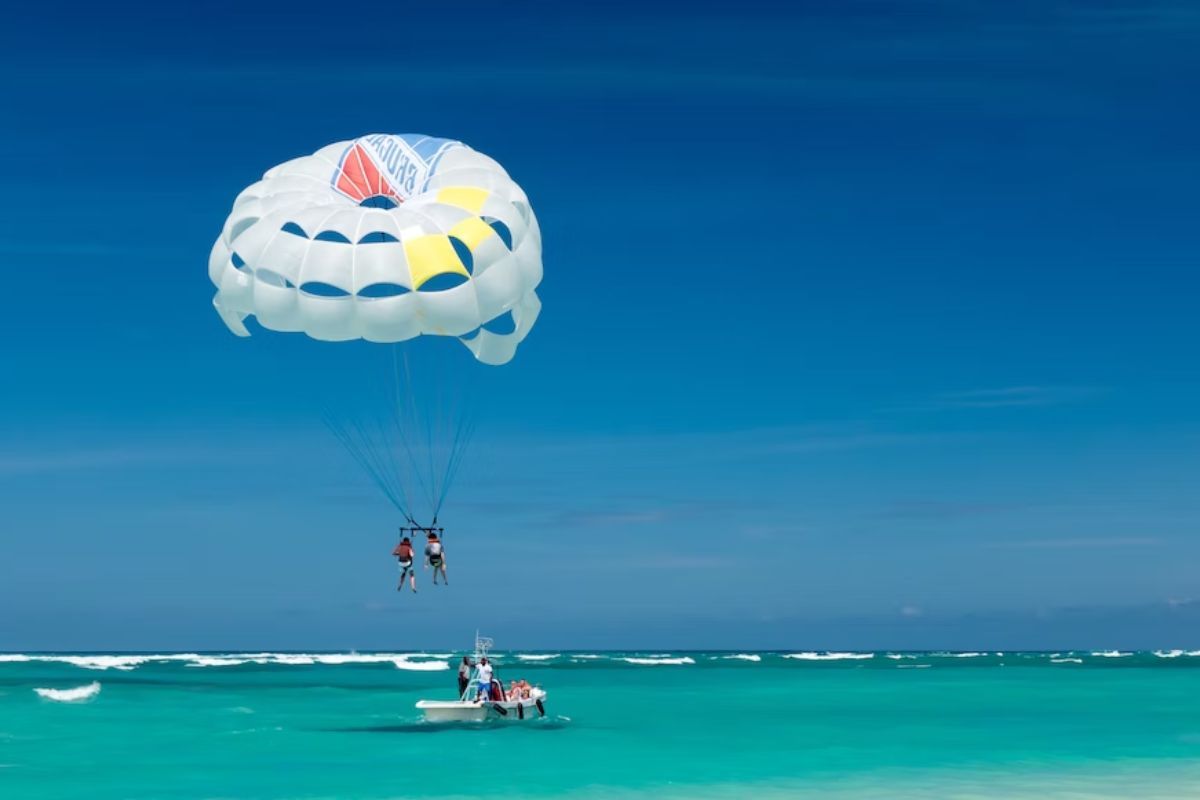 Dubai waters also have a beauty of their own. You can parasail through the blue waters of Dubai. Parasailing is an excellent way of enjoying the serene waters from up there.
The rider will be attached to a parachute which will be connected to a sail boat which will then take you through the Arabian waters. The control of the parachute does not lie with the rider. Therefore, you do not have to think about anything else during ride and simply concentrate on the experience. Prior experience is not required to do this activity.
The added advantage of parasailing in Dubai is that you can also have a view at the high rise buildings of Dubai along with the endless sea scape. You can be taken to a height of 200m during your ride.
All the take-offs and landings happen on land, so you will not come in contact with the water.
Parasailing through Jumeriah waters is one of the most popular parasailing in the region. However, there are many other options to try out if you like. You can parasail in the Bluewaters Island, or the Dubai Marina Yacht Club  if you want.
Depending on the spot you choose for parasailing, the ticket fares will vary.
Paragliding in Dubai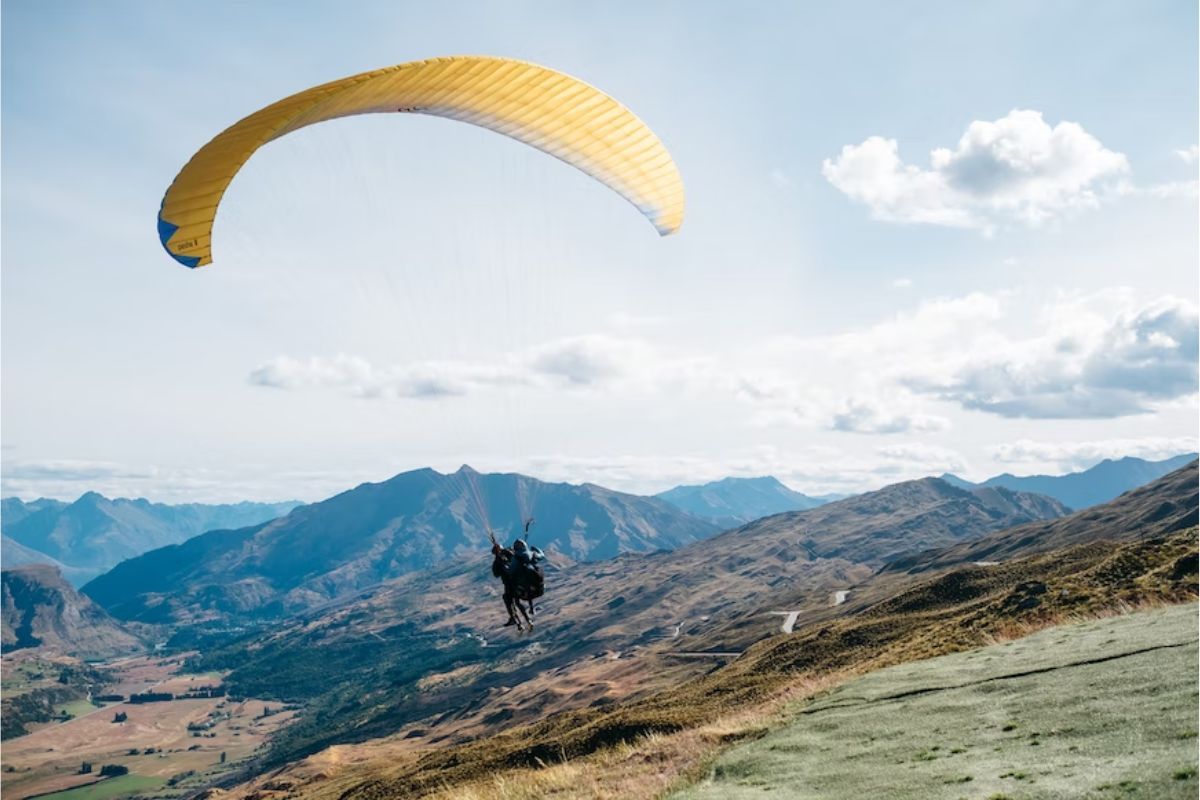 If you want to have a bit more adventure than para-sailing, you can try out paragliding. In paragliding, your parachute will not be attached to any vehicle. You can move around freely.
In paragliding, you will move above the land in a parachute at a height of about 500 metres. This adventure sport will leave you hanging in the air while flushing you with thrills throughout your body. Those who fear height, this is not for you!
You will have an expert to accompany you during your flight. They will have the controls of the parachute while you can simply enjoy the panoramic view of the region.
Currently, paragliding spots are open in multiple regions in Dubai. Hatta is a popular spot for this sport. While in Hatta you can have an aerial view of the mighty rock mountains and small green valleys around.  
Bird Eye Parachuting in Hatta is open from 6 am to 7 pm. The tickets are priced at AED650 per individual. The flight takes around 15 minutes. You can book the tickets on their website.
You need to be 18 years or above to paraglide in Dubai.
Sky View Edge Walk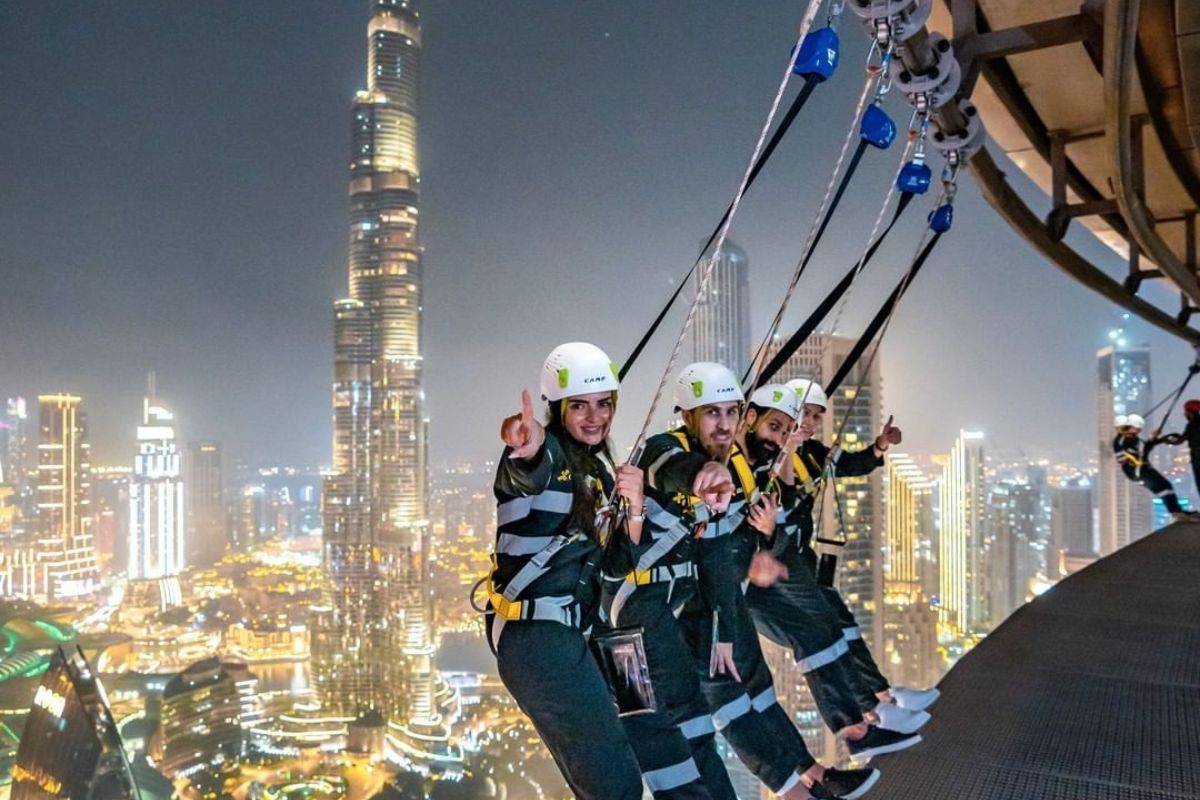 Edge Walk is one of the latest addition to the tourist attractions in Dubai. The adventure seekers can now visit Edge Walk in Address Sky View Hotel to experience walking around the building with no windows.
Edge Walk gives you an experience of walking on the edge of the building with safety harnesses on you. You can feel the air outside since there will be no barrier between you and the air outside. In case you want, you will have people to assist you during your walk. However, it is completely safe to just walk around as the crew will take care of all the safety precautions.
You will get to view one of the best views offered in Dubai. The 360 degree view of Dubai from above 200 meters is something not to miss.
Edge Walk is located in the Downtown Dubai which is another picturesque area in Dubai. It is very easily accessible by both public and private transport. You can take the Dubai metro to the destination.
While at Edge Walk, try to visit the neighboring attractions like the Observatory and Glass Slide.
The tickets are currently priced at AED499. Book your tickets on their official website.
Ain Dubai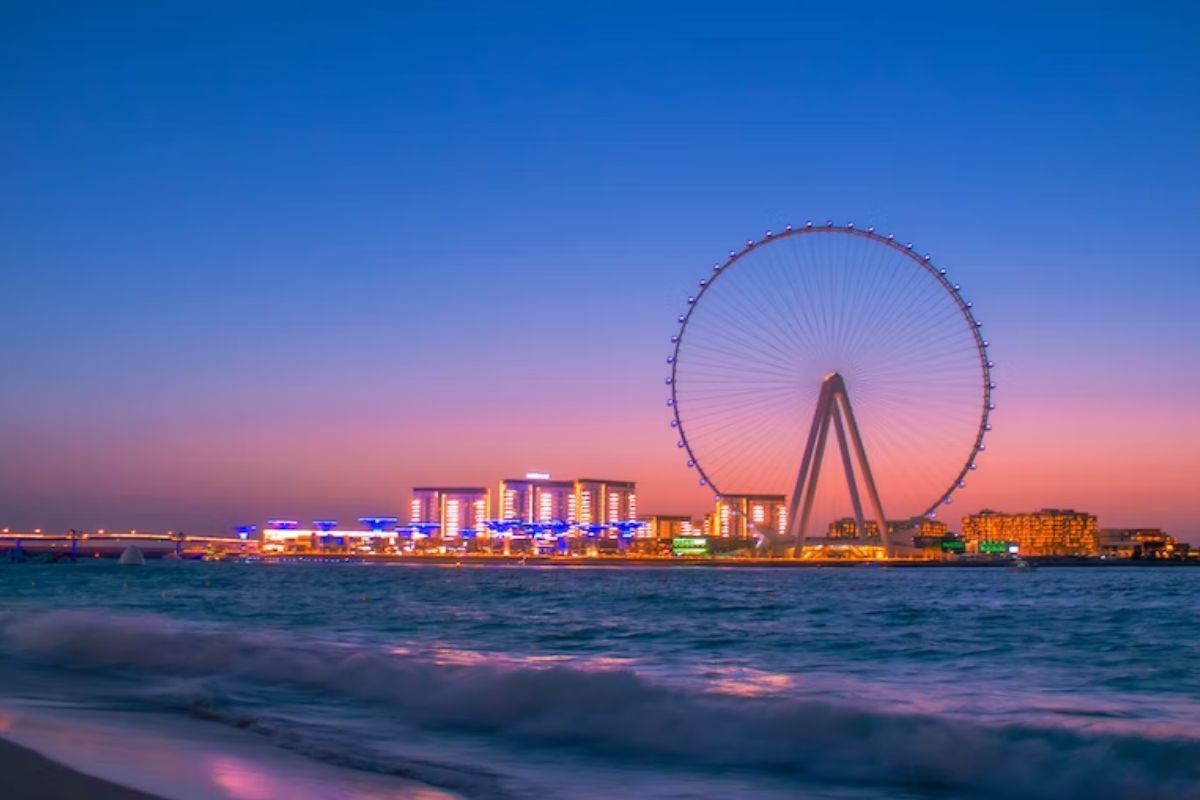 Ain Dubai by Dubai Holdings have taken the world. Dubai has set another record for the biggest and tallest Ferris wheel with Ain Dubai. Ain Dubai translates into 'Dubai Eye'.
This new addition to the Dubai skyline is the highest observation wheel with a height of about 250 meters above sea level. You can have a scenic view of Dubai sea, Bluewaters Island, and Dubai Marina on your ride up, and while at the top, you can see almost every iconic landmarks of Dubai.
Large LED screen is mounted on it which makes it even more special. You can rent the screens to celebrate any special event like the birthday of your loved ones or any other. Movie poster reveals have been hosted by them previously.
You can have the best and a close sunset view from Ain Dubai. It is also preferable to visit Ain Dubai during night to see the lit up Dubai from up there. Ain Dubai's Sea View Lounge also let you have a exquisite dining experience.
The ticket fares start from AED130. You can book different packages accordingly. Ain Dubai also lets you book an entire cabin to yourself if you book early. You can host events in the premium cabins. Tickets are available on their official website.
The location of Ain Dubai is near Bluewaters Island which makes it easier to reach by both private and public transport.
Also read: